On a recent trip to Melnik, Bulgaria, we had the opportunity to go behind the scenes and discover creative Bulgarian cuisine at aEstivum restaurant Zornitza Family Estate.
Whenever we explore the food at a destination, we always aim to understand the food culture from local chefs and experts.
Learning from the local experts helps us understand the national and authentic dishes from a well-rounded perspective.
Not knowing much about Bulgarian cuisine, we were excited to discover "terroir cuisine" at the gastronomic Melnik restaurant at Zornitza Family Estate.
We spent a few days at Zornitza Family Estate and enjoyed one extraordinary dinner at aEstivum restaurant.
With chef Vasil Spasov as our guide, join us on an 8-course culinary adventure, deep into traditional Bulgarian flavors layered with creativity.

Zornitza Family Estates – First Relais & Chateaux in Bulgaria
You'll find Zornitza Family Estate in the Struma Valley region, about 5 km from Melnik town. Located in the Southwest part of Bulgaria, this is one of the country's most famous wine regions.
Not to mention, the town of Melnik, a living architectural reserve, also has the distinction of being Bulgaria's smallest town.
Zornitza Family Estate is a member of the prestigious Relais & Châteaux association. In fact, it was the first Bulgarian member to join the association.
Relais & Châteaux is a collection of boutique luxury hotels and gastronomy restaurants with more than 380 Michelin star restaurants.
Recognized as one of the top restaurants in Melnik and Bulgaria, aEstivum Restaurant, at Zornitza Family Estates has been awarded for its 300+ wine list and cuisine.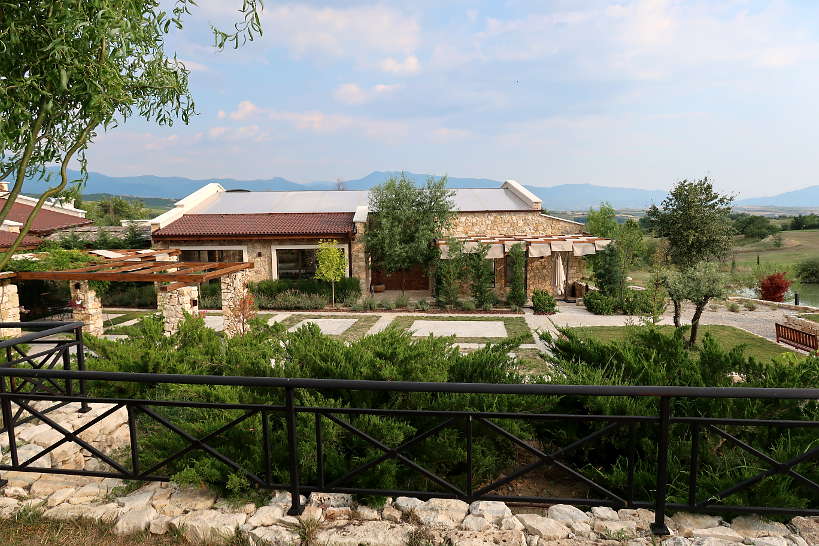 aEstivum Restaurant – Top Melnik Restaurant at Zornitza Family Estate
aEstivum restaurant is situated right in the middle of the Zornitza Family Estate property.
The restaurant's name comes from the Latin name for "summer truffles." Truffles are present in dishes, salads or desserts.
The restaurant has both indoor and outdoor seating. The stylish interior is tastefully designed with muted colors that extend into nature.
No details are overlooked. We sat on the inside next to floor to ceiling windows which offered endless views of the vineyard and natural beauty.
As we were relaxing and soaking in the atmosphere, chef Vasil Spasov, stopped by to introduce the menu.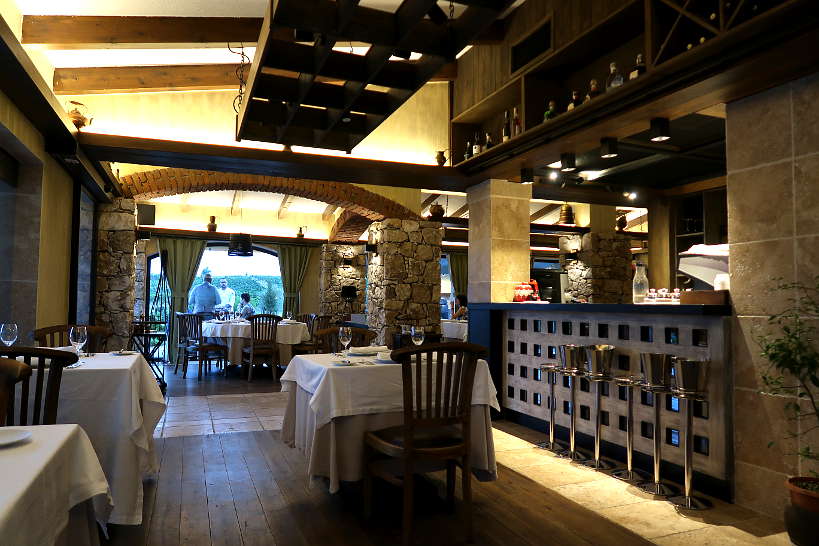 Bulgarian Food Philosophy – Chef Vasil Spasov
Driving the restaurant's culinary conversation forward is chef Vasil Spasov, at the tender age of 24.
His background is quite impressive having worked professionally in kitchens in France, Denmark and San Sebastián before landing at Zornitza Family Estate.
To help us understand terroir cuisine from Bulgaria, chef Spasov shared his food philosophy.
"Bulgarian cuisine" as he told us is "simple and tasty food."
Some of the fundamental ingredients, he continued are "beans, sausage and the famous Bulgarian yogurt."
According to chef Spasov, you'll find the best quality of vegetables, especially of tomatoes and cucumbers in Bulgaria.
"Everything comes from the farm or garden. Everytime a Bulgarian goes to visit their grandma, they will always come back with fresh vegetables, fruits and eggs".
With that, he talked about terroir cuisine at the restaurant. Almost everything that lands in the aEstivum restaurant kitchen comes from the eco-farm on the Zornitza Family Estate.
From deer, beef, veal, goats, lamb, chicken, homemade cheese, eggs, wildberries, vegetables and more, the repertoire of farm fresh produce to draw from is broad.
Following our discussion, we couldn't wait to start our 8-course culinary adventure and wine pairing.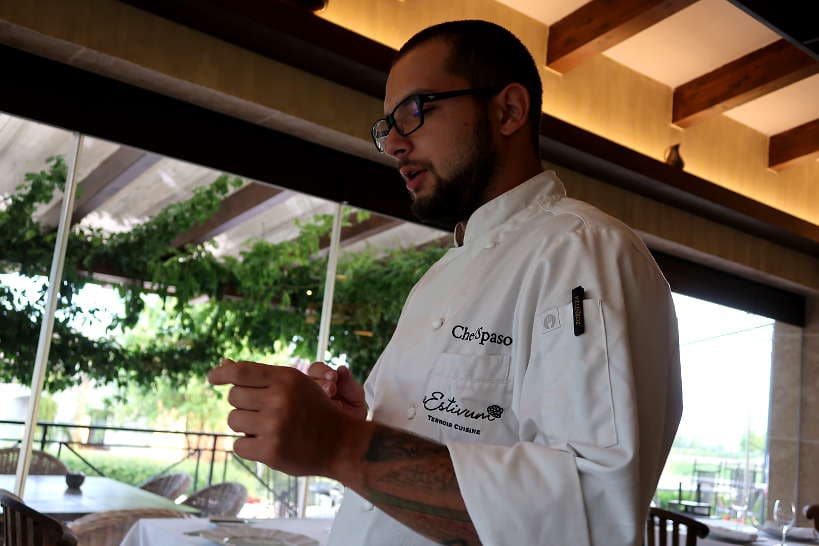 Highlights of An 8- Course Culinary Journey
Each dish has a story to tell. One that is rooted in Bulgarian tradition and prepared with a contemporary flair.
The goal of the tasting menu chef Spasov told us, "is to surprise the guests and take them on a culinary journey with peaks and valleys."
This is not the kind of tasting menu that "builds up to a crescendo, but rather, one that surprises and delights you each step of the way".
Kicking off the gastronomy adventure, were two starters based on traditional Bulgarian products.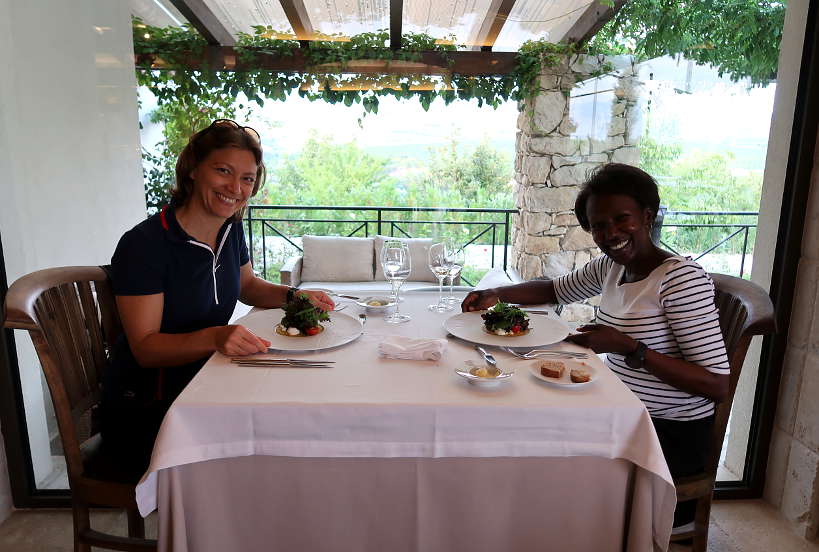 Creative Bulgarian Amuse Bouche
The first amuse bouche or starter was a Bulgarian taco. Using no flour, the taco shell was made with Bulgarian Kashkaval cheese, a type of yellow cheese.
The taco was stuffed with diced tomatoes, venison, arugula, cheese and elegantly seasoned.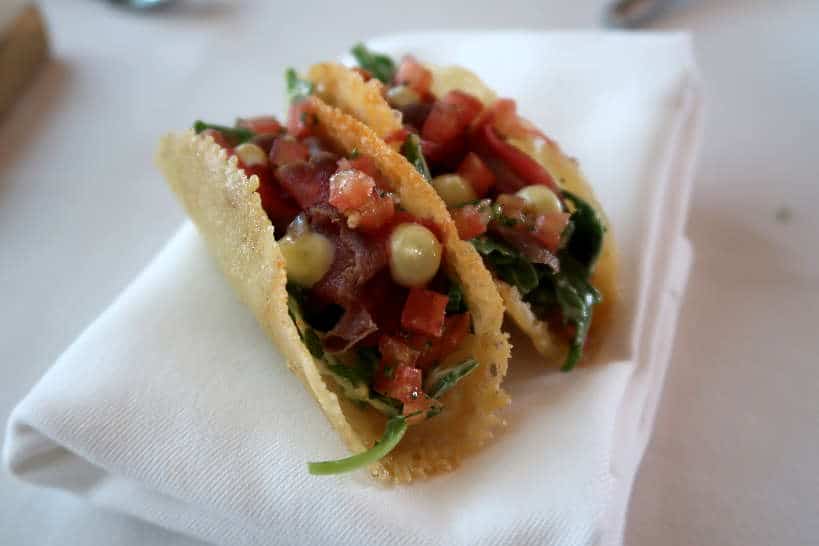 Tapping into the restaurant's ethos, the second starter was a presentation of a truffle toast and slices of 22-month aged pork.
Keeping us imbibed, we each had a glass of Sauvignon Blanc.
The starters were incredibly flavorful and a promising beginning for an unexpected culinary voyage.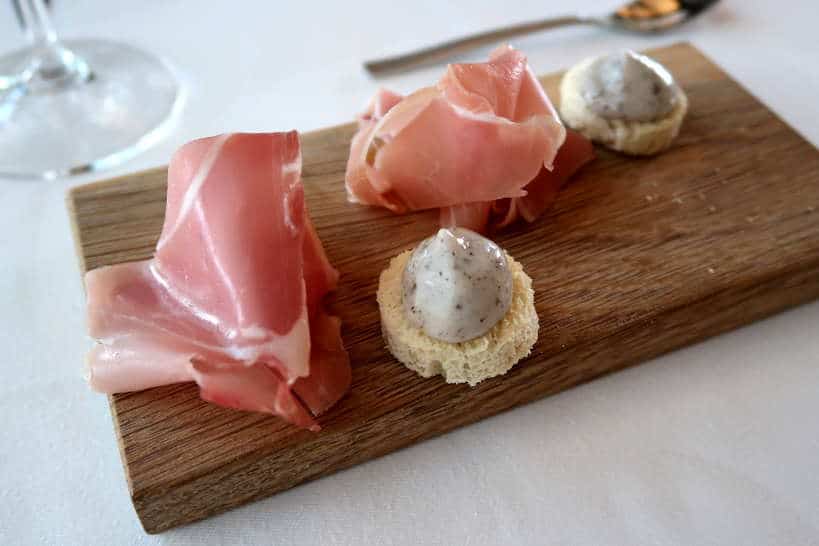 First Course: Reinterpretation of Popular Bulgarian Appetizers
After the musky truffle aromas, the next dish plunged our taste buds into the icy territory of sorbet.
Two different kinds of sorbets were presented on an artistically designed plate.
The first featured a shopska salad sorbet infused with rakia alcohol. And the second was a cucumber sorbet with Hendrick's Gin.
Towards the edge of the plate was a perfectly aligned tomato carpaccio. Topping it was a mousse made from a combination of sheep and cow milk cheese and flavored with basil and dill.
The flavors were full and incredibly fresh. The tomatoes were tasty living up to Bulgaria's reputation of having some of the tastiest tomatoes in the world.
Both Claire and I liked the cucumber sorbet, though we thought the rakia alcohol flavors dominated the shopksa sorbet.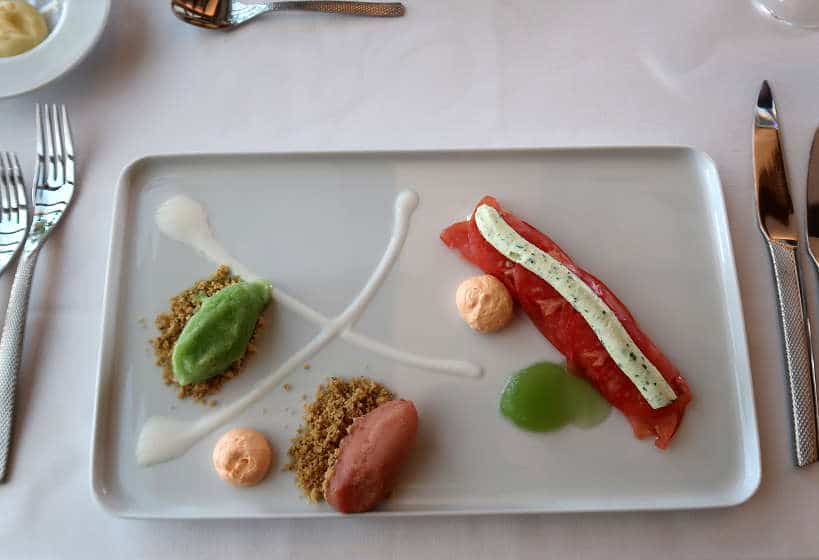 Bulgarian Lamb Tartare
This is one of the most unusual and creative dishes we've ever sampled. Lamb tartare made from lamb raised on the estate grounds was a modern twist on Bulgarian food.
In Bulgaria, lamb is one of the traditional dishes with deep symbolism. Lamb is typically eaten in the Spring and linked to Easter and the sacrificial lamb.
At aEstivum restaurant, chef Spasov takes this dish to new heights. Prepared raw and with an array of seasonings and local cheeses, this was one of the most fascinating dishes on the menu.
Generally, we like tartare dishes. We enjoyed raw fish or ceviche in Peru and we always make room for steak tartare when we are in France.
We had never had lamb tartare before and were impressed with the depth of flavors.
A delightful rosé from Petra, Italy was the perfect accompaniment to the dish.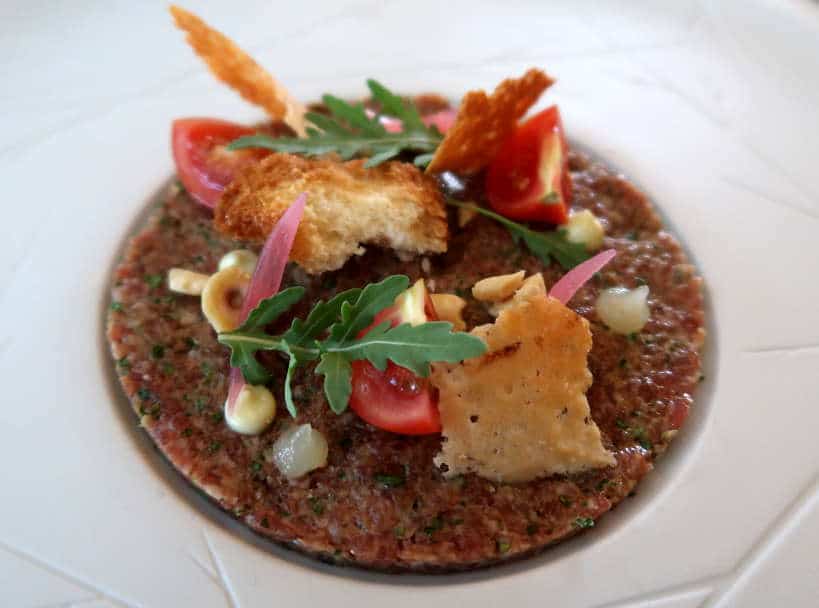 Bulgarian Nettle Soup to Clear the Palate
Before moving to the next round of dishes. We paused to clear our palates with a traditional Bulgarian stinging nettle soup.
Topping the striking green colored soup is a slice of 5-year old ham and pieces of Bulgarian cheese.
The soup, we learn is typically eaten in the spring and early summer when the buds are collected. We learn later that nettle soup is popular in Eastern Europe and a food that has been eaten since ancient times.
Known for having high nutritional value, we loved the soup and the tasty combination with ham and cheese.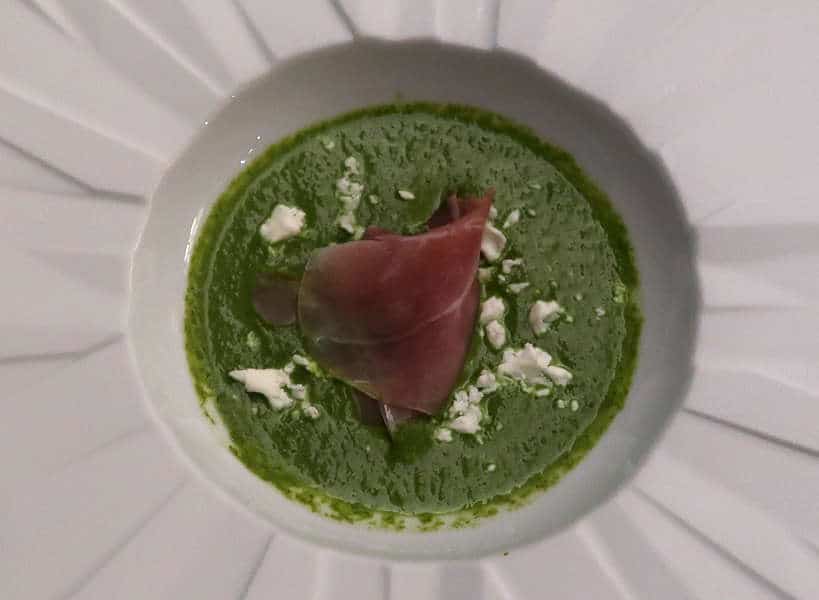 Flavors of the Sea – Calamari
The striking bulbous design carrying the calamari immediately caught our attention. Topping it was calamari, lightly fried, sitting on a bed of cucumbers with two types of Bulgarian yogurt.
With access to the freshest seafood from neighboring Greece, and drawing on Bulgarian specialties, we enjoyed the refreshing tastes and flavors.
The unique textures between the cucumbers and calamari were delectable. Though a little on the heavy side, we enjoyed the smooth finish of the Bulgarian yogurt.
A white wine from Petra, Italy rounded out this experience.
.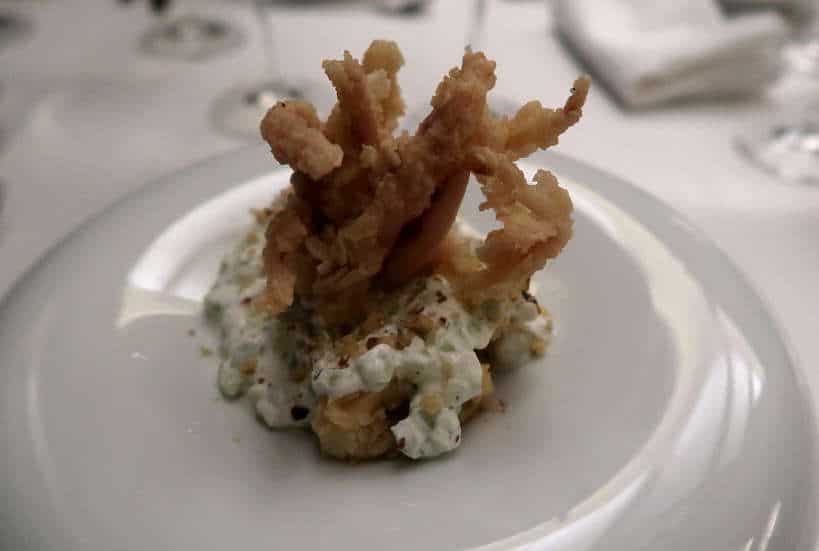 Two Innovative Bulgarian Desserts to Finish
The two Bulgarian desserts we ended on were both diverse and truly unforgettable.
The first was an egg yolk dessert with cream cheese.
Placed delicately in a traditional bulgarian dish, we were surprised to see a bright orange egg yolk sitting on a bed of cream cheese.
At first glance the egg yolk reminded us of Portuguese conventual desserts, which are traditional desserts made using egg yolks.
Also in the bowl were two tomatoes been prepared confit-style. On the side, was a decadent homemade brownie.
Seeing the look of surprise on our faces, the chef stopped by to describe the dessert. As he had told us previously, his intentions were to surprise and delight guests using farm-fresh produce.
This dessert was quite slurpy and one we had a difficult time defining. The cream cheese and confit tomatoes added sweet flavors to the egg yolk.
The brownie was dense and not too chocolatey. It provided a firm consistency to the slurpy bowl.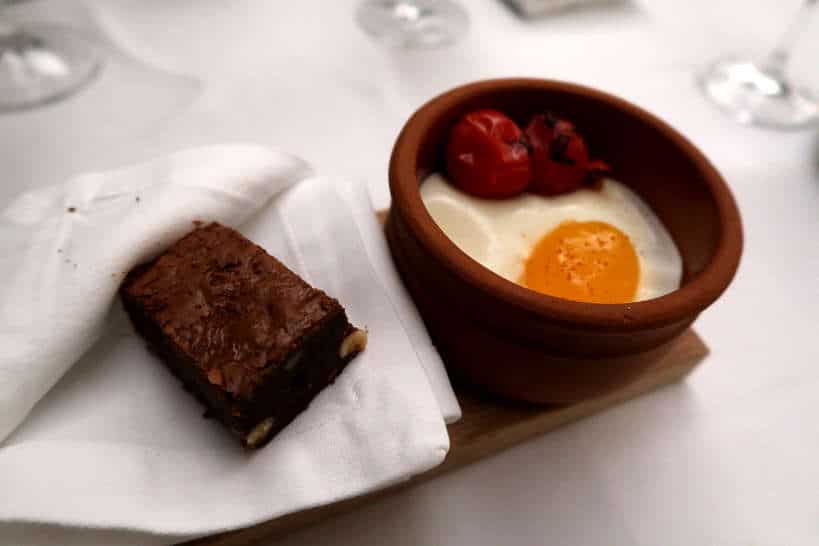 Bulgarian Soufflé
Wrapping up the incredible culinary adventure was a Bulgarian soufflé made with semolina halva, ruby chocolate and yogurt sorbet.
Semolina halva, we learned is a classic Ottoman dessert, popular in both Turkey and Greece.
We found the soufflé to be airy and perfectly matched with the yogurt sorbet. The crumbles of ruby chocolate rounded out the experience beautifully.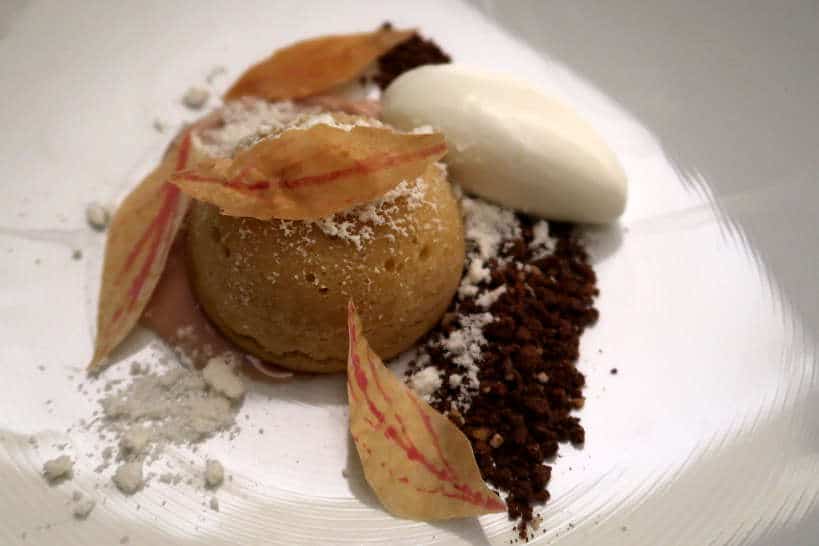 In Summary
The 8-course dinner and wine pairing at aEstivum restaurant at Zornitza Family Estate was one of our culinary highlights in Melnik.
The quality of the raw ingredients combined with chef Spasov's creativity truly makes this a Melnik restaurant worth seeking out.
Under the subdued decor and in the midst of natural beauty, we savored each glass of wine that perfectly accentuated the flavors of every dish.
Chef Spasov's creativity and ability to infuse traditional Bulgarian dishes with new techniques is remarkable.
Starting out with terroir grown ingredients, chef Spasov is pushing the envelope to put Bulgarian cuisine on the world's culinary map.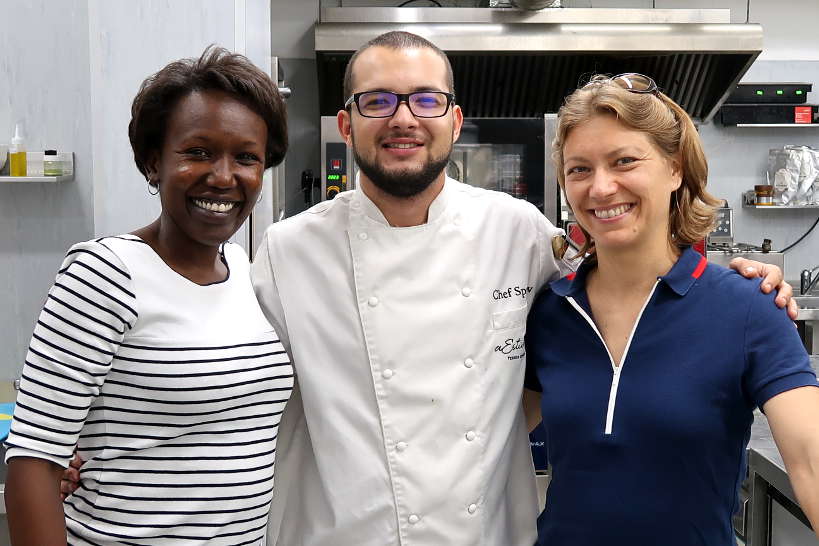 Melnik Hotel Stay at Zornitza Family Estate
Set in the vast natural surroundings with beauty and luxury, you'll immediately relax as soon as you set foot on the grounds.
As the only Relais & Chateaux boutique luxury hotel in the area, you cannot get a more indulgent experience, where nature and beauty blend in harmony.
There is an outdoor pool with views of the mountain. Or you can revitalize and balance your spirit with personalized treatments at ZOMA Spa.
Zornitza Family Estate has six private villas and nine hotel suites, each designed with luxury, comfort, spaciousness and harmony with nature.
The eco-farm is impressive with organic fruits, vegetables, and livestock. Further, the estate also produces wine, honey, and soon truffles.
We loved our stay at Zornitza Family Estate, which we can describe as magical with a true a deep reverence to Bulgarian traditions and nature.
Read our detailed review of our experience at Zornitza Family Estate
Looking for More Food & Wine Experiences in Bulgaria?
Love it? Pin it!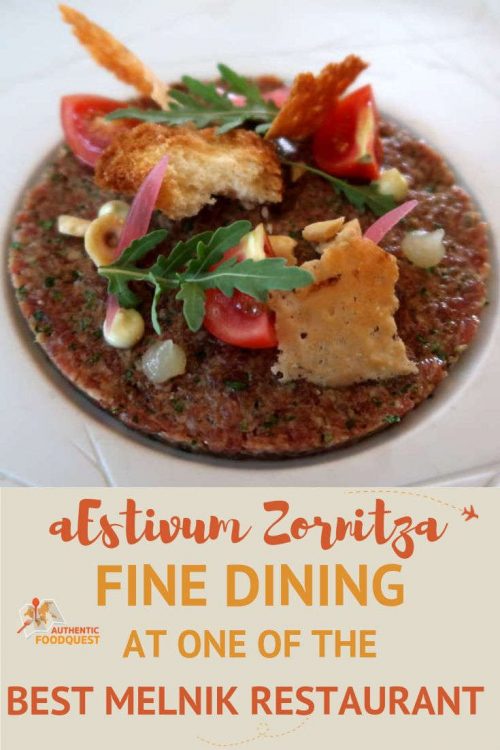 Special thanks to the Zornitza Family Estate for having us. All views and opinions expressed are our own. Full bellies and happy taste buds too!
Rosemary, ex-marketing and advertising strategist, is a digital nomad and content creator at Authentic Food Quest. Since 2015, with her partner, Claire, they travel the world in search of the best local food experiences. Their mission is to help you enjoy the best local specialties on your travels or via recipes in your home kitchen. Favorite country for food: Peru. Favorite local dish: Bacalhau. Favorite way to keep fit: Running. Rosemary is the chief content writer and strategist on Authentic Food Quest. She is also co-author of Authentic Food Quest Argentina and Authentic Food Quest Peru, available on Amazon.