Value and insurance are two words you wouldn't necessarily put together. But with Allianz Travel Insurance, we found a great blend of value, maximum coverage and affordability.
We travel quite frequently with a focus on local food specialities. And, one of our biggest concerns is making sure we don't fall ill on the road.
With our job which is to discover local food specialties and inspire others to eat local on their travels, avoiding food related medical emergencies is always our top priority. This is closely followed by protecting our electronic equipment.
We don't think twice about getting travel insurance, our question is usually "what travel insurance policy can give us the protection we need at affordable rates?"
While planning our 2019 travels, we chose the annual multi-trip plan from Allianz Travel Insurance. We knew we'd be visiting several countries, we didn't want the hassle of buying travel insurance for every single trip.
Although we didn't expect to file a travel insurance claim, we were really glad we were covered.
Unexpected things happen on the road and you want to be prepared.
Here's how Allianz Travel Insurance came to the rescue and why you should get travel insurance too.

Why You Need Travel Insurance
Traveling without travel insurance is a risky proposition. And the question is not if you can afford it, but really, can you afford to deal with the costs if something goes wrong?
At home, you have car insurance, health insurance, home insurance or rental insurance. You wouldn't think twice about purchasing these kinds of insurance policies.
But for some reason, when it comes to travel insurance, most people stumble. What most forget, is the same reasons we protect ourselves at home are also the same reasons we want to protect ourselves on the road.
Even if your travel plans do not include bungee jumping, trekking in the Himalayas or seeing exotic animals up close on safari, you still want to be protected in case anything unexpected happens.
Travel insurance covers much more than medical expenses. There are missed flights, lost luggage, electronics protection, dental insurance, rental car damage or theft and much more.
Just like auto insurance which you pay for, in case of an accident, why wouldn't you pay for travel insurance.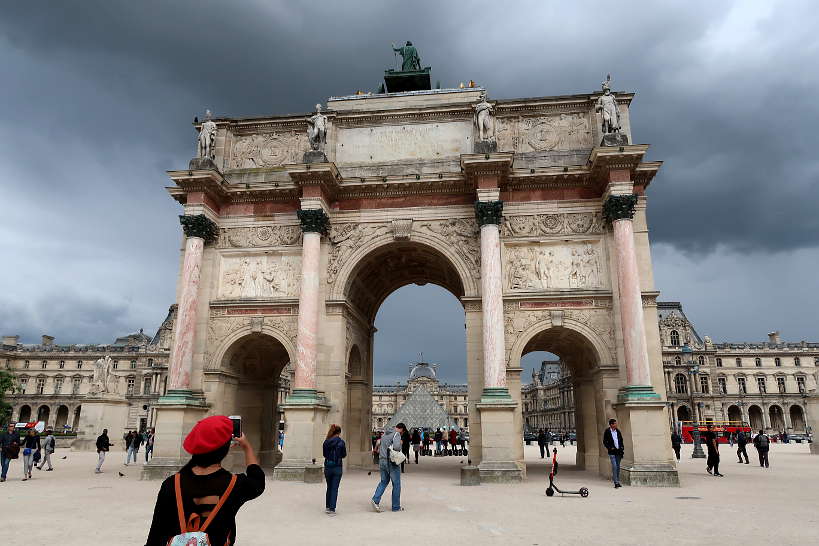 Dental Travel Insurance – A Personal Experience
Insurance is for the unexpected. And you'll be so glad when you have it!
In Thailand, earlier this year, I unexpectedly needed to see a dentist. We were exploring the local flavors in Chiang Mai when my tooth started throbbing.
After a day or two of intense throbbing, I made a dental appointment for what I thought was a simple filling.
After looking at the x-ray the dentist told me I needed a root canal. I panicked.
I wasn't prepared for this, I wasn't expecting it and most importantly, I hadn't envisioned my trip to Thailand involving any dentists.
The only silver lining in this situation was that I had Allianz Travel insurance. I knew I was covered and had luckily made sure that our multi-trip travel insurance plan covered dental as well.
The only outstanding question was "what would it be like to file an Allianz travel insurance claim?"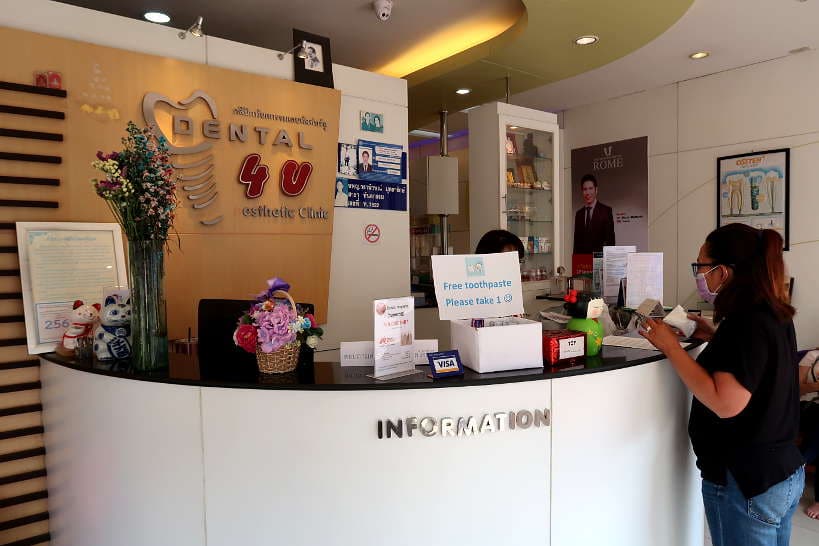 Allianz Travel Insurance Claim
To get a root canal done, the dentist told me I would need three different appointments. I scheduled them all, and quickly went back to closely review our Allianz travel and dental insurance coverage.
Even though everything was clearly laid out, I still contacted Allianz customer service support in advance to make sure I'd have no issues filing a claim later.
In less than 24 hours, the customer service team got back to me and told me that all I needed was to make sure I kept all the invoices from the dental visits.
It was a simple as that. After successfully surviving the root canal, I gathered all my invoices and logged into my account to file a claim.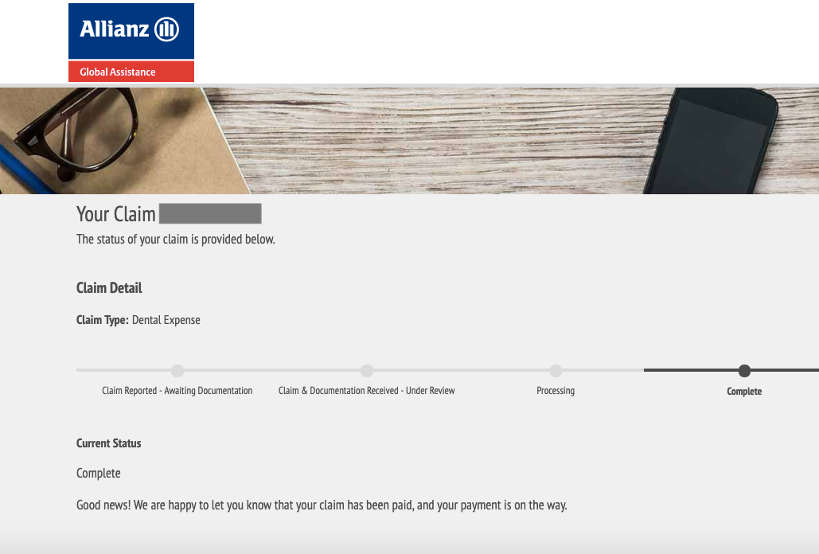 Stress Free Dental Travel Insurance Claims Process
The process was very simple. I filled out a few forms where I outlined what happened and the treatment I received.
I sent in scanned copies of the invoices. The only additional paperwork Allianz requested was a copy of my flight itinerary.
About three days later, I logged into my account to check the status. One of the things I like about the Allianz travel claim process is the dashboard in your account. You clearly see step by step the status of your claim.
There are four simple stages: claim reported, claim documentation received (under review), processing and complete.
Once I saw my claim was under review, I was confident Allianz travel insurance had everything they needed to process the claim.
In less than 30 days, my claim was approved and I was reimbursed at the maximum limit allowed for dental insurance.
During that time, you can track the claim status directly from your smartphone using the Allianz TravelSmart app.
The best part about the claims process is I was able to have the funds wired directly into my bank account.
Convenient Travel Reimbursement Insurance Policy
As we were still in Thailand at the time, I was grateful that I didn't have to deal with physical checks mailed to my home address.
Looking back, even though I still had to pay a little extra to cover the total costs for the root canal, I was so glad to have had Allianz Travel Insurance cover the vast majority of my dental expenses.
Working with Allianz Travel Insurance and their amazing customer service staff was a breeze. The process was streamlined and the customer service representatives were friendly and very responsive.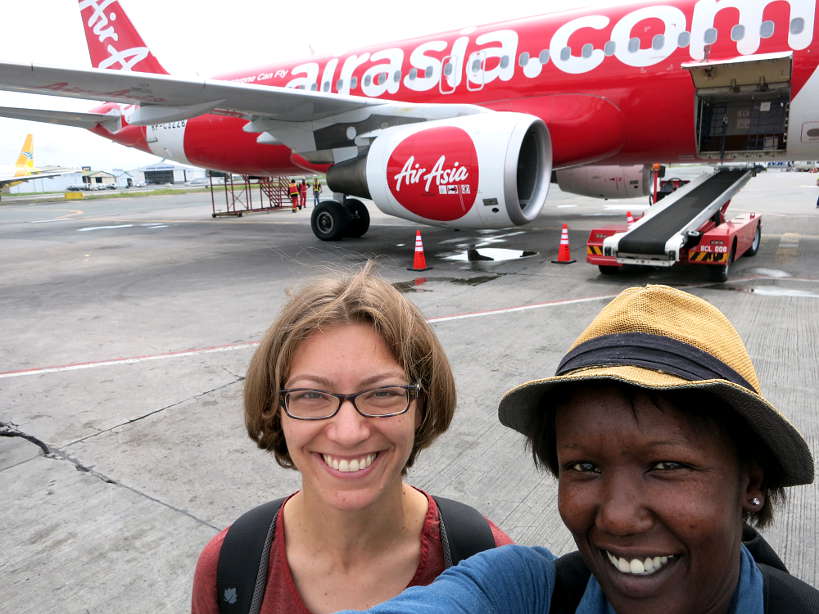 Should You Get Multi-Trip Travel Insurance?
If you travel a couple of times a year, you may want to consider getting an annual travel insurance policy.
You travel for many different reasons. Whether you are on your annual summer vacation or simply making short trips throughout the year, you'll have peace of mind knowing all your travels are covered.
The Allianz Multi-Trip Insurance policy makes it stress free knowing our travels are protected wherever we may be in the world.
No need to worry about buying travel insurance for each and every single trip. Once you purchase multi-trip travel insurance, you can spend more of your time planning your trip without the worry of insurance.
Click here to compare the benefits of Single Trip Insurance vs annual Multi-Trip Travel Insurance Plan.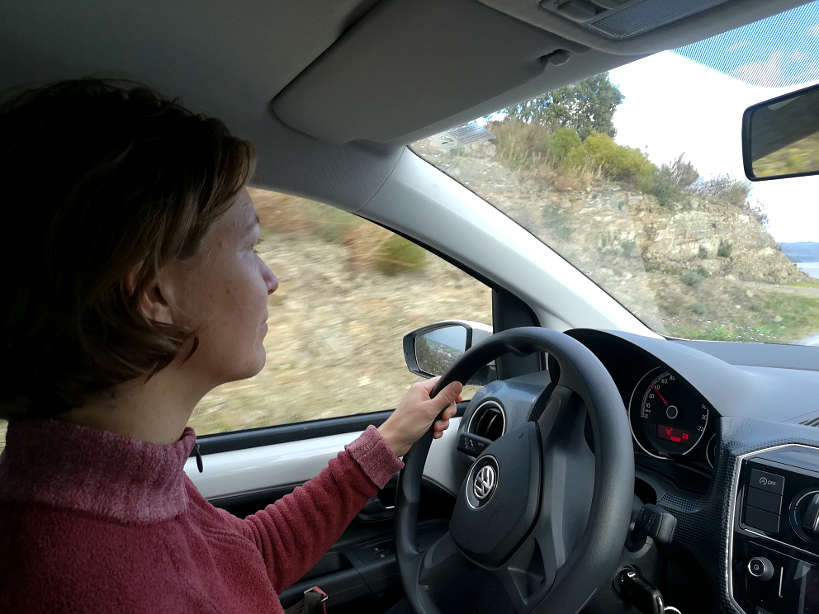 Allianz Travel Insurance offers several plans to choose from. Simply click on "get a quote" and fill out your information. See the different plans and what is covered under each one. Compare rates and prices and choose the best one for you.
How Much Does Travel Insurance Cost?
Annual travel insurance policies come in all shapes and sizes. Reading the details and asking questions is important to find the best travel insurance plan for you.
What kind of vacation are you planning for? Will you be lounging by the pool with drinks and book or are you planning to be physically active? Do you think you'll rent a car on your trip? Can you comfortably afford to replace your luggage or expensive equipment in case of loss or theft?
As you think about your upcoming travels, visit the Allianz Travel Insurance website and look at the different insurance plans.
When making our decision, we found the Allianz Travel Insurance website to be very clear with the different options.
As this our first time buying an annual travel insurance plan, the Allianz customer service helped us understand how the coverage works in the different countries we were visiting.
With all our questions answered, we bought the annual Allianz All Trips Premier Plan and easily completed the transaction online.
For less than $500, both Claire and I have medical, including dental coverage, rental car protection, trip and baggage protection coverage and much more. Not bad for an annual plan for two globe trotting culinary explorers.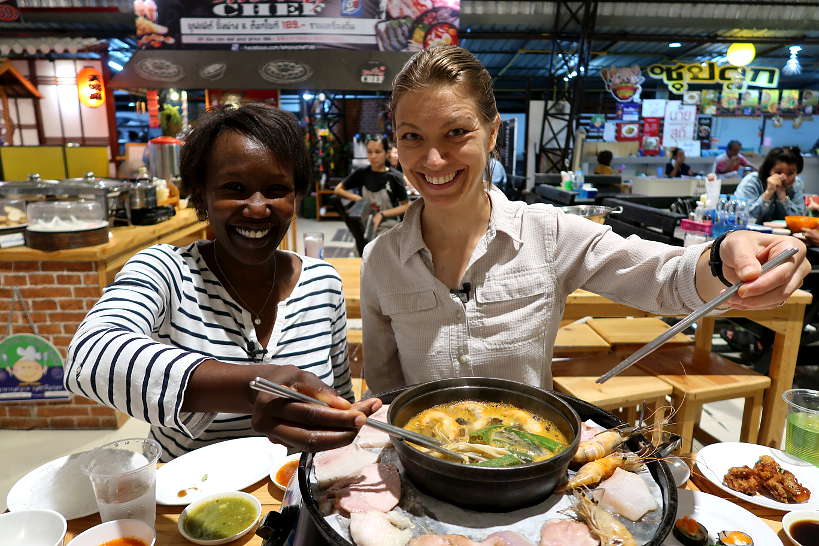 Authentic Food Quest Tip: One of the unique benefits of Allianz Travel Insurance is they cover pre-existing conditions. If you have to cancel your trip due to a preexisting medical condition, you can get a part of your trip reimbursed. Simply find a travel insurance plan that works for you and get answers to your questions from the friendly Allianz customer service staff.

In Summary
Travel is much less stressful and more fun when you are prepared. Having an annual multi trip insurance plan takes one more item off your 'to do' list.
With a policy in place and no matter if you are traveling internationally or domestically, you can have non-stop peace of mind knowing you are covered if disaster strikes.
If you think about it, travel is expensive. When you put thousands of dollars into a trip why take a risk of losing all that hard earned money if an emergency happens? Having travel insurance is a small price to pay for peace of mind.
The older we get and the more we travel, the more we realize we are not invincible. Unexpected things can happen and they do happen on the road.
Rather than pay the price to fix a mistake, we stay proactive with travel insurance coverage for life's just in case moments.
Do you get travel insurance for your trips? Let us know in the comments why or why not.
Savor The Adventure!
Love it? Pin it!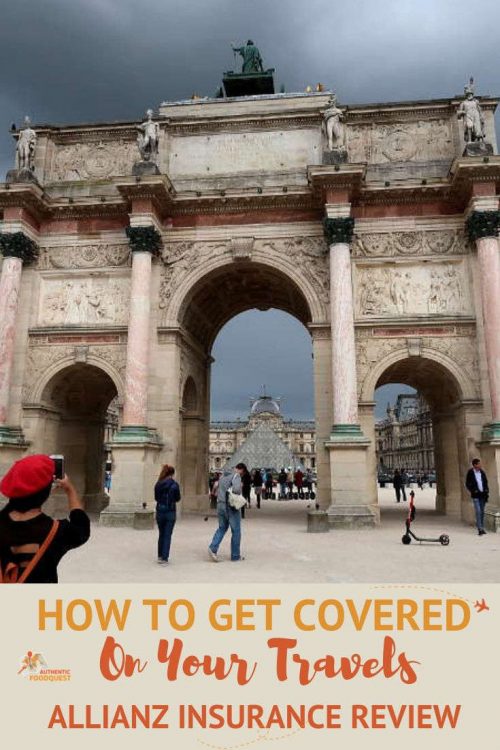 Disclosure: This article has been written in partnership with Allianz Travel Insurance, our travel insurance provider. Authentic Food Quest has received financial compensation from Allianz Global Assistance (AGA Service Company). As always all thoughts and opinions are our own.
Curious by nature, Rosemary loves exploring new flavors and connecting with locals. She shares her insights and culinary finds from her travels to inspire people to connect local through food.