This article has links to products and services we recommend, which we may make a commission from.
Travel insurance has taken on new importance as the world opens up to travel again. Regardless of vaccination status, travel insurance acts as a safeguard against pandemic-related travel costs.
We travel quite frequently with a focus on local food specialties. And, staying safe and protecting our electronic devices has always been a priority.
Now, with the added uncertainty of COVID-19 and ever-changing requirements at international borders, being adequately covered is even more important.
Allianz Travel Insurance, our travel insurance partner, updated their travel insurance policy with expanded COVID-19 benefits.
In this Allianz travel insurance review, we highlight some of those changes and why Allianz continues to be our trusted partner.

Travel Insurance – Do You Need It?
Traveling without travel insurance is a risky proposition. And the question is not if you can afford it, but really, can you afford to deal with the costs if something goes wrong?
As we begin to think about travel again, the rules have changed. Trip insurance has become even more important regardless of whether you are traveling domestically or internationally.
Even if your travel plans do not include bungee jumping or trekking in the Himalayas, you still want to be protected in case anything unexpected happens.
Travel insurance covers much more than medical expenses. With COVID-19 and an ongoing lust for travel, travel insurance companies now include some type of pandemic protection even on basic plans.
Then, there is coverage for missed flights, baggage loss, electronics protection, dental insurance, rental car damage protector and much more.
To keep us protected on our travels, we have an annual Allianz Travel insurance policy.
Thankfully, the plan was upgraded with a new epidemic coverage endorsement that continues to keep us covered no matter where we are in the world.
READ MORE: 10 Simple Ways To Protect Your Stomach When Traveling
Allianz Travel Insurance Review – What is Covered
Allianz Epidemic Coverage
Unfortunately, COVID-19 has not gone away and it remains a risk with surges and new variants.
Even if you may already be vaccinated, having coverage to deal with travel uncertainties offers peace of mind.
Many of Allianz travel insurance plans have been updated to include Epidemic Coverage Endorsement. Here are some of the benefits that are included:
Trip Cancellation, if for example you must cancel your trip after being diagnosed with COVID-19.
Trip Interruption, if for example during your trip you are specifically named and individually ordered to quarantine (not including generally or broadly applicable quarantines).
Travel Delay, if for example you are denied boarding based on a suspicion that you are ill with an epidemic disease such as COVID-19.
Emergency Medical Care, if for example you are diagnosed with COVID-19 and need to be hospitalized while traveling.
Emergency Transportation, if for example you're diagnosed with an epidemic disease such as COVID-19 while you're traveling and you require an emergency medical evacuation.
When you purchase your Allianz travel insurance policy make sure the epidemic coverage endorsement is listed in the policy.
And, if you have any questions, the Allianz global assistance team will happily answer your questions.
READ MORE: Allianz Travel Smart App – 10 Benefits You Want To Know
Allianz Insurance Travel Plans
Beyond COVID-19 coverage, travel insurance covers much more. Not all insurance providers offer the same benefits, so you want to read the fine print and find the best plan for you.
We personally have an Allianz travel insurance annual plan that covers the multiple trips we take within a one year period.
With the Allianz multi trip plans, there is no need to buy insurance for every single trip. You are covered for the year and can be stress free knowing your travels are protected wherever you may be.
In general, Allianz travel insurance offers a wide array of insurance benefits. Some are specific to certain plans so you'll want to look into more detail to understand the scope and coverage limits.
Some of what the Allianz travel insurance plans offer include:
COVID-19 coverage
Compensation for trip cancellations or interruptions
Travel delay coverage
Reimbursement for baggage loss
Rental car damage and theft coverage
Emergency medical transportation coverage
Emergency dental coverage
Travel accident coverage
Allianz global assistance – 24-hour assistance either online or with the Allianz Travel Smart App
There are several Allianz travel insurance products to choose from. From annual plans, single trip coverage or concerns about traveling with pre-existing medical conditions, simply contact Allianz travel assistance services.
RELATED: 9 Best Wine Suitcases For Easy and Safe Travels [2021]
Allianz Rental Car Insurance
Whether you are driving across the country or renting a car overseas, consider coverage for the driving aspect of the trip.
Allianz offers rental car damage and theft coverage in case your rental car is damaged or stolen while on your trip.
We typically rent cars on our food travels to visit small local producers or wineries making rental car coverage a top priority.
Depending on how you plan to get around while traveling, look into the rental car coverage protection on your insurance policy.
READ MORE: Fall in Love With Douro Valley and The Best Wines in Portugal
Dental Travel Insurance Coverage With Allianz
Dental coverage is not top of mind for many people when purchasing insurance. Though, it is good to have protection should anything unexpected happen.
Case in point, Chiang Mai, Thailand.
While in Chiang Mai, exploring the local and authentic food specialities, my tooth started throbbing unexpectedly.
After a day or two of intense throbbing, I made a dental appointment for what I thought was a simple filling.
After looking at the x-ray the dentist told me I needed a root canal. I panicked.
I wasn't prepared for this and most importantly, I hadn't envisioned my trip to Thailand involving any dentists.
The only silver lining was that I had Allianz Travel insurance. Before leaving, I had luckily made sure that our multi-trip travel insurance plan offered dental coverage as well.
The only outstanding question was "what would it be like to file an Allianz travel insurance claim?"
READ MORE: 15 Authentic Best Chiang Mai Food and Where To Have It
Allianz Travel Insurance – Filing A Claim Process
Filing a claim with Allianz is rather simple. The claim process is clearly outlined on the Allianz website.
Once you log into your account, you will have the option to file a claim from the main dashboard.
In my case, to treat the root canal issue in Chiang Mai, I needed three different dental appointments.
To make sure I had everything covered, I contacted the Allianz Travel customer support team to inform them.
In less than 24 hours, the customer service team got back to me and told me that all I needed was to make sure I kept all the invoices from the dental visits.
It was as simple as that. After successfully surviving the root canal, I gathered all my invoices and logged into my account to file a claim.
I sent in scanned copies of the invoices. And, the only additional paperwork Allianz requested was a copy of my flight itinerary.
About three days later, I logged into my account to check the claim status. The website dashboard is simple and broken into four categories; claim reported, claim documentation received, processing and complete.
Once I saw my claim was under review, I was confident Allianz travel insurance had everything they needed to process the claim.
In less than 30 days, my claim was approved and I was reimbursed at the maximum limit allowed for dental insurance.
The best part about the claims process is I was able to have the funds wired directly into my bank account.
Looking back, while I still paid extra to cover the total costs for the root canal, I was grateful for the coverage.
Working with Allianz travel assistance services was a breeze. The process was streamlined and the customer service representatives were friendly and very responsive.
What Allianz Travel Insurance Does Not Cover
Different travel insurance plans cover different options. Before traveling, compare different travel insurance policies to make sure you are protected from the unexpected.
Allianz travel insurance company plans are varied but may not be for everyone.
Adventure Sports Enthusiasts: if you love extreme sports and plan your travels around skydiving, hang gliding, caving, or bungee jumping, Allianz insurance may not be for you.
While Allianz travel does cover adventure travel, some activities are excluded. Get in touch with the Allianz global assistance team for more information. Or alternatively, seek out a travel insurance provider that specializes in travel insurance for extreme sports.
Trips Longer than 90 Days Not Covered: Depending on the duration of your trip, your travels may not be covered by Allianz travel.
Trips longer than 90 days are excluded from coverage in all Allianz travel insurance plans. Allianz insurance is best for those taking single trips or multiple trips a year each less than 90 days in length.
READ MORE: 10 Fabulous Reasons To Take A Cooking Class On Your Travels
How Much Does Travel Insurance Cost?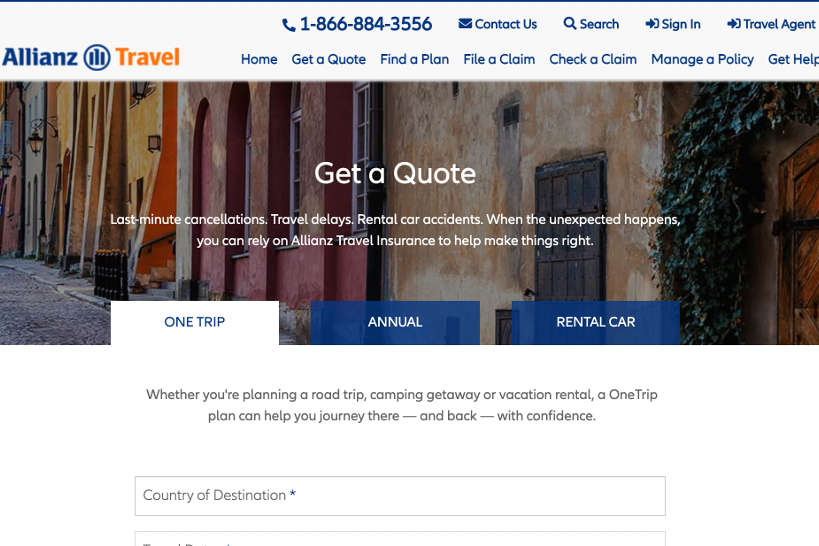 Annual travel insurance policies come in all shapes and sizes. Looking over the details and fine print carefully and asking questions will lead you to the best travel insurance cover for you.
What kind of vacation are you planning for? Will you be lounging by the pool with drinks and a book or are you planning one being physically active?
Do you think you'll rent a car on your trip? Can you comfortably afford to replace your luggage or expensive equipment in case of loss or theft?
These are all considerations as you plan your travels. Get a quote for one of Allianz travel insurance company plans.
For us, Allianz offers a great blend of value, maximum coverage at an affordable price.
For less than $500, both Claire and I have medical, including dental coverage, rental car protection, trip and baggage protection coverage and much more.
Most importantly, we have peace of mind on our travels knowing we are covered with our annual plan.

In Summary
Travel is much less stressful and more fun when you are prepared. With the uncertainty brought about by COVID-19, it's good to have travel insurance with Allianz, that offers epidemic protection.
Whether you are traveling domestically or internationally, you want to have peace of mind. Allianz travel insurance offers benefits like trip cancellation, medical coverage, baggage loss coverage, and much more.
No matter what kind of traveler you are, Allianz Global assistance offers a range of plans at affordable prices. If you are looking for comprehensive coverage for domestic or international travel, you'll not go wrong with Allianz.
The older we get and the more we travel, the more we realize we are not invincible.
Unexpected things can happen and they do happen on the road. Rather than pay the price to fix a mistake, we stay proactive with travel insurance coverage for life's just in case moments.
Where will your travel plans take you next? Please let us know in the comments below.
Savor The Adventure!
Love To Travel? Pin It!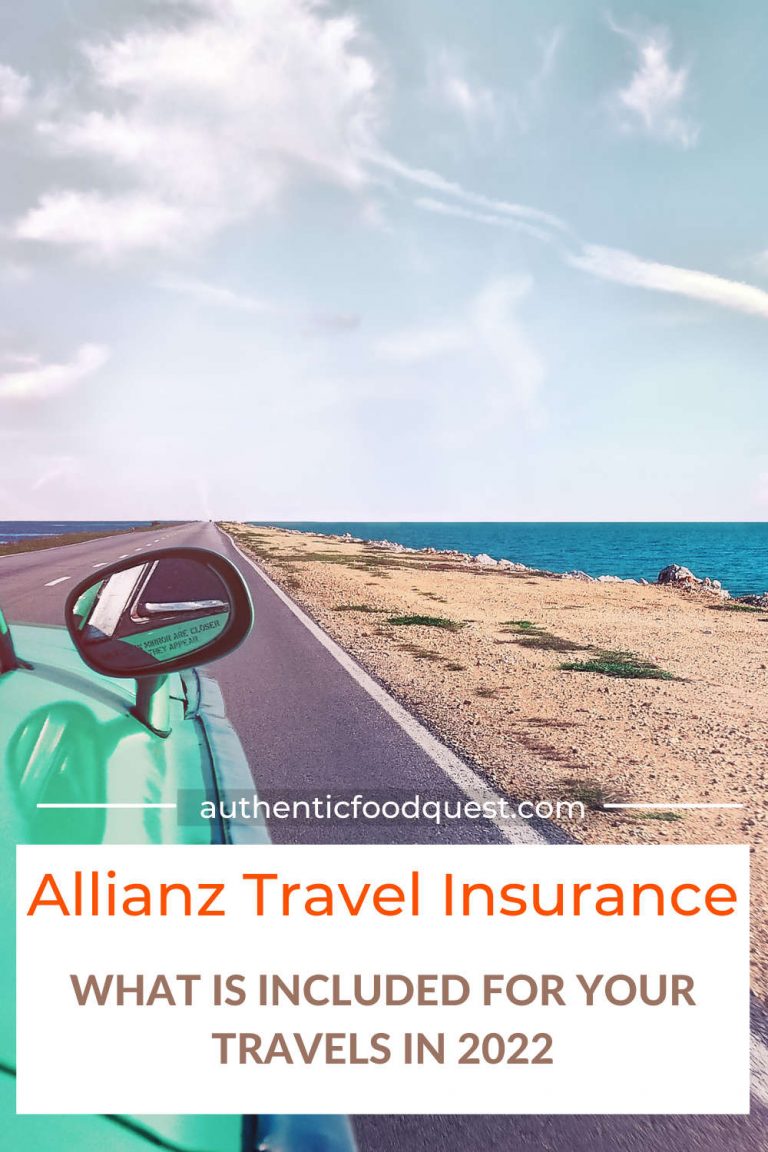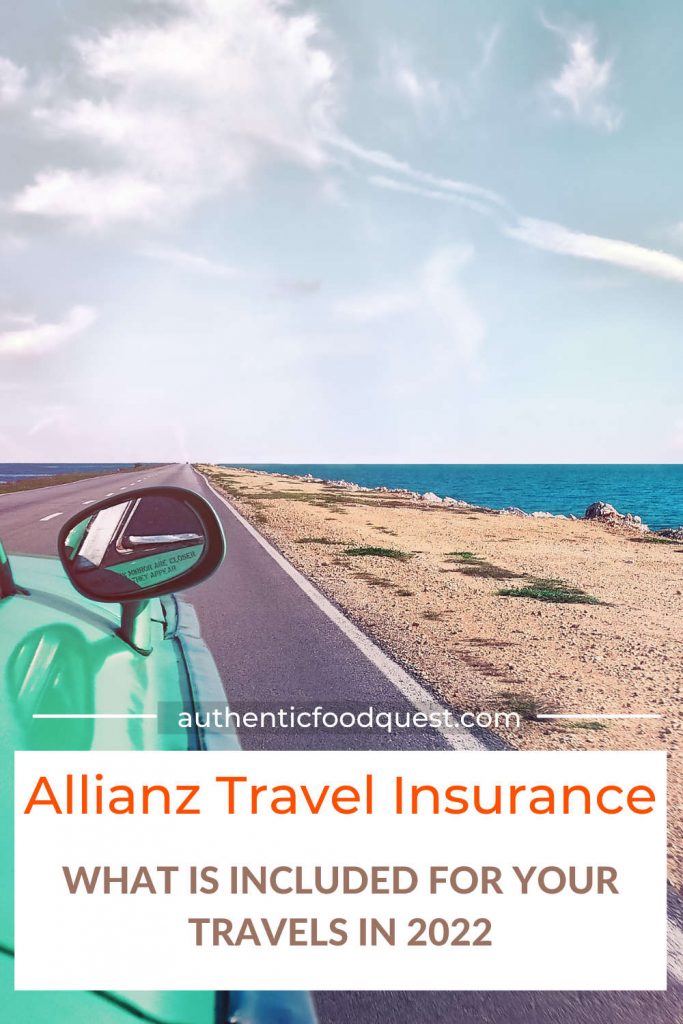 Disclosure: This Allianz travel insurance review has been written in partnership with Allianz Travel Insurance. Authentic Food Quest has received financial compensation from Allianz Global Assistance (AGA Service Company). As always all thoughts and opinions are our own.
Curious by nature, Rosemary loves exploring new flavors and connecting with locals. She shares her insights and culinary finds from her travels to inspire people to connect local through food.