When traveling, there are a lot of moving parts that can make things stressful.
On our travels, we use a few travel apps to keep us organized and make our life easier.
Recently, we started using the free TravelSmart app from Allianz, our travel insurance partner.
We only wish we would have used it sooner.
In conjunction with our insurance, the TravelSmart Allianz app offers many practical benefits.
Here are 10 ways to help you travel smarter. And some are even available even if you are not insured with Allianz.

2. Medical Translation Capabilities on The TravelSmart App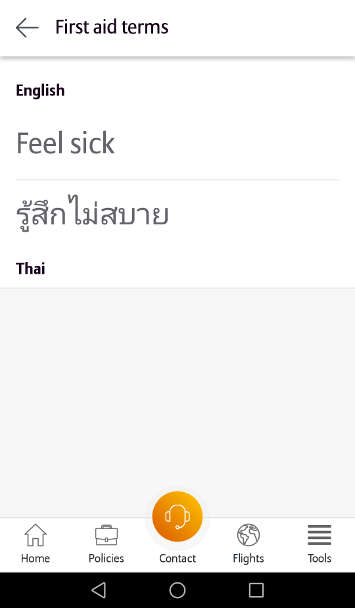 Have you ever been in a new destination and on a particular day you're just not feeling your best?
Maybe you have a headache, cramps or familiar aches and pains.
You don't need to see a doctor, but you know taking your usual ibuprofen or pain relief pills offers immediate relief.
So, imagine you are walking around sightseeing and you spot a pharmacy. You run in and ask for your usual pain relief pills and quickly realize no one understands you.
You look around and see all the writing on the medications is in a foreign language.
Recently, while in Costa Brava, Spain we were going fishing gambas on a day with strong winds. We were advised to get something for motion sickness.
We didn't know the Spanish equivalent for Dramamine, and only realized later that it is Dramamina.
The TravelSmart Allianz App eliminates this type of anxiety on your travels. There is a Medical Translator function with a medication dictionary and first aid terms available in several languages.
The medication dictionary shows the universal pharmaceutical name for hundreds of common medications that any pharmacist will understand.
To use the first aid terms feature, all you do is put in how you are feeling, choose the language of the country you are in. And the translation is done automatically.
It's that simple and easy.
3. File and Track Your Insurance Claims
While in Thailand exploring the local food in Chiang Mai, Thailand, Rosemary unexpectedly needed to see a dentist.
Fortunately, we are covered by Allianz Insurance and the process was fairly simple. Rosemary simply filled out a few forms where she outlined what happened and the treatment she received.
She sent in scanned copies of the invoices. And, the only additional paperwork Allianz requested was a copy of our flight itinerary.
Once the paperwork was sent in, she would log into the account from time to time to check if it had been approved or if Allianz needed more information.
The Allianz TravelSmart App makes it easy to file and track a claim. From the convenience of a smartphone, tracking and checking the status of a claim is as simple as logging into the app.
With the convenience of the Travel Smart App from Allianz, get all the information you need, anytime, anywhere.
Authentic Food Quest Tip: Always make sure you are covered on your travels, including unexpected dental emergencies. Read about our dental insurance experience with Allianz Travel Insurance.
4. Emergency and Hotline Information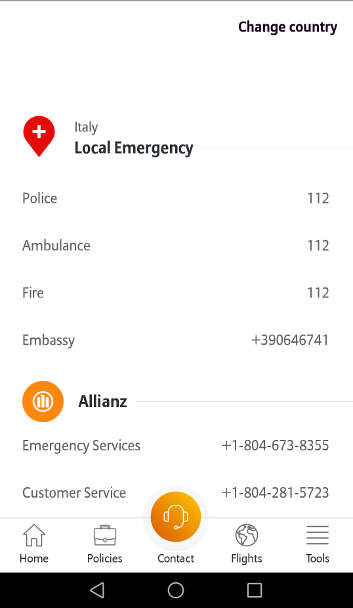 You know the emergency number of your home country. In the United States, for instance, the emergency number is 911. Children learn this number at an early age and today, about 240 million calls are made to this number each year.
What if you are traveling to Italy, Thailand, or Japan. Do you know the emergency numbers of those countries? What number would you call if you need help in an emergency situation?
One of the most practical aspects of the Allianz TravelSmart App is the Local Emergency feature. On it are the emergency numbers of almost all the countries in the world.
Looking up the emergency number for Italy (112), Thailand (191) or Japan (119) is as easy as tapping on the contact button on the app.
In addition to the emergency numbers of all the countries, Allianz has their emergency services, customer service and email address available.
So, no matter where you are, with the TravelSmart App, you have help available at your fingertips.
5. TravelSmart App Push Notifications for Safety and Security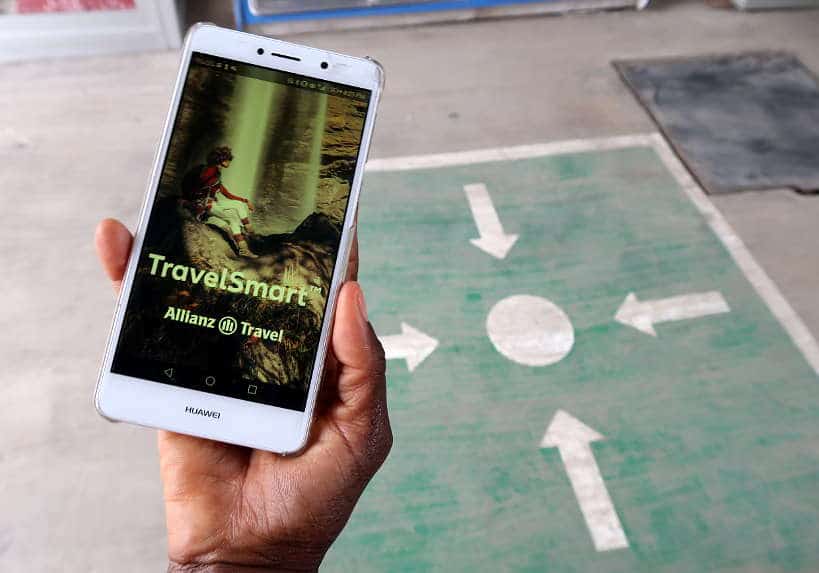 A new feature to the Travel Smart app is an Alert Center, which sends notifications about the destination you are visiting.
If you already have an Allianz Travel Insurance policy, you will receive alerts about conditions happening at the location of your travels.
This could include weather advisories, health and security risks, changes in travel conditions, and more.
Intimately following the local conditions of the place you are traveling to is something we may do at varying degrees.
For instance, Oaxaca, Mexico is a region known for seismic movements and earthquakes.
We were planning on visiting Oaxaca at the end of June and unexpectedly had to delay our travels.
A severe earthquake hit the region with tremors felt as far as Mexico City and Guatemala.
Thankfully the damages were mostly material.
If we had been in Oaxaca at the time, the TravelSmart App would have alerted us. In addition, we would have received expert advice on how to respond.
With the touch of a button on the main screen of the app, you can easily access customer service.
By simply enabling your app to use your geolocation, you'll receive alerts with 24/7 access to expert help.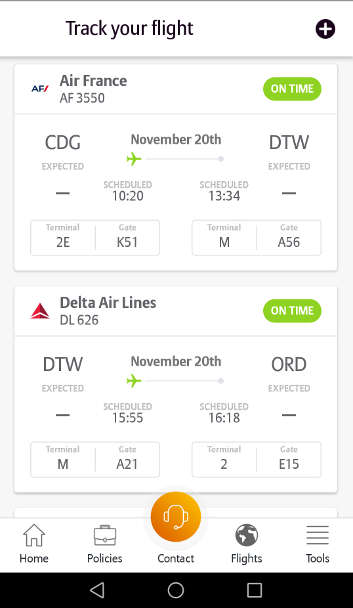 One of the handy features of the Travel SmartApp is the ability to track your flights directly on the app.
However, to get the full benefits of this feature, it is better to be logged in. Nonetheless, you can still track your flights even if you are not.
To do so, from the home page, you either input the flight number and date, or the route and date.
What I find very helpful about this tracking function is that it gives you the terminal information for your departures and arrivals.
On a recent trip to Mexico, we had a layover in Houston. Just before we arrived, the airline notified us of a terminal change.
With the TravelSmart Allianz app, we had peace of mind knowing we didn't need to worry about the gate change. As soon as we landed, we simply checked the TravelSmart app for the updated information for our flight to Guadalajara.
This feature becomes even more beneficial when you are logged in. The next benefit details another advantage of having Allianz insurance and the Travel Smart App.
7. Automatic No Claim Receipt $100 Payment for Delayed Flights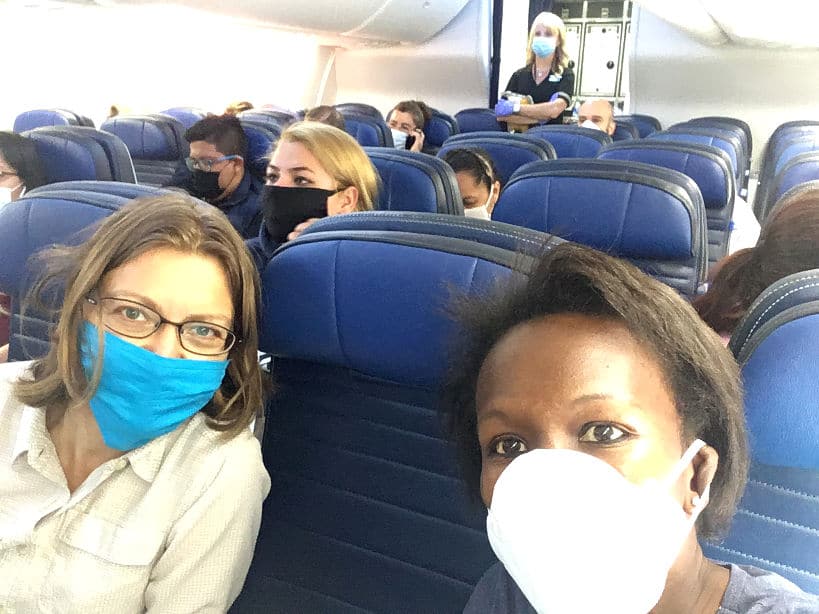 If you are like me and despise taking care of paperwork, you will love this awesome benefit from Allianz.
If your flight gets delayed and the delay is covered by your travel insurance plan, you get an automatic payment of $100.
To receive the payment, let Allianz know the flight information. You have the option to do so on the Allianz Travel website.
Though, as mentioned previously, it's much more convenient to use the TravelSmart App directly from your smartphone.
If you gave Allianz a way to contact you either via text or email, you will receive notice of your eligibility right away.
Then, you just need to follow the prompts and indicate how you want to get paid. For faster processing, choose via debit card which is almost instantaneous.
Direct deposits can take about 2 to 5 days depending on your bank.
Imagine the feeling of relief knowing you have $100 to cover additional spending due to flight delays.
Keep in mind, this automatic payment only happens if you use the tracking flight feature ahead of your flight.
Also, the $100 payment is for each person and per travel day.
8. No Receipt Claim Payment for Delayed Luggage
Another neat feature of the TravelSmart App is payment for delayed luggage as well.
Imagine how frustrating it can be to learn at arrival that your bags got left behind.
This happened to us a few years ago when we were traveling to France for Christmas.
Upon arrival at Paris-CDG airport, we found out it had been snowing. Subsequently, our plane was grounded on the tarmac for a couple of hours before we could get out.
Shortly, a bus came to pick up the passengers but the luggage got left behind. The next day, we were able to retrieve one suitcase at the airport but not the one with Christmas gifts.
It was really disheartening to celebrate Christmas and not have the promised gifts for our nieces.
We eventually got our luggage back but it was late and several days after Christmas. At the time, we didn't have travel insurance.
If we would have had Allianz, we would have been covered with the delayed luggage policy.
In situations like this, you need to provide proof of covered delay. Typically, this is a claim form from the airline and the delivery receipt.
The payment is handled in the same manner as the delayed flights.
9. Everything in the Same Place With TravelSmart App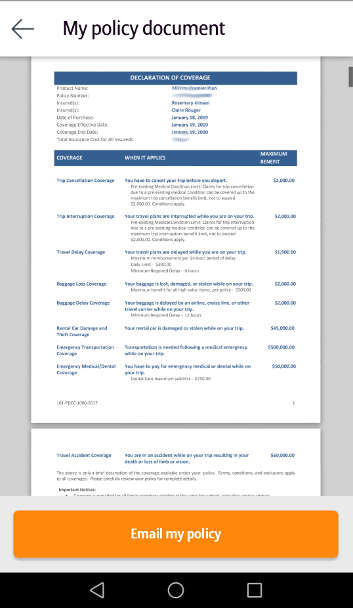 I'm not a fan of paperwork, but I am the master of filing documents safely. Sometimes, so safely that I don't remember where I put them.
The TravelSmart app helps me with my "file and forget" behavior. Once logged in the TravelSmart App, all the information is available in the same place.
On the app, your policy number is available as soon as you login. With one click on the policy information, you see a summary of the main coverage details.
At the bottom of the screen is a link to visualize the entire policy. The coverage information is provided at the top of the document.
This is handy allowing you to check your eligibility for flights or covered luggage delays. This also applies to checking up on medical, dental coverage, and other trip coverages.
With all your documents in one place, the TravelSmart app makes it easy to find what you are looking for.
10. TravelSmart App Ease of Use
Overall the TravelSmart app is easy to use and navigate.
Right from the home page, you have direct access to important policy and flight information.
Other tools such as filing a claim, local assistance information, and medical translator are available from the menu tab. Each menu is quite explicit and easy to navigate.
If there is one area we'd like to see developed further is the medical translator with additional languages like Vietnamese or Bulgarian. That said, Allianz makes regular updates and takes customer feedback into account.
So don't hesitate to give your feedback on the TravelSmart app.
Try it for yourself and see how easy it is to use. The TravelSmart app is free and available for iOS and Android devices.
Check the Video by Allianz about the TravelSmart App Functionalities

In Summary
Between packing, getting to the airport, going through security, and catching your flight, you have a lot on your mind.
Thankfully, the features on the Allianz Travel Smart App makes it easy to stay organized.
The app designed with the traveler in mind is constantly being updated with new features and functionalities.
No matter the distance of your travels, it helps to have your travel information organized in one place.
The TravelSmart Allianz app offers peace of mind knowing medical and travel assistance is at your fingertips, at any time.
On your next trip, make sure you are covered with Allianz Travel Insurance and use the full functionalities of the TravelSmart App.
Allianz Travel Insurance offers several plans to choose from. Simply click on "get a quote" and fill out your information. See the different plans and what is covered under each one. Compare rates and prices and choose the best one for you.
Love it? Pin it!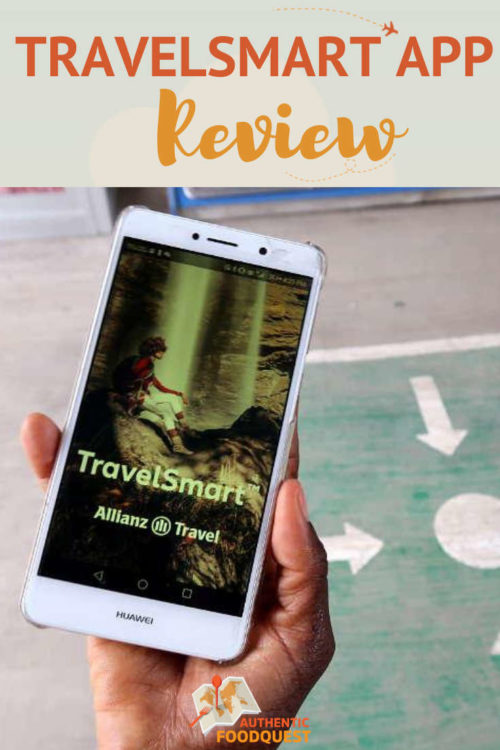 Disclosure: This article has been written in partnership with Allianz Travel Insurance, our travel insurance provider. Authentic Food Quest has received financial compensation from Allianz Global Assistance (AGA Service Company). As always all thoughts and opinions are our own.
Claire, ex-engineer, is a digital nomad and content creator at Authentic Food Quest. Since 2015, with her partner, Rosemary, they travel the world in search of the best local food experiences. Their mission is to help you enjoy the best local specialties on your travels or via recipes in your home kitchen. Favorite country for food: Vietnam. Favorite local dish: Hainanese Chicken Rice.  Favorite way to keep fit: Cycling. Claire is responsible for the website and the fun food & travel videos on Youtube. She is also co-author of Authentic Food Quest Argentina and Authentic Food Quest Peru, available on Amazon.