Can you guess what Yellow Tail, Penfolds, Banrock Station, and Jacob's Creek wines all have in common?
They are all produced in Australia.
Australia is renowned for its spectacular wine regions, which produce some of the most acclaimed wines in the world. Their wines overall are very much like the people: fun-loving, full of life, friendly, open, and without pretensions.
Wine is produced in every state and there are more than 60 designated wine regions, so where do you start?
Pack your bags, load up your used RV, campervan or motorhome, and set your Google Maps to explore the five best Australia wine regions.

1. The Barossa Valley – Australia Wine Region with Old Vines, Amazing Reds
Barossa Valley has some of the oldest grape vines in Australia. First settled in 1842 by European immigrants, this is one of the most historic wine producing regions in Australia.
While the region is most famous for Shiraz it is also known to produce exceptional Grenache and Mourvedre/Mataro varieties. The Shiraz style produced in Barossa is known for its plush tannins and full-bodied character.
There are more than 150 wineries and cellar doors in the Barossa Valley. You'll find Jacob's Creek, Australia's largest wine brand. Penfolds, one of Australia's oldest wineries and Wolf Blass, one of the regions most awarded wineries.
In terms of global significance, this Australia wine region is arguably the most important wine region. The area is dynamic with a younger generation of winemakers, drawing on the history and giving the region and wines a contemporary face.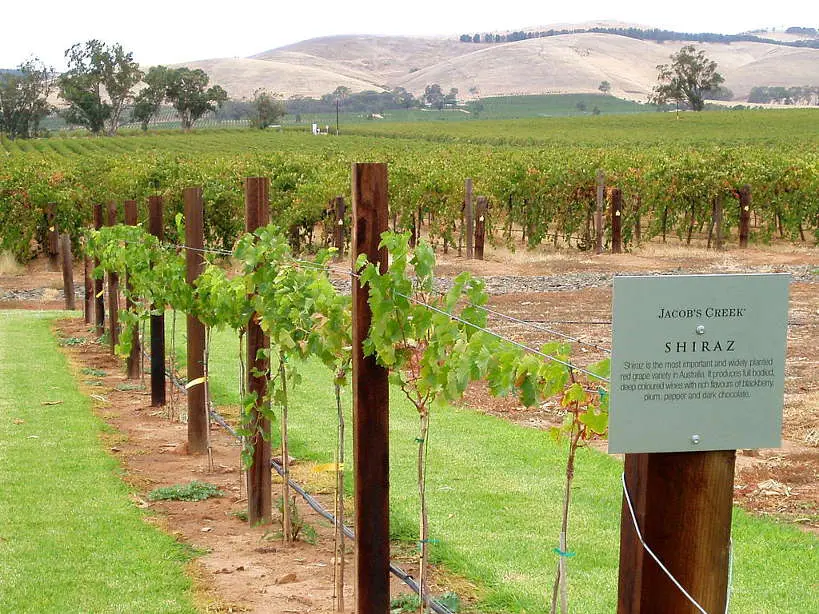 2. Coonawarra, SA – Cabernet Sauvignon from Australia's Famous Terroir
Coonawarra is a small region, only about 18 miles long and barely one and a quarter miles wide. Despite this, it is home to more than 24 wineries and cellar doors.
The terra rossa soil, vivid red in color, is derived from and sits on a bed of soft limestone. The predominantly maritime climate with dry and moderately cool Summer's ripens the grapes to perfection. The result is full-bodied Cabernet Sauvignon wines with cassis, plum, and black cherry flavors.
One of the best things about the region's small size is the ability to easily discover the community of winemakers. Grab a copy of the Coonawarra Wineries Walking Trail. This 5km trail takes five different wineries in the area, where you can stop in for tastings and food while admiring the scenery.
3. Hunter Valley, NSW – Chardonnay and Distinctive Semillon Wine
Hunter Valley is unquestionably the best-known wine regions in New South Wales. Located just north of Sydney, this region is of significant historical importance to the Australian wine industry, which started there.
It was home to James Busby, the father of Australian wine, who brought vine cuttings to Australia from Europe in the 1830s.
Hunter Valley is best known for pioneering two distinctive styles of wines. Full flavored Chardonnay and Semillon wines.
The Hunter Valley Semillons are famous for their ability to improve with age. Some of the wines continue to age in the bottle for more than 15 years. These wines start out with a fresh, grassy, citrus taste and evolve into golden wines with nutty, honeyed notes and a luscious mouthfeel.
The Chardonnays are particularly significant because it was in Hunter Valley, where the first Australian Chardonnay was made.
With Hunter Valley's proximity to Sydney, visiting the valley is a must for wine lovers. In addition to the famous Chardonnay and Semillon wines, you'll also find juicy red Shiraz wines. Enjoy discovering Hunter Valley, one of New South Wales best Australia wine regions.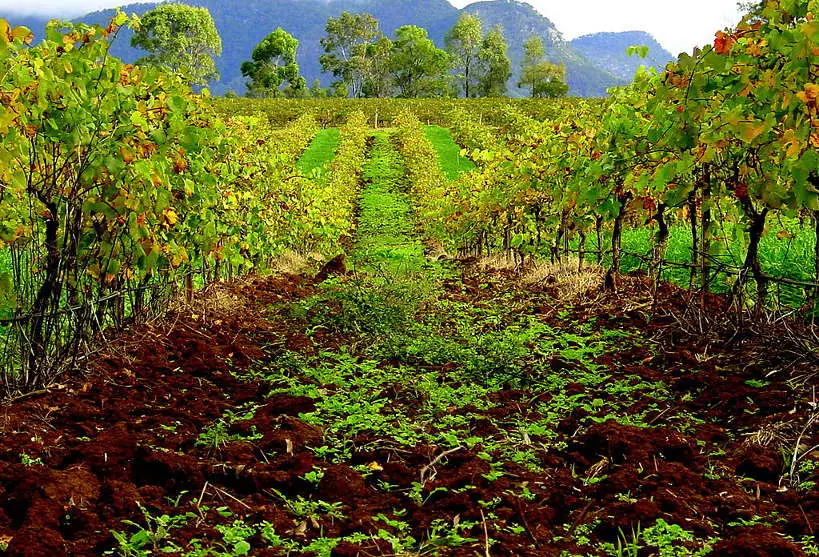 4. Margaret River, WA – World Class Wines and Surfing
Home to a number of world-class wine producers, many of which are boutique or family-owned wineries.
Producing more than 25% of Australia's premium wine, Margaret River is one of the largest Australia wine regions, with more than 200 vineyards.
The area is famous for its outstanding Cabernet Sauvignon and Chardonnays. The climate is maritime influenced and the vines are cooled by breezes off the Indian Ocean. This temperate climate along the Indian Ocean makes it one of the best regions to grow white wines (Semillon, Sauvignon Blanc, and Chardonnay), as well as amazing Cabernet Sauvignon.
This far-western region, south of Perth, is also renowned as a world-class surfing. Travelers will enjoy the wine, beaches, and sense of adventure in Australia's south-west corner.
5. McLaren Vale, SA – South Australia's Outstanding Red Wines
McLaren Vale is known by some as "Red Wine Country." This is the place for bold Shiraz wines, elegant Cabernet Sauvignon and premium Grenache wines. Furthermore, it also has some of the best Chardonnay wines in Australia.
Located about 45 minutes south of the city of Adelaide, you will find over 80 wineries and cellar doors to explore. You'll find several boutique wineries and passionate winemakers.
One of the regions most significant wineries is d'Arenberg, which was established in 1912. This family-owned winery is the only winery in Australia to basket press both white wines as well as reds, making for a labor-intensive process. The quality of the results makes this process worthwhile, as the action is controlled and extremely gentle.
The newly opened architectural masterpiece, the d'Arenberg Cube, offers panoramic views over McLaren Vale. You'll also find an Alternate Realities Museum and several art installations in this cube-shaped building.
McLaren Vale is home to many other wineries worth visiting. Justin McNamee, proprietor of Samuel's Gorge, focuses on three varietals he believes excel in McLaren Vale – Grenache, Shiraz, and Tempranillo. Gemtree Estates produces natural and organic wines while setting a new standard for sustainable and generational farming.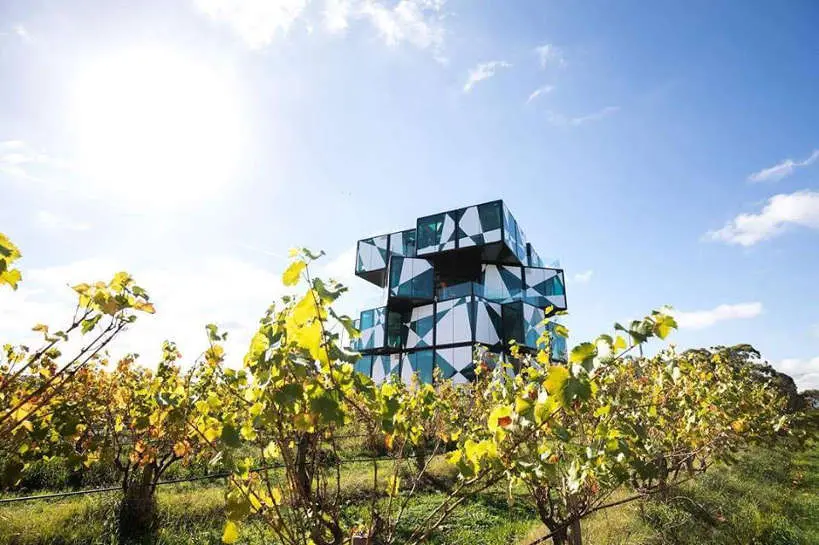 In Summary
The Australian wine industry is booming and Australia has risen to become the fifth biggest wine producer in the world. With over 60 Australia wine regions, knowing where to start can be daunting.
If your travel plans allow, travel through the regions slowly. Take the time to discover the regions while sipping on the delicious wines. You may even consider taking your bed with you in a reliable campervan or RV, that way, you don't have to drink and drive.
Savor the big Reds from the different regions and enjoy the delicate and timeless Whites. Get an authentic taste of the country, from the wines that are shaping its identity.
Are you are red or white wine lover? Share your comments below.
Savor The Adventure!
Disclosure: Written in collaboration with Gumtree
Love it? Pin It!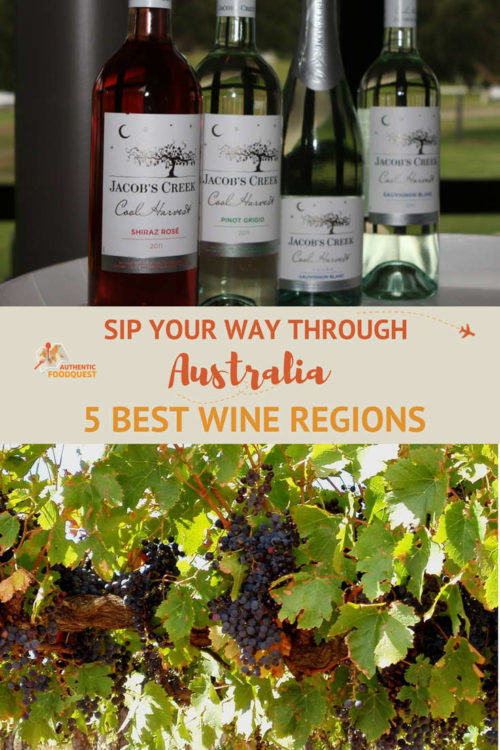 Disclaimer: This page contains affiliate links. That means at no extra charge to you, we earn a small commission when you purchase using these links. Please note we only link to products and services that we personally use or trust. Thank you for your support.
Rosemary is the editor-in-chief and strategist at Authentic Food Quest.
Traveling slow since 2015 with her partner, Claire, she has explored the cuisine in 45 countries and more than 240+ culinary cities.
Her writing about local food specialties has been featured in Lonely Planet, Business Insider, Honest Cooking, Food Insider, and Huffington Post.
As a food and travel writer, Rosemary has co-authored three books, including one in collaboration with Costa Brava Tourism.
Rosemary is an avid runner when she's not eating and exploring new destinations. She has run ten marathons and counting.
Before Authentic Food Quest, Rosemary held senior-level strategy positions in advertising. 
Find out more about Authentic Food Quest