This article has links to products and services we recommend, which we may make a commission from.
What is Bandung?
Bandung drink is a popular and common drink in Singapore and also in Malaysia. It goes by several names, Sirap Bandung, rose syrup with milk, Air Bandung or simply Bandung.
This drink with gentle pink and white tones is elegant with a seemingly romantic appearance. Not only is it gorgeous to drink, it's delicious to the point of being almost addictive.
This traditional drink combines rose syrup with milk, evaporated milk, or condensed milk. It has a creamy texture with delightful aroma of roses.
The word Bandung means "joined" or paired in the Malay language. And, "sirap" is the equivalent of syrup. The expression "go together" refers to milk with rose syrup.
One thing to note is the drink "Bandung" is not related or connected in anyway to the city of Bandung in Indonesia.
During the fasting month of Ramadan, Bandung rose syrup drink is popular and commonly consumed. It's sweet and refreshing flavors makes it a suitable thirst quencher for the hot weather.
Is there a difference between Air Bandung and Sirap Bandung?
While "Air Bandung" and "Sirap Bandung" are both used interchangeably to refer to the same drink, there are subtle differences in the recipe.
When the term "air" is used, this usually refers to two different variations of the recipe.
The first consists of replacing the milk with a carbonated beverage or whipped evaporated milk to add air to the preparation. This fits the term "Air Bandung" perfectly well.
Some use other flavoring syrups, other than rose syrup, to prepare the drink, and these many variations are also called "air Bandung."
Bandung Drink Origin
The origin of this bandung rose syrup drink is not clear. There is one urban legend that places its creation in the colonial era of Singapore, during British rule.
Legend has it that an English citizen dissatisfied with the taste of local tea went for a walk through the city's streets looking for a new tea.
There he found a drink prepared from an extract of roses and spices. He thought of mixing the extract of roses with the tea to improve the tea taste, but he did not get the desired results until he combined the rose drink with milk and a little tea.
The drink quickly became popular in British society and was later embraced by locals who added pink food coloring to enhance its appearance and remains so to this day.
Another theory, perhaps more appropriate, is that the Bandung drink is an adaptation of the Indian recipe for milk of roses.
Discovering Bandung Drink in Malaysia and Singapore
While exploring the local food specialties in Malaysia and Singapore, we couldn't help but be attracted to this pink colored drink.
A popular local drink, we had it several times in both countries, and enjoyed its creamy and not overly sweet taste.
The first time we had it in Singapore, was at a local restaurant where we discovered Nasi Lemak, a popular Singapore food.
This is a flavorful rice based dish served with chili sauce and sides like chicken, fish or anchovies.
To go along with the meal, we had refreshing glasses of the Bandung drink. It was the perfect contrast to the fiery flavors and a drink we came to quickly love.
Given the simplicity of this refreshing drink, we're excited to share easy to make local Singapore flavors with this Bandung recipe.
Sirap Bandung Recipe – How To Make Bandung at home
This favorite drink in Singapore and Malaysia is incredible easy to recreate at home.
The simple Bandung recipe calls for just three main ingredients. Condensed milk, evaporated milk, and rose syrup.
Mix together in the recommended proportions and refreshing, creamy and delicious drink.
Ingredients
Bandung Recipe Tips
Given the simplicity of this rose milk syrup drink, we have just two simple tips for you.
Substitute the evaporated milk for condensed milk. This will give the bandung drink more creamy textures. At the same time with the additional ice cubes and water, you'll better control the amount of sugar added.
Before making the recipe, chill the syrup, evaporated milk and glasses in the fridge. The colder all the ingredients are, the more delicious the result.
Is Bandung Drink Healthy?
There are a variety of ways of adapting the sirap bandung recipe to make it healthier.
The condensed milk that adds the luscious and creamy textures to this bandung recipe, is one of the ingredients to be used in moderation.
You can use just a little condensed milk drink's richness. Or, replace it entirely with evaporated milk or soy milk.
With no condensed milk, you can sweeten the bandung drink with a sweetener like stevia.
Rose syrup contains a little sugar. You can substitute rose syrup for rose water and enjoy the same rose flavored scents.
We tried a version that combines evaporated milk with a bit of condensed milk. This is very similar to the traditional version, with fewer calories, and the same delicious flavors.
Bandung Drink Calories
According to Nutritionix, a large nutrition database calculator, one cup (240 ml) of Bandung drink contains 156 calories and 32 g. of sugar.
The average consumption is typically, 330 ml to 360 ml per serving which makes it approximately 240 calories.
AUTHENTIC FOOD QUEST TIP: Check our other Malaysian drink recipe, Teh Tarik a delicious frothy pulled tea
Variations of Sirap Bandung
With the popularity of Bandung in Singapore, Malaysia, Indonesia and even Brunei, many alternative versions to the traditional recipe have emerged.
Some versions substitute rose syrup for other flavors, like orange blossom, or others.
Some make the rose water with soda or sparkling water instead of using milk. This particular version is popular in Indonesia where it is known as 'soda gembira' or happy soda.
Others add completely different ingredients like grass jelly, tapioca pearls used in bubble tea or even ice cream.
To go along with this beautiful drink, edible rose petals can also be added or the glass decorated with dried roses.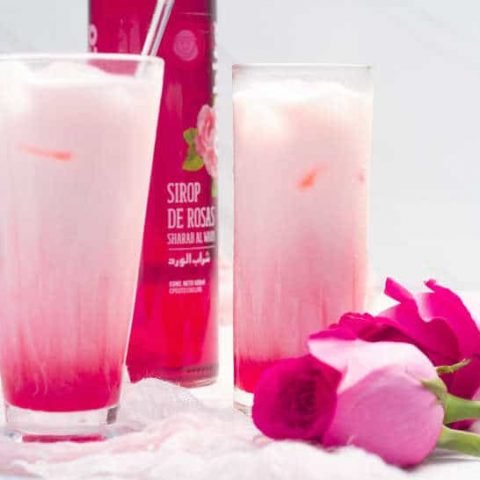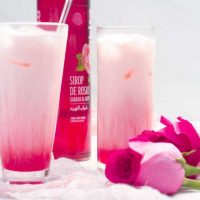 Sirap Bandung Recipe
This quick and simple Bandung recipe makes a delicious 3 ingredient drink with a touch of Rose Syrup. It's beautiful, floral, sweet and refreshing and a beloved local drink in Singapore.
Print
Pin
Rate
Instructions
In a measuring cup or mixing bowl, combine water and condensed milk with evaporated milk. Stir well with a whisk or a spoon until you get a homogeneous mixture

Next, fill your serving glasses about 2/3 full with ice cubes

In each of the glasses, pour about  two or three tablespoons of rose syrup on the ice

Finally, fill the glass with the milk and water mixture 

Stir and mix well to achieve a beautiful blend of colors

Enjoy immediately
Notes
As you prepare bandung recipe, taste the mixture a few times. If it is too sweet for your palette, feel free to adjust combination of milk and water to suit your tastes. 
Nutrition
Serving:
1
|
Calories:
296
kcal
|
Carbohydrates:
34
g
|
Protein:
12
g
|
Fat:
13
g
|
Saturated Fat:
8
g
|
Polyunsaturated Fat:
0.4
g
|
Monounsaturated Fat:
4
g
|
Cholesterol:
50
mg
|
Sodium:
190
mg
|
Potassium:
530
mg
|
Sugar:
34
g
|
Vitamin A:
408
IU
|
Vitamin C:
3
mg
|
Calcium:
446
mg
|
Iron:
0.3
mg
More Related Cooking Products
Claire is a culinary explorer who travels the world in search of the best local foods. She is always looking for her next culinary adventure to bring you the best bites while exploring new places.