This article has links to products and services we recommend, which we may make a commission from.
Taking cooking classes in Singapore is a delicious way to experience the diversity and multicultural flavors found in the cuisine.
This small Asian country packs a lot of flavor in the food. With Chinese, Indonesian, Southern Indian and Malay influences, it's one of the world's best countries for food.
We loved learning about the local cuisine while exploring the local food in Singapore.
And, we invite you to uncover the depth and nuances of authentic Singapore food in a cooking class.
On your travels to the Lion City, here are 6 of the best cooking classes in Singapore to take.

Best Singapore Cooking Class Comparison Table
The cooking classes in Singapore are in Singapore Dollar (S$.). We provide USD conversion at the time of writing. Prices might vary slightly when you book your class.
AUTHENTIC FOOD QUEST TIP: If you don't have enough time or prefer to eat the local food, consider instead a food tour. See our guide to 7 Of The Best Food Tours in Singapore You Want To Try
Top Cooking Classes in Singapore
1. Experience Singapore – Best Overall Cultural Immersion Cooking Class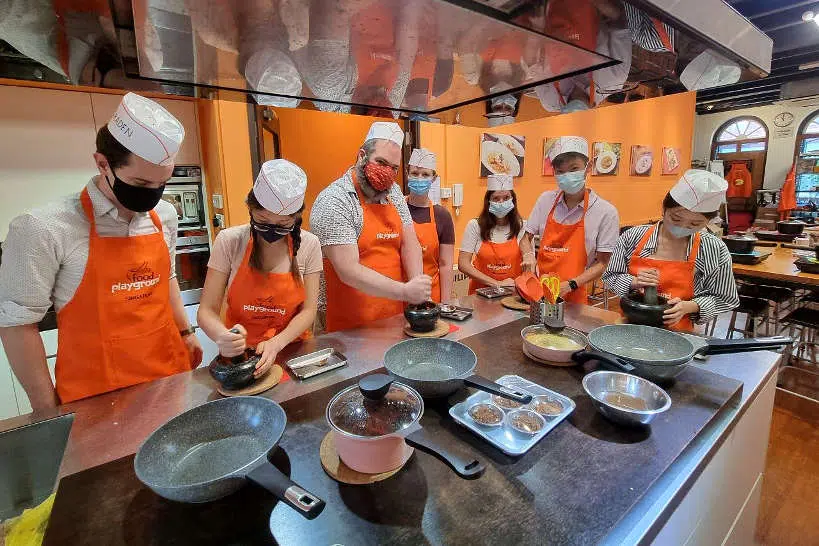 This Experience Singapore cooking class does exactly what it says. It helps you dive deep into the fascinating side of Singapore's food culture.
In a fun and informal hands on cooking class, you'll learn about Singaporean culture through cooking traditional dishes from scratch.
Each class begins with an introduction into the local food culture. Engaging stories from your cooking instructors about the local recipes and dishes will get you ready for the cooking magic to begin.
Depending on the day of your cookery class in Singapore the dishes you'll be making will vary. Regardless, everything offered by Experience Singapore will be local and sumptuous.
Some of the traditional dishes you'll learn are sambal prawns, or prawns with sambal sauce, or soups like Laksa.
And, you'll discover authentic Asian recipes for Hainanese Chicken, Turtle buns, and others, all taught in a step by step manner.
The best part of the cooking experience is enjoying the food afterwards. You'll savor your freshly prepared dishes and enjoy the company of your instructors and fellow food lovers.
For a combination of culture, food preparation and authentic local recipes, Experience Singapore is one of the best cooking classes in Singapore to take.
Cost: About $72.24 per person
Time and Length: Approximately 2 hours. Classes start around 9:30 am
Group Style: Small group cooking classes conducted in English
2. Singapore Market to Table Culinary Course With Wet Market Tour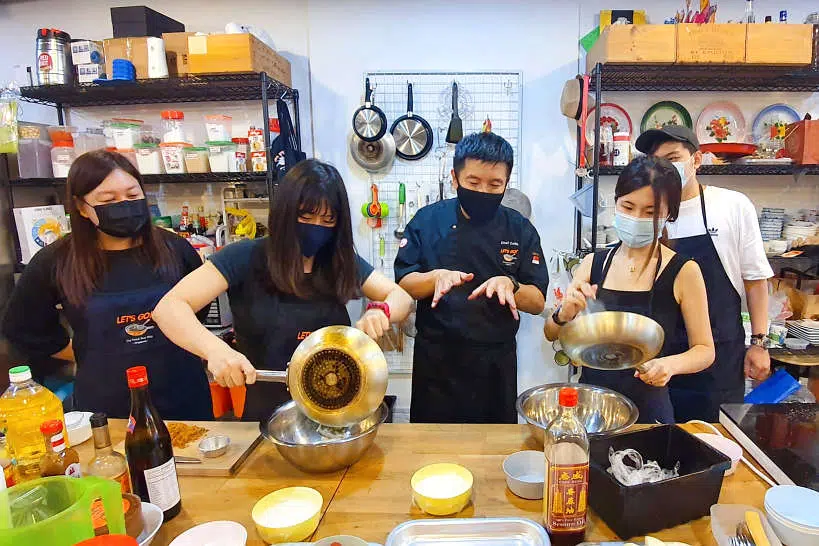 Learn more than just how to cook local dishes and start with an understanding of the traditional Singaporean ingredients.
This Singapore Market to Table Culinary Experience, takes you to a bustling Singapore wet market before our cooking class begins.
You'll learn about the local ingredients, how to bargain and buy ingredients and learn where local produce comes from.
From the market you'll head to the cooking studio, where the real cookery magic happens.
Under the guidance of your personal chef, you'll learn how to create traditional delicious dishes including starters, main meals and desserts.
Some of the local Singapore food you'll make may include Curry Fish Head, Ngo Hiang or minced meat rolls. And, surprising desserts like Kueh Dadar or rolled crepes, Onde-onde rice balls and more.
This is one of the most fun cooking classes to take in Singapore. The fascinating wet market visit will get you immersed into the local food culture.
And, the cooking class experience is active and engaging with expert chefs who share stories as much as they teach new recipes and techniques.
This is a wonderful opportunity to have fun in a local food playground, meet new people, and learn to make authentic Singaporean cuisine.
Cost: About $99.67 per person
Time and Length: Approximately 3 hours. Classes start at 9:00 am
Group Style: Small group cooking classes conducted in English or Chinese (optional)
3. Private Hands On Cooking Class Singapore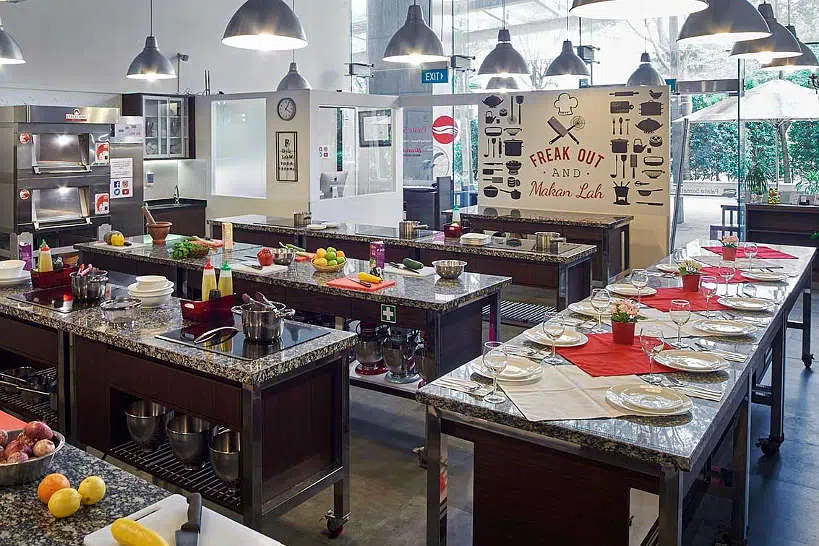 If you already know Singapore food or want to learn how to make specific dishes, this one of the best private cooking classes to consider.
This private culinary course can be tailored exactly to your needs. Choose whether to start with a local market or simply start cooking. What amazing dishes do you want to learn to make.
Choose your favorite Singaporean or other authentic Asian recipes and let the culinary quests begin.
Palate Sensations Culinary School, your host for your cooking experience is one of the most popular cooking schools in Singapore.
Some all-time favorite local dishes are always on their versatile menu. For Singapore Laksa, you'll not only learn to make the dish but also make your own fresh pasta noodles.
Culinary techniques is a core part of the cooking course Singapore experience. Whether you are making sambai kangkong or spicy vegetables, to spicy squid with sambal sauce, you'll learn the classic techniques that bring the flavors to life.
The best part of this hands on cooking class Singapore is eating your wonderful creations.
You'll leave with a souvenir apron, traditional recipes and the memories of a deliciously unforgettable culinary adventure.
For a cookery class in Singapore tailored just for you, this private cooking class with palate sensations is for you.
Cost: About $114.46 per person, minimum two people
Time and Length: Approximately 4.5 hours. Without market visit, approximately 3 hours. Classes start at 10:00 am (please verify time)
Group Style: Private cooking classes conducted in English
READ MORE: Top 15 Authentic Food in Singapore (and 20+ Restaurants To Try Them)
4. Private South Indian Cookery Class in Singapore
Indian cooking is one of the Asian cuisines that makes up the wonderful medley of Singaporean food.
The opportunity to go solely into Indian cooking is available with Chef Latha. Her private South Indian cooking class in Singapore is focused on 100% vegetarian recipes.
As a private class, you'll be cooking in her apartment, where her food playground is located. The cookery magic will come to life in the South Indian vegetarian dishes you'll learn to make.
Sambar, a South Indian lentil stew, Rasam soup and vegetable curries are on her list of recipes.
Though you can choose a particular menu from three different options. From vegetarian soups and stews to pancake or adai sets.
However, if you want gluten free options or want to learn Indian healthy vegan cooking, she can adjust her menu to meet your needs.
Latha's classes are some of the best cooking classes in Singapore for tourists who want to explore meat-free dishes.
Get ready for friendly Indian hospitality in her home and a great afternoon spent learning South Indian cooking in Singapore.
Cost: About $71.12 per person
Time and Length: Approximately 3 hours. Classes start at 11:00 am
Group Style: Private cooking class conducted in English
5. Private Peranakan Nyona Cooking Class in Singapore
Peranakan cuisine, also referred to as Nyonya cooking is a fusion of cooking and culinary cultures.
It combines Chinese ingredients with Malay and Indonesian spices and cooking techniques.
Learning to make Peranakan simple recipes is a unique cultural experience to have in Singapore.
Colin, your host for this private Peranakan cooking class is of Peranakan descent and specializes in Peranakan cooking workshops.
After a brief introduction into Peranakan heritage and cuisine, you'll roll up your sleeves and start cooking.
You'll make a couple of main dishes and traditional Nyonya desserts. The menu varies based on the season, but you can expect to make meat and noodle dishes.
Following traditional Nyonya cooking techniques with sweet and sour flavors, you may learn to make Laksa soup or spiced meat rolls.
As you cook, Colin will regale you with stories about Nyonya or Peranakan cooking in context of the recipes you'll be making.
Colin, who is a local chef with a long history in cooking, will also share useful tips, techniques and some of the best food spots in Singapore.
For food and culture, this is one of the best enriching cooking classes in Singapore.
Cost: About $119.22 per person, option to add market visit available
Time and Length: Approximately 3 to 4 hours. Classes start at 9:30 am or 10:00 am
Group Style: Private cooking class conducted in English
READ MORE: Nyonya Food in Penang: Top 10 Foods And Restaurants to Eat Them
6. Chef Junior Private Baking Classes – Best Pastry Cooking Studio Singapore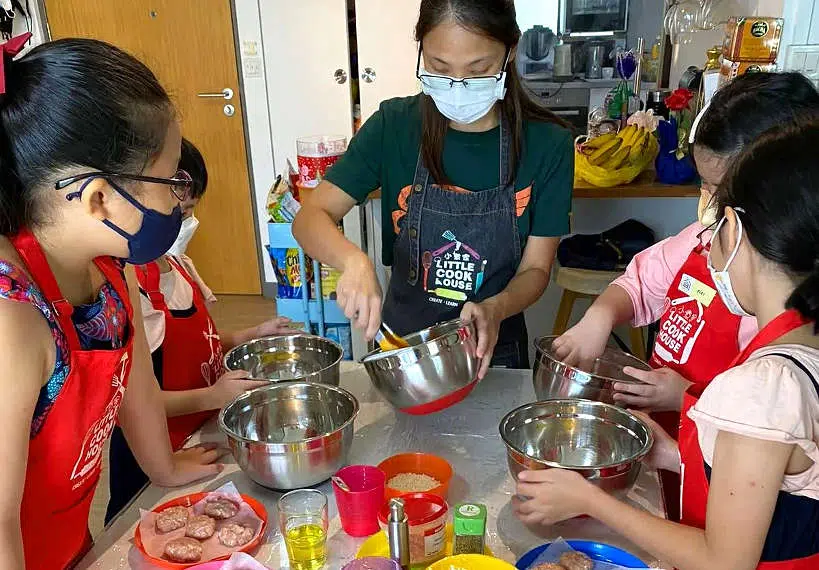 This Chef Junior private baking class in Singapore is designed for children and is a fun and engaging activity.
If you are traveling with children and you want to keep them active and entertained around food, this is a fun shareable experience.
While centered on baking simple cookies, cupcakes or whole cakes, the activities really promote fine motor skills development.
These enrichment classes are adapted to a child's shorter focus span, which is why it only last 1.5 hours. The cooking classes offered take place only on Saturday and Sunday at the baking school, considering the parent's free time.
Expert chefs at the cooking school explain the techniques and steps as simple as possible.
While learning bread making, baking cookies or cakes, stories are shared making it one of the most fun cooking classes.
The baking class taught and the simple recipes are age appropriate. Children between the ages 3 and 12 can participate in any one of the baking classes in Singapore.
However, children under the age of 6 must be accompanied by an adult making for a great afternoon spent learning together.
So, if you're familiar with the Brettschneider's baking cooking school, this won't be any different. Except the much lower price, making it an excellent cooking school option for children or activity for kids parties.
Cost: About $74.22 per person
Time and Length: Approximately 1.5 hours. Classes starts around 10:30 am or 3:00 pm
Group Style: Private baking classes with adult present for children under 6 years of age
What to Consider When Choosing Cooking Classes in Singapore
All the cooking classes featured offer an authentic Singaporean cooking experience taught by locals. They share information about the local Singapore food culture in entertaining ways.
Some cookery classes in Singapore offer market visits, while others focus on particular cuisines or baking techniques.
Here are a few things to consider when choosing your Singapore cooking class.
What Kind of Culinary Course Do You Want?
Singapore offers a wide variety of tastes and different cuisines. While exploring the authentic food in Singapore, we were constantly surprised by the diversity of flavors.
Learning local dishes and how to make them is one of the most fun experiences to have.
As you make your choices, consider your personal preferences and expectations.
Do you prefer an immersive hands on Singapore cooking class experience, or would you prefer Peranakan or South Indian cooking?
Do you want to have a market tour as part of your experience, or do you prefer to get to the kitchen and start cooking?
And what about baking or bread making especially with children?
Whatever your preferences, choose the cooking lessons and experiences that match your tastes.
What Is Your Budget for Your Singapore Cooking Classes?
The cooking classes in Singapore experience you choose will depend on your itinerary as well as your budget.
The best Singapore cooking classes range between $68 USD to $121 USD.
All cooking and baking classes continue to adhere to Covid safety guidelines. And, the cooking classes have a free cancellation policy that allows you to opt out up to 24 hours in advance.
The cooking programs range anywhere from 1.5 hours to 4.5 hours allowing you to easily add them to your Singapore travel itinerary.

Rosemary is the editor-in-chief and strategist at Authentic Food Quest.
Traveling slow since 2015 with her partner, Claire, she has explored the cuisine in 45 countries and more than 240+ culinary cities.
Her writing about local food specialties has been featured in Lonely Planet, Business Insider, Honest Cooking, Food Insider, and Huffington Post.
As a food and travel writer, Rosemary has co-authored three books, including one in collaboration with Costa Brava Tourism.
Rosemary is an avid runner when she's not eating and exploring new destinations. She has run ten marathons and counting.
Before Authentic Food Quest, Rosemary held senior-level strategy positions in advertising. 
Find out more about Authentic Food Quest