The coastal and historic city of Porto is the perfect place to explore northern Portugal and in particular, Douro Valley, the home of Port wines.
You can enjoy several day trips from Porto with many cities easily accessible by bus, train, car or even by boat. 
In northern Portugal, you will find the cities of Braga and Guimarães as well as the Minho region where the famous Vinho Verde wine is produced.
East of Porto, you'll find the Douro Valley where you can explore the many wineries as well the city of Vila Real.
Further southeast is Dão, another important wine region where some of the best wines in the world are produced.
Heading south, Coimbra and Aveiro are reachable either on a day trip from Porto or on your way to Lisbon.
In this guide, we recommend 10 day trips from Porto to enjoy the wine region, taste the local foods, discover medieval towns, Porto beach and more. 

Quick Tips – Day Trips from Porto
Looking for a quick way to find the perfect day trip from Porto?
Here are our top Porto day trips recommendations:
Day trip from Porto for wine lovers – Viseu and Dão Region
Day trip for history and food lovers – Braga 
Day Trip for beach and seafood lovers – Matosinhos
Day trip for cruise lovers – Douro Valley Day Cruise from Porto
3- Visit Braga Portugal's Most Religious City
The medieval town of Braga is the third largest city in Portugal and rich in history. It is also known as the religious capital of Portugal. 
The historic center can easily be explored on foot on a day trip from Porto.
Important highlights to visit are the Cathedral of Braga or Sé de Braga dating from the 12th century, the Archbishop's Palace in the center of town and the gardens known as Jardim de Santa Bárbara.
A few kilometers outside of town, people flock every year to Bom Jesus do Monte, a stunning baroque sanctuary. You can easily reach the sanctuary by taking the #2 local bus from Braga center.
The traditional cuisine from the region is also one of the main attractions. Find hearty pork dishes like Rojões, a traditional dish originally from the Minho region. 
If you get the chance, stop by the lively local farmers market on Saturday morning and sample the local breads, sausages and more. 
To get to Braga, we recommend taking the train from Porto as it is very easy and convenient. The trip takes less than one hour and costs €3.20 euros one way.
For more information on things to do in Braga, read delight in a Braga food tour on your day trip from Porto 
Authentic Food Quest Recommend: Make sure to get your travel insurance to cover you during your day trips from Porto. We use and recommend Allianz Travel Insurance which provide great coverage at affordable rates.
Renting a Car for Your Day Trips from Porto
Renting a car in Portugal is quite inexpensive and pretty straight forward. 
One thing to be aware of is that, the majority of rental cars are manual transmission. If you want a car with automatic transmission, reserve one in advance. 
Bridges and highways charge tolls. At the car rental station, get a transponder and pre-pay €10 euros for toll charges.
We have found car rental rates for only €5 euros per day, from Avis Car Rental in Porto. Bring the necessary paperwork including your passport and driver's license and don't forget travel insurance.
Love it? Pin it!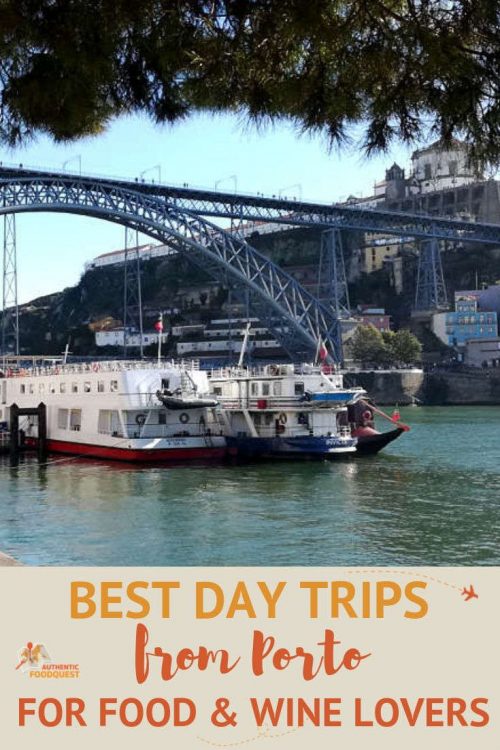 Disclaimer: This page contains affiliate links. That means at no extra charge to you, we earn a small commission when you purchase using these links. Thank you for your support.
Claire is a culinary explorer who travels the world in search of the best local foods. She is always looking for her next culinary adventure to bring you the best bites while exploring new places.