What gift should you give a food traveler in your life or perhaps yourself?
If you find yourself short on ideas to find yet another gift for a food traveler, relax, we have you covered.
At Authentic Food Quest, our mission is to explore the local flavors and help other food lovers do the same.
Over the past four years, we explored local flavors in South America, Southeast Asia, Europe and the U.S.
This comprehensive food traveler gift guide will help you and the food travelers in your life prepare for their next food adventures.

1- Food Tours & Cooking Classes
There is no better way to experience local food than with locals themselves. When traveling to a foreign destination, taking a food tour or cooking class is a great way to meet locals.
Additionally, at the start of a trip, a food tour or cooking class is a great way to better understand the food culture and local specialties.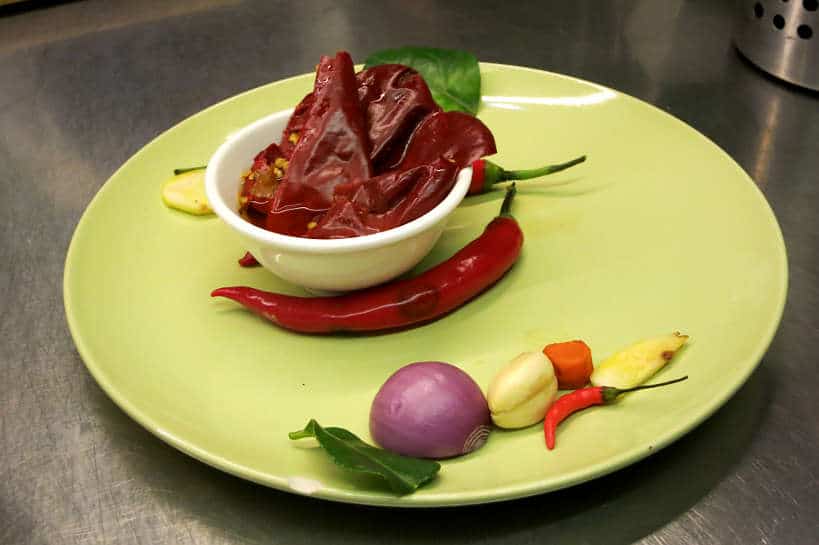 Food Tours with Context Travel
Context Travel keeps surprising us with new and delightful food tours. With small groups and expert docents, they bring deep knowledge about the destination to their tours.
After taking the Paris Chocolate and Pastries tour in France, Chinatown Food Tour in Bangkok,and a food tour in lisbonLisbon with a personal chef, we continue to be impressed with the quality of their tours.
Beyond these cities, Context Travel has tours all over the world. Simply book a food tour anywhere in the world and enjoy discovering new food stories,
Cooking Classes with Cookly
Taking authentic cooking classes is one of the joys of travel. We are partners with Cookly, a company referred to as the "Airbnb for cooking classes."
We have taken amazing cooking classes in Laos, Chiang Mai, Vietnam, Portugal, France and Cambodia.
If you are looking to treat yourself with a cooking class, browse through the list of cooking classes offered and experience your travels in a delicious way.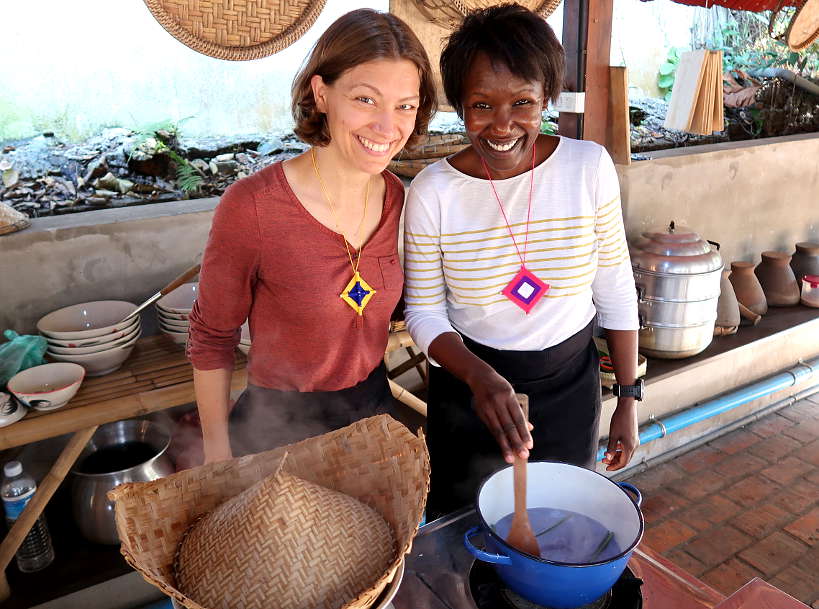 2- Unique Ingredients For Tasty Travels
One of the joys of traveling is discovering new ingredients and spices. From Peru, Cambodia and Vietnam, we featured before Kampot Pepper, Maras Salt and Lemongrass.
Here, we add to the list a few emblematic ingredients from Bulgaria, Portugal and South Carolina, USA.
Bulgarian Tsubritsa or Summer Savory is used extensively in Bulgarian cooking. It is known as the "Queen of Bulgarian spices" and spread liberally over meats and vegetables. Try Bulgarian cooking at home, when you pick up Bulgarian Tsubritsa on Amazon.
Portuguese Olive Oil – While in Portugal, we were amazed by the high quality and abundant use of olive oil in Portuguese cooking. We learned that olive oil is a vital ingredient in Portuguese cuisine and it is found on every dinner table and used throughout.
Portuguese Wines – Douro Valley, in northern Portugal, produces some of the finest, affordable and underrated wines. Even though the area is famous for Port wines, it is an exceptionally beautiful and historic wine region. During our trip to Portugal we discovered and fell in love with many types of Portuguese wines. Try the green wine or Vinho Verde or any of the amazing reds.
Carolina Gold Rice – Carolina Gold was once the most popular rice in America and it nearly disappeared in late 19th and early 20th Centuries. Today, the production of Carolina Gold has been restored. We loved it's incredibly vibrant nutty flavors, when we learned about it in South Carolina. Try American heritage rice and savor the amazing flavors.
For more ingredients and other unique ingredients we've discovered on our travels, feel free to browse the Authentic Food Quest Store.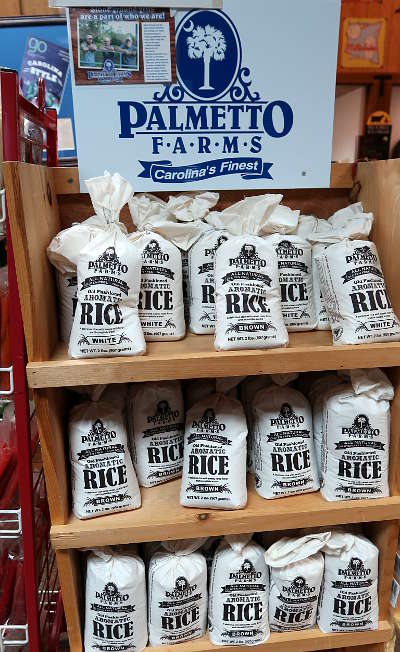 4 – Authentic Food Quest Books & Food Trails
One of the best parts of travel is discovering and eating the local and authentic foods of the region. What's even better is having guides and food trails that highlight the best local foods, drinks and desserts and where to have them. By taking the hassle out of doing all the research, you are free to enjoy more of your travels.
Authentic Food Quest Food Trails
Authentic Food Quest Food Trails are self-guided food trails that take you off the beaten path on your travels and allow you to experience a city through food.
Currently, available are food trails for Bangkok, Buenos Aires, Hanoi and Singapore, cities famous for their flavorsome cuisines and incredible local delicacies.
For an overview of the local and authentic dishes, desserts and drinks not to miss, along with a downloadable map with addresses and hours of operations, download your PDF guide today.
The Food Trails are available for download at Authentic Food Quest Store.
If your looking for inspiration for your next trip, discover new tastes and flavors with Authentic Food Quest Food Trails.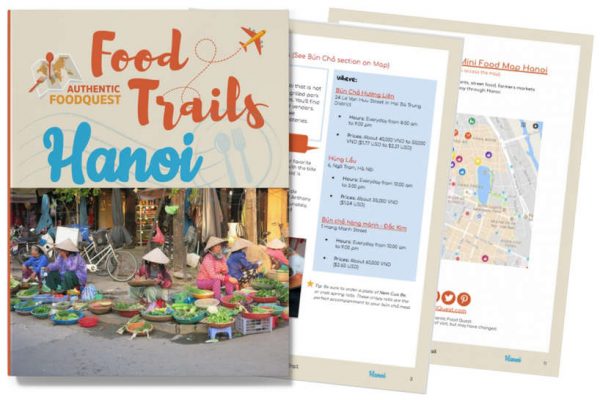 In Summary
Give yourself or the food traveler in your life the gift of traveling and exploring local flavors. Embrace the local food experiences and travel deeper.
Connect with the locals and above all else, have fun and eat well.
Savor the Adventure!
In the comments below, please tell us your favorite food traveler gift.
Love it? Pin it!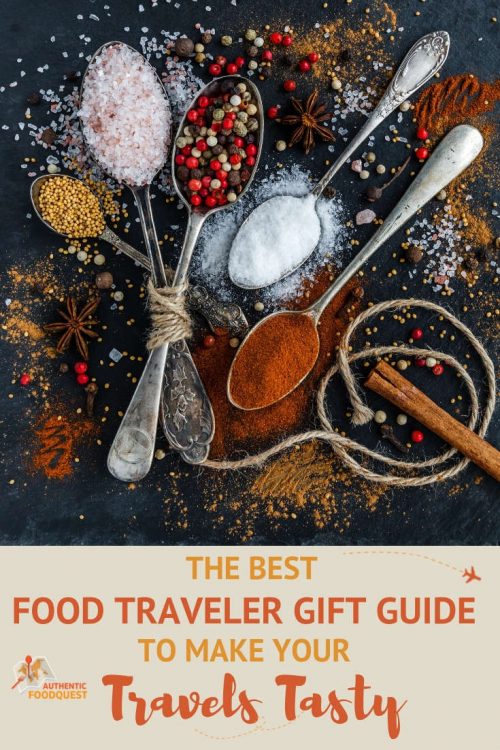 Disclosure: Please note, we get a small commission from purchases made using our links at no additional cost to you. This helps us continue our quest for authentic food around the world. Thank you for your support!
Claire, ex-engineer, is a digital nomad and content creator at Authentic Food Quest. Since 2015, with her partner, Rosemary, they travel the world in search of the best local food experiences. Their mission is to help you enjoy the best local specialties on your travels or via recipes in your home kitchen. Favorite country for food: Vietnam. Favorite local dish: Hainanese Chicken Rice.  Favorite way to keep fit: Cycling. Claire is responsible for the website and the fun food & travel videos on Youtube. She is also co-author of Authentic Food Quest Argentina and Authentic Food Quest Peru, available on Amazon.