This article has links to products and services we recommend, which we may make a commission from.
The essence of "La Dolce Vita" or the sweet life in Italian are captured in these Italian snacks boxes.
A beautiful country renowned for amazing gastronomy offers a variety of snacks that allow you to taste Italy at home.
Many of these snacks remind us of our travels to the country and we can't wait to share them with you.
In this review, we've selected the best Italian snack boxes to get a sense of the true Italian flavors.
From light and crunchy textures to candies and cream filled desserts like cannoli these boxes bring Italy to you.
If you can't get to italy right away enjoy the incredible tastes found in this range of unique snacks from Italy.

Best Italian Snacks Box – Comparison Table
1 – Gusto di Roma – Best Overall For Snacks From Italy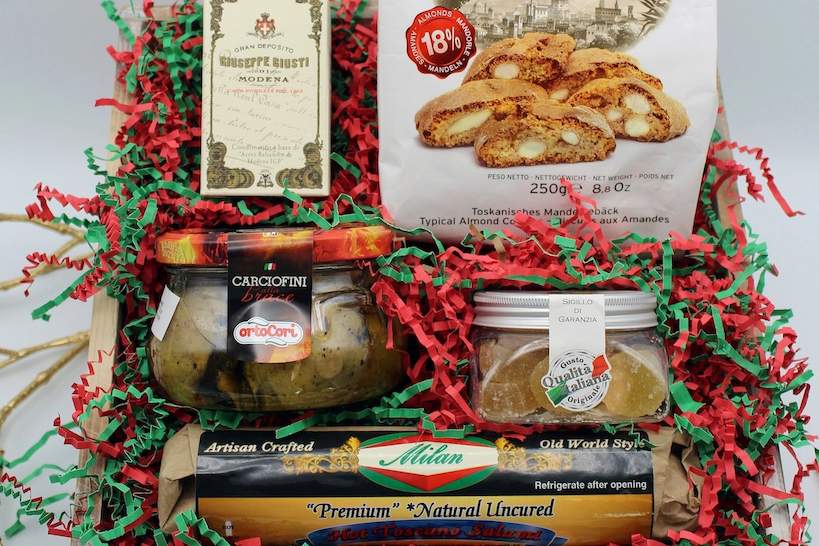 This Italian subscription box delivers delicious authentic Italian food sourced directly from Italy.
Each month you'll get five to six different non-perishable and ready to eat Italian food items.
You can expect gourmet chocolates, biscotti, artisan cured meats, chocolates, oils, pasta and more.
Within each Gusto di Roma box are complimentary Italy themed gifts like tote bags, coasters, coffee mugs and more.
What we love about this box is the authenticity of the products. Currently, in Italy, the Italian snacks featured in this box are the ones we see in stores and have enjoyed.
When you get a subscription, you'll receive one box each month featuring entirely new snacks and food items.
For example, the September 2021 box featured sauces and salami while November's box highlighted olives, chocolates and cherry tomatoes.
You can also choose a month-to-month subscription, or save money by selecting a three-month or six-month option. This way, you do not have to worry about missing out on tasty Italian treats.
Taste Italy or give the gift of delicious Italy with this Gusto di Roma snacks box from the comfort of home.
AUTHENTIC FOOD QUEST TIP: If you want to improve your Italian cooking skills, take a virtual fresh pasta cooking class with Simonetta and Paola, the Toscana Mia sisters based in Tuscany. In only one hour, you'll learn how to make fettuccine noodles and an authentic pasta sauce. Learn more about Italy and the food in this engaging and immersive pasta cooking class.
2 – Pack From Italy Snacks Box – Best For Extra-Large Italian Snacks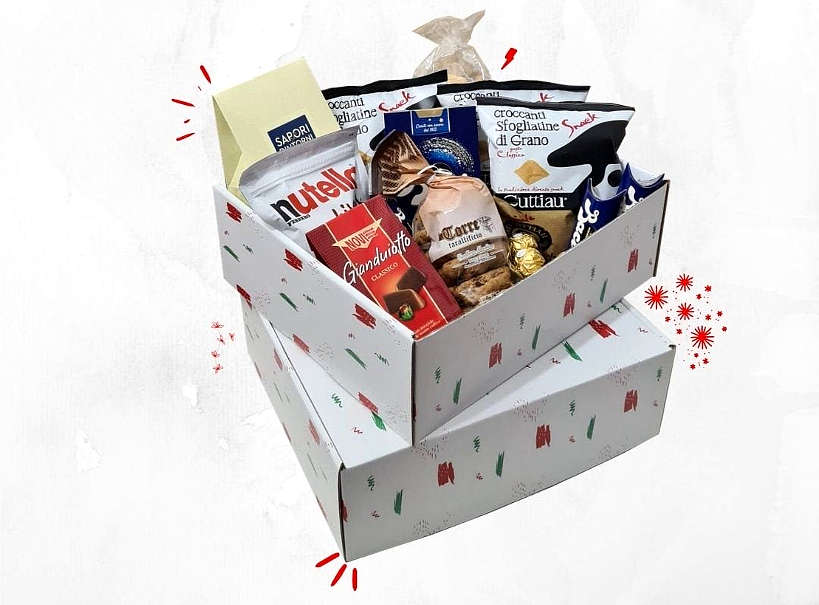 How well do you know the tastes of Italy? The flavors of the Italian boot? This extra large box of Italian snacks has bites from all over the country.
Find unique flavors from Puglia, Naples, Emilia-Romagna and more. This Italian box contains 10 portions of snacks, six sweets and five surprise Italian products for a total of 21 Italian treasures.
For Italian lovers who can't visit the country right away, let this delicious box filled with snacks from Italy come to you.
This hefty box will have you tasting Italy for several days at a time.
This Italian gift basket contains high-quality traditional items that you can expect when shopping in Italy. The basket contents are carefully selected and assembled by hand in the United States, making the delivery period shorter than ordering internationally.
This basket might not be suitable for people that suffer from nut allergies, as some of the contents are foods and snacks containing nuts.
You can purchase this gift basket for your good friends, siblings, or anyone who will appreciate authentic Italian foods. If there is a traveler in your life, why not give them a taste of Italy right here at home? The reusable tin basket provides the receiver with a terrific souvenir of your gesture.
This gift basket is perfect for any occasion. It works as an anniversary gift, a get well soon gift, or for a housewarming gift. In addition, the Wine Country Gift Basket Italian Collection is ideal for that person you need a present for but are not sure of their interests or hobbies.
Get a taste of dolce vita with these exquisite Italian cookies and puff pastries. Made in Italy since 1905, these all natural Italian snacks will satisfy all tastes.
What we love about these Matilde Vicenzi gift tins is the unique assortment of fine cookies found in each box.
The gift tins feature gourmet cookies from either Florence, Rome, Sicily, Venice or Verona. Simply pick the region you'd love to savor and enjoy the delectable flavors, fillings and textures.
Each tin is elaborately decorated with breathtaking pictures of the place it represents. For example, the Sicily box features ​​views of the famous Greek Theatre in Taormina.
The Rome tin highlights the Colosseum while the Venice box has scenes of the city from a gondola.
This makes these decorative cookie tins perfect for gift giving or reusing at home with additional Italian treats.
This gourmet Italian cookie and pastry box will have your senses awake with delight and craving for Italy.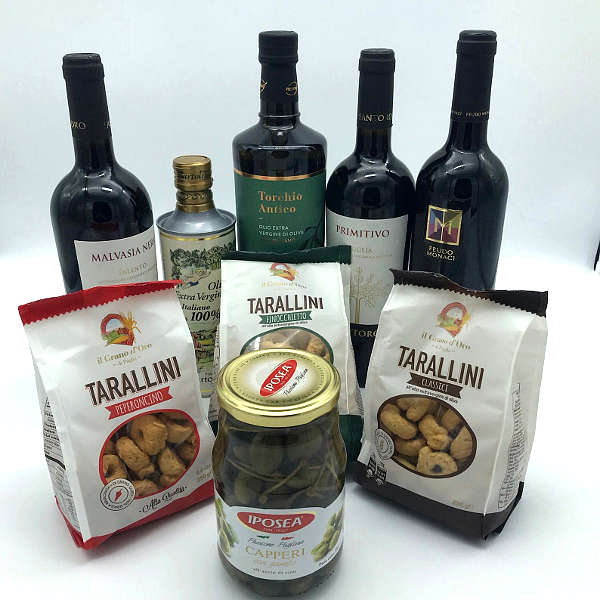 Puglia, the region in the heel of Italy's boot, is a culinary jewel known for local and flavorful cuisine.
Olives and olive oil is produced in the area as well as vineyards with the famed Primitivo red wine and many others.
If you've been to Puglia or are simply looking to savor the amazing local flavors, this gift box from Puglia is perfect.
This Italian box contains Italian food items directly from Puglia. You'll find a couple of bottles of extra virgin olive oil from Puglia, as well as Primitivo red wine, capers, peppers and more.
Also included is a small book of original Italian recipes and a fun Murano glass as a gift.
Italian wine lovers will love this gift box from Puglia. Surprise a friend or family member and share the culinary delights of Puglia with them.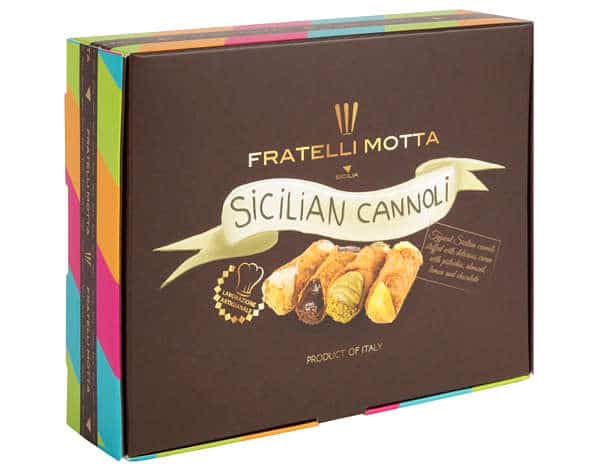 Cannoli are a traditional sweet from Sicily and can be described as the 'essence' of the island. Filled with ricotta cream, these delights are addictive and ones that we savored while in Sicily.
This Fratellli Sicilian box contains four shelf stable cannoli shipped directly from Sicily. The delicious Italian pastry shells are filled with pistachio, chocolate, lemon, and almond cream.
Despite the fact these mouthwatering tube-like pastries filled with ricotta cheese are shipped online, they get rave reviews.
Reviewers have used words like 'delicious', 'crunchy', 'freakin good' and 'like the taste of beauty' to describe their satisfaction with their purchase.
For anyone who misses the sweet tastes of Italy or Sicily, this delicious authentic Italian cannoli is the perfect gift.
Enjoy more than 2 lbs (about 1 kg) of savory Italian meats and cheese in this tasty GiftWorld Italian Box.
Imported directly from Italy and vacuum packed for shipping, find a delightful spread of meat, cheese, crackers and cookies. Savor Napoli salame, prosciutto, Grana Padano cheese, a pepper and eggplant spread from Sicily and more.
This assortment makes for a tasty appetizer or snack accompanied with your favorite Italian wine.
We love the diversity from all over Italy and the combination of savory and sweet products.
For those looking to enjoy beautiful Italy and the sweetness of life, this exquisite gift basket takes you there.
Enjoy by yourself or give the gift of tasty Italian meats and cheese to Italian lovers.
AUTHENTIC FOOD QUEST TIP: Enjoying snacks from Italy are usually better when accompanied by Italian wine. VeroVino Craft wines specializes in craft wines from Italian artisanal producers including organic and natural Italian wines. Discover amazing Italian boutique wines at VeroVino.
In Summary
Italy has so many unique dishes and a rich gastronomic heritage. These Italian snacks box offer only a sample of what the country is famous for. From sweet and savory options including cheese and meats and wine, there is something for everyone.
In the comments below, please let us know your favorite Italian snacks box.
Savor The Adventure!
Claire is a culinary explorer who travels the world in search of the best local foods. She is always looking for her next culinary adventure to bring you the best bites while exploring new places.