This article has links to products and services we recommend, which we may make a commission from.
Many organic wine clubs throughout the nation provide high-quality organic wine box delivery at reasonable prices.
Understanding the different organic wine club options will give you the best chance of finding ones that suit your needs and your budget.
After visiting many wineries over the years on our authentic food quest travels, we've noticed a growing prominence of organic wines.
The winemaking process is much more sustainable with producers focused on protecting the environment and also making delicious wines.
Despite the interest in sustainably grown wines, finding the organic wine subscription that works for you is not always easy.
In this article, we provide a detailed review of the best organic wine clubs to join.
Learn about how often you get organic wine delivered to your home, how much you'll spend for organic wine online, and much more.

Organic Wine Clubs Comparison Table
1. Organic Wine Exchange – Best Overall Organic Wine Club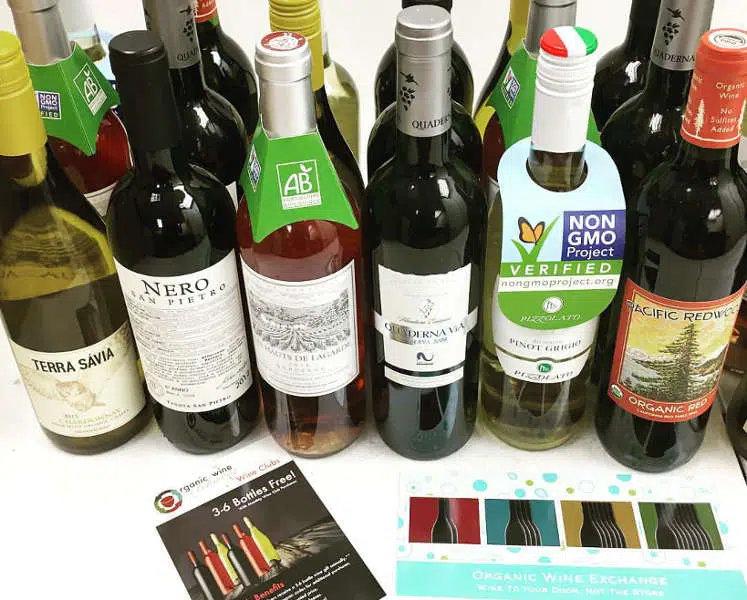 Tips: Save $10 by choosing the monthly shipment option
We found this option provided the best overall value when choosing among the organic wine clubs for this list.
Organic Wine Exchange features only wines that are "Made with Organic Grapes" and sustainably grown wines.
Besides organic wines, the other wine subscriptions are a Biodynamic wine club, a Vegan wine club and a No Sulfites Added wine club.
All the wines are from national and international artisanal producers who adhere to strict organic winemaking techniques.
With the organic wine subscriptions club, you can choose to receive 3-, 6-, or 12-bottles every month or quarter.
Once you choose either red wines, white or a mix of both, you'll receive organic biodynamic wines from domestic and international producers.
Pay $80 per month to get access to quality wines made with certified organic grapes. This organic wine club focuses on US domestic shipping with free shipping provided.
Note that they do not ship to five states with restrictive alcohol laws: AL, DE, KY, MS, UT.
Various coupon codes are available as well as a chat function on their website for personalized recommendations.
The website also features educational content about sustainably grown wines from wine experts. In this way, they provide a high-quality experience that is hard to top.
Just as importantly, we loved that this wine club offered organic wine online with a streamlined and efficient sign-up method.
As a result, most find it relatively easy to select their wines and have their wine shipment delivered right to their door.
The diversity of organic biodynamic wines also includes wine samplers. You can choose organic wine sampler packs from Italy, France, Spain and others, giving you even more options.
What People are Saying: Many customers praise this organic wine box delivery company and state that they provide one of the best options alone for the price. However, some did find the flat $80 monthly cost a little steep. In addition, this option is not suited for those on a budget, as many customers have stated. If you need a lower-cost option, you may want to look at other options below.
2. Plonk – Best Organic Wine Club for Adventurous Drinkers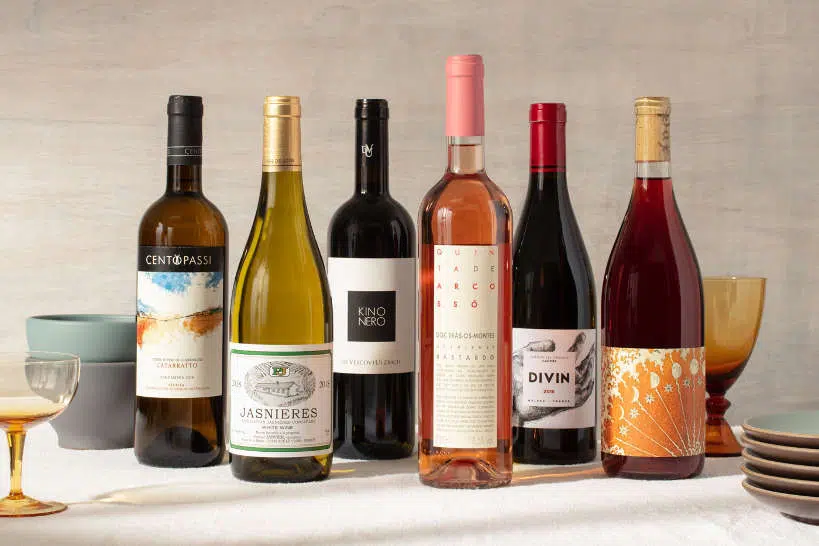 Tip: Pick "mixed" organic wine subscription for a broader taste of unusual wines
Do you want to try out some fun and unexpected organic wines? Then you may find yourself drawn to the Plonk wine club.
Plonk features interesting wines from lesser known wine regions like Armenia, Croatia and parts of Greece that are all organic.
What's great about these wines, beyond being organic, is that they are from small boutique wineries, you wouldn't ordinarily come across.
The "Mixed Wine Club" subscription offers the broadest range of tastes featuring organic reds, whites, rosé and even sparkling wine.
Getting started is easy. After you select the mixed wine club, simply choose whether you want to receive 4, 6 or twelve bottles in each organic wine box delivery. Free shipping is included.
The mixed wine club from Plonk broadens your horizons with organic wines from exotic destinations. Intrepid wine drinkers will appreciate the expert tasting notes and recipe pairings for each of the wines.
What People are Saying: Many Plonk fans have praised Etty Klein, the founder, and CEO of Plonk, as one of the most approachable, friendly, and skilled wine professionals in the wine world. The wines are consistently highly rated both for the taste and focus on small production wines.
RELATED: 6 of The Best Wineries in Crete To Enjoy Indigeneous Wines From Greece
3. Usual Wines – Best Organic Wine Club for Individual Glasses
Tips: Get the 24-pack for dinner parties
Usual Wines, based in California makes wine you can feel good about.
The wines have 0 sugar and are made from sustainably farmed grapes with minimal intervention.
The best part is the size. The wines come in a distinctive beaker-shaped bottle with enough wine for one generous serving.
That way, you get a delicious full-bodied glass of wine that you can finish without needing to store any.
If you are enjoying wine with friends who want a different wine. It's easy, you open what you want and enjoy your delicious glass.
Usual Wines offers sustainable wines from California offered in a pack of either 6, 12, or 24 bottles.
We recommend the Mixed Pack, which gives you a mix of brut, rosé or red wines.
Usual Wines takes you on bite-sized wine adventures at accessible prices.
What People are Saying: The cute packaging is one of the most loved features of Usual Wines. The wines, especially the bubbly Brut dry wine is a club favorite. And, the overall amazing taste of the variety pack is appreciated.
4. OWE International Wine Sampler – Best for Gifts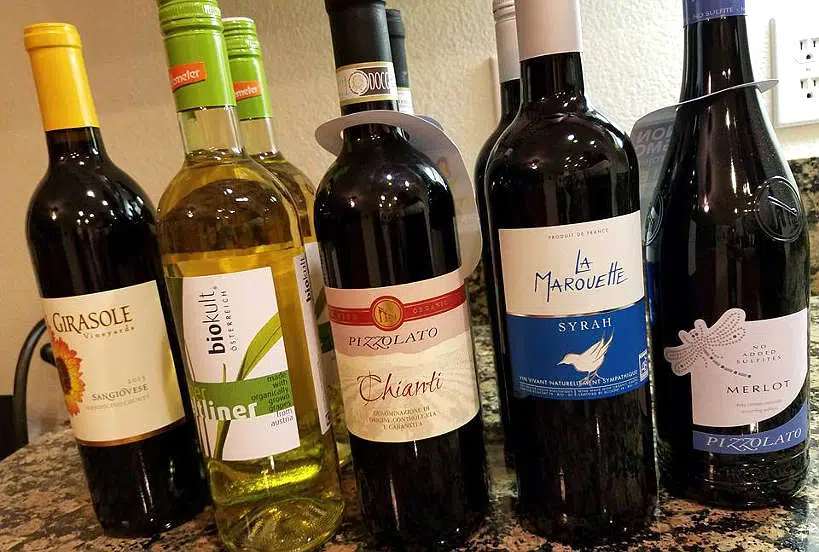 Tips: Get the international wine sampler for fantastic organic options.
Organic Wine Exchange returns with an International Wine Sampler providing one of the most diverse and high-quality organic wines.
Their international wine sampler brings mixed, rose, white, red, and sparkling wines into your home. In addition, you can select between 3-, 6-, and 12-bottle delivery options to get the best organic wine delivery for those who want a truly international experience.
The costs here are also very reasonable. You get 3 bottles for as low as $65, while accruing savings with orders of 6 or 12 bottles.
You'll also get wine from Europe, South America, South Africa, Australia, New Zealand, and even the United States. This is a great option for those looking to try out their organic wines or offer the gift of international organic wines
What People are Saying: The more-than-fair price this organic wine club offers is highly praised by many fans. People praised the diversity in the selection as well as the quality of these international wines.
5. Winc – Best Budget Organic Wine Subscription
Tip: Select 4 bottles for your shipment to get free delivery
Are you tired of paying a high price to join organic wine clubs? Then, Winc might be the best option for you.
Their club provides very reasonable rates even as low as $29.95 for your first shipment. Does this mean that the wine quality is lower? Not at all. However, it is fair to say that you won't get the kind of quality you get with other options. That said, getting 4 bottles of wine monthly for $30-$56 is a great deal. 
Perhaps that's why Winc can boast of having sold over 18 million bottles of wine. The key to their success is likely their diverse array of options. You can choose between over 100 different bottles of wine. As a result, it should be reasonably easy to find something that you enjoy.
This kind of diversity seems unreal for the price you pay, though true wine snobs may prefer a higher-cost option.
What People are Saying: Most people who use this service enjoy it. They often rate it very highly compared to other, higher-cost options. Some claim it's the best organic wine box delivery option they've tried. Others claim the organic wine delivered to their home is very tasty without being overwhelming. Terms like "fantastic!" and "great value!" get used often in their reviews. As a result, this option is an easy recommendation for those on a budget.
RELATED: 6 of the Best Natural Wines To Join
Best Organic Wine Clubs FAQs
What is Organic Wine?
A wine labelled "organic" is produced using grapes that do not use synthetic fertilizers and meet the strict USDA organic certification.
The grapes cannot use prohibited substances or genetic engineering, as these processes change the nature of grapes and make them no longer organic.
Ingredients added to the wine have to be certified organic. And added sulfites are not allowed.
These organic wines may contain low or no sulfites naturally.
Other wines labeled "made with organic ingredients" can contain low added sulfites.
The best organic wine clubs presented offer a range of organic wines which adhere to these principles.
While these wines may not preserve their flavor as long as non-organic options, they provide a healthier taste and value for your investment.
What If I Don't Like The Wine?
All the organic wine clubs provide a satisfaction guarantee in case you don't like their wines. Some offer discounts on future wines or your money returned, depending on the wine club.
Make sure to check their satisfaction guarantee pages to learn more.
Can I Order Only The Individual Wines?
You don't have to be a member of the wine clubs to order individual wines. These companies often operate as traditional wine dealers and will work with just about anybody.
However, club members get discounts depending on their membership level. Research your available choices here to find out which works the best for your needs.
Other Organic Wine Club Options and Tips to Consider
We strongly suggest getting a monthly, rather than a quarterly delivery package. That way you will get a discount on your delivery.
We also recommend getting the smallest number of wine bottles at first to see how much you'll consume. If you end up drinking these bottles before your next shipment, consider upping your package.
Rosemary is the editor-in-chief and strategist at Authentic Food Quest.
Traveling slow since 2015 with her partner, Claire, she has explored the cuisine in 45 countries and more than 240+ culinary cities.
Her writing about local food specialties has been featured in Lonely Planet, Business Insider, Honest Cooking, Food Insider, and Huffington Post.
As a food and travel writer, Rosemary has co-authored three books, including one in collaboration with Costa Brava Tourism.
Rosemary is an avid runner when she's not eating and exploring new destinations. She has run ten marathons and counting.
Before Authentic Food Quest, Rosemary held senior-level strategy positions in advertising. 
Find out more about Authentic Food Quest