This article has links to products and services we recommend, which we may make a commission from.
Everyone enjoys good and great tasting snacks. Snacks of all shapes and sizes can comfort us, entertain us or even help us travel the world.
Finding unique snack gift boxes from the vast selection available is no easy task. You've got to consider the tastes, variety, ingredient mix, and the experience you want to create.
Help loved ones recreate tastes from their adventures abroad. Give specific snack gift boxes to artisanal meat fans, chocolate or breakfast lovers.
Snacks are fun and much loved. And, for this reason, we've curated this list of the best snack gift boxes available.
There is something perfect for everyone to enjoy.
Simply pick a snacks gift box and spread joy with delicious and exciting snacks.

1 – Universal Yums – Best For Global Treats
Imagine traveling around the world from the comfort of home with snacks. Yes, Universal Yums allows you to do that with a box of tasty treats from a surprise country each month.
That is not all. The Universal Yums snacks box comes with a booklet containing recipes, cultural facts, trivia, and recipes about the country.
The handpicked full size snacks in each package are a mix of sweet and savory items with different flavors and textures.
If you are looking for snack box ideas for lovers of food and travel, Universal Yums is the perfect gift.
You can offer Universal Yums as a gift or choose any of the popular snacks box sizes. The small, medium, and large snacks boxes are valued between $15 and $38.
A small box contains 5-7 snacks, medium about 10-12 snacks and large with over 20 snacks.
What we love about these treats are the unusual flavors and the fun of discovering popular local snacks we've never tasted before. However, these snacks are not allergen or diet specific.
2 – SnackSack – Smart Snacking For the Health Conscious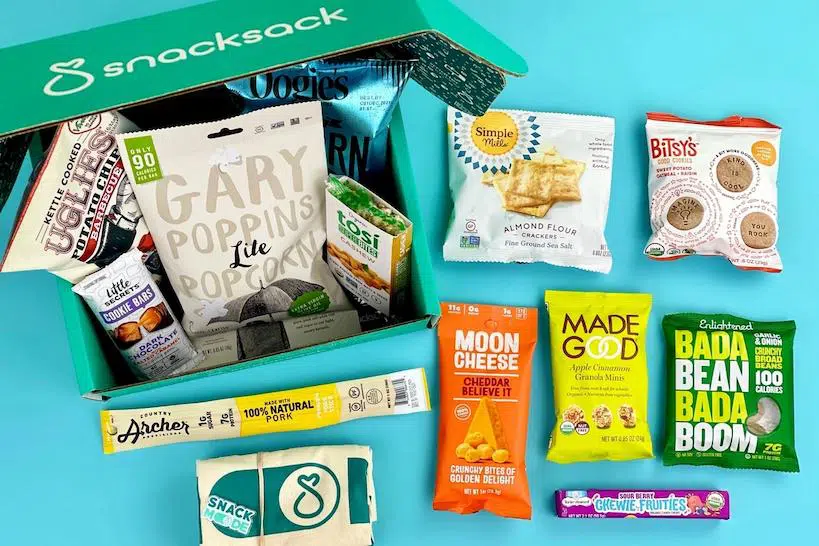 Do you shop for nutritious snacks and look to avoid added sugar and almost-no additives?
This monthly snack subscription from SnackSack is right up your alley. This is one of those snack box ideas that delivers nutritious snacks made with natural ingredients.
Each snack box includes 11 to 15 snacks, each different from the previous ones, and based on a particular theme or season.
The best thing about this snack gift box is that it can accommodate different diets.
You can choose from classic, gluten-free, vegan, or a mix of vegan and gluten-free snack options.
Some of the items included are popcorn, energy bars, and cookies with ingredients based on your diet plan.
At $26.91 per month or per box, this is a great way to snack healthy.
3 – Man Cave Gift Basket – Best For Men Who Who Enjoy Food
Do you struggle to find the perfect gifts for the men in your life? Is your man someone who enjoys new flavors including cooking and grilling?
This Man Cave Gift Basket is one of the few snacks gift boxes with curated food aimed at men.
This curated gift basket includes premium quality American full size artisanal snacks.
Inside, your man will be delighted to find different kinds of jerkys, hot sauces, spicy chips and unique sweet treats.
If you are looking for a snack gift for dad, a brother, co-worker, friend or neighbor, this snack box for men says "I care."
This basket of artisanal snacks for men goes for $68.99. It is handmade and fully customizable. If you know what he loves, you can have specific items included or replaced.
This man cave gift basket for men is perfect for any occasion.
4 – Carnivore Artisanal Meats – Best For Meat Lovers
Are you looking for snack box ideas for lovers of artisanal meats? Or perhaps you want to make the perfect charcuterie board with artisanal products.
Carnivore is the world's first subscription program featuring premium cured meats delivered to your home.
While the products vary each month all feature artisanal meats of the highest quality.
Our favorite Carnivore snacks box is the Classic meat artisanal gift box. Filled with premium cured meat like salami, prosciutto, bacon and more for a delightful charcuterie platter.
Starting at just $39.99, surprise your loved ones with this delicious gift that is perfect for any occasion.
5 – Hickory Farms Artisan Snack Gifts – Best For Gourmet Food Lovers
If you're looking for gourmet foods from a brand you can trust, this gift box from Hickory Farms is one to try.
This Hickory Farms Gift Box will please any gourmet food lover. The gift box comes with varied food items ranging from crackers and condiments, to meat and cheeses.
These snack options from Hickory Farm make perfect gifts for special occasions and holidays.
You can choose a monthly gift basket of either sweet or savory snack items that come wrapped in eco-friendly packing material.
For a one-time purchase, this gift box is $32.99. We love the range of flavors from sweet to savory and the diverse textures.
On the flip side, be sure to check the ingredients if you offering this snacks box to someone with dietary restrictions.
RELATED: Tasty Italian Gift Baskets – Best Food Gifts From Italy
6 – Candy Club Snacks Gift Box – Best For Sugar Lovers
Are you a candy lover? Do you love discovering amazing and delicious candies from around the world?
Candy Club brings premium and curated candy for anyone who loves to indulge their sweet tooth.
You get an assortment of 6 different types of candies from small artisan and candy producers. Enjoy exceptional candies every month from new to nostalgic favorites.
The candy goodies are varied. Find everything from gummies, cake bites caramel, sour and sweet candies to dark and milk chocolates balls.
You can also customize your candies to contain all-sweet or all-sour treats.
Depending on the type of candy box you choose, the monthly subscription is between $29.99 to $39.99. You also have the option to give a one-time gift of candies to a sweet lover.
What we like best about Candy Club is their commitment to delivering the best candies. If you don't love your candy, it will be replaced for free.
7 – Kekao Box Craft Chocolate From Around The World – Best For Chocoholics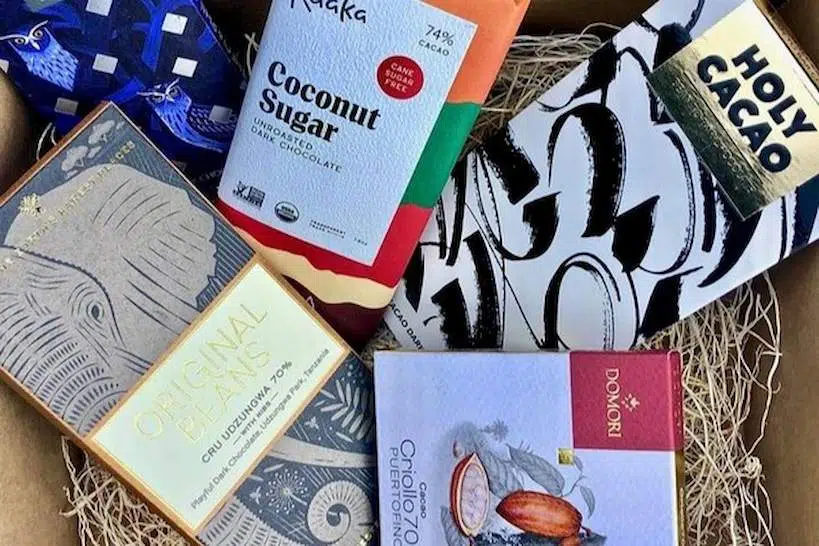 Do you know any chocolate lovers?  Or, are you one that enjoys fine craft chocolate that is ethically sourced from around the world?
If so, this is the perfect snacks gift box you've been looking for. Kekao box is a chocolate subscription box featuring the finest of chocolate bars from artisanal chocolate producers.
Four to five rich and luxurious regular-sized chocolate bars are curated and delivered to your doorstep every month. 
The bars range from Peruvian dark chocolate to milk and white chocolate from small chocolatiers and startups.
Also included are tasting notes and stories about the origins of the cacao. All the craft chocolate bars are different all the time allowing you to explore the world of chocolate.
What we love best about Kekao besides the tasty chocolates is that everything is sustainable and ethically sourced.
Enjoy a monthly subscription starting at $39.92 or give a one-time gift of amazing chocolates from $45.99.
8 – Seven Sisters Gourmet Scone Box – Best For Scone Lovers
Lovers of scones know that there is nothing quite as tempting as a scone slathered with butter and jam.
If this describes you or someone on your gift shopping list, these scrumptious scones from Seven Sisters Scones will make your day.
When you select the Scone Sampler subscription which has 12 large scones, enjoy delightful moist and flavorful scones.
Each month, you'll receive a dozen artisanal scones in a signature red gift box, each individually wrapped. This makes them an "easy to snack on" item that you can eat at home or on the go.
You have quite a few scone snack options from the Dozen Mini and Regular Dozen to Gluten-free and Chef's Choice (mini and regular).
The monthly subscription is $56.00 for standard scones and $70 for the gluten-free option. All the scones are baked fresh that morning and shipped the same day.
Shipping is fast and your scones arrive in just 48 hours.
The scones are tasty, well prepared and delicious. Each box contains a mix of sweet and savory scone.
If your scones are damaged in any way, they will be replaced or you will be refunded immediately.
For the person that skips breakfast or need an easy bite first thing in the morning, the Seven Sisters Scones is a great gift.
9 – Breakfast Gourmet Gift Box – Best For Breakfast Lovers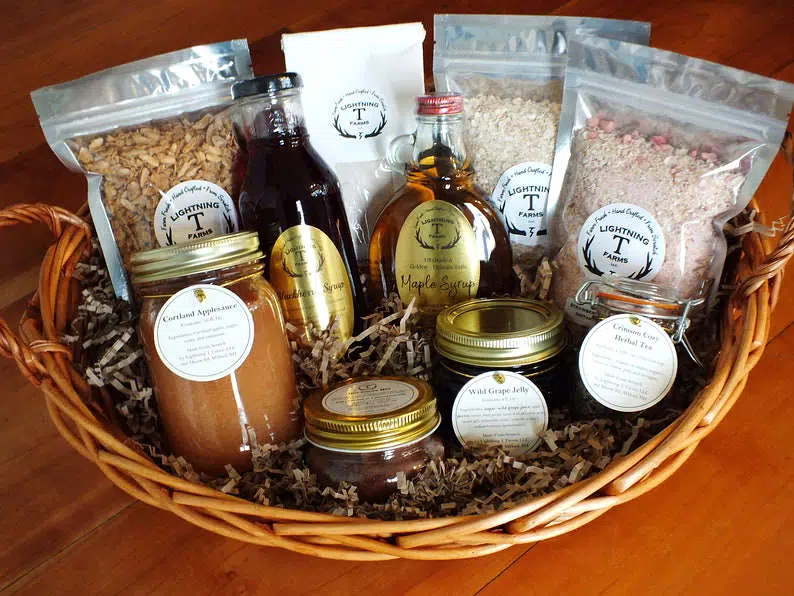 Does the idea of a gourmet breakfast box with farm fresh ingredients resonate with you? Do you know someone who would appreciate a delicious breakfast at home?
Michigan Made makes it easy for you to give the perfect gift of breakfast or brunch to the special people in your life.
The breakfast gift box includes delicious local Michigan treasures. Find full size products of Michigan maple syrup, raw honey, pancake mixe, shortbread cookies, and more.
These local favorites will please any food lover with Michigan or midwestern roots.
The breakfast gift box is priced at $68.00 and it ships in a gift box. It comes dressed up with fluff tissue and space for a personalized message. Be sure to note the recipient's name at checkout.
Containing gourmet Michigan products, this is a special breakfast treat appreciated by breakfast lovers all over.
Snack Gift Boxes Comparison Table
| Box Name | Price per box | Best For | US / International | Shipping (US) | Box Option |
| --- | --- | --- | --- | --- | --- |
| Universal Yums | Starts at $15 | International snacks | International | Free | Three sizes |
| SnackSack | $26.91 | Health conscious | US | Free | One size |
| Man Cave | $68.99 | Gifts for men | US/Canada | Varies per region | One size |
| Carnivore | $39.99 | Meat lovers | US/Canada | $9.99 | One size |
| Hickory Farms | $32.99 | Gourmet food lovers | US | Amazon rates apply | One size |
| Candy Club | Starts at $29.99 | Sweet lovers | US | Varies per region | Two sizes |
| Kekao Box | Starts at $39.92 | Chocoholics | US | Free | One size |
| Seven Sister Scones | $56 | Scone lovers | US | $7 | One size |
| Michigan Made | Start at $68 | Breakfast lovers | US | Varies | One size |
Which snacks gift box would you enjoy buying for yourself or for a loved one? Please let us know in the comments below.
Savor the Adventure!
Rosemary is the editor-in-chief and strategist at Authentic Food Quest.
Traveling slow since 2015 with her partner, Claire, she has explored the cuisine in 45 countries and more than 240+ culinary cities.
Her writing about local food specialties has been featured in Lonely Planet, Business Insider, Honest Cooking, Food Insider, and Huffington Post.
As a food and travel writer, Rosemary has co-authored three books, including one in collaboration with Costa Brava Tourism.
Rosemary is an avid runner when she's not eating and exploring new destinations. She has run ten marathons and counting.
Before Authentic Food Quest, Rosemary held senior-level strategy positions in advertising. 
Find out more about Authentic Food Quest