Lisbon, Europe's second oldest capital after Athens, is increasingly popping up on the top of the best city lists.
There are many things to do in Lisbon, which is also one of Europe's sunniest capital cities.
The city is rich in history, culture and an ever-growing culinary reputation. The picturesque capital offers stunning vistas from every angle.
With beautiful sandy beaches accessible within 30 minutes, there are many Lisbon attractions to enjoy.
This Lisbon travel guide highlights some of the best things to do in Lisbon.
From indulging in unique Portuguese dishes, including pasteis de nata (custard tarts), soulful Fado music and taking nearby day trips, the list of things to do is endless.
Use this Lisbon travel guide as a starting point to plan your trip. Lisbon is one of our favorite cities, and here's how to make the most of your stay.

Things to do in Lisbon
Savor the Best Pastéis de Nata in Lisbon and Stroll in Chiado
No trip to Lisbon would be complete without tasting the iconic Pastéis de Nata.
One of the best places to taste pastéis de nata is Manteigaria.
This bakery, who owes its name from an ex-butter shop, is dedicated to the making and selling of pastéis de nata.
Made right in front of you, you can watch the preparation process while enjoying your pastry.
For the best experience, time your visit with the ring of bells from the store, signaling the arrival of hot and freshly baked pastéis de nata.
To eat pastéis de nata like a local, add cinnamon on top of the warm custard pies and have them with a bica, local Portuguese coffee similar to an espresso.
Located in the heart of Chiado, from Manteigueira, enjoy strolling along the Lisbon city center streets.
You cannot miss A Brasileira where Fernando Pessoa statue stands. The famous Portuguese poet was a regular at the cafe.
Chiado is famous for its cultural sites like the national theater and Chiado museum as well as its shopping streets.
You can always stop for lunch at Cantinho de Avillez, the famous Portuguese's chef contemporary restaurant.
Authentic Food Quest Tip: One of the best ways to explore Portuguese culinary culture at a deeper level is to take Lisbon food tours. With a local guide, you'll explore various neigborhoods while learning about the local food culture in Lisbon. Check out our indepth guide of 6 of the best Libson food tours to try.
Sample Traditional Portuguese Food at Time Out Market
The Time Out Market in Lisbon has become one of the most visited and talked about culinary spots in the city.
Since its opening in 2014, the food hall attracts visitors and locals alike.
The canteen like food hall has several stalls offering a variety of local Portuguese food, drinks, desserts and products.
On one end are stalls from a few Michelin-star chefs representing different regions of the country. All around are dozens of stalls selling regional specialties.
You can find bacalhau prepared in many ways as well as stands dedicated to local dry meats, sweets and more.
In the interior of the large open room are communal tables, perfect for those eating in groups.
Wines from different regions of Portugal as well as craft beers were also available in the center.
The Time Out market is the perfect stop to refuel while sightseeing Lisbon anytime of the day.
Keep in mind that the lunch time can get really crowded and you might have to wait to eat. We recommend going off-hours for a tranquil experience.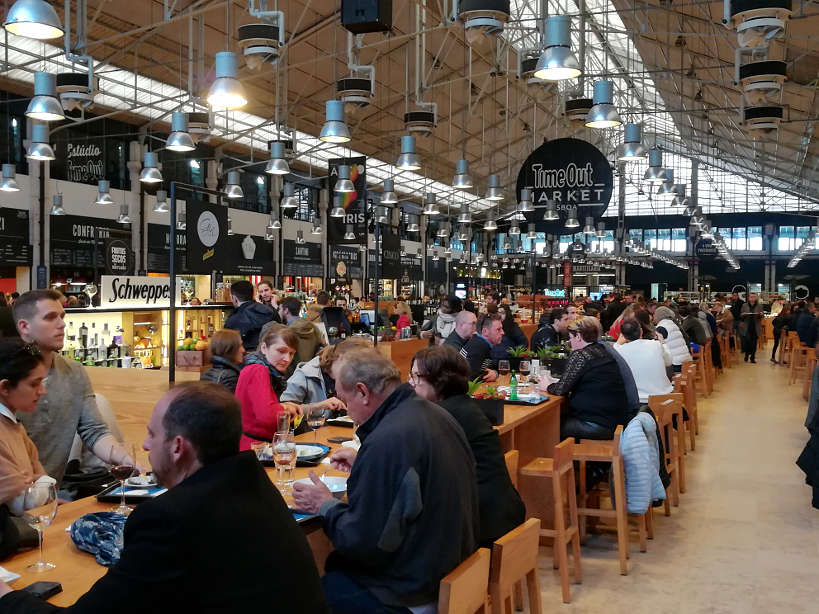 Listen to Fado with Traditional Petiscos in Barrio Alto
Fado music, a symbol of Portugal, is known as the soul of Portuguese music.
The melancholic tunes and lyrical musical style of Fado originates from Alfama and Bairro Alto, Lisbon's old neighborhoods.
Originally, Fado was performed at infamous bars where the city's poor and sailors gathered.
Nowadays, Fado is performed at well sought-out place where Lisbon visitors gather to listen to Fado performers.
You will find most of the Fado venues in the core of Alfama neighborhood as well as in some part of Bairro Alto.
Fado is typically performed in local restaurants or more touristic venues. However, space and tables are generally limited.
Our recommendation is to go to Mascote da Atalaia which has a local and intimate atmosphere.
Enjoy the melancholic Fado tunes with simple Portuguese food, local petiscos and wine.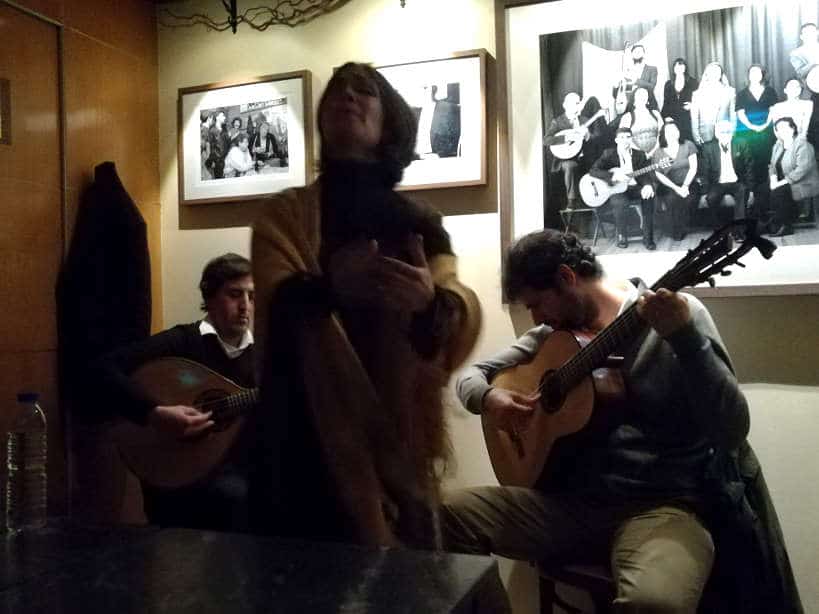 Ride on Lisbon Tramways and Funiculars and Admire the City Views
Lisbon, built on seven hills and next to the Tagus river, has many miradors or viewpoints with breathtaking views of the city.
Some of the most awe-inspiring miradors are Mirador de Graca or Mirador of Santa Catarina.
The yellow tramways are iconic in Lisbon and worth riding at least once or twice on your trip.
The Tram 28 links the neighborhoods Campo de Ourique to Graca. While Tram 15 links Lisbon city center to Belem, where you to go for Pastéis de Belém.
Know that these two lines can get really crowded in the Summer.
Alternatively you can explore local Lisbon neighborhoods, on Trams 12, 18, 24 or 25. The cost for a one way ride on the tram is 3 €.
Linking the lower districts to the upper parts of the city, Lisbon has funiculars also called ascensors.
The most famous is Gloria Funicular, a national monument, built in 1902.
It connects Restauradores Square with rua San Pedro de Alcântara in Bairro Alto offering spectacular views of the city.
Bica Funicular, which opened in 1892, links Rua de São Paulo with Rua do Loreto.
See the best views of Lisbon, plan your tram and funicular routes using Carris, the local transportation website.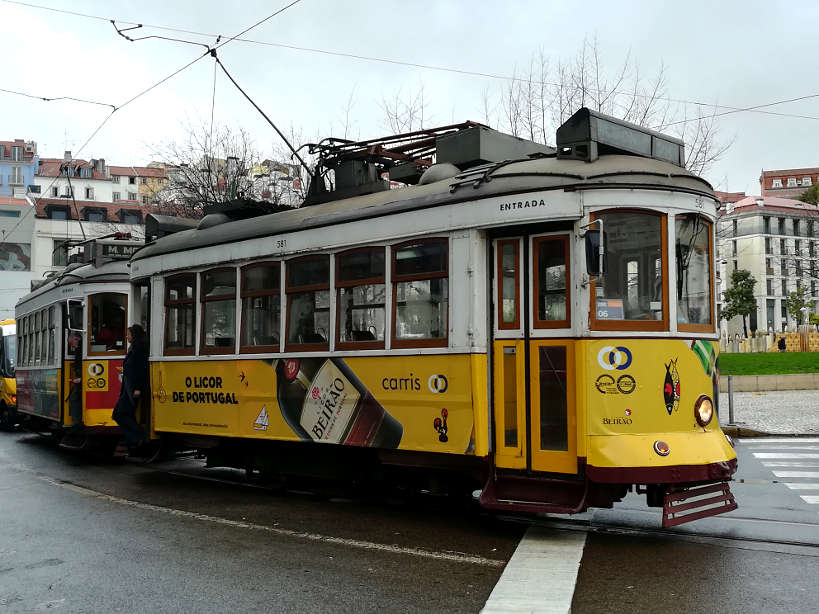 Enjoy Lanche at a Pasteleria
One of the pleasures of Lisbon is taking the time to sit at one of the many cafes and pastelerias in the city.
Portuguese enjoy light snacks in the middle of the afternoon also called lanche.
At lanche, you can enjoy either a savory treat or sweet snacks depending on your mood and appetite.
The savory treats are also called salgados. You will find different types of sandwiches. Choose from cold or warm options, like bifana, tosta mixta, croquettes, a type of fried meat roll, or other savory doughy pastries filled with meat.
Sweet treats will extend beyond pasteis de nata with different cakes and pastries of multiple shapes and forms.
Two of our favorites are the salami de chocolate and bolos de arroz.
Accompany your treats with the local beer or red wine and you will quickly adjust to the Portuguese way of life.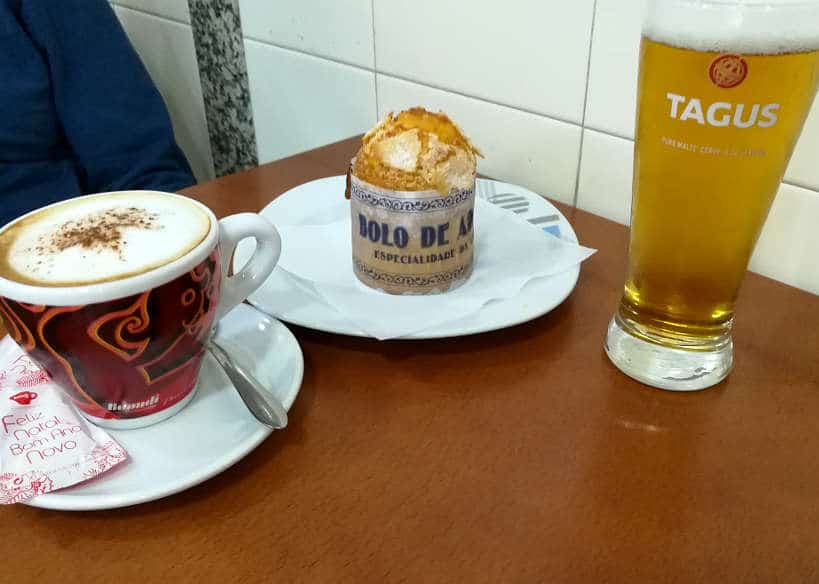 Popular Day Trips from Lisbon
One of the best things to do in Lisbon is actually to get outside of the city.
Lisbon offers many amazing day trips to choose from. Explore the beautiful coastline, taste wine in the northern region or tour the natural parks.
You can find the right activity that suits your liking. Here are the best day trips from Lisbon not to miss.
Visit Sintra A Lisbon Day Trip in Wonderland
Sintra is rightfully known as the wonderland of Portugal. It is a long time royal destination, with lush forests and magical palaces.
Only 40 mins by train from Lisbon, this Unesco World Heritage Site offers the perfect haven for a Lisbon day trip.
You want to visit the restored Palácio Nacional da Pena as well as the Castelo dos Mouros, an ancient castle perched on the crest of the mountain.
The town of Sintra itself has an impressive Gothic palace, Palácio Nacional de Sintra.
Spend some time walking the cobblestoned streets and exploring the shops adjacent to the town square.
Sintra is also known for its sweet treats called the queijada de Queijada de Sintra and the Travesseiro.
Don't miss an opportunity to taste these sweet delights as you take in the Sintra sights.
Read More How to Eat Your Way in Sintra in One Day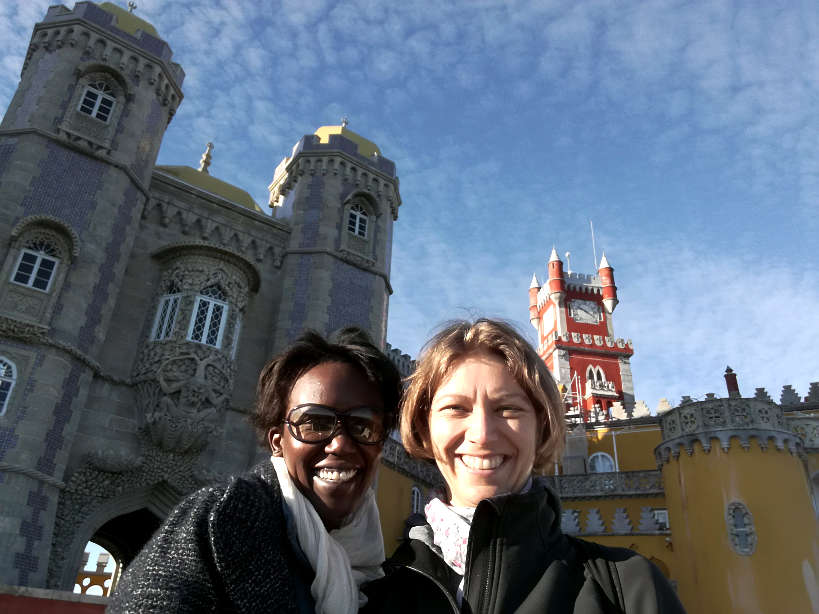 Cascais A Coastal Resort Town
Cascais is the perfect day trip from Lisbon for seafood and beach lovers.
A former fishing village, this charming town has sandy beaches and a beautiful marina.
Seafood and freshly-caught fish are served in the traditional and upscale restaurants of its historic center.
By the waterfront, you can visit the fishing harbour, the marina and the restored fort.
Before you head back to Lisbon, take your time to linger on the beautiful beaches of Praia da Conceição or Praia da Duquesa.
Read our full article for additional ideas for the best day trips from Lisbon
Trending Day Trips from Lisbon
What to Eat in Lisbon
Lisbon, an increasingly popular European destination, offers a number of amazing Portuguese dishes.
Generally speaking, the food is unpretentious, made with seasonal fresh ingredients and is quite affordable.
Eating the local Portuguese food is one of the best things to do in Lisbon.
While this list is not comprehensive, here are a few unique Portuguese specialties you don't want to miss.
Pasteis de Nata and Pasteis de Belem
Portugal's signature sweet is known worldwide and is one of the things to do in Lisbon.
Known as Portuguese custard tarts, these flaky tarts with a soft,melt-in-your mouth center and carefully caramelized surface, will beckon you from every window.
Pasteis de Nata, or Pastel de Nata if you are talking about them singularly are not all made alike.
The most famous place to eat pastéis de nata in Lisbon is the district of Santa Maria de Belém, and specifically the Fábrica de Pastéis de Belém.
Invented in the 19th century by the monks at the Jerónimos Monastery in Belém, these are the only pastries that can be called pastéis de Belém.
Everywhere else, they go by pasteis de nata.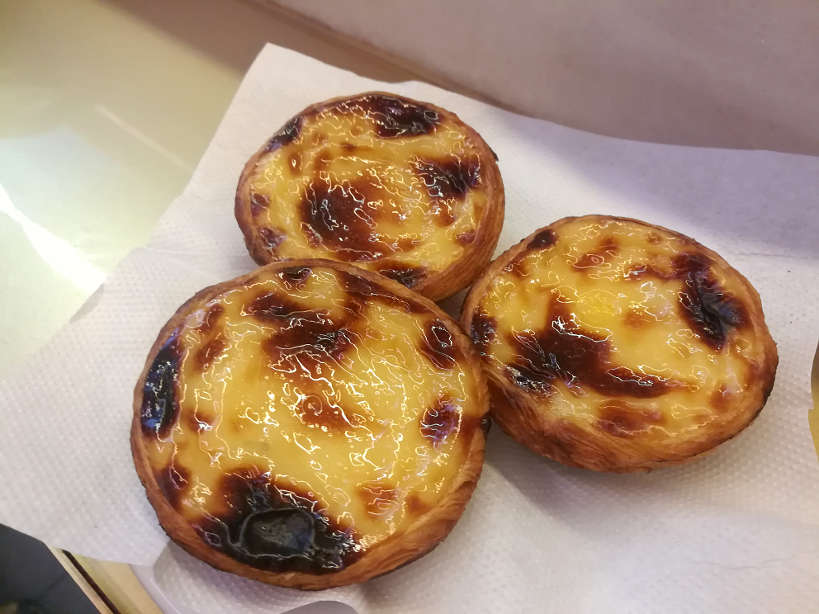 Petiscos, Grilled Sardines and Seafood
You are probably already familiar with tapas, small snacks or appetizers very popular in Spain.
In Portugal, petiscos are the equivalent of tapas. These are little bites to get your appetite going.
Sardines are some of the most popular and traditional petiscos.
You can have them grilled or from the colorful Portuguese cans or conservas.
Simply top your slice of Portuguese bread with sardines or other seafood delights and wash it down with a refreshing glass of vinho verde or Portuguese green wine.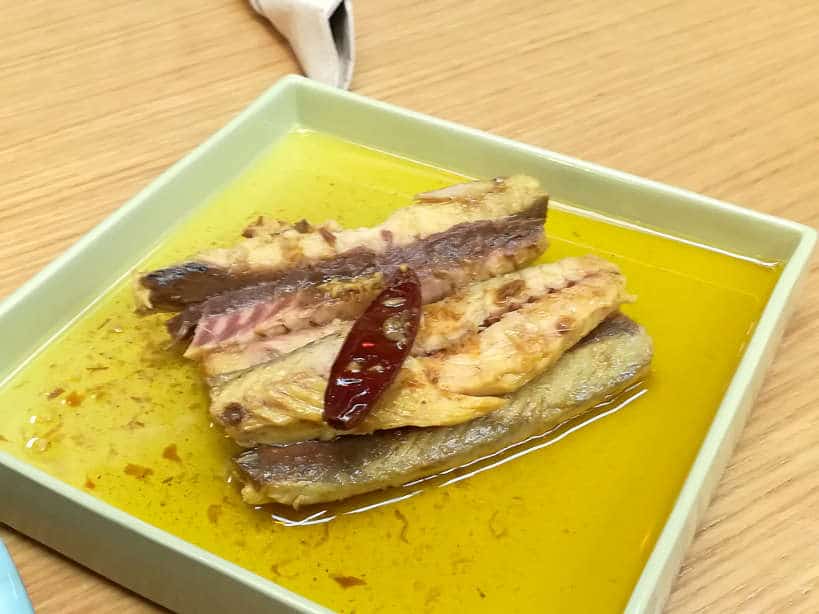 Savor Bacalhau Cooked in Many Ways
The Portuguese are obsessed with bacalhau or codfish and it is the one dish that screams Portugal.
They say there are over 365 different ways of cooking bacalhau, one for each day of the week.
While in Portugal, try bacalhau and find your favorite preparation style.
Our favorite is Bacalhau à Brás. This is a wonderful combination of bacalhau pieces mixed together with potatoes, eggs, onions, olives, chopped parsley and garlic.
For more about Bacalhau, read the 5 Authentic Ways You Want to Eat Bacalhau in Portugal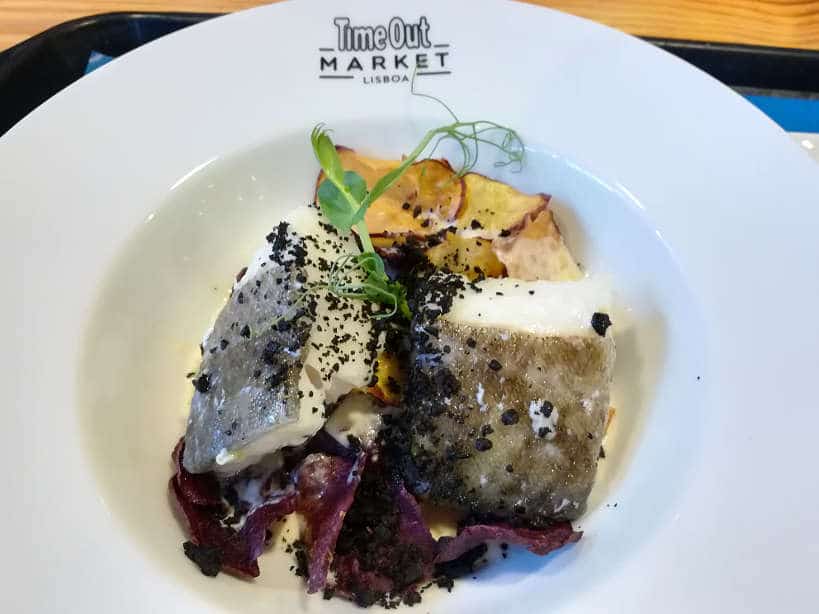 Best Restaurants in Lisbon
Lisbon offers a wide range of restaurants and cafes to choose from.
From Michelin-star restaurants to neighborhood restaurants and cafes, there are many options for food travelers at every budget in Lisbon.
One of our favorite things to do in Lisbon is to dive into the Lisbon flavors at traditional Portuguese restaurants.
Here are our recommendations for some of the best traditional places to eat local Lisbon specialties.
Carvoaria Jacto – Portuguese Steakhouse
Tucked in an unpretentious street in Penha de Franca, a few blocks from Intendente metro station, you will find Carvoaria Jacto.
Join the local crowd in the large restaurant dining room where lively conversations are taking place.
This local Portuguese Steakhouse, very popular with locals, is known for its excellent meat prepared the Portuguese way.
Meat lovers won't be disappointed. You can choose from different cuts of beef, lamb or pork.
Everything is served with excellent Portuguese red wines at reasonable prices.
You'll also find a nice selection of seafood dishes, including the famous bacalhau, if meat isn't an option for you.
With that comes a complimentary fresh and delicious salad buffet.
Reserve some room for the enticing selection of dessert to bring a close to an excellent Portuguese meal experience at Carvoaria Jacto.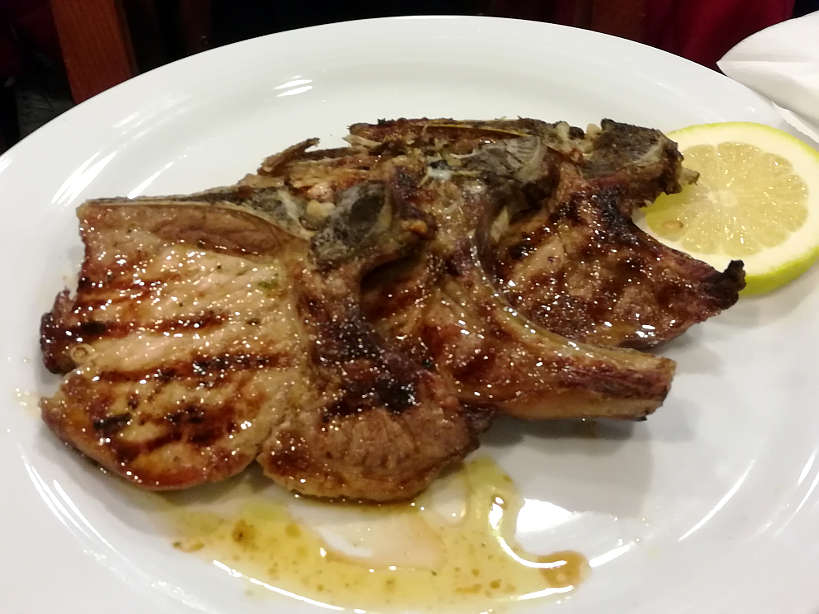 Madragoa Café – Classic Portuguese Food in Lisbon
Madragoa Café is located in the charming and artsy Santos neighborhood.
You will be greeted in the warm and cozy environment by Cristina, the restaurant owner. The dining room is intimate with a classic and vintage decor.
The menu features and interesting selection of Portuguese regional dishes as well as Cristina's homestyle cuisine.
The dishes are prepared fresh and made to order. Cristina is always available to guide you if you are unsure of what dish to have.
Don't forget to leave some room for the excellent traditional Portuguese dessert.
This is the perfect place to have a taste of Portugal's regional foods in a quaint and off the beaten path neighborhood.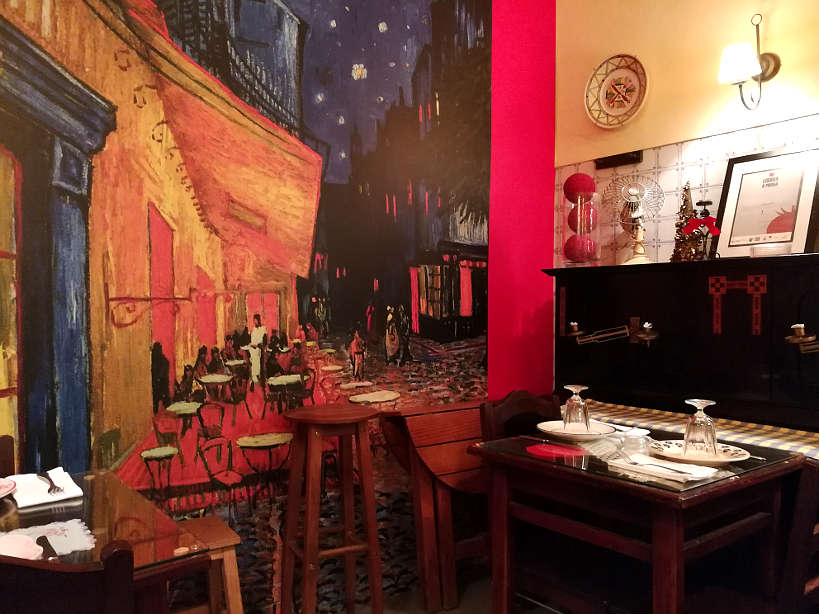 Mercado de Campo de Ourique Where Locals Go
Campo de Ourique is a neighborhood known to locals as a foodie haven. This is where new restaurants and concepts are tested and launched.
In the core of the neighborhood is the modern farmers market, Mercado de Campo de Ourique.
During the day, you will find a variety of food vendors, selling fresh produce, fresh fish, cheese and meats.
It is also the perfect place to come for lunch, an afternoon snack or even dinner.
In addition to the fresh produce section, there are food stalls serving prepared food like tapas or petiscos, Portuguese dishes, salads, drinks and more.
The quality of the food is excellent. It is a great place to sample regional food specialties in a casual environment.
Read more recommendations on where to eat in Lisbon, in our article 10 Authentic Restaurants to Eat like a Local in Lisbon
Looking For More Things to Do in Portugal?
Love it? Pin it!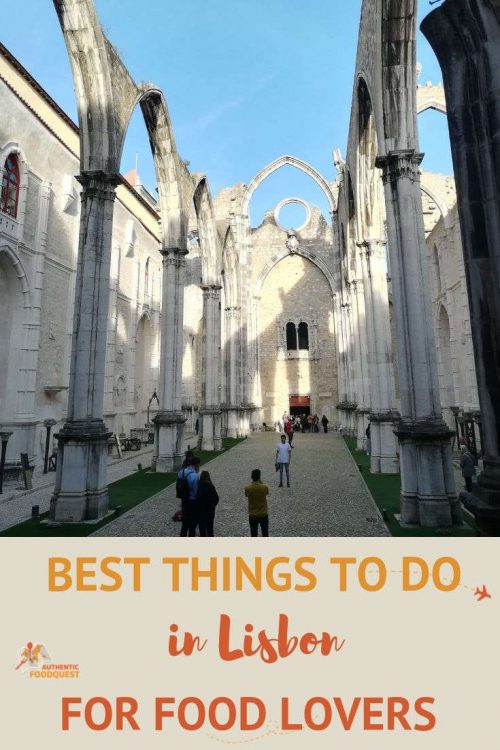 Disclaimer: This page contains affiliate links. That means at no extra charge to you, we earn a small commission when you purchase using these links. Thank you for your support.
Claire is a culinary explorer who travels the world in search of the best local foods. She is always looking for her next culinary adventure to bring you the best bites while exploring new places.