Sofia, Bulgaria's laid-back capital, offers many things to do. The city is a surprising blend of modern buildings, Ottoman mosques and monuments built during the communist era.
Right in the center of the city are impressive Roman ruins from nearly 2000 years ago when the city was called Serdica.
Compared to other European capitals, Bulgaria's capital is very affordable. Typical Bulgarian dishes are flavorful and made with locally grown produce. 
While not well known for its wines, the country produces good wines from indigenous grape varieties.
With its rich history, architectural landmarks, laid-back vibe and amazing local food and wine, there's plenty of things to do in Sofia.
The city of Sofia continues to intrigue us. In this travel guide for food lovers, we highlight some of the best things to do in Sofia. 
Use this Sofia travel guide to help you create memorable experiences on your visit.

10 Best Things to do in Sofia
1- Start the Day with Mekitsa and Coffee 
One of the best things to do in Sofia that you don't want to miss is savoring mekitsa with a cup of coffee. These are Bulgaria's famous traditional breakfast donuts. 
These fried donuts are made with flour, egg and yogurt and dusted with powdered sugar.  Together with a cup of coffee you'll be fueled for the day.
Mekitsa & Coffee, a small bakery in Sofia, is the best place to try this traditional Bulgarian breakfast treat. The bakery is owned by young passionate entrepreneurs who traveled the country in search of the most authentic mekitsa recipe.
In addition to the traditional mekitsa donuts, you'll also find versions made with chocolate, honey, walnut, sirene cheese and more.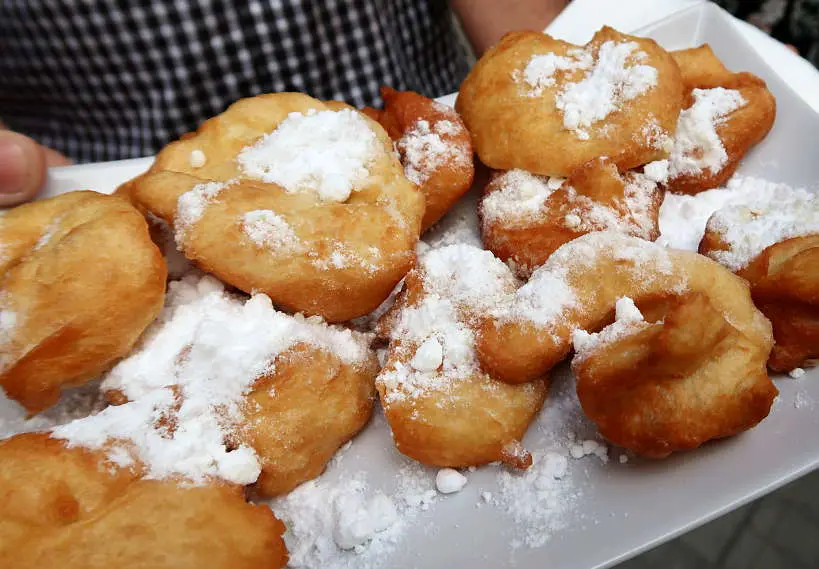 2- Navigate Your Way With a Sofia Free Tour 
To orient yourself in Sofia, start your visit with a Sofia Free Tour. These free Sofia tours are run by a non-profit organization three to four times a day all year round.
We met at the Sofia Court House for a morning tour. Led by our local guide Kris, we visited the city main sites leisurely exploring Bulgaria's capital over two hours.
Kris guided us to some of the unmissable monuments like Aleksander Cathedral, the iconic and largest operating Orthodox Cathedral in Bulgaria.
You will also learn about the Statue of Sofia which dominates the town center, standing on a 16 meters pedestal.
Next to the statue is the Square of Tolerance with a Mosque, Catholic Church, Synagogue and Orthodox Church, all within close proximity.
One of the most striking sites is the archeological site by the entrance of the Serdika metro station.
Our guide Kris was very knowledgeable. We really appreciated that he gave insights into his family and the communist era beyond the historical city facts.
At the end, Sofia Free Tour provides a small guide book which includes vouchers and discount to restaurants, stores, and experiences.
Touring the cultural and historical sites is one of the best things to do Sofia.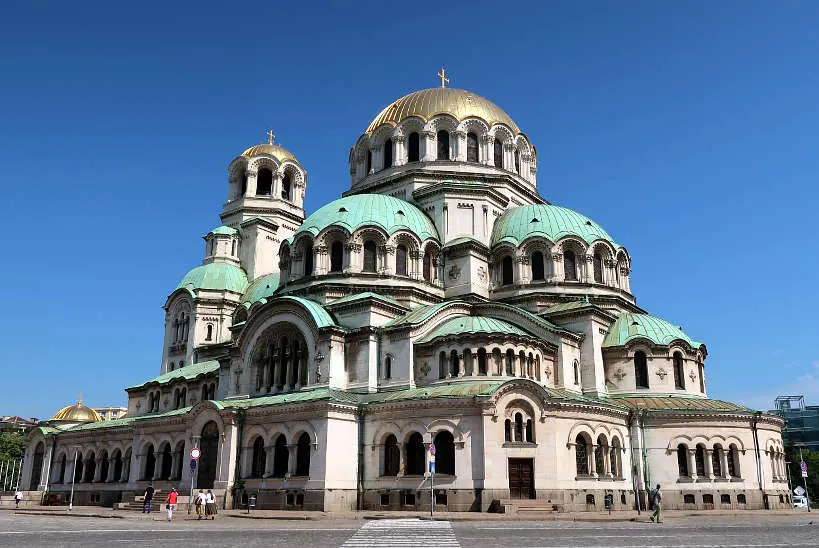 Authentic Food Quest Tip: If you want to explore Sofia deeper and combine local culture with local food, we recommend taking a private guided walking tour.  This 3-hour walking tour of Sofia with breakfast takes you to the iconic sites in the city while tasting local specialties. You'll learn about Bulgaria's rich history and culture with your private guide and the best foods to try.
3- Explore The Women's Market – Sofia's Largest & Oldest Market
The Zhenski Pazar Market, commonly known as the Women's Market is a feast for all the senses. Established more than 140-years ago, it is the oldest market in Sofia.
At this market you'll find fresh seasonal fruit and vegetables, cheese, cured meats, dried fruit, nuts and more. Traditional souvenirs, clothing and local eateries add to the colorful atmosphere.
In the past, the stall owners were originally all women. Today, both men and women sell their wares on a daily basis.
Visiting the market is one of the best places to immerse yourself into daily Bulgarian life. The market is an integral part of local life and more than 70,000 people visit the market everyday.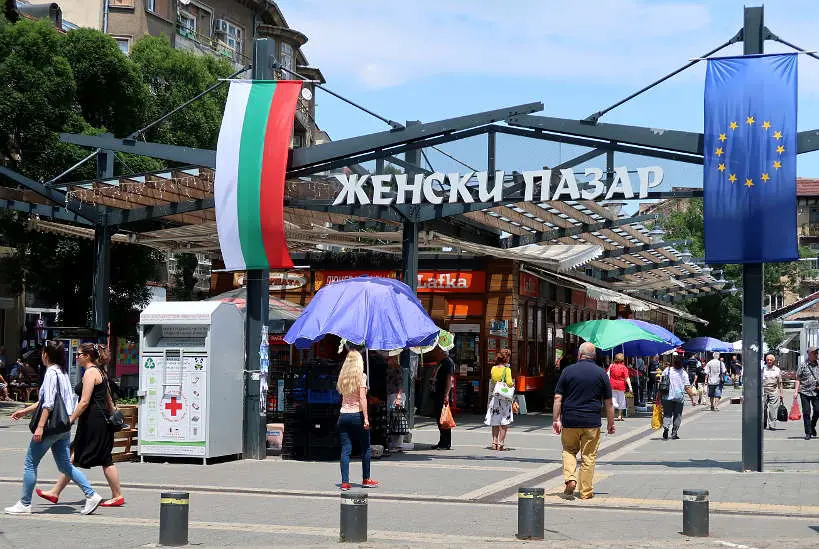 Authentic Food Quest Tip: If you want to explore the market at a deeper level, we recommend taking an off-the-beaten path market tour. Visit three markets including Zhenski Pazar with a local guide and sample a variety of Bulgarian specialties. Over three hours, learn about the local market life in Sofia and discover the rich history of Sofia.
4- Get A Taste of Bulgarian Food with Balkan Bites Food Tour
Balkan Bites food tour was the first company to offer free food tours in the world. The concept has now spread to over countries and notably inspired the Amsterdam free food tours.
When we arrived at the meeting point in Park Crystal just before 2:00 pm, there was already a sizeable group. 
Two guides leading the food tour decided to split the group into two so as not to overwhelm the restaurants.
Our tour guide was Evo and originally from northern Bulgaria. Under his guidance, we stopped at several restaurants, from family-owned to trendy concepts. 
At each location, we sampled traditional Bulgarian food. Evo shared interesting insights into the food in Bulgaria and history of the places we visited.
We particularly enjoyed our stop at Bagri, a seasonal Bulgarian restaurant with a slow food philosophy behind it. 
Using local and seasonal produce, they serve modern and creative Bulgarian cuisine.
Another great place is Garafa Wines. This local wine store makes homemade wine that you can buy in a carafe. 
They also offer tasting with a cheese board and any glass from their draft homemade wines.
This tour is a wonderful introductory tour to Balkan cuisine with some insights into the Sofia restaurant scene.
To close the tour, Evo provided a small guidebook with recommendations to a few restaurants including discounts for some of them.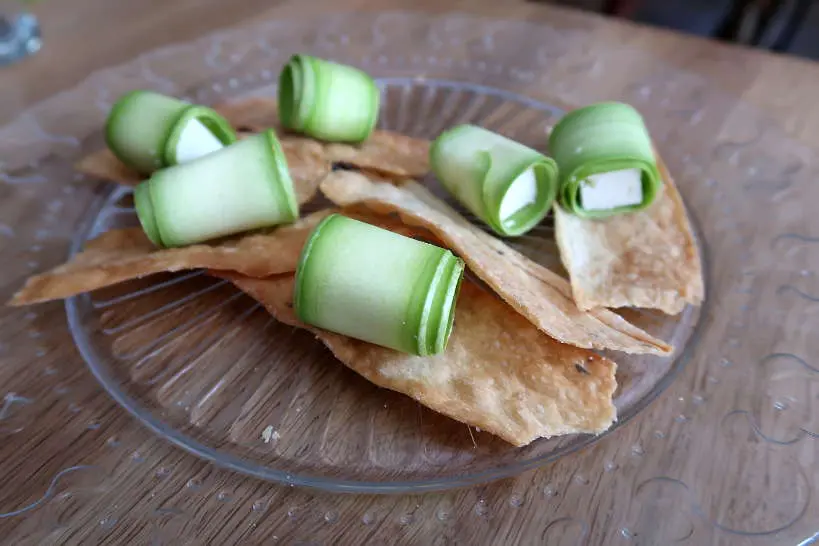 5 – Take a Private Bulgarian Cooking Class With a Chef
Each time we visit a new country, we love to take cooking classes to familiarize ourselves with the local ingredients.
It is also a great way to meet locals and get to know them and their local culinary traditions at home.
In Sofia, we learned about Dimitar and Kremena. Dimitar, a chef and his wife Kremena offer private cooking classes in their home in Sofia.
Their home is in a part of town we haven't visited and we were eager to meet them and discover where they live.
Unfortunately, we ran out of time during our stay in the capital and ended up not taking a cooking class. 
But next time we are in Sofia, we'll make sure to take a cooking class with them.
Under Dimitar's guidance, he will teach you the basics of traditional Bulgarian food. 
In their kitchen, you'll make several dishes according to Bulgarian culinary traditions using fresh and seasonal ingredients.
After cooking, what we appreciate the most is eating what we made and connnecting with our hosts over local wines.
Dimitar and Kremena will pick you up from your hotel and drop you back at the end of your culinary experience. 
You can choose either a lunch or dinner experience and vegan and vegetarian options are also available.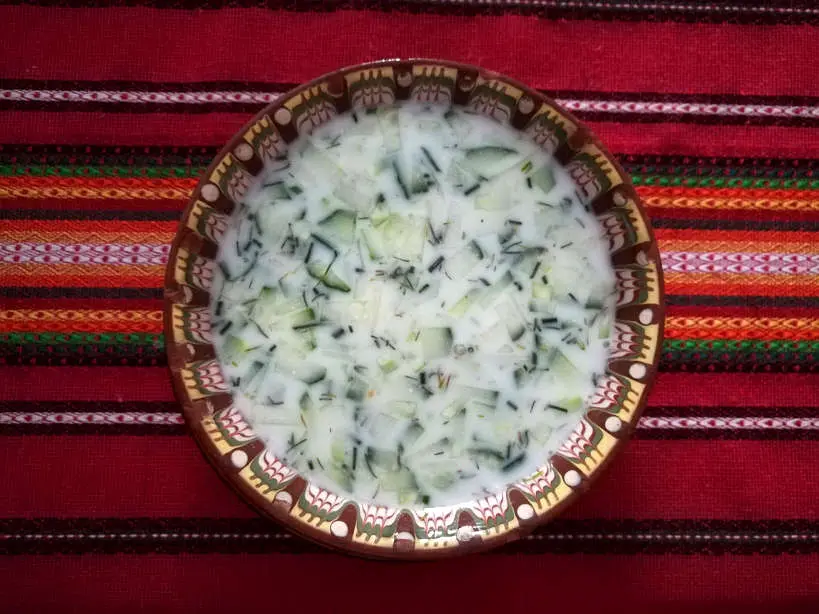 6 – Experience Traditional Bulgarian Food at Hadjidraganov's House
This restaurant is comprised of four restored 19th-century houses. Each house is named after the typical architectural styles of four traditional Bulgarian towns.
Located near the Lion's Bridge, you can easily reach the restaurant within 15 mins of a leisurely walk from the center.
Hadjidraganov's House serves an array of traditional Bulgarian dishes in a unique atmosphere. 
Unless you plan on visiting the different Bulgarian towns, take advantage of the restaurant set up and visit them in one setting.
The menu is centered around traditional Bulgarian food with dishes cooked using the traditional tools and techniques.
We particularly enjoyed the Katino Meze, a traditional dish from Bansko. 
This pork dish combines meat and fresh vegetables. Mushrooms, onions, hot peppers are cooked in a tomato base sauce and served in a traditional copper pan, topped with parsley.
Eating at Hadjidraganov's House is one of the best ways to immerse yourself into the Bulgarian food culture.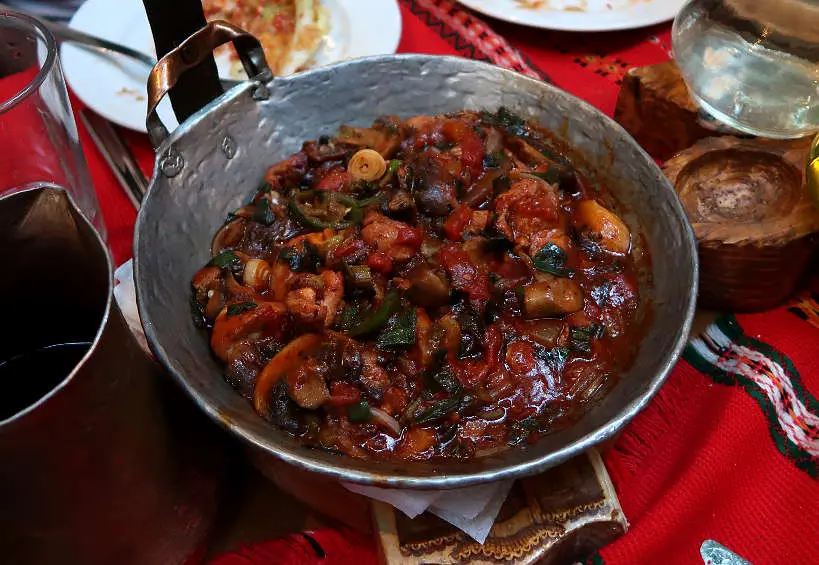 7- Taste Bulgarian Wines at EnjoyWine Shop
If you enjoy wine, and want to learn more about Bulgaria's rich wine history, stop into Enjoy Wine for free tastings.
The boutique store is located near the Church of Sveti Sedmochislenitsi, a Bulgarian Orthodox church built in an old mosque. 
During our visit, we tasted a variety of wines made from indigenous Bulgarian grapes. The wine shop works with small wine producers and their aim is to promote the ancient grapes from Bulgaria. 
We sampled Mavrud wine, an ancient red grape variety from the Thracian Valley. Dimyat, one of Bulgaria's widely planted white wine varieties and finally a Rosé wine made from Pinot Noir grapes.
What we enjoyed the most was the attentive service we received at Enjoy Wine. Sitting on the comfortable couches, we learned about Bulgarian wines from around the country and had our first taste of Melnik wine.
The passionate staff, as well as the quality of wines, is impressive. Diving into Wine Tasting is one of the best things to do in Sofia.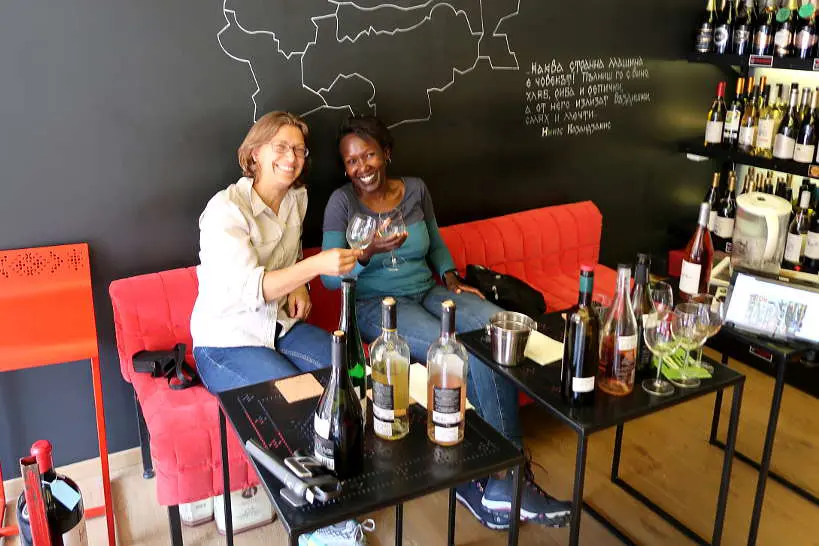 8- Experience Gastronomic Bulgarian Cuisine at Cosmos
This modern and contemporary restaurant offers a modern interpretation of traditional Bulgarian cuisine.
Widely regarded as one of the top restaurants in Sofia, creative food and space blend together harmoniously.
To taste a spectrum of Bulgarian dishes from around the country, order the tasting menu. Try unique dishes like green cheese, spatial tetevan salad and more.
Having spent three months eating traditional Bulgarian food in the country, we appreciated the creative interpretations of the dishes at Cosmos.
For a full Bulgarian gastronomy experience, accompany your meal with local Bulgarian wine. 
Prepare your palate and don't miss the chance to dine at Cosmos.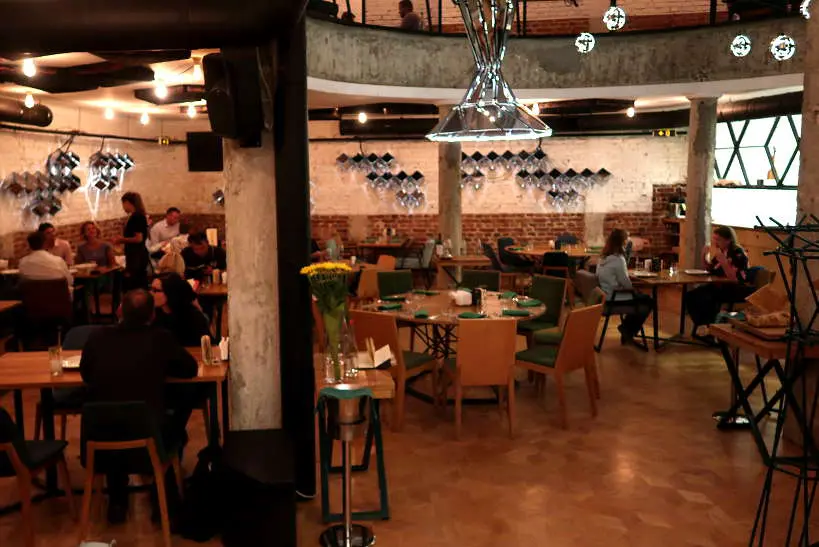 9- Get Mineral Water Near the Mineral Bath Museum
Visiting the natural mineral springs in Sofia and the region is one of the best kept secrets.
In the center of town, the magnificent building next to Sofia's Mosque used to house the old Central Mineral Baths. These are traditional Turkish bath houses that closed in 1986.
Although the building has now been converted to Sofia History Museum, the natural springs are open and accessible.
Located across the building, on the other side of the tramway, is a large fountain with mineral water springs.
You'll see locals lining up to fill up bottles of free mineral water. Upon touch, we were surprised to find the water warm. 
Nonetheless, it makes for potable water once it cools down.
Although these are not the only free mineral water sources in Sofia, they are the most popular easiest to access.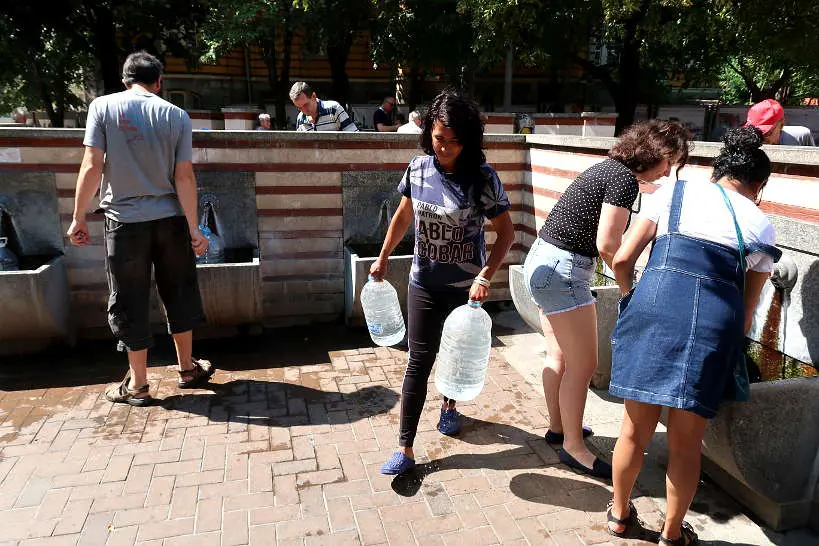 Authentic Food Quest Tip: If want to experience a mineral bath, there are a few natural places close to Sofia. Take a getaway to the Seven Rila Lakes and mineral springs for a day trip from the capital.  Relish Bulgaria's natural beauty while hiking and relaxing.  
10- Step Back to Communist Time at The Red Flat 
One of the most fascinating things to do in Sofia is visiting The Red Flat. This was one of the most insightful experiences we had. 
Not being very familiar with the Cold War and Communist period during the 1980s, we took the opportunity to learn about it at the interactive Red Flat in Sofia.
The Red Flat is an apartment in Sofia designed to teleport you back in time to Communist Bulgaria. The apartment is an interactive audio tour of an average family in the 1980s. 
Listen to the everyday stories of the family as you wander through the apartment. You can read the books, touch the furnishings and clothes as well as play with the objects you see throughout the home.
Discover what everyday life was like for ordinary Bulgarians during the Cold War. 
Work and leisure, dreams and aspirations, school and vacation, eating and drinking as well as local TV footage and music.
For a look of everyday life of people behind the Iron Curtain, visiting the Red Flat is an experience not to be missed in Sofia.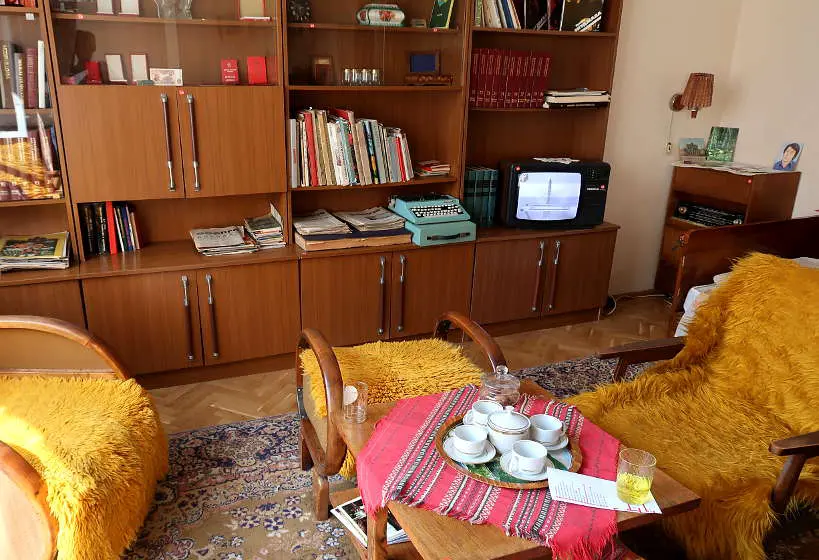 Where to Stay in Sofia for Food Lovers
The best area to stay in Sofia is anywhere near the city center. The closer to the center the more expensive the accommodations. 
However, you can find affordable options within walking distance of the main Sofia attractions. 
There are many apartments to choose from for a short stay in Sofia. We personally stayed at two different apartments located between the Lion's bridge and Aleksandar Nevski Cathedral. 
You will also find a few hotels if you are looking for additional services like breakfast and luggage concierge.
To make the most of your stay in Sofia, we recommend the following options for where to stay in Sofia for food lovers.
Budget 
While the apartment we stayed is no longer available, the other apartment we considered is Serdika Apartment. This apartment is well located and has a small kitchenette ideal for a short stay in Sofia.
Mid-Range
This 55 sqm one bedroom apartment offers a roomy and cozy stay next to the Aleksandar Nevski Cathedral. We found the location conveniently close to downtown, the airport and the bus station to get anywhere in Bulgaria.
Luxury 
To get all the conveniences of a hotel stay in the heart of Sofia, we recommend the Rosslyn Thracia Hotel Sofia. This modern hotel boutique style offers great service and breakfast is included.
Sofia Travel Tips
Sofia, the capital of Bulgaria and the largest city in the country with a population of more than 1.2 million. 
Despite being the largest city, Sofia has a relatively laid-back atmosphere and is easy to navigate.
How To Get Around
From Sofia Airport
The airport in Sofia is conveniently located close to the city. You can get into the city by taxi. Make sure you use OK Taxi which are the official taxi operators for the airport.
You can order a taxi from the OK Taxi booth inside the airport. A ride to downtown Sofia takes about 30 mins and it cost us 14 BGN ( approx $8 USD) in the middle of the day.
If you prefer to take public transport, you can also reach Sofia center by public bus number 84 which stops at both airport terminals. 
Bus tickets can be purchased at any newspaper stands in the airport. Another option is the metro blue line or line 2 which stops at terminal 2 and goes directly to Sofia center.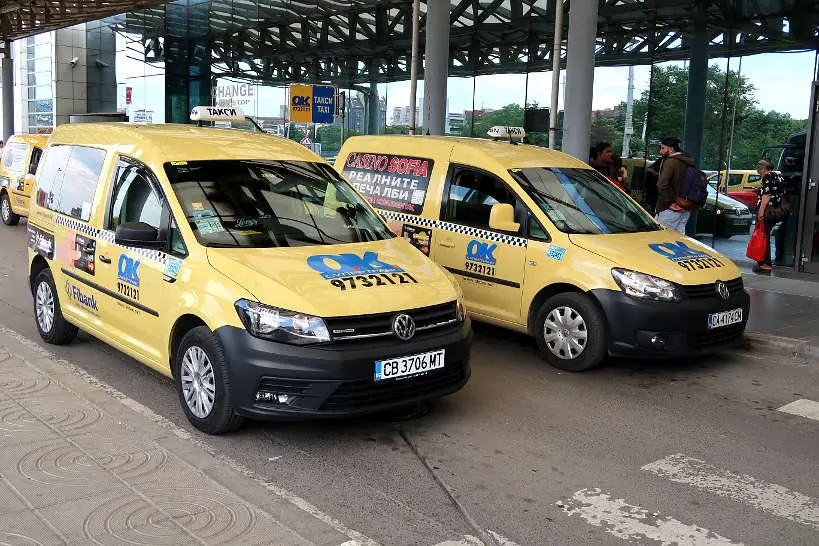 Public Transportation
There are a lot of options for public transportation in Sofia. It is cheap, efficient, safe and easy to use. 
There are two main metro lines that joins at Serdika station, the main station downtown Sofia.
The tickets can be bought at the metro station or directly on the bus and tramways for 1.6 BGN (approx $0.90 USD). 
You can also get multiple prepaid cards that you can recharge if you plan on staying for more than a few days in the capital.
We typically use Google Maps to get directions by public transportation and it worked pretty well in Sofia.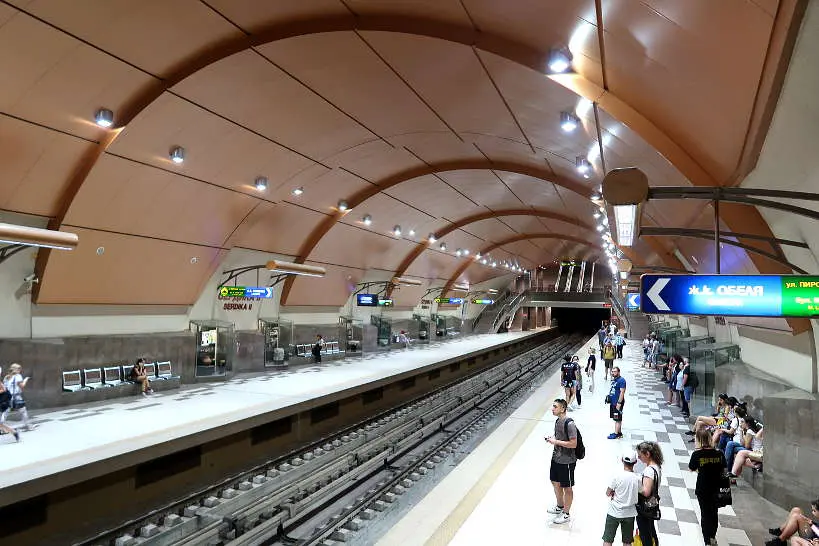 Taxi and TaxiMe App
Taxis are relatively cheap in Sofia. A ride anywhere in the center of town cost between $3 to $5USD. 
There are a few scams with taxis and some of them will charge excessively high fares. Watch out for taxis that target tourists and charge $20 USD+ for a short ride.
While this may seem like a bargain, it is over the top in Sofia.
To avoid taxi scams, we used and recommend the free TaxiMe app. It is a simple app that works like Uber or Lyft.
We used it several times and never had an issue. The app calls regular taxis that are registered with TaxiMe. 
They will have a working meter during the ride. And, you can either pay cash or by credit card.
The only inconvenience of the credit card is that you have to provide the tip before the ride which defeats the purpose.
For now, the app is available only in the major cities in Bulgaria. You can use our referral code: claire153, to enjoy discounted rides when you arrive in Sofia.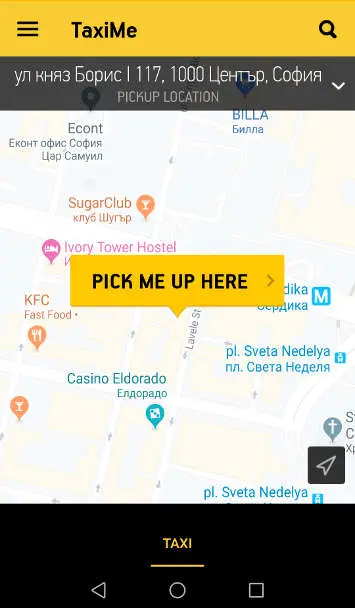 Sofia Safety for Women Travelers
Sofia is a relatively safe city, especially in the center of town. At night, you may want to avoid areas outside of downtown near the bus terminal or train station.
Although some parts of the city look rundown, it doesn't mean that the area is not safe. 
We stayed in Sofia several times and never had an issue even walking late at night after late restaurant dinners. 
We used public transportation many times, buses and metros, and never felt unsafe or uncomfortable.
Nonetheless, it is advised to use typical caution at night particularly when alone. Watch your belongings in crowded, non lit or less trafficked areas.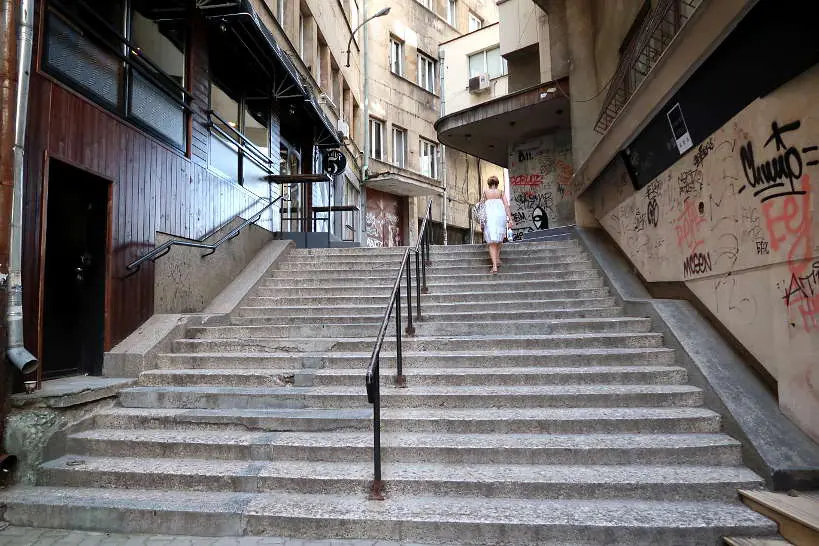 Love it? Pin it!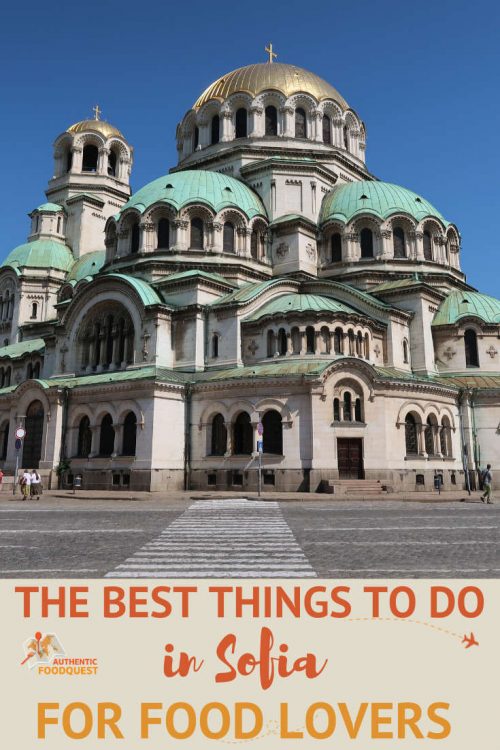 Disclaimer: This page contains affiliate links. That means at no extra charge to you, we earn a small commission when you purchase using these links. Thank you for your support.
Claire is co-founder of Authentic Food Quest and a lover of simple and exquisite cuisine. Since 2015, with her partner, Rosemary, she has been traveling the world as a digital nomad, creating content about local food experiences.
Her advice from visiting 45 countries and more than 240 food cities has been featured in Lonely Planet, Business Insider, Honest Cooking, Food Insider, and Huffington Post. She has also co-authored three books, including one in collaboration with Costa Brava Tourism.
An ex-mechanical engineer, Claire is responsible for SEO, keeping the website running, and the fun food & travel videos on YouTube.
When Claire is not eating, she can be found running or cycling. Find out more about Authentic Food Quest