Authentic Food Quest Argentina
A Guide to Eat Your Way Authentically Through Argentina
Now Available On Amazon and Barnes & Noble!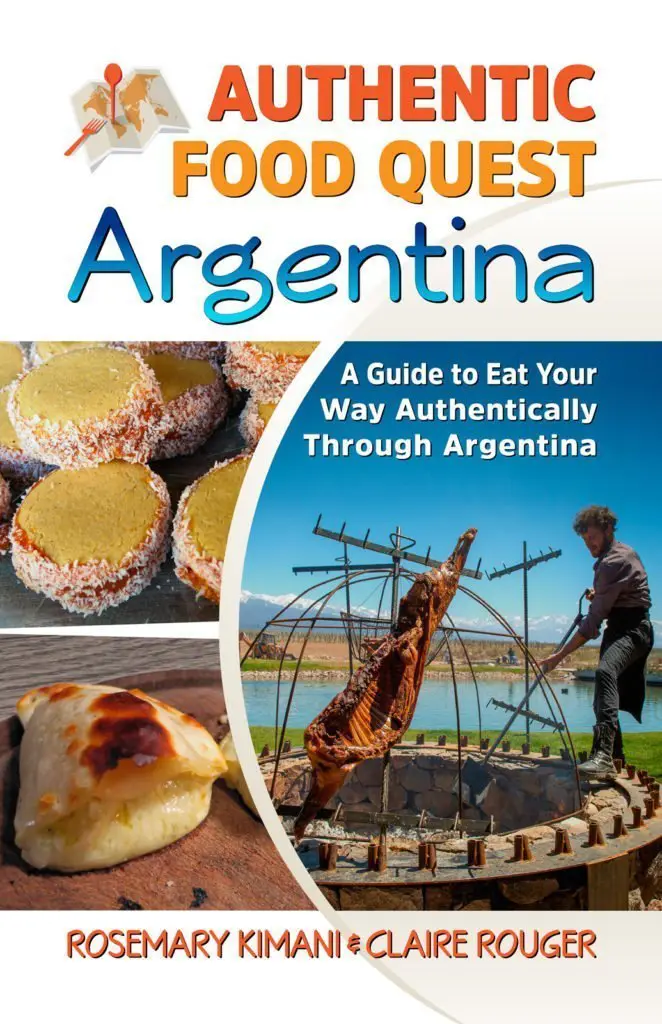 Create Your Most Delicious And Memorable Trip To Argentina
Are you looking for a true and authentic experience of Argentina?
• Do you want to taste the local cuisine, heritage and culture?
• Do you fear missing out and struggle to find the local and authentic dishes?
• Are you overwhelmed by information and tired of finding yourself at the same restaurants recommended by all guidebooks?
Authentic Food Quest Argentina: A Guide To Eat Your Way Authentically Through Argentina takes you on a journey through food in four main regions of Argentina: Buenos Aires, Mendoza & the Wine Regions, the Andean Northwest, and Patagonia & the Lake Region.
Why We Wrote This Book
What You Will Find
In this guide book, you will find descriptions of the typical dishes, desserts, beverages, street food and unique produce.
You will also find an overview of the farmers markets and local stores, restaurants, wineries and local producers worth visiting. Along the way, popular food festivals across the regions are noted and resources for traveling through Argentina are also provided.
With more than 270 references, you have everything you need to launch your own food adventure.
Throughout this guide, you will find stories and insights shared by local experts including Argentina's most renowned Chef, Francis Mallmann.
Interview Excerpt With Francis Mallmann, Argentina's Most Renowned Chef
You Will Discover
• Over 50 iconic dishes and drinks and what makes them special to Argentina
• Where to find authentic restaurants and avoid the tourist traps
• Street foods to sample and eat like a local
• How to order and eat your beef the Argentine way
• The best local food, wine and beer festivals to attend
• Tips to stay fit and healthy on your travels to Argentina
Authentic Food Quest Argentina: A Guide To Eat Your Way Authentically Through Argentina is a unique guide book that inspires intrepid and armchair travelers to savor their adventures in Argentina. By combining storytelling with local information, this is the perfect guide for food travelers today.
What People Are Saying
"I've travelled a fair amount, and experiencing local foods is always high on my must-do list. But even for a seasoned traveler there's always a bit of wondering (Am I really experiencing the authentic?) and occasionally a bit of worry (Is this a little too "authentic"?). This book takes care of the research part of food-based travel, and their research into local chefs, markets, food destinations, food styles, and dishes, is comprehensive. It helps that the authors aren't just doing research; they're doing a lot of eating (and shopping, and talking, and picture-taking, etc.). Recounting a lot of that in the book makes this more than a handy guide to hot spots or meals—but a model for a way to really experience a place." Jason Lobdell
"Authentic Food Quest's guide to eating locally in Argentina is full of knowledge and inspiring stories. It is a great companion for travelers who are interested in experiencing the local culture and cuisine. I felt as though Rosemary and Claire were sitting next to me at the table sharing their culinary adventures, explaining the menu, and providing assistance with any part of the meal (such as ordering in the local language, cultural nuances, and tipping etiquette). The guide is a culmination of dedicated research, knowledge from local chefs, and the authors' adventurous and playful spirits. I am excited to watch how Authentic Food Quest's guidebooks evolve and I am hungry to see their next installment." Clare Hancock, Editor in Chief at Immersion Travel Mag
"This book is an invitation to travel but a slow travel, at human scale, that takes the time to meet the local actors, to discover its culinary culture and its way of life as for the Argentine each meal is an opportunity to meet and exchange. It is a must to prepare for one's trip … even though you may not have plans to go to Argentina, this guide is a journey deep into the Argentine soul which illustrates this phrase from the French epicurean author Brillat-Savarin: "Tell me what you eat, I'll tell you who you are". Tuan Dinh
"I'm booking my travel to Argentina right now! I've traveled to many countries and experienced culinary delights around the world. Sadly, the Argentina stamp has not been added to my passport, yet. This book highlights so many intriguing local dishes, wines, beers, markets, festivals, street food, food tours and classes I can't wait to get there. Plus there are terrific traveler tips for the region that will make the journey so much more fun and easier to plan. This is truly a wonderful foodies guide to Argentina. "Sue Reddel & Diana Laskaris, Co-Founders of Food Travelist
Where To Buy
The book is available for purchase and shipping worldwide.
You can find the paperback version of the book on Amazon or Barnes & Noble for $19.97 USD (or local equivalent)
You can purchase the Kindle version on the Amazon Kindle Store now for $9.99 USD (or local equivalent)
Check your local Amazon stores, including:
With Authentic Food Quest Argentina, get ready for your most delicious and memorable trip ever!
Get your copy today by clicking the images below.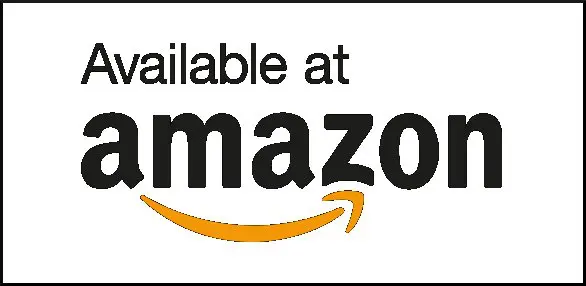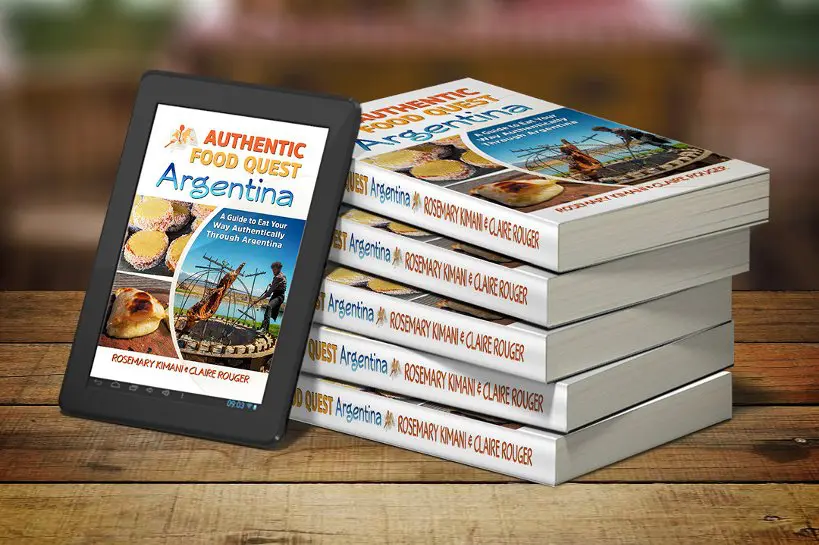 Authentic Food Quest Argentina Virtual Book Tour
To celebrate the launch of the book, we have organized a virtual book tour with guest posts, interviews, and book reviews on various sites around the web, sharing stories about our authentic food quest in Argentina.
Interviews
Authentic Food Quest Argentina: Book Review and Author Interview on MariaAbroad.com
Book Review Authentic Food Quest Argentina on FoodTravelists.com
Inspiring People to Travel through Food: An Interview with the Ladies of Authentic Food Quest on BookCulinaryVacations.com
Authentic Food Quest Argentina on Daytours4u.com
Authentic Food Quest Argentina Book Debut + Giveaway on The Thought Card
Podcast
5 Ways to Spice Up Your Next Trip + Authentic Food Quest on Zero to Travel
Chatting with Rosemary and Claire About Traveling Through Authentic Food and Their New Book on Food Blog Radio
Interview with Creators of Authentic Food Quest on The Book Sisters Blog
Media Enquiries
If you'd like to feature Authentic Food Quest Argentina, please contact us at contact [at] authenticfoodquest [ dot ] com.