Argentina, famous for it's steaks and malbec wines has more to offer foodies and travelers in the gastronomy scene. This two part article highlights the top 10 Buenos Aires food experiences we discovered on our quest for authentic food in South America.
In Part 1, we recommend the following Buenos Aires food experiences for foodies and travelers to get a more local and authentic feel of Argentina's capital. We encourage you to:
#1: Discover the unique products at Mercado del Progreso
#2: Try the milanesa
#3: Enjoy sweet facturas
#4: Savor an alfajor
#5: Make your own fresh pasta
Here we talk about 5 other authentic foodie experiences you don't want to miss in Buenos Aires.
Ready to discover these additional authentic foodie experiences? Let's go!

#6: Do Media Tarde (Late Afternoon Snack) At a Bar Notable
Argentineans are known to have their dinner quite late in the day. To tide you over after a day of sightseeing until dinner time which starts at 9pm or later, take advantage of the afternoon snack called media tarde or merienda.
The most typical experience is to order a cafe con leche y medialunas. The coffee with milk comes served with a glass of sparking water. Additionally, it is served with a small sweet cake. Another alternative is to have the cafe con leche y tostadas. Try the tostadas con Jamon y Queso. This comes with four delicious toasted ham and cheese sandwiches.
If you choose to order a beer, you have the choice of artisanal beer, either Rubia, Colorada or Negra (from lighter to darker beer). You are sure to be well treated, as you automatically get peanuts with your beer without having to ask.
Find a bar notable in Buenos Aires to enjoy your Media Tarde. They are 73 bars notables which are known which have historical or cultural significance. These "notables" are an official part of the heritage of Buenos Aires. In Recoleta, you have La Biela located across the cemetery where Eva Peron was buried. There you can seat next to the statue of Jorge Luis Borges the famous Argentinian poet. And in San Telmo, visit Bar El Federal, the second oldest bar in Buenos Aires.
Check out the list of the bars notables and try a few while you visit Buenos Aires. The experience of having a traditional media tarde at a Bar Notable, is one of the most unique Buenos Aires food experiences.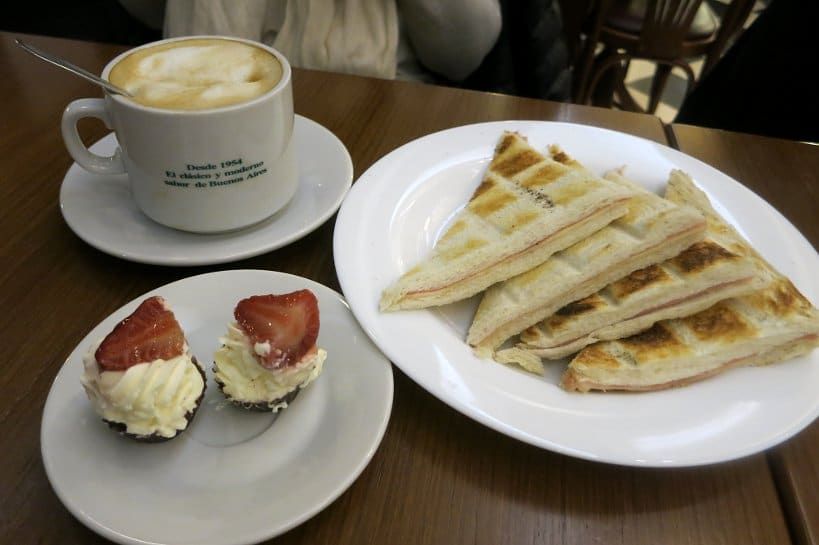 #7: Devour Fugazzeta Pizza and Faina
One of the most unique types of pizza you will find in Buenos Aires is the Fugazzeta. This classic pizza, along with the Milanesa, which we talked about in Part 1, have been listed by the government as foods under "patrimonial value." This over 100 year old pizza comes from Genoa, Italy and must be enjoyed.
The best place to try fugazzeta is at the restaurant that first started selling it in Buenos Aires. El Cuartito is legendary. However, be prepared to wait in line before getting seated. It's a huge restaurant with plenty of seating, the line is just an indication of it's popularity. However, don't be intimidated by the line as it moves quite rapidly. Standing outside also gives you time to appreciate the ambiance and to look over the menu while waiting.
One of the best things is that they offer pizzas by the slice, so you can sample different types of pizza instead of ordering just one kind.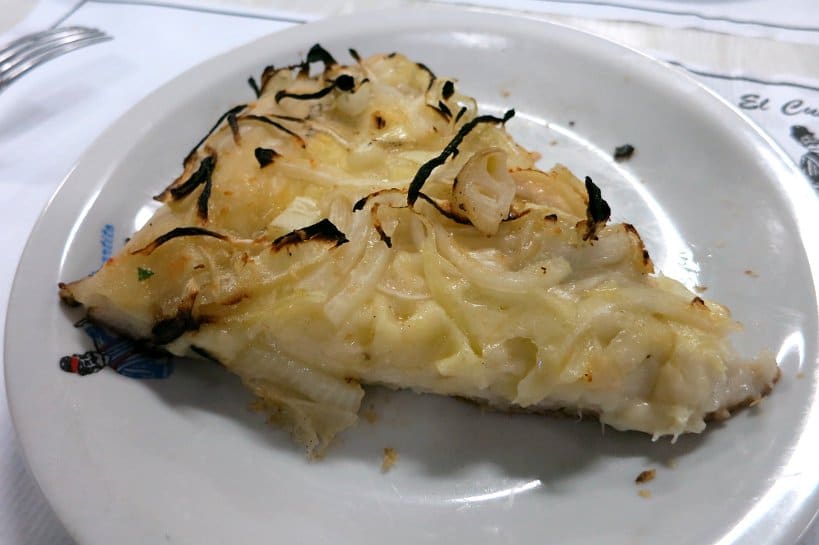 Interestingly, most of the pizza is accompanied with Faina. This is a flat pancake-like bread made with garbanzo beans. It is delicious and has the side benefit of filling you up with your protein intake. This is a food experience not to miss out while in Buenos Aires!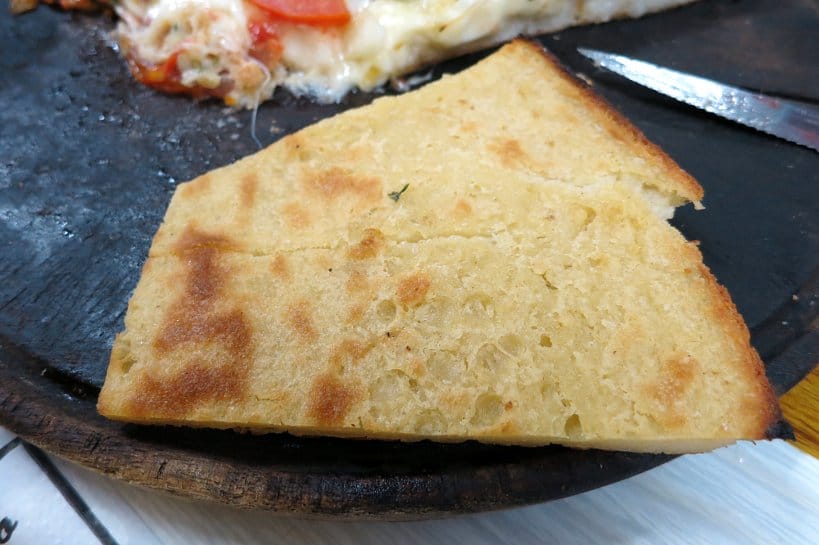 #8: Treat Yourself To Creamy Helado (Ice Cream) Anytime
Helado is ice-cream in Spanish, and Argentinians have mastered the art of making of it. Many have said that the ice cream in Buenos Aires is better than in Italy and we can't disagree. The ice cream is made with whole milk and is very creamy and thick. The quality is very high using all natural products and very little artificial flavors or preservatives. All over Buenos Aires, you will find artisanal stores as well as well-known chains that can serve you the very best helados.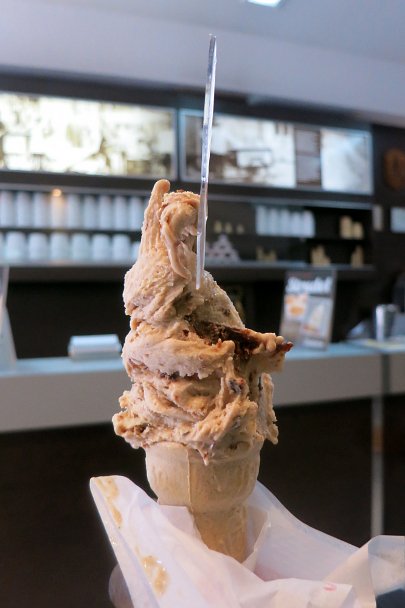 For one of the most authentic Buenos Aires food experiences, try an artisanal helado at Cadore. This is one of the oldest heladeria having been established in Buenos Aires in 1957. Today, it is notably distinguished as a landmark by the Cultural Administration of Buenos Aires. This ice cream were first made in Italy before the family moved to Buenos Aires with its highly guarded recipes.
When you order, you will be surprised to learn that you can buy it by the Kilo. You do get your cones or cups, but the 1 or 2 kilo tubs are quite a treat!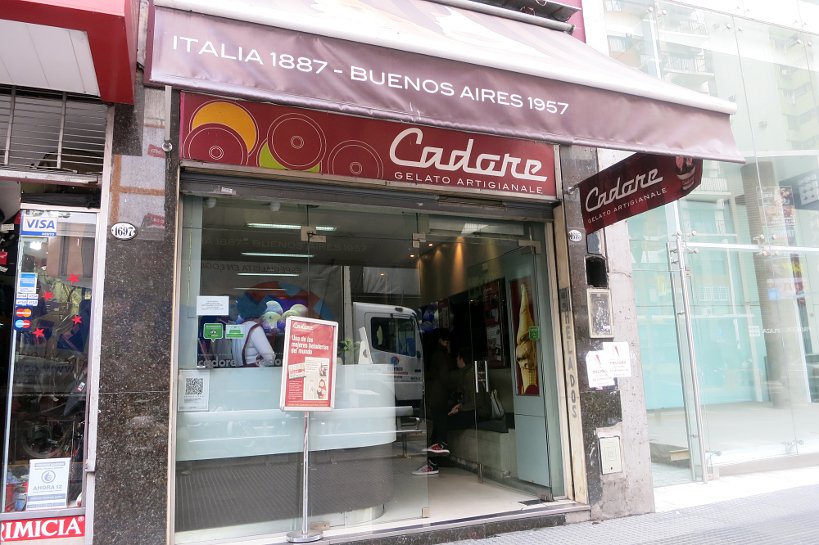 #9: Relish Empanadas
A trip to Buenos Aires would not be complete without trying the famous Empanadas. These Argentine staples are small pies with a "croissant" shape, stuffed with different fillings, mostly savory. The best empanadas are baked and these are ones you want to indulge in.
For an authentic foodie experience, one of the best place to try them in Buenos Aires is at Cumana Restaurant, in Recoleta. This tiny little spot offers a great selection of empanadas to choose from.
Try the specialties; lomo picante (spicy, chopped tenderloin), jamon y queso (ham and cheese) and Roquefort cheese empanada. I don't know if it is due to our love for cheese, but we fell in love and went to empanada heaven. Do not miss out on this Buenos Aires food experience.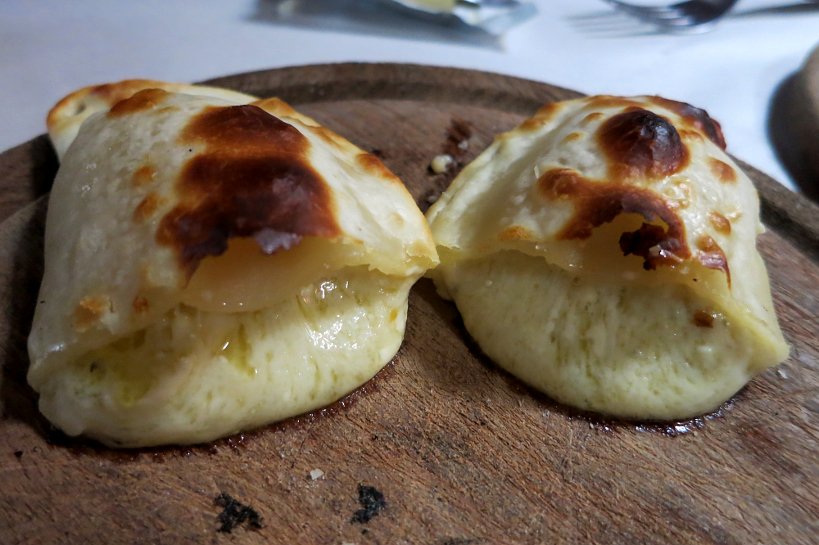 #10: Experience a Parilla
You can't go to Argentina and not try the beef. Famous for having some of the best steaks in the world, you want to try one at a Parilla (grill/steak house). This is an authentic foodie experience for a couple of reason. First, the opportunity to try different cuts of beef than you don't typically find in the U.S. Secondly, enjoy high quality beef from cows are grass-fed and free of antibiotics. And finally, the unique asado cooking technique which seals in the flavors and cooks without the flames touching the beef.
With parillas at every street corner we recommend two to have great Buenos Aires food experiences. Las Cabras in the Palermo neighborhood is a popular and solid choice which is also budget friendly. Here you want to get the gran bife Las Cabras. This is a huge piece of beef and a ridiculous amount of sides including; thick cut fries topped with a fried egg, pumpkin puree, grilled onion, vegetables with rice and a delicious spicy cheese.
El Desnivel, located in the historic San Telmo neighborhood is not fancy and filled with locals. Here, you want to get Chorizo de Bife. This is a delicious thick cut of pure meat goodness. Be sure to order it jugoso, which means red and juicy.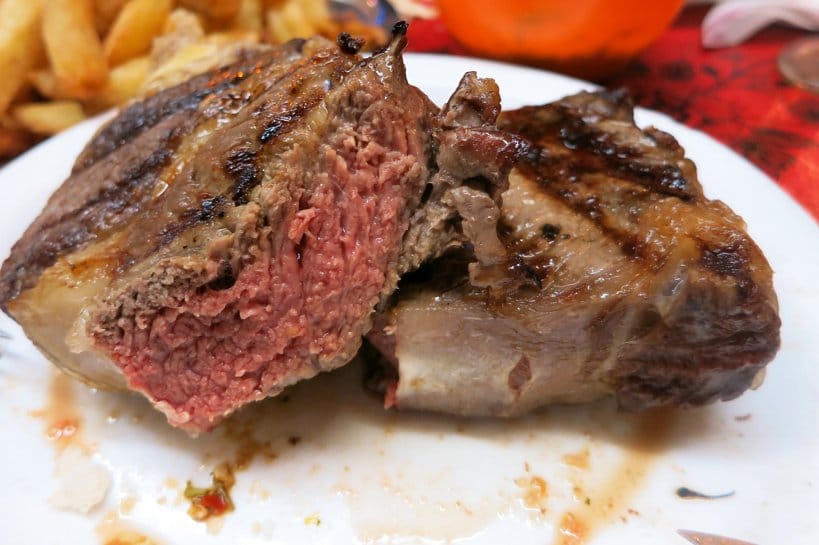 Summary
Beyond steaks and Malbec wines, Buenos Aires has a lot to offer travelers and those seeking authentic foodie experiences. At Authentic Food Quest, our mission is to inspire travelers to travel through food and in particular, authentic food. In this post and the previous one, we have compiled our list of 10 Buenos Aires food experiences for you to enjoy.
Please share with us, which of these authentic foodie experiences have you already tried? Which ones intrigue you the most. Share your comments below.
Locations Mentioned
La Biela, Av. Pres. Manuel Quintana 596, Recoleta, Buenos Aires.
Bar El Federal, Carlos Calvo, 599, San Telmo, Buenos Aires.
El Cuartito, Talcahuano 937, Centro, Buenos Aires.
Cadore, Avenida Corrientes 1695, Centro, Buenos Aires.
Cumana, Rodríguez Peña 1149, Recoleta, Buenos Aires.
Las Cabras, Fitz Roy 1795, Palermo, Buenos Aires.
El Desnivel, Defensa 855, San Telmo, Buenos Aires.
Claire is a culinary explorer who travels the world in search of the best local foods. She is always looking for her next culinary adventure to bring you the best bites while exploring new places.