Taking food tours is one of the ways we discover the local and authentic cuisines of different countries we visit.
A recent Chicago Chinatown food tour surprised us in many ways. First, the tour was in Chicago, a city we've called home for almost two decades. This was our first time taking a food tour "at home."
Secondly, even though we had occasionally visited Chicago Chinatown, we didn't really know much about Chinese culinary traditions and their contributions to Chicago.
The Chicago Chinatown food tour was a reminder that you don't always have to travel to dive into the local food culture.
Sometimes the most interesting culinary experiences are amongst the diverse communities within our own home towns.
Join us on a fascinating Chicago Chinatown food tour and discover Chicago Chinatown restaurants, culture and history.

Chicago Chinatown: A Unique Enclave in Chicago
Welcoming you into Chinatown is a beautiful ornate gate, designed by Chinese born architect, Peter Fung. The gate, built in 1975 is designed to look like a famous gate in Beijing.
Inscribed in hand painted Chinese characters is the motto of Dr. Sun Yat-Sen, known as the Father of the Chinese Revolution.
The Chinese characters are said to translate to something similar to "the world belongs to all" or "everyone has a voice" or "the world belongs to the commonwealth."
Dr. Sun Yat-Sen visited Chicago in 1910 and 1911 while attempting to spread democracy in China.
His words have had a big impact on Chinese Americans and particularly those in Chicago. You'll find a street and museum in Chicago Chinatown named after him.
Giving us the cultural and culinary background was Philip, our cheerful and entertaining guide.
This Chicago Chinatown food tour was off to a great start.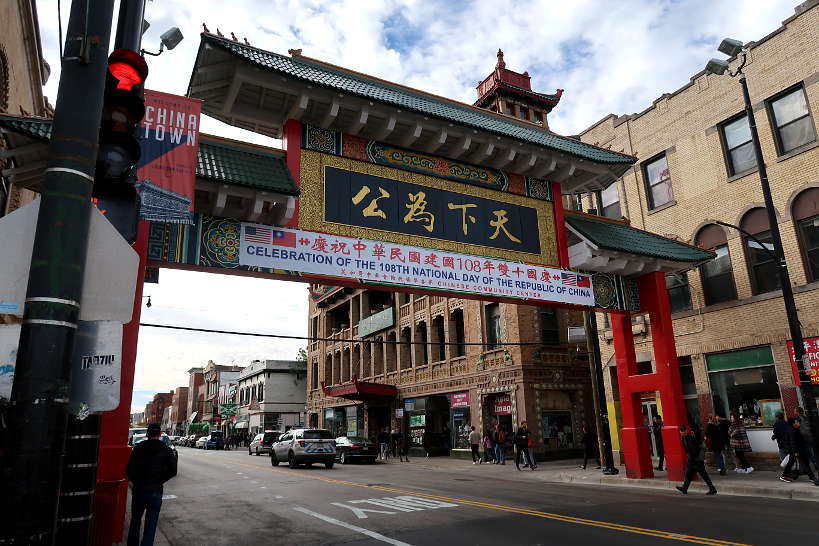 Chicago Chinatown Food Tour – A Culinary Adventure
The Chicago Chinatown food tour immerses you into Chinese culture and the unique neighborhood.
As Philip mentioned right at the start, "this tour is a celebration of the culture, food and neighborhood. And, "it is also a celebration of everyone around us."
Authentic Chinese food from long-standing Chicago Chinatown restaurants was the focus. Accompanying this was the etiquette of eating at Chinese restaurants.
In a small group of about 12, we spent about three hours meandering through Chicago Chinatown learning about the food, history and culture.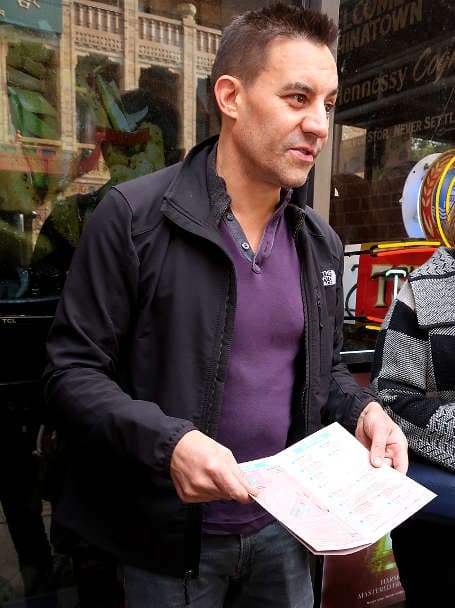 Authentic Food Quest Tip: The Chicago Chinatown food tour is one of the most unique tours with an authentic Chinatown focus. The evening tour starts at 4:00 pm and runs for about three hours. Wear comfortable shoes and we recommend not eating too much beforehand as the portions are copious.
Triple Crown Restaurant – For Hong Kong Style Dim Sum
Our first stop on the Chinatown culinary adventures was at Triple Crown Restaurant for dim sum.
We learned that when the Chinese go out for dim sum, they refer to it as Yum Cha, which literally means "to drink tea." All the food is centered around the tea.
The Chinese meaning of dim sum is commonly translated to "touch the heart". So, the food is meant to touch your heart while drinking your tea.
We tasted a variety of dim sum dishes prepared in the Hong Kong style, which is heavily influenced by Cantonese cuisine.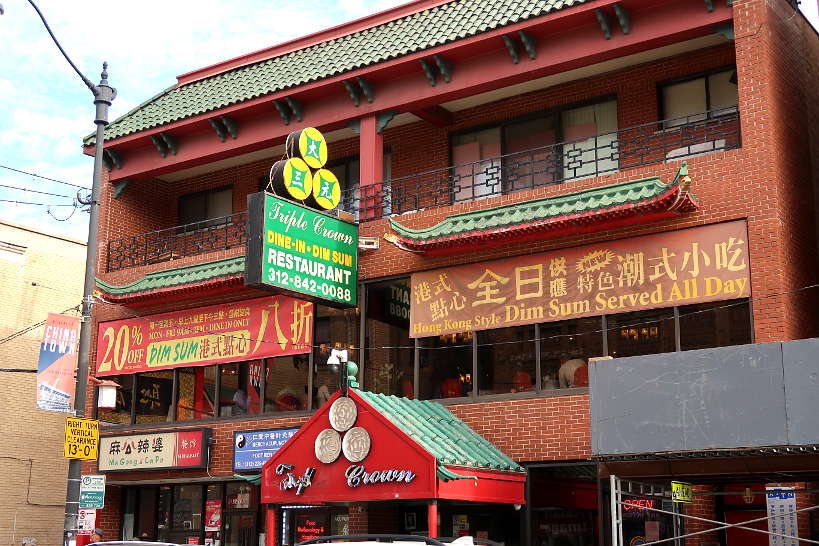 Chinese Tea Etiquette
To start, we had Jasmine flavored green tea which is light and doesn't interfere with the dim sum flavors.
When serving tea, we learned it was customary and considered polite to pour tea for your neighbor before pouring tea for yourself.
When the pot of tea is empty, rather than asking your server for a refill, it is customary to simply remove the lid and put it on the table.
The servers are trained to scan the tables and immediately refill the tea.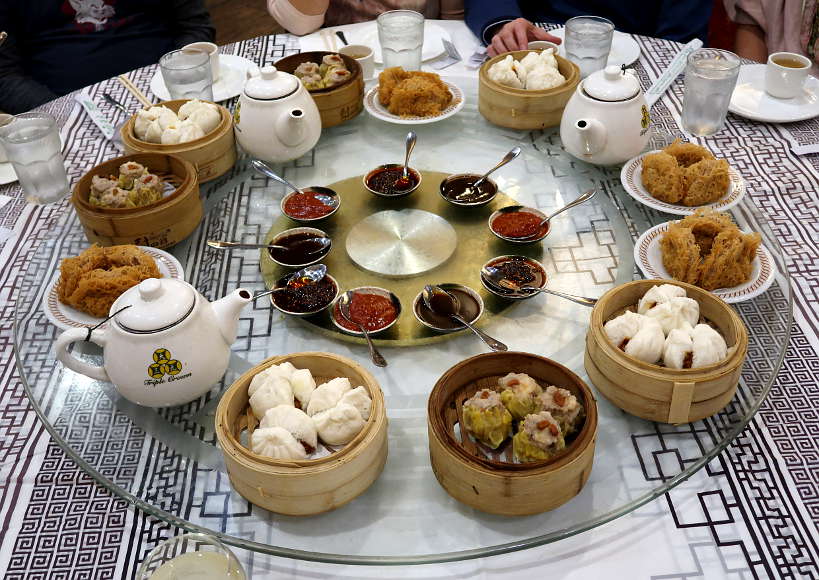 Dim Sum for Brunch
While enjoying the tea, we sampled three different kinds of dim sum. We had steamed barbecue pork buns, deep fried taro puff and siu mai or pork and shrimp dumplings.
Accompanying these were three different sauces. Sriracha sauce (spicy), hoisin sauce ( sweet bbq sauce) and dried chili oil.
One of the best aspects of taking a food tour with a guide is learning about the history.
Philip, shared the history of dim sum and how it evolved from merchants traveling on the Silk Road.
Apparently, these merchants would stop at tea stores to rest. Owners quickly realized they could make more money if they had food to go along with the tea.
To solve for unpredictable stops, owners created food they could keep warm for long periods of time.
The food was placed in bamboo baskets and steamed by the hot tea. This habit grew and dim sum spread throughout the country.
On the whole, the dim sum was tasty and our preference went to the pork and shrimp dumplings.
Triple Crown restaurant is extremely popular for dim sum and has over 90 different options on the menu.
The food, combined with learning about Chinese tea etiquette was a great start to the tour. We knew this was going to be a rich cultural tour, in addition to a food tour.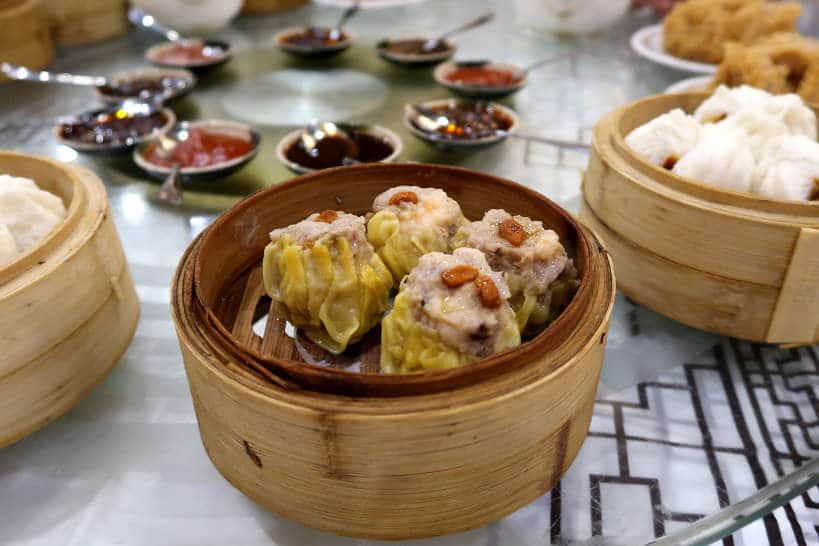 Authentic Pastries at Chinatown Bakery Chiu Quon
After experiencing the iconic dim sum brunch, we walked into Chiu Quon Bakery, a longtime favorite Chinatown bakery.
Opened in 1986, Chiu Quon Bakery is the oldest bakery in Chicago Chinatown. With their popularity they are now located in a new, larger space closeby the original bakery.
They have maintained craft and continue to make some of the finest traditional Chinese pastries in Chinatown.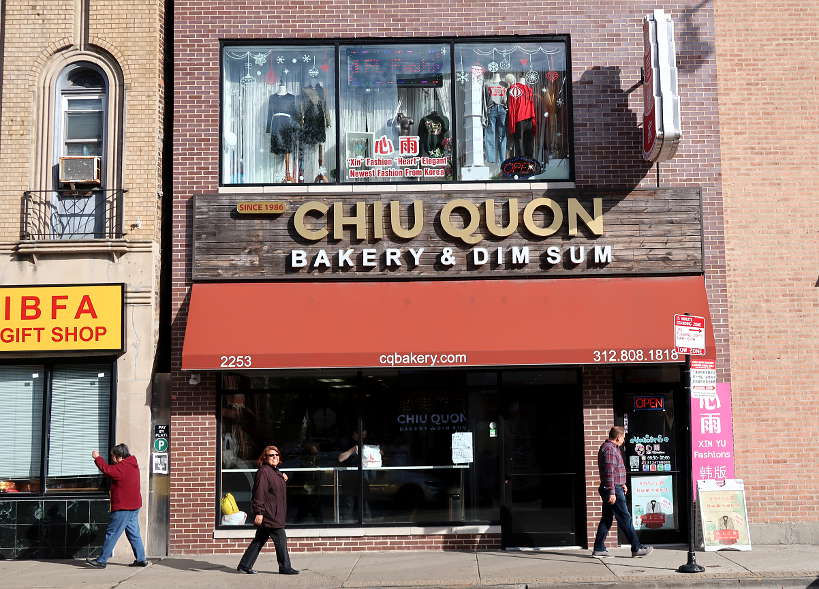 Traditional Chinese Cakes and Legends
We tried two traditional Chinese pastries. A winter melon cake and the lotus paste baby moon cake.
Also referred to as the white cake, the winter melon cake is traditionally served at Chinese weddings.
We were surprised to learn that winter melon, the fruit is a gourd that can grow up to 4 to 5 feet long.
When fully grown, winter melon is bitter and typically used in savory soups, like the winter melon soup.
At Chiu Quon Bakery, they make their pastries with the young winter melon which are sweet and bright green in color.
The paste is made with little sugar and the dough with pork fat to make the crust flaky. This was hands down Claire's favorite.
The light and not overly sweet taste along with the crispy dough and the melting paste made this a real treat.
The second pastry, the Lotus seed baby moon cake was a rich pastry with a story.
Made from the seeds of the lotus flower, a Buddhist symbol, the Lotus seed baby moon cake carries legends and stories.
One such legend speaks to the important role moon cakes are said to have played in Chinese history.
In the 14th century, during the Mongol conquest of China, it is said that the Mongols didn't like the taste of moon cakes.
As a result, the Chinese successfully smuggled messages and even weapons inside of moon cake to use against the Mongols.
Rich in taste and dense in dense texture. I loved the strong flavors which reminded me of caramel. Unlike Claire, the Lotus seed baby moon cake was my favorite.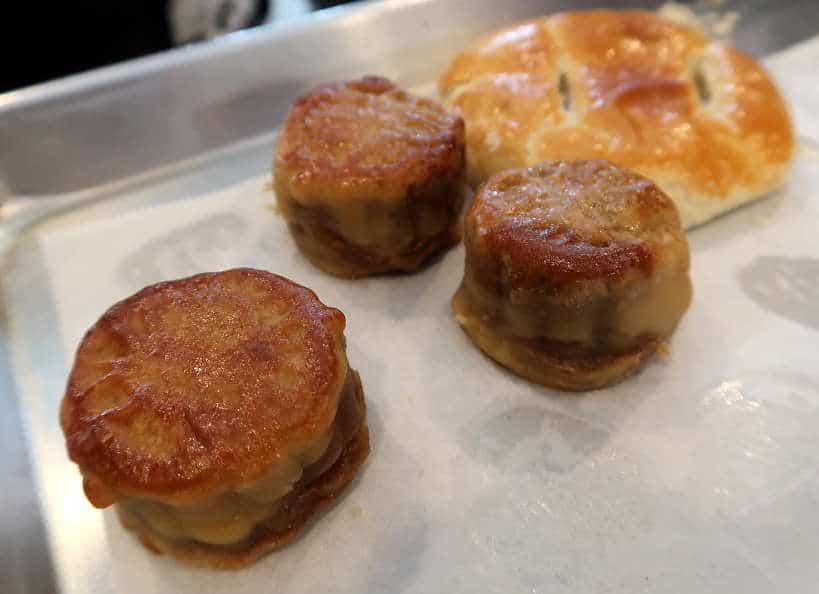 Immigration History of Chicago Chinatown from the Old to the New
Having satisfied our appetites, we walked past the Chinatown Gate to explore what we learned is the New Chinatown.
This area in town was built in 1985 to accommodate Chinatown's growing population.
Chicago Chinatown Mosaic
One of the most interesting sites on this side of town is the large mosaic. The mosaic is made of over 100,000 hand painted glass tiles brought to Chicago from China.
It recalls the story of Chinese immigration to the United States as well as Chinese Philosophies. Listening to the stories about Chinese immigration, we were struck by the hardships they had to overcome.
The first Chinese migrants from the Cantonese region went to California to try their luck in the gold rush.
Instead of getting rich, most of them ended up taking lower paying jobs and built most notably the first transcontinental railroad.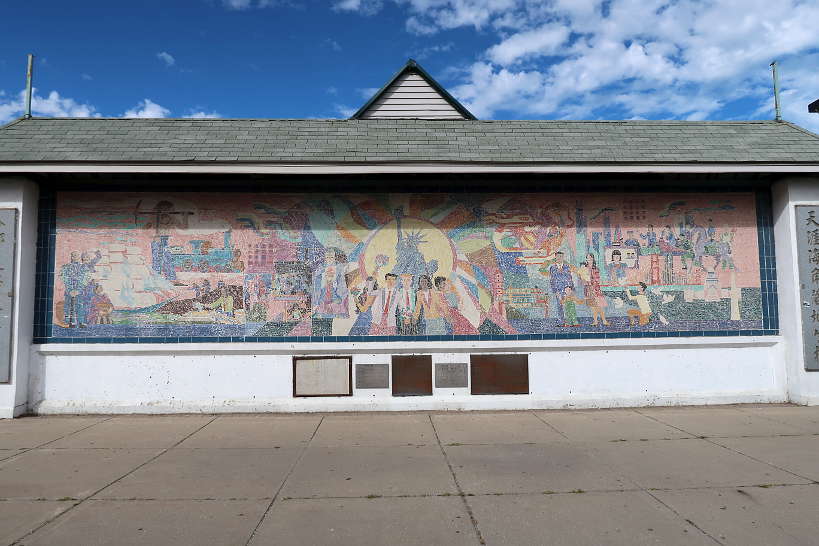 Chicago Chinatown Mall
When the economy crashed shortly, the Chinese were blamed for taking American jobs.
They encountered resentment and even violence with the passing of the Chinese Exclusion Act.
In the 1860s, Chinese who migrated from California to Chicago also faced discrimination. For example, landlords would artificially raise the rents on Chinese immigrants to keep them out.
Chinese civic leaders eventually relocated the community to the current old Chinatown area. In 1965, when all restrictions were lifted, Chinese immigration to the United States began to boom.
By the 1980s, the Chinese population in Chicago began to swell. The new adjoining Chinatown area was developed over three phases.
The core is a bi-level mall, designed to look like the back alleyways in Beijing known as Hutongs.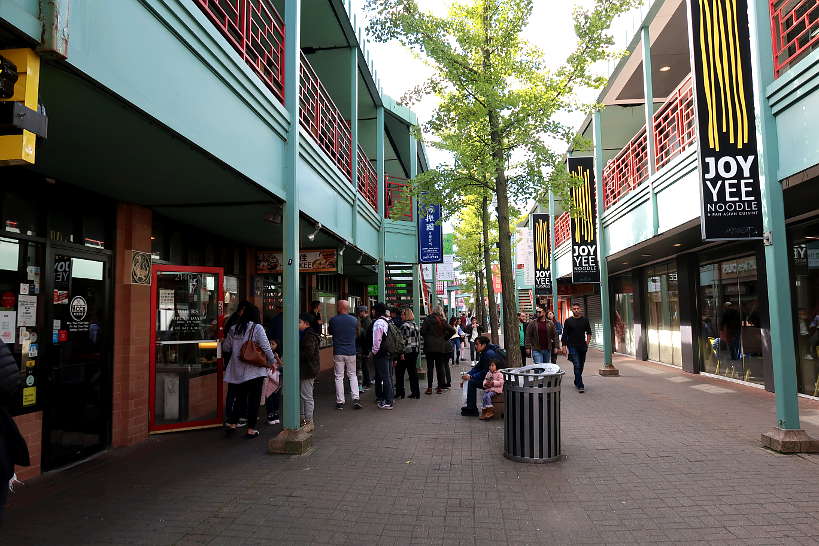 Chinese Zodiac Signs
As we walked toward the mall for more food sampling, we stopped at Chinatown Square Zodiacs.
This is one of the most iconic landmarks in Chicago Chinatown. There are twelve statues erected around the plaza, one for each animal of the Chinese Zodiac calendar.
Chinese Zodiac goes by the year one is born and not the month like in Western astrology.
It is said in Chinese astrology that the rabbit, Claire's animal and the pig, mine, are made to be together.
So, we took the time to get acquainted with our Chinese Zodiac animals before our stomachs called us to the next stop.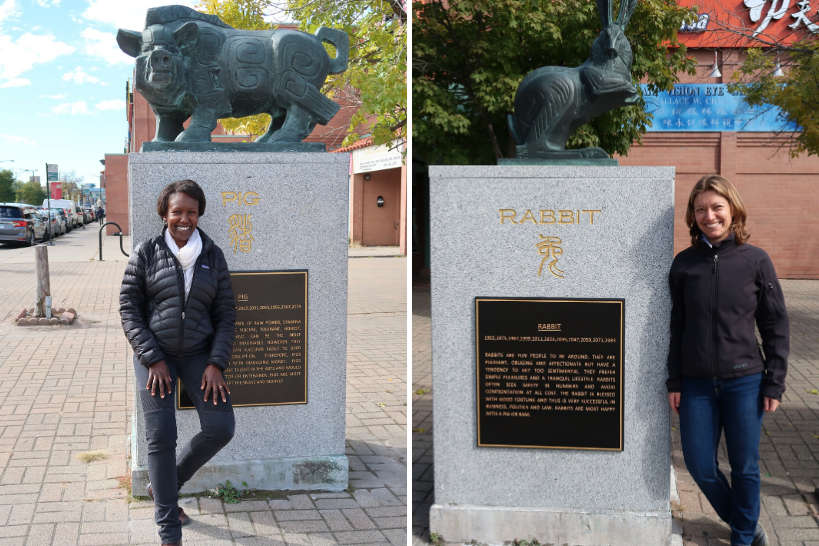 Szechuan Cuisine at Lao Sze Chuan
Located at the edge of the new Chinatown is Lao Sze Chuan, our stop for Sichuan (also spelled Szechuan) cuisine.
This restaurant is the original location of the famous Chicago chef, Tony Hu. Chef Hu gained notoriety for offering food from one specific region in China.
Before that, Chinese food in America was generic and not place specific.
The name Lao we learned, is Chinese for authentic or genuine. We were going to have authentic Sichuan style food, prepared at the traditional spice levels.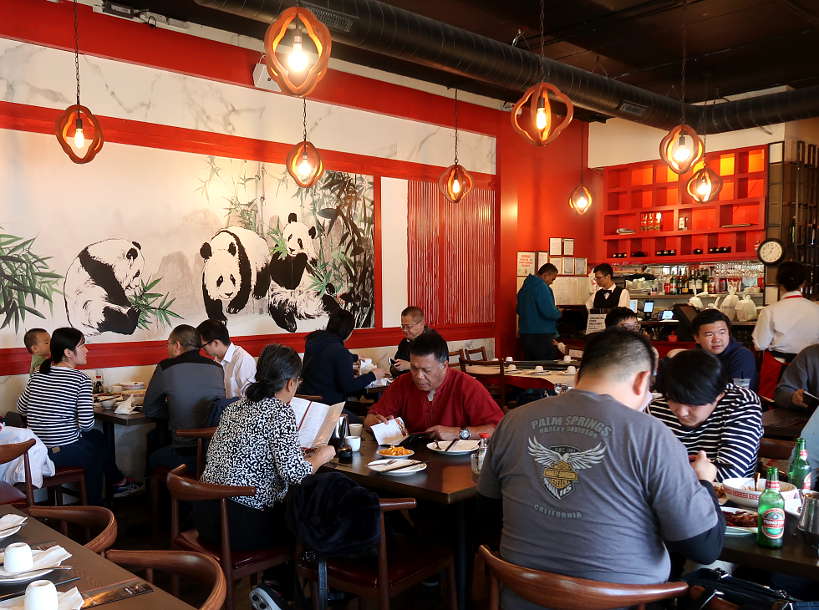 Sichuan Peppercorns
Before eating, we started by tasting Sichuan peppercorns. These are native to China's Sichuan province and prized in the cuisine.
Sichuan peppercorns are surprisingly not hot or spicy. Instead, they offer a cooling effect, known as Ma La, to tone down the traditionally spicy Sichuan food.
The Sichuan peppercorns are unlike anything we've ever tasted before. There is an interesting rollercoaster of flavors that ends with a mouth-numbing cooling effect.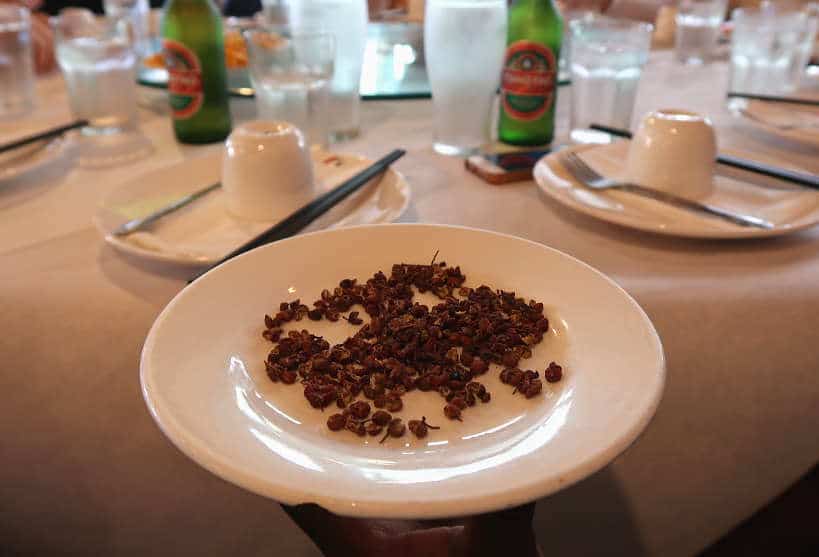 Array of Sichuan Dishes
Already satisfied from our previous stops, Philip warned us to make room. This was our biggest food stop on the tour and we were not disappointed.
Seated around a large round table with a rotating center, several dishes started appearing on the table.
There was spicy Chinese cabbage, rice, Chinese eggplants, spinach and broccoli, 3-times cooked chicken and a less spicy version known as Tony's chicken.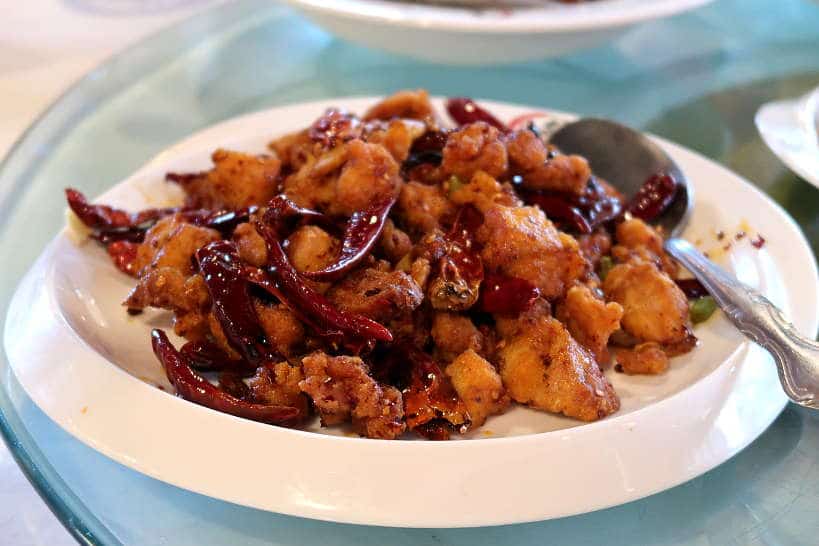 All the dishes were for sharing and there were plenty around.
While we did not find the food excessively spicy, some in our group loaded up on the rice to counteract the spiciness.
The chicken dishes and Chinese eggplant were some of our favorites. These dishes had Sichuan peppercorn and we found them extremely flavorful.
The Chinese cabbage, bok choy, tossed in chili oil was also particularly memorable.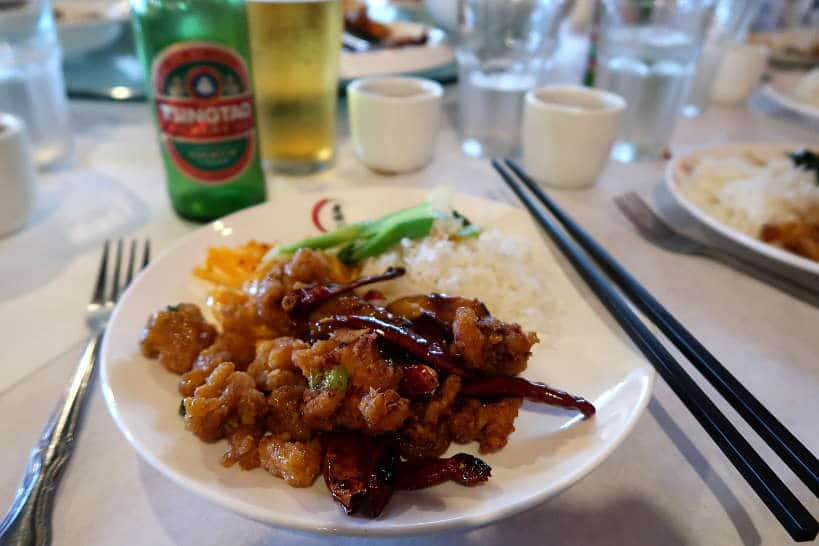 Chicago Chinatown Treasures
Beyond the traditional Chinese restaurants and bakeries, Chinatown in Chicago offers intriguing stores worth exploring.
We stepped into Yin Wall City, a Chinese bulk-foods store with a variety of fascinating dry food, tea and herbal remedies.
We were glad to have Philip navigate us through the strange looking dry foods and herbs displayed in the store.
The store's name actually means Bird's Nest, and unsurprisingly they specialize in Bird's Nest.
It is a specific nest from swiftlet birds and are one of the most expensive things you can consume.
A bowl of bird nest soup cost hundreds of dollars and is known to enhance health and longevity.
While bird nests are carefully packaged in small boxes, other dried food are displayed in bulk in large clear jars or storage boxes.
One prominently displayed herb was Ginseng, considered the "King of Herbs" in Chinese medicine.
Known to cure a whole host of ailments from arthritis to memory improvement, several kinds of Ginseng was available for sale. The older the ginseng, the more valuable it is.
Another fascinating discovery was deer velvet antlers used in soup. It is known to increase energy and enhance performance in sports.
This experience reminded us of our visit to Chinatown Bangkok , the world's largest and oldest Chinatown outside of China.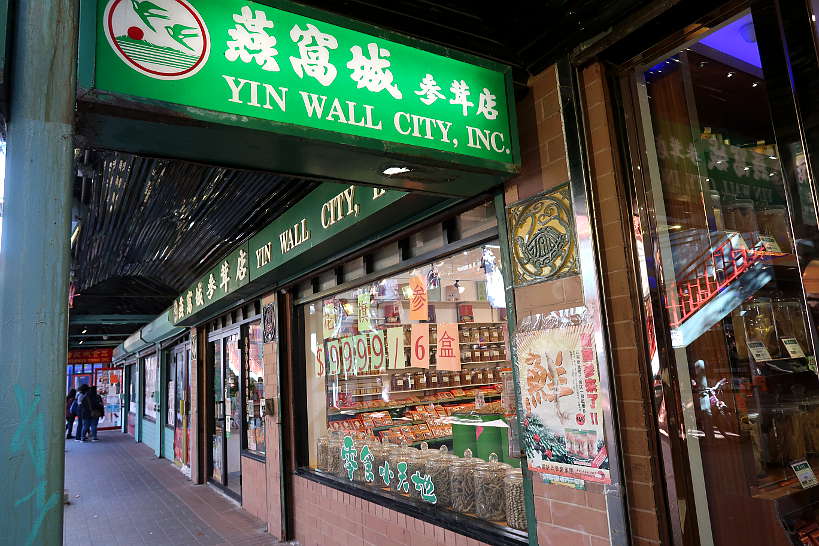 Chinatown Bakery with European Influence at Saint Anna's Bakery
Our last stop was at Saint Anna's Bakery. Opened in 1993, this family owned bakery is the oldest shop in the new Chinatown mall.
When the mall first opened, it did not get much foot traffic. Saint Anna bakery stuck it out and is credited for making this mall what it is today.
And judging by the taste of their pastries, it's understandable why many made the trek over.
The Chinese pastries here all have a European influence. When the French, British and Portuguese left China at different periods, they also left behind their cooking styles.
Saint Anna's bakery makes one particular dessert influenced by the Portuguese called an Egg Custard Tart.
It reminded us of Pasteis de Nata our beloved Portuguese dessert, though the texture and taste is not quite the same.
Like Pasteis de nata, this egg custard tart it has egg, milk and sugar on a pastry dough.
Although quite sweet, it has a softer consistency and is less buttery than its Portuguese cousins. Nonetheless, it is easily eaten in two bites.
With the tart, we enjoyed a Hong Kong style milk tea. This time, we owe this tea to the British who ruled Hong Kong for 156 years.
After the British left, the people of Hong Kong adopted their style of drinking black tea with milk and sugar.
They put their own twist to it by adding condensed milk and sugar to the strongly brewed black tea.
The milk tea was not too sweet, and a great complement to the tart. This was another delightful bakery stop.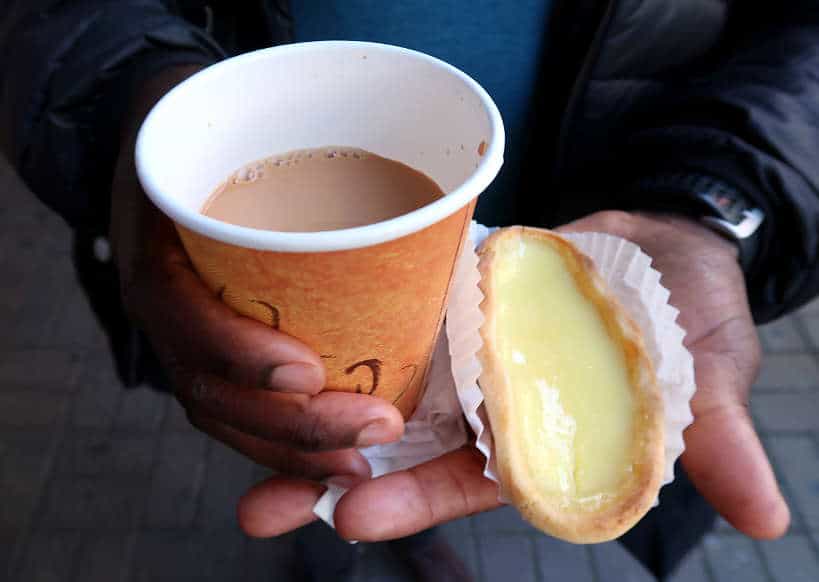 In Summary
For having been in Chicago for so long, we had never fully explored the treasures in our own backyard.
The Chicago Chinatown food tour was not only on a culinary adventure but a historical and cultural exploration as well.
All the stops had a unique story and the servings of food were generous. Philip, our animated guide, organized the stops and transitions in a very seamless manner.
After our time in Chicago Chinatown, we realized how much we take for granted. Just because we live in the city, doesn't make us experts on the various neighborhoods.
We didn't know about Chinese contributions to the Chicago culture, or that there was even an old and new Chinatown.
Interestingly, with the exception of one family from Minnesota, everyone else on the tour was from the Chicagoland area.
There is beauty in exploring locally. You can travel the world in your home city, without ever boarding a flight.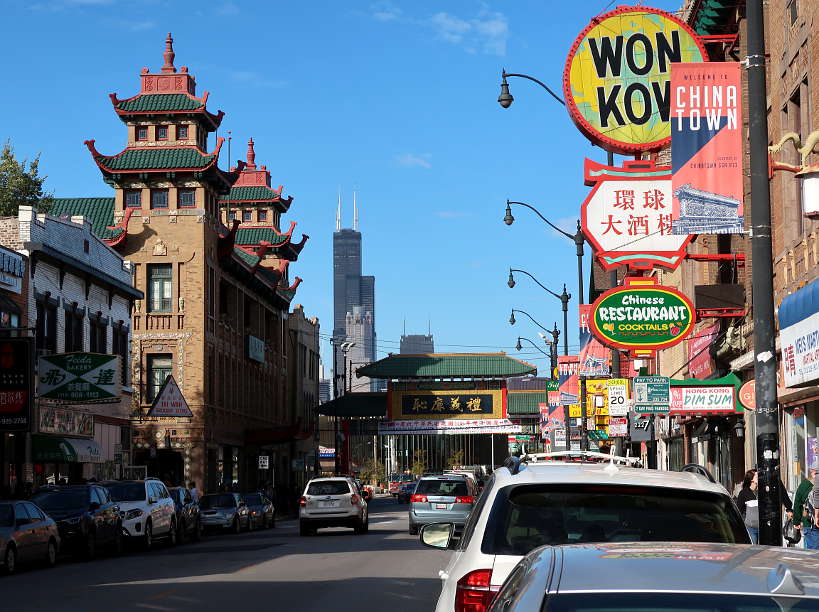 How to Book Your Chinatown Food Tour
The Chicago Chinatown food tour is one of the most unique tours with an authentic Chinatown focus.
The tour is about three hours in length and you will explore several distinct regions of China within Chicago's Chinatown.
Along the way, you'll taste a variety of traditional foods and any confusion you may have about Chinese food will be cleared away by your knowledgeable guide.
Wear comfortable shoes, plan for copious portions, and most of all, have fun.
Exploring Chicago Chinatown Beyond the Food Tour
Being in Chinatown, we took the opportunity to explore the area further.
As we walked back around leisurely, we noticed longan fruits hanging behind the window of a local store.
Longan fruit reminding us of Southeast Asia. Particularly the food in the Philippines where longan fruits are sold on the streets.
As we looked at the fruits, right behind, we noticed cooked pork sitting on a chopping board.
That was enough to get us into the store, Tai Wah grocery. As soon as we walked in we discovered roasted ducks hanging against the wall with Chinese inscriptions.
Right in front of us, was an older asian lady ordering a full duck to go. The duck looked appetizing and tasty.
Seeing locals buy the duck gave us the confidence to place our order.
While we typically don't shop at Chinese local stores, we were inspired by the quality and flavors we had sampled earlier.
That evening, recounting our favorite stops on the Chicago Chinatown food tour, we savored the moist and flavorful duck.
We are so glad to have discovered this store. It probably would not have happened, had we not taken the Chicago Chinatown food tour.
This was another reminder to explore the local gems at home.
The next time you are in Chicago Chinatown, stop by Tai Wah Grocery Store. You'll find the store at the corner of S. Wentworth Ave & 22nd place.
We've already been back twice and we look forward to more visits. Plan on paying by cash, the store does not accept credit cards.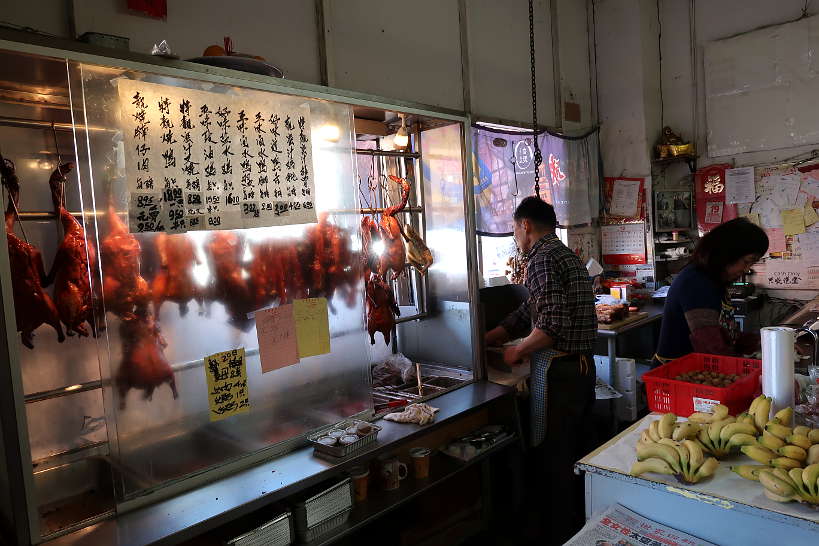 What about you? Have you been to Chicago Chinatown? What is your favorite Chinatown food in Chicago?
Savor the Adventure!
Love it? Pin it!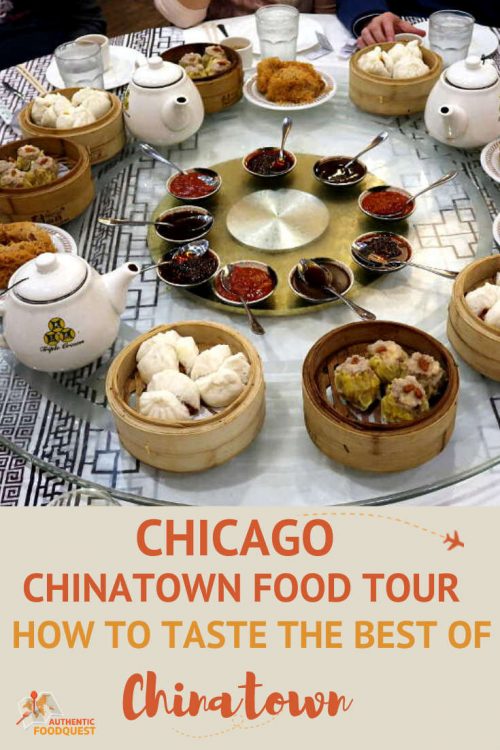 Special thanks to Chicago Food Planet for having us on this tour. All views and opinions expressed are our own. Full bellies and happy taste buds too!
Disclaimer: This page contains affiliate links. That means at no extra charge to you, we earn a small commission when you purchase using these links. Please note we only link to products and services that we personally use or trust. Thank you for your support.
Rosemary, ex-marketing and advertising strategist, is a digital nomad and content creator at Authentic Food Quest. Since 2015, with her partner, Claire, they travel the world in search of the best local food experiences. Their mission is to help you enjoy the best local specialties on your travels or via recipes in your home kitchen. Favorite country for food: Peru. Favorite local dish: Bacalhau. Favorite way to keep fit: Running. Rosemary is the chief content writer and strategist on Authentic Food Quest. She is also co-author of Authentic Food Quest Argentina and Authentic Food Quest Peru, available on Amazon.