This article has links to products and services we recommend, which we may make a commission from.
Ordering a Chinese snack box online is a great way to become familiar with the exotic tastes of the country.
Snacks from China, also known as the Red Dragon, come in various unusual flavors and textures.
The best Chinese snack boxes include Chinese New Year snacks, traditional teas, dagashi, chocolates, and more.
Food is a delicious way to taste the local culture, and Chinese snacks are easy to begin.
Savor China's diverse tastes with our top selection of Chinese snacks.

Chinese Snack Box Comparison Table
Top Chinese Snack Box
1. China Snack Box Special Chinese New Year – Best Overall
Chinese New Year celebrated by more than 20% of the world's population is marked by good food, celebrations, and warm wishes.
This festival that celebrates the beginning of a new year is beautifully captured in this Chinese New Year Special gourmet gift box.
Decorated with traditional Lunar New Year themes this Chinese snacks box includes plenty of chocolates.
The beautiful packaging of red, yellow, and gold color schemes symbolize prosperity and add to the elegance of this Chinese snacks box.
Along with the chocolates, the gift basket includes Banana Cream cookies, Pocky, Cha Cha potato chips, and more. It also comes with gift wrapping and a greeting card making it easy to share as a gift.
For the more than one billion people celebrating Lunar New Year, this Chinese snack box is the perfect gift.
2. Chinese Tea Box With Snacks – Best Gift for Tea Lovers
Do you have a tea lover in your life? The Fit For A Queen snack box is uniquely designed for tea lovers.
This Chinese tea snacks box comes with two different types of Chinese tea, a Chinese-designed mug with an inbuilt tea strainer, and plenty of delicious snacks.
You can enjoy walnut cakes, dates, chestnuts, and more with your tea.
The packaging comes with bright gift wrapping paper and a greeting card to personalize your gift.
Any tea lover will appreciate the care and eye for detail that goes into creating this Chinese snack box.
3. Chinese Dynasty Treasure – Best For Variety
For snacks from all around China, this Chinese Dynasty Treasure box delivers fun and popular snacks.
It contains a wide variety of more than 10 sweet and savory Chinese snacks. You'll find tasty shrimp rice crackers, sesame sticks, rye cakes, and more delicious savory bites.
The sweet goodies in this exciting snack box range from Pocky sticks, Ferrero Rocher chocolates, Mochi, and more.
Even more, this snacks box has Chinese tea sachets, and a beautifully designed tea tin to store your teams
What we love about this Chinese Dynasty snacks box are the diverse flavors and new tastes found in every package.
A beautiful gift box and greeting card complete this package of delicious Chinese snacks.
4. Chinese Chocolate Coins – Year of The Rabbit – Best For Chocolate Lovers
The year 2023, is the year of the Rabbit according to Chinese Zodiac Signs. This is a lucky year and these chocolate coins help celebrate the occasion.
This snack box has 84 chocolate covered coins printed with a Chinese New Year sticker.
People born in the Year of the Rabbit, 1951, 1963, 1975, 1987, 1999, 2011, and 2023 are said to be calm and peaceful.
Besides Michael Jordan, other famous celebrities born in the Year of the Rabbit are Angelina Joli, Tiger Woods, Albert Einstein, and others.
As you celebrate Chinese culture in 2023, this Year of the Rabbit chocolate covered coins is a delicious way to celebrate.
Top Asian Boxes With Chinese Snacks
5. Asian Snacks Variety Pack – Best for Sharing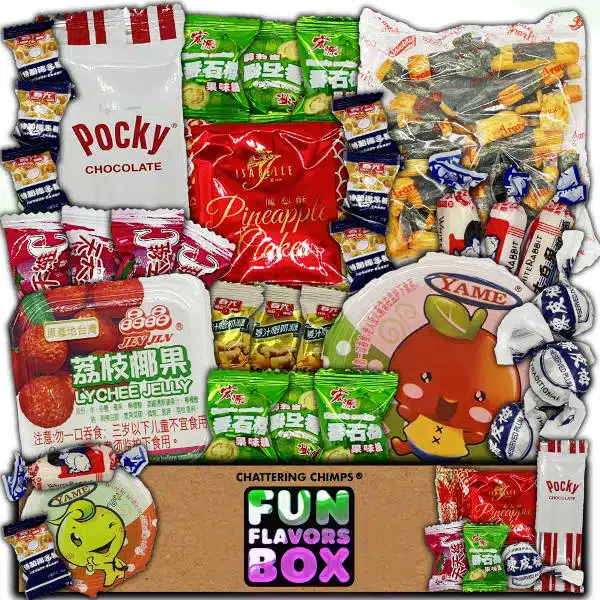 This Asian snack sampler contains candy and treats from several countries including China, Korea, Taiwan, and Japan.
Full of fun flavors, this snacks box contains an assortment of more than 30 delicious treats.
This Asian snack box includes everything from coconut jelly, fruit candies, and gummies, to chocolate, cakes, and savory crackers.
The Chinese-specific tastes in this box are be found in the delicious hard candies. The sweet and creamy coconut candies are made from local Chinese coconuts.
While the Chun Guang candies come directly from China.
The wide variety of snacks included makes it easy to explore new tastes and share these Asian treats with others.
6. Asian Candy Box – Best Mystery Box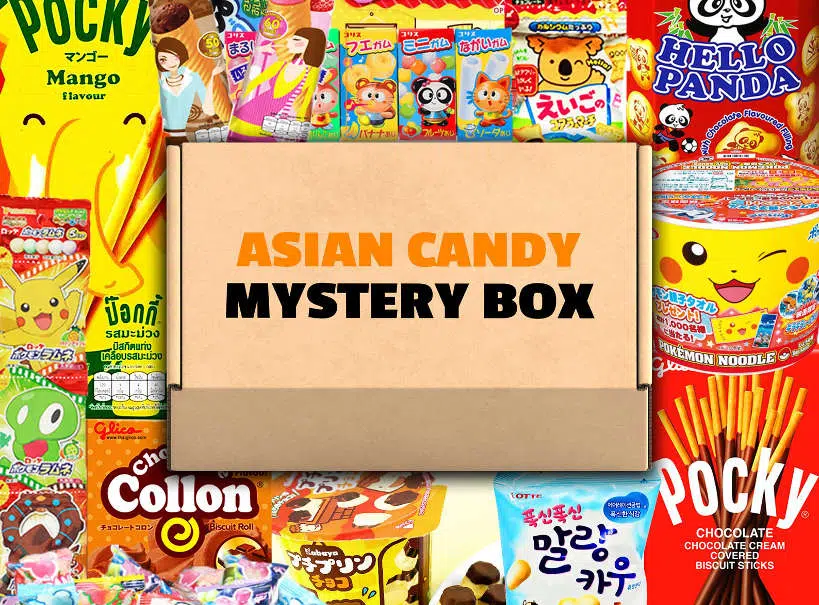 From all over Asia, this Asian candy mystery box packs a variety of candies and snacks from, Japan, China, Thailand, and more.
You have a choice between a standard box with 10 candies and snacks. Or, a big box with 15 candies and Asian snacks.
When you want to receive a surprise each time, this Asian snack box delivers the unexpected in every order.
While you'll have plenty of Chinese candy, you may only find them in some boxes since they're randomized.
However, that does mean you'll have a unique experience each time you place an order.
Your box might have Hello Panda cookies, Pocky, or tasty instant noodles.
Sometimes, you might receive more Chinese snacks than others.
This snack box isn't a Chinese snack subscription box that you receive each month. You can order it only as often as you want to.
The surprise element is fun and all the Asian snacks included are delicious and worth tasting.
7. Mashi Box Asian Dagashi – Best Traditional Dagashi Lovers
Featuring dagashi, or traditional classic affordable sweets, this Mashi Box has plenty of Asian treats to enjoy.
From Japanese candies to Chinese rice cakes and Korean bites, your taste buds will enjoy the flavors of some of the best snacks from Asia.
Each box contains a random selection of gummies, candies, cookies, ramen noodles, and more.
In it, you'll find at least three full-sized drinks and noodles. Twelve to thirteen sweet and savory snacks and 9-10 candies.
The variety of fun snacks from Asia changes, making it a surprise each time you open a box.
These are the best Asian snacks to discover the diversity of snacks from several Asian countries.
FAQ – Chinese Snacks
What Are the Most Popular Chinese Snacks?
China has a wide variety of delicious snacks that are both sweet and savory Jellies and gummies are extremely popular and you'll find them in fruit, sour and tangy flavors. 
Rice rolls and buns are also commonly available snacks.
Chocolate is another extremely popular Chinese snack, especially around the Lunar New Year when it's given as a gift.
How Much Do Candy Subscription Boxes Cost?
Candy subscription boxes' costs vary, and you can expect to pay at least $30 for most of them. 
A high-quality Chinese candy subscription box can cost about $40, but you're receiving snacks you wouldn't otherwise have access to.
Instead of getting a Chinese candy box monthly, you also have the option of getting a one-time box for a special occasion. 
These Chinese snacks can be more expensive, but they contain a wider range of snacks and can be personalized to fit any occasion.
Claire is co-founder of Authentic Food Quest and a lover of simple and exquisite cuisine. Since 2015, with her partner, Rosemary, she has been traveling the world as a digital nomad, creating content about local food experiences.
Her advice from visiting 45 countries and more than 240 food cities has been featured in Lonely Planet, Business Insider, Honest Cooking, Food Insider, and Huffington Post. She has also co-authored three books, including one in collaboration with Costa Brava Tourism.
An ex-mechanical engineer, Claire is responsible for SEO, keeping the website running, and the fun food & travel videos on YouTube.
When Claire is not eating, she can be found running or cycling. Find out more about Authentic Food Quest