One of the best ways to learn about a person's food and culture is to step into their kitchen. Food is how people show love for their families, friends and respect and hospitality to strangers. When people come together over food, there is peace. And when you ask someone, "how did you make this? "What's your secret?", differences in culture, religion, and social status cease to exist.
In our previous article how to travel through unique and authentic cooking classes, we introduced you to The League of Kitchens. Based in New York City, it is an immersive culinary experience where immigrants teach intimate cooking workshops in their homes.
While we have not had the chance to attend a workshop, we fell in love with the concept and could not wait to share it with you.
We had the opportunity to talk to Mirta, the Argentinian instructor at the League of Kitchens and were blown away by her energy and passion. She described her classes, the Argentine dishes and the cultural and immersive experience she creates. That conversation took us right back to Argentina. We laughed and connected while sharing fond memories of Argentina and the dishes.
Now, let's follow Mirta into her kitchen and discover amazing Argentine dishes.

Cook Like an Argentine with Mirta Rinaldi
Mirta Rinaldi, originally from Mendoza, Argentina is based in Queens, New York.
She moved to the U.S. in the 1970s and has many years of experience hosting events and cooking Argentine dishes for large groups as well as family and friends.
Food has always been an important part of her life. Mirta told us that she has been with The League for Kitchens for about 2 years.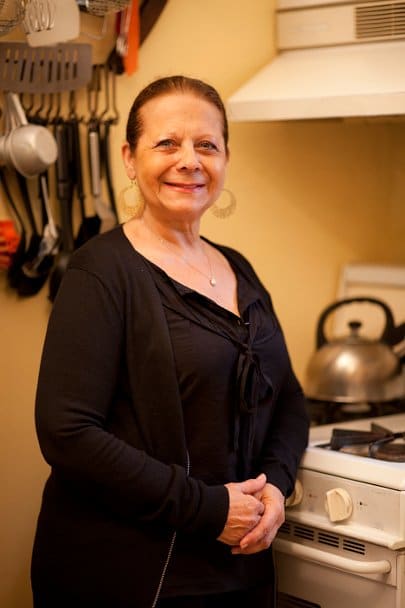 According to Mirta, "mate is our national drink, I compare it to the peace pipe. There is no war on the mate, it is just sharing stories. If drinking alone you are trying to fix the world by yourself".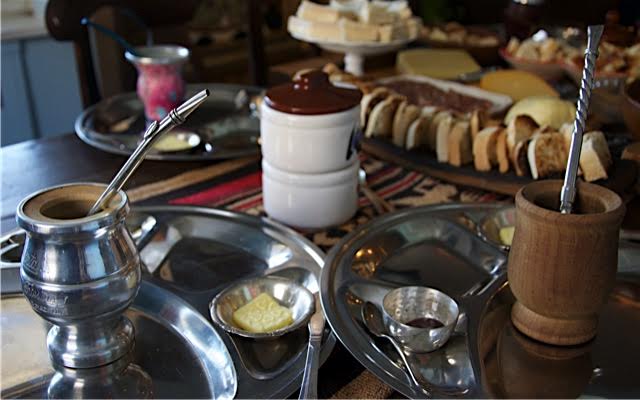 Argentine Dishes and Cultural Immersion
While Argentina is known for its beef, the Argentinian workshop does offer vegetarian options. Whichever menu you choose to go with, rest assured that you will be learning how to prepare the traditional and authentic dishes of Argentina.
While learning how to cook the Argentine dishes, Mirta will entertain you with stories about the Gaucho culture in Argentina. She will expose you to famous and traditional Argentine singers.
You will learn about Tango and as well as make new friends with everyone at the table.
At that workshop, you will be transported to Argentina.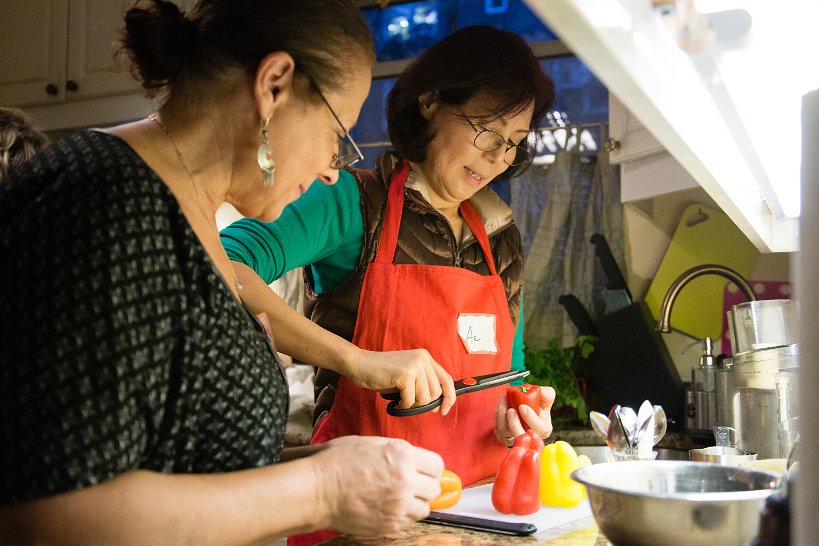 Tips For Cooking Beef & Argentine Dishes
The most frequent question that workshop participants ask Mirta, is how to prepare beef the right way. Keeping with the theme of summer grilling and here are 5 great tips from Mirta, that you can apply the next time you fire up your grill.
1 – Season the meat with only Sal Parrillera, if you can find it a local or ethnic store. If not, Kosher salt will do.
2 – The barbecue is supposed to be very hot. Put your hand over the grills and count up to 10. If you start burning yourself, then you know the barbecue is hot enough and ready.
3 – Flip the meat only once. Don't start flipping the meat back and forth because it loses the juices.
4 – Do not use a fork to turn the meat. Use tongs so that the meat doesn't bleed and keep the juices.
5 – If you like your steak rare, cook until its tenderness replicates the soft part of your own cheek. If you like your beef medium, the tenderness of the meat should feel like the middle of your chin.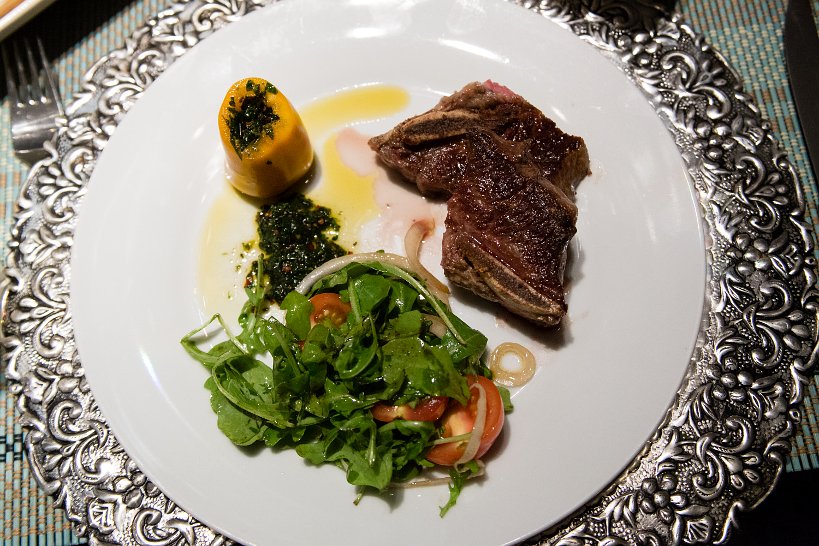 The Best Argentinian Sauce for Beef: Chimichurri Sauce
Chimichurri is a popular sauce that often accompanies grilled meats in Argentina. It is made with parsley and it gets better with age. As Mirta would say "today it is good, tomorrow it is even better."
Chimichurri sauce has often been misrepresented in the media. It has been called "Argentinian pesto" or the "ketchup of Argentina." Argentines will adamantly tell you that this not true.
To set the record straight about this Argentine dish, make your own homemade chimichurri sauce using this simple recipe.
Chimichurri Recipe – Courtesy of Mirta Rinaldi and The League of Kitchens
Contrary to what some people think, chimichurri never includes cilantro, only parsley. It's a versatile condiment most often served with grilled meats, and may also be used as a marinade.
Many Argentinians keep a jar in the refrigerator, and as it ages, the vibrant color mellows; it doesn't have to be made fresh at each serving.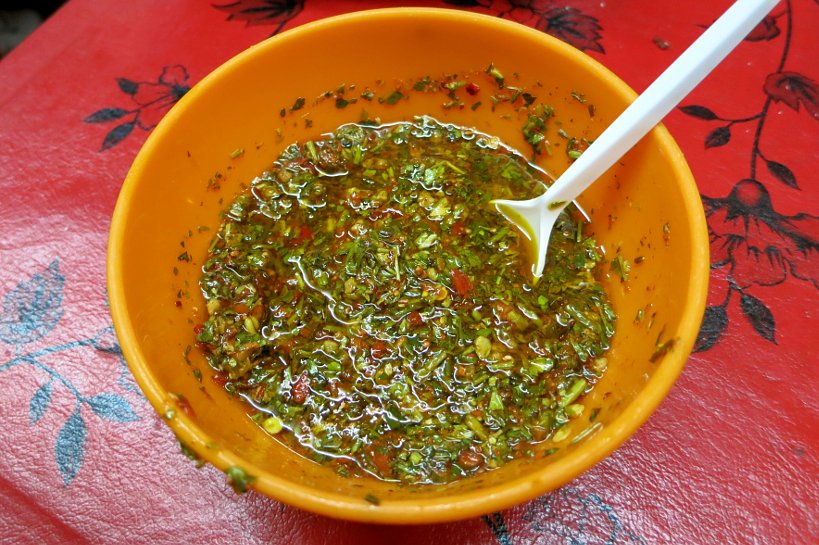 1 packed cup fresh flat-leaf parsley leaves
4 cloves garlic
1 tablespoon dried oregano

1 tablespoon crushed red pepper flakes

1 teaspoon paprika

1 teaspoon kosher salt

1 teaspoon freshly ground black pepper

2 tablespoons balsamic vinegar

1 cup extra virgin olive oil
Mince the parsley and garlic in a food processor (mini or regular size).
Transfer to a medium or large jar with a lid and add the oregano, red pepper flakes, paprika, salt, and pepper.
Pour in the vinegar and oil, screw on the lid, and shake well. As the herbs soak in the oil the sauce will get more flavorful.
Chimichurri keeps in the refrigerator for about 2 weeks, or 6 months in the freezer.
Makes about 1 1/3 cup
Prep: 5 minutes

In Summary
If you are taking a trip to New York City, join Mirta at The League of Kitchen and immerse yourself in Argentinian cooking and culture.
When we asked Mirta what she would like to say to Americans about Argentina, here is what she said:
Argentinians are really friendly people. We love to share our culture. If you talk to an Argentine and they like you. They will say…come..come and let's share a meal.

If you are invited to a barbecue, it is the best expression of the idea 'you are welcome into my home'. We do everything around food. A barbecue for Argentinians, is gathering people together and sharing. In any conversation there is always food. Everything is around the table.
From our experience in Argentina, we felt this love and warmth. We connected with locals over Argentine dishes. We were welcomed into Argentina and into the hearts and homes of Argentinians.
If your travels do not take you to Argentina, we invite you to cook Argentine dishes with Mirta at the League of Kitchens.
Have you been to Argentina? Did you experience the Argentine warmth and love around food? Tell us in the comments below.
Savor The Adventure!
Love It? Pin It!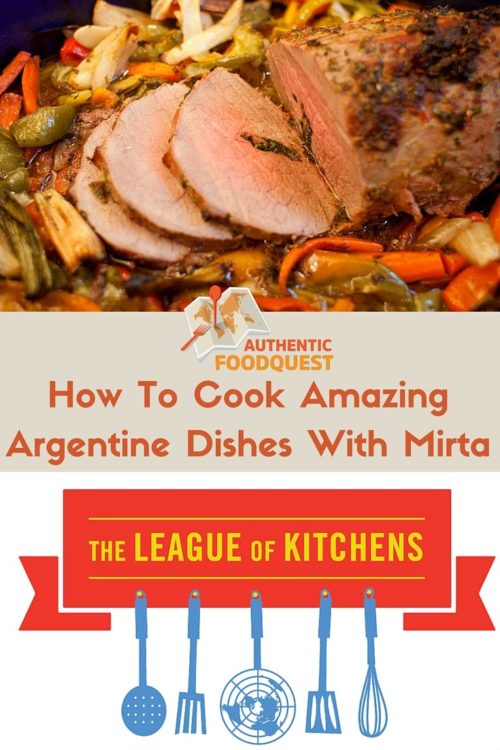 Disclaimer: This page contains affiliate links. That means at no extra charge to you, we earn a small commission when you purchase using these links. Please note we only link to products and services that we personally use or trust. Thank you for your support.
Curious by nature, Rosemary loves exploring new flavors and connecting with locals. She shares her insights and culinary finds from her travels to inspire people to connect local through food.