Cosmos restaurant in Sofia is one of the best restaurants and a must try in Bulgaria's capital.
The restaurant was referred to us numerous times by locals and chefs we met during our three month stay in Bulgaria.
On our last day in Sofia just before leaving the country, we made a point to eat at Cosmos also known as Kosmos restaurant.
Cosmos, puts a modern spin on traditional Bulgarian cuisine, inviting visitors to a space themed dining experience.
Join us on a taste of the universe at Cosmos restaurant in Sofia.

Cosmos Best Restaurant in Sofia for Modern Bulgarian Food
Cosmos restaurant opened in 2016, and has quickly established itself as one of the best restaurants in Sofia.
The restaurant's decor is modern and stylish. Exposed brick walls, angular light fixtures orbiting from the ceiling and an airy atmosphere welcomes you.
Walking in, we felt like we could have been dining at a modern restaurant in a major city like New York.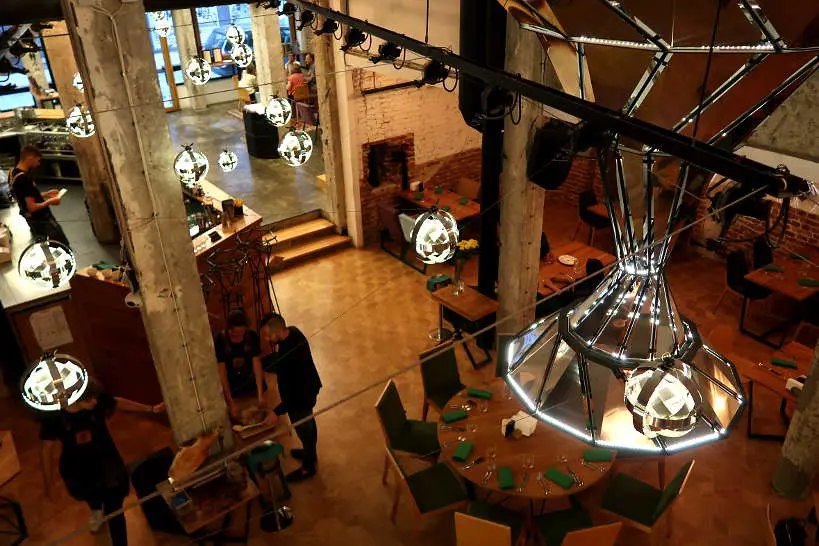 Bulgarian Traditional Space Cuisine
The introduction to the menu immediately caught our attention. We knew it was going to be an experience as we read their motto.
"We create and transform Flavors. Experiences. Ourselves. Exploring the vast universe of tastes and creating our own version of Bulgarian cuisine."
Just as we were looking over the menu, the head chef, Veadislav Pevov stopped by and introduced himself.
A tall lanky man with a generous smile graciously took time to answer our questions about Bulgarian food and the Cosmos menu.
With traditional Bulgarian acoustic music playing in the background, we learned that the cuisine at Cosmos is inspired by Bulgaria in space.
For instance, in 1979, Bulgaria became the sixth country in the world to send a man to space, Geogi Ivanov.
Further, alongside the USA and Russia, Bulgaria has been manufacturing space food since the 1980s.
With that heritage and inspiration, Cosmos's aims to make dishes with geometry and space, using traditional recipes and modern techniques.
As chef Pevov added, "we don't know much about space. It is interesting to look at the sky at night and be inspired."
Following his recommendation, we each ordered the tasting menu and a bottle of Applauz Melnik 55 from Villa Melnik.
From the part astronomers and part chefs, here's a look at what to expect from Bulgarian traditional space cuisine.
Related: Read more about our wine tasting experience at Villa Melnik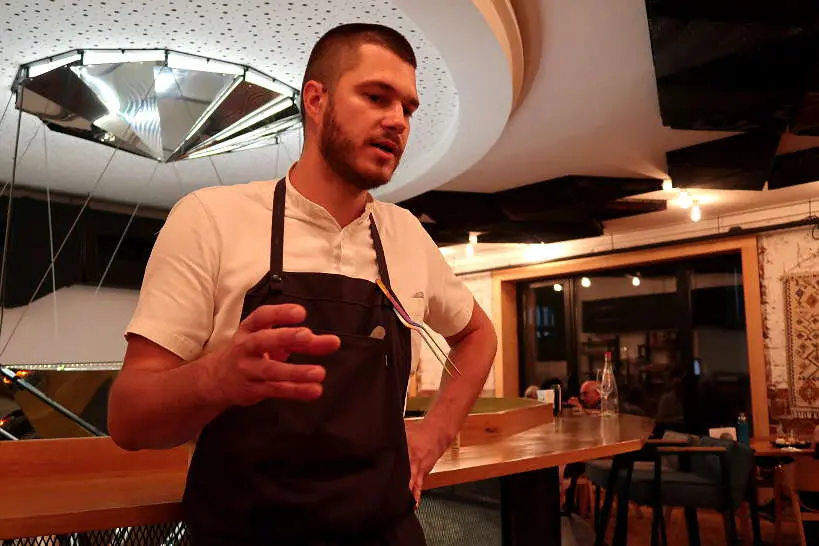 Cosmos Restaurant: Tasting Menu Highlights
The tasting menu had a selection of 6 different dishes, including meats and fish and seafood.
With a complimentary amuse bouche to start and bites of regional specialties, we ended up sampling 10 different dishes.
Just before chef Pevov returned to the kitchen, he told us:
"Bulgaria is a small country and still undiscovered. We want our guests to be happy. To see that we have nice products, nice ingredients, creatively put together."
And with that, we eagerly anticipated the traditional Bulgarian space culinary experience.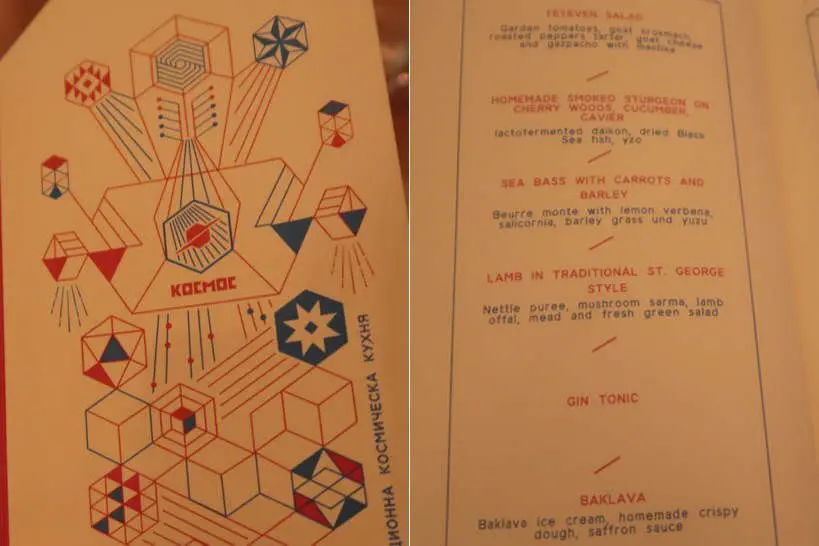 Creative Spatial Tetevan Salad
After our amuse bouche, a reinterpretation of the traditional Bulgarian, tarator, cucumber soup topped with frothy a dill mousse, we were ready for the spatial journey.
On a dark plate representing the starry night were ingredients delicately placed representing the moon, sun and galaxy.
Slices of goat cheese placed delicately on garden tomatoes, reflect the moon and sun. Small dollops of anise flavored mastika alcohol represent different planets.
And a wonderful accompanying gazpacho with mastika rounded out the unique salad. A creative and tasty beginning, we were off to great start.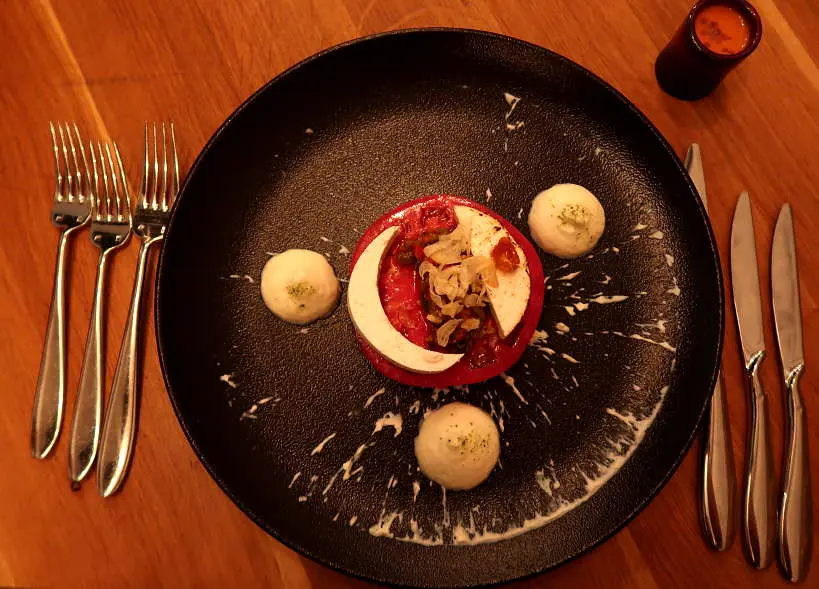 Locally Sourced Fish Dishes
From Bulgaria's Black Sea coast, the next dish was homemade smoked sturgeon with fresh vegetables, herbs, edible flowers topped with finely shredded goat cheese.
A beautiful dish, the combination of ingredients was quite refreshing, with a salty touch from sturgeon eggs incorporated within the dish.
Keeping within the fish and seafood theme, the next tasting was sea bass, carrots and barley in a light butter sauce.
Another delightful dish, the seabass was seared to perfection and the touch of barley with butter sauce rounded it out.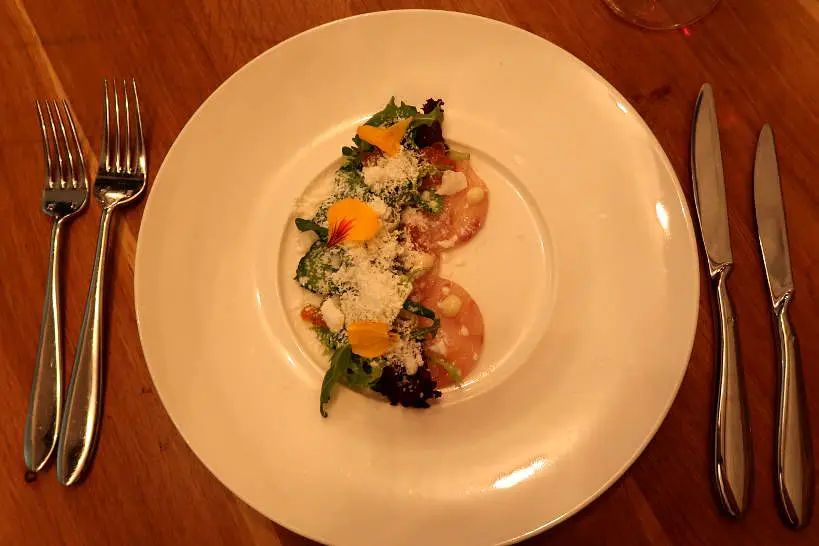 Lamb Cooked in Traditional St. George Style
Lamb, one of our favorite meat is eaten widely in Bulgaria, especially in the Spring.
May 6th is the Bulgarian Army Day and St. George Day; eating lamb is customary.
In honor of this tradition, Cosmos restaurant serves the lamb with nettle puree and mushrooms. A fresh green salad, which is typical, also came with the dish.
The lamb was impressive and extremely tender from a long and slow cooking.
The mushrooms, puree and additional lamb offal pieces made for a heavy dish. The flavors were rich and the salad helped balance the dish.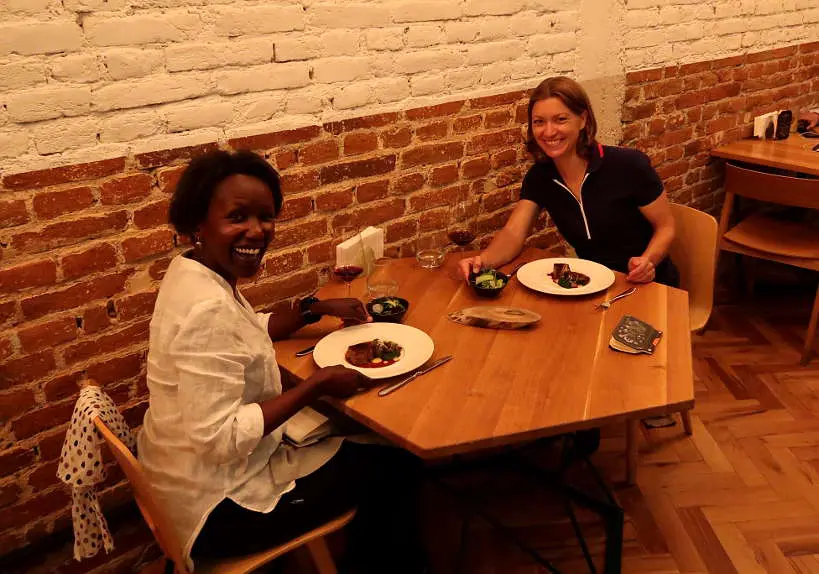 Cherni Vit Green Cheese
One of the surprising experiences of the evening was tasting green cheese. Earlier, chef Pevov mentioned this cheese, and when we told him we never had it, he added it to the menu.
When our server brought over a wooden tray with two slices of cheese saying it was green cheese, we were surprised. We expected the cheese to be green or at least have an obvious green crust.
The cheese comes from Cherni Vit, a small village in the northern part of the Balkan mountains. This is one of only three regions in the world where cheese mold grows naturally.
The moisture, mild climate and drastic differences between day and night temperatures, gives the cheese a specific color on the mold.
And, the mold, is what turns the cheese into a delicacy.
Despite the name, the cheese was a hard yellow cheese with strong and spicy notes. We both liked it and it paired well with red wine.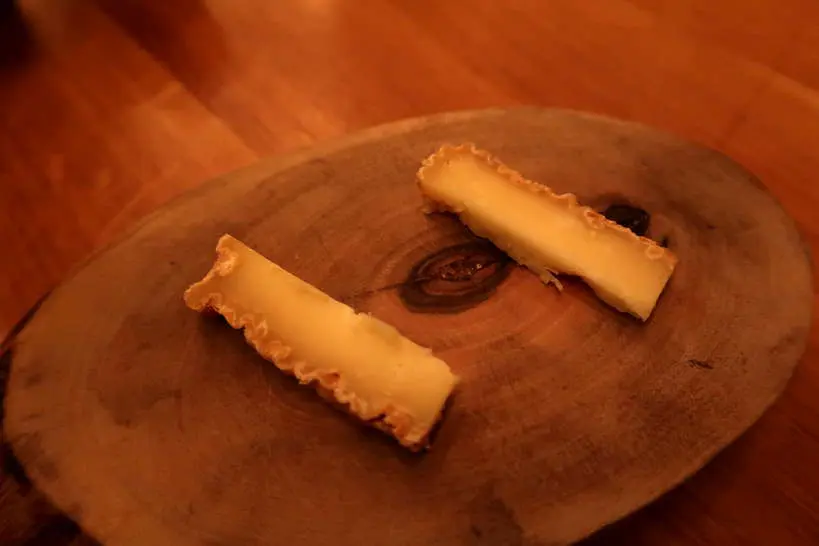 Refreshing Gin Tonic
Prior to dessert, we were curious about the Gin Tonic on the tasting menu. An elegant ice cream bar with a mint leaf on top is not what we were expecting.
While surprising, we loved the playful sense and the refreshing flavors.
The ice cream bar, made with cucumber and mint ice cream on the inside, cleared the palate for the final dessert.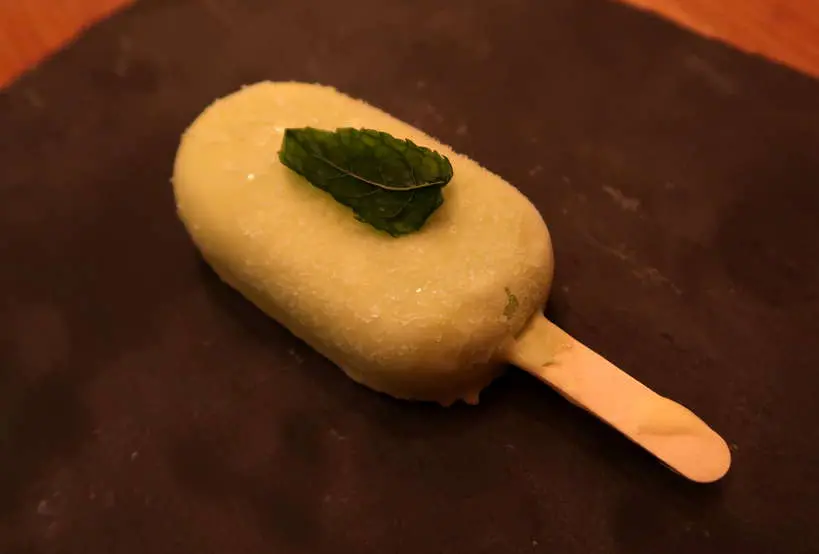 Bulgarian Rose Dessert
The Bulgarian Rose dessert had all the theatrics for a crowning finale. While Claire had the Bulgarian baklava with ice cream, the rose dessert stole the show.
The Valley of Roses in Bulgaria is one of the largest producers of rose oil in the world. And the cultivation of roses has a long history with origins dating back to 1680.
With roses being such an important part of Bulgaria's heritage, it was not surprising to find something with roses on the menu.
As soon as the plate was put on the table, a blue flame engulfed the rose dessert, revealing its magnificent center.
Once the flames died down, I eagerly took a bite of the dessert to find vanilla sponge cake, with yogurt, rose sorbet, ice cream and strawberries.
Absolutely divine is how I described the dessert, as Claire looked on enviously. Even though this dessert was not on the tasting menu, Cosmos made the substitution at no additional charge.
Regardless of what you order when you dine at Cosmos, be sure to end on the Bulgarian rose dessert.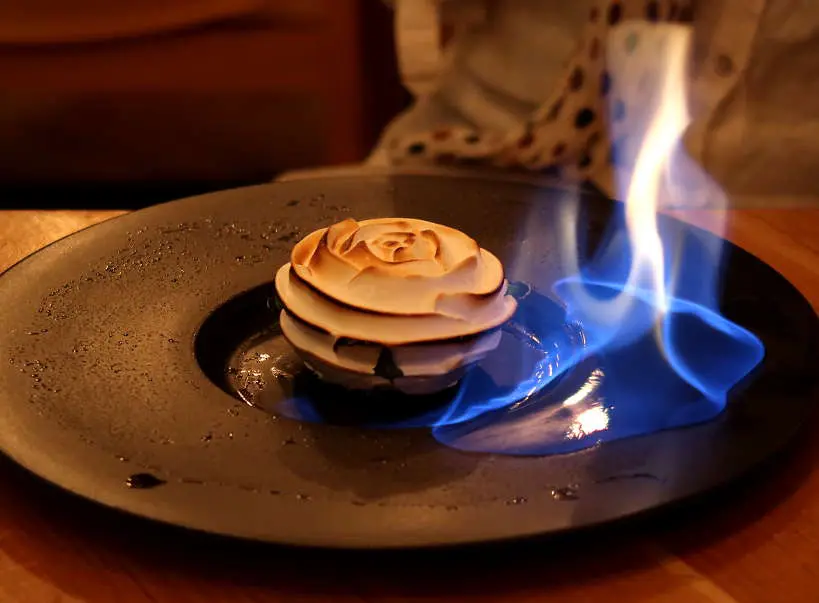 In Summary
Cosmos restaurant Sofia, lives up to their motto of creating and transforming flavors and experiences.
The creative tasting menu which pushes boundaries and reinterprets traditional Bulgarian flavors takes you on that journey.
The earnest commitment from chef Veadislav Pevov, to making Bulgarian food and Cosmos known is impressive.
As he shared "we dream of being a famous place where people from all over the world come and visit. We are only three years old and still at the beginning."
If you are curious about Bulgarian cuisine and looking for a unique experience, book a cosmic experience at Cosmos, one of the best restaurants in Sofia.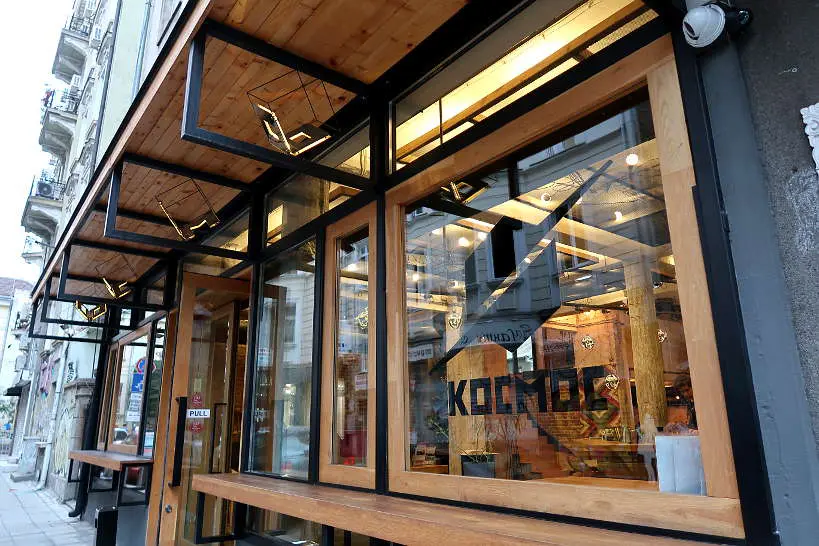 Looking For More Restaurants and Things to Do in Bulgaria?
Where to Stay in Sofia
Sofia, the capital of Bulgaria is a modern city, exuding historic charm.
Basing yourself in the city center is a convenient option.You'll be close to the Old Town and attractions like the National Theatre and St. Alexander Nevski cathedral.
There are several accommodation options at various price points. Here are a few options we recommend.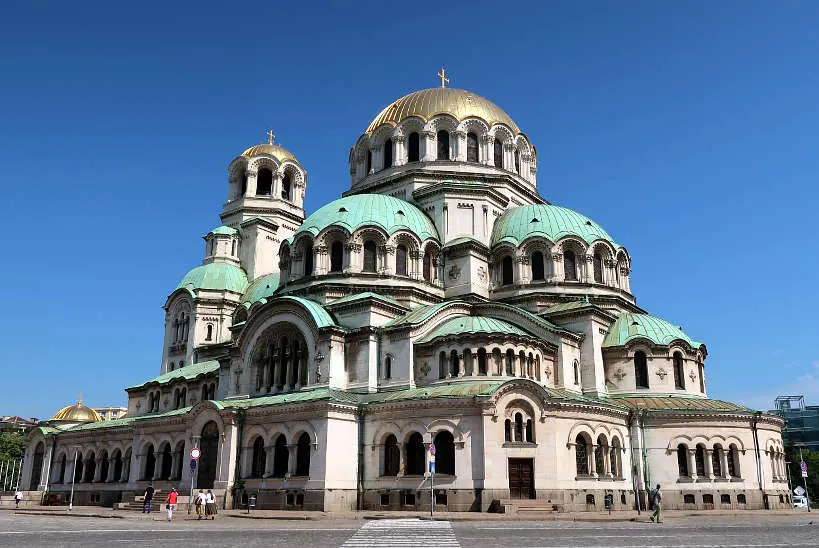 Authentic Food Quest Tip: Whenever you travel, you want to make sure you are covered just in case anything goes wrong. Even if you are gone for a short trip you should always travel with insurance. We use and recommend Allianz travel insurance which is an affordable option.
Love it? Pin it!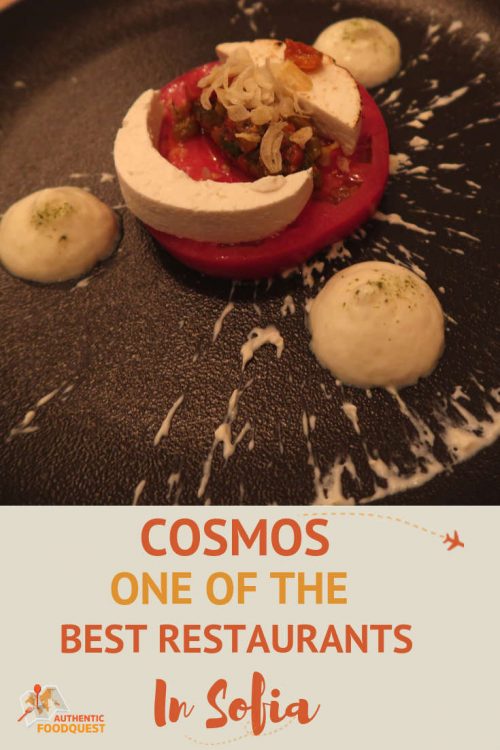 Disclaimer: This page contains affiliate links. That means at no extra charge to you, we earn a small commission when you purchase using these links. Thank you for your support.
Rosemary is the editor-in-chief and strategist at Authentic Food Quest.
Traveling slow since 2015 with her partner, Claire, she has explored the cuisine in 45 countries and more than 240+ culinary cities.
Her writing about local food specialties has been featured in Lonely Planet, Business Insider, Honest Cooking, Food Insider, and Huffington Post.
As a food and travel writer, Rosemary has co-authored three books, including one in collaboration with Costa Brava Tourism.
Rosemary is an avid runner when she's not eating and exploring new destinations. She has run ten marathons and counting.
Before Authentic Food Quest, Rosemary held senior-level strategy positions in advertising. 
Find out more about Authentic Food Quest