This article has links to products and services we recommend, which we may make a commission from.
This Cretan dakos recipe is for a traditional salad from the island of Crete. Super simple to make it consists of a Cretan barley rusk topped with juicy tomatoes, cheese and olive oil. A guaranteed crowd pleaser, all you need is a few great quality ingredients for delicious Greek Mediterranean flavors.

What Are Cretan Dakos or Ntakos?
Cretan dakos, also known as ntakos, is a much loved traditional Greek Cretan salad. It is often served as a salad, light meal or in bite-sized appetizers called meze.
The base of this dakos salad is a dry barley rusk known as paximadia in Greek. The rusk is topped with the freshest ingredients.
Starting with juicy local tomatoes, high-quality extra virgin olive oil, and Greek mizithra cheese. A sprinkling in dried oregano and Kalamata olives bring out the bright and delightful flavors.
What is Barley Rusk or Cretan Rusk?
Barley rusk is the same as a Cretan rusk and it literally means twice-baked-bread made of barley flour.
With no refrigeration or preservatives, making rusk was a way of keeping bread for as long as possible.
The bread is typically baked twice until all the moisture has been absorbed. In Crete, barley flour is the traditional flour used for Cretan dakos.
The dry barley rusks used to prepare Cretan dakos are as hard as nails. You have to be careful not to break your teeth.
Before eating them, the ntakos need to be softened up. This is typically done by wetting the rusk with water.
Barley flour is rich in fiber, packed with vitamins and nutrients. It helps with better intestinal and liver function and contains less gluten than wheat.
Where to Buy Barley Rusk
In Crete, barley rusk or paximedia is available at every bakery, grocery store or supermarket.
To bring a taste of the Mediterranean and Crete home, you can buy barley rusk on Amazon and have them delivered to your home.
Alternatively, if there is a specialty food store near your area, you may be able to find barley rusk.
Keep in mind Cretan rusk are dark in color and made entirely with barley. For authentic flavors, choose the rusk made with 100% barley flour.
Discovering Dakos in Crete
Of all the different foods we tried in Crete, one we loved and kept coming back to was the Cretan salad or dakos.
What we loved the most about it was the simplicity, fresh ingredients and incredible flavors.
Cretans are known for their friendliness and hospitality and our Airbnb host was no exception. When we arrived in Chania, the first thing we were welcomed with was a plate of delicious Cretan dakos.
Almost every restaurant menu has Cretan dakos listed amongst their appetizers. We also enjoyed a few dakos salads from restaurants as well as when gathering with locals.
Each time we had a Cretan salad we were continually amazed by its simplicity and juicy flavors.
READ MORE: How To Make the Best Authentic Boureki From Chania, Crete
History of Cretan Dakos
Rusk, also known as paximadia in Greek have been around since antiquity. They can be found in all parts of Greece.
What makes the Cretan rusk unique is the fact that they are made with whole-grain barley flour. And, in Crete, the dakos salad is topped with the traditional local cheese known as mizithra.
Cretan dakos are also referred to as Koukouvagia or owl in Greek. They take the name from the resemblance of an owl when looked at from above.
The black olive in the center of the dakos resembles the eye of an owl. And, it is even more pronounced when two dakos are placed side by side.
The name "Koukouvagia" is linked to many local tales. One story attributes it to the name of a bar owner near the town of Rethymno in the 1950s.
This tavern allowed men the forbidden pleasures of tobacco, gambling and women.
To keep the customers happy, the owner, Koukouvagia, served dakos and the name remained associated with him.
Others link the name to the many owls that were seen around the tavern every night.
Tips to Make a Cretan Salad At Home
Cretan dakos is one of the simplest and easiest things to make. They can be fantastically delicious if you use fresh high quality ingredients.
The secret behind perfect nkatos is to use fresh and juicy tomatoes, as they are key to bringing this dish to life.
To garnish the dakos salad use high quality extra virgin olive oil, Cretan or Greek recommended.
Ever since we discovered extra virgin olive oil from Terra Creta, Crete's largest olive oil producer, it's become our preferred oil.
The olive oil brings the perfect touch to the traditional Cretan rusks with tomatoes and mizithra cheese.
READ MORE: Cooking with Olive Oil – Cretan Olive Oil with Terra Creta
Cretan Mizithra Cheese and Substitutes
Mizithra cheese is one of the most prominent traditional Cretan cheeses. It is a soft white cheese with a pleasant slightly sour taste.
For this traditional Cretan dakos recipe, we recommend using mizithra cheese.
You can find mizithra cheese at the cheese section of a specialty store near you, or have it delivered to your home from Amazon.
Otherwise, you can also use authentic Greek Feta cheese instead.
Grating Tomatoes For Your Cretan Salad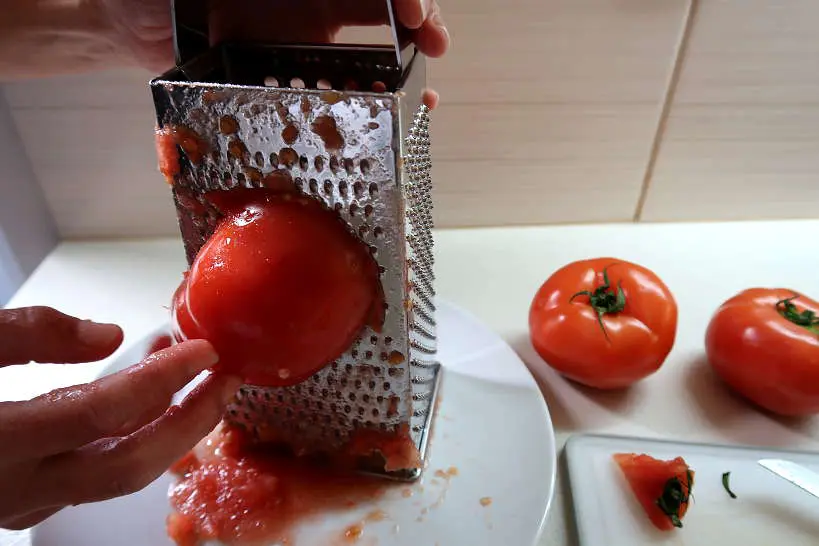 To make the tomato sauce as they do in Crete, you want to grate the tomatoes. Slice your fresh juicy tomatoes in half and grate them using the medium holes to release the bright and fresh flavors.
Scrape each sliced tomato back and forth until the skin flattens. Set the grater onto a plate or large bowl to catch the juices that inevitably run onto the counter.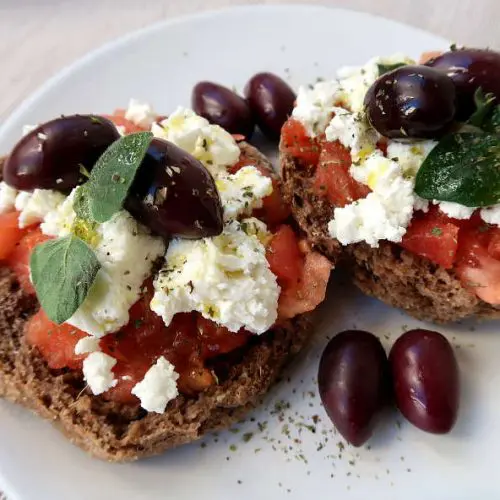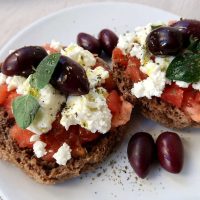 Cretan Dakos Recipe
This Cretan dakos recipe is for a traditional salad from the island of Crete. Super simple to make it consists of a Cretan barley rusk topped with juicy tomatoes, cheese, and olive oil.  A guaranteed crowd-pleaser, all you need is a few great quality ingredients for delicious Greek Mediterranean flavors.
Print
Pin
Rate
Instructions
Slice the tomatoes in half and grate them using the medium size holes of your gratebox.

Grate down as close to the skin as possible. Do not grate the skin. Place your coarsely grated tomato juice in a bowl or plate.

Wet each rusk under cold running water and shake off any excess water and place on a plate. Cretan rusks are very hard but you do not want to soften them too much as you do not want soggy dakos. The dakos should still be crunchy but easily breakable.

Repeat the process for all the pieces of barley rusk

Pour one tablespoon of high-quality extra virgin olive oil on each piece of rusk, spreading it around with a spoon

Next, take a spoonful of tomato juice and spread it all around each piece of rusk

Sprinkle a little salt and dried oregano on each rusk

Using your hands, break up the mizithra cheese and sprinkle it on top of each rusk

Sprinkle a little bit of oregano on the rusk 

Drizzle a little bit of extra virgin olive oil on the rusk and decorate with black kalamata olives

Serve immediately
Notes
Feel free to add as much or as little extra virgin olive oil as you like
If you have fresh oregano available, chop up a little for even more delightful flavors
Nutrition
Serving:
1
|
Calories:
71
kcal
|
Carbohydrates:
5
g
|
Protein:
4
g
|
Fat:
4
g
|
Saturated Fat:
3
g
|
Polyunsaturated Fat:
0.2
g
|
Monounsaturated Fat:
1
g
|
Cholesterol:
16
mg
|
Sodium:
31
mg
|
Potassium:
251
mg
|
Fiber:
1
g
|
Sugar:
3
g
|
Vitamin A:
907
IU
|
Vitamin C:
13
mg
|
Calcium:
74
mg
|
Iron:
0.4
mg
Rosemary is the editor-in-chief and strategist at Authentic Food Quest.
Traveling slow since 2015 with her partner, Claire, she has explored the cuisine in 45 countries and more than 240+ culinary cities.
Her writing about local food specialties has been featured in Lonely Planet, Business Insider, Honest Cooking, Food Insider, and Huffington Post.
As a food and travel writer, Rosemary has co-authored three books, including one in collaboration with Costa Brava Tourism.
Rosemary is an avid runner when she's not eating and exploring new destinations. She has run ten marathons and counting.
Before Authentic Food Quest, Rosemary held senior-level strategy positions in advertising. 
Find out more about Authentic Food Quest