Da Nang in Central, Vietnam is the third largest city in the country after Ho Chi Minh City and Hanoi, respectively.
The cuisine in Central Vietnam has a lot to offer. A food tour in Da Nang was the perfect opportunity to feed our curiosity and learn about the local specialties.
Guiding us were two Da Nang locals with BackStreet Academy, a social enterprise that connects local artisans with visitors looking for off-beat travel experiences.
This Da Nang food tour focused on Con Market, the largest food market in the city. This market is one of the best places to experience local life and sample many central Vietnamese food specialties.
Join us on this insightful Da Nang food tour at Con market.

Da Nang Food Tour Meeting Point at Con Market
Con Market or Chợ Cồn đà nẵng in Vietnamese is the largest wholesale and retail market in the central region of Vietnam.
It is a traditional local market that offers a fascinating glimpse into local life in Da Nang. Our Vietnamese Backstreet Academy guides, both students at Da Nang University, met us at 2:00 pm to begin our Da Nang food tour.
Con market, our guides explained, is known for offering a wide range of local Vietnamese food specialties. It is one of the best places to sample the local cuisine from Danang and the central Vietnamese region.
Authentic Food Quest Note: We like Backstreet Academy for their commitment to creating social impact. The travel experiences are different. You go to the backstreets and experience wonders like never before.
Explore all tours offered by Backstreet Academy, including this Da Nang Tour.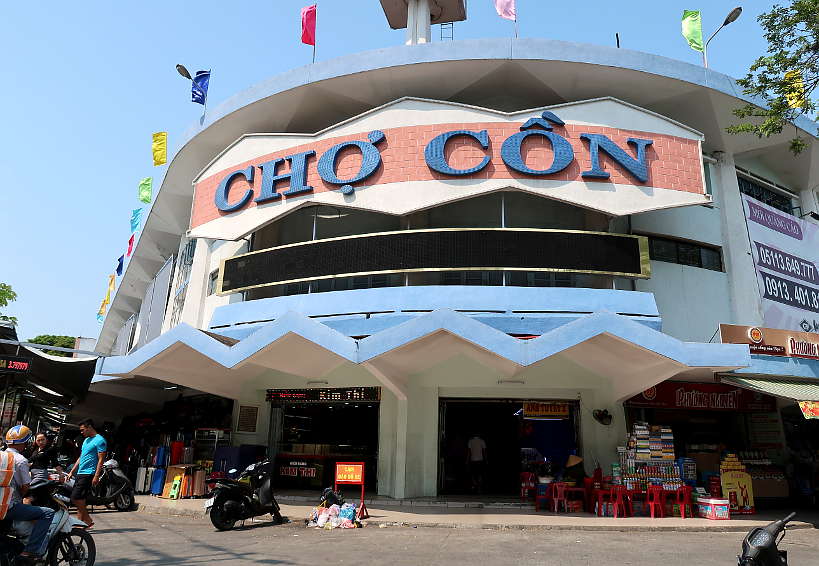 Exploring Cho Con or Con Market
Built in the 1940s, the market began as a place for farmers and locals to sell their produce.
Since it has evolved into a large market with fresh produce, handicrafts, apparel, dried goods, Vietnamese coffee and more.
In the main interior part of the market is a large hall filled with vendors selling all kinds of Vietnamese dishes.
From banh mi Vietnamese sandwiches, mi quang noodles, banh xeo or sizzling pancakes, Vietnamese desserts, local snacks and drinks and much more.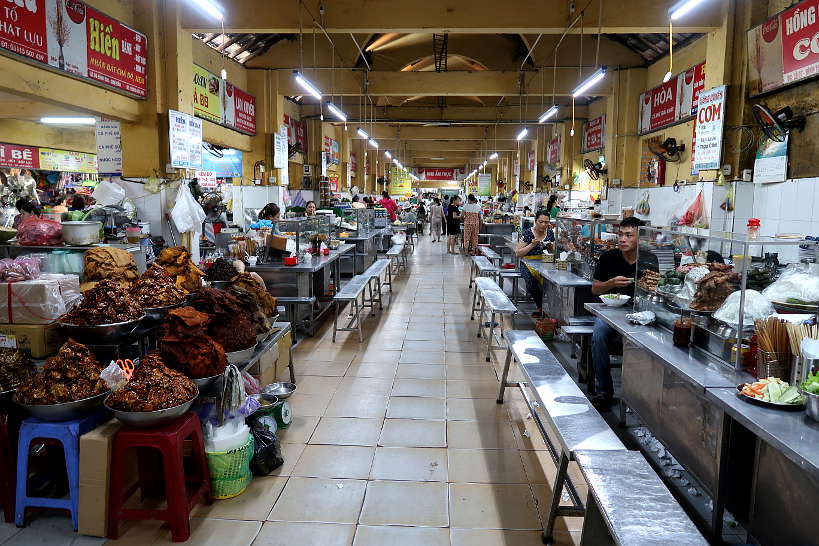 The outer parts of the bustling market are divided up into different sections.
On one side are several local vendors selling fresh fruits, vegetables, herbs and more. This market is popular with locals who shop there regularly for their daily needs.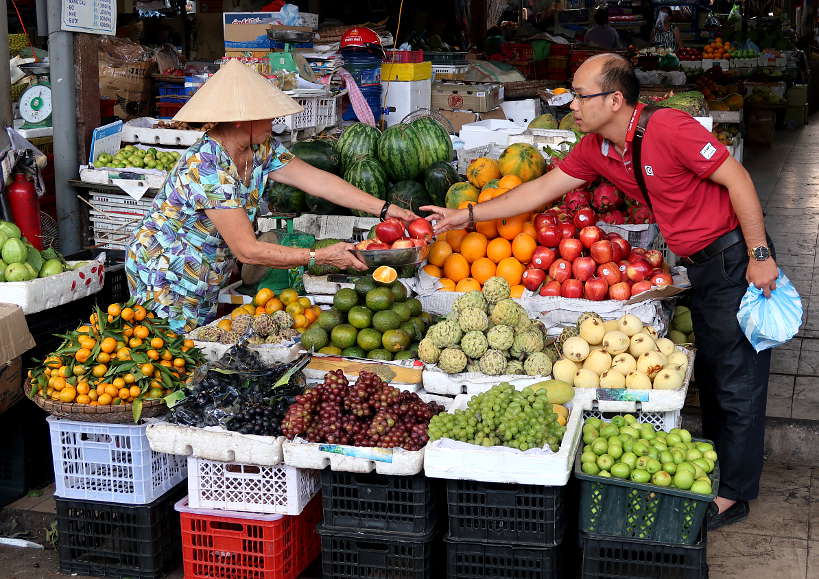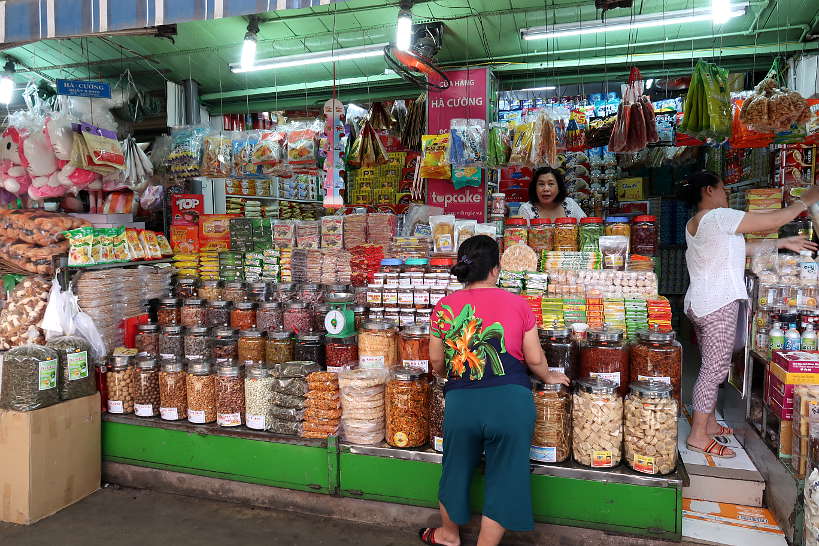 One of the most fascinating sections of the market that opened later in the afternoon was the apparel section.
In the blink of an eye, local vendors suddenly filled the aisle of one of the entrances and unpacked bags of clothes and shoes for sale.
Even though most of the items were second hand, they were clean, in good condition with many featuring huge popular logos.
Watching intense negotiations in Vietnamese between vendors and shoppers was truly mesmerizing.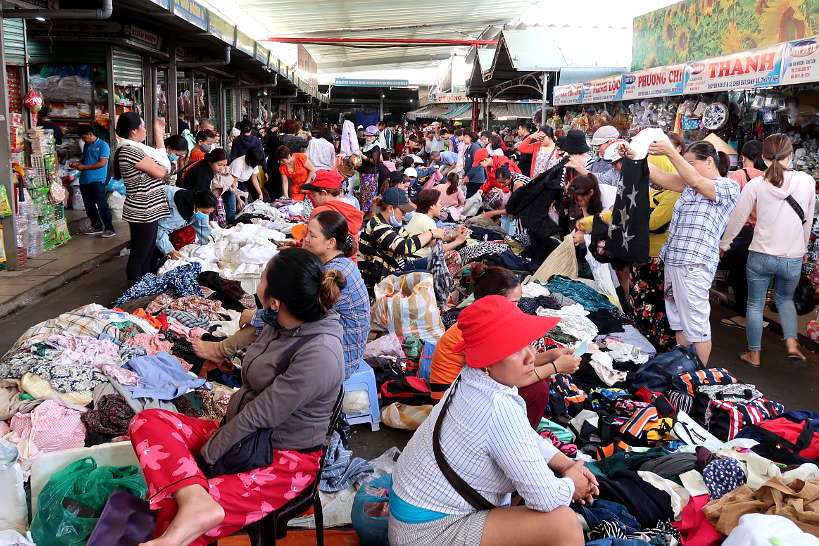 A Da Nang Food Tour at Con Market
One of the most enjoyable aspects of the Da Nang food tour at Con market was the ability to sample unique regional specialties in one setting.
1st stop – Local Hue Specialties at Banh Cuon Nong
Our first stop on the Da Nang tour was to sample food from the Imperial City of Hue. Hue located about 100 kilometers from Danang was the former Royal Capital and is home to several distinctive Vietnamese dishes.
Pulling up to the food stall, we were impressed at the selection of steamed and fried flour-based meals with savory fillings.
We tried, Banh Beo Uot Thap Cam, a local specialty which was quite flavorful. Sitting in fish sauce, were little cakes with a tapioca-like consistency, served with fermented Vietnamese pork and garnished with Vietnamese herbs.
While the flavors were surprising, we were not huge fans of the pork sausage.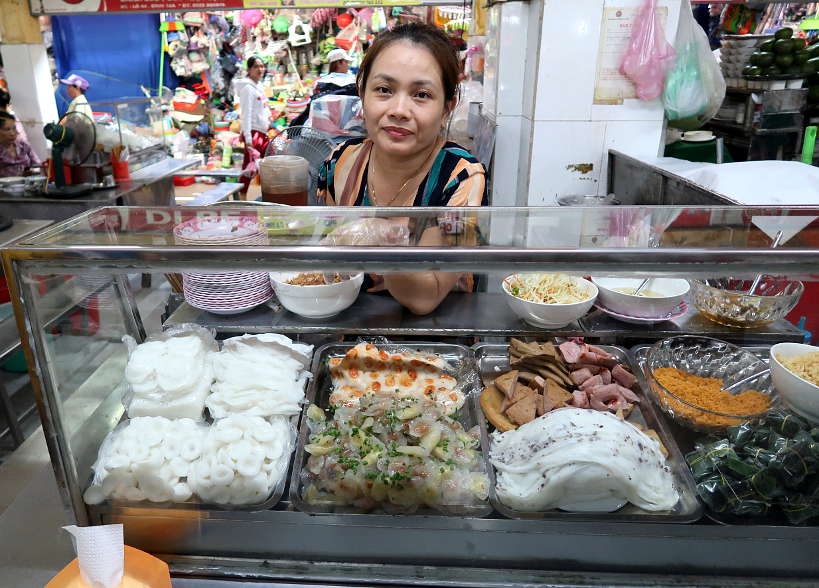 Watch Below The Da Nang Food Tour at Con Market

2nd stop – Tasting Da Nang Noodles and Vietnamese Sizzling Pancakes
Sampling Mi Quang Noodles
Located across from the first vendor, we made our way to the Be Van food stall to sample two local favorites.
We were glad we had not eaten much before this Da Nang food tour as it was already promising to be a lot of food.
We started out with Da Nang's famous Mi Quang noodle dish.
The name refers to where the noodles come from, which is the Quang Nam Province, of which Da Nang was a part of.
Our bowl of noodles was accompanied with pork, shrimp, quail eggs, peanuts, turmeric in a light broth.
Prior to the Da Nang food tour, we had enjoyed Mi Quang at several local eateries. And like the previous Mi Quang dishes, the version at Con market was tasty.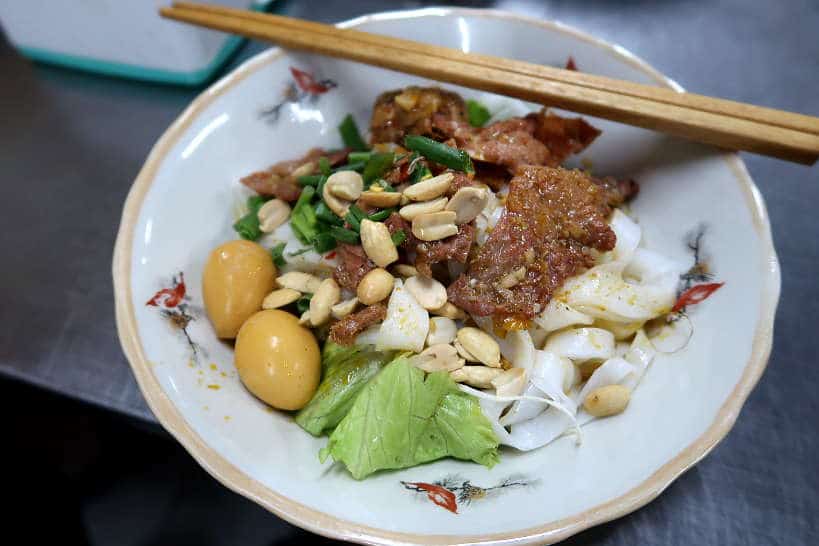 Sampling Banh Xeo
Bánh xèo, or Vietnamese sizzling pancakes, is one of our favorite Vietnamese snacks. We were excited to have it at Con market and learn more about it from our guides.
This crispy pancake was stuffed with shrimp, pork and bean sprouts and eaten with an intensely flavorful fish sauce.
As we savored the flavors, we got to know our guides a little better. Both are 3rd-year university students, one an Economics major and the other a Technology & Sciences major.
Both have a strong interest in tourism and specifically sharing local and unique experiences with visitors to Central Vietnam.
In our discussion, we learned that banh xeo is made from the same rice flour as the mi quang noodles.
Bo Kho Lat at Con Market – Beef Jerky Vietnamese Style
After our first two food stops at Cho market, we walked around the market to digest as well as explore further.
Walking through the different alleys, we were struck by one particular section, filled with several vendors selling dried meats.
Sitting in huge bins were various red, orange and brown colored dried meats alongside other dried products.
One of the benefits of exploring a market with a local guide is the ability to ask questions, particularly when you don't speak the same language as the vendor.
With the help of our guides, we sampled the dried or dehydrated beef which we found to be similar to beef jerky.
The different colors we learned indicate the level of flavor and level of spice.
We tried several and enjoyed the chili spicy flavors over the sweeter and candied versions. The beef used is high quality and reflected in the price per kilo.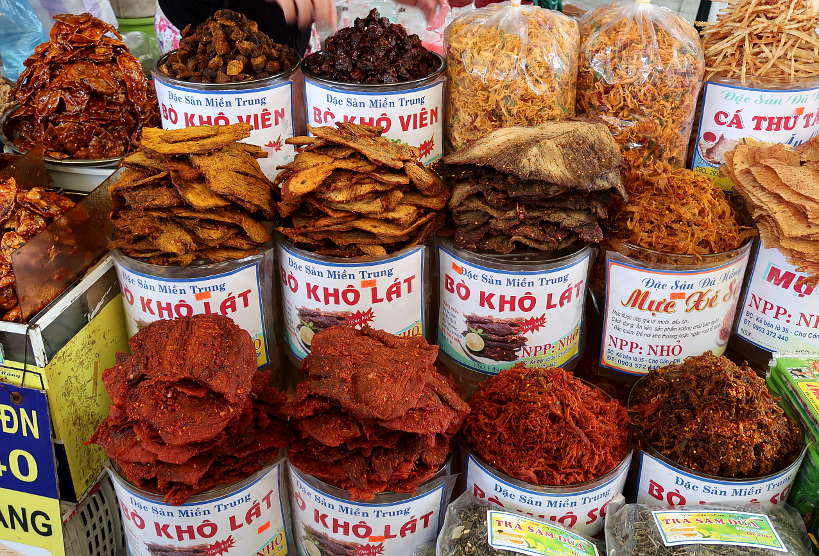 3rd stop – Da Nang Pork Rolls and "Hit" Cake
At the Co Hue food stall, we sampled two local specialties. Da Nang pork rolls or Banh Cuon Thit Heo and Banh Trang Dap Dap, referred to as "hit cake."
These two specialties are from the Quang Nang Province, of which Danang and Hoi An were once part of.
The "hit cake" or Banh Trang Dap Dap in Vietnamese, is a fun snack to enjoy. It is made of layers of circular rice crackers served with a fish sauce and fried shallots on top.
What makes this dish unique is how it eaten. Banh Trang means rice cracker and Dap means hit or crush. You crush the rice crackers up with an open palm and then dip the pieces into the sauce to enjoy.
The pork rolls was one of Rosemary's favorite Vietnamese dishes on the Da Nang food tour. Though the special anchovy fish sauce is an acquired taste as the flavors and smells are pungent.
To eat the dish you roll the pork in rice paper, add some vegetables and herbs and then dip it into the fish sauce.
The interactive nature of this dish where you customize the taste of each pork roll as you choose how much vegetables or fish sauce to use, makes it a fun meal to have.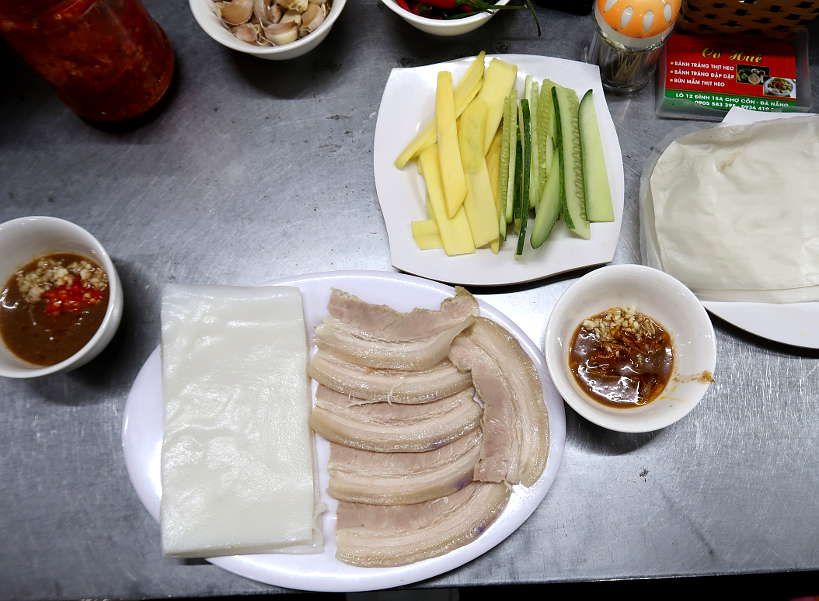 4th Stop – Kem – Traditional Vietnamese ice cream
We love Vietnamese desserts and have enjoyed their unique flavors throughout the country. One dessert we had not had before was the traditional Vietnamese ice cream or Kem at our fourth stop.
At this point on the Da Nang tour, we were stuffed, though we eagerly made room for a local sweet treat.
At the stand "Kem 132", one of the most popular for the best desserts, we had an avocado and coconut ice cream treat.
Made fresh in front of us, the vendor cut whole pieces of avocado and mixed them with coconut ice cream and shaved ice.
Rich and flavorful, this was a perfect end to the food portion of the Da Nang food tour.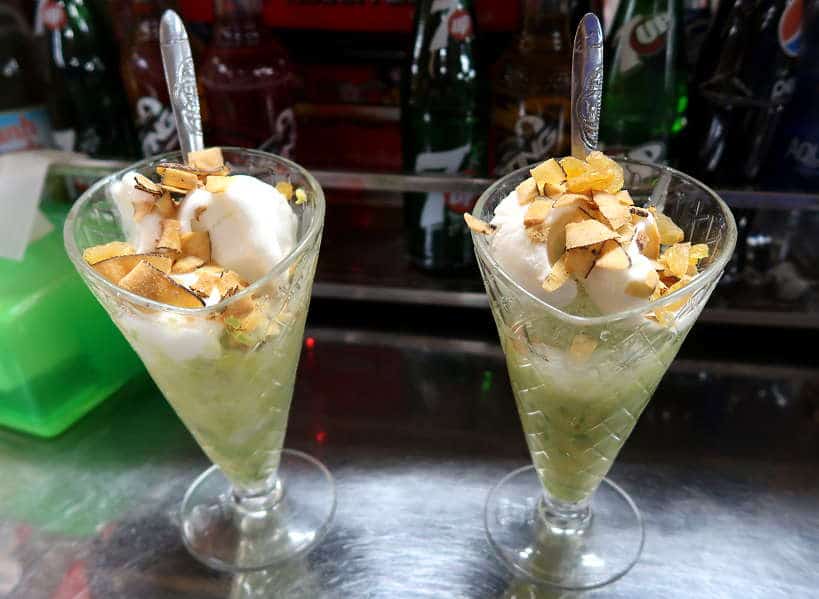 5th Stop – Ending on Vietnamese coffee
Vietnam is one of the largest producers of coffee. It was fitting that our Da Nang food tour ended with a cup of Vietnamese coffee.
At a local Vietnamese coffee shop just outside Con Market, we sat down to enjoy a glass of iced coffee.
Known locally as Cà Phê Sữa Đá, this was a glass of iced drip Vietnamese coffee with sweetened condensed milk.
As Claire is a non-coffee drinker, I got to enjoy the coffee by myself.
With Vietnamese coffee being particularly strong and dark, the condensed milk offers a great counterbalance to the sharp caffeine taste. On that hot afternoon, the iced coffee was refreshing.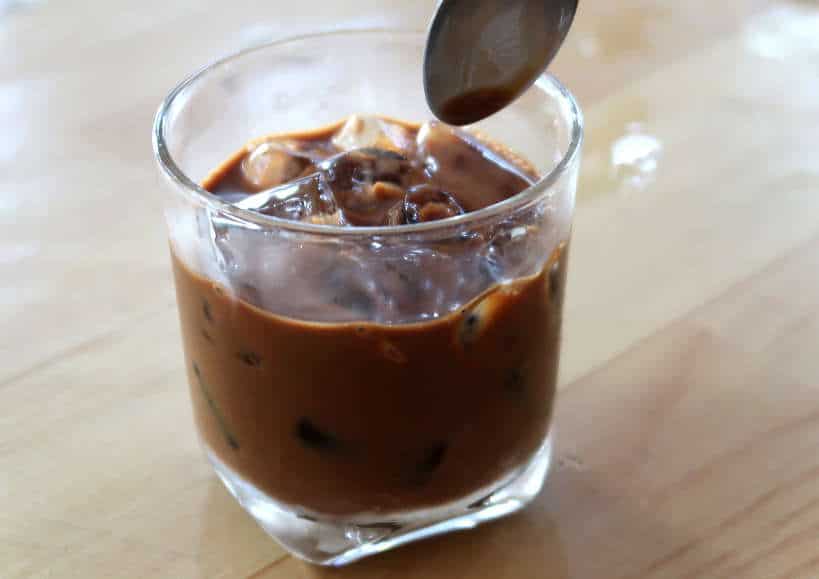 In Summary
Taking a Da Nang food tour at Con Market is one of the best ways to discover the regional specialties of Central Vietnam in one setting.
Going to Con Market is a very authentic experience that takes you into the heart of the local community.
With insights from local guides, you get much more out of the Da Nang tour and a deeper understanding of the local food culture.
After five unique food stops and sampling over ten regional specialties, we were delighted.
The introduction to the local specialties at Con Market will help prepare you as you make your food choices on your travels in the region.
The one piece of advice we would offer is to go hungry. The food is plentiful and with all the food stands close to each other, you want to give your stomach room to taste it all.
This Da Nang food tour is not only an enriching experience, but it is also a way to give back to the local community with Backstreet Academy.
About BackStreet Academy
Backstreet Academy is an impact travel platform which brings people to the hearts of local communities. It is designed to create social impact while helping local artisans earn additional income and keep their customs alive.
Book a Da Nang Tour directly by clicking this link Da Nang Food Tour
Times Available: 8:00 am and 5:00 pm, the most active times at the market
Length of Tour: 3 – 4 hours
Cost: $29.00 per person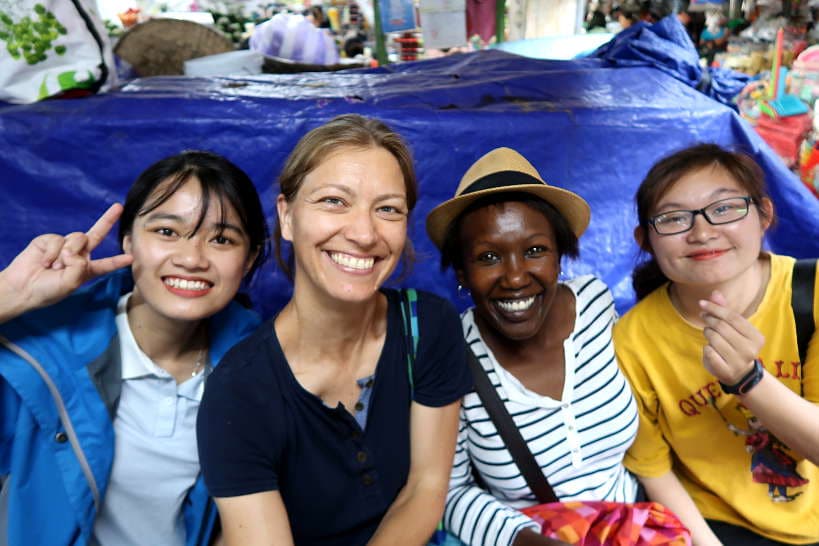 Special thanks to BackStreet Academy for having us on this tour. All views and opinions expressed are our own. Full bellies and happy taste buds too.
Looking For More Local Food & Travel Information
Love it? Pin it!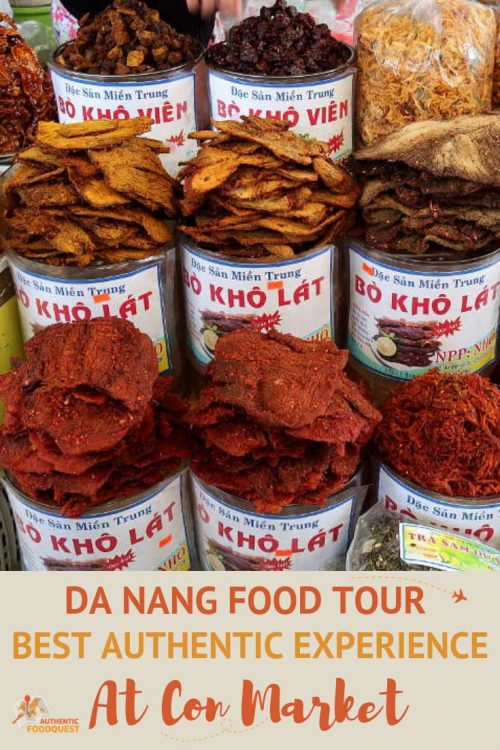 Curious by nature, Rosemary loves exploring new flavors and connecting with locals. She shares her insights and culinary finds from her travels to inspire people to connect local through food.