There are many great reasons to visit Singapore, also known as the "Lion City." From the UNESCO World Heritage Botanic Gardens, the futuristic Gardens by the Bay or the breathtaking views from the world's longest infinity pool at Marina Bay Sands.
While the reasons are endless, the single greatest reason is the food. Eating is the national pastime, so much so that the main greeting in the country is "Makan" or "have you eaten?".
Whatever your reason for visiting the Lion City, don't miss these five must eat dishes in Singapore and where to find them.

#1: Eat the World's Cheapest Michelin Starred Meal
In 2016, Hawker Chan Hon Meng was one of two hawker vendors in Singapore to receive the coveted Michelin One Star award.
The legendary dish to have received this acclaimed star is the Hong Kong Style Soya Chicken Rice, which he sells from his well-known food stall in Chinatown.
In an attempt to keep up with the booming demand, Hawker Chan opened a second restaurant just a few months after winning the coveted award.
People line up for hours in front of the restaurant before they get seated. The Hong Kong Soya Chicken Rice is worthy of the wait and accolades. It is light on the wallet and for only about $2.80 USD per meal, this is one Michelin experience worth flying to Singapore for.
At Hawker Chan, the chicken glistens from a distance and the white rice is topped with the famous soya sauce. Accompanying the meal is a red chili and garlic dipping sauce.
Be prepared for an explosion of tastes and textures. Moist and juicy chicken fall apart easily, while the perfectly cooked grains of rice coated with the sweet and salty flavors of the soya sauce, will leave you longing for more.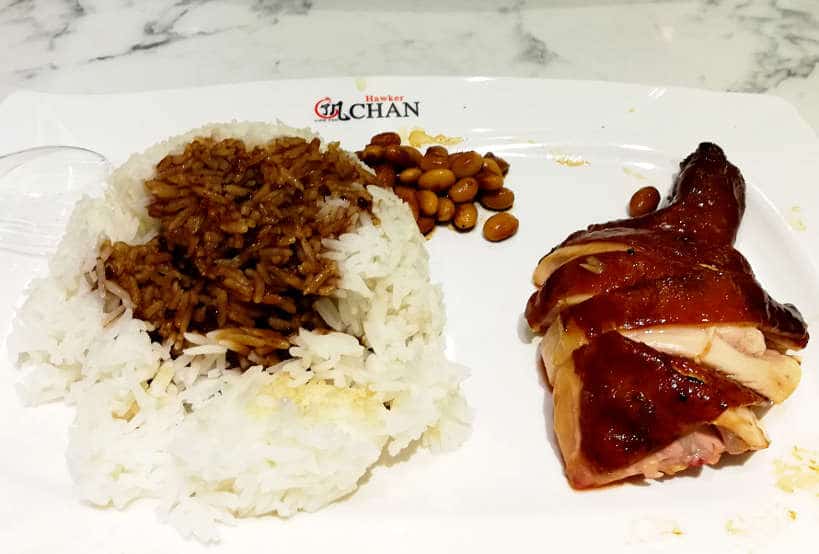 #2: Chili Crab – A Singapore Original
To taste Singapore is to taste Singapore's iconic Chili Crab seafood dish. This dish was ranked #35 as one of the World's 50 Best Foods by a 2011 CNN Travel poll.
While there are many ways to cook up the delicious crab, the two most famous styles are Singapore crab with a spicy tomato chile sauce and Singapore crab cooked with black pepper sauce.
Despite the name, the chili crab is actually not chili or spicy. It is slathered in a thick delicious chili paste and served with fried buns called mantous, perfect for dipping.
The crab cooked in black pepper sauce (claypot crab bee hoon) is extremely flavorful. A delicious aromatic broth filled with meaty crab pieces will take you straight to culinary heaven. Combined with delicate vermicelli noodles, you'll just keep slurping away at this delightful soup.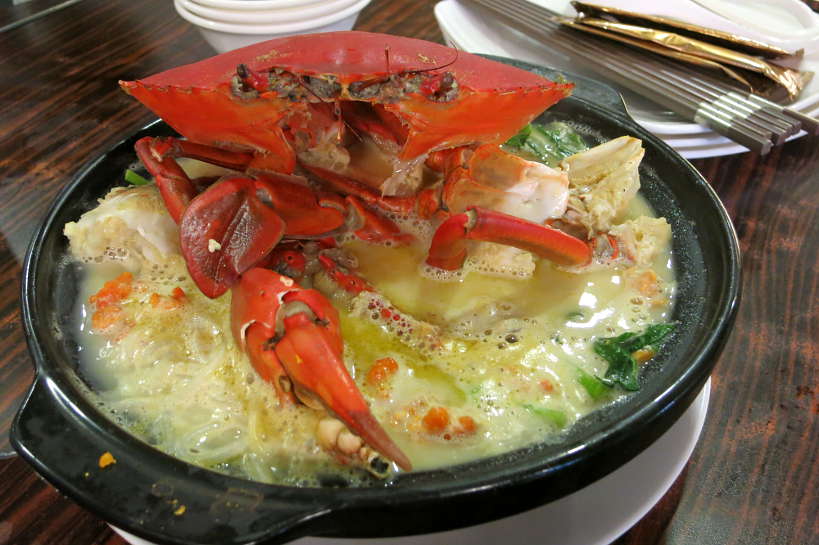 #3:  Hainanese Chicken Rice – The National Dish of Singapore
Hainanese chicken rice is one of Singapore's national dishes. While it may sound plain, it earned 45th place on the World's 50 most delicious foods by CNN Travel in 2011.
Tian Tian food stall in Maxwell Food Center is the most famous food stall for Hainanese chicken rice. It has been popularized by celebrity chefs like Anthony Bourdain, Gordon Ramsay as well as voted by locals as the best chicken rice in Singapore.
Tian Tian's Hainanese chicken rice uses the traditional cooking methods from Chinese immigrants from the province of Hainan in China. The family is of Hainanese descent and they have mastered the technique of cooking perfectly tender poached chicken.
The chicken rice dish is exceptionally fragrant and full of flavor. Thin slices of juicy poached chicken are served alongside fragrant rice.The dish is topped with cilantro and sesame oil and accompanied with a garlic chili secret sauce. The rice is cooked with ginger and pandan leaves giving it a unique fragrance.
When you bite into the depth of flavors of this dish, you taste immediately what makes it a local and international favorite.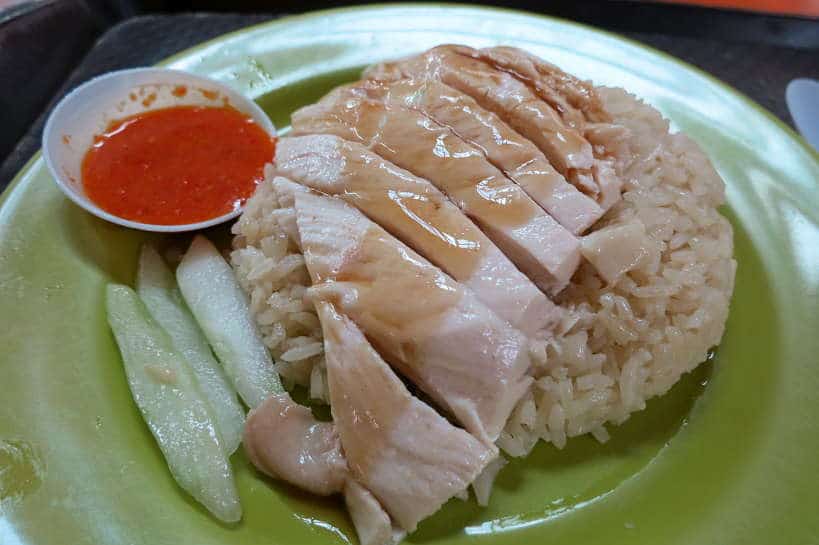 #4:  Murtabak – Stuffed Folded Omelette Roti
One of Singapore's most beloved local foods is the Muslim-Indian dish known as Murtabak.
A murtabak is a stuffed folded omelet-like roti (Indian flatbread) filled with meat, onion, and spices.
Zam Zam, an Indian-Muslim restaurant, is known locally and internationally as the best place for murtabak in Singapore. The restaurant has been making murtabak for over 100 years and is still going strong.
Chicken is one of the most popular stuffings. Picture layers of crispy buttery naan pastry, bursting on the inside with chunks of succulent chicken, folds of egg and sweet onions, and spices.
While murtabak is flavourful on its own, it reaches a higher level of deliciousness when coated liberally with an accompanying thick chicken curry sauce.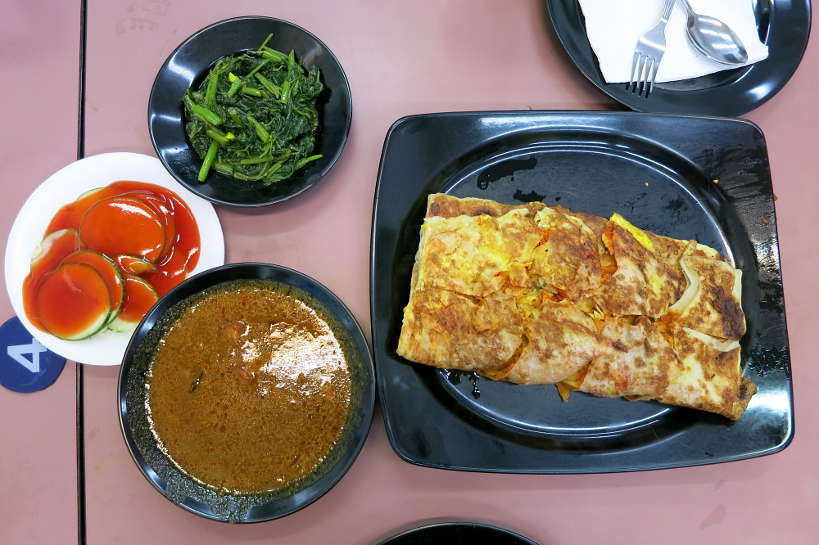 #5: Kaya Toast with Kopi – Singapore's National Breakfast
Toast and coffee might not seem that exciting as a breakfast dish. But in Singapore, it is a treasure.
Kaya toast is toasted bread with butter and Kaya, a jam made from eggs, sugar, coconut milk and pandan leaves. The combination of salty butter, the sweet flavors of Kaya jam and the mouthfeel of the slightly toasted bread is irresistible.
The breakfast dish is elevated when paired with soft boiled eggs and a steaming cup of coffee. Kopi, the signature coffee drink comes with sugar, sweetened condensed milk and evaporated milk.
Eating Kaya toast extends beyond breakfast. It is a popular snack found at every corner and available at every hour. Ya Kun Kaya Toast, one of the most accessible places to have Kaya Toast has over 40 locations scattered throughout the island. If you want to experience the original location, head over to the branch at Far East Square.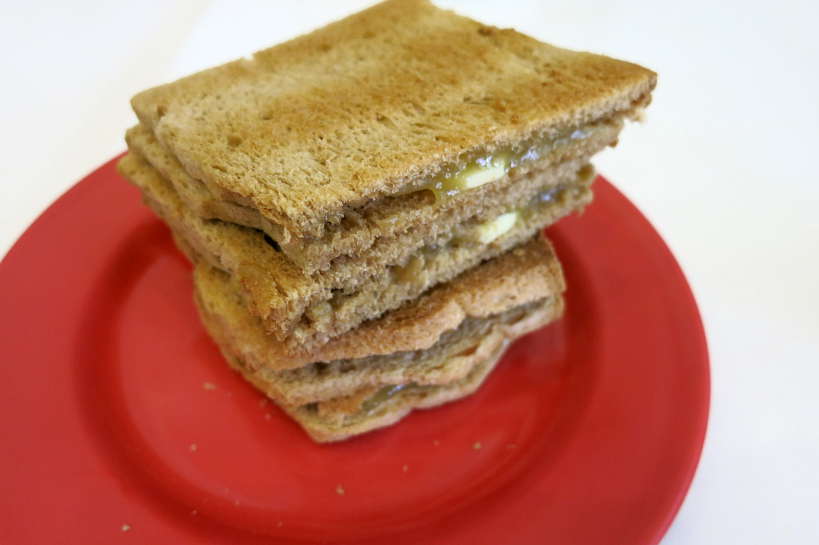 Disclosure: Please note that some of the links below are Agoda affiliate links. If you book your stay through our link, we will get a small commission at no cost to you. Thank you in advance for your support in helping us continue our quest for authentic food!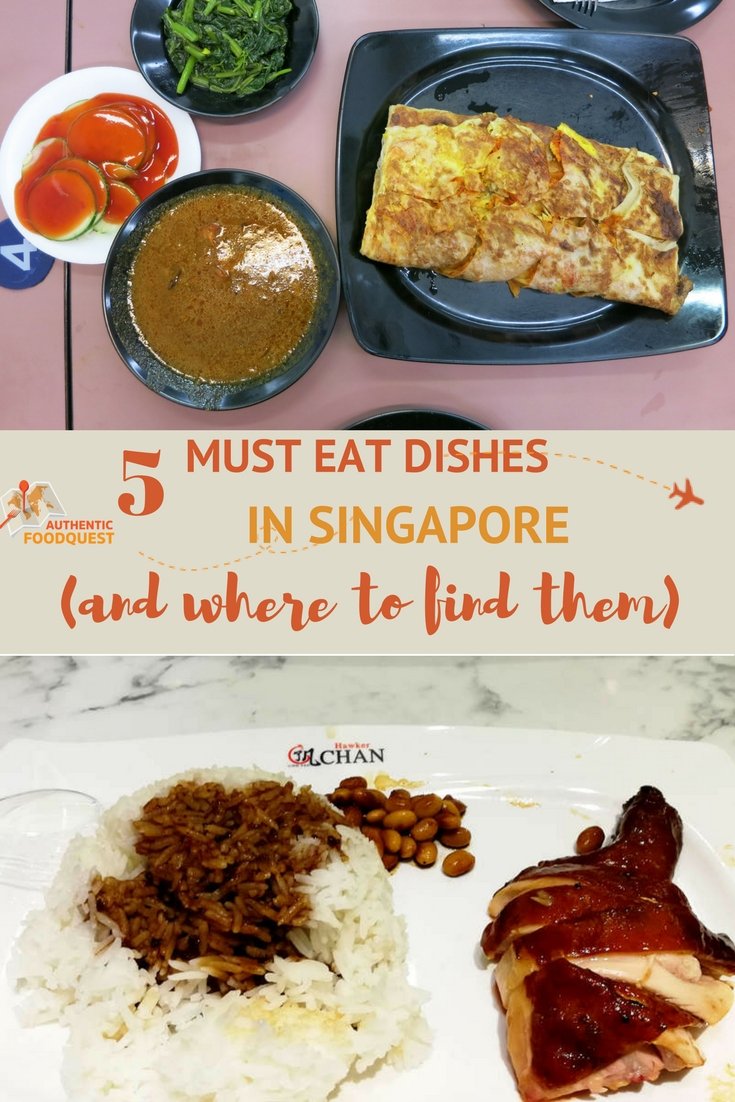 Rosemary, ex-marketing and advertising strategist, is a digital nomad and content creator at Authentic Food Quest. Since 2015, with her partner, Claire, they travel the world in search of the best local food experiences. Their mission is to help you enjoy the best local specialties on your travels or via recipes in your home kitchen. Favorite country for food: Peru. Favorite local dish: Bacalhau. Favorite way to keep fit: Running. Rosemary is the chief content writer and strategist on Authentic Food Quest. She is also co-author of Authentic Food Quest Argentina and Authentic Food Quest Peru, available on Amazon.