This article has links to products and services we recommend, which we may make a commission from.
What is Khao Soi
Khao Soi, is the most famous noodle dish in Chiang Mai, northern Thailand. It is an absolutely delicious rich and creamy coconut curry noodle soup.
The dish is made using two types of noodles. Soft, flat noodles served with the curry soup and fried crispy noodles as toppings.
Khao Soi is most traditionally made with chicken, though you'll find beef or pork varieties.
Traditionally, the condiments that accompany Khao Soi are pickled cabbage, raw shallots, and a wedge of fresh lime juice.
In Thailand, Khao Soi is typically eaten with chopsticks and a large spoon. You'll find the dish in Thai restaurants across the country and it is commonly available in Chiang Mai.
READ MORE: 15 of the Best Authentic Chiang Mai Food and Where to Eat It
History of Khao Soi
Although the origins of Khao Soi are unclear, it is believed to have come from the south of China, with Chinese Yunnanese Muslims.
These traders were believed to have been in the spice trade in northern Thailand, which at the time was part of the Lanna Empire.
The Lanna Empire extended across northern Thailand and parts of present-day Myanmar and Laos.
As a result, khao soi coconut curry noodle soup is a combination of multiple cultural influences.
In northern Thailand, khao soi is one of the most popular soups, though you'll find it across the country, and also internationally.
Chicken Khao Soi was our favorite noodle dish in Chiang Mai and we enjoyed it at every opportunity we had.
READ MORE: Best Khao Soi in Chiang Mai: 11+ Best Places To Eat Authentic Chiang Mai Noodles
Discovering Khao Soi in Chiang Mai
While in Chiang Mai in northern Thailand, exploring the local food specialties. We fell in love with Khao Soi, which is considered the emblematic dish of Chiang Mai.
After eating khao soi at several different local eateries throughout the city, we decided to take a cooking class to learn how to make it.
In a lively Chiang Mai cooking class, we had fun chopping, slicing, and preparing khao soi from scratch.
The secret to a good khao soi we learned, is the curry paste. And the idea is to adjust it to suit your tastes.
Once you're set with the curry paste, preparing the khao soi with the ingredients is pretty simple.
READ MORE: 6 of The Best Chiang Mai Cooking Classes For Thai Cuisine
Khao Soi Recipe Tips
How To Make Crispy Noodles
This easy khao soi recipe is made using two types of cooked noodles. You need fresh egg noodles for the curry noodle soup and crispy noodles for the topping.
To make crispy noodles at home, simply heat oil in a deep frying pan and cook the noodles until they turn golden brown and are crispy.
Transfer the cooked noodles onto a paper towel, so that the oil drains.
An even easier alternative is to buy wonton strips from Amazon and have them delivered to your home.
Khao Soi Thai Seasoning as a Substitute
For this khao soi Chiang Mai recipe, we make a simple and authentic curry paste. Using a mortar and pestle, we crush a few chilis, ginger, and spices to make a homemade curry paste.
Using a mortar and pestle works faster than a knife to crush, pound garlic and smash ginger or chiles into a paste.
It's more manual than using a food processor, but you have complete control over the consistency.
If you don't want to crush your ingredients to make a khao soi paste, you can order a Khao Soi seasoning pack and have it delivered to your home.
READ MORE: Chiang Mai Food Tour: The Best Foodie Experience You Want To Take
Khao Soi Step by Step Instructions
Make Khao Soi Paste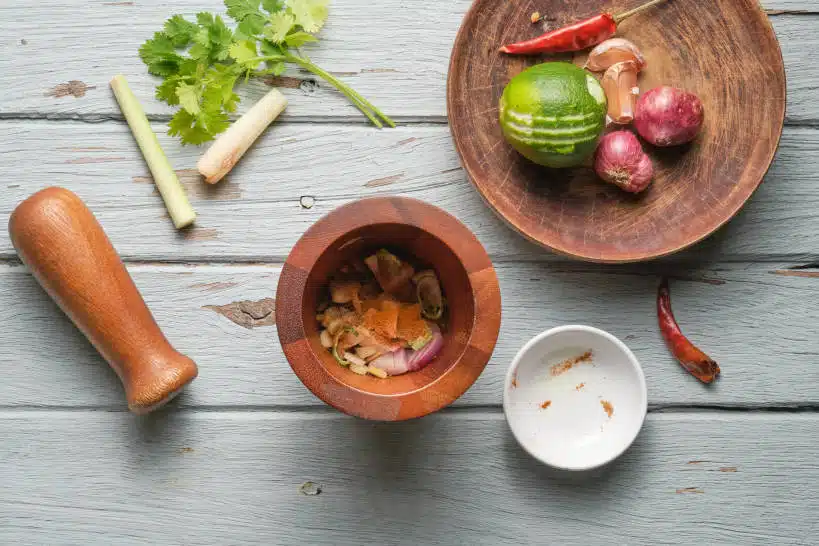 Start by assembling all your ingredients for the curry paste together. Place the correct amount into the mortar and mix well with the pestle.
Feel free to add a little oil to make a smooth paste. You can also taste the paste as you grind it and adjust the ingredients to suit your own curry paste taste.
Assemble Khao Soi Chicken Curry Soup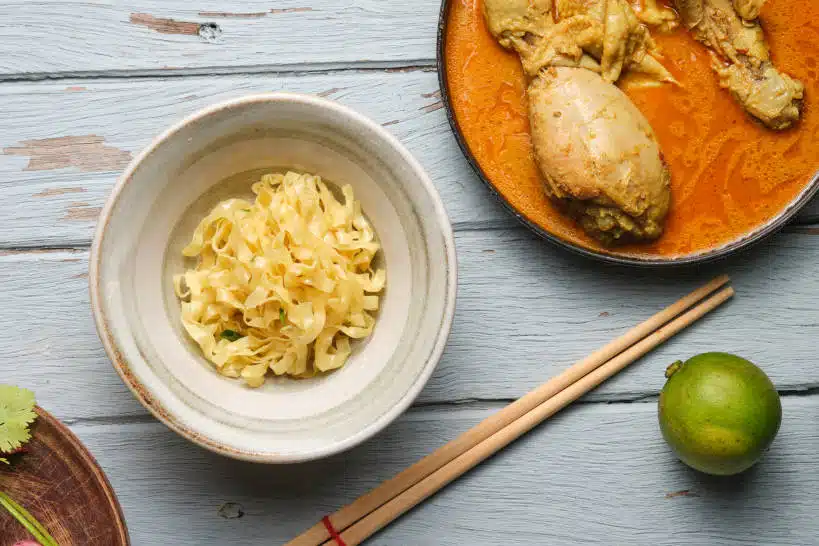 Place cooked egg noodles in a bowl. Add chicken thigh, noodle soup, crispy wontons and garnish noodle soup with sides
RELATED: Lao Papaya Salad Recipe: How To Make The Famous Laotian Salad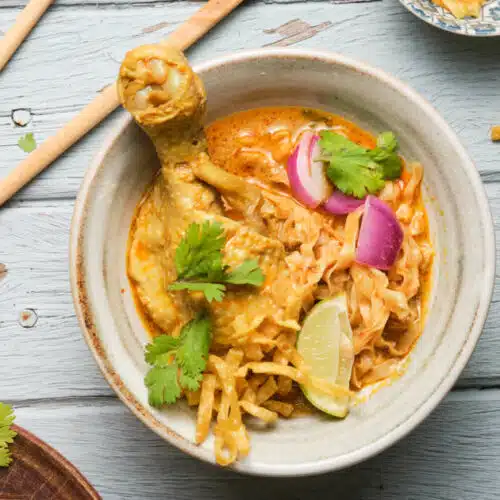 Khao Soi Recipe
This amazing Khao Soi recipe is for the most famous noodle dish in Chiang Mai, northern Thailand. Easy to make, this fragrant coconut curry broth with chicken is to die for!
Print
Pin
Rate
Ingredients
For the curry paste
½

tsp

coriander

grounded

zest of lime

lemongrass

½

tsp

dried turmeric

2

shallots

small, chopped

2

cloves

garlic

chopped

½

tbsp

ginger

fresh, chopped

1

tsp

 yellow curry powder
For the toppings
Crispy shallots

Red onions

slices

Cilantro

Lime wedges

Chili Oil

wonton wrappers or fried egg noodles
Instructions
For the noodles
Start by making the fried noodles first.

Heat some vegetable oil in a pot and lightly fry the fresh noodles, stirring occasionally until browned and crispy.

Drain the crispy fried egg noodles onto a paper towel and set aside.
For the curry paste
To make the curry paste add the dried chilies, lemongrass, ginger, shallots, turmeric, ground coriander, curry powder, and lime zest in a mortar and make a paste.

You can add some oil to make it more smooth.
For Khao Soi soup
For the khao soi curry noodle soup add ⅓ of the coconut milk to a pot and bring to a boil.

Add the curry paste and stir to mix until combined.

Reduce the mixture until thick and let it darken for about 5 minutes.

Add the chicken legs, chicken stock, and the rest of the coconut milk.

Bring the mixture to a boil, then simmer slowly for about 30 minutes until the chicken is cooked.

Season the soup with fish sauce, brown sugar, and lime juice.
Assemble the dish
To serve the khao soi, divide the cooked egg noodles into bowls, then pour the curry noodle soup over the noodles.

Garnish with the crispy noodles, red onions, and chopped cilantro or coriander leaves.
Notes
Feel free to adjust the taste of the curry soup to your liking by adding more or less lime juice, fish sauce, or curry paste.
Nutrition
Serving:
1
|
Calories:
739
kcal
|
Carbohydrates:
23
g
|
Protein:
32
g
|
Fat:
60
g
|
Saturated Fat:
39
g
|
Polyunsaturated Fat:
5
g
|
Monounsaturated Fat:
12
g
|
Trans Fat:
0.1
g
|
Cholesterol:
127
mg
|
Sodium:
1185
mg
|
Potassium:
1056
mg
|
Fiber:
2
g
|
Sugar:
8
g
|
Vitamin A:
139
IU
|
Vitamin C:
7
mg
|
Calcium:
79
mg
|
Iron:
8
mg
Rosemary is the editor-in-chief and strategist at Authentic Food Quest.
Traveling slow since 2015 with her partner, Claire, she has explored the cuisine in 45 countries and more than 240+ culinary cities.
Her writing about local food specialties has been featured in Lonely Planet, Business Insider, Honest Cooking, Food Insider, and Huffington Post.
As a food and travel writer, Rosemary has co-authored three books, including one in collaboration with Costa Brava Tourism.
Rosemary is an avid runner when she's not eating and exploring new destinations. She has run ten marathons and counting.
Before Authentic Food Quest, Rosemary held senior-level strategy positions in advertising. 
Find out more about Authentic Food Quest