Connecting with locals is one of the joys of traveling. On our quest to find the best local and authentic food around the world, we always seek to connect with locals.
We typically take food tours, cooking classes, visit the local markets and meet with local food experts.
On a recent visit to Mexico City, we did something entirely different. We had an unforgettable culinary experience with Eatwith Mexico City.
At Alejandra's home in the swanky Polanco neighborhood, we shared a wonderful meal with strangers.
Over traditional Mexican dishes with a modern twist, we enjoyed making new friends while eating at a local's home. This immersive experience was fueled by food, turned strangers into friends.
Join us for a fascinating view on how you can eat with locals in Mexico City.

Eatwith Mexico City
We were in Mexico City for the Christmas and New Year holiday season and wanted a holiday experience with locals.
Earlier, while exploring authentic food in Peru, we had enjoyed a wonderful Andean Christmas in Cusco with a Peruvian family.
Seeking to do the same and discover local Mexican holiday traditions, we connected with Eatwith for a holiday dining experience in Mexico City.
For those not familiar, Eatwith is the world's largest community for dining experiences with locals.
The platform offers experiences in more than 130 countries where you can enjoy amazing authentic dinners with locals in their private homes.
A few days before New Year's Eve, we contacted Alejandra, our local Mexican host for dinner on December 30th.
We were excited, though a little nervous about what to expect and who the other guests would be.
As soon as we received the booking confirmation from the easy to navigate Eatwith website, we were all set for a 7:00 pm dining experience with locals.
Eatwith, the world's biggest community for authentic dining experiences with locals offers unique experiences around the world. The simple to use platform allows you to select your date, city and easily book your experience. If your travels take you to Mexico, book an Eatwith Mexico City experience at Alejandra's home.
Meeting Alejandra and Eatwith Guests
On our way to Alejandra's home for dinner, we stopped to pick up a bottle of Mexican wine. While bringing a gift is not required, we thought it would be polite and an opportunity to learn more about Mexican wines.
Dinner was in Polanco, one of Mexico City's most upper-class neighborhoods. Just a few days earlier, we had enjoyed discovering the fascinating neighborhood on a Polanco food tour.
Alejandra and her mother, Christiana welcomed us warmly. Joining us for dinner that evening was Courtney, from New Zealand and Nick, and Christa, from Ireland.
With chill out relaxing music playing in the background and candles in the fireplace, we comfortably settled in.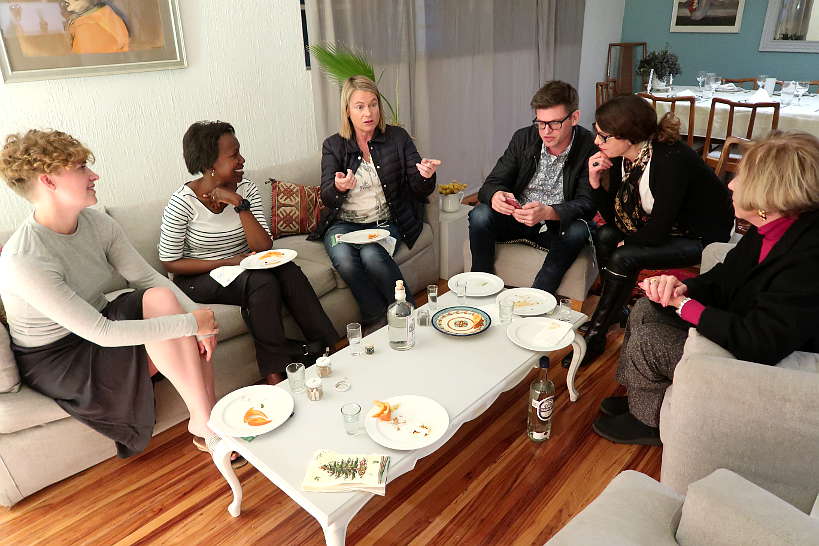 Breaking the Ice Over Mexican Mezcal
While seated in Alejandra's living room with a contemporary Mexican design, we all got to know each other.
To help break the ice, Alejandra served Mezcal, a Mexican agave based liquor.
Like Tequila, Mezcal is made from the agave plant. However, the two spirits are different. They are made from different varieties of agave, produced in different regions and distilled differently.
In a shot glass, we each had Mezcal from Oaxaca, Alejandra's favorite region. We learned the best way to drink it was with a slice of tangerine and salt.
Traditionally, oranges are used, but in December, Alejandra went with tangerines which were in season.
The best way to drink Mezcal we learned, was to put a little salt on the tangerine and then take a small sip. The tangerine keeps the palate clean allowing the Mezcal flavors to shine.
A world traveler, Alejandra has been a Eatwith Mexico City host for about four years. A documentary and advertising producer, she has always been passionate about cooking and loves sharing her home with visitors.
She credits her mother, who is now retired, for teaching her how to cook and fueling her passion.
For Nick and Christa, dinner with Alejandra was their second Eatwith experience. Whereas Courtney, Claire and I were all new to the prospect of dining with locals in their home.
With chill out relaxing music playing in the background and candles in the fireplace, we comfortably settled in.
RELATED: How to Enjoy Mezcal at El Cortijo One of The Oldest Mezcaleria Oaxaca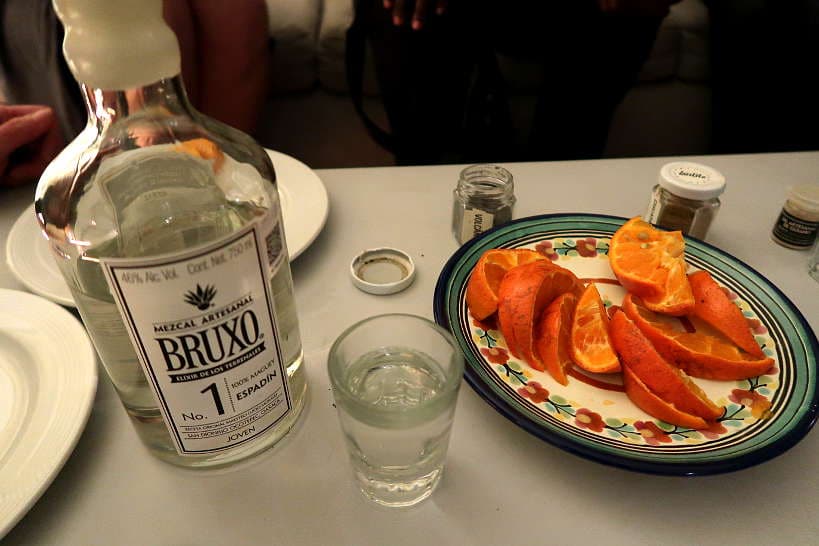 Starting out with Mexican Antojitos or Appetizers
Tostada de Jamaica Con Guacamole
As we shared stories about our backgrounds, travel experiences, holiday traditions and more, Alenjandra brought out Mexican Antojitos to nibble on.
Antojitos in English translate to "little cravings" or "whims". They are described as similar to Spanish tapas because you can have one as a quick bite, or order several to make up a meal.
On beautiful serving platters, Alejandra introduced us to four flavorful antojitos. Everything was prepared with seasonal ingredients and based on what was freshest at the market that day.
One of our favorites was the tostada de jamaica con guacamole.
Layed on a fried tortilla was guacamole, hibiscus flower (jamaica), topped with cilantro. As guacamole fans, we loved the wonderful fusion of fresh flavors.
RELATED: The Best Authentic Mexican Guacamole Recipe (Easy and Creamy)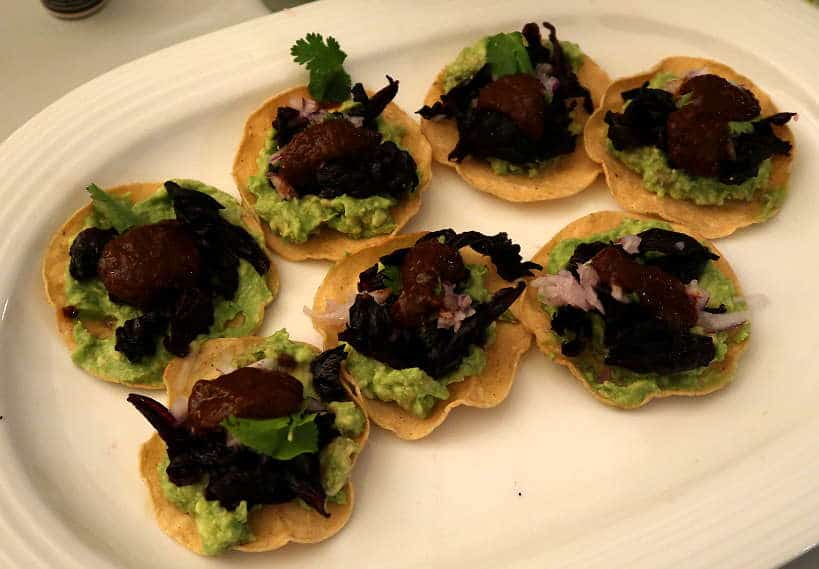 Nopales Tostados Envueltos Con Jamón Serrano
The other small bites were equally tasty and creative. Tostadas topped with a green tomatillo sauce, beans, sliced avocados and cream were delicious.
A serving of tacos stuffed with potatoes and beans cooked with morita chili was a wonderful fusion of flavors. The morita chili, traditional in Mexican cuisine, was not spicy and had distinctive smoky flavors.
An unusual twist on a popular asparagus appetizer was nopales tostados envueltos con jamón serrano. This attractive plate consisted of napoles or prickly pear wrapped in serrano ham.
Nopales are a common vegetable in Mexican cuisine dating back to the Aztecs and Mayans. This healthy vegetable is prepared in many ways from salads, to filling in tortillas or in soups and chilies.
We loved the wonderful combination of the mild nopales taste and the serrano ham.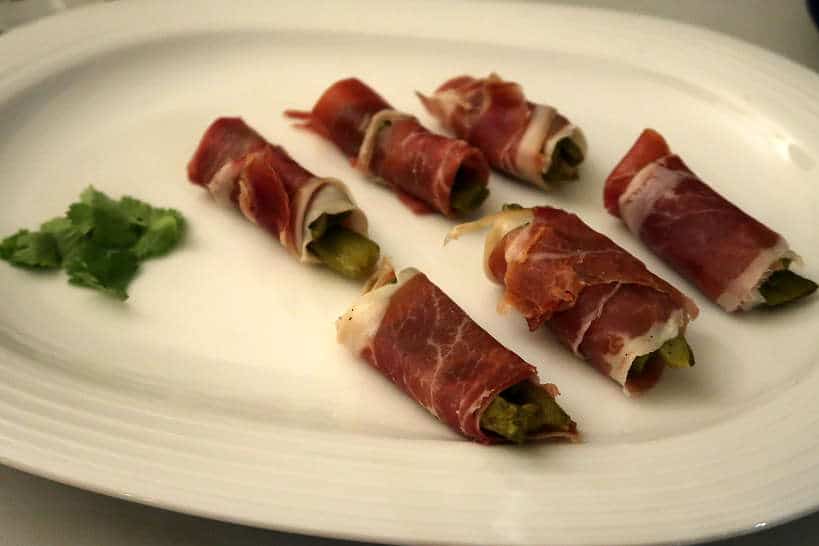 The Main Meal On Our Eatwith Mexico City Experience
Mexican Chayote
At this point, everyone was quite talkative and we had all found common bonds. Alejandra invited us to take our places on the beautifully arranged dining table.
The menu was vegetarian and like the appetizers based on market fresh market produce. To start, we had Mexican squash or chayote cooked with Estragon spices topped with a green pepper.
The inviting flavors immediately captured our taste buds. Chayote, we learned is a native Mexican plant eaten raw in salads, or stuffed and baked.
The exquisite flavors were delightful and a wonderful continuation from the appetizers.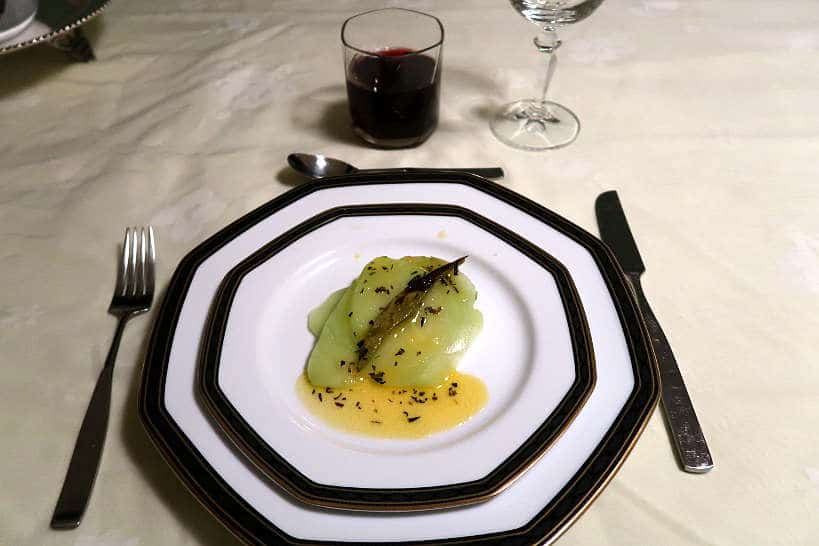 A Medley of Mexican Flavors
To go along with our meal, we had hibiscus water also known as agua de Jamaica. In addition, we shared the bottle of L.A. Cetto Nebbiolo Mexican wine we brought.
More wonderful Mexican traditional dishes made their way out of Alejandra's kitchen.
One of the most intriguing used several local Mexican ingredients. This dish had flor de calabaza or squash flowers. Also, huitlacoche, which is considered to be Mexican truffle. And along with that, sweet corn and a tomato salsa.
The following dish, chili pasilla de queso asadero artesanal was another wonderful combination of flavors centered on Mexican cheeses.
Baked into a pasilla chili were three different kinds of artisanal cheeses. This paired very well with a serving of wild rice.
The dish was neither heavy, nor spicy from the chili. A wonderful mix of fresh flavors savored in the company of fun guests and hosts.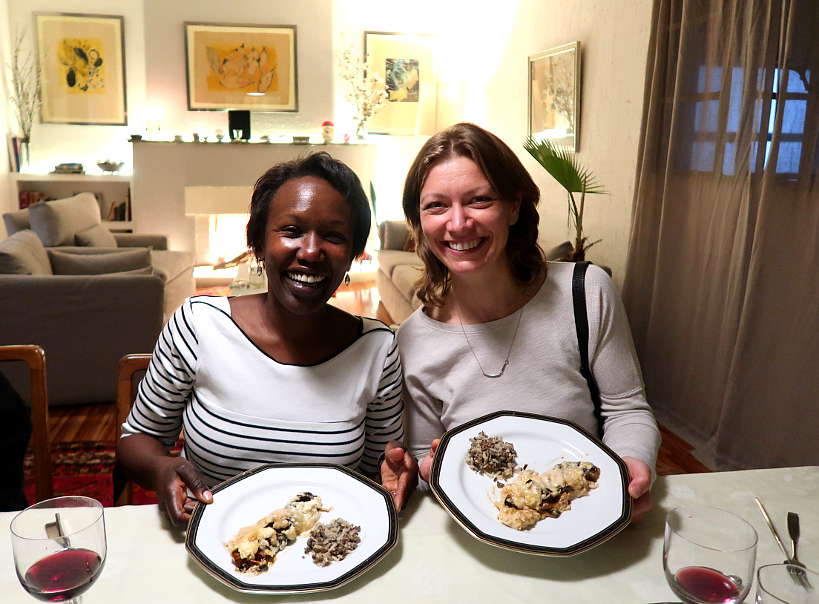 Homemade Dessert
Content, relaxed and feeling quite full, we leisurely finished our meal and took our time before dessert.
The conversation was flowing freely. Alejandra and her mom had created a safe and comfortable space where we could all be at ease.
Dessert was a light mousse de mango homemade treat. Made with seasonal ingredients this is a specialty from Alejandra's mom.
After dinner, we moved back into the living room for more conversation and Mezcal. Several hours into our dinner, we felt like we were with family.
We were extremely touched when Alejandra invited us to spend New Year's Eve with her and her family.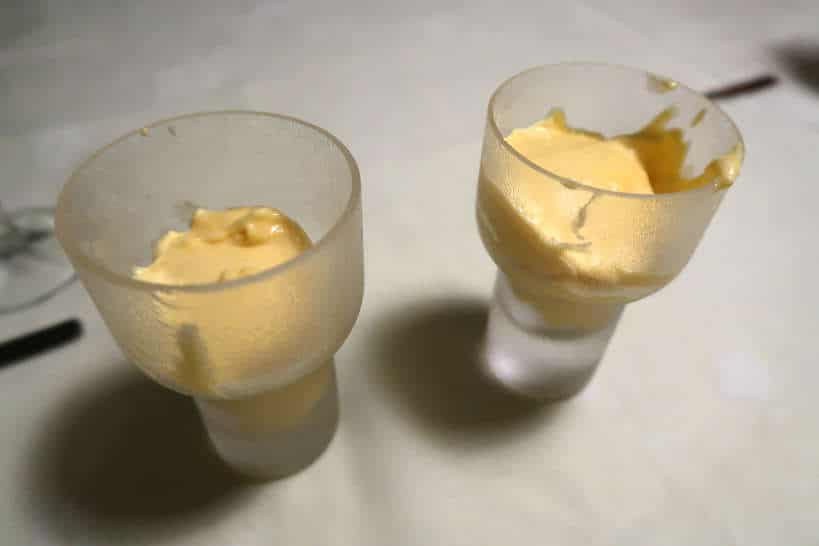 Best Hotels in Polanco Mexico City
Finding a hotel in Mexico City, with its sprawling urban landscape, can be quite overwhelming.
Polanco, with its walkability, safety, and accessibility to the main sites, is a great area to base yourself in Mexico City.
To help you get the most out of your trip, we recommend the following hotels in Polanco Mexico City.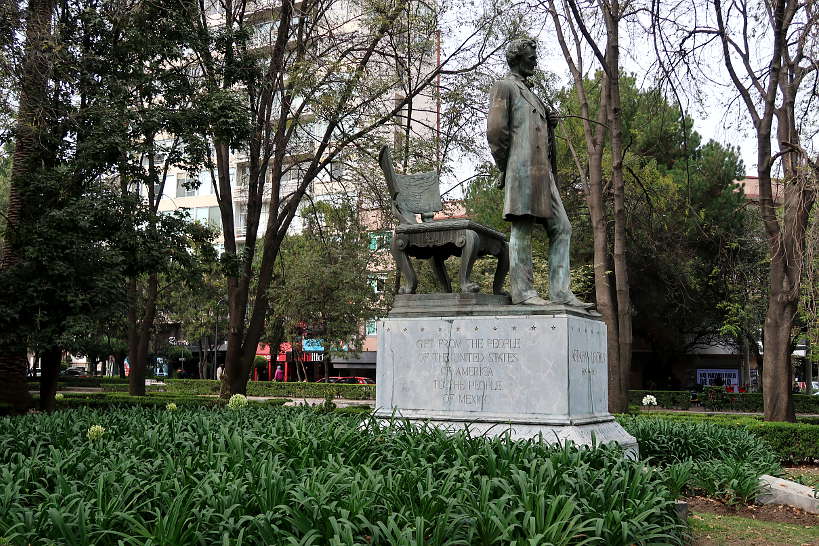 Love it? Pin it!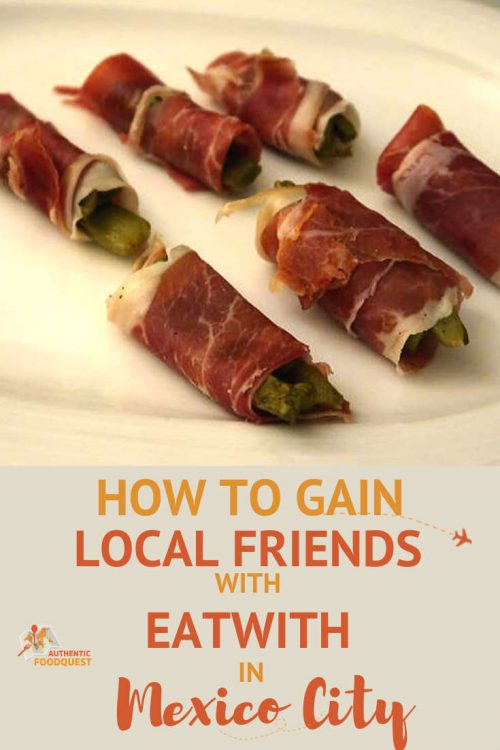 Disclosure: Special thanks to Eatwith Mexico City and our host Alejandra for having us on this social dining experience. All views and opinions expressed are our own. Full bellies and happy taste buds too.
Disclaimer: This page contains affiliate links. That means at no extra charge to you, we earn a small commission when you purchase using these links. Thank you for your support.
Curious by nature, Rosemary loves exploring new flavors and connecting with locals. She shares her insights and culinary finds from her travels to inspire people to connect local through food.