Wandering around the farmers market is one of the best ways to experience authentic food on any trip. We are currently in Santiago, Chile where they are many farmers markets all within walking distance. The beauty of visiting farmers market is that there is always something new to discover particularly in Chile, where fruits and vegetables abound.
In Santiago, there are two main farmers markets. First, the Mercado Central which is a fish market where you can shop for fish or eat at a local seafood restaurant. We talked about our experience at this market in our previous post.
In this post, we want to highlight the second main farmers market in Santiago called La Vega Central and our surprising findings: exotic Chilean fruits.
La Vega Central Market, Santiago Chile
La Vega Central is a huge indoor and outdoor market located on the south side of Recoleta Neighborhood in Santiago. It is open from early morning to late afternoon although some stalls close earlier. La Vega can be bustling, noisy and crowded. Be prepared to venture and discover another world.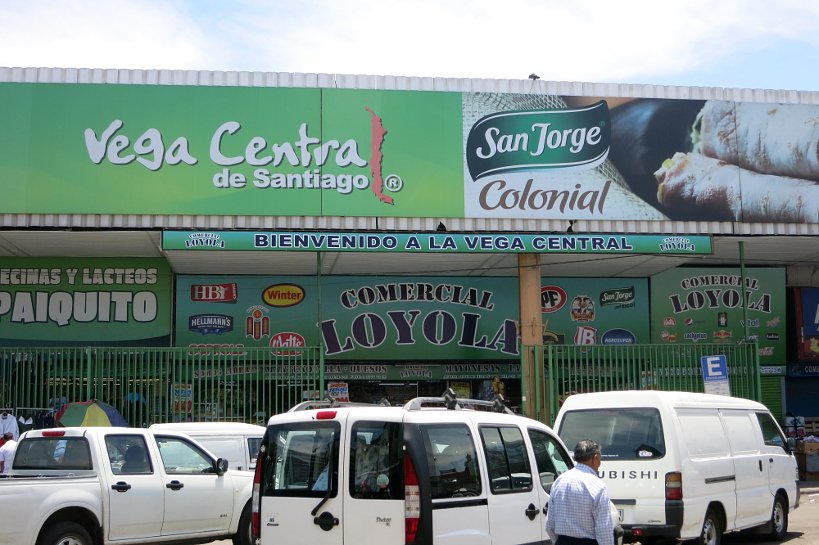 There are thousands of stands where you can find everything related to food. Prices are usually cheaper than the supermarket and you find fresh quality products for half the price.
A lot of the fruits and vegetables are bought in bulk. Though you can find some merchant who are willing to sell you less than a kilo or more of their products. Our most difficult search was actually for a lemon. Lemons are so cheap that they sell it to you by 3 kilos for less than $2. So when we asked for 2 lemons…it was tough to get any vendors excited 🙂
Fortunately we found a small stall who accepted our request for 2 lemons which ended up to be less than 10 cents.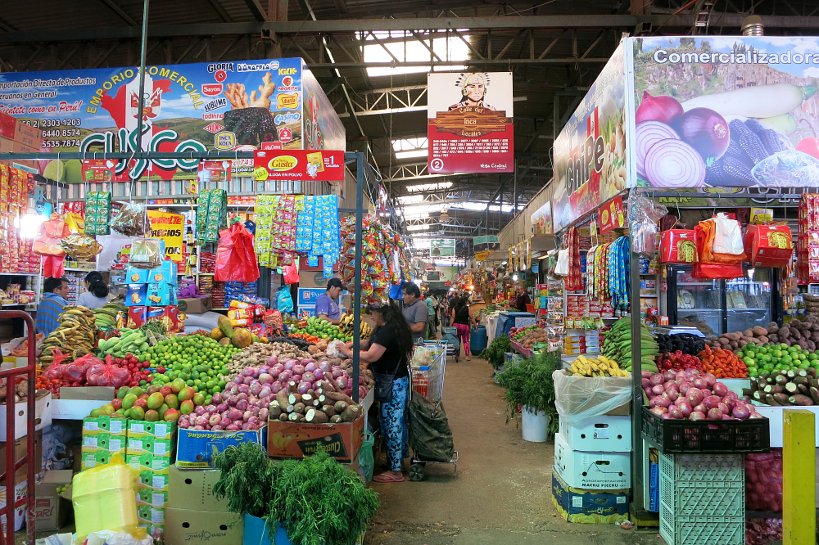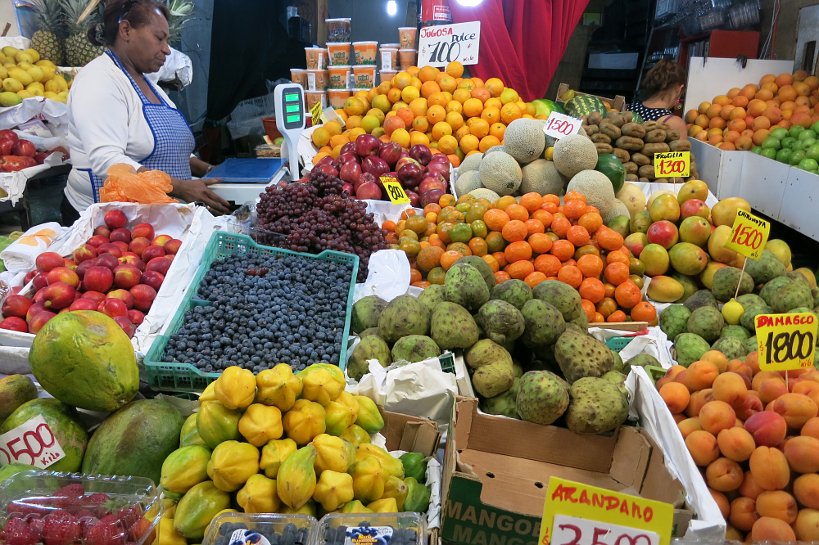 La Vega Chica
The most surprising thing about La Vega Central is that it is surrounded by other markets. To get to La Vega Central, you have to go through Vega Chica or the small Vega. This place is amazing! It is a market mostly for meat. On one side, you will find alleys filled with butchers selling tons of meat from red to white meat as well as giblets.
And on the other side, you will find small restaurants, one after the other, packed with locals ready to grab lunch at mid-day. There you can find local specialties such as Pastel de Choclo, humitas, lomo a la pobre and other chilean delicacies. It is crowded, bustling and it has a mixed smell of cooked food and raw meat…not always the best environment for a sensitive stomach…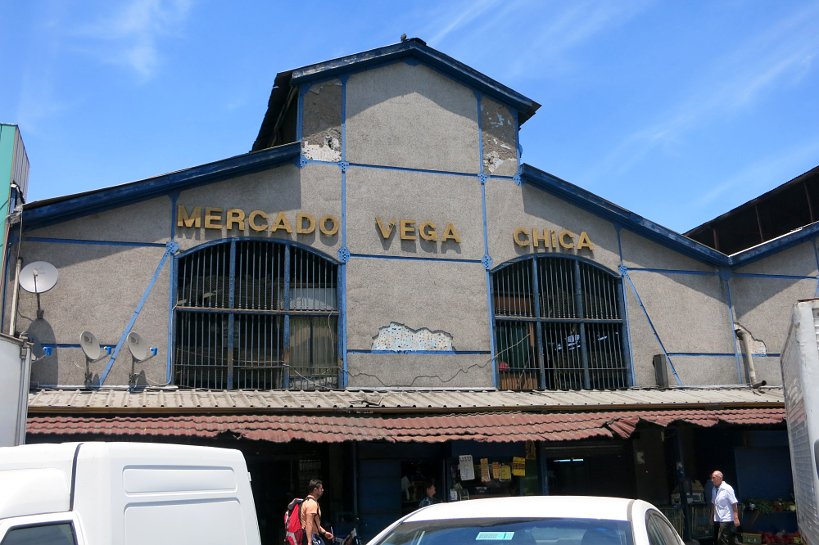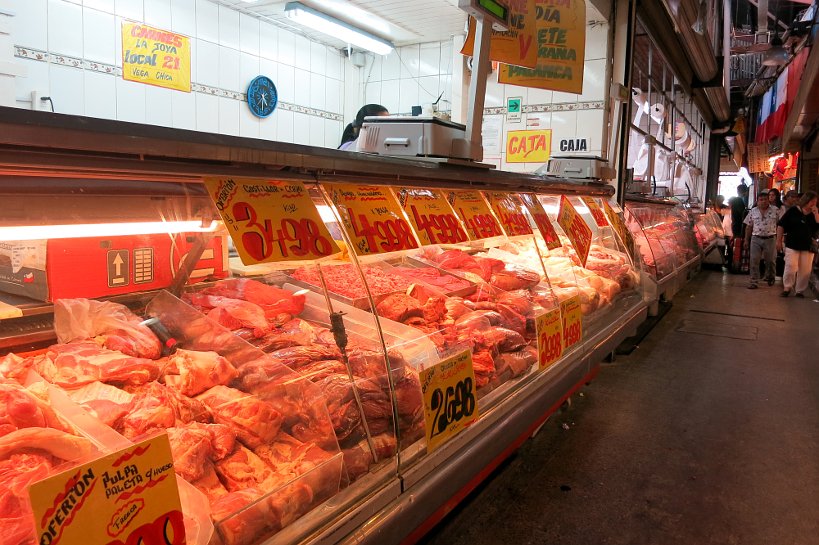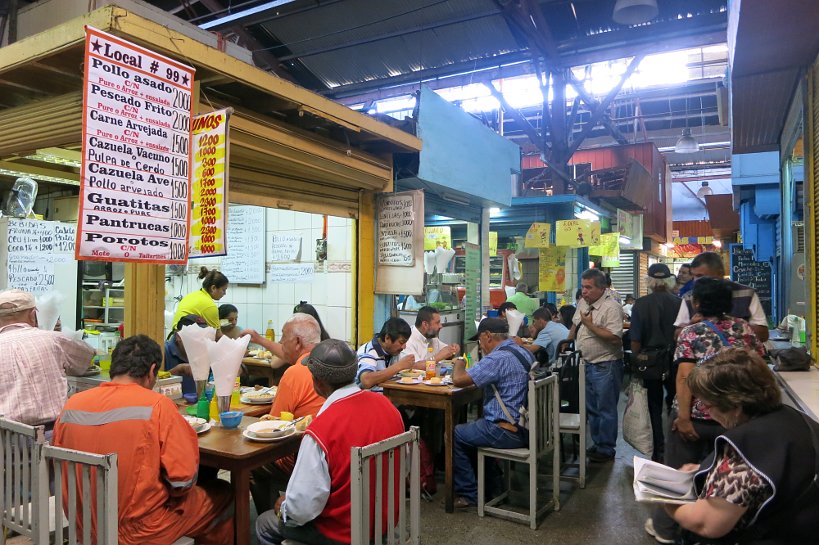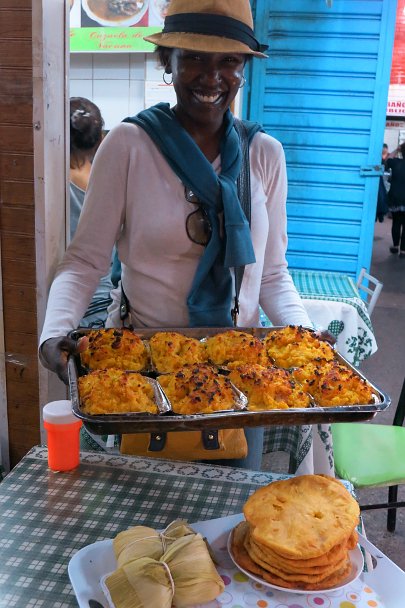 Mercado de Abastos Tirso de Molina
On the way to La Vega, you will also pass by another market which is easier to navigate and much less intimidating. This is Mercado de Abastos Tirso de Molina. You will find smaller fruits and vegetable stands and it easier to buy individual products instead of buying in bulk.
Prices vary from stand to stand. Shop around before making your purchases.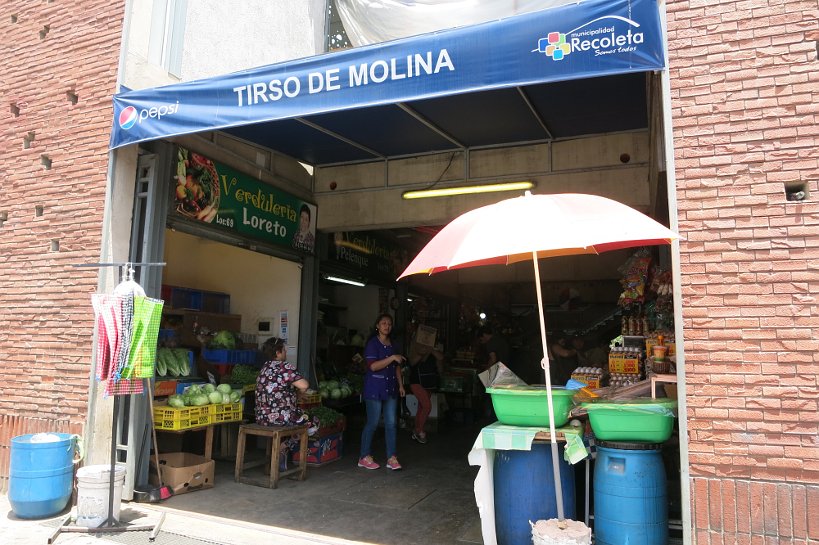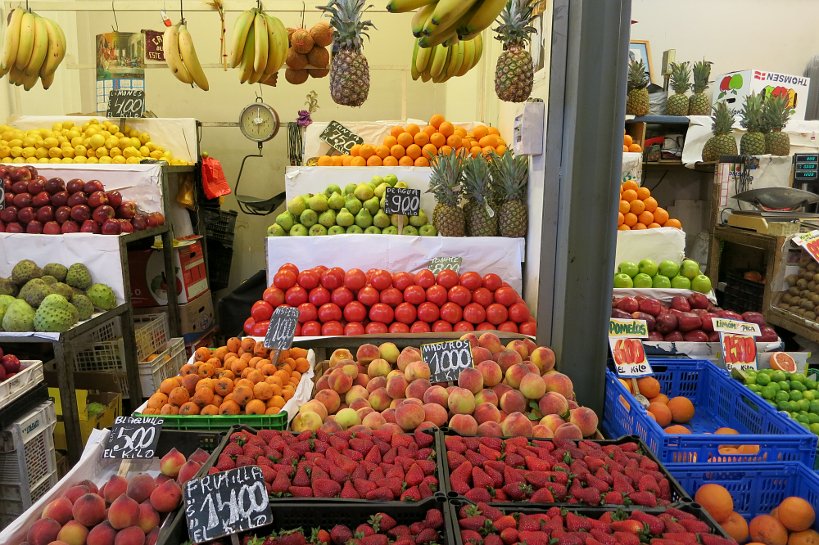 6 Exotic Chilean Fruits
The most exciting stalls were the fruits and vegetables stand. We were very intrigued by exotic Chilean fruits we had never seen before.Here are our top 6 exotic Chilean fruits not to miss while visiting Chile.
If your travels take you to Santiago, here are the top #6 exotic Chilean fruits you don't want to miss.
1) Chirimoya (Custard Apple)
We saw Chirimoya (Custard Apple) on every stands at the markets. I was not familiar with this fruit and was glad Rosemary knew about them. Rosemary grew up in Kenya and remembers eating them while growing up. She couldn't wait to try the Chirimoya from Chile, which were much bigger in size than the ones she remembered. The chirimoya fruit was delicious! So sweet and custardy, these became a regular fruit at our breakfast table. If you haven't tried chiromoya before, find them at your local ethnic store and savor the goodness.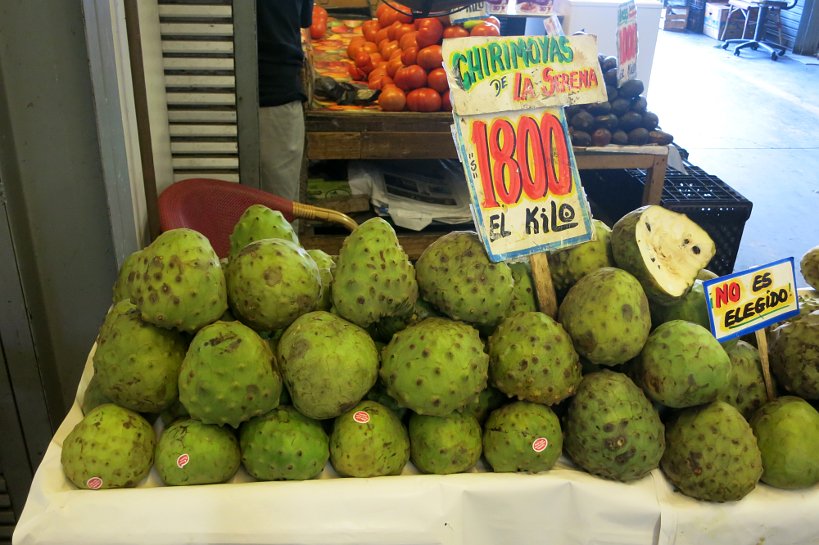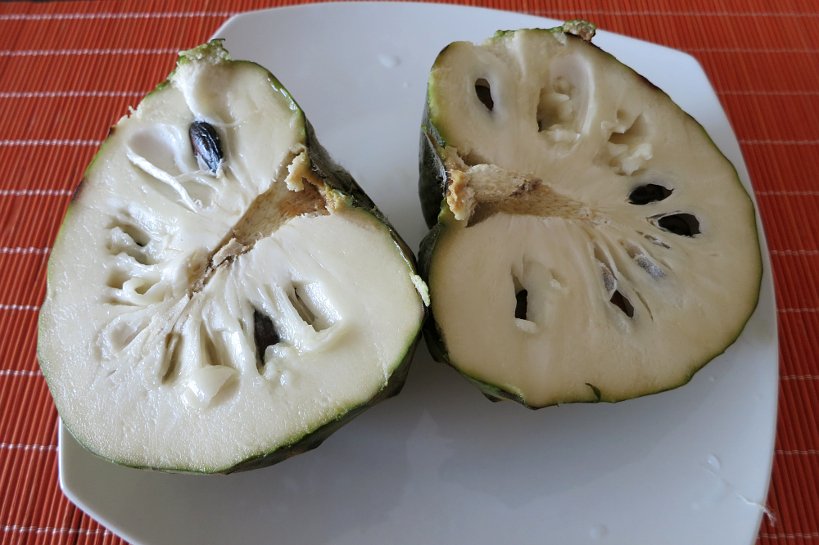 2) Nispero
Nispero or (Loquat in English) is another Chilean fruit that seemed to dominate the markets. Neither one of us had ever seen this type of fruit before. It is the size and color of an apricot. Although the skin gets darker as the fruit matures. We asked the merchant how to pick a good fruit before buying any. We learned that the best way to tell if this Chilean fruit is ready is to touch it and make sure it is soft, but not mushy. We found the nispero surprisingly delicious. Very sweet and easy to eat. The skin needs to be peeled and inside there are few seeds. Once you remove the seeds, the fruit is ready to be eaten. It only takes a few bites. Yummy!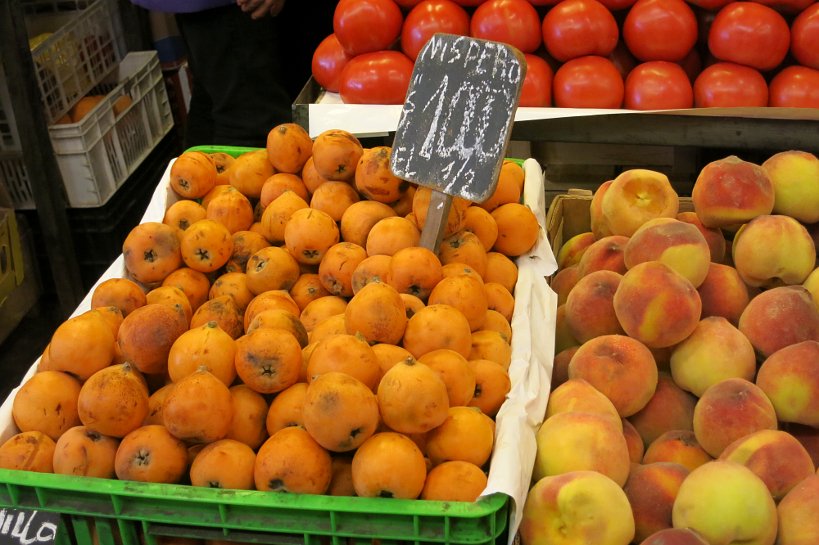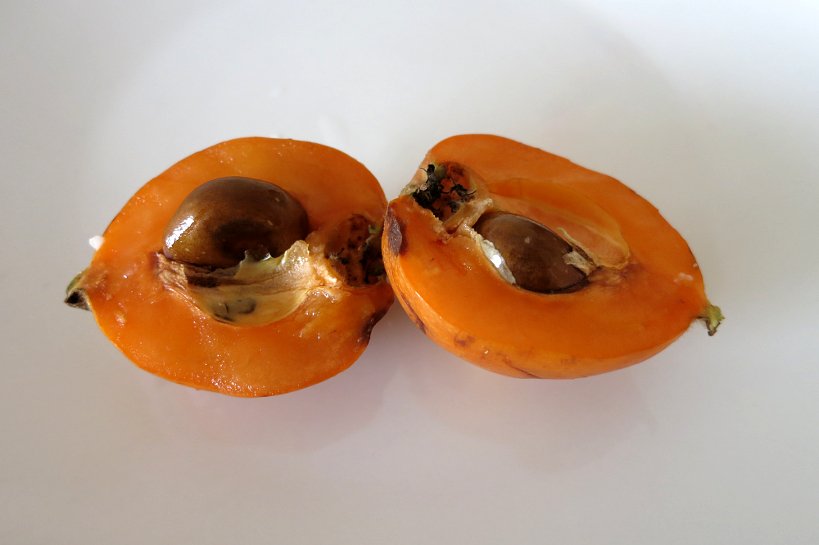 3) Lúcuma
We first discovered Lúcuma at artisanal ice-cream store called El Taller Club de Helado Y Cafe, Providencia which we highly recommend. This caramel looking ice-cream caught our eye and we learned that it was lúcuma (lah-lu-ku-mah), a native Chilean fruit. We could not believe how delicious the ice cream was. It tasted almost like a caramel ice-cream and it was not overly sweet.
Simply delicious. We asked the server what the fruit looked like and he told us about its round in shape and brown in color. So the next day at La Vega, we walked around trying to find this Chilean fruit. We didn't see many places that had it but we finally found a lady who was selling them and had us taste some before buying it.
They were a bit more pricey than the other fruits but they definitively have a distinctive texture and taste. The inside is light brown with a seed, and the texture is kind of pasty. The taste similar to an almond paste. The lady mentioned that it tasted like a chataigne and it actually does. As it is a little pasty, we'd say that it is best eaten with yogurt or milk.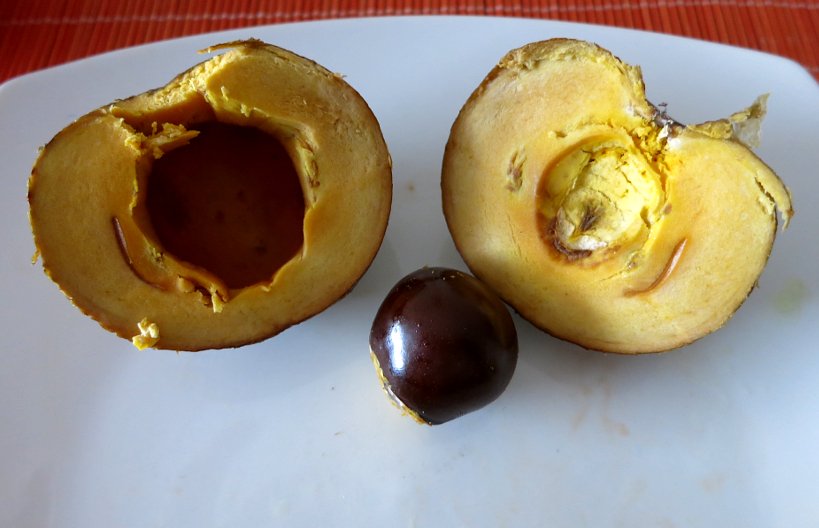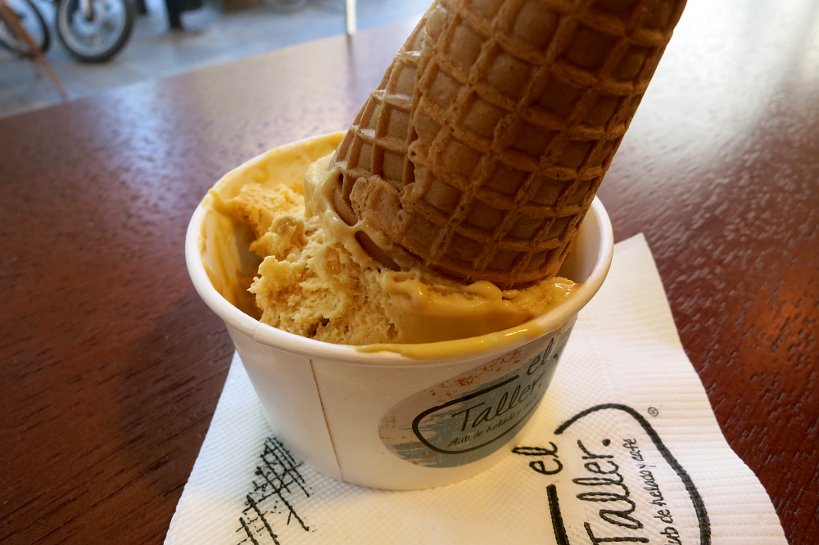 4) Tuna (Prickly Pear)
Similar to the lúcuma, we discovered the Tuna ice-cream before we found the fruit. Known as tuna (prickly pear) in Chile, the inside of this Chilean fruit is like a honeydew melon. I don't normally like ice-cream, but after tasting a sample of the tuna ice cream, I immediately fell for it. The taste is so refreshing with small pieces of the fruit in the ice-cream. The perfect icy treat on a hot day. The taste is like a melon ice-cream, very soft and subtle.
Not being an ice-cream fan I ordered my first cone in years. As we did for lúcuma, we also asked the server about the fruit and the next day at La Vega we had our eyes open for it. We had to search for the fruit amongst all the fruit stands and finally found it. We asked the merchant to help us pick one that was ripe and we bought a couple.
When we got to the airbnb apartment, we realized that we had forgotten to ask one very important question, "how to eat the tuna." We took a knife and just cut through it. With a spoon, we ate the inside which is filled with small seeds that are eatable and crack in the mouth. We really enjoyed this Chilean fruit by itself. It tasted really fresh and sweet.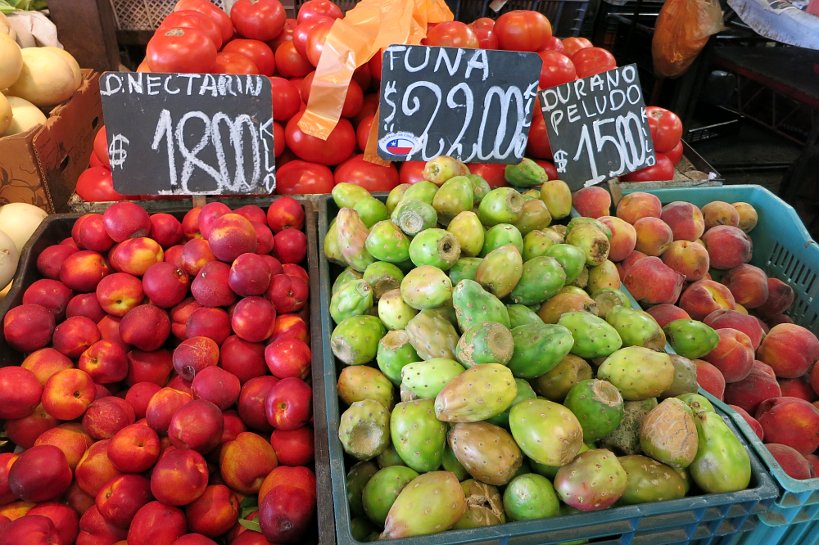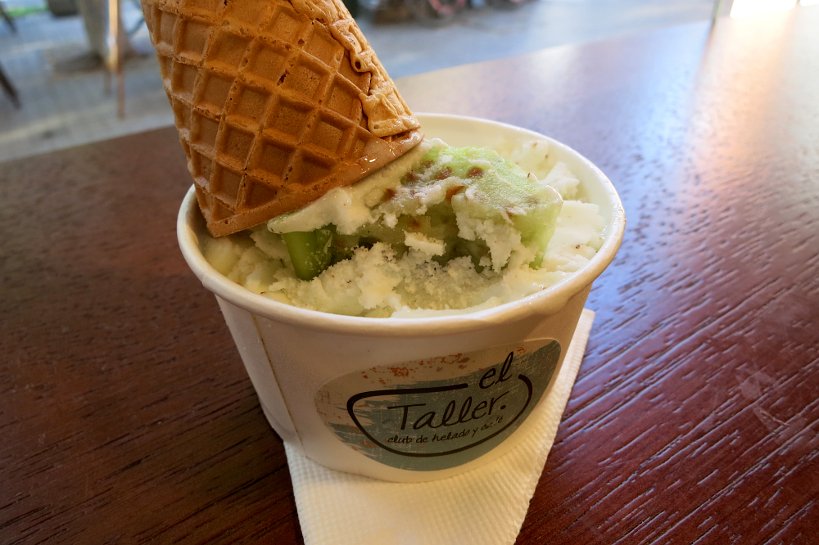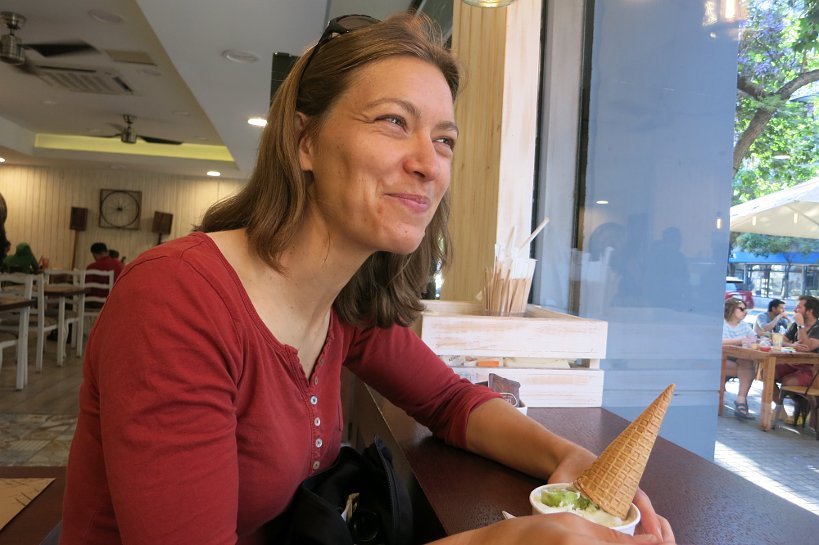 5) Chilean Papaya
Most of the papaya fruits we have ever eaten have typically been exported into the U.S. When we first saw Chilean papayas, we didn't know what they were. They look different. First, they are yellow in color and much smaller than traditional green papayas we are accustomed to.
Attracted by their yellow color, we were curious and asked if we could buy and eat them for breakfast the next morning. Surprisingly, we were told by the vendor, that they are not eaten raw because they are too bitter. They actually have to be cooked first. This was a bummer because we had no idea how to cook them. When we asked, the vendor pointed us to some sitting in a glass jar. These were already cooked and preserved in their natural juices. Once we tasted them, we were really surprised at how sweet they tasted. Almost like a natural candy.
Given the sweet surprise, Rosemary decided to try Chilean papaya as a juice. With juice vendors all over the market and a large glass for $2 or less, this was another unexpected and delicious experience. Papayas are among the world's best fruits for health benefits and discovering these unique Chilean papayas was an added bonus.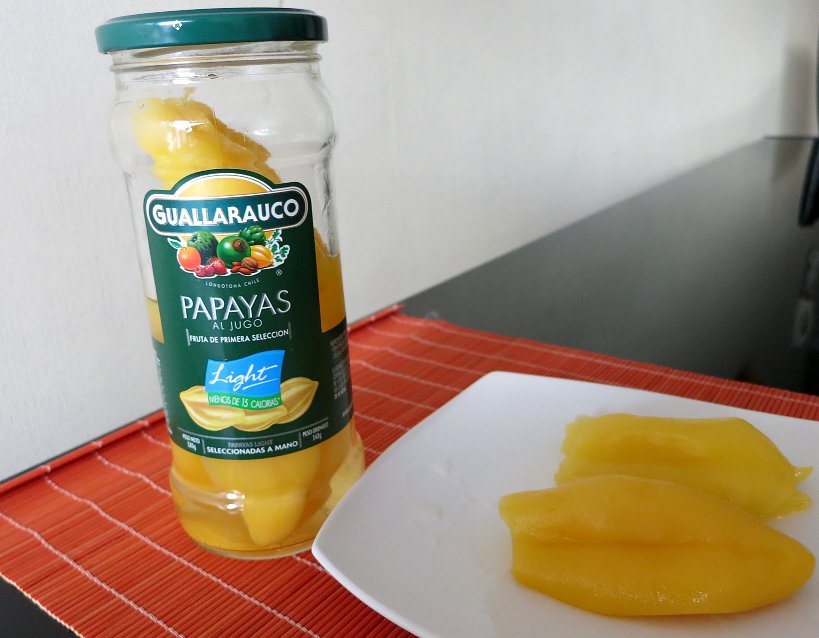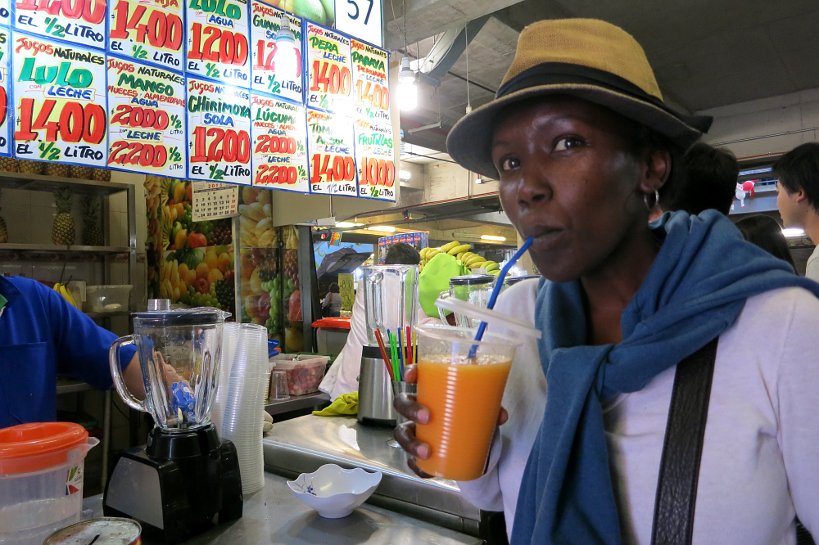 6) Kiwi Fruits
Kiwi fruit might not sound as exotic as some of other Chilean fruits we just mentioned. However, the size of the ones in Chile are humongous – like 3 kiwis combined into one- and that's why we've included them in this section. Walking around the market, you cannot help but notice their size.
We stopped at a small fruit stand and started talking to a vendor about his kiwi fruit. That's when he told us more about the fruit and the different sizes and shapes. We learned that kiwi fruits grow on trees and that the ones that are shaped almost like a heart are actually the sweetest.
The reason for their extreme sweet taste is because the ones at the top of the tree, get the most sun, making them more concentrated in natural sugar. Unfortunately, because of their shape, they cannot be exported because their size is "not standard". As a result, you are only able to buy the best quality, relatively inexpensively in Chile. We very much enjoyed these kiwis, which are much sweeter than the kiwis outside of the country. Though, we were disappointed to learn what we were missing out on because of export rules!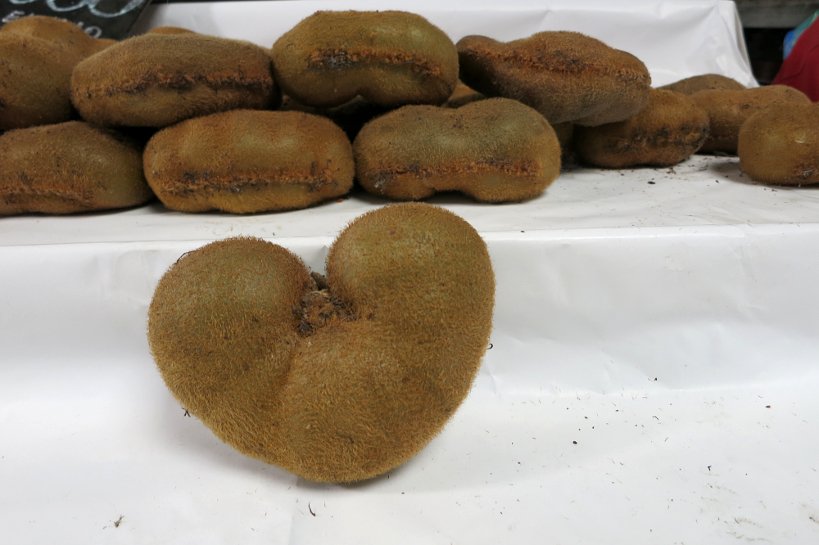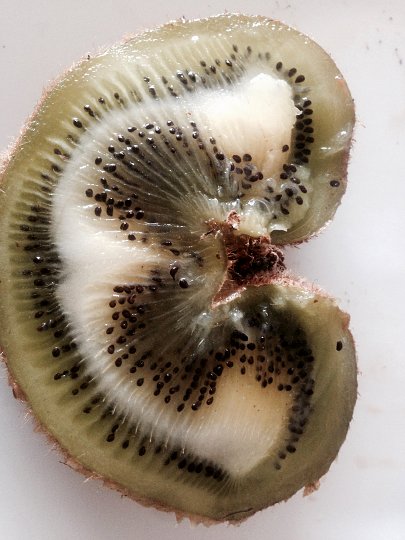 In Summary
One of the best things about travel is the discovery of new places, foods and people. Discovering the unique Chilean fruits through the numerous stalls of Santiago's markets was truly a unique experience. As a matter of fact, Chile is the Southern Hemisphere's largest producer of fruit products.
What makes Chile unique is the outstanding soil and climate. As we mentioned at the start of this post, Chile's borders (Andes and Pacific ocean) serve as natural barriers shielding it from pest and diseases. As a long country, Chile also has practically all climates; from the desert in the north to the cold expanses of the south. The result is the ability to grow a wide range of Chilean fruits throughout the length of the country.
The discoveries of these unique Chilean fruits at the farmers market has truly been an awakening of the senses. From the look, texture, smell and taste, the experience has been a savoring of natural goodness. If you find yourself in Santiago, take the time to go explore the farmer's markets. Check out the fruits and vegetables and take the time to talk to the vendors. They will be happy to share their unique national products!
Have you had any of these Chilean fruits before? Let us know which ones in the comments below.

Locations mentioned:
La Vega Market, Calle Antonia Lopez de Bello 743, Recoleta, Santiago, Chile.
Vega Chica, Calle Compania de Jesus 1794, Recoleta, Santiago, Chile.
Mercado de Abastos Tirso de Molina, Artesanos 700, Recoleta, Santiago, Chile.
El Taller Club de Helado y Cafe, Avenida Providencia 1467, Santiago, Chile.
Savor The Adventure!
Love it? Pin it!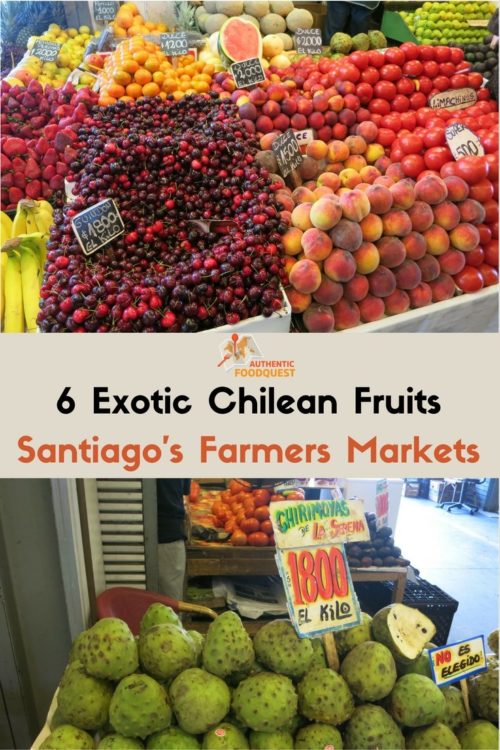 Claire is a culinary explorer who travels the world in search of the best local foods. She is always looking for her next culinary adventure to bring you the best bites while exploring new places.