Just 15 minutes away on a tram ride, west from downtown Lisbon is the Campo de Ourique neighborhood. This area is known to locals as a foodie neighborhood, where new food concepts are tested and launched.
Most visitors to Lisbon will rarely make it to this area. It is a charming "city within Lisbon" and a foodie paradise. It is a place to taste Lisbon like nowhere else… "because if it works in Campo de Ourique, it will work everywhere in Lisbon".
To help us navigate this neighborhood, we teamed up with Taste of Lisboa to get a local experience and learn about Portuguese cuisine. After all, the best way to learn about a new culture is through food, and there is no better way than to do with a local.
Join us on an off the beaten path food and wine tour with Taste of Lisboa for their Tram 28-Campo de Ourique Food & Cultural Walk Food Tour.

Starting out with Taste of Lisboa at the Cemetery of "Pleasure" –  Cemitério dos Prazeres
The food tour started promptly at 10:30 am. Guiding us was Madalena, who is Portuguese and lives in Estrela, the neighborhood right next to Campo de Ourique.
The group was small and intimate, with a couple from Australia, a French lady and the both of us. The perfect size for a personalized experience.
The meeting point was Cemitério dos Prazeres, where the most important and famous Portuguese personalities are buried. This includes writers, painters, actors, and singers.
Created in the 1800's to handle the thousands of victims of the cholera epidemic, it is filled with amazing sculptures and beautiful mausoleums.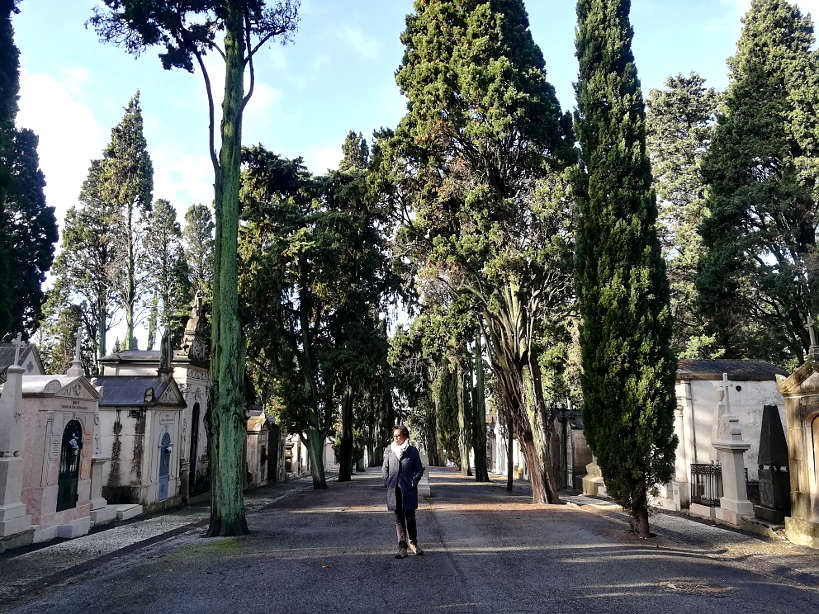 A Taste of the Best Chocolate Cake in the World
Our first tasting stop was a surprising start. Our guide, Madalena, took us to discover the "best chocolate cake in the world" at MBCM.
This tiny store is located at the back of the Mercado Campo de Ourique. And there are only a handful of tables to sit and enjoy this famous chocolate cake.
You have the choice between the traditional cake which is made with milk chocolate cake or the dark chocolate cake, made with about 70% cacao. Both cakes are made of a light chocolate meringue combined with a rich chocolate mousse.
At the first bite, you get an infusion of rich chocolate. The chocolate is refined and delicious with the mousse melting in the mouth. The meringue adds crispness and lightness to the cake.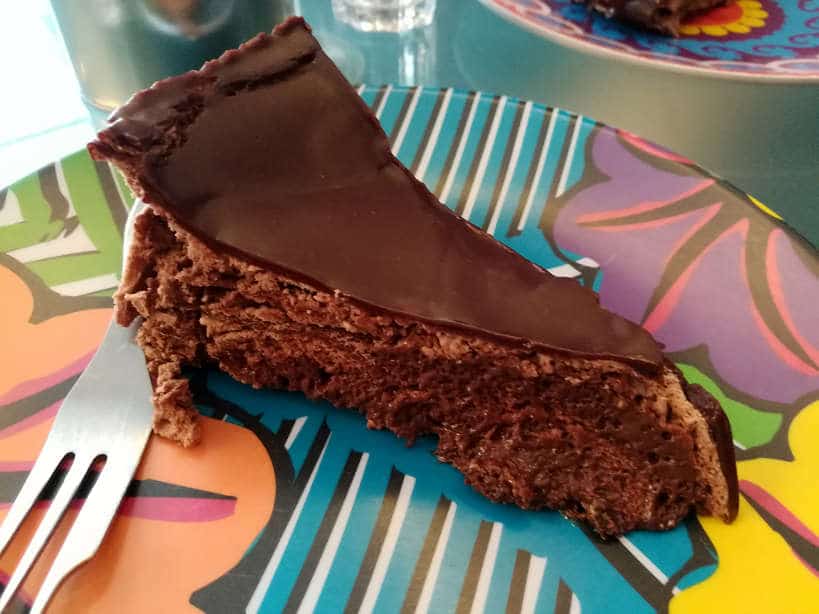 To accompany the cake, we enjoyed a traditional Portuguese coffee called bica. This espresso coffee helps cut the sugary taste of the cake.
To digest our first stop of the day, we walked to the Igreja do Santo Condestável for a bite of history before heading to our next stop on the tour.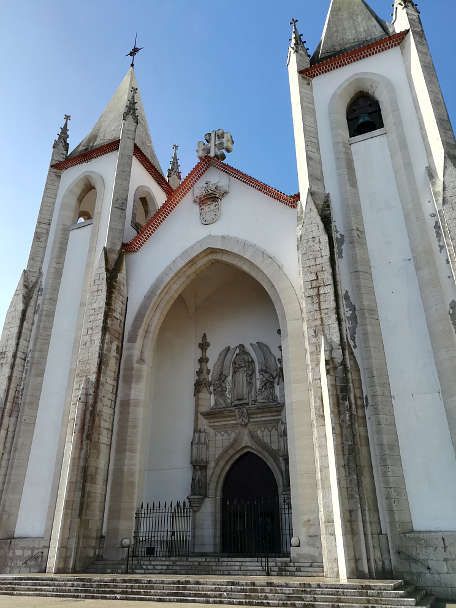 Canned Fish at the Mercado Campo de Ourique – Parceria das Conserva
Canned fish is an important part of Portugal's culinary heritage, from as far back as 1853, when the first commercial canning factory, Ramirez, was set up.
At Mercado Campo de Ourique, the main local market in the neighborhood, we made a stop at Parceria das Conserva to sample a variety of Portuguese canned fish.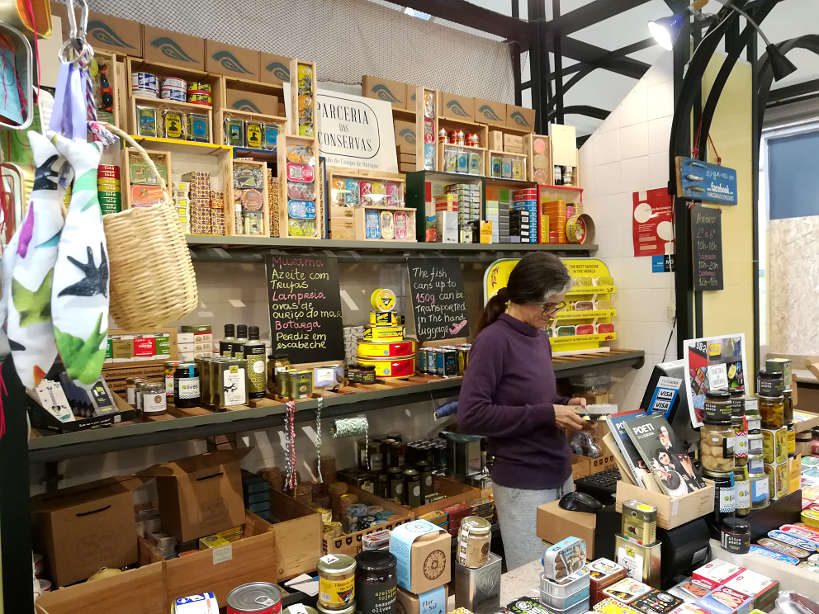 We sampled mackerel in curry sauce, Tuna in a tomato sauce, sardines in olive oil and a fish roe salad. These little bites were accompanied with a delicious rosé wine from Lisbon.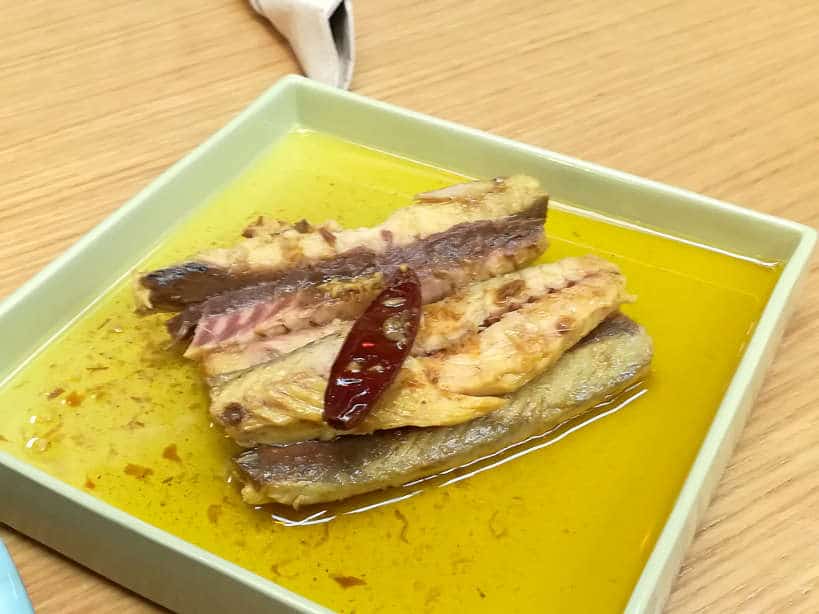 The canned fish were surprisingly delicious. Both the mackerel and tuna were thick and fleshy. The curry sauce and mackerel was our absolute favorite. A hint of spice and the perfect combination of flavors.
The venue, Mercado Campo de Ourique, was recently updated and transformed into a modern and hip market with traditional fruits and vegetables alongside stalls serving sophisticated Portuguese cuisine, wines, meats, Petiscaria or Portuguese tapas and more. A great historic place to taste Portugal in a relaxed environment.
Pork the Portuguese Way at Pigmeu
Pork is a consistent element in Portuguese cuisine. At Pigmeu, everything is prepared and cooked with pork.
To get a taste of the cuisine, we were presented with a trio of their specialties. First, a "croqueta", which is a fried bowl filled with pork cheek, with a mustard sauce. Then, we had a bruschetta made of "chicharron" or fried pork fat with tomatoes on top. And finally, a smoked ham sandwich.
The sandwich was delicious, while the bruschetta had interesting flavors. The croqueta was our least favorite. To accompany these bites, we had a juicy red wine from the Douro valley.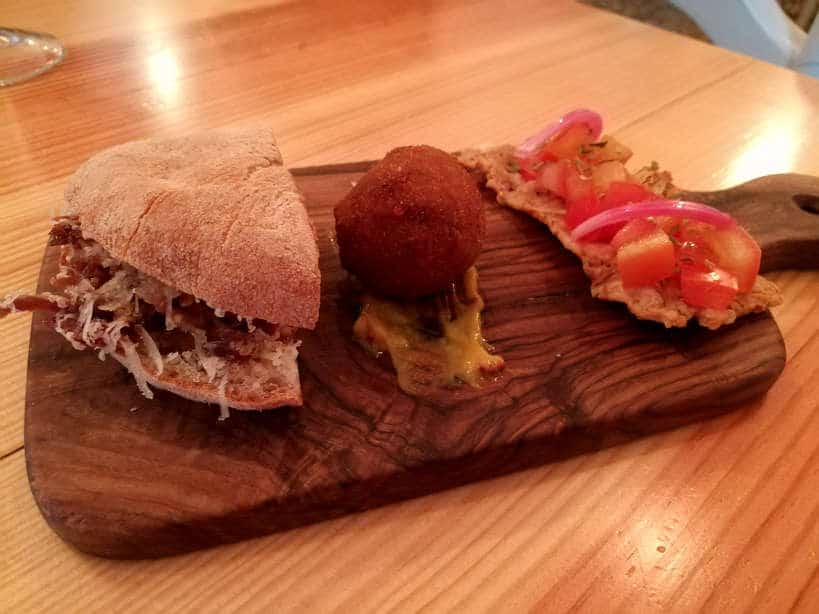 Surprising Portuguese Mussels and Beer
When it comes to beer and mussels, you may think of Belgium and certainly not Lisbon for traditional mussels and beer. At the reinvented Moules & Beer restaurant, we got a chance savor local Portuguese mussels as well and craft beer from Lisbon.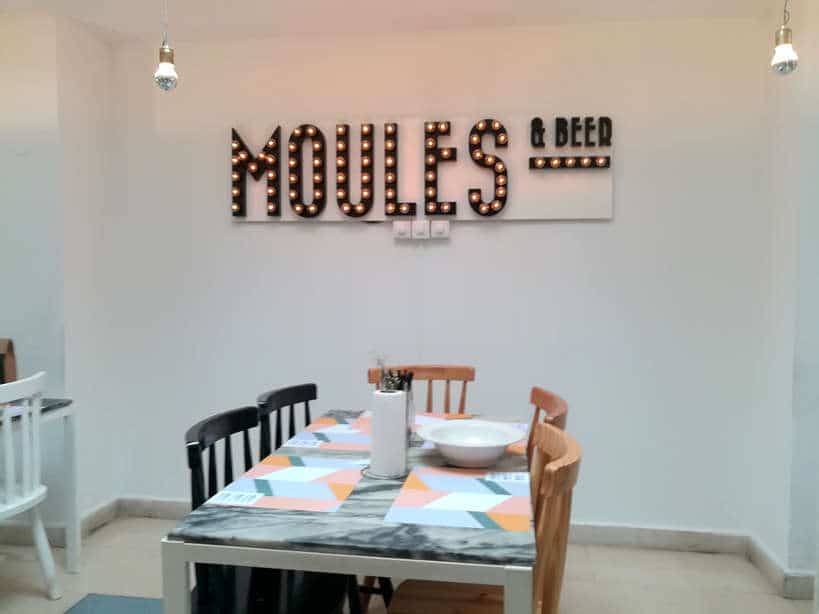 Two buckets of Portuguese Mussels were presented to us prepared with a typical Portuguese sauce called Bulhão Pato. The sauce gets its name from a famous Lisbon poet from the 19th Century. The sauce is made of white wine, cilantro, garlic, and olive oil, a good representation of the traditional Portuguese cooking ingredients.
In addition to the Portuguese mussels, we tasted the local craft beer Vadia. This brewery was created in 2007, at the beginning of the new craft beer movement in Portugal. The Vadia we tasted was a lager, easy to drink and light in taste.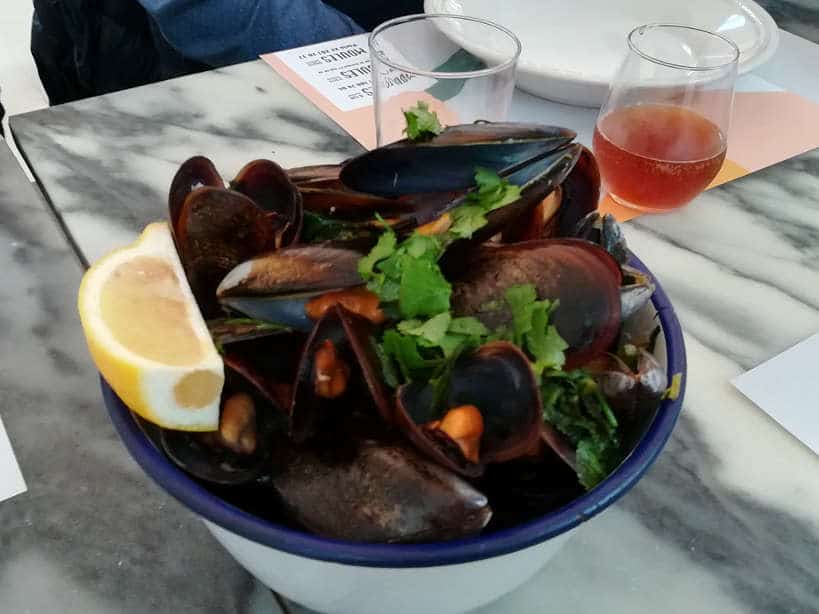 A Taste of Portuguese Culture at Flagrante Delitro Restaurant
The history and culture of Portugal was very much a part of the food tour experience. This stop for Portuguese traditional cuisine took place at restaurant Flagrante Delitro of Casa Fernando Pessoa.
Fernando Pessoa is one of Portugal's most celebrated poets and literary figures. Madalena regaled us with stories of studying Pessoa as a student and his "heteronyms", or imaginary characters.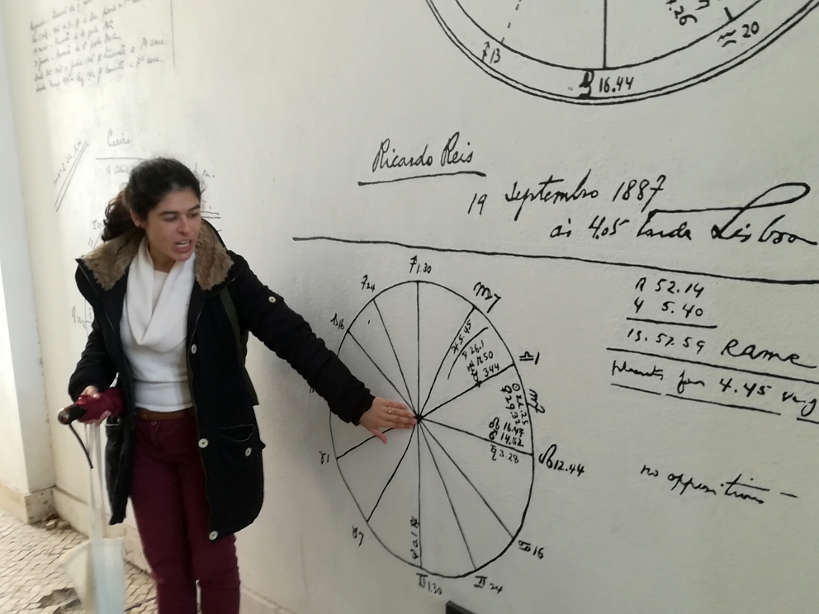 The traditional tasting at this stop was for Pataniscas or codfish fritters with a baked beans soupy rice. This was accompanied by a glass of Vinho Verde or "green wine" from the rolling hills of northern Portugal.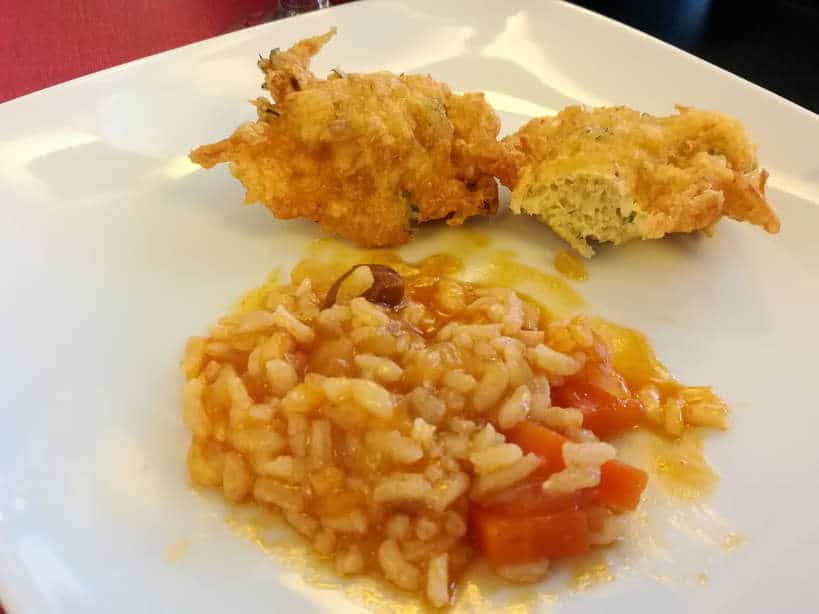 Despite being fried, the codfish fritters were not oily and full of flavors. The soupy rice with baked beans was the perfect dish for a cool day and the lively Vinho Verde was the perfect compliment to the tasting.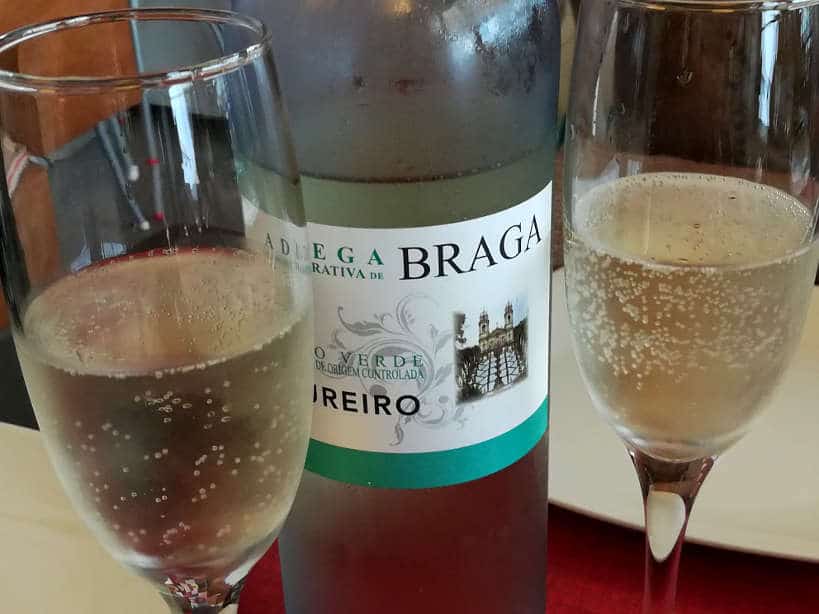 A Traditional Dessert from the Nuns at the Cantina De Estrela
To finish on a sweet note, we headed to Cantina da Estrela, housed within the historic Condes de Paraty palace. This restaurant, part of the Hotel Estrela, is modern and stylish, overlooking the beautiful garden. The perfect setting for an afternoon snack and drink.
The local specialty here is the famous and very traditional Pão de Ló or Portuguese sponge cake. This sponge cake was traditionally made by the nuns from the convent of Cós. It is said that The Pão de Ló was born from a mistake in the 19th century during the visit of the King.
As the story goes, the King was visiting and in a hurry to serve him, the sponge cake was removed out of the oven too early. Everyone praised the taste of the cake, which turned out moist and filled with a delicious eggy cream.
Since then, the way to make this cake has been preserved.
On the Taste of Lisboa food tour, we found the taste to be as described. The texture of a sponge cake was very soft, sweet and eggy. It is an easy cake to enjoy with tea or coffee.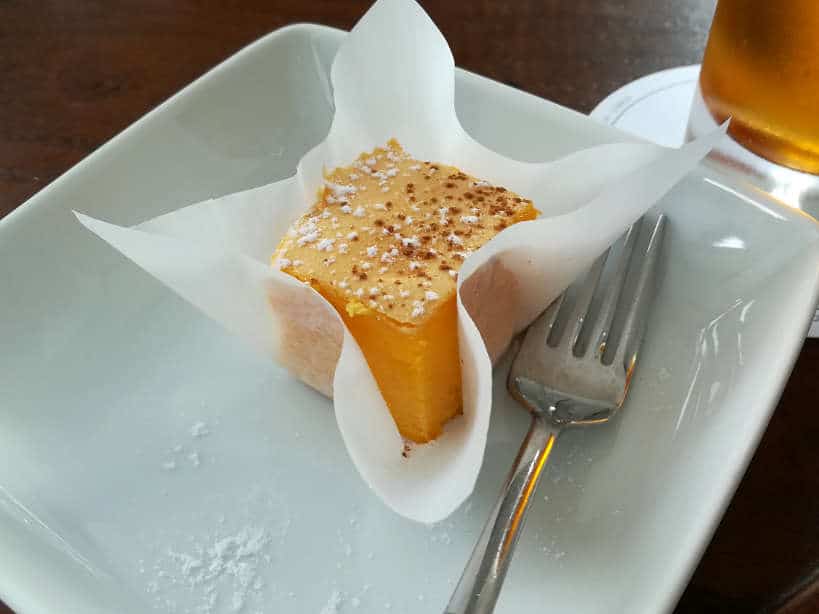 In Summary
Food is one of the best ways to truly understand a culture. Taking a food tour with a local guide gives you rich insights and perspectives that you otherwise would not have.
If it has not been for the Taste of Lisboa, we probably would not have visited the Campo de Ourique neighborhood and discovered its rich food culture.
Our expert guide, Madalena, not only covered the traditional Portuguese delicacies but also took us to the up and coming restaurants that are reinventing Portuguese cuisine.
The discovery of the "best chocolate cake in the world" contrasted with the nun's Pão de Ló covered a wide spectrum of the Portuguese desserts. From canned fish to mussels and codfish fritters we got a great sampling of Portugal's favorite fish and seafood.
The Tram 28-Campo de Ourique Food & Cultural Walk Food Tour with Taste of Lisboa is a great way to discover a foodie neighborhood and learn about Portuguese cuisine.
With a local guide, you will gain incredibly rich cultural insights and discover dishes and places you wouldn't have on your own.
If your travels take you to Lisbon, be sure to book the Campo de Ourique Food & Cultural Walk with Taste of Lisboa, for a delicious discovery of Portugal.
BOOK A TASTE OF LISBOA FOOD TOUR
About Taste of Lisboa
Created by a Lisbon native, the Taste of Lisboa offers a variety of gastronomy tours with a blend of history, culture, architecture in different neighborhoods.
The particular tour we went on the Tram 28-Campo de Ourique Food & Cultural Walk Food Tour, was about 3.5 hours in length with seven food stops and a number of cultural stops as well.
Don't miss this off the beaten path food tour. Click here to book your Tram 28-Campo de Ourique Food & Cultural Walk Food Tour.
Go with an open and curious mind and eat only a small or light breakfast. Be prepared for a fascinating discovery.
With the Taste of Lisboa, you can expect "Real People, Real Food"!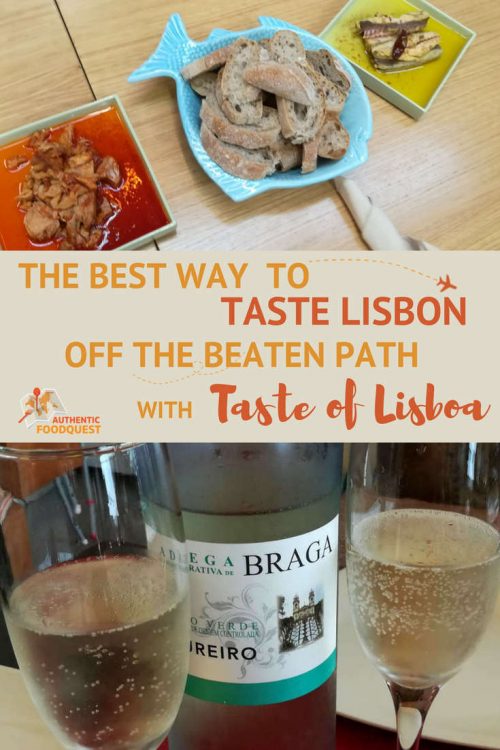 Special thanks to Taste of Lisboa for having us on this tour. All views and opinions expressed are our own. Full bellies and happy taste buds too!
Rosemary is a writer and culinary explorer. Together with her partner, Claire, they created Authentic Food Quest to inspire people to travel deeper through authentic food. Through food, they believe, people can have more meaningful connections on their travels. Prior to creating Authentic Food Quest, Rosemary worked as a director of strategy in advertising for over 15 years.   Take the quiz and find out your Food Traveler Profile.