This article has links to products and services we recommend, which we may make a commission from.
Oh là là!
Are you Francophile or shopping for a French food lover? Without boarding a flight to France, these French snack boxes bring you the best of this top European culinary destination.
Experience gourmet French products and discover flavors from parts of the country you didn't know about.
With this selection of 7 gourmet French snacks boxes, surprise yourself or a loved one with a gastronomy experience across the country.
Say Ouuuiiiiii! and get started with all the incredible tastes of France.

1. Bakerly – French Crepes and Snacks – Best Pastry Snacks From France
It's hard to get away from pastries when you're talking about French snacks. And, it is difficult to find exceptional French pastries outside of France.
Bakerly offers authentic and traditional French pastries made in the US. Owned by Julien and Fabien from France, they make the best crepes, pancakes and brioches using traditional French recipes and all natural ingredients.
The French crepes to go, one of their most popular products, come in a variety of flavors from chocolate, hazelnut, caramel, and more.
The French brioche buns, rolls or baguettes are exceptional with hamburgers, hotdogs and more. And the delicious and fluffy French pancakes are a delightful treat at breakfast.
If you're looking for delectable French pastries made with the best high quality ingredients, Bakerly is the way to go.
You can order individual pastries, or build your own box with your favorite French snacks. Either way, with Bakerly, you can enjoy a taste of France from the comfort of home.
2. French Macarons – Best Macaron Variety – Guilt-Free
Macarons are an iconic French sweet. An edible treasure popular not only in France but around the world.
Deceptively simple-looking from the outside, they require excellent ingredients and masterful experience to make these delectable treats.
Your Phivi French macarons box includes 10 hand-baked macarons in 5 different flavors, sent each month.
Beautifully packaged with satin ribbons, the box features unique seasonal flavors that are hard to find anywhere else.
What makes these French macarons so special is the love and care that goes into making them.  
All the macarons are freshly baked, and hand-made using only natural ingredients.
This is a monthly subscription box and you can choose the duration from one month to 12 months. The longer the subscription period, the more attractive the price.
As the flavors are seasonal, you don't have to worry about getting the same flavors each month.
This is one of the best French snacks boxes to enjoy at home or give as a gift. The macarons are made to order and shipping is available only in the United States.
3. Exclusive French Chocolates for Any Occasion – Best Chocolate Option
Z Chocolates are a top choice if you're looking for exceptional chocolates made by a French world champion chocolatier.
The chocolates are made by Pascal Caffet, an awarded chocolatier meticulously following French tradition.
The exclusive Z Chocolates are made with 100% natural products using the finest cacao and the freshest natural ingredients.
The chocolates are 100% French – produced and shipped from France. Delivery to the United States takes only two days.
With shipping provided via DHL, the chocolates are packed in insulated boxes keeping them fresh regardless of the temperature outside.
The chocolates include dark, rich and indulgent chocolates to light and airy, milk, praline and more exotic flavors.
All the chocolates are beautifully packed and you can make it personal with an added private message or photo.
For a taste of the finest French chocolates without traveling to France, let the luxurious Z Chocolates take your taste buds there.
4. French Pâte de Fruits – Traditional French Fruit Jellies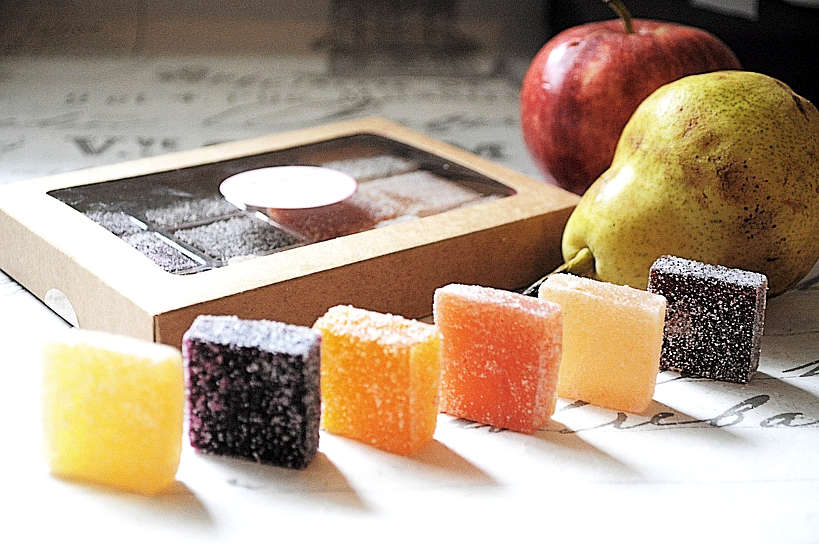 If you're craving sweets, ZamArtisan Chocolates sells some of the best pate de fruit, a traditional French confectionary.
These are dense, cubed fruit paste jellies bursting with fresh fruit flavors. The pate de fruits are made in the same tradition that dates back to the Middle Ages in Auvergne, France.
This gift box contains 12 pieces of pâte de fruits made with seasonal and tropical fruits. These fruit jellies are gluten-free and vegan and made with no preservatives and artificial flavors.
If you love fruit flavored treats or candies, pate de fruits are a great option. These colorful gems with concentrated fruit flavors are the perfect gift for the holidays or special occasions.
Made fresh and to order, your pate de fruits will arrive only 3 -5 days after they are made.
5. Gourmet Cookies From France – Chocolate Cookie Squares
From France, Michel and Augustin, known as the trouble makers of taste, brought their signature cookies to the US.
While they are most famous for their shortbread square cookies filled with chocolate ganache, you'll find others with hazelnut, caramel and more.
Freshness is key for these high-quality cookies. All the shortbread cookies are individually wrapped for lasting freshness and easy to go packaging.
These gourmet cookies are made with all natural ingredients and made with no preservatives, dyes or GMO's.
These delectable European cookies offer a taste of France in a little square bite. The perfect treat for French and cookie lovers.
6. French Charcuterie Box – Best French Appetizers
Good food is at the heart of French living and a French charcuterie board is one of the most emblematic appetizers.
Cured meats, a variety of cheeses, French bread, nuts, fruit, spreads, and more make up this quintessential French tradition.
Making the perfect charcuterie board can be intimidating or time-consuming if you don't have access to French products.
In that sense, D'artagnan's charcuterie gift box for eight is an excellent starting point. With handmade products that have been carefully curated, this box consists of artisanal delights that will please food lovers.
Find selections of cured pork, wild boar, duck, and veal sausages. Shredded duck leg, smoked chicken breast alongside black truffle butter, pâté, and liver mousse enhance the exciting flavors.
Complete your charcuterie board with bread, complimentary condiments from your local store, and hearty red French wine.
With this D'artagnan charcuterie gift box, enjoy one of the most impressive appetizers with little effort.
AUTHENTIC FOOD QUEST TIP: To go along with your tasty snacks from France, accompany them with exclusive French wines. With SomMailier French wine club, you'll get French wines delivered to your home from the finest small-batch wineries. You get to discover French boutique wines that are hard to find in the US.
7. French Artisanal Cheese – Best For Cheese Lovers
Whether you're buying an accompaniment for a charcuterie board or looking for standalone cheeses, you'll love the Cheese Lover Shop.
Featuring the very best of French along with some American cheeses you'll enjoy amazing cheeses from artisanal producers.
With the Cheese Lovers Shop, you can get a monthly subscription to receive up to 10 kinds of cheese and tantalizing accompaniments.
Each month features different cheeses and they are all accompanied with tasting notes and tips to create the perfect cheese board.
French cheeses make for excellent French snacks, especially when accompanied by French wines. The subscription program can be canceled at any time.
French lovers will enjoy new and unique French cheeses to savor as a snack or after a meal.
French Snacks Box Comparison Table

Bon Appetit!
From this list, there are several options to choose from if you're looking for great French snacks. From meat and cheese to high-quality chocolate and macarons, there's something for every palate.
What French snacks box tempts you the most? Please let us know in the comments below.
Savor The Adventure!
Claire is a culinary explorer who travels the world in search of the best local foods. She is always looking for her next culinary adventure to bring you the best bites while exploring new places.