Looking to explore Las Vegas in a new way?
Taking a food tour is a great way to discover what the city has to offer.
We took a downtown Las Vegas food tour to discover the local food scene where Vegas first began.
With Taste Buzz Food Tours, we spent an entertaining four-hour period walking and eating our way downtown Las Vegas.
Our local guide, Shaun, regaled us with fascinating stories about "Old Las Vegas" as we walked between seven different food stops.
With insights from a local guide, join us on this walking food tour and discover downtown Las Vegas through food.

Meeting at Container Park in Downtown Las Vegas
Our meeting point and first stop was Container Park located at the corner of Fremont and 7th Street. Container Park is part of the downtown revitalization project, led by Tony Hsieh, CEO of Zappos.
This urban park is made up of more than 40 repurposed, commercial shipping containers of different sizes. In each container, you'll find a mix of restaurants, bars, retailers and art galleries, all independently and locally owned.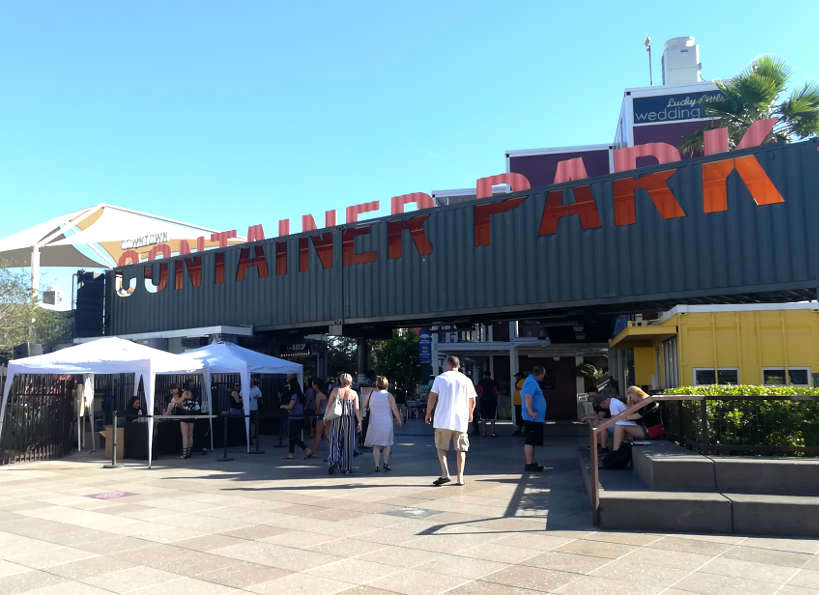 Authentic Food Quest Tip: Experience downtown Las Vegas like a local with Taste Buzz Food Tours. With a Las Vegas based guide, take a Walking Food Tour of Downtown Las Vegas. Discover the best local eats downtown Las Vegas and the stories behind the food.
Cheffini's – The Cheffini Hot Dog
Cheffini's, our first food stop, was one of the first businesses in Container Park. What started out as a humble hot dog cart in 2010, is now a local favorite in the park.
Everything is made from scratch, including the vegan hot dogs that delighted the vegans on the food tour. Famous for their unique sauces and toppings, this was a delicious start to the tour.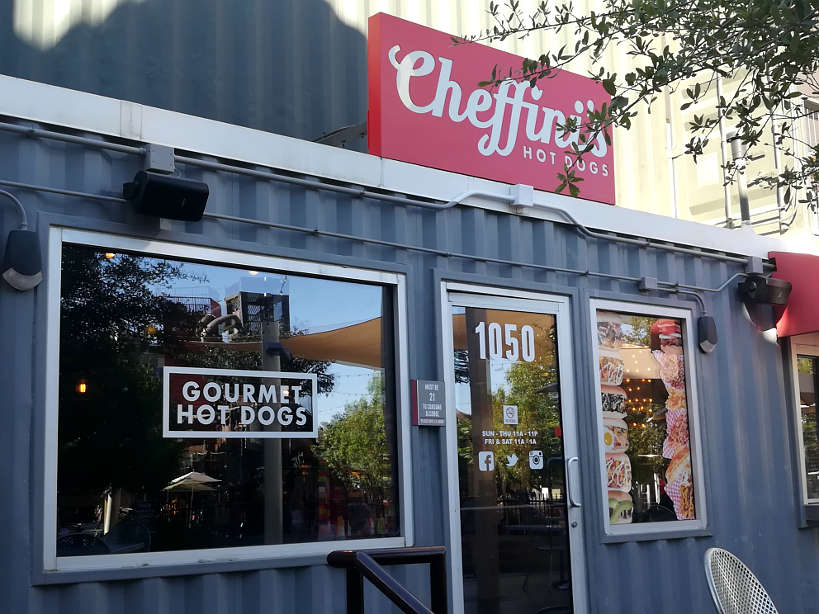 Pinches Tacos – Authentic Mexican Food
Serving authentic Mexican street food, Pinches Tacos, our second food stop did not disappoint.
Described as the best tacos in Las Vegas, you'll find "Real Mexican food made by Real Mexicans." Pinches Tacos also has locations in Los Angeles.
We cooled off with Mexican Hibiscus Tea along with a street food speciality. We had Mexican corn on the cob, also called "street corn", slathered in mayonnaise and cheese.
At Pinches Tacos, you'll find all your favorite Mexican foods including tacos, burritos, soups, enchiladas and more.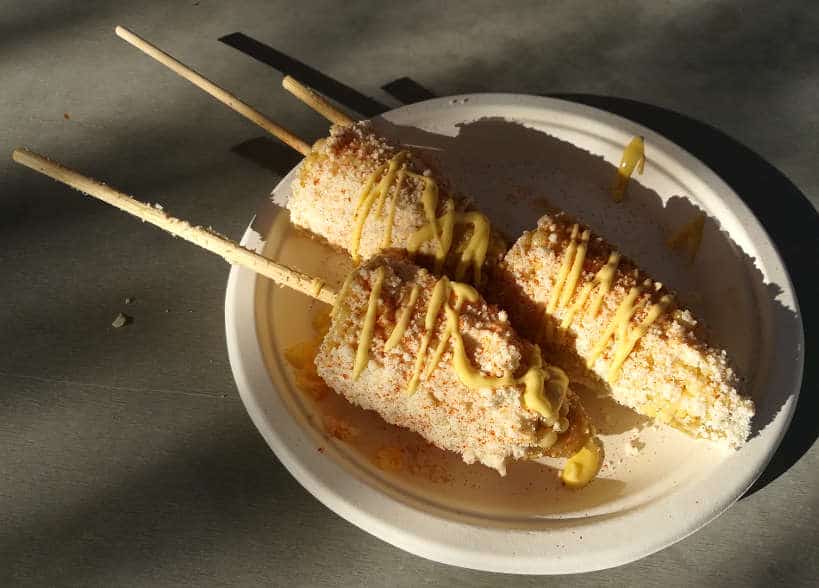 JoJo's Jerky's – Jerky and Marinade Tasting
Jerky lovers will delight in the unusual flavors and preservative-free Jojo's Jerky. At our final stop in Container Park, we sampled a variety of unique jerky flavors such as Hawaiian, Caribbean jerk, wasabi and more.
Using only the freshest, all natural ingredients, with no preservatives, Jojo's Jerky flavors are quite exceptional. In a small 39-square-meter space of a shipping container, find numerous varieties of jerky flavors, sauces, marinades and nuts.
RELATED: Las Vegas Food Tour: How to Eat Your Way on the Strip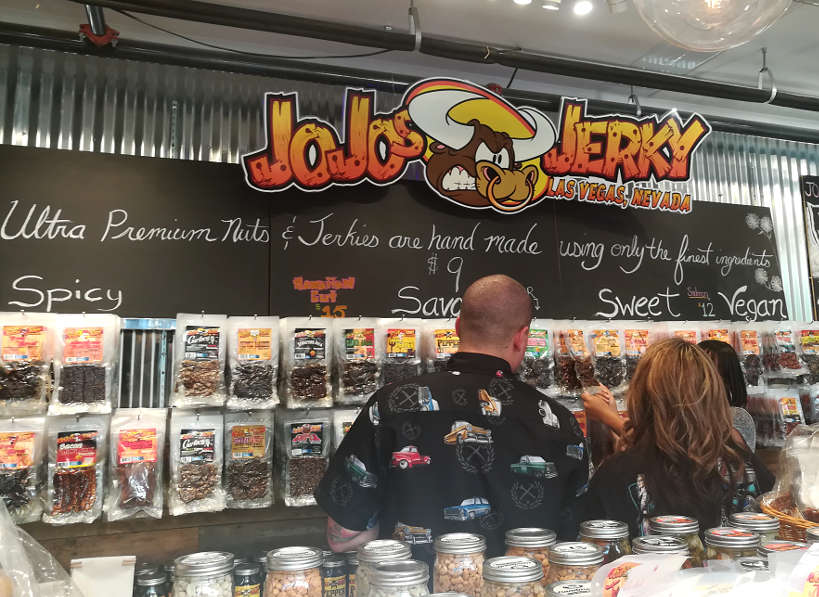 Stroll On Fremont Street
Fremont Street is a "must see" in Downtown Las Vegas. From zip lining under the Vegas sky to listening to live concerts, there is enough to keep you entertained day or night.
Food experiences are also part of the fun. Starting at the Heart Attack Grill, where the customers have to wear a hospital gown, and the waiters and waitresses are nurses. Be warned, if you don't finish your plate, you get spanked!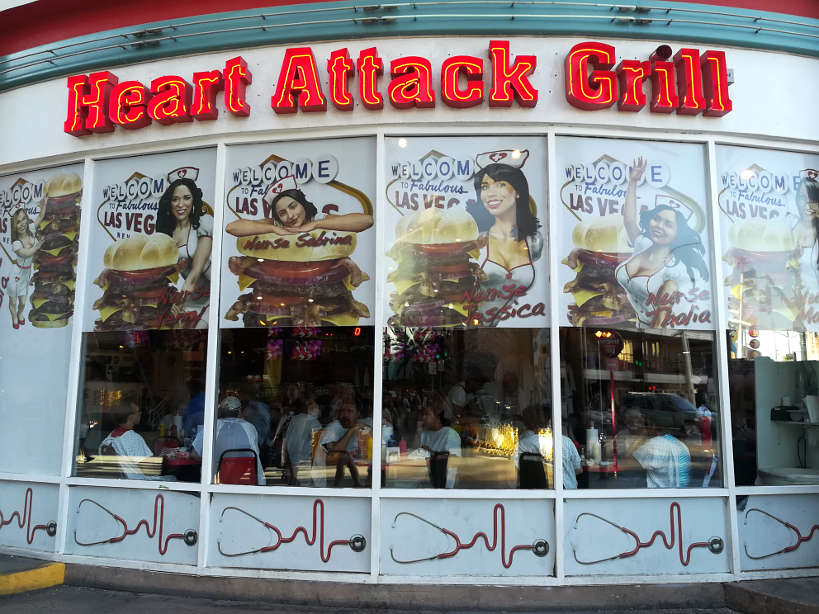 The Luxury Golden Nugget Casino
The Golden Nugget Casino, the largest casino downtown Vegas, is at the epicenter of the pedestrian section of Fremont Street. We walked in without any expectations only to discover another world of entertainment.
Looking to swim with the sharks? Further inside the casino, you'll find an extravagant shark tank swimming pool. You don't have to be a guest to experience the pool. You can get a $25 all-day pass and get close to full grown sharks.
One of the particularities of this casino is the showcase of the second largest gold nugget, called the Hand of Faith, due to its shape. The funny part is that the piece of gold is not from Las Vegas but from Australia.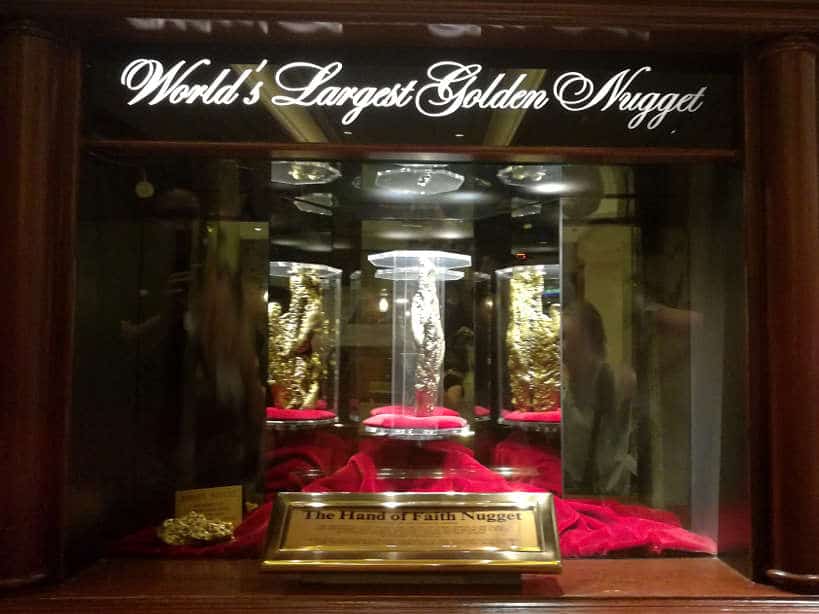 A Unique BBQ Experience in The Desert
This round of entertainment while walking, was enough to wet our appetite. In the middle of the pedestrian only Fremont Street, we stopped at Project BBQ Las Vegas food truck.
Using high quality ingredients, this local spot started with the simple idea of offering a great BBQ experience in the desert.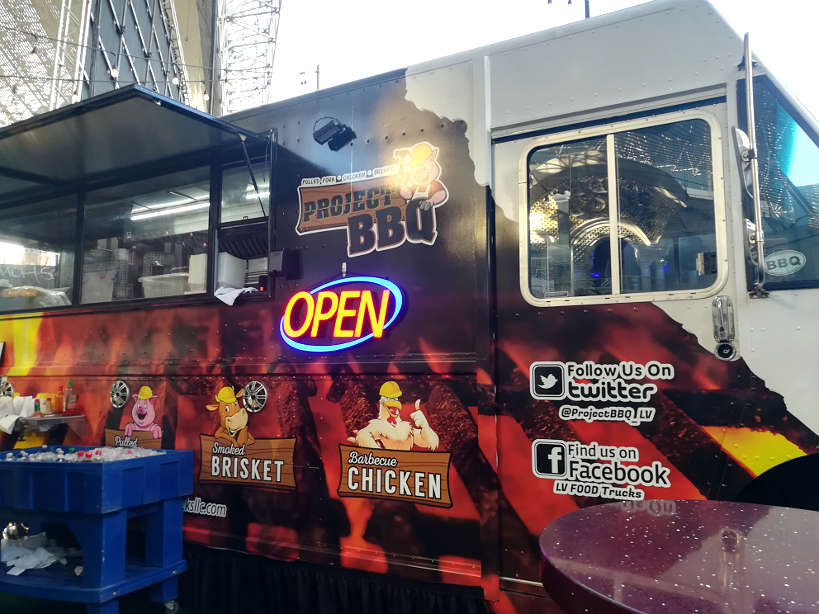 BBQ sandwiches are served with your choice of delicious beef brisket or pulled chicken or pork. They are served with a side of homemade potato chips and coleslaw. The meat is seasoned with a unique tasty sauce made with beer and cheese.
The barbecue sandwiches were delicious. Filled with extra tender and juicy meat as well as fresh and crispy chips. An excellent snack on Fremont Street.
RELATED: How to Enjoy Wine Tasting at 3 Las Vegas Wineries in the Desert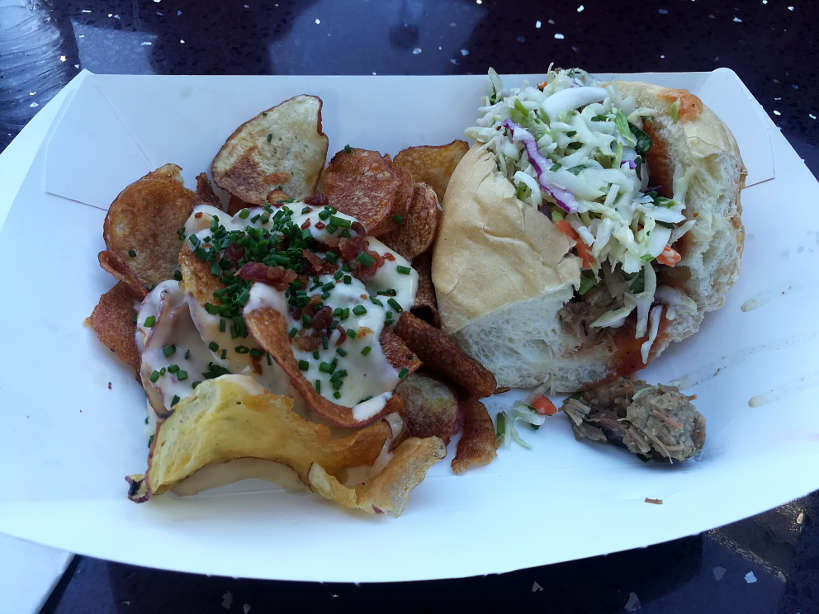 Local Best-Kept Secret Casinos
To walk off our last food stop, we left Fremont Street and made our way toward the local casinos, away from the main tourist attractions.
Witness History at Main Street Station Casino Brewery Hotel
Walking into Main Street Casino Brewery Hotel is like taking a walk down memory lane. With a beautiful art deco interior, this casino features amazing art inside.
It is said that Bob Snow who owned the hotel in 1991 put $82 million of his own money to renovate the hotel and acquire a large collection of antiques, antiquities and relics.
Within a year he went bankrupt and had to sell the hotel including his large collection of antiques.
Throughout the entire hotel, you'll see items from the collection and pieces of history.
The most surprising is the entire portion of the Berlin Wall located in the men's restroom.
As weird as it sounds, it actually has urinals affixed to it.
Navigating us through the casinos, Shaun, our guide, got us special permission to see the Berlin Wall in person, ladies included!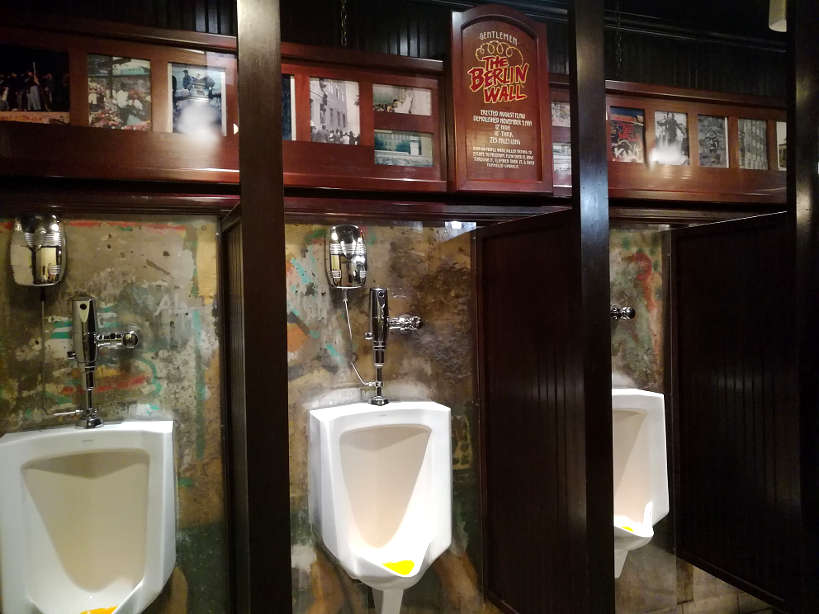 Hawaiian Food at Aloha Specialties in the California Hotel
Las Vegas is referred to as the 9th Hawaiian island. The Hawaiian population is huge in Las Vegas, when many left their distressed home state in the 1990s to find jobs and more affordable living in Las Vegas.
Hotel California seized the opportunity to bring Hawaiians to their hotel by making you feel like you are in Hawaii as soon as you walk in. It's no surprise that Hotel California is known as the 'Hawaiian home away from home'.
Aloha Specialties carries on the Hawaiian tradition offering traditional Hawaiian cuisine at California Hotel or "The Cal". Conveniently located on the second floor of the Cal, you'll find the restaurant bustling with "local" Hawaiians.
To taste the local Hawaiian fare, we had spam musubi. It is a sushi-style spam meat over rice wrapped in seaweed. This surprising snack is very popular in Hawaii and a favorite at Aloha Specialties.
To round up our Hawaiian food stop, we were also served a delicious Hawaiian-style marinated chicken. The chicken was cooked in chicken broth, ginger and green onions. The sauce was tantalizing and had us energized to walk some more.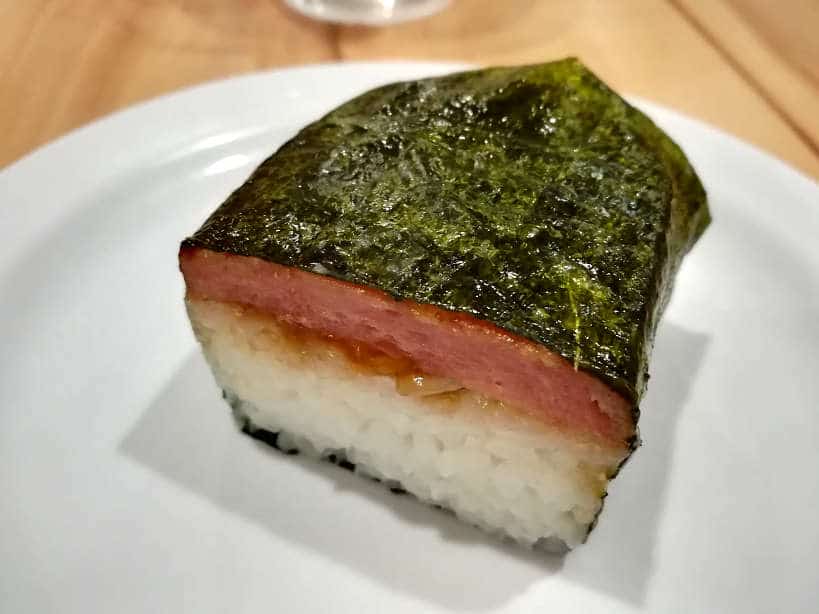 To round up our Hawaiian food stop, we were also served a delicious Hawaiian-style marinated chicken. The chicken was cooked in chicken broth, ginger and green onions. The sauce was tantalizing and had us energized to walk some more.
Vibrant Downtown Las Vegas Foodie Hotspots
After leaving the casinos, we made our way to the two last food stops on the tour.
Pizza Rock – For Crave-Worthy Gourmet Pizza
Featuring gourmet pizzas and an energetic vibe, this extremely popular local favorite is said to make the best pizza in downtown Las Vegas. One of the owners, Tony Gemignani is a 12-time World Pizza Champion.
The restaurant has four ovens and makes a variety of different kinds of pizza styles. From New York, to Chicago Deep Dish and even gluten-free options of your favorite pizza style.
Seated outdoors, we enjoyed a slice of creative pizza made with purple potatoes. The pizza was surprisingly tasty with unique flavors that perfectly complemented each other.
After this tasting, we were left wanting more. Pizza Rock is crave-worthy pizza and a highlight on the food tour.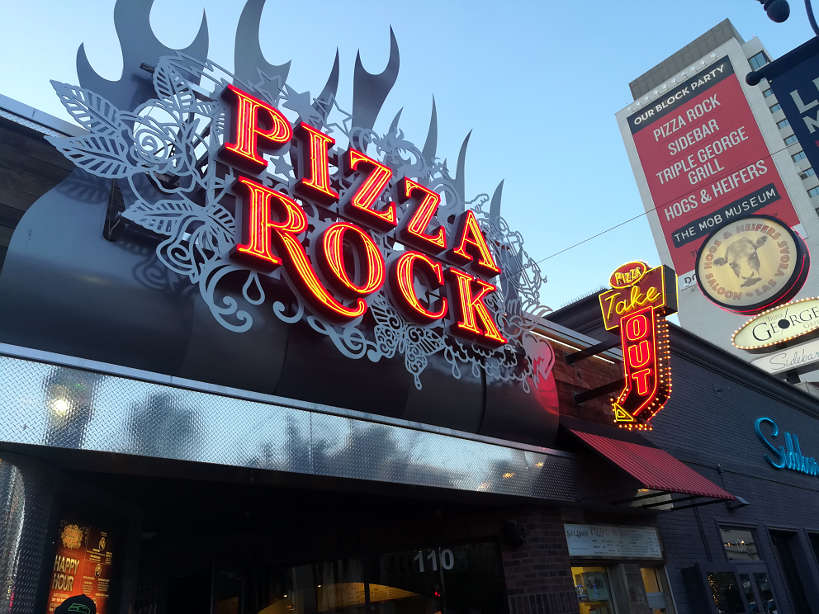 Gold Spike – Dessert at an Adult Playground
What was once a hotel-casino with cheap rooms and slot machines has been transformed into a cool and trendy adult playground.
For our final stop on this downtown Las Vegas food tour, we stopped at the Gold Spike.
This nightlife and bar venue was the most visible demonstration of the downtown Las Vegas revitalization effort.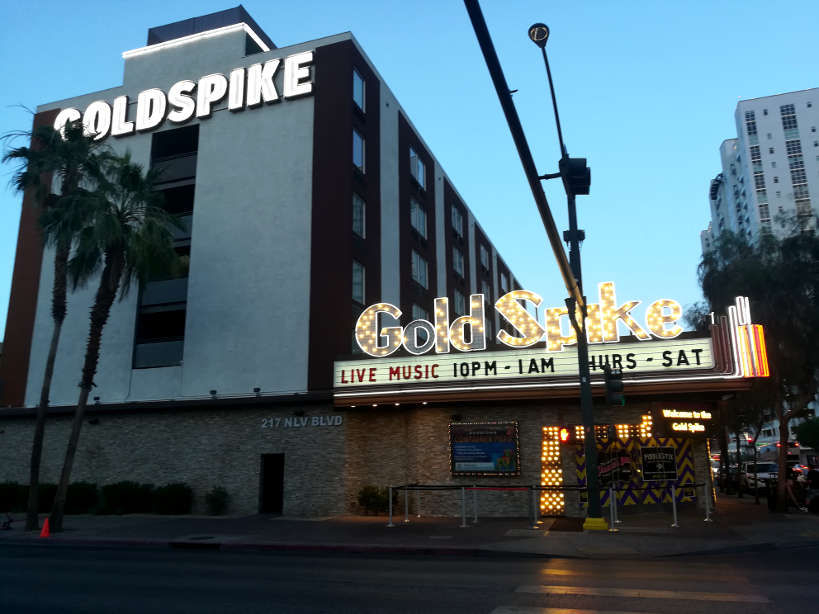 Owned by Tony Hsieh, Gold Spike Hotel & Casino is now an adult playground, frequented by Zappos staff. Find a variety of games including giant chess board, Twister, giant Jenga and more.
One of the best parts is that it is non-smoking and on certain nights, live DJ's perform in the outdoor backyard.
From the restaurant, Fiddlestix, we ended the food tour with one of the most unusual desserts.
We had an Irish Breakfast Milkshake made with Jameson Irish whisky. Other ingredients were the crispy crepe crumbles, maple syrup, whipped cream and a strip of crispy bacon on the side.
This heavy and intensely sweet treat was the perfect ending to a fun and entertaining Taste Buzz Downtown Las Vegas Food Tour.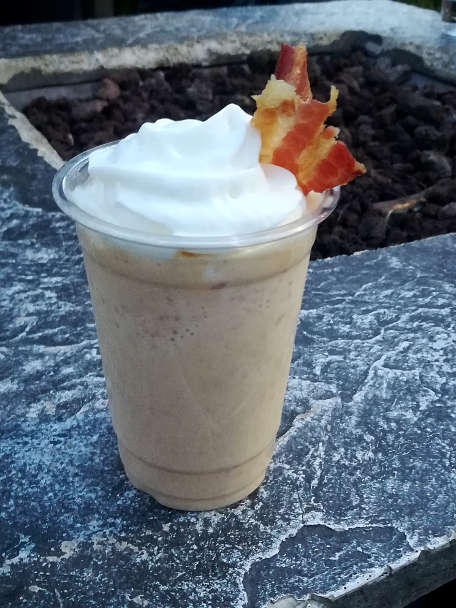 How to Book Your Downtown Las Vegas Food Tour
Walking Downtown Las Vegas Food Tour With Taste Buzz Food Tours
Taste Buzz Food Tours offers two versions of the Downtown Las Vegas Food Tour. Choose the 12:00 pm tour, where we went, or evening tour at 5:00 pm.
This Downtown Las Vegas Food Tour cost $88.
Click below to book your Downtown Las Vegas Food Tour at the time of your choice.
Las Vegas Food Tour on the Strip With Taste Buzz Food Tours
Taste Buzz Food Tours also offers additional Vegas foodie tours. Check the Las Vegas Food Tour on the Strip to eat your way on the strip.

In Summary
Touring downtown Las Vegas is a must-do while in Vegas. On a downtown Las Vegas food tour, you'll learn about the city's history in a fun and entertaining way.
You also discover the best kept secrets of Vegas that only the locals know.
Add unique food stops and surprising bites of local flavors, and you'll have one of the most fun and enjoyable food tour experiences.
Where to Stay in Downtown Las Vegas For Food Lovers
Stay close to all the action in downtown Las Vegas. Book a stay at any of the following historic downtown Vegas hotels ideal for food lovers.
Golden Nugget Hotel & Casino In the heart of Fremont Street, Golden Nugget is known for its large rooms and the Shark Tank pool experience. It also offers a large breakfast buffet and eight restaurants on site for premium steaks, seafood and elegant decor.
Book Your Stay at Golden Nugget Hotel & Casino
California Hotel & Casino – Located just two blocks away from the Fremont Street Experience, "the Cal" welcomes you with the hospitality of the Hawaiian Islands. Enjoy the Islands fare at Aloha Specialties and enjoy easy access to the Fremont Street Experience. Don't miss the Market Street Cafe for the legendary "oxtail soup", a secret Island hangover cure.
Book Your Stay at California Hotel & Casino
Main Street Station Casino Brewery & Hotel Located across the California Hotel, this Hotel-Casino offers on-site microbrewery with handcrafted brews. It also features a great choice of food at its all you can eat buffet and on site restaurants.
Book Your Stay at Main Street Station Casino Brewery & Hotel
Love it? Pin it!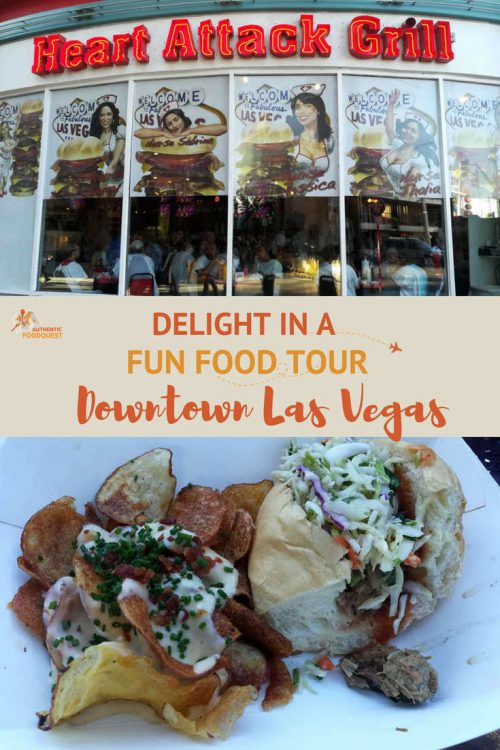 Disclosure: Special thanks to Taste Buzz Food Tours for having us on this downtown las Vegas food tour. All views and opinions expressed are our own. Full bellies and happy taste buds too!
Disclaimer: This page contains affiliate links. That means at no extra charge to you, we earn a small commission when you purchase using these links. Please note we only link to products and services that we personally use or trust. Thank you for your support.
Claire is a culinary explorer who travels the world in search of the best local foods. She is always looking for her next culinary adventure to bring you the best bites while exploring new places.