As excited as we are about this new venture to experience authentic food all around the word, we are also dealing with high levels of stress. We just moved from Los Angeles where we left our home and jobs and are currently in transit in Chicago preparing for our departure to Argentina in early August.
Experts often point to Holmes and Rahe stress scale research which lists stressful life events and their potential impact on health and illness. Needless to say, we are going through a number of these changes including moving countries, changing careers, change in our living conditions and more.
The unfortunate paradox is that what should be a very exciting time for us, has actually been very stress inducing.  To be fair, we had prepared and planned for this move. We knew it was going to require making sacrifices while adjusting to change.
To help us cope here are our top # 5 ways to keep sane in the midst of change. To be honest, we haven't been successful at following our own tips everyday. Sometimes we struggle, other days we skip most of them, and on some lucky days, we do them all.
What we have found is if just commit to applying a few of these tips every day, change become easier to handle and the stress diminishes.
We are not striving for perfection, just for sanity.

1. Getting a minimum of 7 to 8 hours of sleep each night
This is a big one and a very difficult one to adhere to. Surprisingly, even though Los Angeles is only two hours behind Chicago, the time difference has thrown our systems off as we find ourselves struggling to get to bed at decent time to get quality rest.  However, every time we have had a good night of rest, we find ourselves coping much easier.
According to the National Institute of Health, most healthy adults need between seven and a half to nine hours of sleep per night to be at their best.
This is what we are striving for. On nights when sleep is difficult, we use sleep mantras to focus our breathing and sleep peacefully.
2. Eating at consistent times
The more we can get our bodies into an eating routine, the easier it is cope with uncertainty.  Fortunately, eating is one of the things that is within our control. In addition to eating at precise times, we also pay attention to what we are putting into our bodies.
Cooking from scratch with fresh ingredients makes it easier to get back into a routine.  We remain very traditional, eating 3 main meals per day interspersed with healthy snacks (fruits, almonds, etc).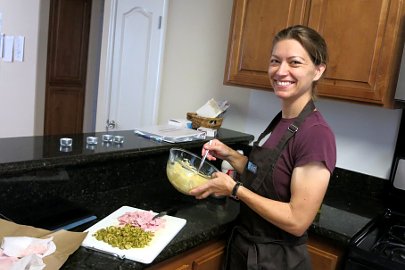 3. Exercising
The beauty of being runners is that we don't need much beyond our running shoes and a running outfit. No equipment necessary, just the desire get out and "run the stress away."
This has been our saving grace along this journey and in our lives in general.  The ability to get out, get some fresh air and be in nature has been and continues to provide respite from the stress.
Overall, participating in some form of exercise is good for the mind, body and soul. If you don't already, try it out for yourself and enjoy the benefits when you exercise at least 3 times per week for a minimum of 30 mins.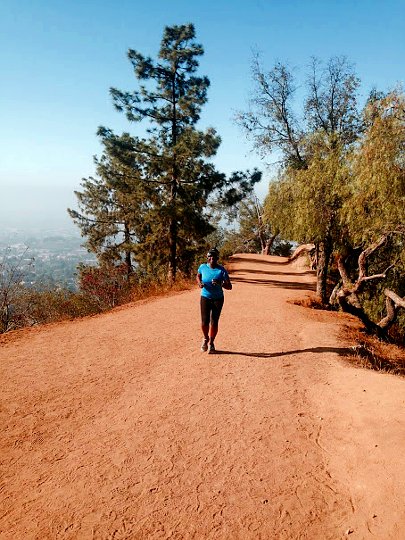 4. Gratitude Journaling
Even though we are excited about our travel adventure, we can sometimes get frustrated with all the "to-do's" and everything that needs to happen while not feeling like we have enough time.
One of the techniques that we learned and are attempting to implement is "gratitude journaling." What's unique about this approach is that we learn to focus on "what's going right" rather than "what's wrong" or "what needs to get done".
We have found this approach to be very helpful because we are focusing on the positives. When we look back at our journal, we realize that there is actually more going right than wrong.
5. Meditating
The ability to quiet our minds and go within, is incredibly powerful but difficult to achieve on an on-going basis.
We struggle with this tip, though we relish how we feel after we've taken time to connect within.
On the resources page, you will find examples of some of the guided meditations we use to help us keep calm. As difficult as it is, some of the benefits we experience such as feeling less frazzled and more centered are incredible.

In Summary
All these tips collectively offer incredible benefits.  As we navigate through change, they have helped us tremendously.
It is an ongoing journey and one that we take day-by-day.
From your perspective, share with us, how do you cope with change? How do you maintain your level of sanity in the midst of change?
Share your tips and benefits with us by commenting below.
Savor The Adventure.
Rosemary is a writer, culinary explorer, and digital nomad. Together with her partner, Claire, they created Authentic Food Quest to help people find the best local food on their travels. For over 5 years they have eaten their way through South America, Southeast Asia, Europe, and North America while sharing the best local food experiences on their website. Authentic Food Quest has been featured on top publications such as Huffington Post, Business Insider, and Honest Cooking.  Rosemary and Claire are also authors of Authentic Food Quest Argentina and Authentic Food Quest Peru, available on Amazon. Prior to creating Authentic Food Quest, Rosemary worked as a strategy director in advertising for over 15 years.