On our first visit to Luang Prabang, the culinary capital of Laos, we were excited to discover Lao cuisine. Never having had Lao food before, we decided to take a cooking class to explore the local flavors.
One of the best ways to learn about Lao cuisine and the traditional dishes from Luang Prabang is from a local expert. When researching cooking classes, we were immediately drawn to an immersive cooking class at the Heuan Chan Heritage House.
This class met our criteria for offering an authentic cooking experience, the opportunity to explore the Luang Prabang traditional way of life, and a small and intimate setting.
Join us as we discover authentic Lao cuisine at a Luang Prabang cooking class at the Heuan Chan Heritage House.

Luang Prabang Cooking Class at the Heuan Chan Heritage House
Walking down a shady lane behind Buddhist temples, we were surprised to find the Heuan Chan Heritage House located in a beautiful garden in the heart of the old city.
Welcomed warmly by Keo our host and cooking instructor for the day, we were invited to relax in the garden for a welcome drink, before touring the heritage house.
To kick off our afternoon, we started out with glasses of striking Butterfly Pea juice. The bright purple juice with a slight green tea taste and citrus flavors is rich in natural antioxidants and popular in Southeast Asia. Feeling refreshed, we were led by our guide to the traditional heritage house.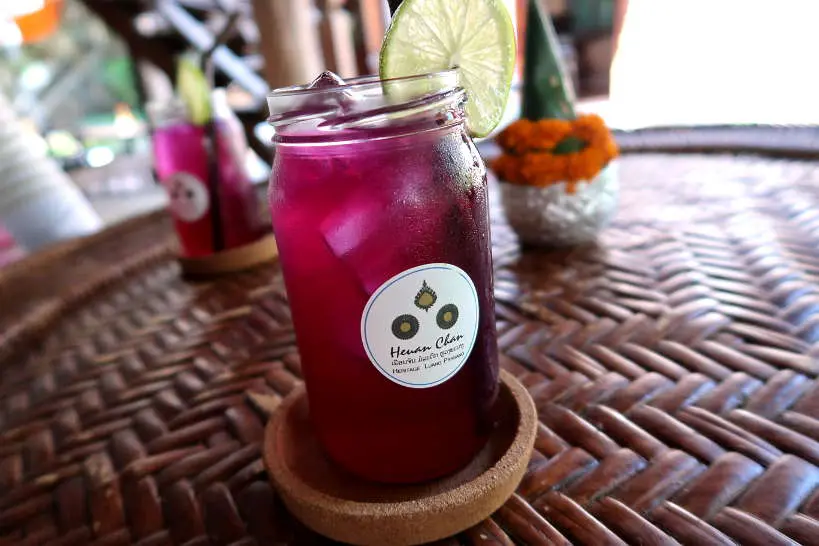 Laos Food Culture At the Heritage House 
The Heuan Chan Heritage House is a traditional Lao home built in the 1900s. The house has been restored and is now used to show and promote the traditional customs of Luang Prabang.
We learned from our guide that the house was the personal home of a wealthy owner who was the Head of the Guards to the King at the Royal Palace.  While touring the wooden house, our guide stopped at each room explaining the role and function of the space. It was a fascinating look at how traditional families lived in Luang Prabang more than 100 years ago.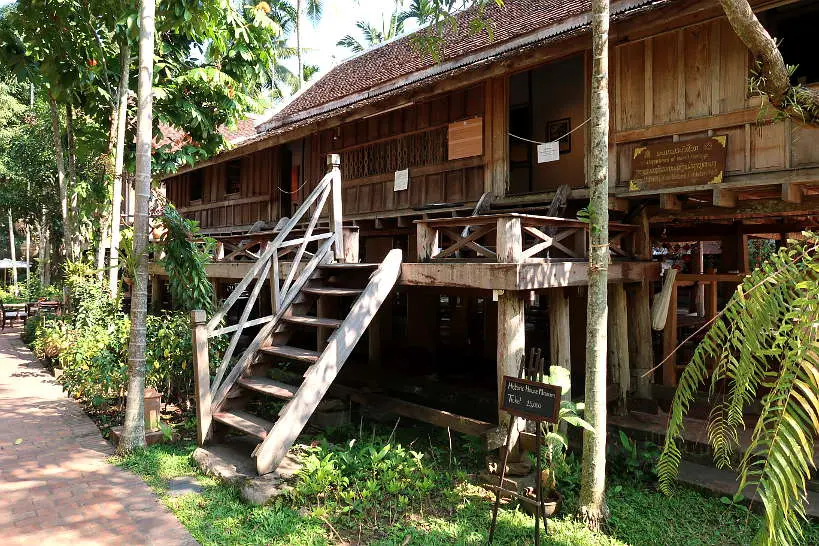 The Food Culture at Home in Traditional Luang Prabang 
As culinary explorers, we are most interested in learning about the food culture and local customs. The visit to the kitchen and cooking areas was one of the most captivating stops on the tour.
Sticky rice or khao ngiaw is the main staple in Laos cuisine. Women are in charge of the cooking and they are responsible for making sure there is enough sticky rice for the day.
Steaming the sticky rice is the main cooking method used in Laos cuisine. The charcoal stove and the steaming basket occupy the central place in the kitchen.
Eating is communal and families share their meals together.  Traditionally, the family would sit on a reed mat placed on the wooden floor around a raised platform woven out of rattan called a ka toke. Dishes would be arranged on the ka toke and refilled throughout the meal.
Sticky rice is eaten at each meal and used to dip into the many different jaews or dipping sauces. Fermented fish, coconut, fresh herbs, spices such as chili, lemongrass, garlic, and onions, are staples in Lao cuisine.
Laotian use their hands to eat and a spoon for soup. A little bit of sticky rice is rolled into a ball and then used to used to dip into a sauce or accompanying dish.
All the dishes are served at the same time with sticky rice being the most important component of the meal. There is no starter or dessert in Lao cuisine. Everything is eaten together.
The tour of the heritage house was the perfect introduction to the Laos food and the Luang Prabang cooking class.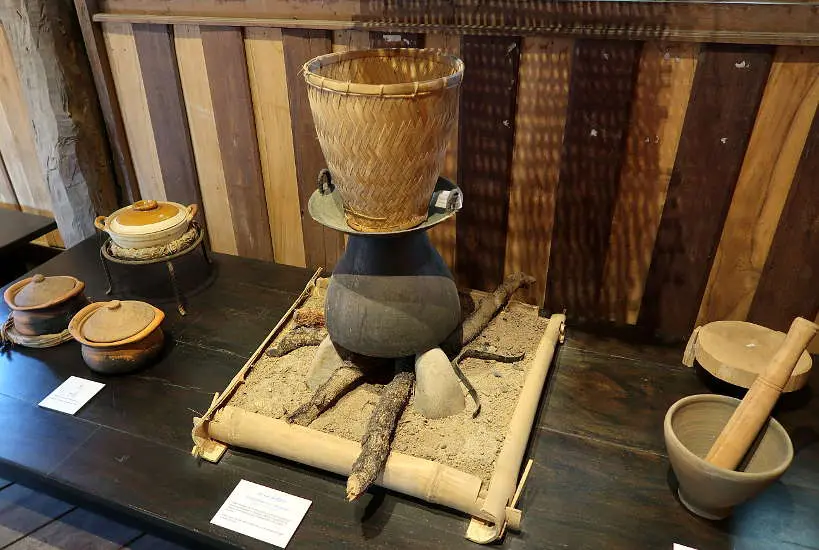 Dream Catcher Workshop
After the enjoyable heritage house visit and before the cooking class, we stopped in a workshop area to learn about the traditional arts in Luang Prabang.
At this workshop, we learned to make a dream catcher from the Tai Lue ethnic group in Laos. These beautiful ornaments, we learned, are used in important ceremonies to chase away the bad luck away and bring in only good luck.
After a brief introduction to the technique, we each got to make our own dream catcher. Using only yarn and two sticks we chose our colors and attempted the technique.
After some trial and errors, we got into a meditative flow and made our first dream catchers in under 20 minutes. Successful, we put them over our necks and made our way to the Luang Prabang cooking class.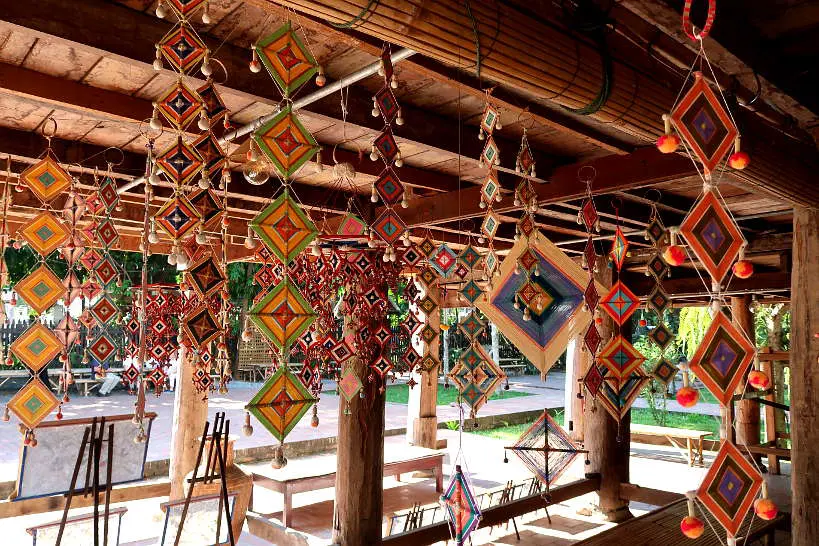 Luang Prabang Cooking Class – Traditional Laos Cuisine
Welcoming us with a huge smile into the open kitchen, Keo briefly explained the outline for the afternoon. Her concept as she explained was "just like home." The idea was to be as flexible and fluid as you would be in your own home kitchen.
We would make a dish, then eat a little bit while still hot, and then move on to the next item on the menu.
Most cooking classes we've taken are much more structured where you cook everything first and then enjoy the meal at the end. With Keo, it was different. We would cook, sample, and then cook the next dish.
The order in which we cooked the dishes was dependent on the amount of cooking time required. For instance, we started off by draining the coconut milk out of a freshly shaved coconut for sticky rice used in the rice cakes and dessert.
We had a lot of fun moving fluidly in between the dishes while learning the traditional Lao cooking techniques.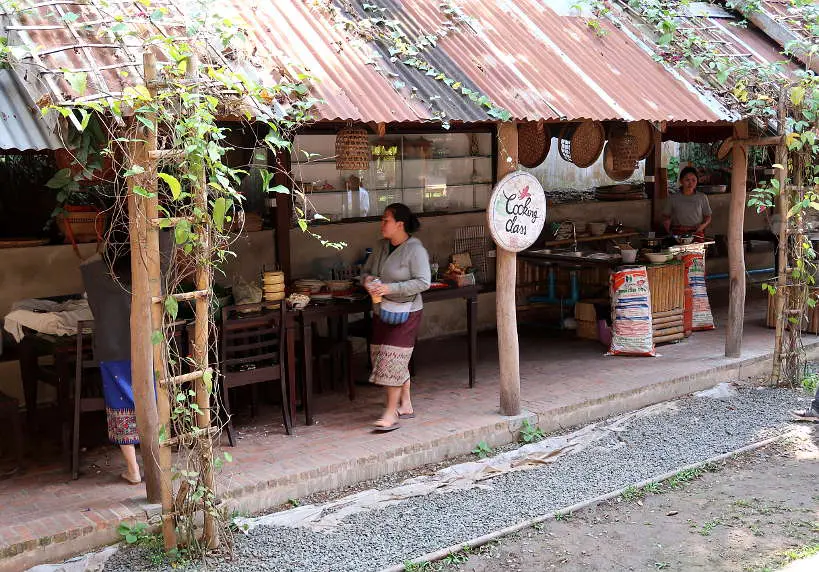 Cooking Experience – 6 Traditional Lao Foods in One Cooking Class
In the cooking class with Keo, we learned how to make six traditional Lao foods. This article focuses on the five Lao foods we found to be the most surprising. With the similarities between Thai and Laos cuisine, we were already familiar with mango sticky rice which is already one of our favorite Thai desserts.
Khao Chii

– Grilled sticky rice cakes

Jaew –

Dipping sauce

Tom Jaew Hed

-Mushroom soup

Au Ka Lampi

-Cabbage stuffed with pork

Tom Kai Sai Khin – 

Ginger chicken soup

Mango Sticky Rice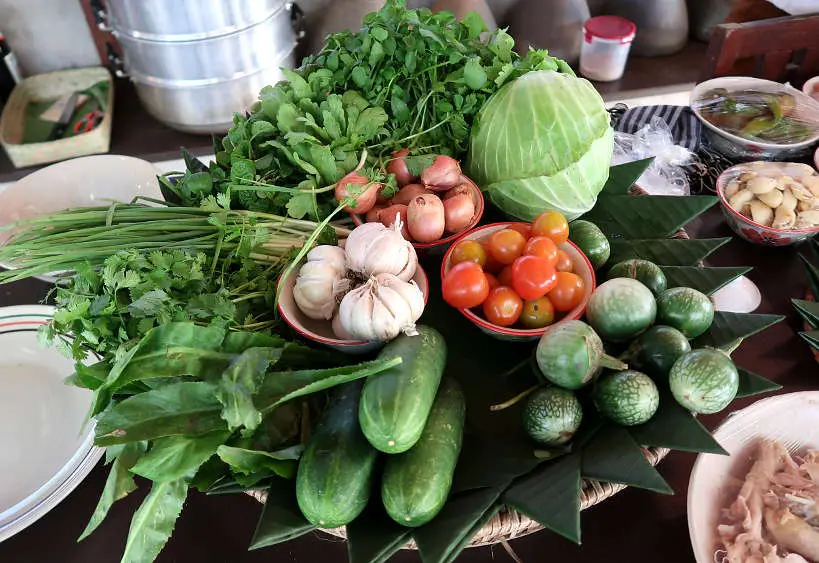 Khao Chii – Grilled Sticky Rice Cakes
Using sticky rice, the staple food of Laos, we learned how to make Khao Chii, the absolutely delightful grilled sticky rice cakes. Khao means rice and chii is grilled and this combination was divine.   
Starting out, we made a batter for the rice cakes using a little coconut milk, the yolk from one egg, pepper, salt, chili and herbs like coriander, garlic and shallots.
We added the mixture to the sticky rice and and using our hands, mashed everything together. From Keo, we learned how to take a small piece of the mixture, roll it into a ball and then flatten it into the size of a hamburger patty before putting it on the nearby charcoal grill.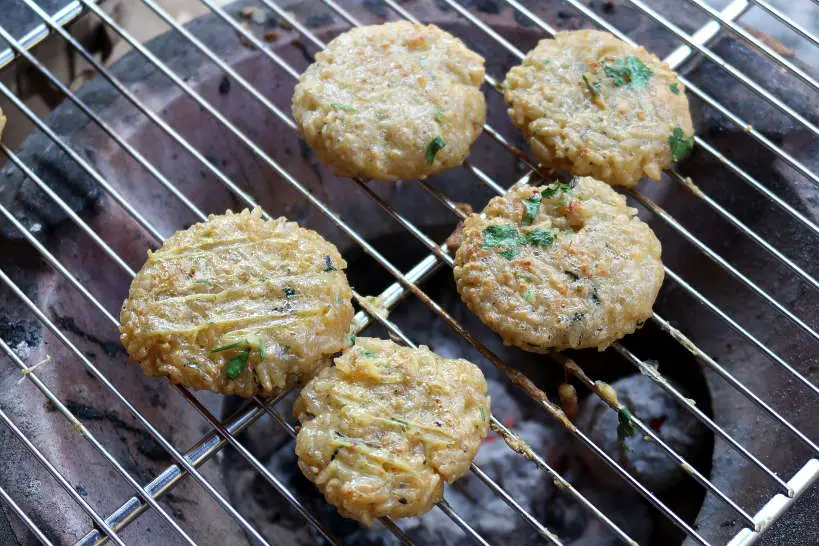 We made two kinds of rice cakes. We dipped about half the batch of rice cakes into fermented fish sauce before grilling them and kept the other half plain.
Having eaten sticky rice before on multiple occasions, this was our first time having it grilled with such simple ingredients. Hot off the flames, these rice cakes were incredible. The exterior had a great crunch and added texture to the rice. The inside retained its sticky characteristics and was not too dry.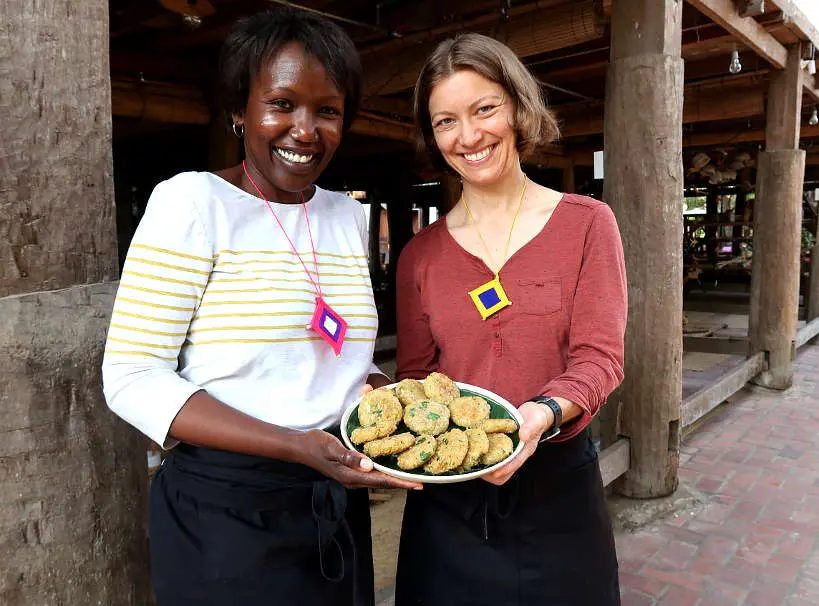 Jaew –  Dipping Sauces: An Important Part of Laos Food Culture 
Jaew or dipping sauces are very popular in Laos cuisine. There are many different kinds and as Keo explained, "it is eaten at home typically with sticky rice or vegetables".
In the Luang Prabang cooking class, we learned how to make the traditional jaew from scratch. Using a mortar and pestle, we added garlic, shallots, green chilis that had already been boiled to remove the skin, red chilies, boiled tomatoes without the skin, and pounded all the ingredients together to make the sauce.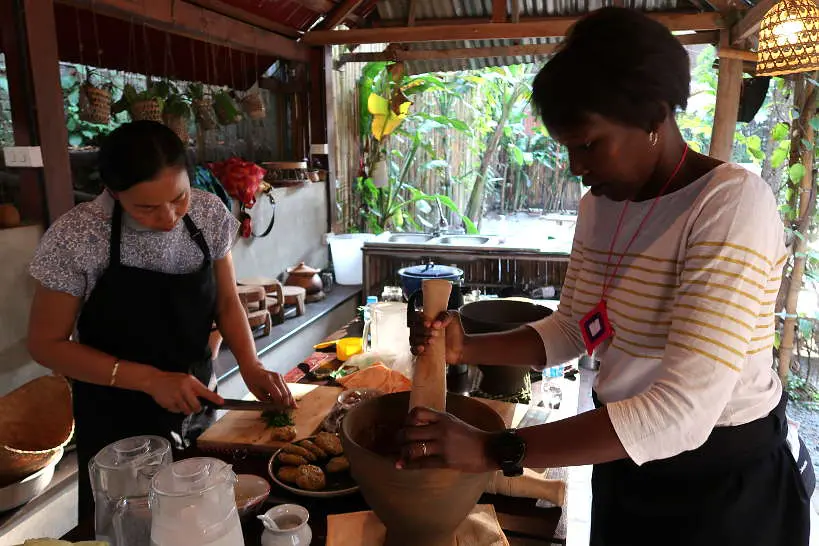 As we pounded delicately, making sure all the large clumps were broken up, we couldn't help but soak in all the wonderful aromas.
Once the jaew was ready, Keo recommended putting it on top of the rice cakes and eating it together.
The combination of flavors was irresistible. The warm sticky rice cakes and the savory jaew was the perfect combination. At one point, Rosemary had to stop Claire from eating so many rice cakes and jaew, so that she could continue cooking and leave room for the rest of the traditional Lao food.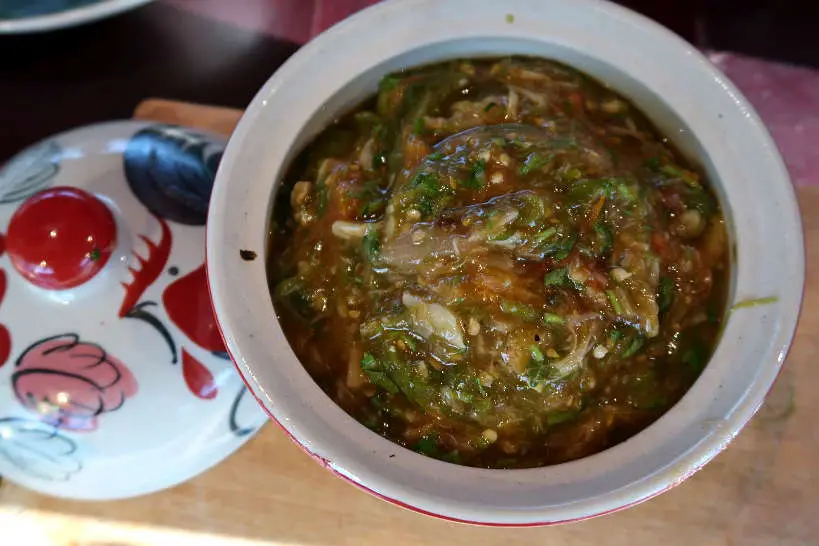 Tom Jaew Hed – Mushroom Soup
Soups are part of the Laos food culture and are sipped on throughout the meal. In our Luang Prabang cooking class, we learned how to make mushroom soup and ginger chicken soup.
To make the mushroom soup, we used the same base as the jaew including eggplants that had been steamed. We pounded in extra lemongrass and fermented fish sauce for additional flavor.
Once cooked, we were seduced by the fragrant and aromatic broth. When eaten together with the local mushrooms, the flavors were heightened.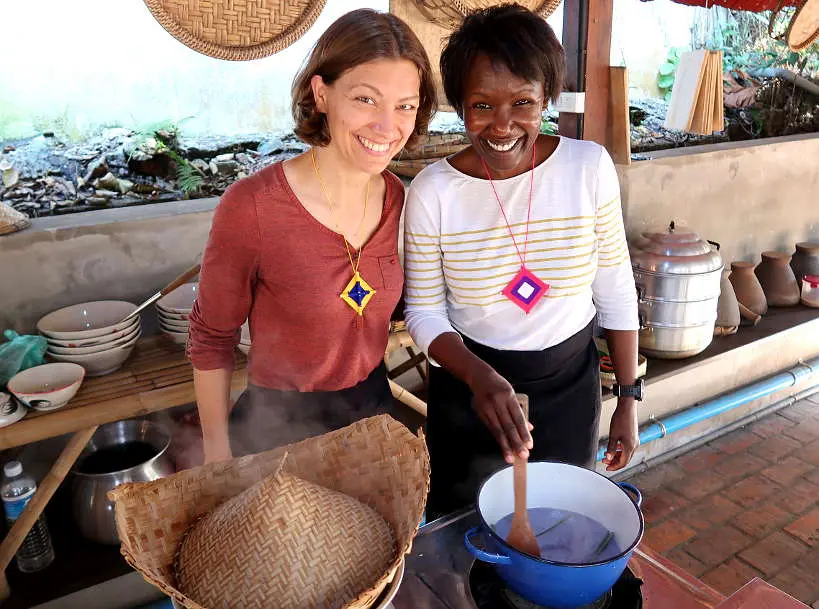 Tom Kai Sai Khin – Ginger Chicken Soup
Starting out with boiling chicken broth, Keo added fresh ginger, onion, garlic, green onions, and a few herbs into the hot broth. We added slices of chicken that had already been prepared earlier and let the soup simmer for a few minutes.
Within no time, the fragrant and gingery odors tempted us for more. The soup was delightful and well-balanced. The tender chicken slices were tender with flavors quite distinct from the mushroom soup.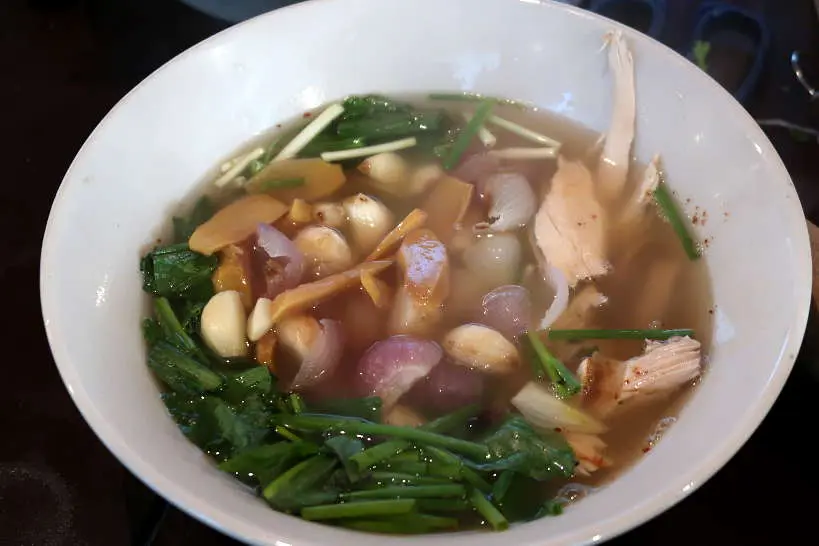 Au Ka Lampii – Cabbage Stuffed with Pork
As we continued to eat and sip on our soups while cooking, we went on to prepare cabbage stuffed with pork, which quickly became Rosemary's favorite dish.
To the raw pork, we added vermicelli noodles, one egg, some fresh herbs, and seasonings. After that, Keo taught us how to roll the pork into balls and then wrap them in cabbage leaves. Once we made about half a dozen or so, Keo simmered them in a wok with chicken stock.
Rosemary was in heaven after she took her first bite. The flavors of the herbaceous pork were delightful. The cabbage, fresh and in season added just the right amount of texture.
As I went back to eat my rice cakes with jaew, Rosemary was enraptured by the cabbage stuffed with pork.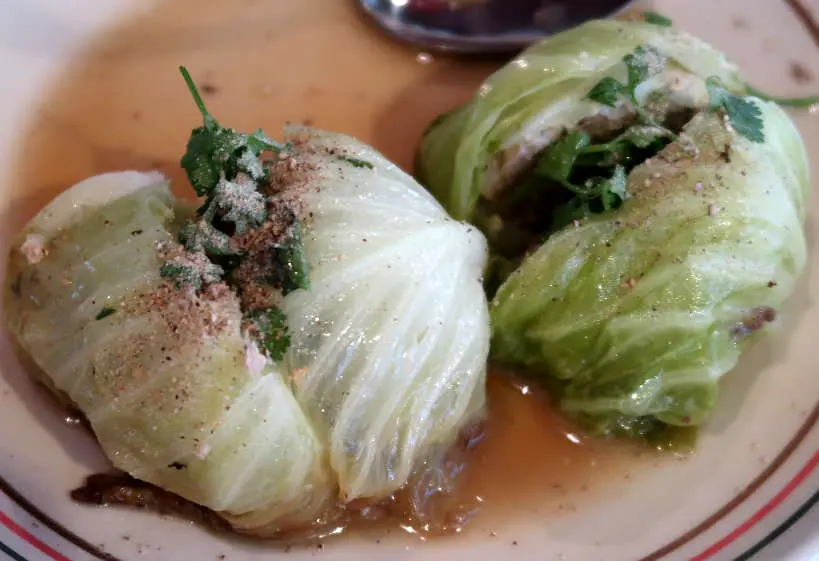 Click the Video Below to See Highlights from the Luang Prabang Cooking Class and delicious Lao Cuisine.

In Summary 
The amazing authentic cooking class at the Heuan Chan Heritage House was a rich and immersive experience.
Starting out with experiencing traditional Laos culture at the heritage house and then making dream catchers set the context for this Luang Prabang cooking class.
Keo, our warm and generous cooking instructor made us feel right at home. Her teaching style is relaxed and loose and we greatly appreciated our conversations about Lao foods.
For an introduction to Lao cuisine and cooking, we could not have asked for more. The class was intimate, just the both of us, and for more than four hours, we talked, ate and had a great time.  
After such a delicious introduction to Laotian cuisine, we kept looking for the same foods we had made either at restaurants or street stalls in town. While we discovered other authentic Laos foods, the jaew, and rice patties we had again, never tasted as wonderful as the ones we learned to make in our authentic Lao Luang Prabang cooking class.
Practical Information – Authentic Lao Cuisine Cooking Class, Heuan Chan Heritage House 
Book your cooking class directly at: Authentic Lao Cuisine Cooking Class at Heuan Chan Heritage
Location: The Heuan Chan Heritage House is located in the old quarter behind Wat Xieng Mouane. You'll find it at the tranquil gardens at Xieng Thong Village.
Classes are offered daily starting at 3:00 pm. This includes a tour of the heritage house and learning how to cook 4 – 6 dishes
Cost: $39.00 per person
Love It? Pin it!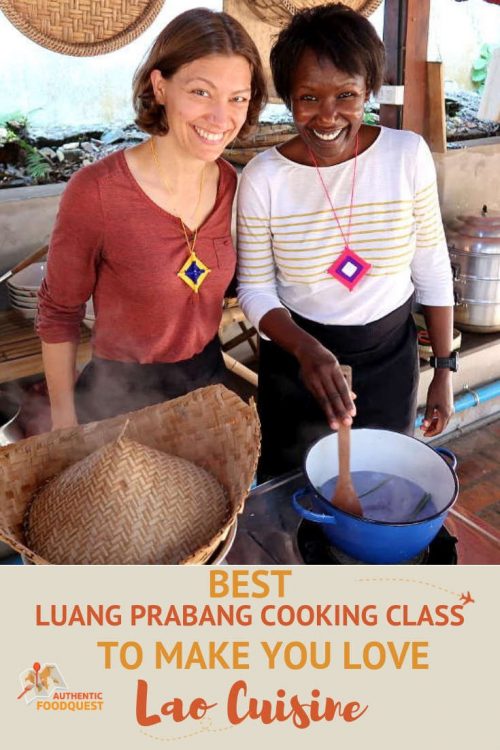 Special thanks to Cookly and the Heuan Chan Heritage House for having us in this cooking class. All views and opinions expressed are our own. Full bellies and happy taste buds too.
Claire is co-founder of Authentic Food Quest and a lover of simple and exquisite cuisine. Since 2015, with her partner, Rosemary, she has been traveling the world as a digital nomad, creating content about local food experiences.
Her advice from visiting 45 countries and more than 240 food cities has been featured in Lonely Planet, Business Insider, Honest Cooking, Food Insider, and Huffington Post. She has also co-authored three books, including one in collaboration with Costa Brava Tourism.
An ex-mechanical engineer, Claire is responsible for SEO, keeping the website running, and the fun food & travel videos on YouTube.
When Claire is not eating, she can be found running or cycling. Find out more about Authentic Food Quest