January 1st 2016 was spent on Machu Picchu. This was significant because it was a fulfillment of a dream. Of a promise I made to myself when I was just 24 years old. Having read about Machu Picchu and seen videos, the mystery of the place had always attracted me. This trip was not about checking off a "bucket list" destination, but the fulfillment of a dream.
As we shared our journey and our plans for going to Machu Picchu and Machu Picchu Mountain, we were overwhelmed by how many of you who told us that it was your dream as well to visit Machu Picchu. This story is for all of us who have dreamed of Machu Picchu.
This is not going to be a typical blog post about Machu Picchu. There are dozens of websites and hundreds of books, movies, YouTube videos and more all dedicated to the mystery of Machu Picchu. If you are looking for the practical aspects about Machu Picchu, this post is not for you. However, if you want a personal story about the fulfillment of a dream then sit back comfortably and find yourself in this story.
However, one cannot talk about Machu Picchu, one of the 7 Wonders of the World without showing the pictures. So at the end of this post amazing pictures are included. Make sure to check out the gallery of pictures below.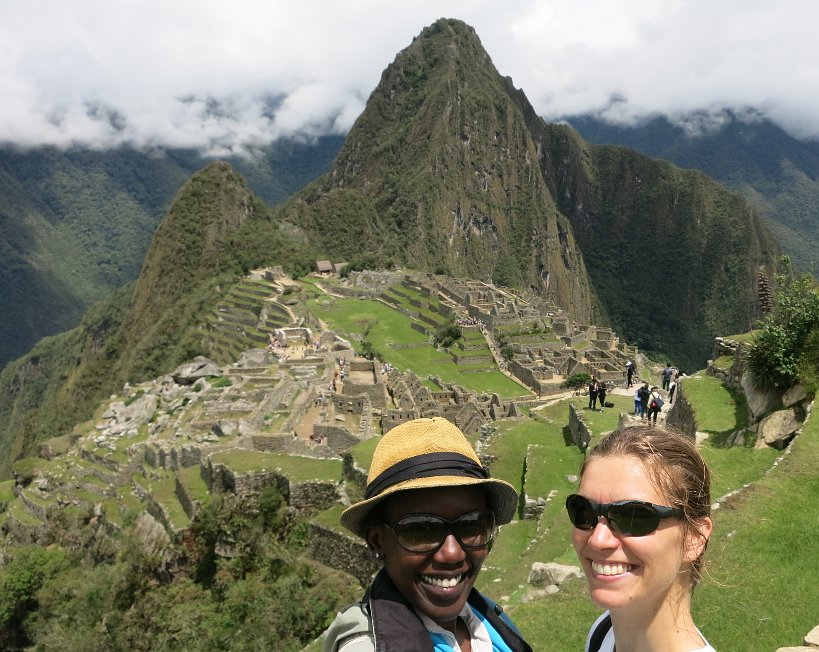 The Power of Dreams
It's interesting to think about how things get started. For me, it's really in the power of intention. It starts with a dream. Then it is followed with making a declaration. First to myself and then publicly to others of things that I want like to accomplish. And then 'letting go' and 'trusting' while putting the pieces in motion.
Visiting Machu Picchu is one of experiences I've always wanted to have. At the time, I had no idea how it could possibly happen. I nevertheless noted it, felt it deeply and then promptly forgot about it. As fate would have it, and many years later, Claire and I would create Authentic Food Quest. We chose to start our quest to showcase and highlight local authentic food specialties in South America, and by design were able to include places we've always dreamed about visiting. This is how we came to visit Machu Picchu.
When you think about your dream to visit Machu Picchu, how are you going to about realizing that dream? Is the dream still alive in you or have you relegated to the status of "unattainable?" Or as the famous American poet, Langston Hughes asks, "what happens to a dream deferred?"
From Cusco to Machu Picchu
Getting to the fulfillment of a dream
When we finally arrived in Cusco, the primary gateway to Machu Picchu on December 23rd, 2015, I was ecstatic beyond words. The dream was about to become to a reality.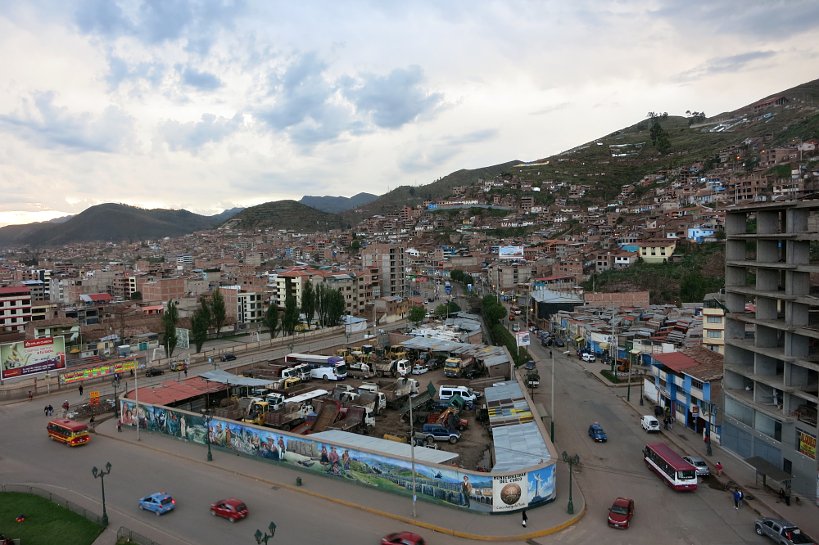 What we didn't know at the time was how difficult it was going to be to purchase our entrance tickets. We made our way over to the Dirección Regional de Cultural (DRC), the official source for the entrance tickets for Machu Picchu and Machu Picchu Mountain. We had a very nice conversation with the ticket agent who told us there was availability on the dates we were considering and that we could pretty much buy our tickets at the last minute with no problem at all. Given the news, I picked January 1st 2016 as the date. This would be the fulfillment of a dream, at the start of the new year.
Once we decided on the date, we went back to the ticket office and this time we were told that the tickets for 2016 would not be available for sale to the public until the 28th of December. Even though we were surprised that they were not able to pre-sell the tickets, we just choked it up to being in a different country with its own set of rules. So, on the 28th we went back to the ticket office and they told us the tickets were not available for sale yet. Check back on the 29th or 30th they said. We went back on the 29th and the tickets were not available.
By this time, I was panicking. We still had to book our bus trip Ollantaytambo, where we would then be taking the Peru Rail train to Aguas Calientes, which is at the base of Machu Picchu. We had already reserved our hostel for the 31st but were even sure if we were going to make it. Hoping and praying the tickets would be available, we went back on the 30th. This time the ticket agent told us that the tickets would be available starting at 7:00 am the next morning for January 1st.
Shit!! How could this be…waiting until the very last minute to sell the tickets? We were stumped and needed to make a decision. Claire being very practical, wanted to postpone the trip a few days to make sure we had the tickets in hand. I, on the other hand, wanted to start my New Year in the place I've always dreamed about and was adamant about not changing the dates. So, we argued…or rather we negotiated! We came up with a plan. We decided we would wake up early and buy the tickets online, that way we would be sure to have them in hand before leaving.
Even before the alarm clock went off at 7 am the next morning, we were both awake and immediately logged on to get the tickets. At first, the website was showing the tickets not available. After refreshing a couple of times, the site became painfully slow. Success!! After trying several times, we were able to reserve the tickets, but we needed to wait for the confirmation number in order to process the payment, which took forever.
The way the system works is once you have your confirmation number, you need to actually pay for the tickets in cash. Our hosts gave us a great tip and told us not to go to the Machu Picchu ticket office, but rather go the National bank (Banco de la Nation) and pay there instead. We left and hopped into a cab and decided to first check the office first before going to the National bank. It was chaos outside the Machu Picchu office. There was a large and unruly crowd knocking on doors which were surprisingly closed. This was at about 9 am while the office is usually open since 7 am. We looked at each other and decided to try the National bank option.
At this time our patience was being really tested. I kept trying to cheer us up saying "it's all going to work out", while Claire kept offering up the option to choose a new date. We queued in line at the National bank for about 20 minutes and were finally able to pay for our tickets. Goal accomplished!
The next task was printing out the tickets. Not having a printer accessible, we decided to go to iPeru, the tourist office and see if they would print them out for us. No problem they said, just give us your confirmation number and we will print them out for you immediately. This part did not go as easily as we all assumed. First, the Machu Picchu website was not loading up. It was ridiculously slow. The tourist office had to shut down their computer a couple of time just to try and get to the reservation page. Once they finally succeeded, their printer stopped working.
So, here we were panicking because we needed to leave by noon. We had tickets but not the physical copies that we needed. We were desperate! Our ever-resourceful agent at the tourist office called her colleague at another office and asked him to print the tickets for us. At the same time, she fiddled around with the printer. Voila. Success! She was able to repair the printer. After waiting at the tourist office for about 45 minutes, we finally had the tickets we needed to get to Machu Picchu.
Reflecting back on this experience, my dream and patience were being tested. The obstacles that were placed in the way were to test how much I really wanted to achieve this dream. When you think about your dreams, what obstacles are in the way? Are you working past those challenges, or are you pushing things off?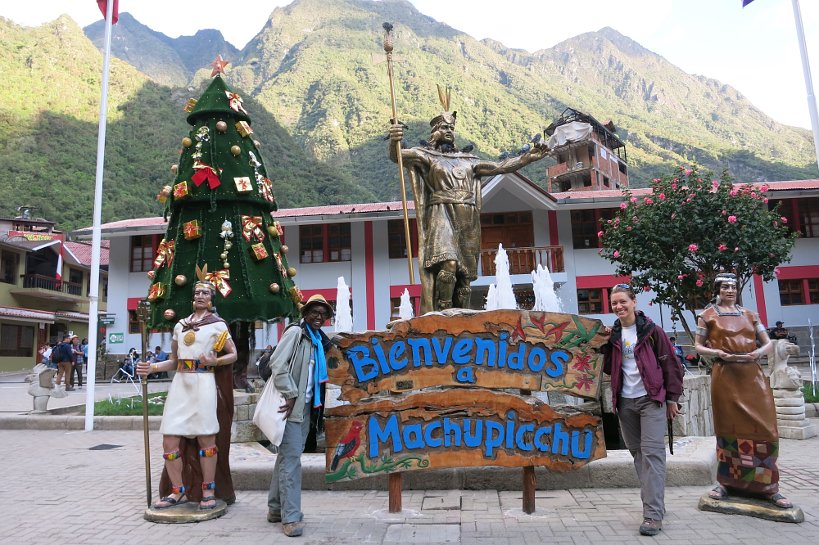 We arrived in Machu Picchu at 6:30am on January 1st 2016 having taken the first bus out of Aguas Caliente. I was so excited and could hardly contain myself. We passed through the security checkpoint, and were then free to visit the site.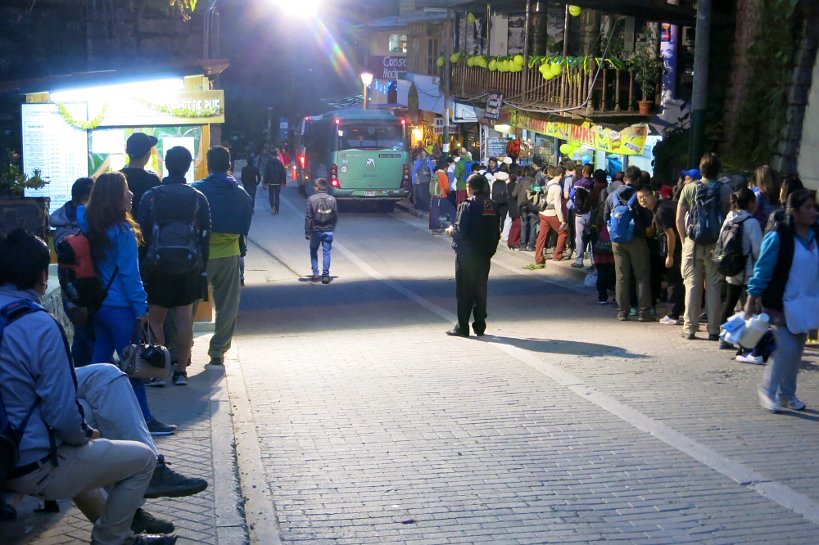 Machu Picchu is situated between two mountains. The largest and oldest being Cerro Machu Picchu or Machu Picchu mountain and the second one Huayana Picchu. The best way to have a clear view of Machu Picchu is to admire it from the top. So in addition to our tickets to enter the sacred site of Machu Picchu, we also bought tickets to climb up Machu Picchu Mountain .
We started our climb up Machu Picchu Mountain at about 7:30am and we were told it should take about 1.5 – 2 hours to get to the top. It was not a problem and we were prepared and excited.
We started our hike with relative ease and as we progressed further, our hike became increasingly difficult. The first change was the weather. We started hiking in dry conditions and the higher we went the weather became tropical. As if we were in a jungle. It became humid, and started raining. Fortunately, we had ponchos with us and were able to keep pushing forward
The most noticeable challenge was the stairs. The steps were large and uneven and with the rain, slippery and dangerous.
The most difficult part of the climb was how steep the steps were. I'm fairly fit and used to hiking and exercising regularly. However, this particular climb was quite challenging. With the weather, and the narrowness of the rocks, there were points in the journey where all I could do was just look at the one step in front of me rather than the entire stairway up.
As I put one foot forward and made my way to the top, it dawned on me that this is an analogy for life. Sometimes, you know where you want to go, but cannot always see the clear path forward. The path reveals itself as you keep putting one foot in front of the other and staying focused.
What challenges are in your way to realizing your dreams? Are you trying to see the entire path forward or can you be content in just taking the next right step?
Machu Picchu Mountain: Getting to the Summit
After one and half hours climbing up to 3061 meters (from 2400 meters), we finally made it. Wow! What a magnificent view from the top. It was worth the effort to climb up the mountain. Admiring the remarkable Inca ruins from the top and through the clouds was nothing short of spectacular.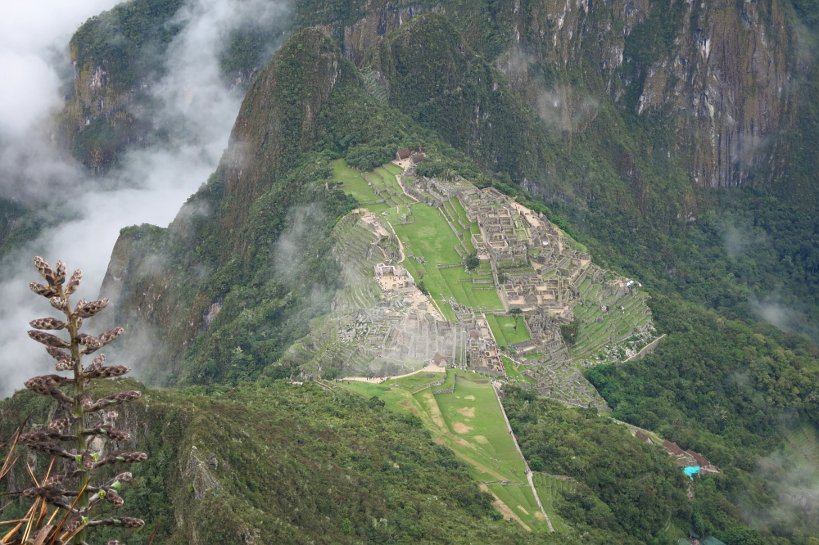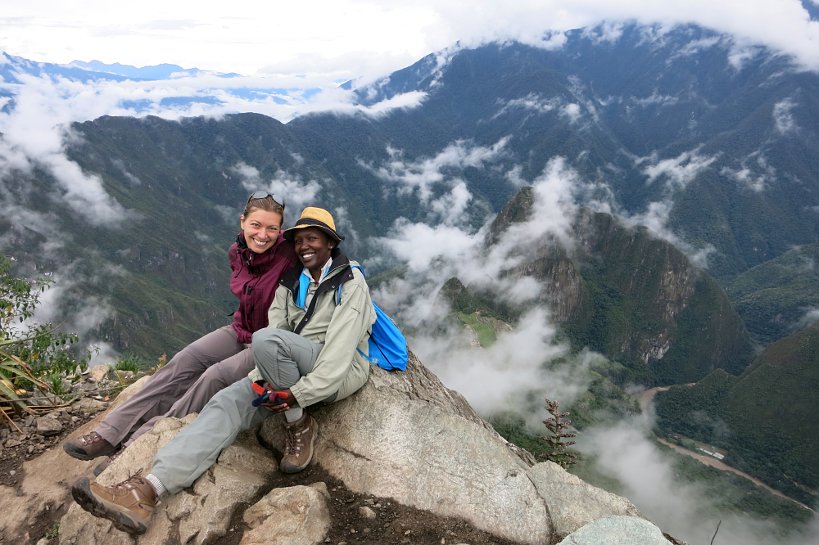 The lesson here is to stay focused on your dreams and keep moving forward. When you get to the top, you will be richly rewarded. Don't give up on your dreams. It is worth the view from the summit.
The Sacred City of Machu Picchu
After spending time at the summit of Machu Picchu Mountain, we made our way down to take a tour of the sacred city of Machu Picchu. We joined a group with 3 Indian couples living in Boston and Carlos, our tour guide.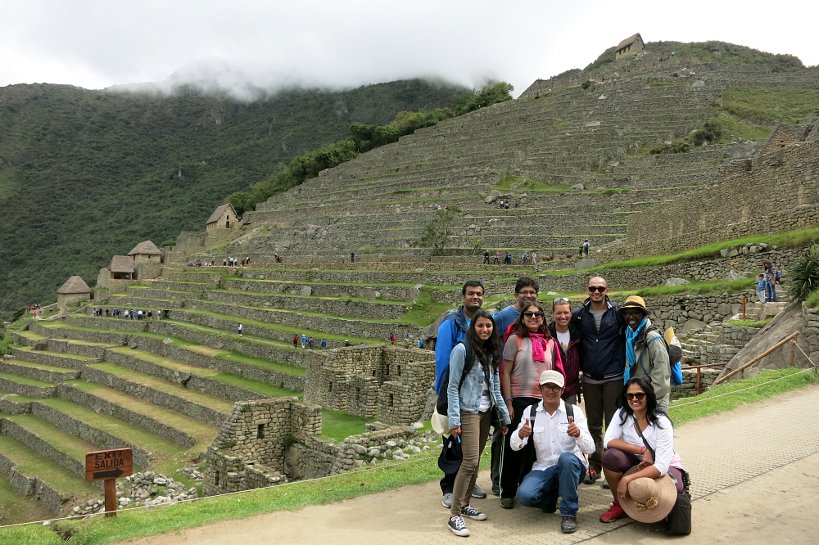 For almost 3 hours, Carlos walked us around the sacred city of Machu Picchu regaling us with stories about how the Incas lived, and worked. Built as a religious city, it was fascinating to learn that Machu Picchu the only Inca ruins with 7 temples. Below are some of the religious temples found in Machu Picchu. Please see the link below to see additional pictures of Machu Picchu.
Lessons Learned
Being at Machu Picchu is a truly an amazing experience. The construction, design and foresight of the Inca's is remarkable. It's difficult to fathom how advanced they were at the time. Be sure to check the pictures below to get a sense of the scale of the place.
Even though Machu Picchu is a place that is visited by many, it should remain on your list. Even though there were hundred of people from all over the world, there was a deep sense of respect for the place and the experience. People were unusually respectful of each other -getting out of the way for the classic shots and even offering to take pictures of others. A very congenial atmosphere!
4 Key lessons
1. Believe in the power of dreams. Dream and believe in your dreams! No matter how long it takes to achieve them. Stay focused and don't give up.
2. Prepare to attain your goal. Take the steps to achieve your goals. Do the research. Find out how much money or time you need to achieve your goal. You will be surprised to learn that it may take less than you think. Don't forget to prepare yourself physically for your goal. There were many at Machu Picchu who were not in the physical condition necessary to climb up and down the steps therefore not fully enjoying their dream. Whatever your dreams may be, don't forget the physical preparation.
3. Enjoy the journey. Even though we had to jump through several hoops to get to Machu Picchu, it was well worth the effort. While the climb up Machu Picchu mountain was strenuous, the beauty and the views made up for it. Don't forget to 'pause' and look around and appreciate the experience.
4. Be grateful. Being grateful means being thankful. Count your blessings, and notice life's simple pleasures. Everyone can dream, but not everyone can pursue his or her dreams. You probably can! So, dream big and take the necessary steps towards the fulfillment of your dreams.
Machu Picchu Gallery – Authentic Food Quest
We will be back to talking about food in our next article and specifically the specialties from Cusco. In the meantime, for more tips on how to buy Machu Picchu tickets, check out this great article for how to buy the tickets as an independent traveler.
Stay hungry for more!!
Don't forget to sign up for our monthly newsletter here and get your free ebook on "The 5 Best Ways to Find Authentic Food While Traveling".
Savor The Adventure!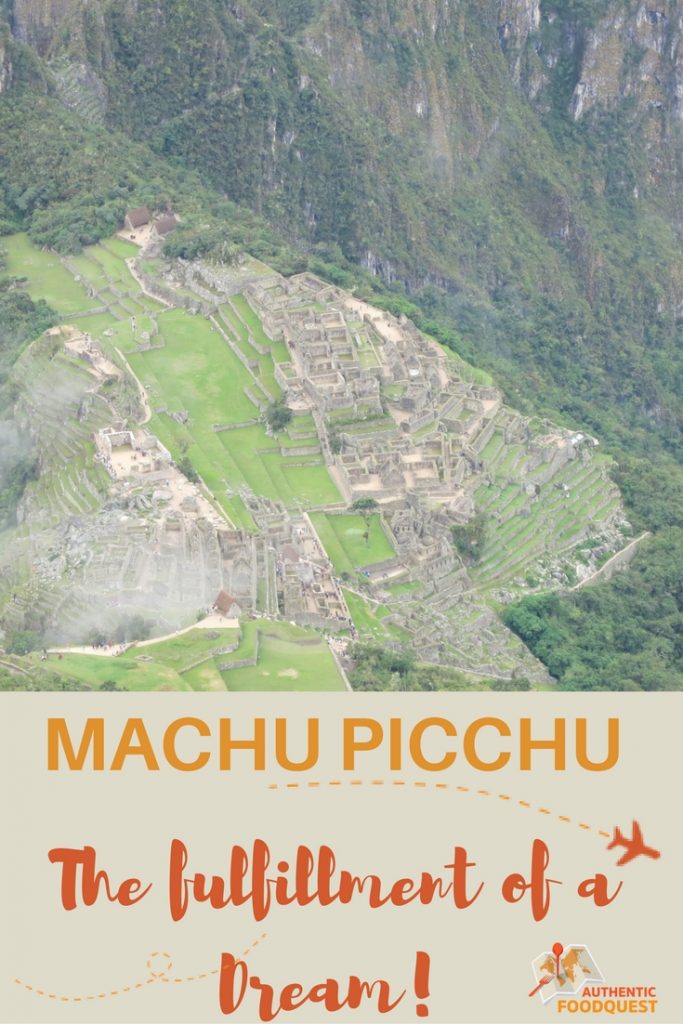 Rosemary, ex-marketing and advertising strategist, is a digital nomad and content creator at Authentic Food Quest. Since 2015, with her partner, Claire, they travel the world in search of the best local food experiences. Their mission is to help you enjoy the best local specialties on your travels or via recipes in your home kitchen. Favorite country for food: Peru. Favorite local dish: Bacalhau. Favorite way to keep fit: Running. Rosemary is the chief content writer and strategist on Authentic Food Quest. She is also co-author of Authentic Food Quest Argentina and Authentic Food Quest Peru, available on Amazon.