Walking into Mas Alba is like walking into an old friend's house.
Warmly welcomed by Martí, the cheesemaker, Anna, his sister who manages the farm house and Llorenç the farm manager, we were eager to discover cheese making in Costa Brava.
Visiting local producers offers a fantastic opportunity to learn about the local foods at a new destination.
Cheese in Catalonia plays a starring role on Catalan tables. In Costa Brava, a large variety of artisanal cheeses are produced throughout the region.
Invited by Costa Brava Tourism Board, we dove into the world of artisanal cheese making at Mas Alba.
This is the story of Martí and goat cheese making at Mas Alba.

Five Generations from Farming to Cheesemaking
Casa Mal Alba is a farmhouse and local dairy located in Terradelles, a small village 30 minutes drive north of Girona.
Mas Alba is first and foremost a family story. Owned by the Huguet family for five generations, the children, Martí, Anna and Llorenç are now running the farm house and dairy.
Martí, the youngest brother is in charge of the goats and has been devoted to cheese making for the last twelve years.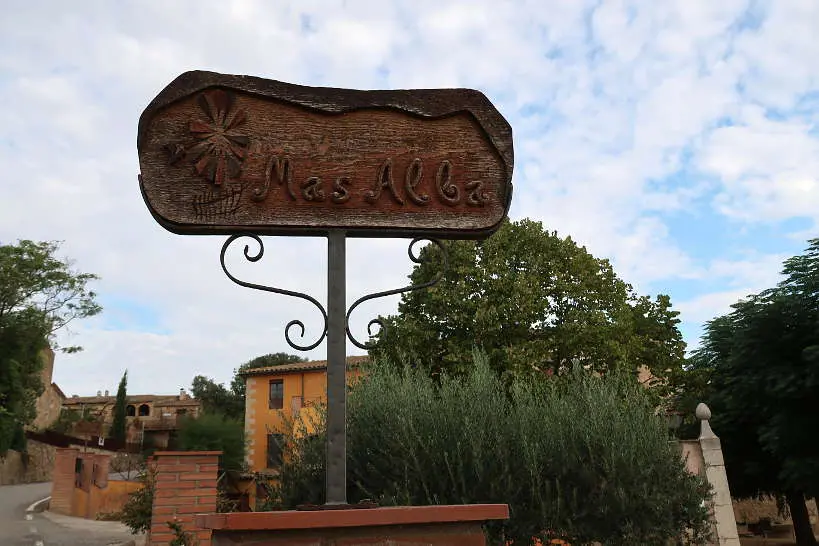 Mas Alba Goat Cheese Making – The Inspiration
Curious about the origin story, we asked Martí how he got started in cheese making. His answer was surprising and yet empowering.
"When I first got started" Martí told us, "I raised goats for about 13 years ago and would sell the milk to other producers." And" then about three years ago, I decided to experiment with cheese making and started learning online by watching YouTube videos"
This was not the answer we were expecting, but we were moved by his passion and conviction as he spoke.
After a few successful experiments, Martí went on to get further training and obtain the necessary certifications to become a cheese maker.
In a short time, Martí quickly made a name for himself. His cheeses became so popular that the family decided to stop selling the milk and focus instead on cheese making.
Mas Alba offers seven different types of Catalan cheeses made with the best milk from the goats.
From the way the goats are raised to the cheese making process everything is done organically and artisanally.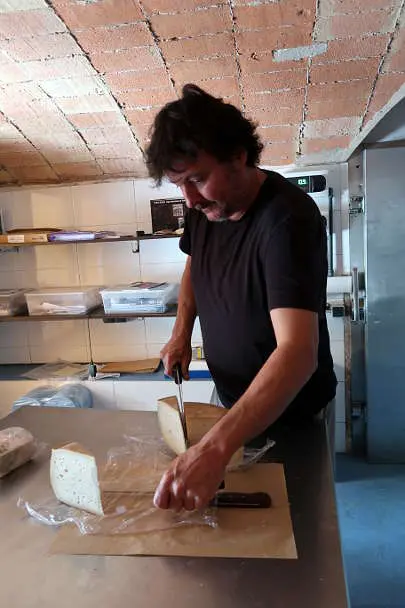 Mas Alba Goat Farm
The goat farm, a short ride from the farmhouse was our first stop to understand the magic behind Mas Alba cheeses.
The goats are a special breed from the South of Spain, near Andalusia. According to Martí, this particular breed is known for making soft and delicious goat cheese.
All the goats, about 300 of them, are kept in different sections. The male and female goats are kept separately.
The female goats are further divided into groups. There is a group of female goats that have just given birth.
And the other female goats are divided by when they gave birth. This is done to keep track of when they can be fertilized again.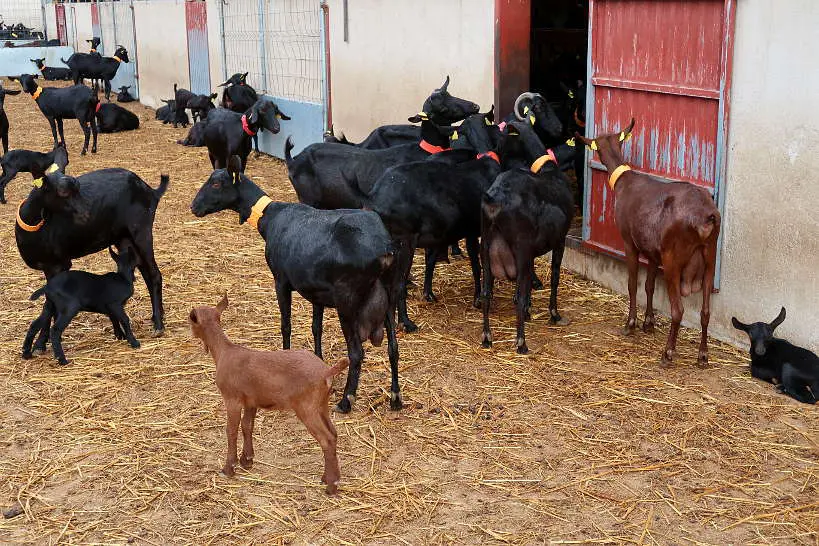 Naturally Raised and Fed Goats
While touring the goat farm, we learned the goats are raised organically, feeding naturally on the herbs and grass growing on the property.
Even though Martí does not have the "bio" or organic certification yet, he is in the process of getting it.
While the costly and lengthy process had kept him from aggressively pursuing the certification, his children are advocating for it.
The goats are raised in impressively clean facilities which reminded us of the Villa Yustina goat farm we visited in Bulgaria. We were impressed by the technologically advanced systems for milking the goats on the farm.
The goats are milked daily and the process is gentle and keeps the goats stress free. Visitors who stay at the farmhouse can see the goat milking process as well as tour the goat farm.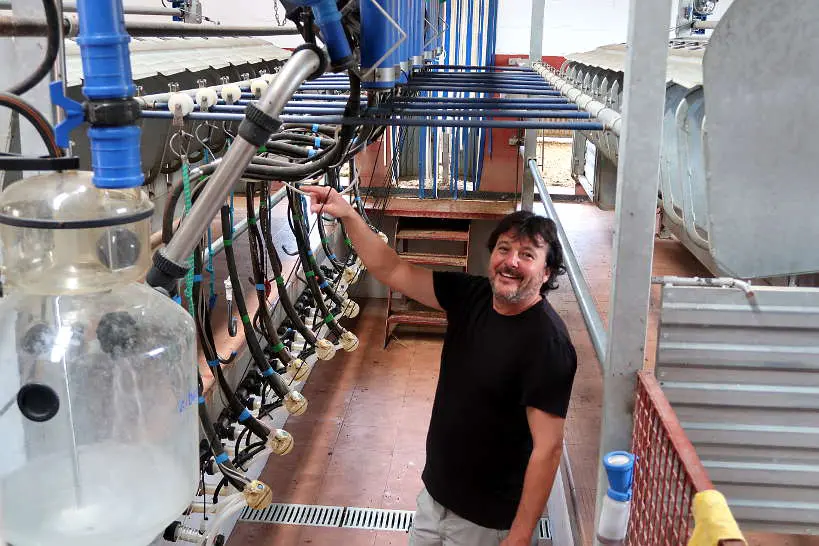 Goat Cheese Making
Back from the goat farm, Martí walked us through the goat cheese making process. His small lab located on one side of the farmhouse and the cheese cellar is underground.
Martí treats the seven cheeses he makes like he treats his goats, with patience and kindness.
This was our second goat cheese making experience after our goat farm experience in Argentina. We were fascinated by the stories about the curdling process. This process, we learned, takes place by adding enzymes to the raw milk.
Simply explained, the enzyme add acidity to the milk and transform it into cheese.
We learned about the different types of enzymes and the respectives characteristics they give to the cheeses.
Depending of the enzymes used and the maturation time, the goat cheese is either soft, creamy, firm, mild or coarse.
Sea salt is added in the process to preserve the cheese and deepen the taste.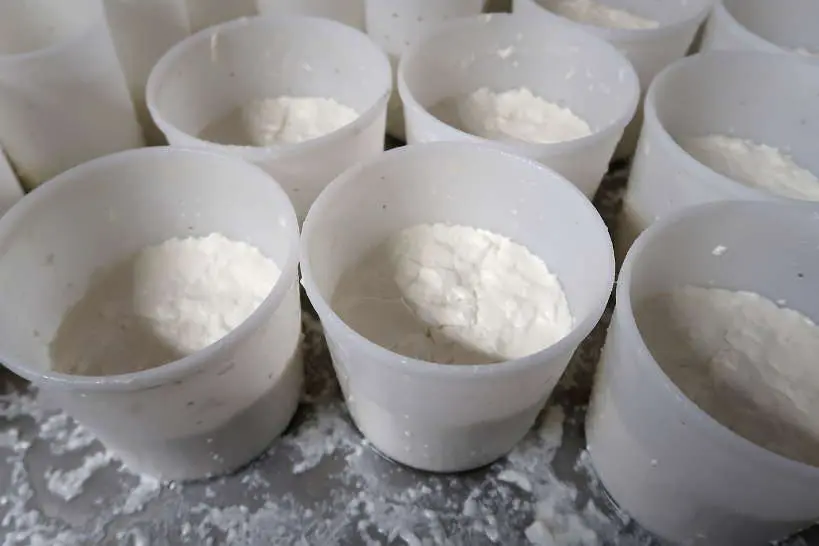 The Cheese Cellar
The cellar in the basement is where the magic happens, once the goats have done their job.
Every single step is handled by hand. We were surprised by the labor intensive nature of the cheese making process.
Both the soft cheeses and hard cheese are carefully rotated at different times to age and mature for the best flavors.
The youngest cheese are ready in about 10 days, while other cheeses mature for up to two years in the cellar.
While visiting the cellar, we learned that Martí has many more ideas for making cheeses.
From soft and mild young goat cheese to mature hard crust cheeses, he is constantly experimenting with new flavors.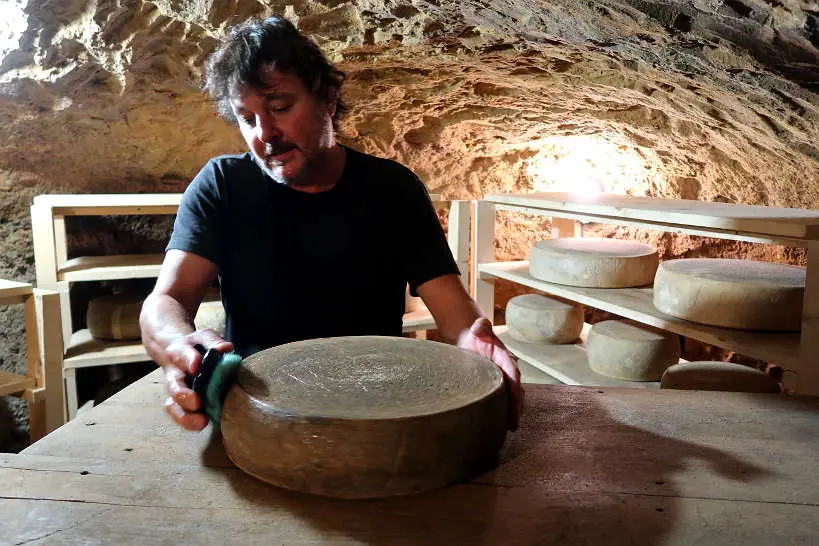 Cheese Tasting at Mas Alba
We tasted five of the seven cheeses offered at Mas Alba. And, each cheese had a story.
The first cheese, Petitot, a mild and soft cheese that tasted like salted yogurt. This was one of Martí's first cheeses and he named it after his son, "Ot" who was a newborn at the time. His son is now 12 years old and this is the most classic of the goat cheeses.
We then tried the Pla, which is a common Catalan last name which means flat. This cheese is named after Martí's favourite singer Albert Pla. It is a brie cheese made with goat milk. A young and soft paste cheese, we found it mild and slightly dry.
Voler Volar, the blue soft goat cheese was the most striking. Voler volar refers to the Catalan word for willing to fly. This cheese is named after Martí's nephew (Llorenç youngest son) an international ballet dance who jumps very high.
Like any typical blue cheese, this one made with goat milk had many blue fungus spots.The taste was pleasantly mild and almost fruity. This unique blue cheese made with goat milk was Rosemary's favorite.
Our next cheese sample was the Uff, a goat cheese matured with a local beer from Girona.
This cheese was strong and with a pungent taste. I didn't mind the taste which reminded me of a Maroilles, a strong cheese from the north of France. Unfortunately, Rosemary who is not a beer drinker didn't care much for it.
We finished our tasting with El Terros, a mild hard goat cheese. Typically aged for 12 months, the one we sampled had matured for 9 months.
Lastly, we learned about Babaus, a fatty cheese used for pizza or gratin dishes with a crusty top. Chefs in Costa Brava use it for special recipes.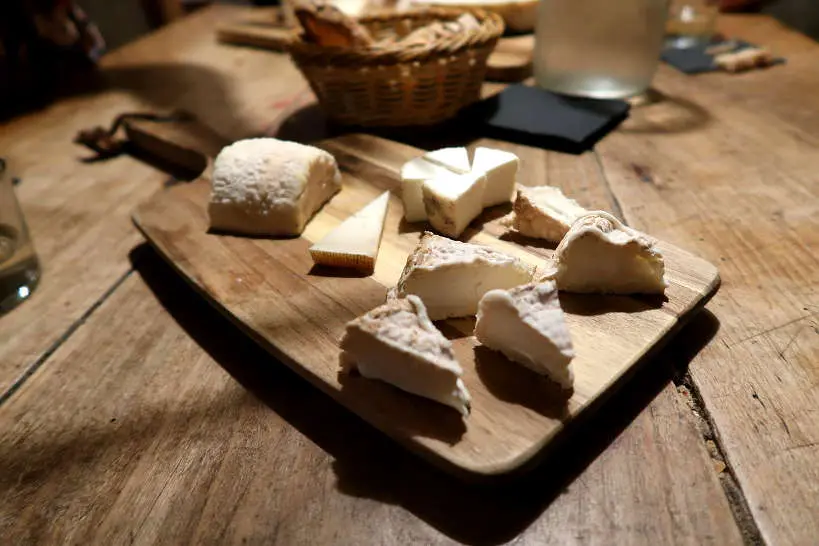 In Summary
The dedication and pursuit of one's craft is embodied in Martí. A self-taught cheese maker, who started out watching YouTube videos, is now on a successful path as a goat cheese maker.
Talking to Martí, we were inspired by his journey and ideas for creating even more unique goat cheese flavors. The cheeses we sampled were fantastic and we could taste the passion in each bite.
Martí's story of a self starter in pursuit of his passion is one that deeply resonated with us.
Where to Find Mas Alba Goat Cheese
Mas Alba cheeses are sold at the farm house. If you have the chance to visit, we strongly recommend not leaving without buying one of Martí's cheeses.
The cheeses are also available on the website if you are purchasing in Spain. Different Mas Alba cheeses are also sold at some specialty shops in Barcelona and Girona.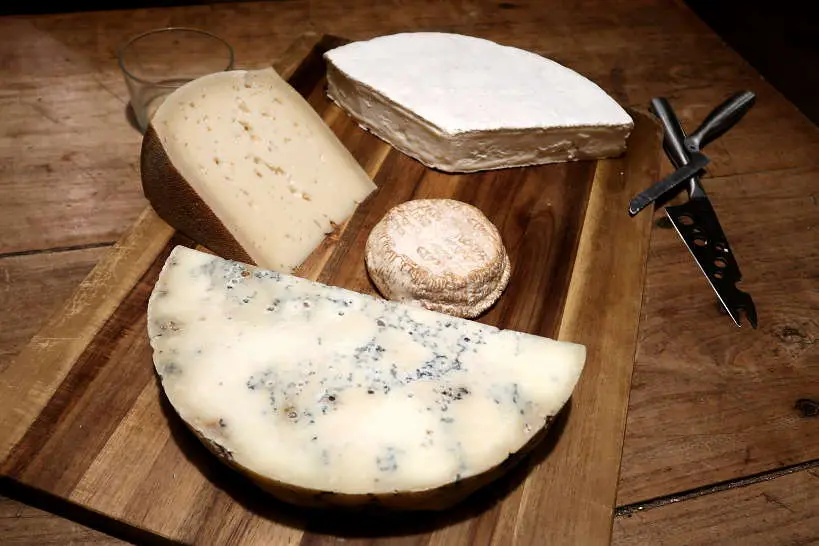 Guided Tour of Mas Alba
Mas Alba offers tours to the goat farm with cheese tasting included, every day during the Summer season and every weekend during the off season months.
You can book your visit directly on the Mas Alba website.
The tour starts at 10:30am and last for one and a half hours. You will visit the goat farm, observe the milking process, tour the facility and most importantly taste the cheese.
Cheese tasting at Mas Alba is becoming a popular experience. It is not unusual to find more than twenty people visiting the dairy everyday.
It is highly recommended to book your visit at least two days in advance. Pricing for adults is 10 € euros per person and free for children.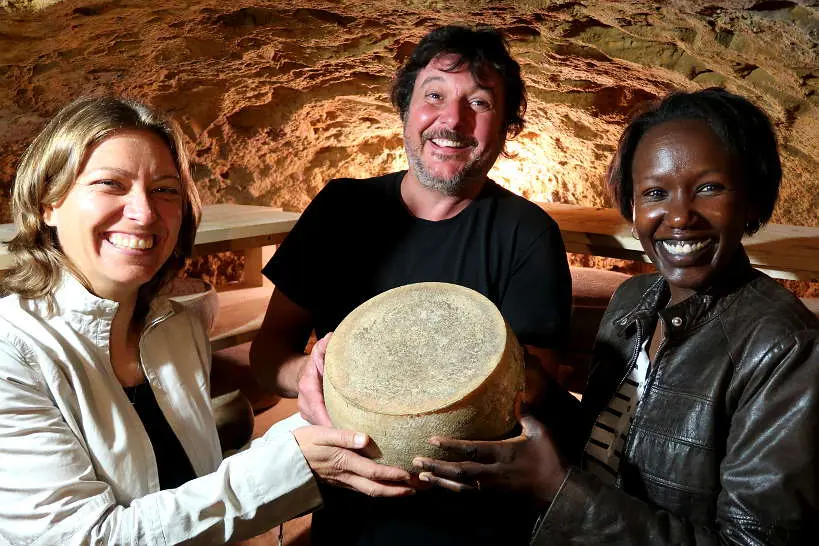 Staying at Casa Rural Mas Alba
With a capacity of up to seventeen guests, the Mas Alba Farm house has six rooms ready to welcome visitors.
The 18th century farmhouse offers a quiet escape from the bustle of city life. There is a swimming pool on the property as well as facilities for outdoor grilling. Breakfast is included with your booking.
Located in the town of Terradelles, Mas Alba is only about 30 minutes by car from Girona or one hour from Barcelona.For reservations, contact Mas Alba directly when you click this link.
Casa Rural Mas Alba – Formatgeria
Address: Mas Alba 1748 S.L. Mas Huguet 17468 Terradelles
Tel: +34 678 59 23 06
Email: [email protected]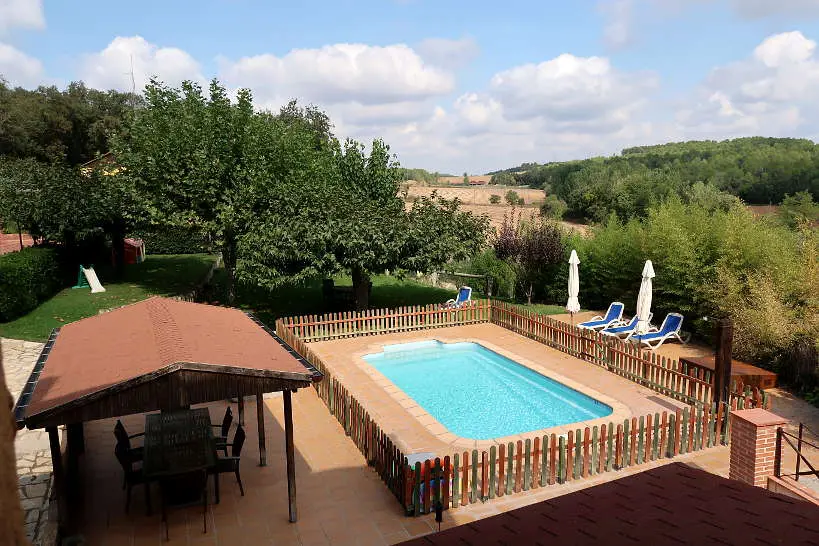 Love it? Pin it!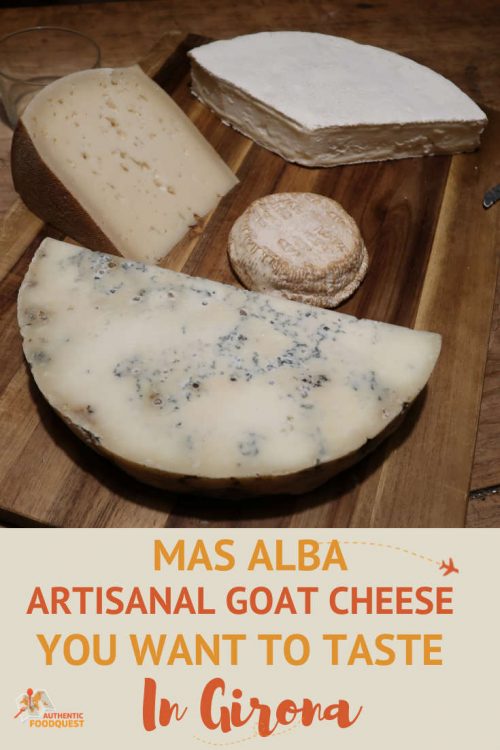 Disclosure: Special thanks to Costa Brava Tourism Board and Mas Alba for having us on this tour. All views and opinions expressed are our own. Full bellies and happy taste buds too!
Claire is co-founder of Authentic Food Quest and a lover of simple and exquisite cuisine. Since 2015, with her partner, Rosemary, she has been traveling the world as a digital nomad, creating content about local food experiences.
Her advice from visiting 45 countries and more than 240 food cities has been featured in Lonely Planet, Business Insider, Honest Cooking, Food Insider, and Huffington Post. She has also co-authored three books, including one in collaboration with Costa Brava Tourism.
An ex-mechanical engineer, Claire is responsible for SEO, keeping the website running, and the fun food & travel videos on YouTube.
When Claire is not eating, she can be found running or cycling. Find out more about Authentic Food Quest