This article has links to products and services we recommend, which we may make a commission from.
This melomakarona recipe is for one of the most beloved Greek Christmas cookies. Soft and oval-shaped, these cookies with orange and cinnamon flavors are drenched in a honey syrup and covered with walnuts. Addictive, these melt-in-your-mouth cookies are irresistible.

What are Melomakorona Greek Christmas Cookies?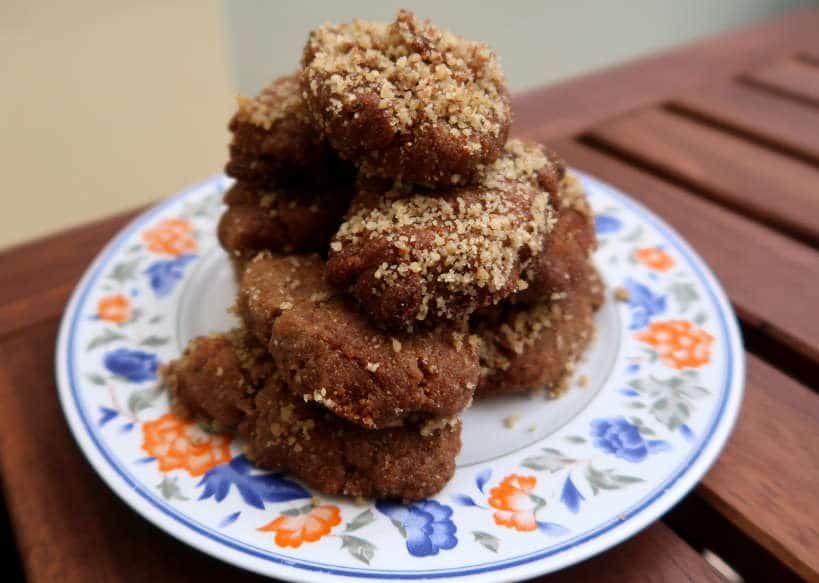 Melomakarona cookies are one of the most iconic Greek Christmas sweets. They are ever present in Greek homes and can make a fantastic addition to your Christmas table.
When we first tasted these melomakarona Greek honey cookies, we could not get over how sweet and crumbly they were. We absolutely loved them.
These Greek Christmas cookies are soaked in honey syrup, topped with walnuts and are an authentic Greek delicacy.
Pronounced mel-low-ma-KA-row-na, these Greek Christmas honey cookies are quick to bake, fun to make and highly addictive.
This melomakarona recipe has no dairy or eggs. It is vegan, though it does include honey. This traditional recipe makes 40 cookies, plenty for everyone.
Go ahead and make these traditional Christmas cookies. Bring a taste of Greek Christmas to your holiday table this season.
Melomakarona History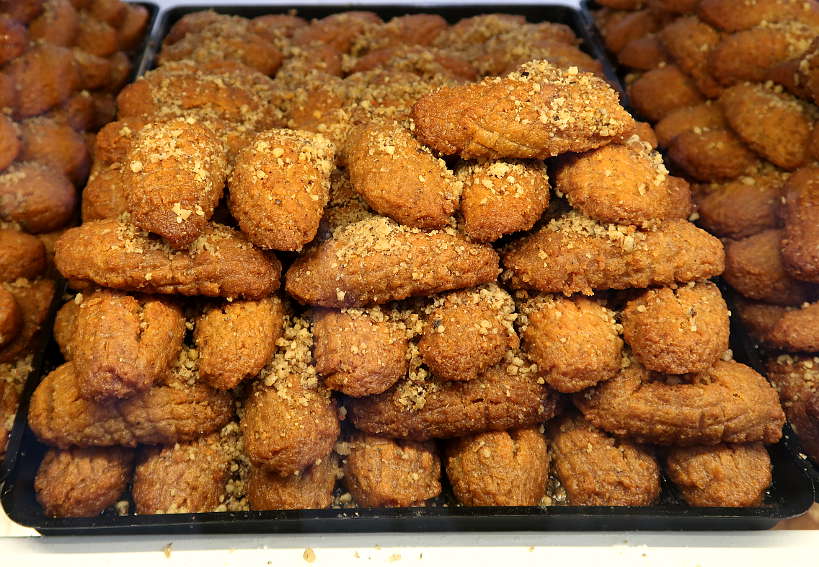 Melomakarona cookies have a long history with roots in ancient Greece. Although modern melomakarona cookies are a festive treat, their history is rooted in conflict and mourning.
The word melomakarona is a combination of the meli, meaning honey and makaria, a piece of bread offered at funerals.
The makaria bread used by the ancient Greeks was similar to the shape of the modern melomakarona.
In later periods, during the Byzantine Empire, the makaria were soaked in honey, and the name can literally be translated as honey biscuits.
Over the years, melomakarona cookies became a popular cookie eaten during the Christmas season.
RELATED: Why Thyme Honey From Crete is one of the Best in The World
Discovering Greek Cookies – Melomakarona or μελομακάρονα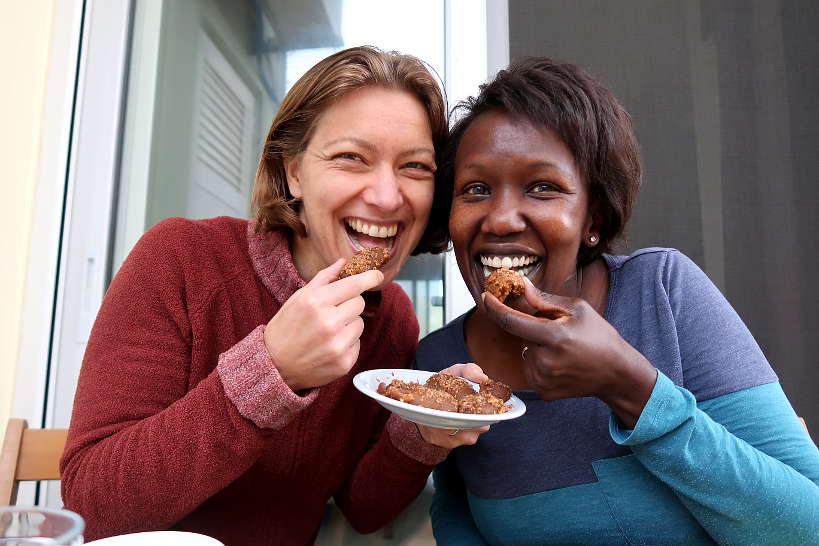 Since arriving in Greece, we see melomakarona cookies in bakeries all over Crete and particularly where we are staying in Chania.
Every time we walk into a bakery we see an enormous pile of these delectable Christmas honey cookies on display. Not surprisingly, the quantities increased as we moved into the December month.
Greeks are known for their incredible generosity and hospitality. After buying bread or pastries, while paying for our purchases, the bakery staff always give us some melomakarona cookies.
Getting the free honey cookies is something we experience almost every single time we visit a bakery.
After eating many melomakarona Greek Christmas cookies, we were tempted to make them ourselves. When we asked our Airbnb host about the ingredients, she spontaneously gave us her family's traditional melomakarona recipe.
This was perfect as we wanted a tried and true traditional melomakarona Greek Christmas cookie recipe.
Before Greece, the first time we had these Greek Christmas honey cookies was in Chicago.
Artopolis Bakery, in the heart of Greektown, Chicago is famous for having some of the best Greek pastries in the city.
WATCH AUTHENTIC FOOD QUEST VIDEO – Greektown Chicago Tour with Greek Foods & Wine Tasting
How to Make Traditional Melomakarona Cookies at Home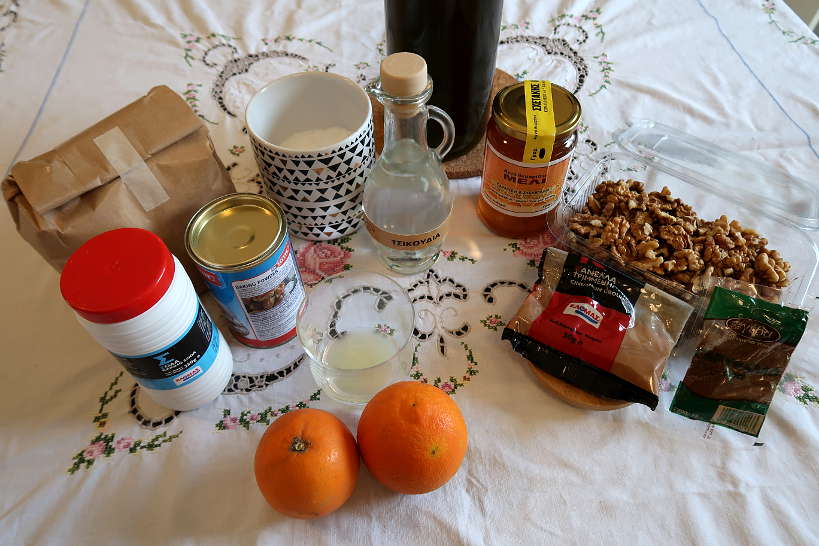 The best melomakarona honey cookies are crispy on the outside and soft and moist on the inside. They are incredibly delicious and quite addictive.
Every Greek household has their own family recipe. While the ingredients can be altered, the one thing that remains constant is the use of high quality Greek products.
For this recipe, use Greek ingredients and especially Greek extra virgin olive oil for authentic tastes of these honey cookies.
All-purpose flour
Baking Soda
Baking Powder
Greek Brandy like Metaxa
Honey – Greek Cretan honey recommended
Cinnamon powder
Ground cloves
Crushed walnuts
Freshly squeezed orange juice
Freshly squeezed lemon juice
Sugar
Water
Use Greek or Cretan Olive Oil
Olive oil has been a part of Greek history for millenia and it is believed to have first been cultivated in Crete.
Considered liquid gold, olive oil is one of the foundations of the famous Cretan diet. Cretan olive oil is used extensively in cooking, including in this melomakarona recipe.
To make these Greek Christmas honey cookies, our local friends recommended the use of Cretan olive oil.
Terra Creta extra virgin olive oil from Crete is a winner of many awards and one of the best in the country. You can find it on Amazon and use it in your melomakarona recipe.
READ MORE: Cooking With Olive Oil – Tips from Top Producer in Crete
Choose Greek or Cretan Honey
The Greeks have used honey as a sweetener since antiquity and it is at the center of Greek gastronomy.
Like olive oil, Cretan honey is a flagship product from the island. Cretan honey is used in baking instead of sugar in a variety of mouth-watering syrupy sweets.
This Greek Christmas cookies recipe calls for one cup of honey. If you can, use Cretan honey for the best flavors.
READ MORE: Why Thyme Honey From Crete is One of The Best In The World
Melomakarona Recipe Tips
Can I Substitute Brandy with Something Else?
Traditionally, melomakarona honey cookies are made with a few tablespoons of cognac or brandy.
When we asked our Airbnb host what she recommended, she gave us Raki to use instead. Raki is a spirit similar to the Italian grappa. In Crete, Raki is also called Tsikoudia.
For the Cretans, Raki represents hospitality and it is a symbol of Cretan culture. Outside of Crete and Greece, it is difficult to find Raki.
One popular substitute is Metaxa, the famous Greek brandy. You can find Metaxa available worldwide.
If you want to make non-alcoholic cookies you can use more orange juice instead of brandy.
How Long Can I Keep Greek Melomakarona Cookie?
These Greek Christmas honey cookies will last up to three weeks if properly stored. In fact, the flavors of the cookies get better over time.
With no dairy or eggs used, these vegan cookies can last for several weeks.
Store the melomakarona cookies in an air-tight container at room temperature. And to prevent the layers of cookies from sticking together, it helps to place sheets of wax paper in between the cookies.
Melomakarona Greek Honey Cookies – Step by Step Instructions
One of the easiest ways to make these delightful Greek cookies is to separate the ingredients by use.
Place all the syrup ingredients together. And, create separate piles for the dry and wet ingredients. This will make it easier, once you get started.
Start by Making the Syrup
In a medium-sized saucepan combine 1 cup of water with 1 cup honey and 1 cup of sugar.
Over medium heat, bring to a boil until the sugar dissolves.
Let the honey syrup mixture cool so that it is better absorbed by the fresh-out-of-the-oven melomakarona cookies.
The Cookie Dough
When mixing the wet and dry ingredients, do not overwork the dough and simply knead using your hands.
Keep kneading the dough until all the ingredients are well incorporated. If the dough is too sticky, you can add a little extra flour.
Make sure the dough is smooth and not overworked.
Shape The Melomakarona Greek Honey Cookies
Layer a large baking tray with parchment paper and start shaping the melomakarona honey cookies.
Pinch a small scoop of cookie dough slightly larger than the size of your thumb. Using the palms of your hands, mold the dough into oval or oblong shapes, making them all similar.
Press on the cookies gently to flatten the dough slightly. Keep making the cookies until you use up all the dough.
On the baking sheet, line up the cookies about ½ inch apart.
Then, using a fork, make a criss-cross pattern on each cookie. This is mostly decorative but it also helps the walnuts stick.
Dipping The Cookies Into The Honey Syrup
Once the melomakarona are ready, remove them from the oven and dip them into the cold syrup. Dip 2 or 3 cookies at a time, turning them over until they absorb the cold syrup, about 10 seconds.
Remove the cookies and place them on a second platter lined with a baking sheet. One tip is to sprinkle crushed walnuts on the bottom of the baking sheet first.
And then, top the cookies with another layer of crushed walnuts. You can also add a dusting of cinnamon.
Oven Baked Melomakarona Cookies and Presentation
Once all the cookies are topped with crushed walnuts, let them rest and cool down for about 30 minutes.
In Greece, these melomakarona Christmas cookies are set out on big platters stacked up like a tower.
This pyramid style is beautiful and the traditional way of displaying them.
When you make this recipe, take a pic and tag @authenticfoodquest on Instagram (Or hashtag #authenticfoodquest ). We'd love to see what you cook up. Don't forget to give a Star Rating on the recipe and let us know your comments.
More Greek Cooking Products
Curious by nature, Rosemary loves exploring new flavors and connecting with locals. She shares her insights and culinary finds from her travels to inspire people to connect local through food.