When we decided to start this journey, we had two months left on our lease and we thought that it didn't make sense to renew and continue living in Los Angeles. To start, rent in L.A. is expensive and we also felt compelled to jump at the opportunity to start living our dream.
With only two months to organize our move to the international destination of Argentina, the pressure was on. Once we decided to make Chicago our base (more on that in future posts) we then started the arduous process of planning.
Planning Categories
Planning a move especially for long term travel is essential. Planning and organizing is Claire's unique strength and as such, she took the lead like she has done in previous moves.
If you are ever planning a move, we recommend creating a planning calendar that can be reviewed, edited and updated as the weeks progress. One of the best and widely available tools that we use is excel. It begins by creating milestones for the move and working backward from there to build the calendar. Once we defined the milestones, we then added everything that needed to happen by category.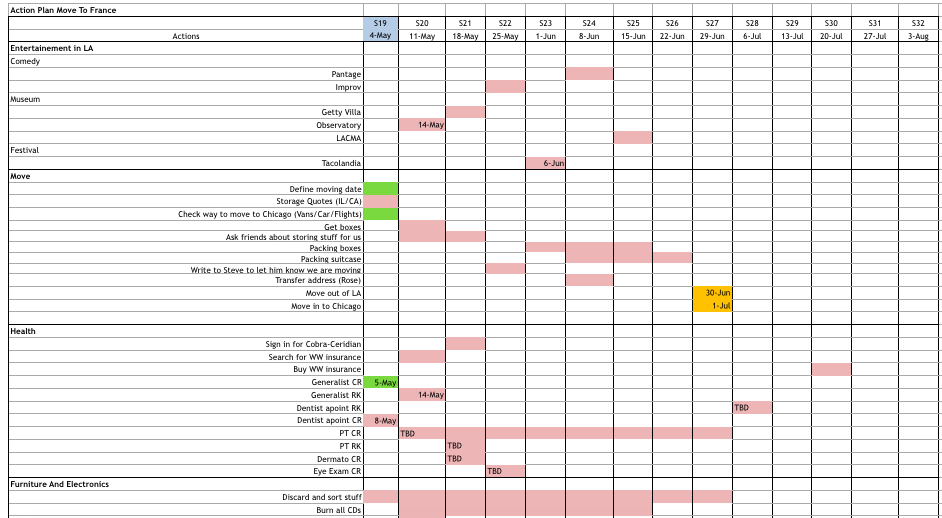 Including a Little Fun in the Planning
One thing many people do, and you may be guilty of it as well, is not taking advantage of what your local area has to offer in terms of local attractions and tourist sites. Given that, we created a section called "entertainment" that included all the places we didn't want to miss before leaving Los Angeles.
Having this category built in makes the move and planning a bit more fun. In this category we want to see a movie at the local favorite, ArcLight Hollywood,which apparently is frequented by lots of Hollywood stars. Let's see if we run into anyone famous:).
Also top on our list is to take in an improv show at UCB Theatre (Upright Citizens Brigade, Franklin) home for all things comedy, and famously associated with Amy Poehler, an American comedian that we both enjoy.
Other stops include food and specifically, diving deep into the LA Taco culture at Tacolandia (see previous post on this).
And finally learning more about the stars and solar system at the Griffith Observatory, world famous for astronomy and less than 2 miles from where we live. The funny thing is that we go running around the Observatory every week and have never gone into the building. This is a reminder not to take for granted what we have around us and what many people come from all over the world to enjoy.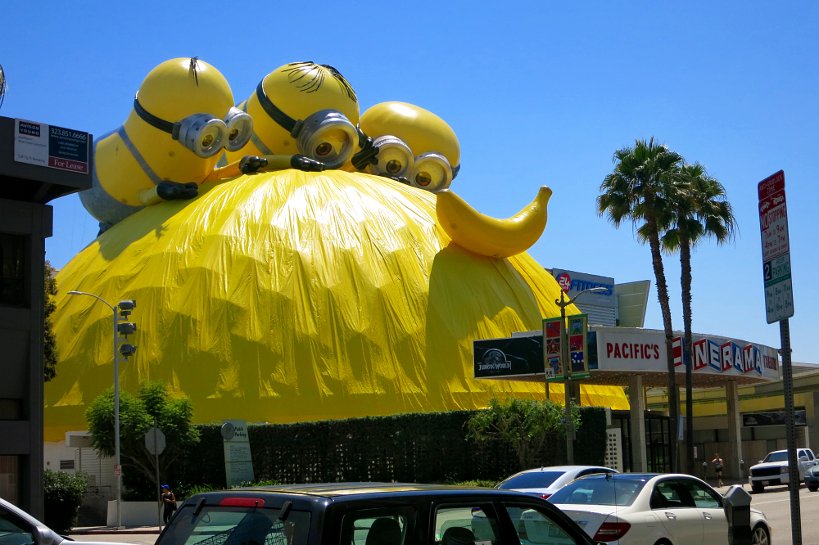 ArcLight Cinema Hollywood
The Practicality of the Move
Then there is the "not so fun part": the practicality of the move. It includes selling furniture, finding storage options, getting boxes, packing, giving notice to our landlord of our departure and changing our address with USPS. For us it didn't make sense to keep our furniture as we decided to become location independent. The first thing was to put ads on Craigslist and Offer Up (see our resource page for more info) and create and share a portfolio of all the items we wanted to sell. For the storage, yelp was a great resource and it helped us narrow down the type of storage we needed and find the companies that had great reviews. (see resource page for Smartbox reference). For the change of address with USPS, it needs to be planned at least 2 weeks in advance and it is an easy process that cost only $1.05 if done online. Pretty neat!
For health, we created two separate tasks. The first task involves visiting our doctors and dentists for our annual check ups before moving. The second task is more involved and is centered on finding suitable insurance options for long term international travel. World Nomads is the insurance recommended by most of the world traveller. We are still weighing some option and we will provide updates once we will made our final choice. On that note, Bootsnall has a nice comparison chart that can help to provide some insights on the option available.
Then we have a whole banking section. We chose a bank that would be exclusively set-up for doing business online and we found Capital One to be the best option. To avoid foreign transaction fees, we decided on Charles Schwab High Yield Investor Checking to avoid any unnecessary fees. Be sure to out check out the resource page for more information about these banks.
Home insurance and any other insurance you might have needs to be listed on the planning calendar to ensure that you do not forget to cancel them.
Taxes and legal documents are next on our agenda. This is about scanning documents that we won't need to carry on the road but may need to access while traveling. It also means having the dreaded power of attorney paperwork completed should anything happen to either of us on the road. As well as transferring our address to the necessary government entities that need to track us down every April 15th 🙂
Computers and Electronics
This whole section on electronics/computer is actually our Achilles heel. With neither one of us being particularly "techy", we have procrastinated on dealing with the electronics. Facing a deadline, we are now getting into the details of backing up our data and exploring options for cloud based solutions while on the road. This part is critical and will be taking care of fully when we have moved from Los Angeles and in Chicago.
Internet and Utilities
One of our personal painful parts of this process has been dealing with the dreaded …internet provider! Our perspective is shaped from our experience in France where there are lots of internet provider with lower prices and great speeds. One of our biggest frustrations when we moved to L.A. was the lack of internet provider options available. With only two providers available in our area, we went with the "lesser of the two evils." The service from the start was mediocre, the installation fees were outrageous and the internet connection goes down several times a week and in some cases, several times a day. Despite repeated calls to the provider, nothing really changed. Anyway, happy to leave them behind now:) Is there anybody out there reading this post that can do something about this? Compared to the internet provider, dealing with our local gas and electricity companies was fairly easy and simple including for the cancellation process.
Planning for South America
For our first destination, South America, we looked at vaccination information, visa requirements, flights and lodging options. On the lodging piece, we decided to start with one month at Airbnb, and in a shared place with Portenos (yes, that is the name of the people living in Buenos Aires). We have stayed at Airbnb properties for several years and have been happy with our experiences. This time, we will be staying in a shared Airbnb place for the first time. We made this decision consciously as a way of quickly getting to know the locals and sharing food and stories. We will keep you posted when we get to Buenos Aires and we will provide a new post on our lodging situation.
In terms of getting to know Buenos Aires and Argentina, we have connected with locals who are either from Argentina or know the country well. This has been helpful as we learn more about the culture, food and places to visit. We are still working through this section in our planning calendar which involves making decisions about the useful tools and the right kind of backpacks to carry "our home" on our backs for the coming months while on the road!
Organizing and Mind Mapping Our Travel Adventure
For building our business and starting the blog, we created a separate planning calendar and worksheets on Asana, an online collaboration project management tool to create specific projects and assign tasks.
In addition to organizing our specific tasks online, we also went "old school" with hanging white sheets of paper on our living room wall, each with dealing with specific to-do's.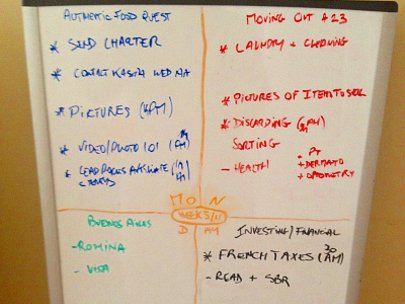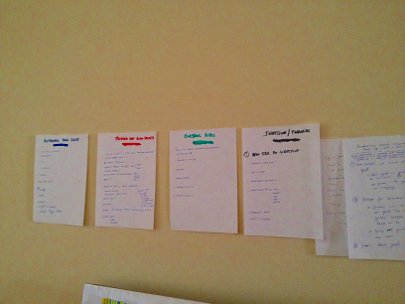 Selling
Selling has been fun and kind of like a game. Most of the furniture we sold was from our listings on Craigslist in a "moving sale" type of post. At first we had a few pieces of furniture selling piece by piece which was good, but slow moving. By a stroke of luck we found someone who was moving to LA and needed furniture for his apartment. We were fortunate enough to sell most of our furniture to him and ended up on the floor for the last two weeks of the month 🙂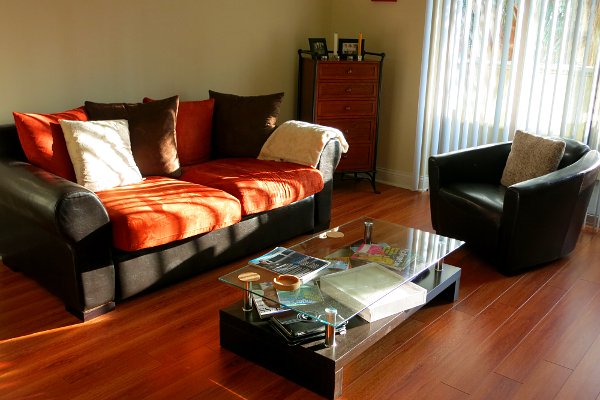 Before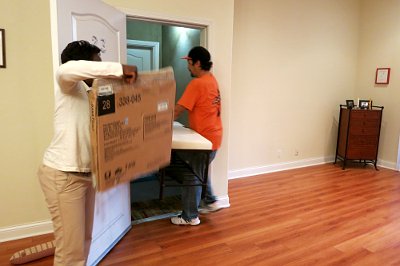 During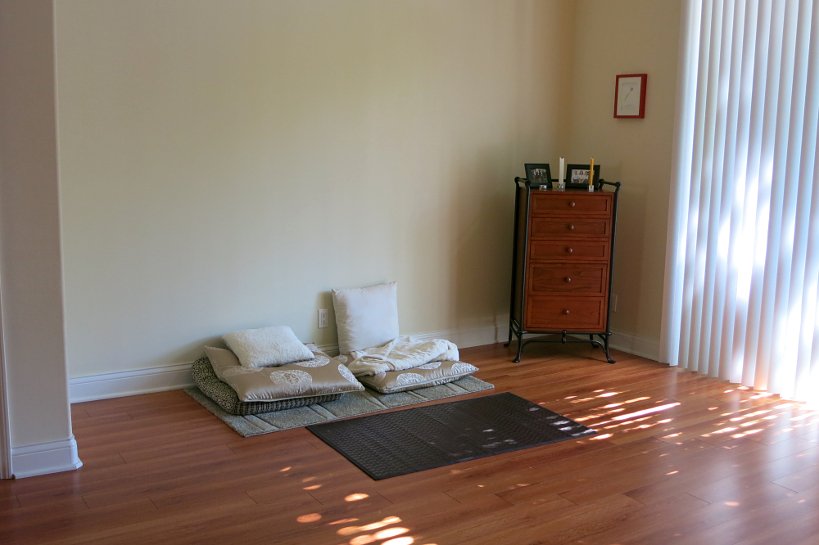 After
Going Minimalist
The actual moving process started with discarding or donating anything that was not worth storing or was too old to keep. From getting rid of unnecessary documents, books we have not read in years and clothes buried in the bottom of our drawers. This has been a very freeing experience. Sometimes, a tearful one when we look at items we are sentimentally attached to, and other times a reminder of how far we have come.
After that, is a simple packing process of storing our stuff in a 5x8x7 Smart Box (see more on our resource page).
Follow us on Facebook and Instagram to see the result of our packings and how well we did.
An End, But Not The End
To conclude and as this post might suggests, planning for a move is a lengthy process and a critical step. Without planning, moving can be a really painful process. So approaching a move with a thorough planning calendar is a good start for success. In future posts, we will talk more about how we manage our lives on the road. In the meantime…
Savor The Adventure!
Claire, ex-engineer, is a digital nomad and content creator at Authentic Food Quest. Since 2015, with her partner, Rosemary, they travel the world in search of the best local food experiences. Their mission is to help you enjoy the best local specialties on your travels or via recipes in your home kitchen. Favorite country for food: Vietnam. Favorite local dish: Hainanese Chicken Rice.  Favorite way to keep fit: Cycling. Claire is responsible for the website and the fun food & travel videos on Youtube. She is also co-author of Authentic Food Quest Argentina and Authentic Food Quest Peru, available on Amazon.