We are currently in Bariloche enjoying the beautiful outdoors as well as on our quest for the local specialties. We covered chocolates in our previous post, and the next post will be devoted to the local meats.
Here we talk about the famous Patagonia trout that is synonymous with the area. Now, let's get to the fish.
Getting To The Patagonia Trout or "Trucha"
Bariloche is surrounded by mountains, rivers, forests, lakes, and dominated by the Andean Mountain Range. It is an exceptionally beautiful city offering numerous Summer and Winter outdoor activities. Fishing, including fly fishing for trout, is a popular sport in the several lakes and rivers in the region.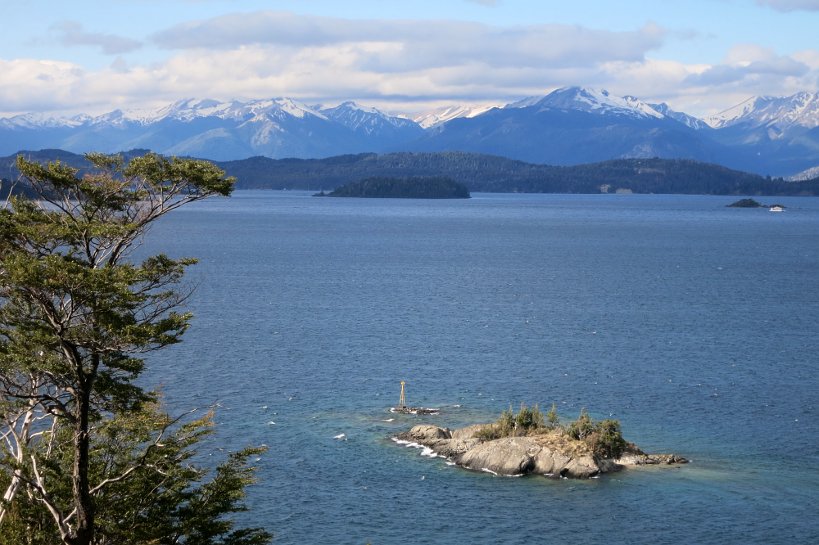 Walking around the city of Bariloche, you see lots of restaurants offering "Trucha" and we were really excited to try it. With so many options and places to try the Patagonia trout, we came up with one criteria to help us narrow down our choices. We decided to try "Trucha a la Parilla" or Patagonia trout cooked on the grill.
While looking at the options available we noticed that many places offered trout cooked in creamy sauces or mixed in with pasta. Even when trout was by itself, it was pan-fried and served natural with just slices of lemon. We wanted to taste the famous "trucha" in all its glory and preferably over the parilla. That led us to our first experience with Patagonia trout at Alto El Fuego Parilla Restaurant. One thing we liked about the place right away was the "short menu." Not a lot of pages or options to choose from, just a few simple dishes that showcase the restaurant's expertise in parillas.
Trucha A La Parilla
Walking into Alto El Fuego, was like walking into a little rustic and cozy dining room. Busy and with attentive staff, we were immediately seated at a great table with full view of the kitchen. We had spent the afternoon hiking a popular excursion called Circuito Chico where we were blown away by amazing views of the region overlooking lakes and mountains. But, we digress…So, we were hungry and looking forward to experiencing the regional specialities.
We ordered two main dishes, one plate of french fries and Patagonian wine to share.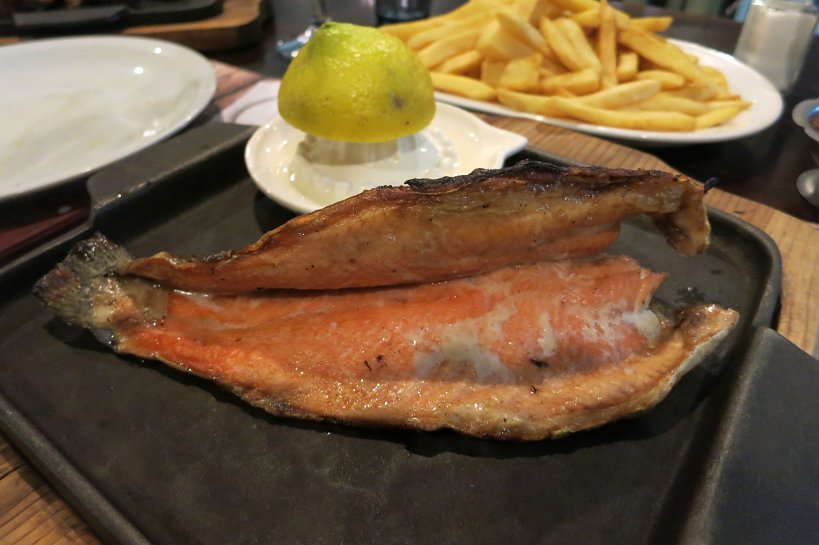 The serving sizes at Alto El Fuego Parilla were surprisingly large. The trout consisted of two thinly cut fillets, but enough for two. The smell captured our attention right away. It smelled grilled, but did not have the traditional dark lines or markings found typically on fish cooked on the grill. It smelled heavenly and looked appetizing. When I took the first bite, the full flavor of the trout burst open in my mouth. It was fresh, succulent and cooked to perfection.
It was not masked in anything or covered with any sauces and was simply delicious. So good. Yummy!!! Be sure to make Alto El Fuego your destination for this local speciality in Bariloche.
Smoke Patagonia Trout or Trucha Ahumada
Typical of this region, many of the products are smoked. This includes wild boar, salmon, trout and other wild meats which we will be covering in our next post. For a smoked perspective on the trout, we decided to check out Familia Weiss Restaurant, one of the first families to introduce smoking fish, meats and cheese in Bariloche.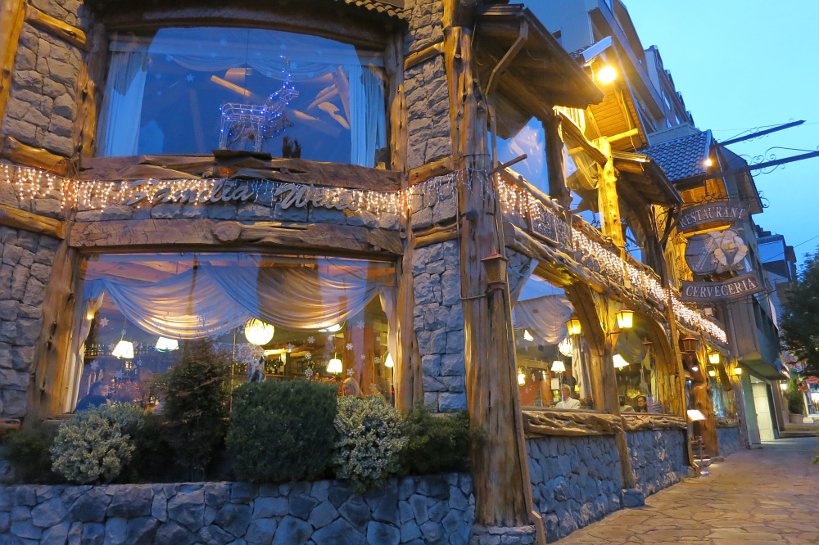 The restaurant is built in wood and stone architecture and has large windows overlooking Lago Nahuel Huapi (Nahuel Huapi Lake). We walked into a large restaurant and huge wood crafted tables and chairs. We took a seat with a lake view and proceeded to order a number of specialities including Trucha Ahumada (smoked trout).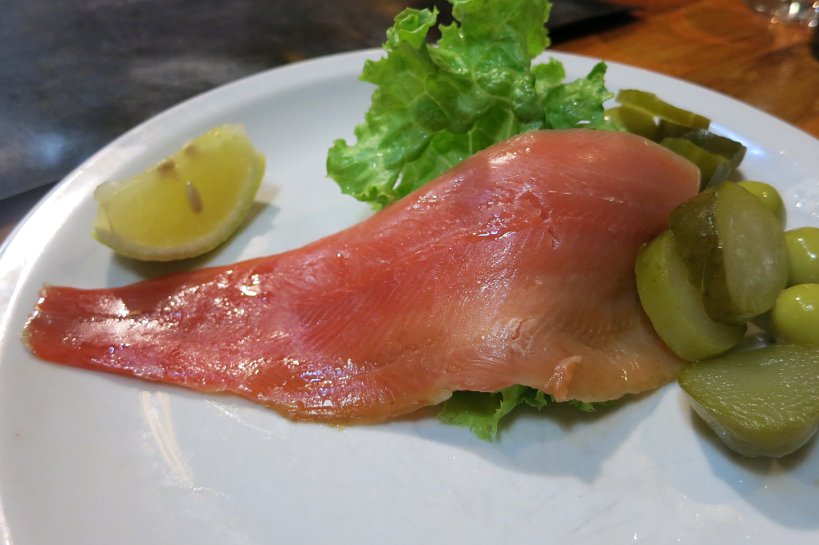 The presentation of the trout was appetizing and was presented with nothing more than some lemon on the side and a few green lettuce leaves. It seemed fresh and we could not wait to dig in. After we took our first couple of bites, we were underwhelmed. We found it lacking in flavor and quite frankly a little tasteless.
For a smoked trout, we were surprised that it could be so plain tasting. Now, don't get us wrong, it was fresh and the lemon juice helped a lot, it just did not have much flavor. One thing we learned later on is that much trout in Bariloche does not actually come from the rivers and lakes, but is farm-raised. We wonder if that had anything had to do with the taste of the trucha ahumada at Familia Weiss?
The Disappearing Patagonia Trout
We had the opportunity to interview the chef and owner of Alto El Fuego Parilla, Matias Bollinger to better understand Patagonia trout and other specialities in the area. One of the surprising things we learned was that restaurants are not allowed to sell wild trout and only farm raised trout. According to Chef Matias, this is due to two factors. First, to preserve the trout. And secondly, to maintain Bariloche's popularity as fly fishing destination. Watch video for more from chef Matias.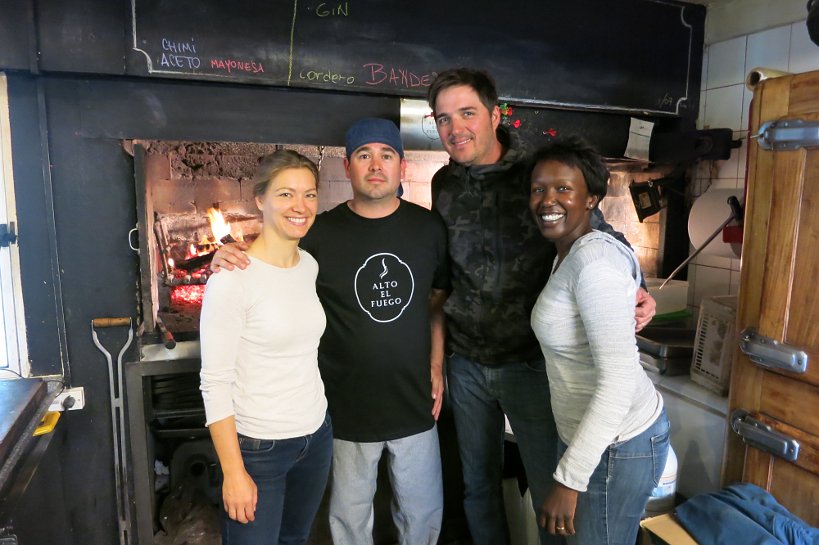 Where To Shop for Patagonia Trout & Fresh Seafood
Delicias Del Mar Pescaderia
We are staying at an airbnb at the edge of downtown and it is centrally located allowing us to walk and explore. As we have been discovering the city, we noticed many pescaderias or fish stores. If you are looking for an alternative to a restaurant and to cook your own fish, you will have several options to choose from.
Our favorite fish store or pescaderia was Delicias del Mar. We stumbled onto this store and were so glad we walked in. The fish was fresh, well presented and the staff incredibly happy and helpful. While the store had Patagonia trout available, we opted for the Merluza (Hake) which is another regional speciality and one that we had tried in Ushuaia. We also took some seafood preparation to enjoy as appetizer. We lightly sauteed the merluza at the apartment and enjoyed both the fish and appetizer. Outstanding!! We highly recommend visiting this pescaderia and cooking your fish or trying some their tasty preparations.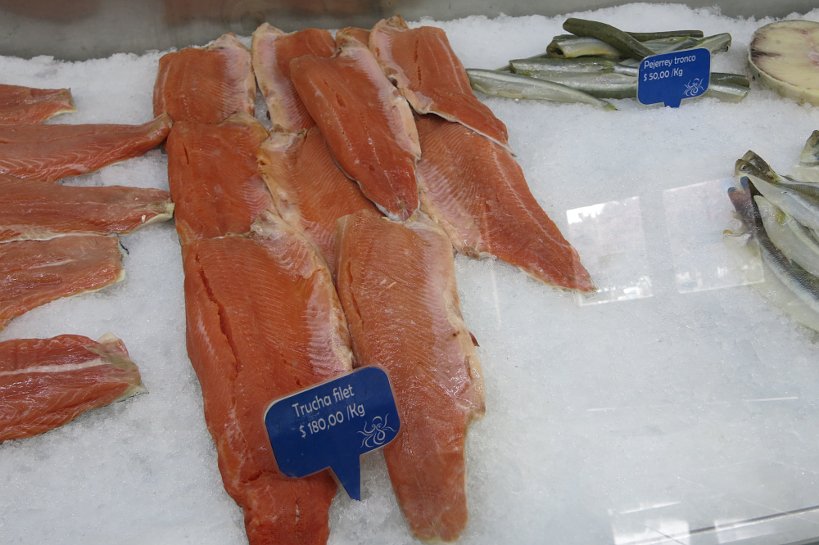 Piu Pasta
Have you ever had Salmon ravioles? What about smoked salmon ravioles? That's the question we asked ourselves when we walked into Piu Pasta. Tucked away on a hill not too far from where we are staying, is where we found this little gem. This pasta boutique sells fresh and artisanal pasta, including Salmon Rosado Ahumado (smoked pink salmon). Unfortunately, the store does not carry trout pasta which is what we wanted, so we went with the salmon rosado ahumado option.
We served the salmon pasta with a green salad and enjoyed some of the best ravioles we've ever had. The ravioles were plump filled with fresh salmon with incredible flavor and tenderness. The smoked taste was not intense and was just smooth and delicious. The perfect combination of flavors. This is a great option that we recommend highly for cooking your own seafood pasta.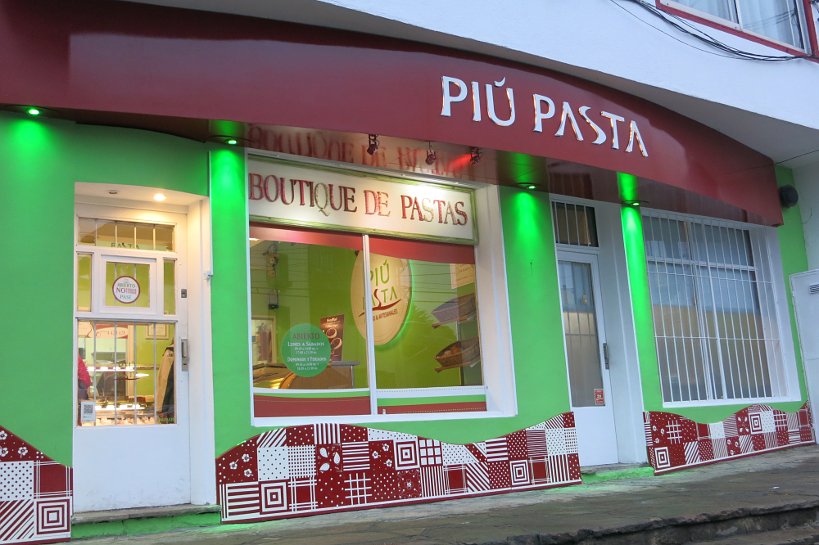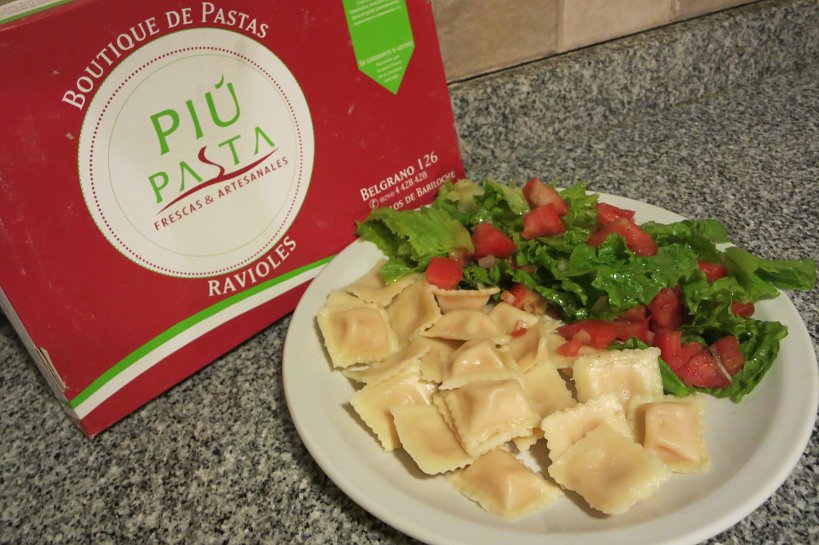 In Summary
Bariloche has a lot to offer in terms of local food specialities. In the seafood arena, Patagonia trout is the most notable specialty. Even though it is not wild but farm-grown, care is taken to ensure that it is raised in the same waters and manner as wild trout. That means that you will still experience the best the area has to offer.
When you go for the trout, seek out the preparation options that celebrate the trout and not cover it up in sauces and cream. Choose it cooked over the parilla and you will be left wanting more. Enjoy the many "cook at home" options that are also available. The pescaderias and the pasta will not only deliver on exceptional taste but will help the travel budget while giving you greater control over your eating.
Up next, the meats!! Stay tuned for more local specialties from Bariloche.
Savor The Adventure!
Rosemary, ex-marketing and advertising strategist, is a digital nomad and content creator at Authentic Food Quest. Since 2015, with her partner, Claire, they travel the world in search of the best local food experiences. Their mission is to help you enjoy the best local specialties on your travels or via recipes in your home kitchen. Favorite country for food: Peru. Favorite local dish: Bacalhau. Favorite way to keep fit: Running. Rosemary is the chief content writer and strategist on Authentic Food Quest. She is also co-author of Authentic Food Quest Argentina and Authentic Food Quest Peru, available on Amazon.