Built on the hillsides of the Douro river, Porto is famous for its Port Wines, charming riverfront, and its UNESCO Heritage Historic Center. It is no wonder Portugal's second largest city was elected European best destination to visit in 2017. 
With Port wine cellars to visit, inviting cafes to enjoy petiscos, a unique gastronomy, Porto has much to offer culinary explorers.
The tourism board of Porto invited us to discover and taste Porto with their 3-day Porto Card. With the Porto Card in hand, we were ready to walk, eat and drink our way through Porto in 72 hours.
If you are curious about getting a Porto Card for 2 days or 3 days in Porto, read our Porto card review to help you decide.
Article last updated – July 12th 2019 with additional resources


What Is the Porto Card?
The Porto Card is an official city pass that offers discounts and several benefits to over 170 attractions and cultural sites in Porto and the region.
Among others, you have access to:
Free entrance to 9 museums

Free public transportations (only for the transport option card, tramways not included)

10 to 50% discount to 21 other museums and monuments

10% to 40% discount on Port wine cellars, wineries and wine tasting

10% to 15% discount on local restaurants

10% to 15% discount in various Portuguese, traditional gourmet shops and wine stores

10% to 25% discount on tours and cruises

Complimentary booklet and Porto map
We were pleasantly surprised to read that the Porto Card offers many benefits beyond the traditional cultural attractions. With discount for wineries, gourmet stores and restaurants, we were hooked.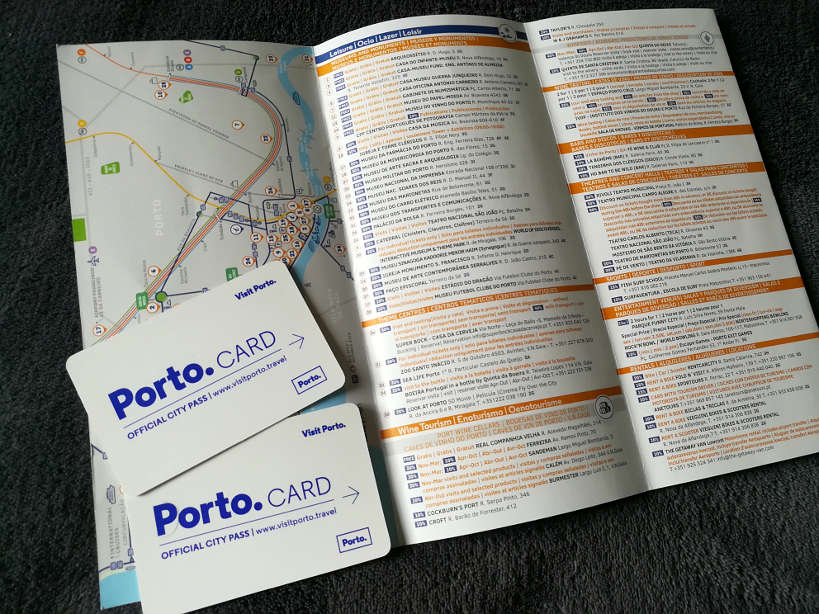 Types of Porto Cards
Two types of Porto cards are available. There is a Porto Card Walker and a Porto Card with Transport.
Both cards are available in 1, 2, 3, 4 consecutive days options.
Costs for the respective Porto cards vary based on length of time and whether you choose the Walker or Transport option. 
The Porto Card Walker is less expensive and prices range from €6 to €15. The Porto Card with Transport included costs more and prices range from €13 to €33. 
Each Porto Card is valid for one person only is not transferable. Children under the age of 4 years old do not need to get a Porto Card. The card's validity starts from the date written on the back of the card or when you pick it up at the tourist office
With our 3 day Walking Porto Card we chose to focus on the culinary experiences.
Where to Stay in Porto
To make the most of your stay in Porto, we recommend the following accommodations from our article, where to stay in Porto for food lovers.
Budget Friendly 
The House of Sandeman – Hostel & Suites
Mid Range 
Luxury 
See our full guide where to stay in Porto for food lovers to help you find the perfect base on your Porto visit with your Porto Card. 
Top Porto Food Stops with a Porto Card
Discover Porto and the Wines
Porto has been at the center of wine commerce since the 18th century, creating the first demarcated wine region in the world. 
To better understand the history and taste Port wines, here are three amazing places worth visiting worth visiting with your Porto Card.
Instituto Do Vinho
Start at the Instituto do Vinho which has a small museum with a detailed exhibition about how Port wines are made. This is a great way to start your journey to Port Wines including Douro Valley wines.
After seeing the exhibit, taste unique Port Wines. The Porto Card gives you a 25% discount on the tasting of Port Wines and anything you purchase in the store.
Address: Rua de Ferreira Borges 27, Porto.
Hours: Monday to Friday from 9:00 am to 6:00 pm
Porto Card discount: 25% off on any Port Tasting (between €2 and €6 per tasting)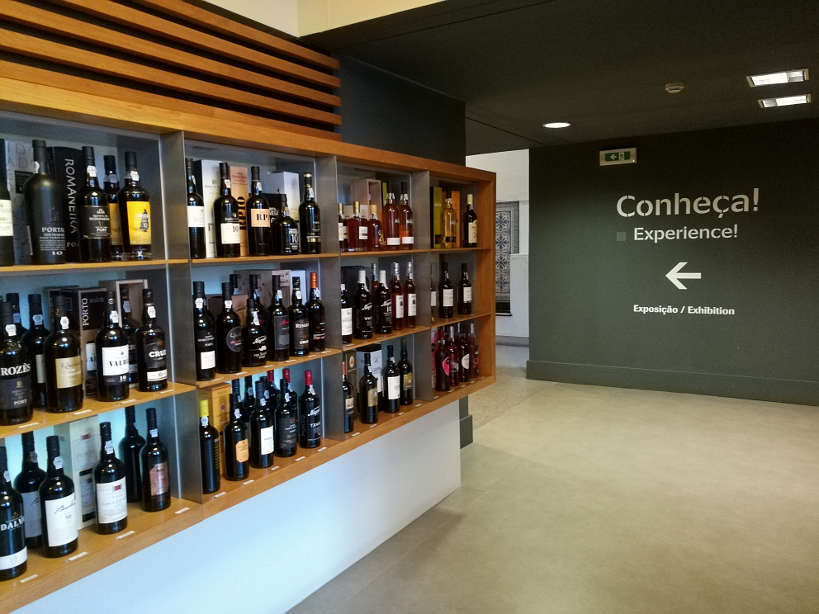 Palácio Da Bolsa Y Sala De Provas Vinhos De Portugal
After the visit to the formal Instituto do Vinho, head to the Palácio da Bolsa, one of the most visited monuments in northern Portugal.
It was formerly the stock exchange of Porto and today this historic building is home to the Commercial Association of Porto. Palácio da Bolsa serves multiple functions including being a museum, restaurant, tasting room and also used for wine auctions.
Don't miss the highlight of the visit, the Arab Room. Built with Moorish decor of the 19th century, find beautifully stained glass and intricate designs.
This room was used as a reception hall by the Nobles of the time. Today, this magnificent room is used for official events and dignitaries visiting Porto.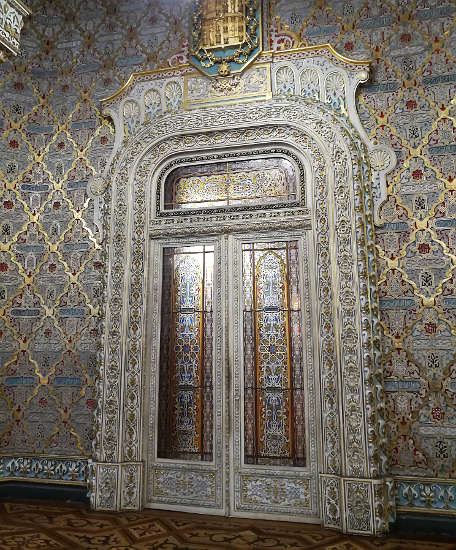 At the end of your visit, taste the wines from the Douro Valley at the Sala de Provas Vinhos de Portugal. The Porto Card offers you a 25% discount on any wine tasting.
Address: Rua de Ferreira Borges, Porto, Portugal
Hours:  Everyday from 9:00 am to 6:30 pm, except from November to March 9:00 am to 1:00 pm and 2:00 pm to 5:30 pm. Guided tours duration: 45 mins
Porto Card discount: 50% off on the €9 entrance fees
Pro tip: The Palácio da Bolsa can only be visited with guided tours. Tours are offered in different languages every hour. We recommend going early in the day to book your Palacio da Bolsa tour in the language of your choice. If your tour is not available right away,  go visit the Instituto do Vinho first and then come back to the Palacio after.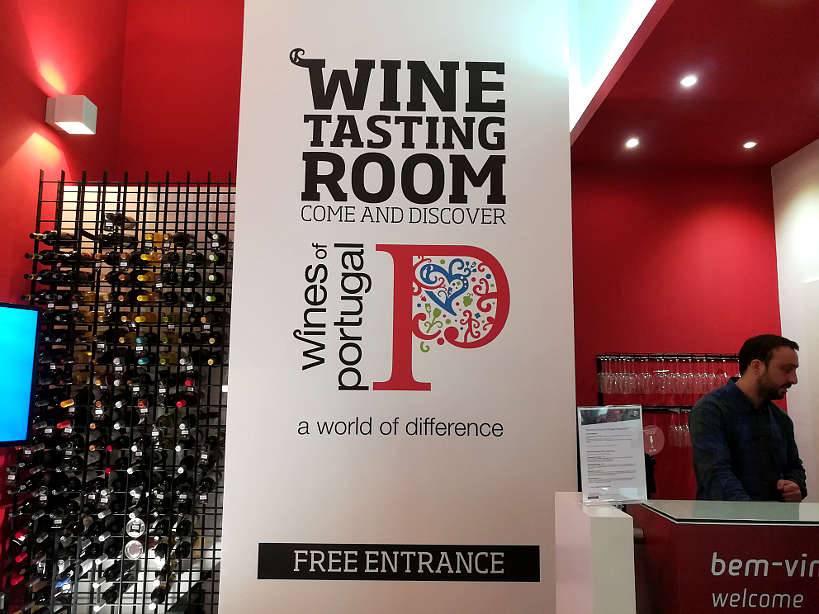 Museu Do Vinho Do Porto
With a rich history in wines, Porto has a Port Wine Museum called the Museu do Vinho do Porto.
On our first day with our Porto Card, we were eager to visit this museum which includes a free entrance for Porto Card holders.
Unfortunately, the museum was closed at the time of our visit. The only indication on the door mentioned that the museum will be relocated to a different building and re-opening sometime in 2018.
Ideally, we would recommend starting at this museum before visiting any other monuments. Check with the tourist office and find out if the museum has reopened.
Address: Closed at time of visit. Re-opening and new location to be announced in late 2018.
Porto Card discount: Free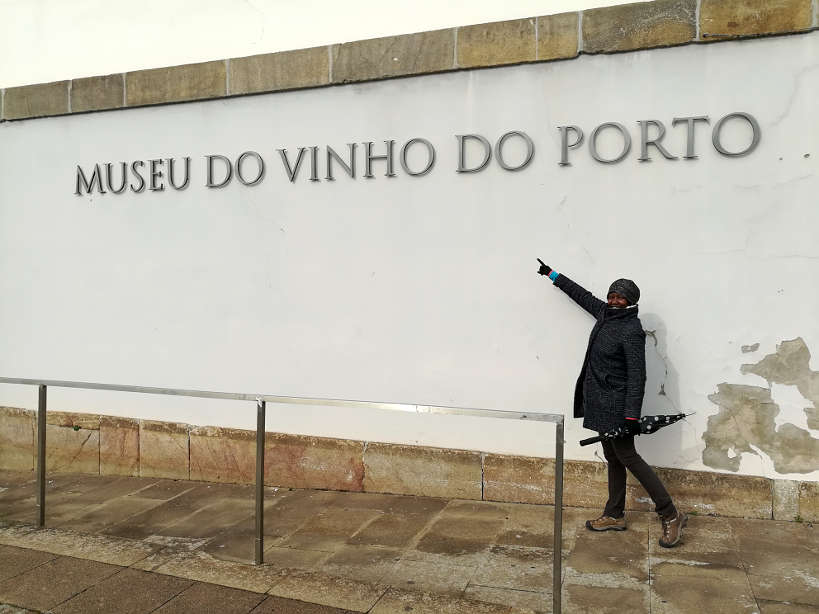 Taste Porto's Local Specialties
To taste the local flavors of Porto, the Porto card offers a selection of restaurants at different price points and experiences.
While there are several options to choose from, the following are popular spots to taste some specialties from the region.
Mercearia Mosaico de Sabores
This traditional grocery store has over 500 craft products that showcase the best of Portugal. In addition to local cheeses, sausages, wines, olive oil, and cod, it's also a great place to pick up gifts for your friends back home.
You can also sample petiscos, Portuguese small bites served with local wines and beers.
Address: Mercearia Mosaico de Sabores, Praça Guilherme Gomes Fernandes ,67, Porto
Hours: Monday – Saturday, 10:00 am – 8:00 pm; Sunday,  2:00 pm – 8:00 pm
Porto Card discount: 15% off any purchase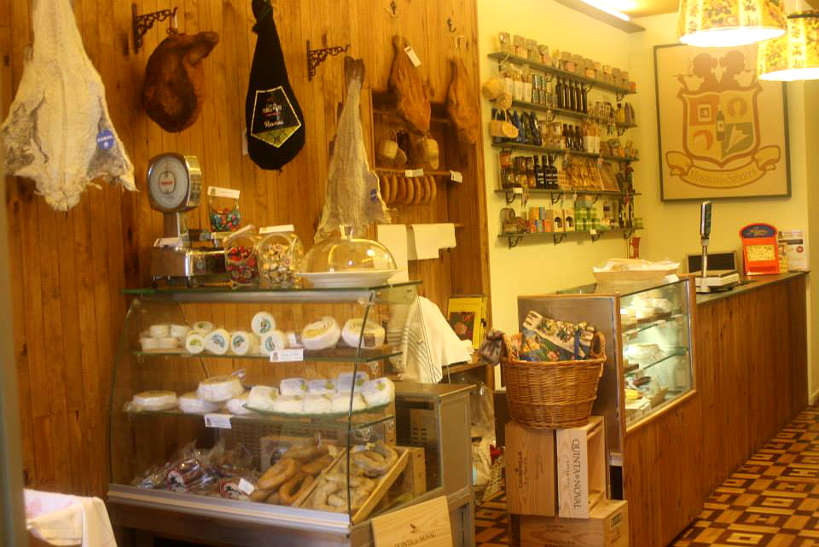 Chez Lapin
With its beautiful terrace right next to the Douro River, this French-named restaurant serves local Portuguese food. You'll find local specialties like bacalhau a lagareiro (cod with potatoes), sardines, octopus and beef medallions cooked with port wine.
Request a waterfront table and enjoy amazing port wines while taking in the magnificent views. If you plan to have dinner, book a reservation in advance.
Address: Chez Lapin, Rua Canastreios 40-42, Porto
Hours: Daily: 12:30 pm  – 3:00 pm and 7:30 pm  – 11:00 pm
Porto Card discount: 10% off cash payment or 5% off credit card payment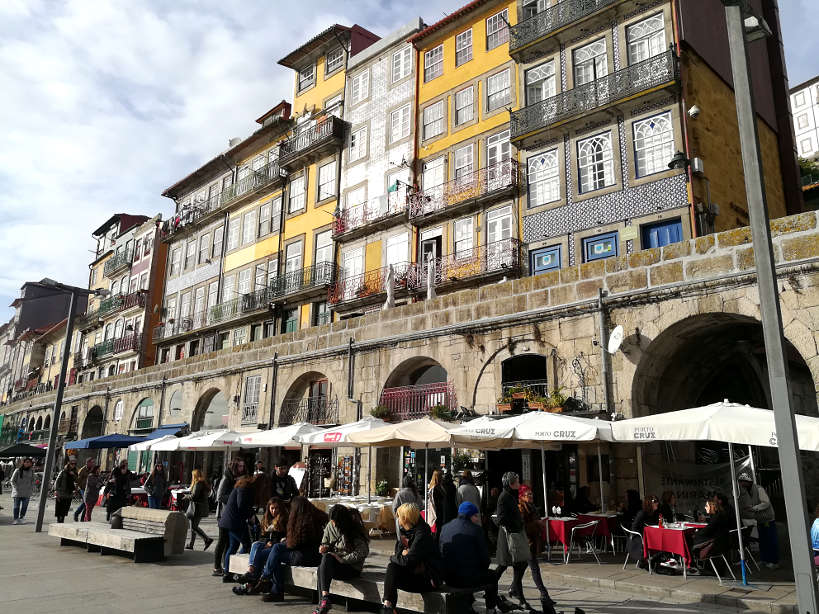 DOP by Rui Paula
If you are looking for a high-end restaurant serving modern Portuguese cuisine, look no further than DOP, by Michelin Starred Chef, Rui Paula.
Located in the historic Palace of Arts building, expect to find a contemporary twist on traditional Portuguese dishes with an emphasis on fish and seafood.
While we didn't eat at DOP, we recommend taking advantage of their "executive" lunch menu, where you can get three courses for €20. This offer is available only on weekdays and reservations are highly recommended.
Address: DOP,, Largo São Domingos 18, 4050-292, Porto
Hours:  Monday – Saturday, 12:30 pm – 3:00 pm and 7:30 pm – 11:00 pm, Closed on Sunday
Porto Card discount: 10% off only for lunch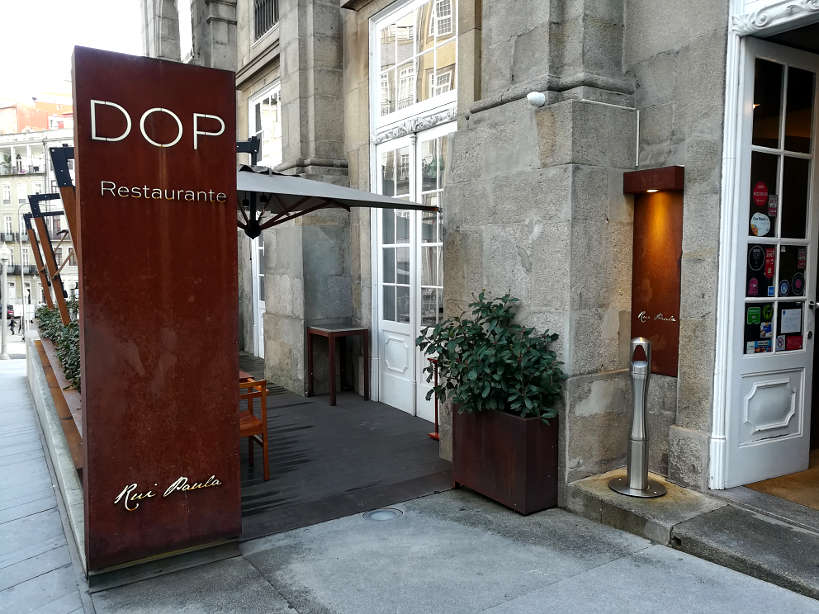 Visit the Port Lodges in Vila Nova de Gaia
Porto is synonymous with Port wines, and learning about the wines and visiting the port lodges is a must do. 
The Porto card offers discounts to several Port lodges in Vila Nova de Gaia, which is right across the Douro River from Porto city.
Following are three Port lodges we visited. The Porto Card offers visits to more Port cellars but unfortunately we didn't have the time to visit more.
Real Companhia Velha – Oldest Port House
Founded by the King of Portugal and the Prime Minister, Marques de Pombal, in 1756 this historic port house is worth visiting. It's a little off the beaten path, but the intimate tours and tastings makes it worth the visit.
With the Porto Card, your tour and tasting are free. Take advantage and visit this historic port wine cellar.
Address: Real Campanhia Velha, 4431-952, R. Azevedo Magalhães 314, Vila Nova de Gaia
Hours: Tours offered Monday  – Friday, 10:00 am – 6:00 pm
Porto Card discount: Free tour and tasting with your Porto Card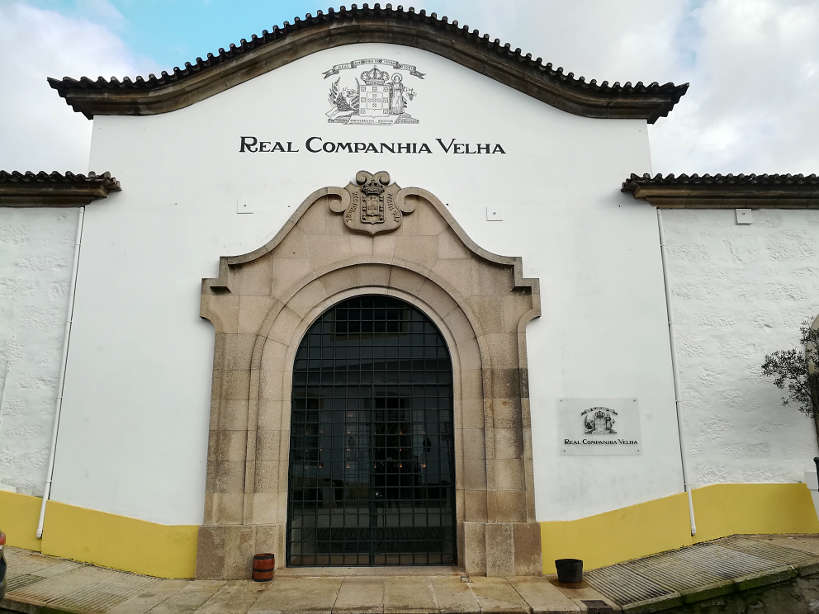 Cálem – Easily Accessible Port House
You'll not miss the huge Cálem sign as you make your way across the Douro River. This popular port house offers organized tours for up to 40 people at a time and in different languages. 
Despite the massive operation, Cálem has a wonderful small and interactive museum that shows each step of the Port winemaking process.
With the Porto card, you get a 20% off discount on certain tours and products. Take your time at the museum and enjoy the port tastings at the end.
Address: Cálem, Av. Diogo Leite 344, Vila Nova de Gaia
Hours: Tours offered daily: 10:00 am  – 7:00 pm
Porto Card discount: 20% off discount from November to March on select visits and products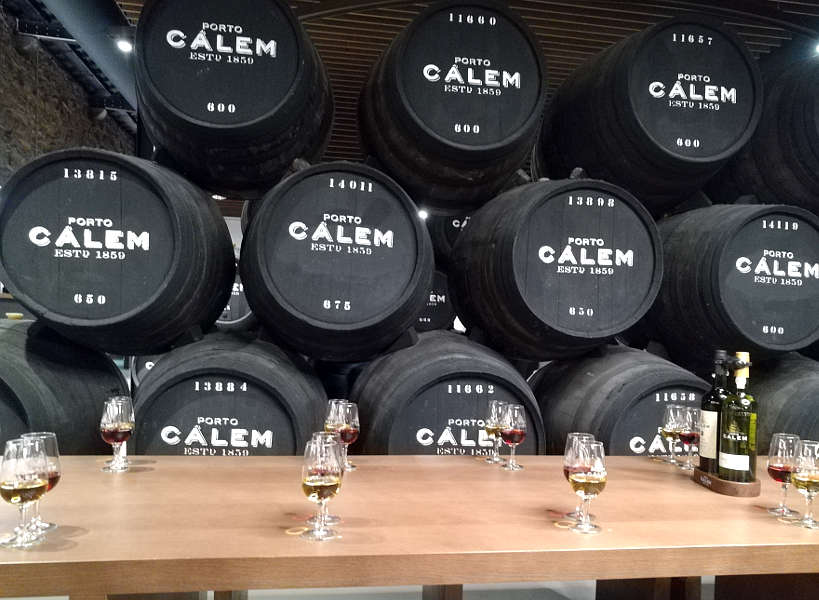 Espaço Porto Cruz
–
Interactive Experience
For great views overlooking the Douro River, and a sampling of different Port wines paired with cheese or charcuterie, relax at Espaco Porto Cruz.
This multimedia center offers a variety of ways to experience Port wines and the region. Find a wonderful combination of art and interactive presentations that introduce you to the region. A 360-virtual reality tour of the Douro Valley should not to be missed.
The Porto card gets you 2 for 1 Port-based cocktails, which are very popular in Portugal.
Address: Espaço Porto Cruz, Largo Miguel Bombarda 23, Vila Nova de Gaia
Hours: Tuesday – Saturday, 10:00 pm – 11:30 pm, Sunday, 10:00 am – 7:00 pm, Closed on Monday
Porto Card discount: 2 for 1 cocktails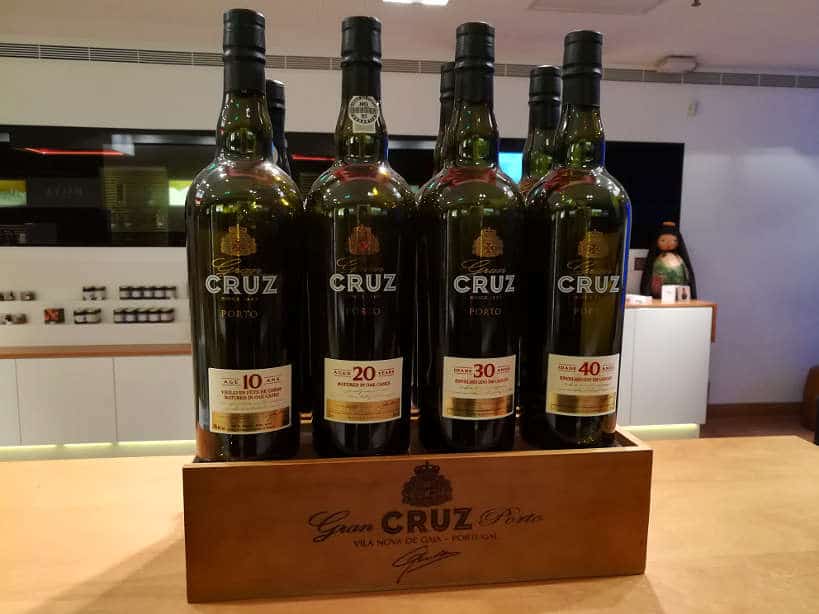 What Else Does the Porto Card Include?
With the Porto Card, we hit a few cultural sites including Casa do Infante Museu which was used as a custom and mint house. It is said to be the birthplace of Prince Henry the Navigator, famous for his role in building the Portuguese Empire in the 15th century.
There are other museums which you can visit for free. However, most of the main cultural sites offer a 10% to 50% discount with the Porto Card.
If you haven't had the chance to see a Fado show, discounts are offered at several venues including Casa Da Guitarra. Great for music lovers, this music store sells guitars including handmade traditional Portuguese guitars.
Guided Walking Tours and a sightseeing bus are also available at a discounted price. One famous stop is at the Livraria Lello, one of the oldest bookstores in Portugal. Besides being one of the most beautiful bookstores in the world, it is also where J.K Rowling got inspiration for the Harry Potter series.
Beer enthusiast will want to visit Casa da Cerveja where you'll get a 50% off discount on the price of the visit and tasting.
Additional visits and tastings to other wine cellars are also offered at a discount. You can also get discounts for visits to wineries in the Douro Valley.
Keep in mind that the discounts are more significant during the off-peak season typically between November and March.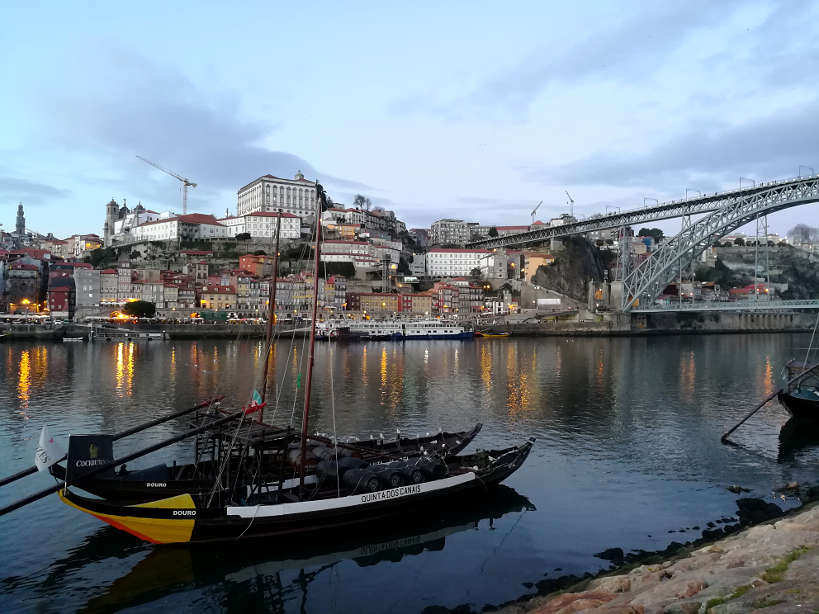 Related article: Once you've explored Porto, you may want to visit some of the surrounding towns. Read our article the best day trips from Porto for unique places to visit.

In Summary
So, in a nutshell, is the Porto Card worth it?
The Porto Card is relatively inexpensive though it offers limited free sites to visit. What's impressive is that it can be used at many different kinds of venues including museums, wineries and restaurants, tours and more.
If you combine free visits to the museums with discounted prices at stores, restaurants, and wineries, it can be advantageous and you will definitely save a few euros.
From all our winery visits, we saved about €16. To make the most of the card, we recommend planning your 72 hours itinerary in advance and checking to see if all the places you want to visit are included in the Porto Card.
Keep in mind that overall, the attractions in Porto are quite inexpensive as well as public transportation. Choose wisely when it comes to which places to visit with the card versus without.
That said, 72 hours in Porto with the Porto card offers plenty of opportunities to indulge in local Port wines and taste the local specialties. Meanwhile, you'll also get an understanding of the historical and cultural background of this charming city.
Do you like Port Wines? Leave your comments below.
Savor the Adventure!
Get Your Porto Card
We recommend getting the Porto Card with transportation included. Even though Porto is a walkable city, it is a hilly city. Wear comfortable walking shoes and explore even more. End your day listening to Fado, the music that is the soul of Portugal. Click the link below and get your Porto Card.
Love it? Pin it!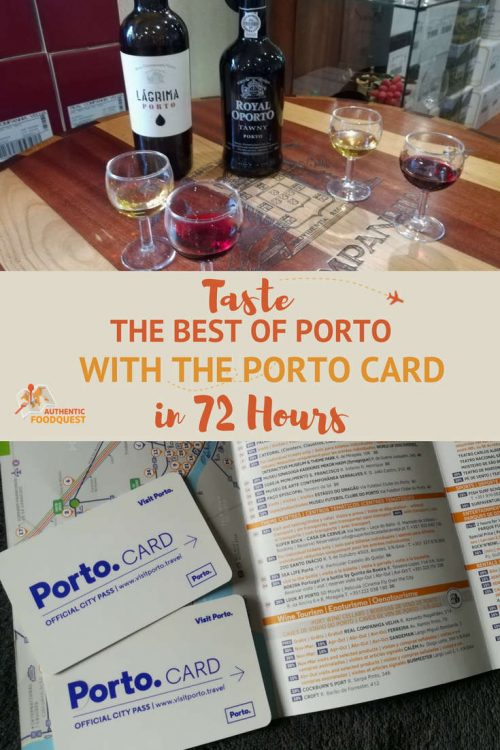 Disclosure: Our Porto Cards were provided by the Porto Northern Portugal Tourism Board. The opinions expressed in this article are always our own. Full bellies and happy taste buds too.
Disclaimer: This page contains affiliate links. That means at no extra charge to you, we earn a small commission when you purchase using these links. Thank you for your support.
Claire is a culinary explorer who travels the world in search of the best local foods. She is always looking for her next culinary adventure to bring you the best bites while exploring new places.