Have you had açorda?
"No", "what is it," we asked in unison.
"Açorda is a traditional Portuguese bread soup from the Alentejo region, where I'm from", Cristina replied.
In Lisbon at the time, we were Airbnb guests at Cristina's home. That's when she graciously extended the invitation for a cooking class in Lisbon at her home
Prior to that, we had conversations about what brought us to Portugal. "We were on a mission", we told her, "to discover and highlight the local and authentic food experiences of Portugal." Our goal, we said "is to inspire travelers to connect deeper with the local culture and people, through food."
At Authentic Food Quest, one of the ways we discover the local food culture is by staying with locals. This is how we ended up at Cristina's four bedroomed apartment, in the Penha de França neighborhood, away from the popular Lisbon tourist zones.
"If you are around on Friday at 6:30 pm, we'll have a 'cooking class in Lisbon' and I'll teach you how to make açorda. We'll eat together with my daughters", Cristina said.
Article last updated – January 3rd 2020 with additional practical information

Alentejo Region: Portuguese Culture and Traditional Portuguese Foods
Known as the "breadbasket of Portugal", the Alentejo region covers about 30% of the country. The area is home to vineyards, olive groves, fertile farmland, excellent cheeses and black pork raised from pigs fed on a diet rich in acorns and oak.
Alentejo cuisine is one of the richest and most original in Portugal. This unique cuisine has developed from the creativity of poor rural farmers and the use of the natural ingredients from the land.
One of the basic and important elements of the food culture in Portugal is bread. The Alentejo region, a major grain producer, is famous for Alentejano bread or Pão Alentejano.
This traditional bread, with a large lump that pops out of the top of the bread when baked, is an important ingredient in several Alentejo dishes.
"We've got to get back on time to make açorda with Cristina", we chided ourselves as we rushed around to buy wine and Portuguese desserts for dinner.
We had just come back to Lisbon by train from Évora, the capital of the Alentejo region. On our trip to Évora, we discovered several Alentejo dishes, including freshly baked Pão Alentejano and Migas, another dish made from crumbled bread, exclusively from the Alentejo region.
However, we hadn't had açorda and were excited about discovering this traditional Portuguese food in a Lisbon cooking class at Cristina's home.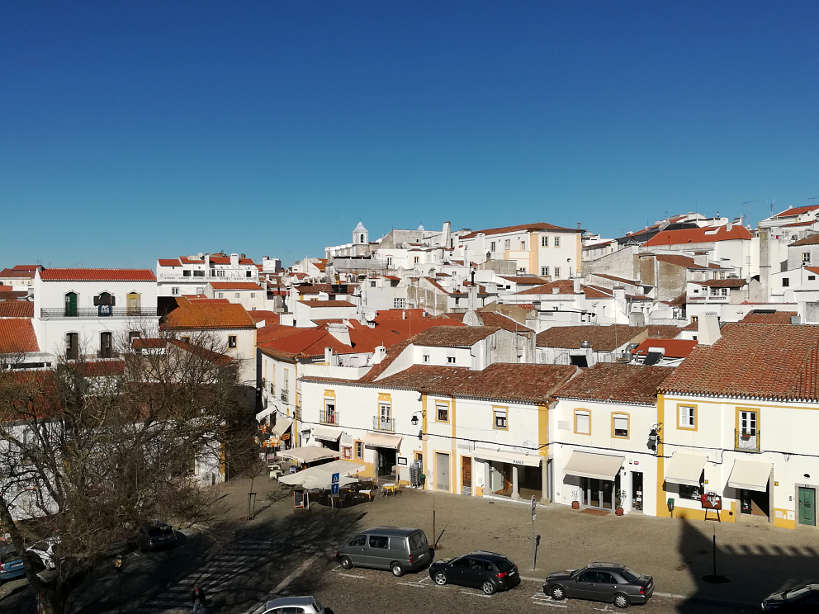 Açorda – Traditional Portuguese Meal from Alentejo
What is Açorda?
Once we got back in and settled, we found Cristina in her beautifully tiled Portuguese kitchen getting dinner going.
"The kind of açorda, I am making", Cristina said, is "how we eat it today, and not how it was eaten in the countryside. I am adding shrimp to it, whereas traditionally, it was eaten with pork or nothing at all."
This traditional dish, Cristina told us, is not widely available at restaurants, but it's very popular. "Typically", she added, "açorda is made using three-day-old Alentejo bread".
"It's what the poor people in Alentejo ate and you made it with everything you had", she added.
One of the most important ingredients is the olive oil. And, the" olive oil must be from Alentejo," she declared.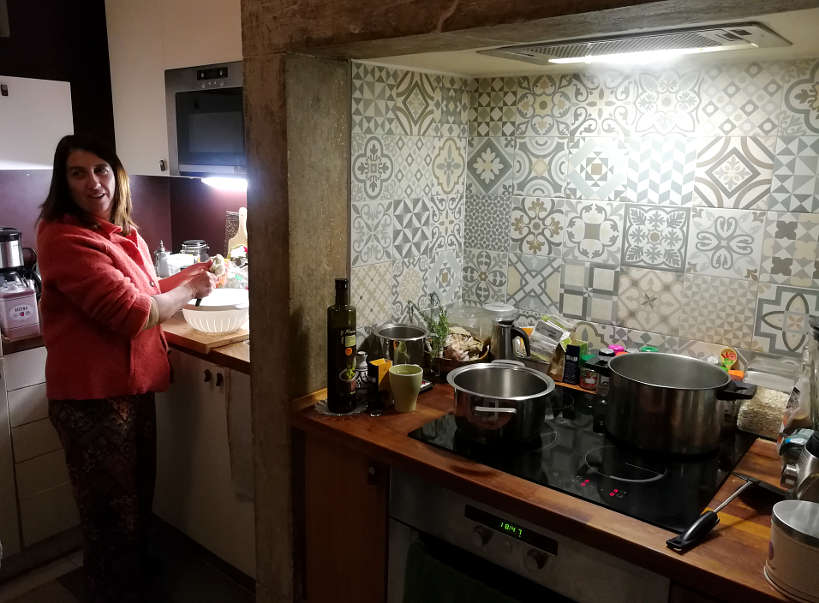 Olive Oil and Coriander – Key Açorda Ingredients
Olive oil is an indispensable ingredient in Portuguese cuisine. It is used as a dip for bread, splashed over grilled fish, basted over pork chops, used to season potatoes, vegetables and more. It's difficult to find a dish on a Portuguese menu that hasn't seen olive oil.
Considered the "Queen of Condiments", olive oil has long occupied a prominent place in Portuguese culture. Going back to the Roman Period and the Visigoths who protected the olive trees. And, all the way to the Arabs in the 17th century, who named Portuguese olive oil "aziete", an Arab word for olive juice.
During the Discovery Age, olive oil was used for illumination and the quality of Portuguese olive oil in the 19th century was awarded at the 1889 Paris World Exhibition.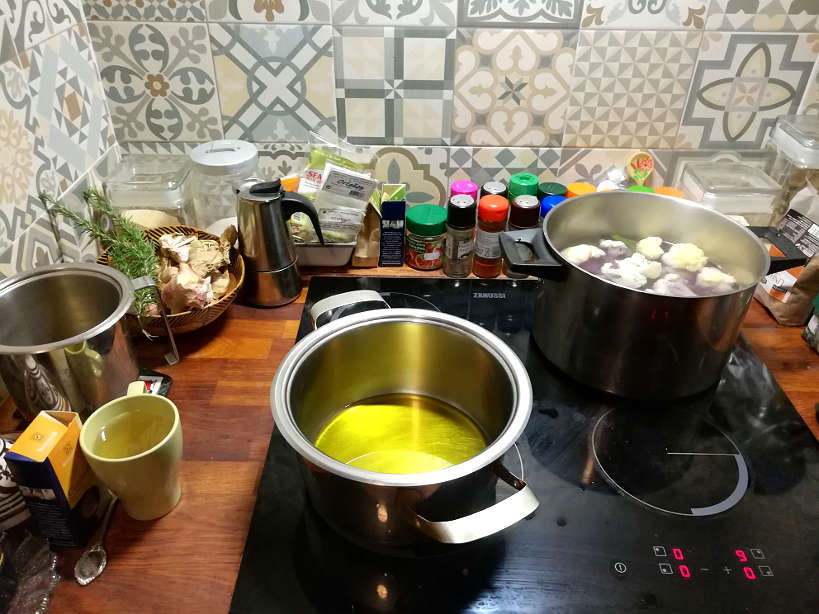 Making Açorda in a Cooking Class in Lisbon with Cristina
As we discussed the olive oil, we watched Cristina pour copious amounts of olive oil in a pot mixed with garlic and onion. Only the inside of the bread is used for açorda, and this was mixed into the sizzling onion and garlic mixture.
As we talked, we helped Cristina chop up coriander and rosemary, while the shrimp was boiling separately in a pot of hot water with salt. Coriander gives açorda, its distinct taste. And as Cristina put it, "if you don't have coriander, don't make açorda".
About 20 minutes later the açorda was ready and topped off once again with olive oil from Alentejo and the cooked shrimp.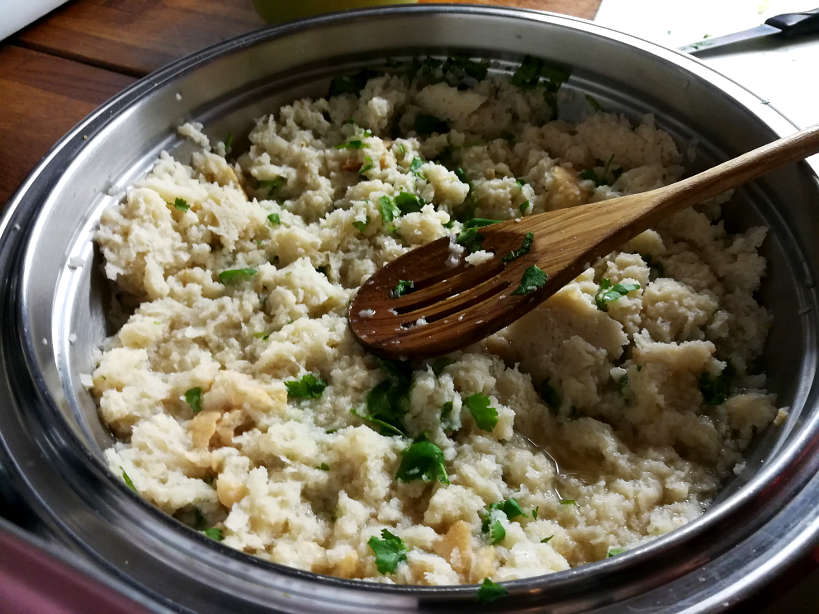 Authentic Food Quest Tip: Another way to experience eating in Portugal and Portuguese culture is to eat with locals in Lisbon. We had the opportunity to share a wonderful dinner with locals using EatWith in Mexico City. It was a delicious experience and lots of fun. For something different enjoy a truly authentic dining experience with locals in their private home. Eatwith, the world's biggest community for dining experiences with locals offers a number of Lisbon experiences to choose from.
Typical Portuguese Cauliflower Soup to Start
To start off the dinner, Cristina made a simple cauliflower soup or sopa de couve-flor. While the soup is typically made with regular potatoes, Cristina chose to mix three different kinds of potatoes – purple, white and yellow.
In the boiling water, she added chopped cauliflower, including the stems and leaves. Moabi, Cristina's oldest daughter, brought the cauliflower from her home in the district of Portalegre in Alto-Alentejo, the northern half of Alentejo.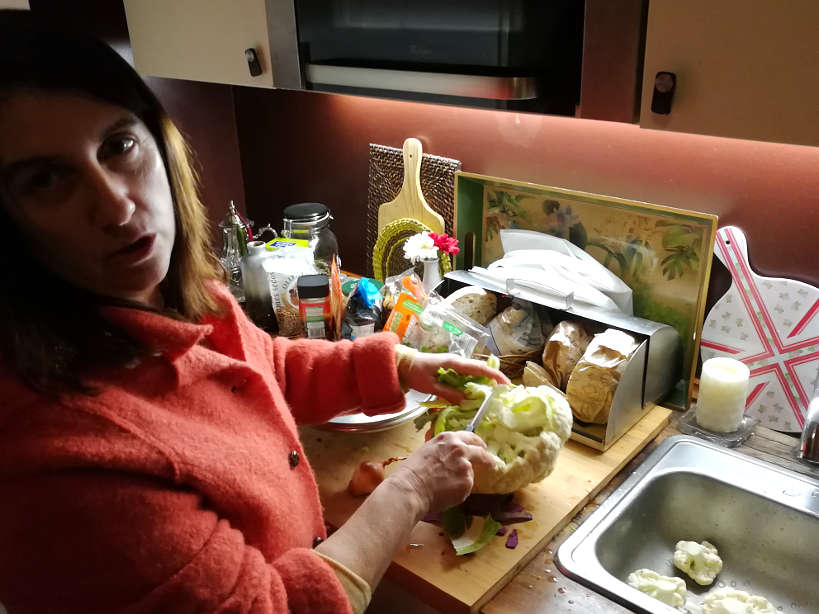 Together with her partner, Gennaro, a lanky Italian man, they had come to Lisbon for the weekend.
"The only time I cook the cauliflower leaves and stems is when Moabi brings me cauliflowers from her food forest farm", Cristina told us.
Immediately intrigued, we both asked in unison "what is a food forest farm?"
Shooing us out of the kitchen and into the living room, Cristina told us to ask Moabi and Gennaro as she finished preparing the soup.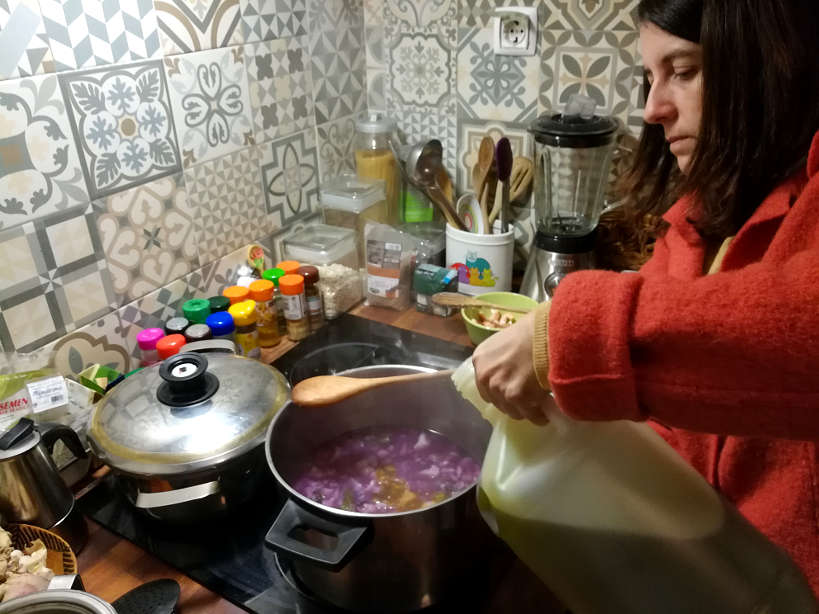 Food Forest Farming – Living Sustainably and Holistically
Moabi, we learned, used to live in Lisbon, but left for a quieter life in the northern Alentejo region.
As fascinated as we were with her story, she was just as curious as to why two former corporate career gals, had left their careers to travel around the world through local food.
The feeling was universal. Despite the geographic and cultural differences, a desire to live a more meaningful life was at the core.
In 2010, Moabi and Gennaro told us they created Tribodar, a holistic learning center in the northern part of the Alentejo region. Their dream, they told us " is to foster connections to the community, to the natural world, and make sustainable use of all resources." They follow a permaculture philosophy and help residents live with a reduced footprint.
On their land, they practice Forest Farming, where they cultivate vegetables under the forest canopy. With the current use of chemicals, our soils have become degraded and applying forest farming techniques creates a more sustainable food system, they shared. For more, this article goes much more in-depth into forest farming.
The seasonal vegetables they were growing on their land at the time of our dinner were cauliflower, broccoli, fennel, and lettuce.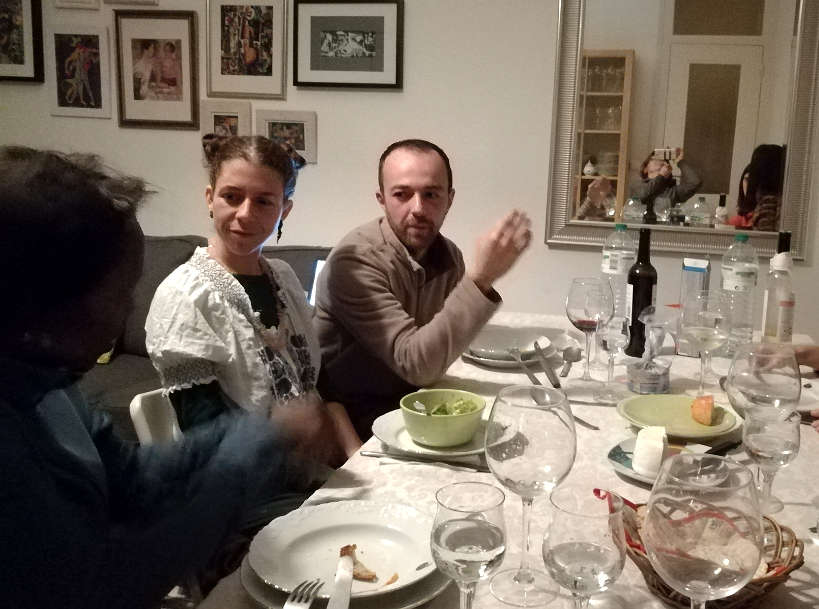 Family Reunion over a Home Cooked Meal in a Cooking Class in Lisbon
"Mom", I'm sorry I'm late", said Juana, Cristina's younger daughter as she went around kissing everyone hello on the cheek. "It took me a long time to find a parking spot on a Friday, night in Lisbon", she said. We smiled in empathy, in recognition of this worldwide frustration.
"The two chairs at the end are for you two," Cristina said as she directed us to our seats.
Before us was a beautiful table setting, with fine china and stemware for both wine and water.
"We'll start with the white wine from my friend's vineyard", Cristina said as she poured the wine around the table.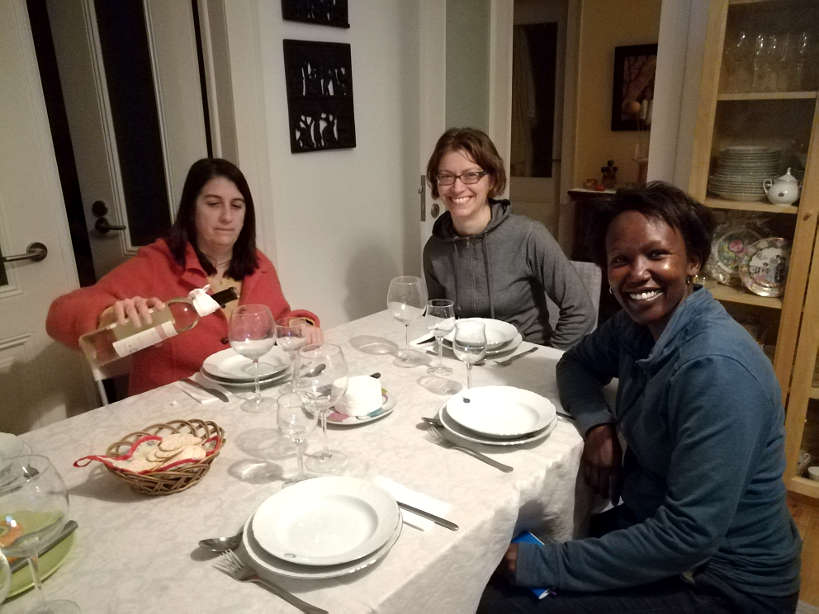 Entrepreneurship – Key to Survival During Portugal's Economic Crisis
Cristina, like her friend, lost her job during the Portuguese economic crisis which started in 2008. Helped by a 2011 bailout from Europe and the International Monetary Fund, the Portuguese economy is on the road to recovery, fueled by tourism.
A former Professor of Sociology, Cristina, turned to renting rooms in her apartment through Airbnb to make ends meet. At the time of our stay, she was building a chalet on her property to also offer via Airbnb.
"We had to be creative when we lost our jobs", Cristina said. Her friend and former colleague turned to making wine with her husband. In fact, the wine we were drinking was from their first vintage, and we were all guinea pigs.
When the economic crisis hit the U.S. at around the same period, I was working in my corporate job. I remember being focused on working hard and keeping my job, oblivious to the impact the economic crisis was having around the world.
"We went to pick grapes in the Rhône wine region in Southern France", added Moabi " to make ends meet". While she and Gennaro had a horrible experience, where they felt exploited, they did what they had to do, when they couldn't find jobs home.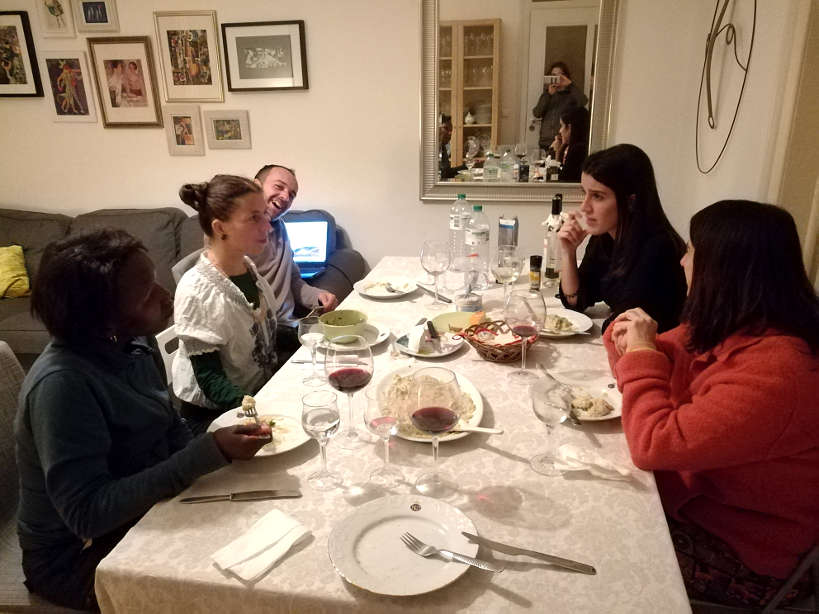 Traditional Dinner – Eating in Portugal
Homemade Portuguese Cauliflower Soup
Over the cauliflower soup, we got to know Juana. New into her career as a nutritionist, Juana, was a single woman in her late twenties.
Passionate about traveling, she was at a stage where she was trying to figure out if she wanted to be a nutritionist for the rest of her life. "I was good in biology and the sciences, and I just fell into nutrition," she said.
She was most interested in our travels and especially our quest for authentic food in South America. "I want to go to Argentina and travel around the continent and volunteer. Already a well-traveled lady, the allure to South America was also in part driven by Portugal's former colony, Brasil.
As we talked about traveling, we savored the flavors of the purple cauliflower soup. Blended into a purée, it was packed with fresh and garlicky flavors.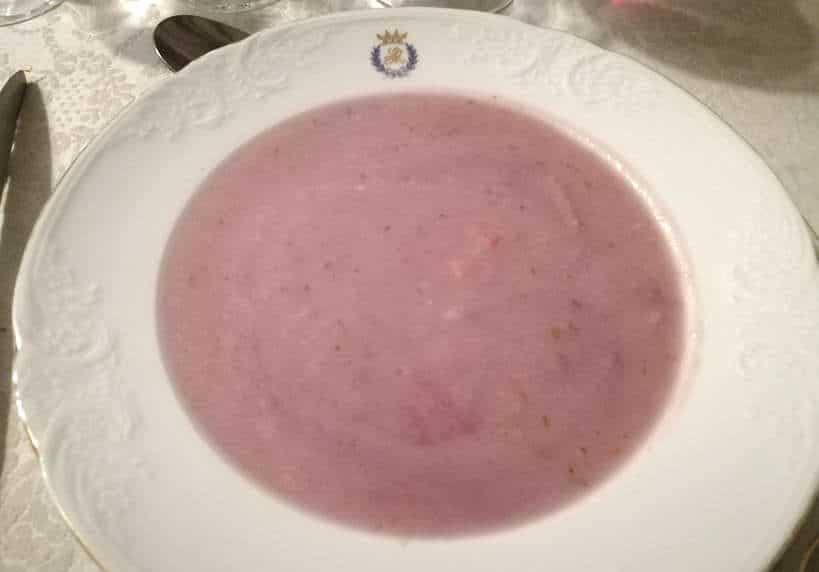 Tasting Açorda & Portuguese Wine
As Cristina served the açorda, I passed around a bottle of Portuguese wine from the Douro Region.
Wine production is one of Portugal's most ancient traditions. The Douro Valley is the first demarcated and regulated wine region in the world. It is known for producing some of the best wines in Portugal, and also in the world.
The açorda, with a risotto-like texture, was hearty and full of flavor. Each bite into the stunning dense soup was biting into a much loved traditional Portuguese soup.
The origins of the açorda are said to go back to the times of the Moorish occupation of the Portuguese territory. Portuguese culinary researchers believe the açorda is an evolution of Moorish bread soups.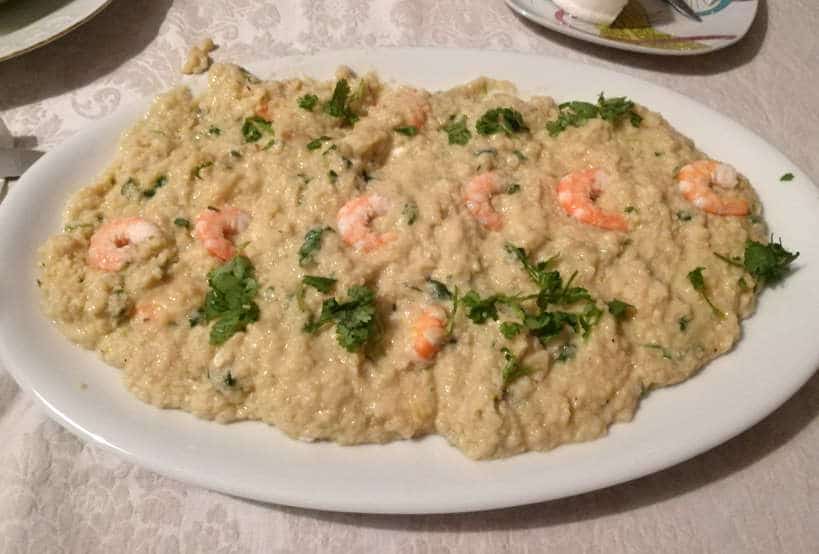 Nisa Cheese from the Alentejo Region
Already familiar with European cheese varieties, and especially those from France, we enjoyed discovering Portugal's wide variety of artisanal cheeses. Claire, an avid cheese lover made it a point to try as many Portuguese cheeses as she could.
In keeping with the theme of Alentejo cuisine, Maobi brought the local Queijo de Nisa (Nisa Cheese) from Alto-Alentejo with her. This semi-hard cheese made with raw sheep's milk has a protected geographical status or Denominação de Origem Protegida (DOP).
This cheese was mild with nutty flavors. It is deeply rooted in the Alentejo region and considered a major source of protein in the diet of the region. The magazine "Wine Spectator" considers it one of the 100 best cheeses in the world.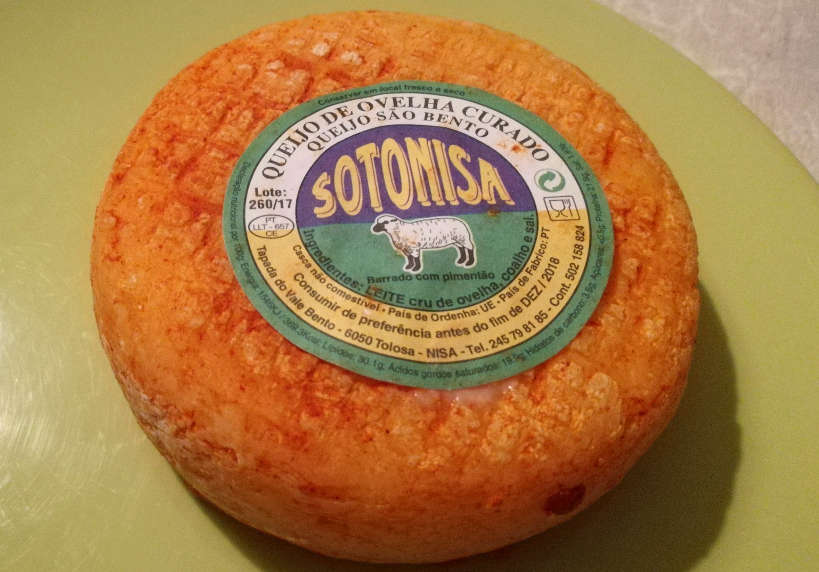 Bolo de Bolacha – Traditional Portuguese Biscuit Cake Dessert
To finish off the meal, unbeknownst to us, Cristina had already prepared a simple and traditional no-bake cake. Even though we had picked up local Portuguese pastries, we were more intrigued by her favorite childhood dessert she had prepared.
Bolo de Bolacha or "cookie cake" in English, is a cake made with stacks of Portuguese bolacha Maria biscuits and condensed milk.
As Cristina told us, Maria biscuits are kids' favorites in Portuguese homes. "Eating Maria cookies is a way to connect to childhood", she went on to explain,
The cake is simple to make. The recipe calls for mixing condensed milk, cream, egg yolks, and Maria cookies soaked in coffee. Cristina adapts the recipe and does not use sugar added and is light on the coffee.
The cake, we learned also comes as a mousse, and that's the version Cristina prefers.
The Portuguese desserts followed by coffee was the perfect end to a typical Portuguese meal with a warm and generous Portuguese family.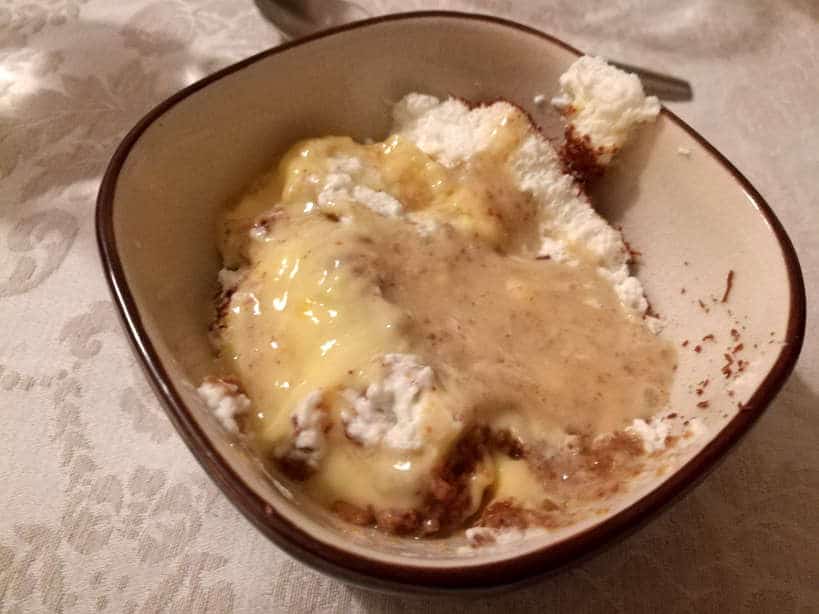 In Summary
Food opens doors and connects us in more ways than we might imagine. Services like Airbnb make it easy to meet locals and share experiences
When you have the opportunity to share a meal with a local family, you discover that you are more alike than you are different.
Through sharing stories at Cristina's dinner table, we found our points of commonality. We talked about our lives and what mattered. Whether it was traveling to discover the world, or setting up a holistic learning center, fulfillment was at the core.
The warm environment Cristina created in the Lisbon cooking class and the traditional Alentejo dishes brought us together in a powerful way.
At that table, "the center of the universe", from about 8:00 pm to 11:00 pm, we crossed geographic barriers and shared a special moment.
A moment that was only made possible through food.
"I believe that any people's story is every people's story, and that from stories, we can all learn something to enrich our lives."

– Harriette Gillem Robinet, from If You Please, President Lincoln
Eat With Locals in Lisbon
Eating with a Portuguese family and learning about the local Portuguese culture is a wonderful way to get more out of your travels to Portugal.
On your trip, consider eating with Portuguese locals at home. Select any EatWith experience when you click the link below and enjoy Portuguese food with locals. Click below and book your EatWith experience in Lisbon.
Book Your Stay at Cristina's Airbnb in Lisbon, Portugal
One of the pleasures of staying with locals while traveling is connecting over special moments like this. On our food travels, we like to stay with locals using Airbnb, as a way to better understand the local food culture.
If you have never used Airbnb before, you get $55 off your first Airbnb booking by using our link. It doesn't cost you anything and it helps us to get a small credit for our next Airbnb stay.
If your travels take you to Lisbon, book a stay with Cristina or explore other local Airbnb options.
Have you shared memorable meals with locals on your travels? In the comments below, please tell us about your favorite experience.
Savor The Adventure!
Love it? Pin it!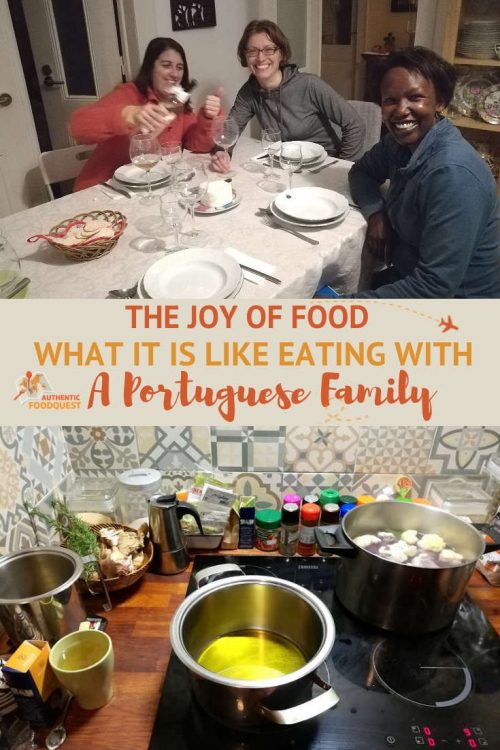 Disclaimer: This page contains affiliate links. That means at no extra charge to you, we earn a small commission when you purchase using these links. Thank you for your support.
Curious by nature, Rosemary loves exploring new flavors and connecting with locals. She shares her insights and culinary finds from her travels to inspire people to connect local through food.