Singapore has made its name as a top gastronomy destination worldwide. And the diversity of Singapore food is unrivaled.
On our quest to discover the local and authentic flavors, a stop for Singapore food could not be missed.
Also known as the Lion City or Garden City, Singapore is a city-state and only one of three city-states in the world. The other two city-states are Monaco and the Vatican City.
The Economist refers to Singapore as "the world's only fully functioning city-state."
Unlike other countries in Asia, Singapore is very clean, very organized, safe and easy to get around. Regardless of the time of day, we always felt safe, even late at night. Singapore is considered by many as "Asia for beginners."
You find Singapore food everywhere in unique and surprising ways. For your travels to Singapore, here are the 10 surprising facts to know about Singapore food.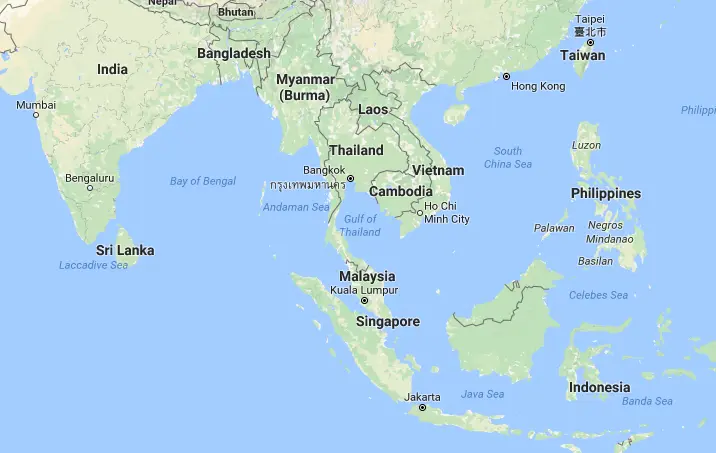 #1- Hawker Centers: the Heart and Soul of Singapore Food
Hawker centers are a unique aspect of Singapore culture and lifestyle. These food centers are the heart and soul of the local food scene. You'll can find cheap food and locals eating and mingling together.
Typically, hawker centers are open air complexes with many stalls selling a wide variety of dishes. They are conveniently located near large housing complexes, where locals live.
In Singapore, hawker centers are the best places to eat local Singapore food. The centers are spread throughout the different neighborhoods, with some offering more food stalls than others.
Authentic Food Quest Tip: Explore the food in Singapore with a local guide and taste the local specialties while learning about the city's history. Book a Singapore food tour and go deeper in one of the world's best food cities.
#2- Spotless Hawker Centers
Singapore hawker centers are very clean as compared to hawker centers and street food in the neighboring countries.
You will find wash station to wash your hand before and after your meals. And restrooms that are easily accessible.
To control the hygiene level, Singapore government rates the stalls from "A" which corresponds to "super clean" to "D" which corresponds to "hygiene level not acceptable".
There is a saying amongst the local Singaporeans that the cleaner a food stall, the less interesting the food! And the meaning of the ratings are translated to: "A" means "Avoid" and "D" means "Delicious"!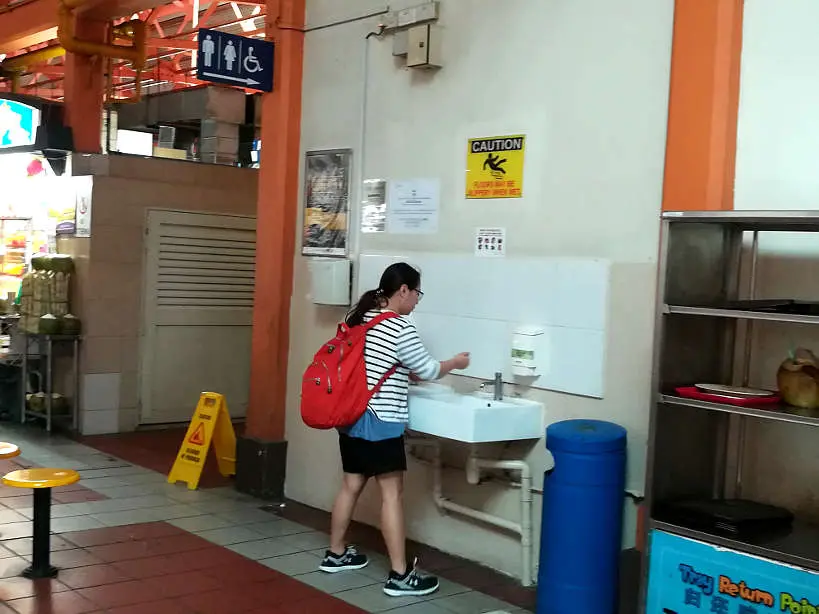 #3- Singapore Food Specialities Within Hawker Centers
In the hawker centers, you find each stall selling its own specialty. A vendor will focus on only one dish emblematic of Singapore food.
This is true also for the beverages. Drinks are sold separately by different vendors. Once you order your food, a separate vendor will come and take your order for either fruit juice, soda, beer or coffee.
And finally, if you are a dessert lover, you will also have your choice of desserts to choose from the several dessert stalls.
Eating at hawker centers is a great way to taste the different local specialties available. You get to see right away what Singapore food you should taste to sample the local flavors.
RELATED: Read about the food in our article: Top # 12 authentic foods in Singapore you want to try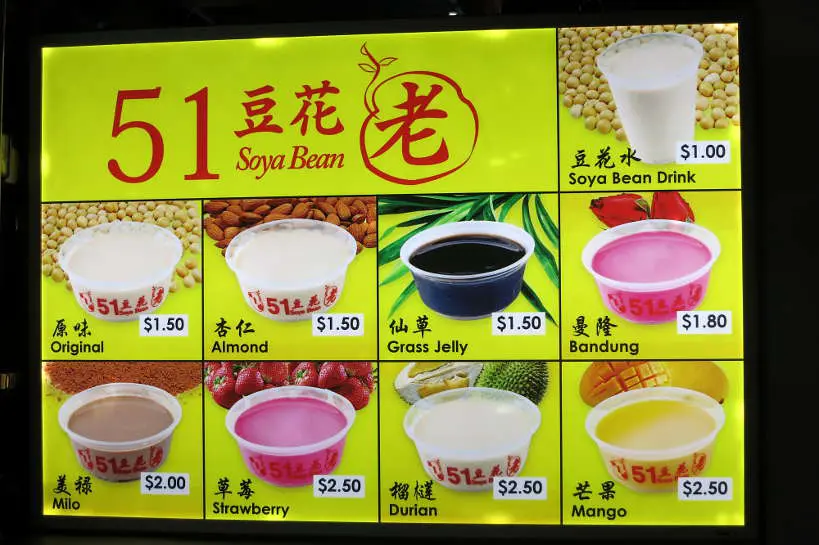 #4- Singapore Food is Multicultural, Multi Ethnic & Multi Religion
Singapore is a racially diverse country. You find a Chinese majority (74%), a substantial minority of Malays (13%), Indians (9%) and 4% of other.
According to Pew Research, Singapore is also the most religiously diverse nation in the world. About a third of Singapore's population is Buddhist, followed by sizable percentages of Christians, Muslims and Hindus.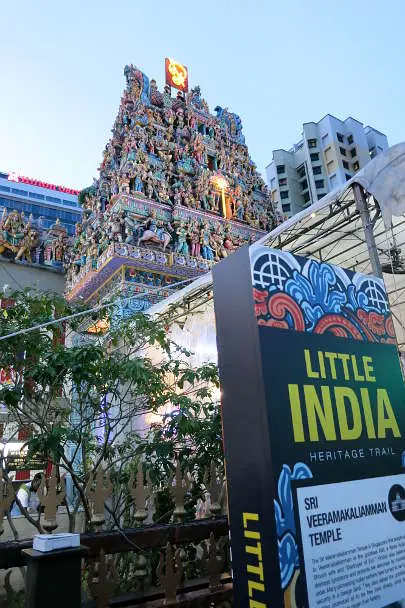 This blending of cultures and religious beliefs is reflected in Singapore food. You find traditional dishes from each of the different ethnic groups. And in addition, a blend of flavors in dishes such as Peranakan food, which is a marriage of Chinese and Malay cuisines.
In 2016, the first official visit by a Singaporean Prime Minister to the United States in over 30 years, President Obama made the following introductory remarks.
"In the United States, we call ourselves a 'melting pot' of different races, religions and creeds. In Singapore, it is rojak—different parts united in a harmonious whole," Obama said. "We're bound by the belief that no matter who you are, if you work hard and play by the rules, you can make it." (Rojak is a traditional fruit and vegetable salad dish named after a Malay term for mixture.)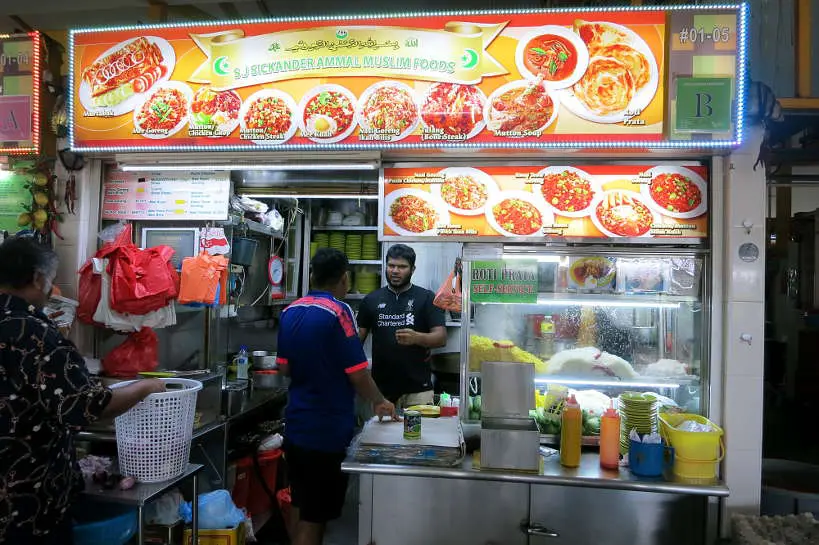 #5 – English Language Menus
Navigating your way around Singapore is fairly easy as the official language of Singapore is English. This means that you'll be able to easily read the menus and order your dishes.
Coming from Vietnam, Cambodia and Thailand, where we struggled to order food, we appreciated being able to understand the menus.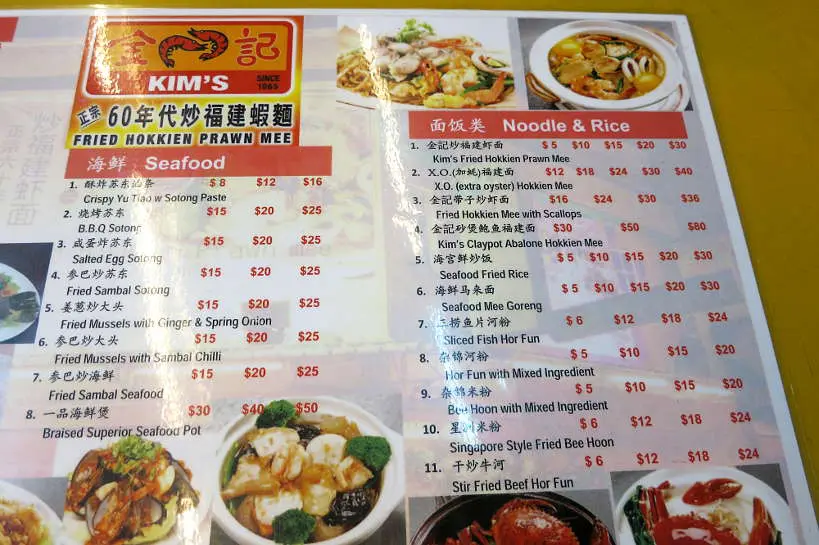 With English, we also discovered Singlish (short for Singaporean English). This is a delightful slang spoken by locals consisting of, Malay, Hokkien, Teochew, Cantonese and Tamil words mixed with English. It is spoken in casual situations, including around food.
For your food travels to Singapore, here are some basic words and phrases you might want to try out as you explore Singapore:
English
Eat
Oh my gosh!                                         
Reserved
Delightful! (usually used to describe dishes)
Coffee +condensed milk
Coffee +evaporated milk +sugar
Singlish
Makan
Walao!
Chope!
Shiok!
Kopi
Kopi Si (Kopi-C)
For more Singlish phrases, download the apps below for phrases with audio and definitions to help you speak better Singlish!
Hosay! – Download App Store
Singlish! – Download Android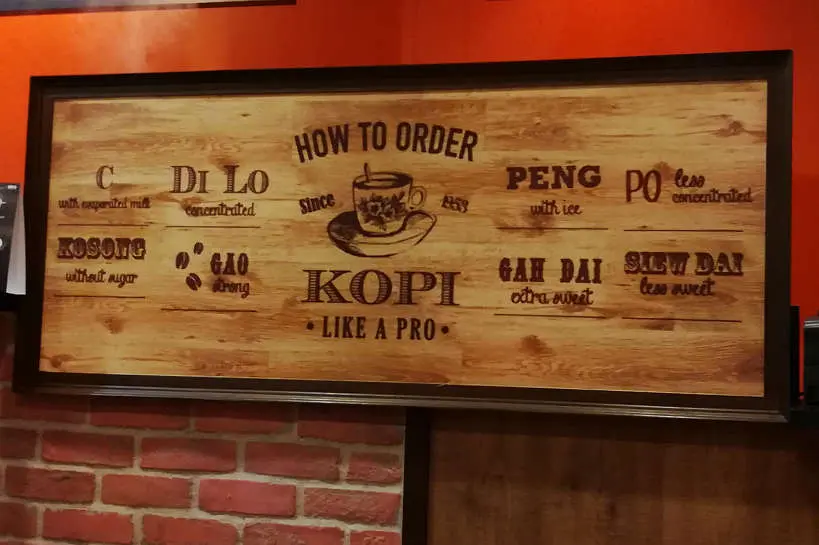 #6 – Must Abide By the Rules
Walking around the streets of Singapore, you will can't help but notice surveillance cameras everywhere. Big Brother is constantly watching.
In addition to the cameras, there are huge billboards screaming "Crime Alert" in many popular pedestrian routes. These point out the specific crime that has occurred in that area, for example bicycle theft, which then puts you on high alert.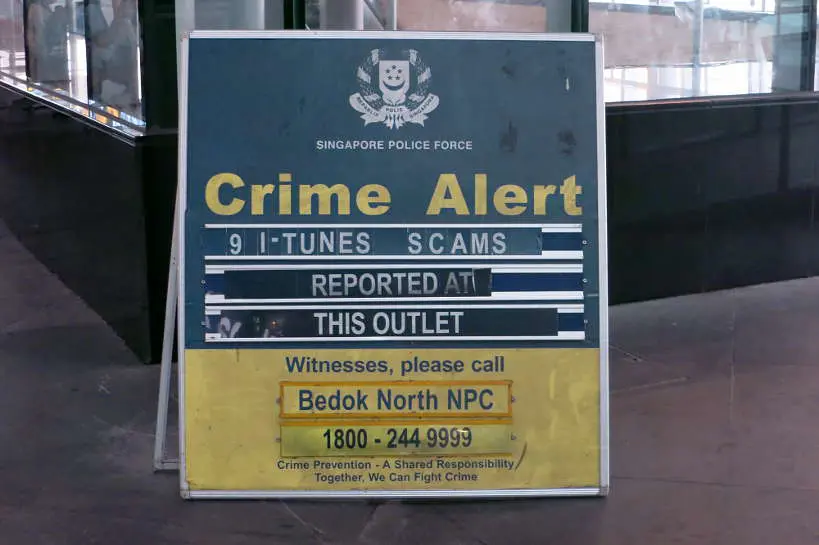 The consumption of liquor is not allowed in public places from 10:30 pm to 7:00 am.
In some areas, like Little India, alcohol cannot be consumed between 7:00am on Saturday to 7:00 am the following Monday.
Just in case you forget, large billboards will remind you of the alcohol rules. The legal drinking age is 18 years and a photo ID must be presented when purchasing alcohol.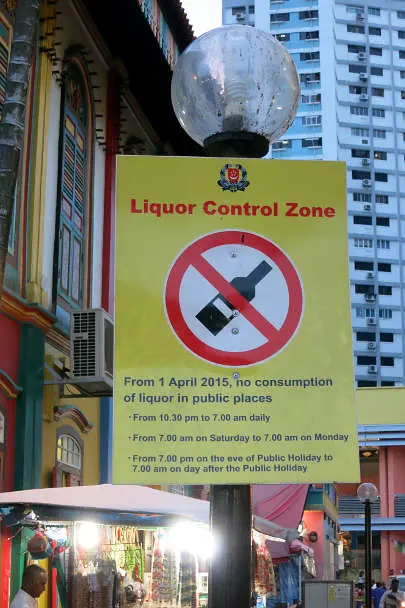 To maintain it's impeccable cleanliness, Singapore also imposes hefty fines for littering, chewing gum and spitting on the sidewalks.
On your food travels in Singapore, you want to be on the right side of the law. Singapore is also called "Fine City", in reference to the many fines the country imposes.
#7- Singapore Food Prices
Singapore is quite expensive compared to other Southeast Asian countries. However, Singapore food, especially at the hawker centers, remains affordable.
For price ranges at the different Singapore food venues, here is what you can expect.
At hawker centers, most dishes are typically under $10 Singaporean dollars.
Restaurants & Tze Char (local "restaurants" with different Chinese dishes), prices range from about $20 to $50 Singaporean dollars.
Fine dining restaurants range from $100+ Singaporean dollars.
At the time of writing, the Singaporean dollars was equivalent to about $0.72 USD.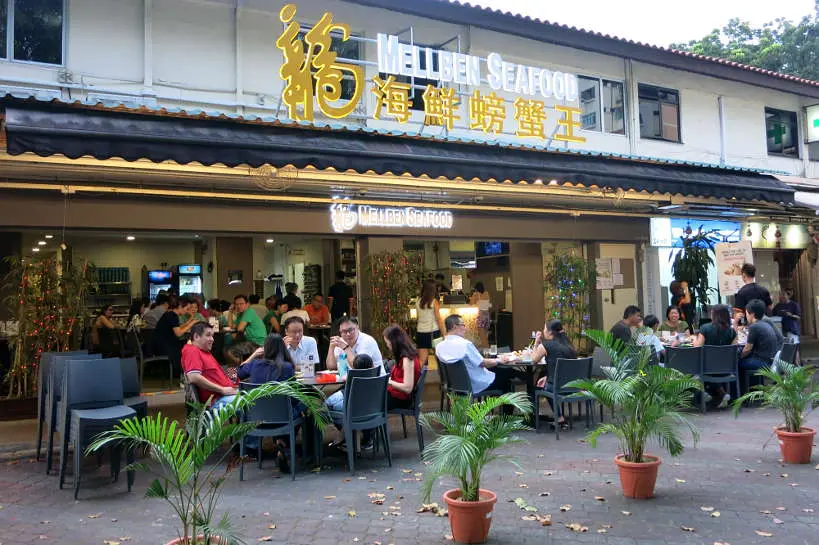 #8 – Singaporean Eating Habits
Generally speaking, it is easy finding food in Singapore at any time of the day. The hawker centers are constantly buzzing with activity.
At certain times of the day, some dishes may not be available or some sections of the centers may even be closed. Regardless, of the time of day, you'll always find food, but not always the dish you want.
There were two observations about Singaporeans and food that stood out.
Chopping
Kleenex packets or tissues serve more than one function in Singapore. They are used as the "unofficial table reservation" system at hawker centers. This practice is called "chopping."
If you find an empty table, you can leave your packet of tissue paper to reserve it. You want to take note of the table number as you will need it to place your order, so that the vendor can bring your food to you.
Interestingly, we saw people keys and even mobile phones while they were off getting their food. A true statement of how safe Singapore really is.
Bagged Drinks
Drinks to go are not carried in styrofoam cups, but are instead served in plastic bags with a straw. You see locals walking around in the mornings or afternoons carrying Kopi (coffee) or afternoon teh tarik (pulled tea with milk) sipping on straws. Surprisingly, the bags work for both hot or cold drinks.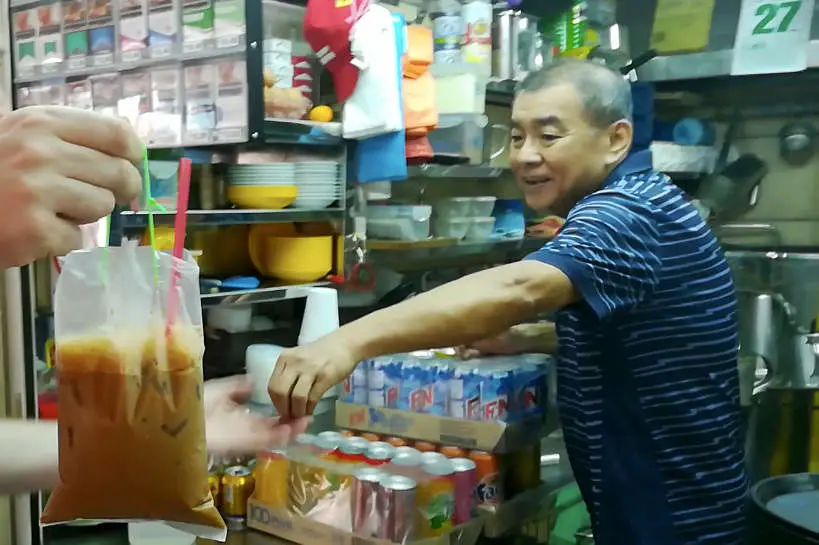 #9-  Singapore Markets and Food Stores
Singapore markets are usually located next to hawker centers. They are also very clean and organized with a defined section for each produce or item.
Food stores are usually found inside air-conditioned malls as well as supermarkets. Convenient store such as 7-Eleven typically also carry some food items. You will also find food stores at MRT (Metro) stations.
However, one type of common market will not find in Singapore are corner stalls or small mobile markets. Due to hygiene restrictions, most of these venues are places inside specific buildings.
Nonetheless you can still find specialty stores, likes cookie stores in Chinatown or Singapore bakery style stores.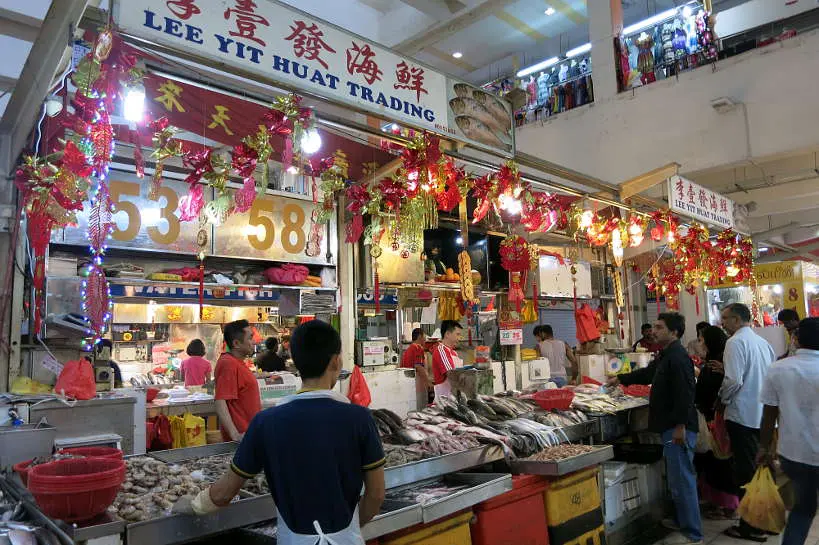 #10 – High-End Restaurants and International Cuisines
With three Singapore restaurants, named amongst the top 10 restaurants in the World's 50 Best Restaurants in Asia in 2017, Singapore is a top gastronomy destination.
Singapore attracts a lot of international chefs eager to make a name for themselves. As a result, beyond Singapore food, you will find international cuisines largely available.
Amongst the top gourmet restaurants, we see French cuisine with an Asian touch trending at this time. Famous French chef, Joël Robuchon, who holds the most Michelin stars in the world, has also set up restaurants on the island.
Even Michelin Guides surprised the world last year by awarding a one Michelin Star to two Singapore hawker stalls. Needless to say, Singapore is a must-stop on any food traveler.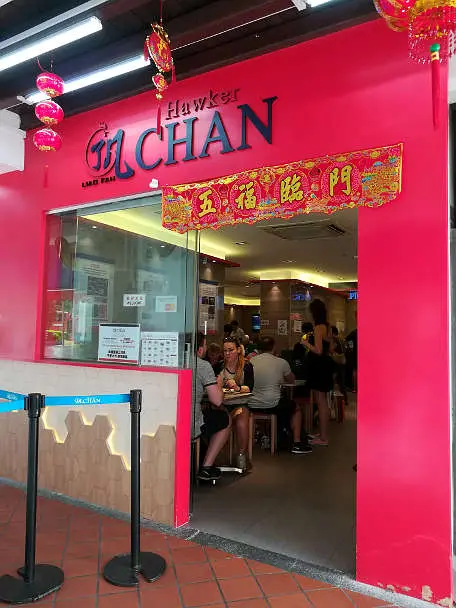 In Summary
Singapore is unique in many ways. The diversity of the food is tied to the diverse cultures and communities living harmoniously together.
The hubs for local food activities take place at the hawker centers. These vibrant centers offer diverse local specialities. More than that, they are centers of connections. Where locals come and break bread together.
Adapt to the local rhythm while in Singapore and enjoy the culinary delights. Drink bagged coffee, show off your Singlish phrases and seek out unique local experience. We believe this is best achieved when you travel through the local food.
Authentic Food Quest Tip: With a local guide, explore Singapore food and learn about the city's history. Take a Singapore food tour and explore districts rarely visited by tourists.
Have you had Singapore food before? In the comments below, share with us what has surprised you the most about Singapore food!
Savor The Adventure!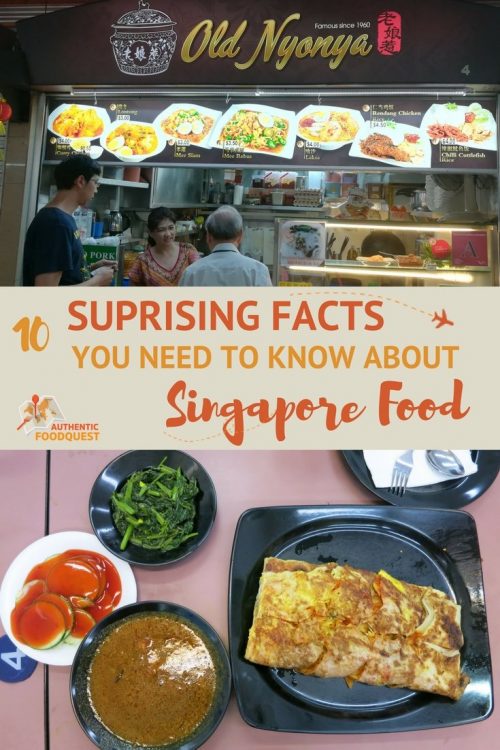 Disclaimer: This page contains affiliate links. That means at no extra charge to you, we earn a small commission when you purchase using these links. Thank you for your support.
Curious by nature, Rosemary loves exploring new flavors and connecting with locals. She shares her insights and culinary finds from her travels to inspire people to connect local through food.