This article has links to products and services we recommend, which we may make a commission from.
Francis Mallmann, Argentinian chef, author of Seven Fires and featured on Netflix Chef's Table, is quite possibly the most interesting chef we've met.
While preparing for our quest for authentic food in Argentina, the name Francis Mallmann, kept coming up.
Looking to understand authentic Argentine cuisine, we knew we needed to meet the ambassador of Argentine grilling.
Inspired by his personal story as a chef and focus on authenticity drawing from his Patagonia roots, we were intrigued.
When we got to Buenos Aires, we reached out to Francis Mallmann. Not knowing if he would respond, we simply requested a conversation about Argentina cuisine and seven fires grilling.
Surprisingly, we got a quick response. Francis Mallmann, not only responded but also invited us to meet with him.
Four days later we were sitting at Patagonia Sur restaurant in Buenos Aires, talking to Argentina's most renowned chef, Francis Mallmann.

Meeting Francis Mallmann at Patagonia Sur Restaurant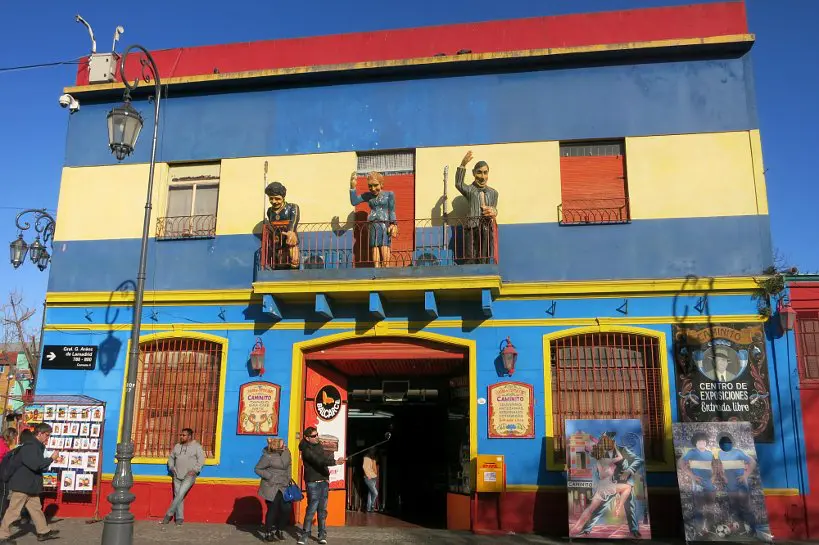 Mallmann's Patagonia Sur restaurant is located in the heart of one of Buenos Aires' oldest neighborhoods.
La Boca, a popular neighborhood with a dicey reputation, is located on the southeast side of Buenos Aires.
European immigrants originally settled in the area and today it is a working-class neighborhood with patches of tourist attractions.
Patagonia Sur restaurant is about one block away from the famous colored El Caminito street.
Patagonia Sur Restaurant
When we got to the Patagonia Sur, we were surprised by the understated exterior.
We expected the outside of the restaurant to be as fancy as the Argentinian superstar chef we were about to meet.
We waited outside for a few minutes taking in the neighborhood vibes while waiting to go in for our meeting
Patagonia Sur – An Intimate Gourmet Restaurant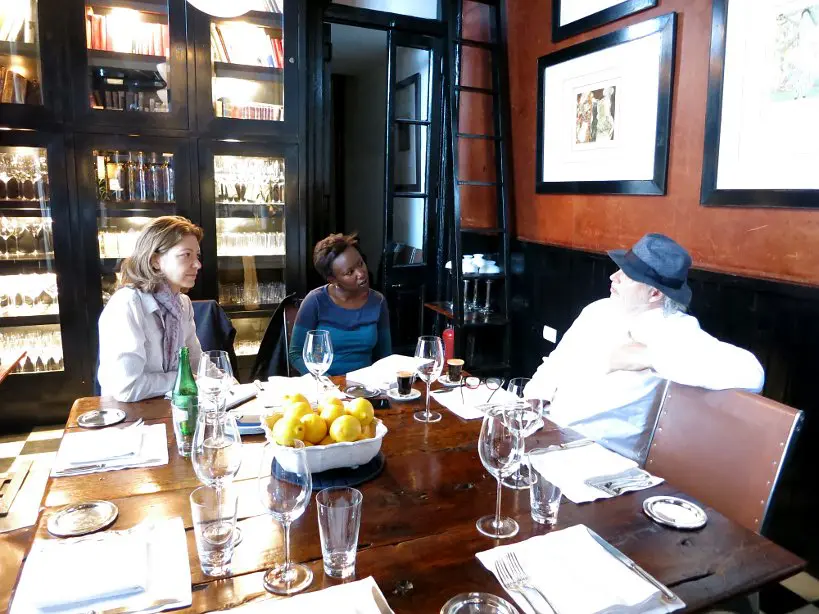 Walking into the modern and rustic restaurant, we were surprised to see only one table set up.
We looked around expecting to see additional tables around the corner and that's when we learned it was a one-table restaurant. 
Mallmann told us that Patagonia Sur is an intimate restaurant with a maximum of two or three tables.
The cozy and inviting atmosphere makes it feel like you are stepping into Francis Mallmann's dining room.
That day, there was only one elegant table set up for dinner that evening.
Francis Mallmann On Fire – Cooking & The Seven Fires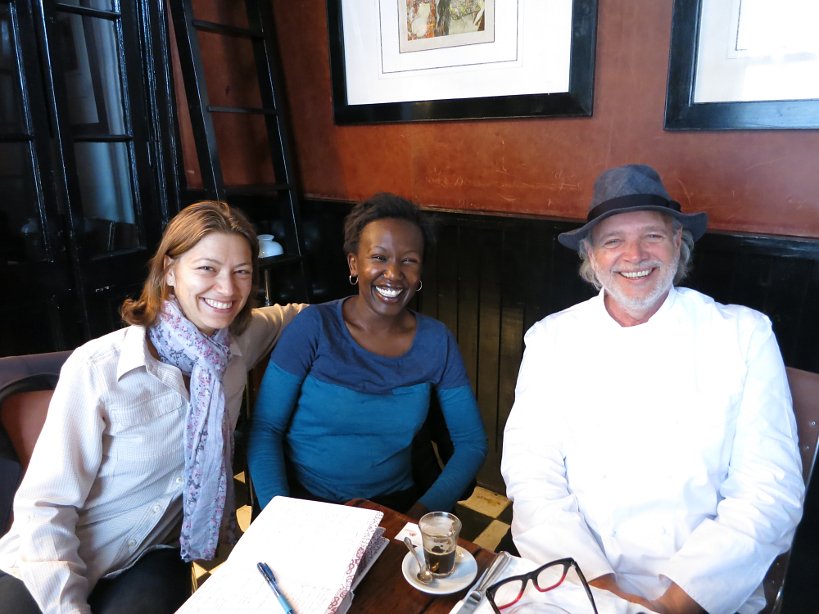 Given that Argentina is famous for its beef, we asked Francis Mallmann to share with us his grilling or open fire approach to cooking.
In a very humble manner, Francis told us, "I didn't invent anything. I just took up the tools of the gauchos and the natives. I improved some things, but I didn't invent any recipes. Everything I know and do is in my collective memory from birth or before that."
I can't take the flag of fire. I like it and use it. Cooking with fire is a great language. It's romantic. It's not mine. No!
There are many people doing it and I think we are on a very nice path."
As our discussion unfolded, we talked about the future of cooking. Passionately and eloquently, Francis Mallmann talked about seeing a return to authenticity in cooking.
As culinary explorers focused on authentic food experiences, we were eager to hear his view on a subject we care deeply about.
As Francis Mallmann elaborated, "the future for authenticity and a return to traditional roots is on the horizon. And as he added, "we are making a comeback."
Further he told us, "every country has to explore and go back to its roots. And in so doing "mirror those images back to its people through its cooking."
Hearing Francis Mallmann, world-renowned chef, espouse our shared vision for celebrating authenticity and traditional cooking, emboldened us and our quest.
Food in Argentina Not To Miss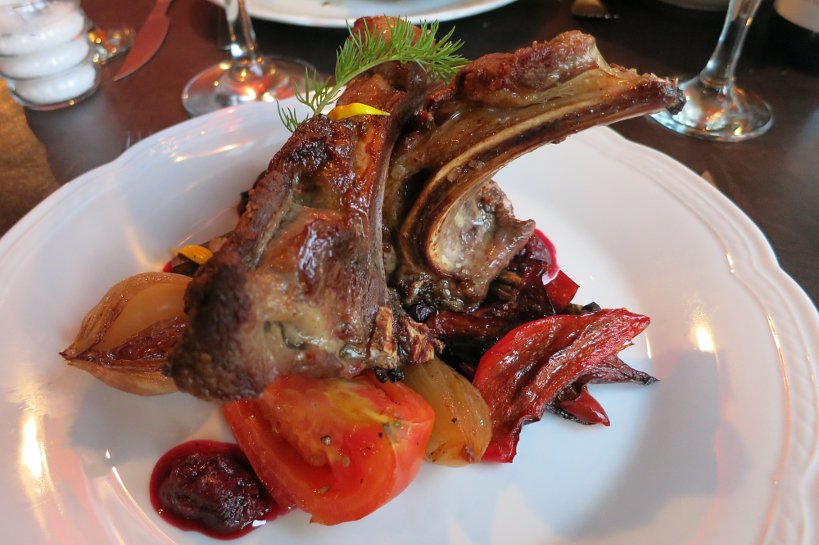 In addition to discussing Argentine cuisine, we also discussed the emblematic Argentina specialties not to miss.
This conversation with Francis Mallmann helped shape our itinerary for our quest for authentic food in Argentina.
As Francis Mallmann shared, "we have incredible fish in the Atlantic Ocean. But we don't have the culture of transport. […] So that's very sad because we have incredible resources on the Atlantic Ocean. […]
"One of the biggest beauties are our fruits and vegetables that grow in the high altitudes of the Andes. The pumpkins, peaches, plums that grow at that altitude struggle to survive. They concentrate a lot of taste because of that. When you look at them, they don't look nice but they are delicious. I love all these altitude fruits and vegetables […] very very tasty."
"Then, we have good lamb in the south and in the Andes. In the north we have incredible goat meat. Good potatoes. Try peppers dried in the sun. Don't miss the humitas and empanadas. Each province has a different variety."
Authentic Food Quest Tip: Following Francis Mallmann's insights, we shaped our itinerary in search of regional specialties. Our book Authentic Food Quest Argentina, goes into more details about local specialties around the country. The book covers seafood specialties from the south. Incredible, potatoes, llama meat and more from the north. Delicacies from the Patagonia region and much more.
Argentina Food Culture
Make sure to subscribe on Youtube for our latest videos
An understanding of Argentisn food is best expressed within the context of the local culture.
To frame the Argentinian cultural context, Francis Mallmann, talked about the importance of meals. He told us, "one of the biggest qualities of Argentinian life is the time we have we invest in sharing meals with family and friends.
Further, "lunch is important. Dinner is important and Argentines sit down for lunch and for dinner.
Bonds are built and connections are made, and as Francis Mallmann added, "you talk and after lunch or dinner you spend another hour talking about something.
People very seldom eat in their cars or standing up in a rush to get to the office. In Argentina, Francis added, "we still have the tribute to eating where we sit down with napkins. It doesn't matter if it is a luxurious or simple meal."
But the biggest quality of Argentina for me is that feeling of sharing a meal. And that is the true reason to eat and drink something delicious. Is to share. For me it is the only reason.
"Food is about enjoying delicious food and wine. And talking to your friends, lovers, whoever you are with and having a nice conversation."
Our conversation left us energized and excited. We wanted to experience seven fires grilling and visit the Andes, where the vegetables and fruits struggle to survive.
Later, after leaving Buenos Aires, we went to Mendoza. Thanks to Francis Mallmann, we experienced the seven fires at Siete Fuegos restaurant at The Vines of Mendoza resort.
Francis Mallmann Restaurants
Besides Patagonia Sur in Buenos Aires, Francis Mallmann owns other restaurants in Argentina, France, Uruguay, Chile and Miami, USA.
The other Francis Mallmann Argentina restaurants are all located in Mendoza, the wine capital of the country.
1884 restaurant, in Mendoza center, opened in 1996 out of a partnership between Francis Mallmann and the winemaker, Catena Zapata.
This gourmet restaurant celebrates Andean cuisine paired with Mendoza wines. The restaurant is attached to the Escorihuela Winery built in 1884.
This is an amazing restaurant to enjoy delicious Argentinian meats with sublime wines from the region.
Oregano is the most recent Francis Mallman's restaurant in Argentina.
Created jointly with Vanina Chimeno, his wife, this casual pizzeria offers clay oven baked pizzas and Italian dishes.
You'll find some of the best artisanal pizza in Mendoza and it's the perfect stop for a quick and easy bite.
Siete Fuegos or "Seven Fires" by Francis Mallmann is the signature restaurant at The Vines of Mendoza Resort & Spa.
It is located in the famous wine growing region Uco Valley at the foot of the Andes about 1.5 hours from Mendoza.
This beautiful boutique wine and culinary resort is worth a visit at least once. They say the "Vines is a place that is not easily found and even harder to leave."
Enjoy fabulous meals cooked with the Seven Fires or open-flame cooking techniques while admiring incredible views of the Andes.
Experiencing Seven Fires at Siete Fuegos Mendoza
Taking Francis Mallman's invitation, we experienced seven fires cooking at Siete Fuegos and The Vines Resort and Spa.
During our stay, we spent the afternoon with a sommelier and discovered the wine making at the resort.
In the evening, we took a private cooking class with chef Matias, one of the Vines Resort chefs.
This was a unique opportunity to experience the Seven Fires and Mallmann's approach to cooking with fire.
The Seven Fires Techniques – A Cooking Class With Chef Matias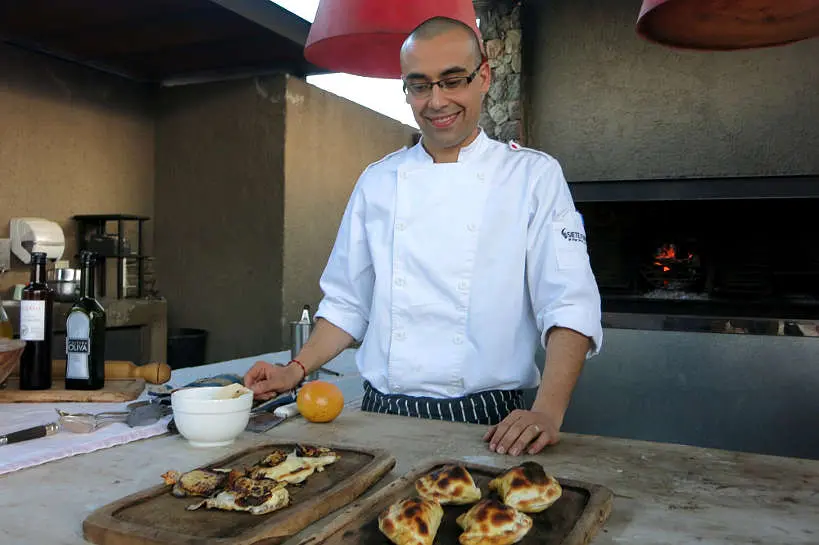 Chef Matias helped us understand the various cooking with fire techniques as we prepared our dinner together.
Originally from Mendoza, Chef Matias had been with The Vines for about 2 year. And as he put it, "he loves cooking outside in nature, surrounded by the beauty of the Andes."
Our dinner was prepared using 5 of the 7 techniques of open flame cooking. Here are highlights of our experience.
1. Cooking Vegetables in the Infiernillo Grill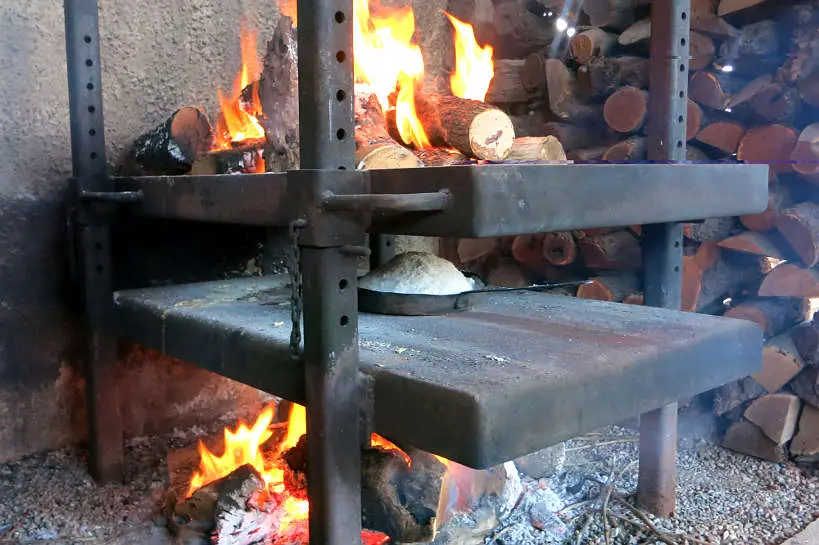 The first meal we prepared with chef Matias were vegetables cooked in the Infiernillo.
The infiernillo is a cooking technique that uses two fires with a cooking level between them. It is used primarily for cooking products with skin, such as vegetables, salmon or chicken.
Beets, potatoes and garlic, in our case, were encrusted in a dough or mixture of rock salt and water. Then, the vegetables were placed in the infiernillo to cook until the salt became hard or for about 30 minutes.
Interestingly, the Infiernillo is also referred to as "little hell" because of the fire cooking the dish from the top and bottom at the same time.
2. Baking Empanadas in The Wood Oven – Horno de Barro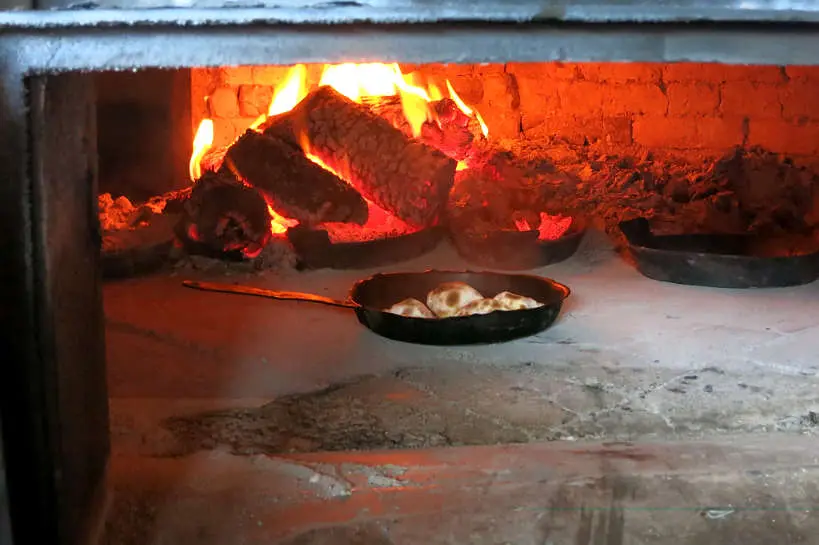 Once the vegetables were on the fire, we moved on to making Argentina meat empanadas, "Mendocini-style".
In the short video clip below, chef Matias talks about Mendocini ingredients and cooking style.
In addition to making empanadas, the Horno de Barro or wood fired clay oven is also used for baking bread or making pizzas.
This is one of the techniques that is used practically all day long at the restaurant.
3. Making Pan a La Chapa on The Plancha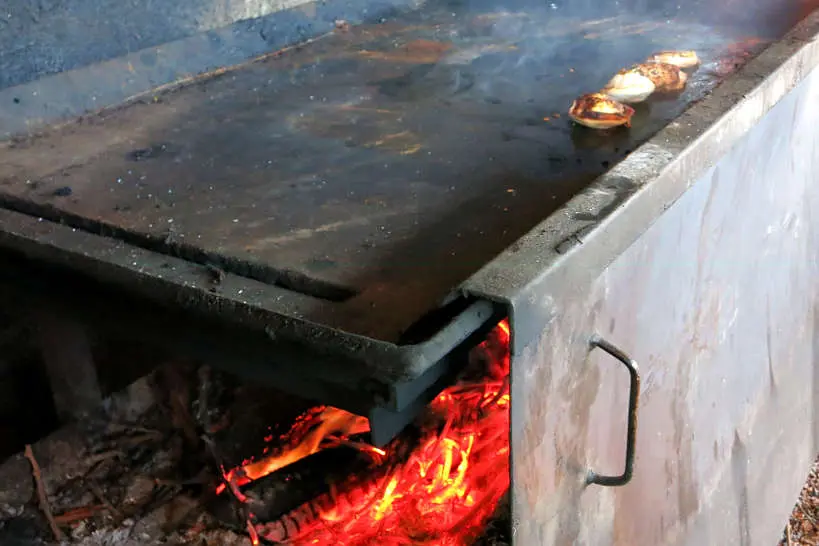 The plancha is one of the classic techniques of cooking with fire. The plancha essentially is a flat metal piece of cast iron over a fire.
Meals are cooked on the surface typically using no oil. We prepared pan a la chapa which were slices of morbier cheese and pears and placed on dough and then cooked on the plancha.
At The Vines Mathias told us, they use the plancha for cooking cheese, beets, prawns, pears and more.
4. Preparing Matambre on The Grill – Parilla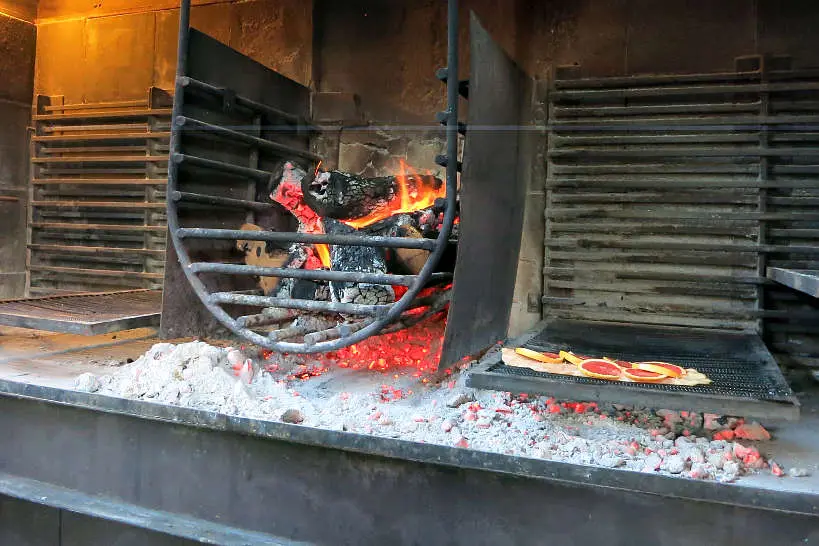 Our main dish matambre or pork flank, was prepared with rosemary, slices of grapefruits and salt. It was then cooked on the traditional Argentina parilla or Argentine grill for about 7 – 10 minutes.
Chef Mathias helped us understand the particularities of the wood which have a huge impact on the meat flavors.
5. Sizzling Dessert in The Caldero
The caldero is a large cast iron kettle or Dutch oven. In it, chef Matias prepared a traditional dessert from Francis Mallmann called Frutas a la Piera.
This dessert had fruits like kiwi, bananas, apples, strawberries and oranges cooked in butter in the caldero. Once the fruits caramelized, they were topped with vanilla ice cream.
Enjoying Our Fire Cooked Meal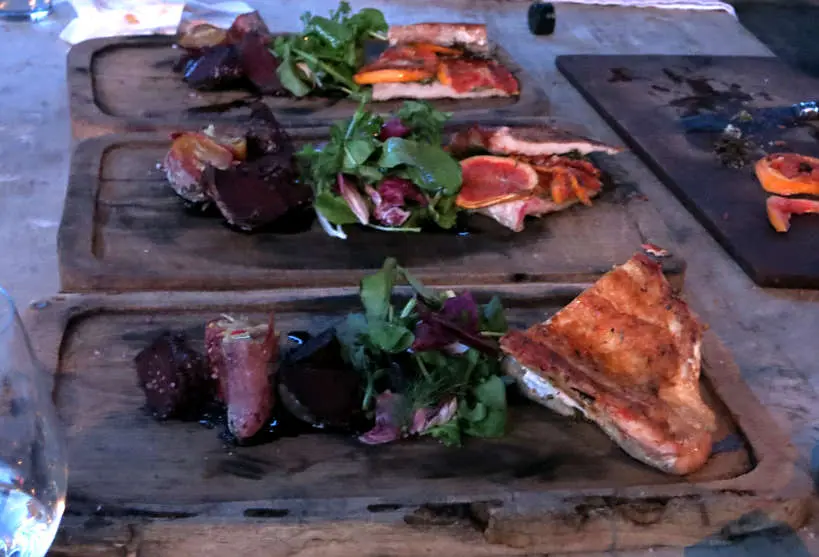 We enjoyed the scrumptious meal on the chef's table overlooking the Andes. Everything we prepared was incredibly fresh and bursting with flavors.
One nice little perk is that as the temperatures dropped, we were provided with ponchos. We kept ourselves warm and enjoyed our delicious meals and setting even longer.
Simply, an incredible and amazing experience!
The Other Cooking Fire Techniques
There were two other cooking fire techniques that we did not get a chance to experience on our visit.
6. Slow Cooking with The Rescaldo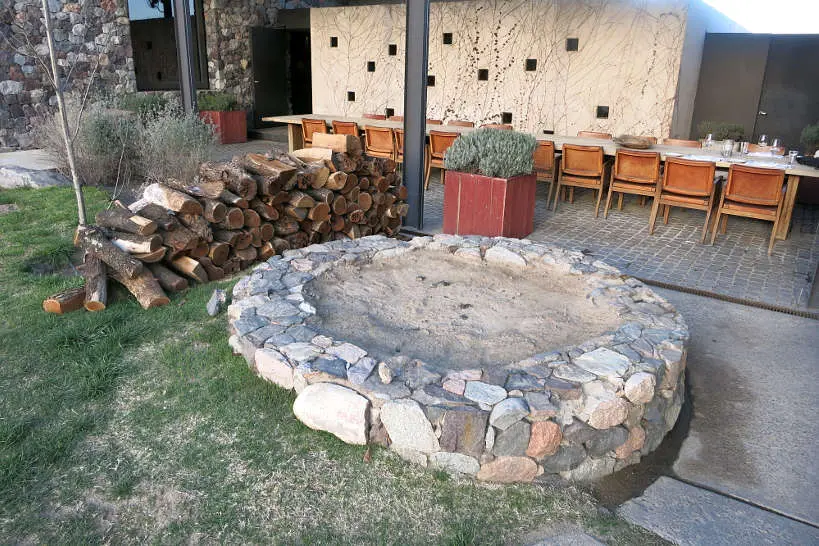 One is the Rescaldo, which looks like a dirt hole in the ground. This method of cooking involves covering the ingredients with hot embers and warm ashes.
This is a slow fire cooking technique. A fire is made in the ground and the vegetables or meats wrapped in a cloth are placed on the fire. Then they are covered with rocks and dirt and left alone to cook slowly.
Vegetables are left to cook for about 4 hours, while meats (goat, lamb, chicken) cook slowly for about 6 to 7 hours.
RELATED: 12 of The Best Argentine Grills For Sale – A Full Review
7. Grilling With the Asador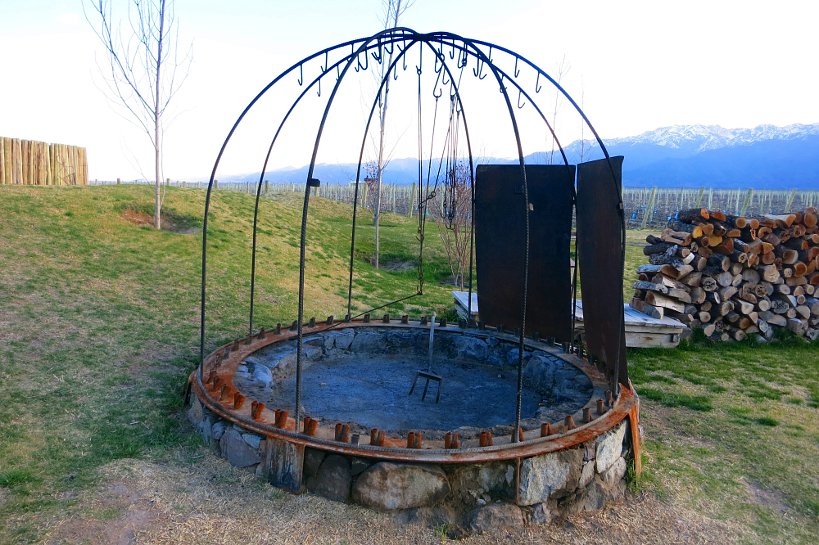 The Asador also known as Pirca or Cruz is a strange looking carousel-like contraption. It looks like it should be displaying products and not cooking meat.
This technique is used for cooking whole animals like pig, goat, lamb or chicken. The animals are butterflied and fastened with wires in a cross-like formation. They are then slow cooked for about 8 hours.
Whole chickens are hooked on one of the hooks and slow cooked for about the same time as well.
Francis Mallmann Books
To apply the seven fires techniques to cooking at home, we recommend Francis Mallmann book Seven Fires: Grilling the Argentine Way.
You can cook Mallmann signature dishes like Ribeye with Chimichurri sauce all year long, indoor or outdoors.
His other book, Mallmann on Fire, takes you on a grilling journey beyond Argentina. From Paris, Brazil, Brooklyn and more, new grilling recipes are revealed throughout.
Francis Mallmann Cooking Class on Yes Chef!
Quite by happenstance, we met Francis Mallmann shortly after he was featured on Netflix Chef's Table Season 1.
Soon thereafter, several celebrities showed up at Patagonia Sur Restaurant in Buenos Aires.
Now, Francis Mallmann teaches his unique grilling techniques on Yes Chef! He takes you on a culinary journey through Argentina, at the edge of uncertainty.
Learn to cook like Francis Mallmann, one of the greatest Argentine chefs, while learning about Argentine culture. Find out more here.
RELATED: Read our detailed YesChef review and the recipes we made

In Summary
Meeting Francis Mallmann and learning about cooking with fire was a fascinating and eye-opening experience.
Honored to have met the famous Argentine chef, we relished our time together.
A charming and eloquent speaker, Mallmann is part poet, artist, and chef.
What Francis Mallmann has created with the seven fires is a simple, yet powerful approach.
With open-fire cooking, the raw ingredients are at the heart and center. 
Generally, the ingredients are not transformed or altered much.
Instead, each cooking with fire technique brings out the best flavors of the specific dishes.
If the raw products are good, their goodness is revealed in their finished form.
Cooking with fire is elemental. It gets you outdoors and connects you to nature.
And for us, it flamed our quest for authentic food around the world.
Love Francis Mallmann Seven Fires? Pin it!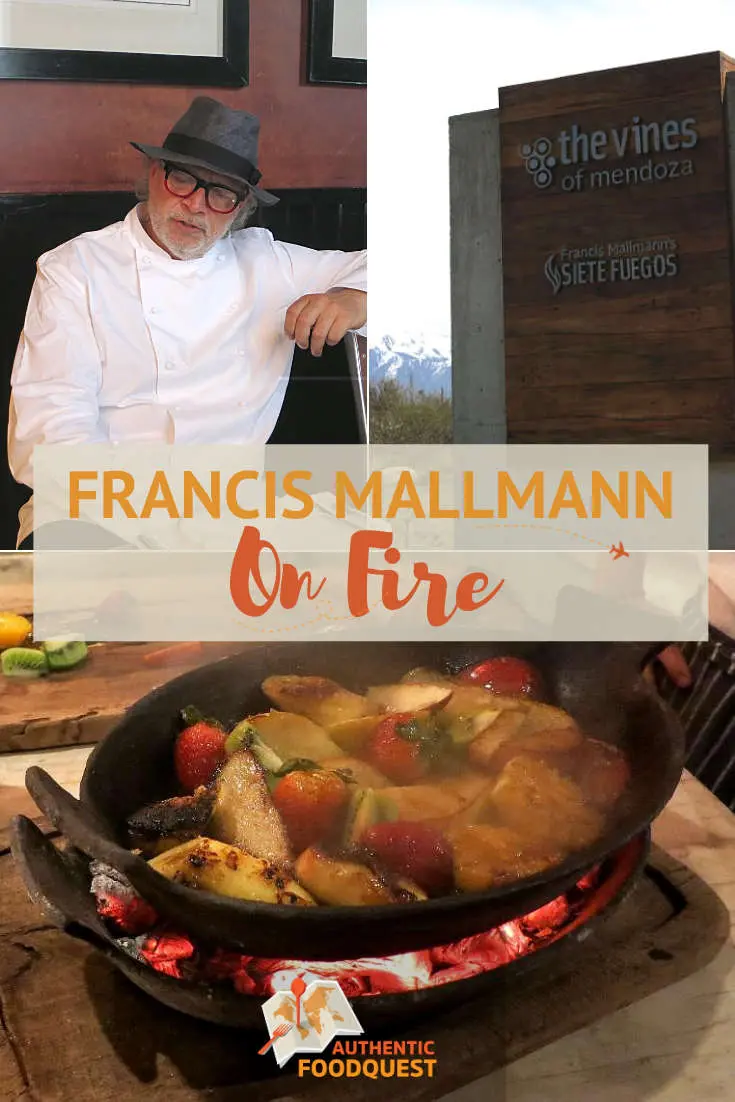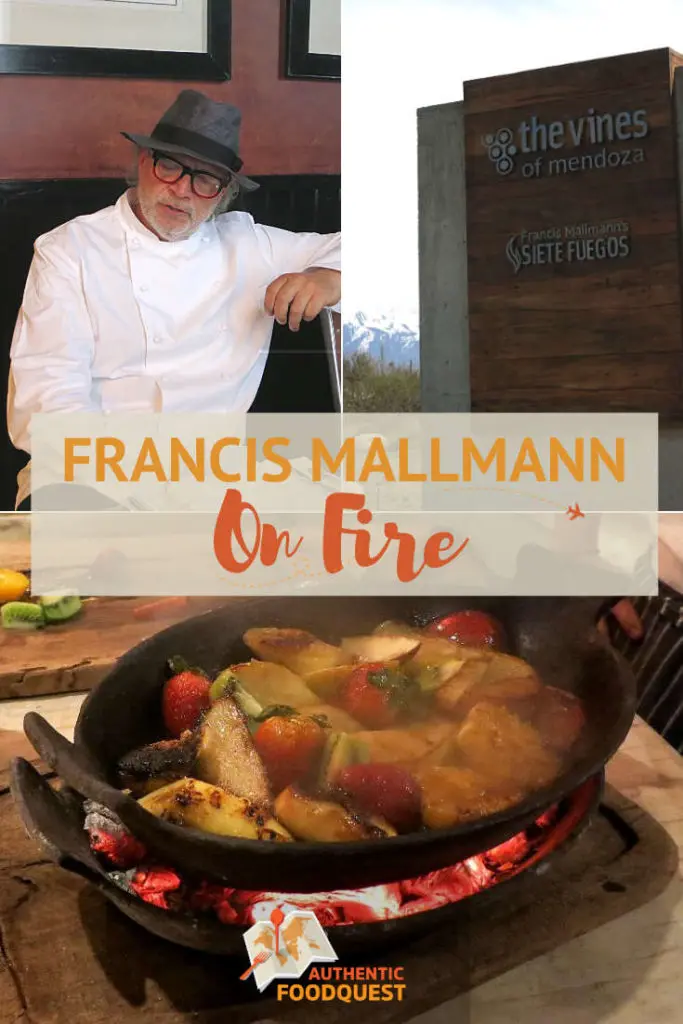 Rosemary is the editor-in-chief and strategist at Authentic Food Quest.
Traveling slow since 2015 with her partner, Claire, she has explored the cuisine in 45 countries and more than 240+ culinary cities.
Her writing about local food specialties has been featured in Lonely Planet, Business Insider, Honest Cooking, Food Insider, and Huffington Post.
As a food and travel writer, Rosemary has co-authored three books, including one in collaboration with Costa Brava Tourism.
Rosemary is an avid runner when she's not eating and exploring new destinations. She has run ten marathons and counting.
Before Authentic Food Quest, Rosemary held senior-level strategy positions in advertising. 
Find out more about Authentic Food Quest