To stay fit on your travels to the Philippines can be more challenging than you think. Especially if underwater diving is not an activity that you enjoy.
Why do I mention diving? Because the Philippines has some of the best spots for diving which is one of the primary reason why many people visit the Philippines. However, not everyone practices diving as a full-time sports activity.
So why do we say staying fit on your travels to the Philippines is a challenge?
First, Filipino food can be heavy! In our previous article, we talked about the characteristics of the food in the Philippines. With pork as a primary staple, some dishes are truly fatty.
Second, the climate is typically hot and humid. There are basically two seasons: the dry and the rainy seasons. While the dry season can be hot, temperatures range between 21°C to 32°C (70°F to 90°F). So exercising outdoors can feel like entering into a steam room. And, that's not very motivating to get out and exercise.
And third, with growing urbanization, there are very few parks, which might explain why the Filipinos are amongst the most inactive population in Asia. During our stay both in Cebu city and Manila, we had a hard time finding outdoor space to exercise.
Given these challenges, here are our tips and recommendations on how to stay fit on your travels to the Philippines.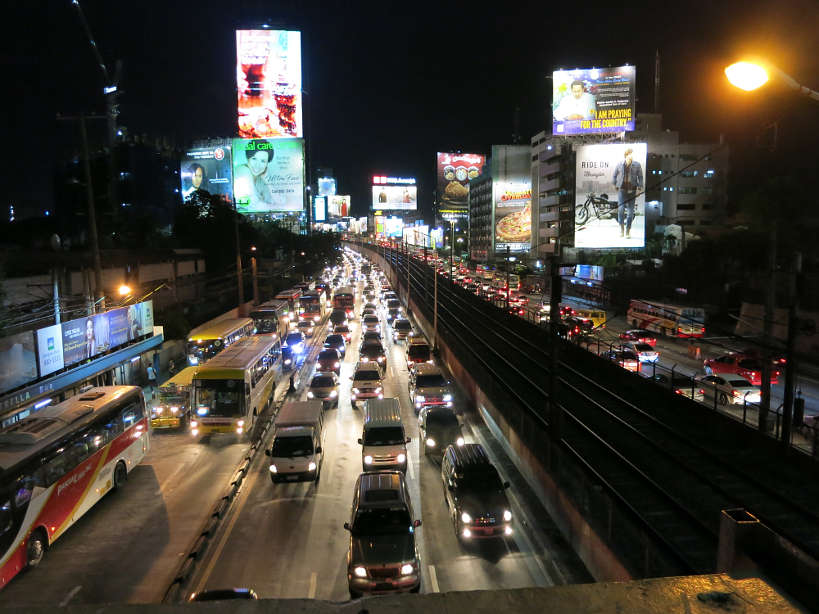 Tips To Exercise In The Philippines
Avoid Rush Hours
The urban areas in the Philippines are known for their congested roads and heavy traffic. Typically, the traffic peaks in the morning from 7am to 10am and in the afternoons, starting at 4pm to 8pm.
Additionally, the Philippines most popular public transportation are the Jeepneys. They are long Jeeps which carry commuters in back seats similar to a bus.
These "Jeeps" buses are relics from World War II. When the US army left the Philippines, their army Jeeps remained and were converted to what we know as "Jeepneys" today. These are a major source of air pollution in the cities!
So when you want to go out for a run or a walk, it is best is to avoid the rush hours and the Jeepneys fumes.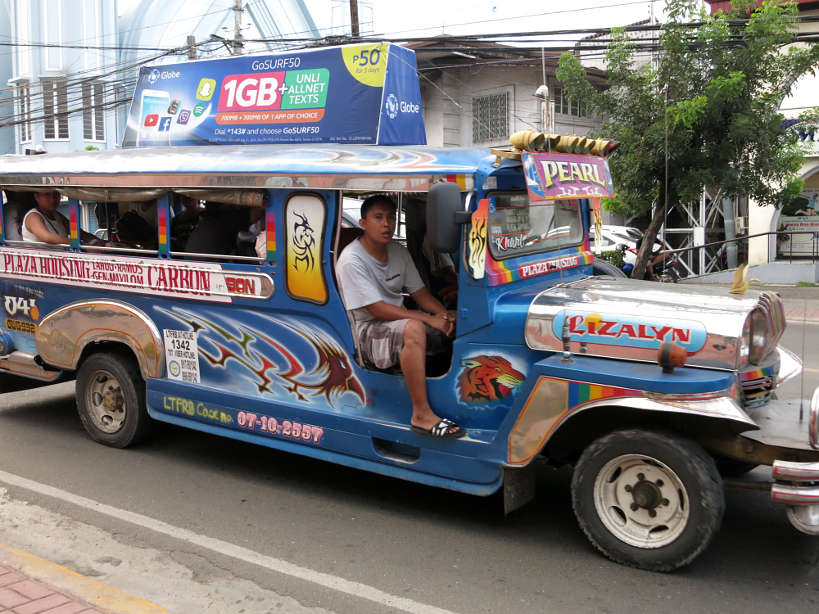 Avoid Middle of the Day Heat
As mentioned earlier, the climate is mostly hot and humid. Which means that it is hottest during the middle of the day when the sun has been up for several hours.
Therefore in addition to avoiding the rush hours, you want to avoid the middle of the day "furnace" hours.
Which means that best time to exercise outdoors, is either before 7am or after 8pm. That doesn't give you too many choices!
Carry Water
As soon as you step outside to walk or jog, you are going to sweat. Any form of exercise will cause you to sweat excessively. When that happens, remember that you can lose up to 1 to 2 liters (30 to 60 ounces) of sweat per hour. It is recommended to drink plenty of water.
That's why we always carry hydration belts with our bottles of waters. Not only can we stay hydrated, but we can also carry our keys, some money, and the camera when needed. Super useful and practical.
When we go for long runs, we also like to drink sports drink such as Nuun or Gu which replenish those electrolytes lost!
Get Local Tips For Where To Exercise Outdoors
Looking at Google Maps and doing research online is certainly helpful to have a sense of where to go for a run.
However, be careful as short distances or sections on Google Maps might be surprising in reality. We literary ran into one of those situations in Cebu City.
One Sunday morning, we decided to go on a run to the pier. The plan was to run back and forth, through parks and green spaces marked on Google Maps.
When we got outside, we were in for a surprise. First, all the roads don't have sidewalks, so we found ourselves stranded in between cars.
Then, the areas marked as green spaces were not what we expected. Google Maps had shown the Chinese Cemetery surrounded by green space. However, on our run, the Chinese Cemetery was abandoned, full of squatters and had become a slum. Needless to say, that we quickly run through the area!
All of this was to get to the pier which was very industrial with trucks and containers floating around. Not the most pleasant run as you might imagine!
When it comes to finding the best places to go running or walking, your best bet is to ask the locals. They will know where the runners go or which parks are safe to run through.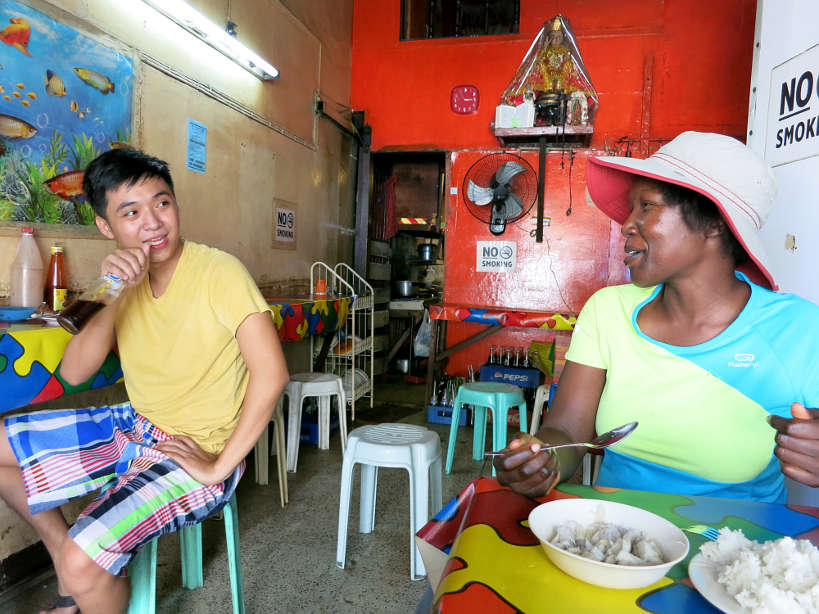 Join A Playground
One of the favorite sports in the Philippines is Basketball. You will find empty plots of lands converted into basketball fields, where kids and adults alike come to play.
If you want to have a real local experience, join a playground and play with the Filipinos. They will be happy to have you on their teams!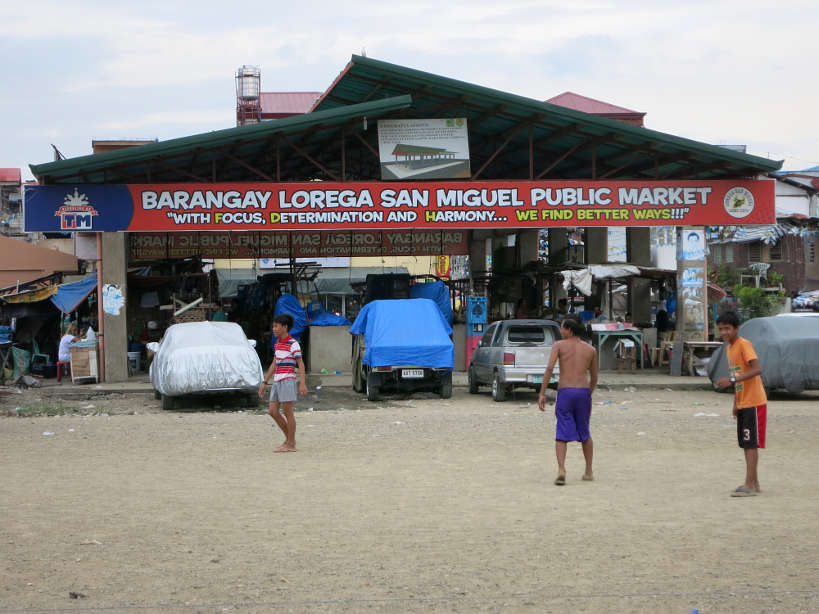 How To Stay Fit in Cebu City
Cebu is not only known for its diving spots on Mactan Island very conveniently located at less than 15 mins from the international airport.
Cebu City is also known for its marathon and triathlon events. After learning that, we thought we would find several places to workout outdoors.
What was very promising at first, turned out to be quite disappointing. What we discovered instead was a lack of parks and spaces to go run or bike in Cebu.
For running outdoors, the one spot we found was a jogging area near Ayala Center called the Hippodromo. You will find several joggers and people exercising outdoors. There is a loop that runs along Ayala road, to Sorsogon road and Camiguin road which is about 1km. While it is quite short, it is better than nothing.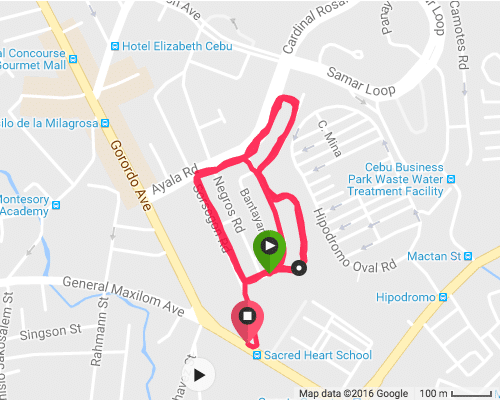 Other spots for running in Cebu City:
The stadium called

CCSC

located R.R Landon Street, Osmeña Blvd, Cebu City. Here you can train on the track and field. However, do note that there is an entrance fee of 20 Filipino Pesos (about $0.40USD).
Cebu IT Park located in Lahug at Jose Maria del Mar St, Cebu City is another option. We went there one weeknight and didn't find it conducive for running. There were a lot of people on sidewalks and lots of traffic. Perhaps we were not on the right day or time, so you might need to check it out again.
Local Cebuanos also told us of additional places to run in hills behind the city. Unfortunately, we did not have the chance to explore that area
As noted, running outdoors in Cebu City can be challenging. Be prepared to run in concrete spaces. And plan to run several loops, to get a significant workout.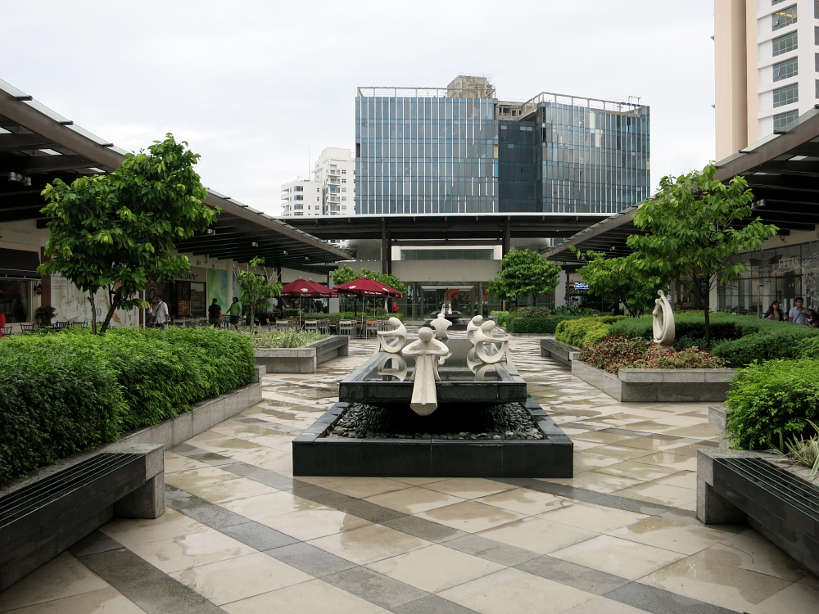 How to Stay Fit In The Capital, Manila
In Manila, we stayed in the Makati neighborhood, which is the business hub of the capital. With barely any parks, it was difficult finding a good place to run.
The main area we found for running is called the Ayala Triangle Gardens. It is located at the junction of Ayala ave, Makati ave, and Paseo de Roxas. Runners typically jog in a loop that is about 1.2km around the business district.
The term "gardens" is deceptive and gives the impression that you will be running in green space. In reality, the running loop is surrounded by local traffic, with cars and jeepneys emitting fumes so strong that you are left questioning the health aspects of the activity.
On the way to Ayala Triangle Gardens from our Airbnb, we found the Velasquez Park located on Tordesillas, in Makati. This small green area in the city is really a playground for kids. We would stop here to strength train and do some stretching exercises. Small and clean, it is a needed reprieve from the hectic pace of the city.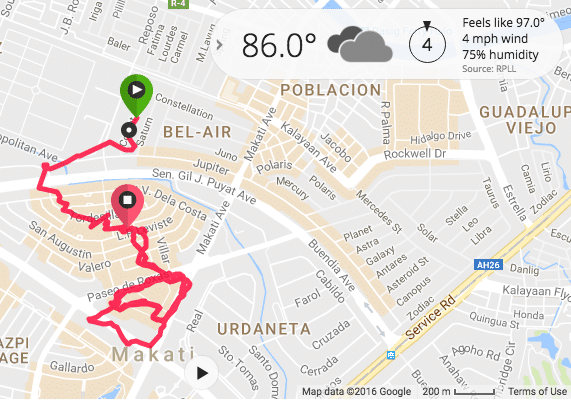 There are other areas in the city popular for running. While we did not have the chance to check them out, this running pinoy website provides a good resource of places to run in Manila.
One place mentioned on the website that we did visit is Bonifacio Global City. The wide sidewalks make it conducive for running, but you will be running on concrete and surrounded by shopping malls.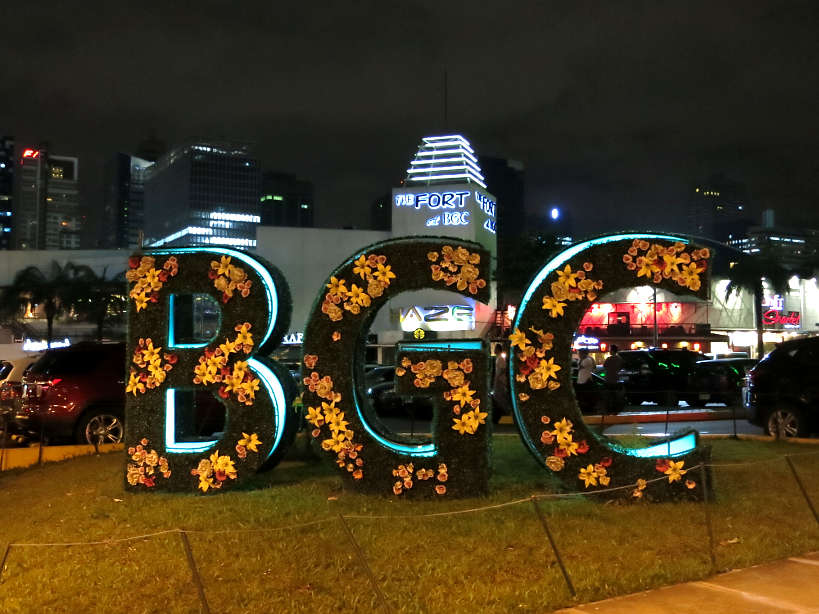 Overall, the areas mentioned above will be your best bet for running in Manila. The may not be the green spaces that are best suited for running, though they do offer alternatives to explore.

Final Tip: Join A Gym To Stay Fit On Your Travels to The Philippines
When it comes to exercising, we really prefer to be outdoors and in nature. Having had such difficulty in finding parks in the Philippines, the next best alternative is to join a gym.
The Airbnb's where we stayed in Cebu and Manila did not have gyms in the building. In a city like Manila, you can find Airbnb's with amenities such as fitness centers or gyms. If you don't want to join a gym, we recommend finding accommodations that come with fitness studios.
During our visit to the Philippines, we stayed at couple hotels that had fitness facilities.
The first hotel is Eloisa Royal Suites is near Mactan Airport in Cebu City. The fitness room is small and equipped with modern treadmills, weights, recumbent bicycles and more. We enjoyed a good workout and had the facility to ourselves.
Belmont Hotel was the second hotel near Manila Ninoy Aquino International Airport. The fully equipped gym is clean, though be aware that they do not offer any water in the facility. Come prepared with your own water bottle, or plan to pay for water. This gym tends to get busy, so plan accordingly.
For your stay in the Philippines, look for accommodation with access to a gym. If that's not an option, you might want to join the local fitness gym.
While in Manila, we had the chance to experience one of the best sports centers ever.
The Kerry Sport Center at Shangri-La Fort Manila offers amazing facilities and friendly instructors to help you meet your fitness goals.
We definitely recommend joining this gym to stay fit on your travels to the Philippines.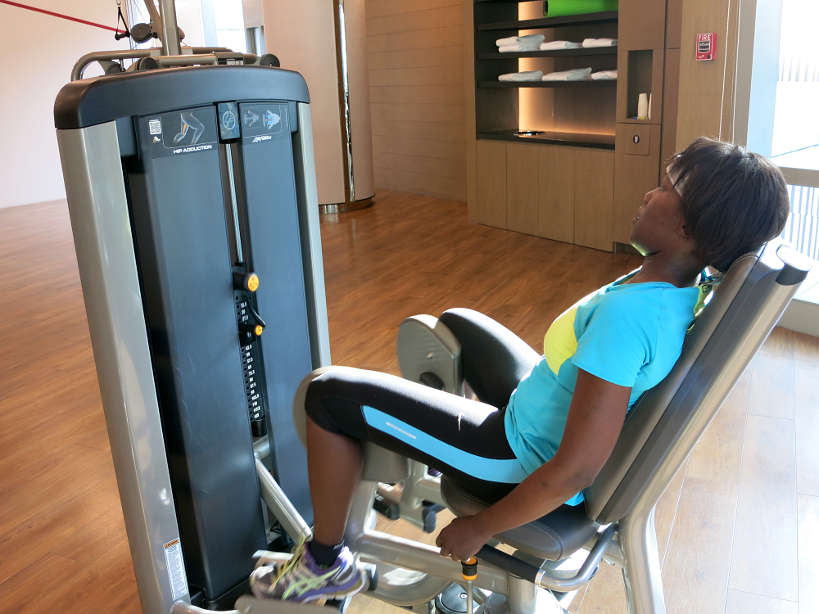 In Summary
Staying fit on your travels to the Philippines is definitively a challenge. With the heavy cuisine, hot and humid temperatures, and the lack of green spaces, the environment is not conducive for exercising.
If you like to exercise outdoors, get tips from the locals and don't rely too heavily on Google Maps. If you find yourself in Cebu City or Manila, use the recommendations outlined.
Ultimately, we recommend joining a gym or sports center to stay fit on your travels to the Philippines.
In the end, it is possible to stay fit while traveling in the Philippines. With the tips and recommendations highlighted you can maintain your exercise routine while exploring this beautiful part of the world.
In our next article, we will showcase Kerry Sports Fitness center in Manila, the best fitness center for your stay in the Philippines. Read on!
Have you traveled to the Philippines? What did you do to stay fit? Please share your tips and recommendations below!
Savor The Adventure!
Love it? Pin it!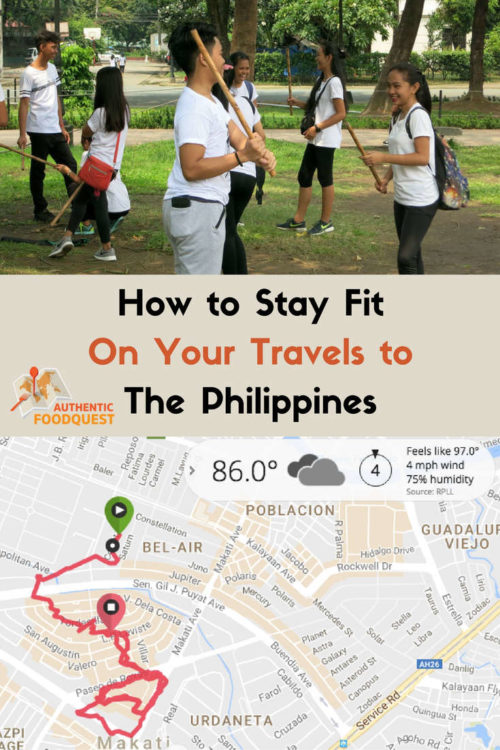 Disclaimer: This article contains affiliate links. When you use our affiliate links, we earn a small commission at no additional cost to you. It just helps us keep running things at Authentic Food Quest!
Claire is a culinary explorer who travels the world in search of the best local foods. She is always looking for her next culinary adventure to bring you the best bites while exploring new places.