Bangkok is a captivating city with world class street food, bustling markets and restaurants. If you want to taste it all and immerse yourself in a local neighborhood, there is no better place than Bang Rak.
Bang Rak, is one of Bangkok's districts known by locals for having some of the best food in a small area. Coincidently, Bang Rak is also known as the Village of Love, a popular area for local Thai's to get married. Besides, the Village of Love also represents Muslim, Buddhist and Christian communities living in harmony for over 150 years.
When we learned that Taste of Thailand offers a Bangkok food tour in the Village of Love, we were hooked! The opportunity to get an immersive cultural tour through food was a perfect match.
So, put on your walking shoes and join us on a Taste of Thailand Bangkok food tour.

Starting The Bangkok Food Tour With Street Eats in the Village of Love
Our journey on this Bangkok food tour started by taking the BTS to get to the meeting point outside the Saphan Taksin BTS station. Riding the BTS or Bangkok Skytrain is a nice and convenient way to go around the city like a local.
A little before 10am we met with Noom, our guide for the day, who handed us out our food tour map. We had been pre-warned to arrive hungry and once we looked at the 12 stops on the map, we were glad we did!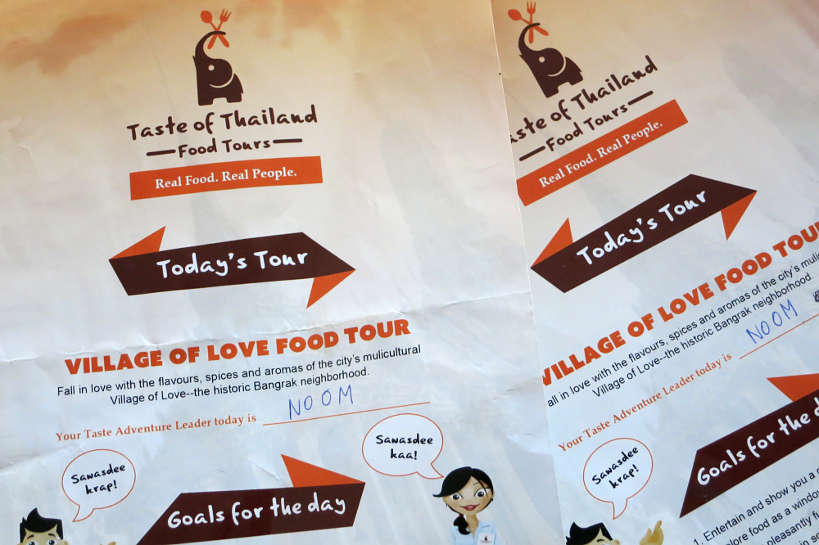 Pork On A Stick With Sticky Rice
Wherever there is people, there is food. This cannot be more true for Bangkok. As soon as we exited the BTS station, we started our Bangkok food tour with our first food stop.
From a food cart near the train station, we tasted a typical Thai breakfast eaten on the go: pork on a stick with sticky rice. The pork was grilled on short skewers. The taste was a bit sweet and the pork a little fatty. The sticky rice was wrapped in plastic and eaten like a cereal bar.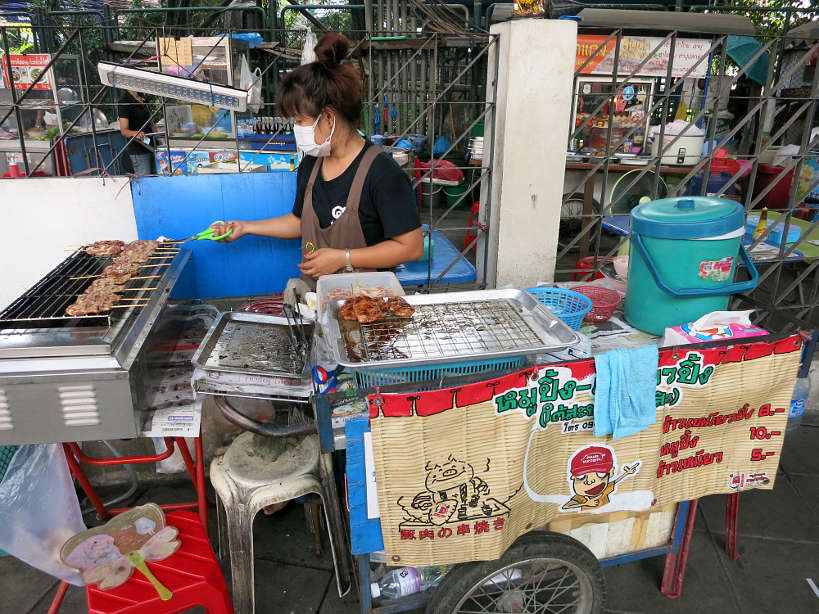 Authentic Food Quest: Taste the best of Bangkok with a local guide, in one of the most unique neighborhoods in Thailand's capital. Dive deeper into the local Thai food culture when you book a Bang Rak Bangkok food tour.
Thai Iced Tea
After a bite of Thai breakfast, it was time to cool us off with a typical Thai drink. We stopped at a famous Tea & Coffee truck that serves Thai iced tea.
Thai iced tea is made with condensed milk and natural orange coloring. Surprisingly, it is mixed and served by pouring the tea from high above the head back and forth. Thai iced tea tasted definitely on the sweet side though not overly sweet. It is a nice smooth drink to keep you cool in Bangkok heat.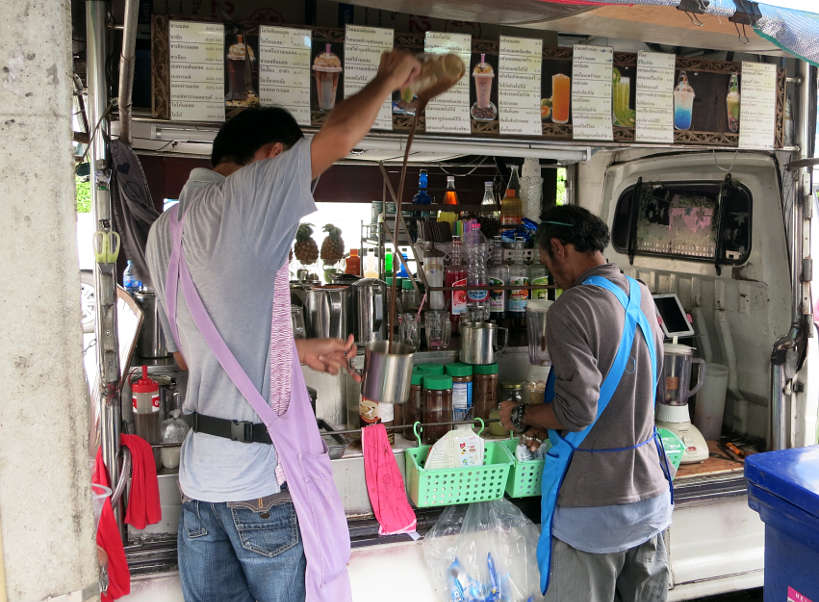 Exploring The Base of Thai Cuisine
This immersive journey through Bang Rak, took us past Baan Oou Mosque, the first Mosque to register in Bangkok. We made our way to a nondescript, but well-known curry paste shop. Hand made every morning, the Thai pastes of different colors sell out to local vendors and restaurants by noon every day.
These pastes form the base of many Thai curries and dishes. Pungent, spicy, salty and briny we were impressed at the diversity of the pastes that form the delicious Thai foods we have come to enjoy.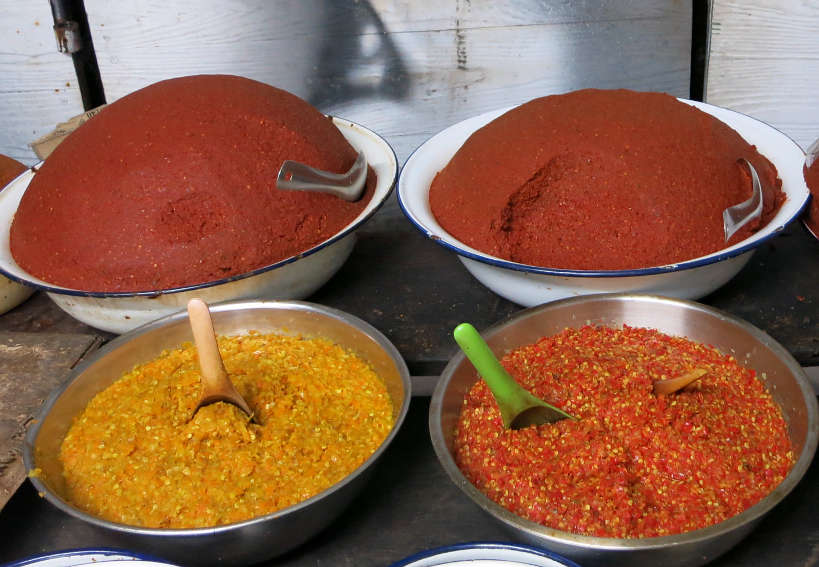 Thai Ingredients at Bang Rak Wet Market
One of the things we enjoyed on the Bangkok food tour, was the introduction to the unique flavors of Thailand. On the way to Bang Rak Wet market, we made a detour and stopped at a fish cake vendor. The idea here was to not only taste her reputable fish cakes but also to dip them in one of the sauces made with the paste we had just seen previously.
We tried fish cakes made from fresh king mackerel that were simply outstanding. Lightly fried with a touch with spice, we could have eaten a lot had we not planned for 12 food stops.
Bang Rak Wet Market is Bangkok's second oldest wet market. Small and dense, this market is packed with the usual suspects – fresh fish, meats, produce and meats, etc.
Amongst the fresh vegetables, we were fascinated by the number of egg plant varieties. We saw eggplants we had never seen before. Some, as small as peas, while others to medium golf ball sized. It seemed like every time we asked Noom, what something was, the response was "a type of eggplant." Equally fascinating was seeing raw lemongrass and taking in it's unique scents.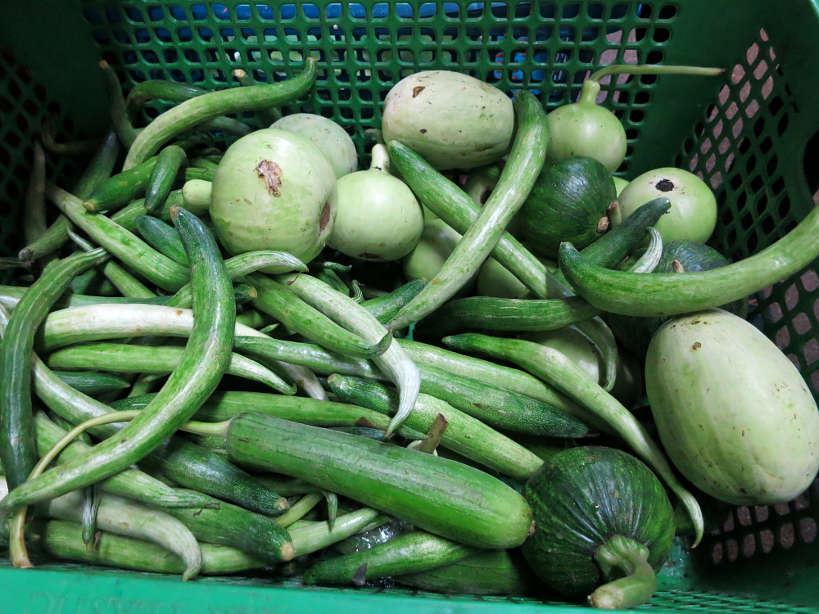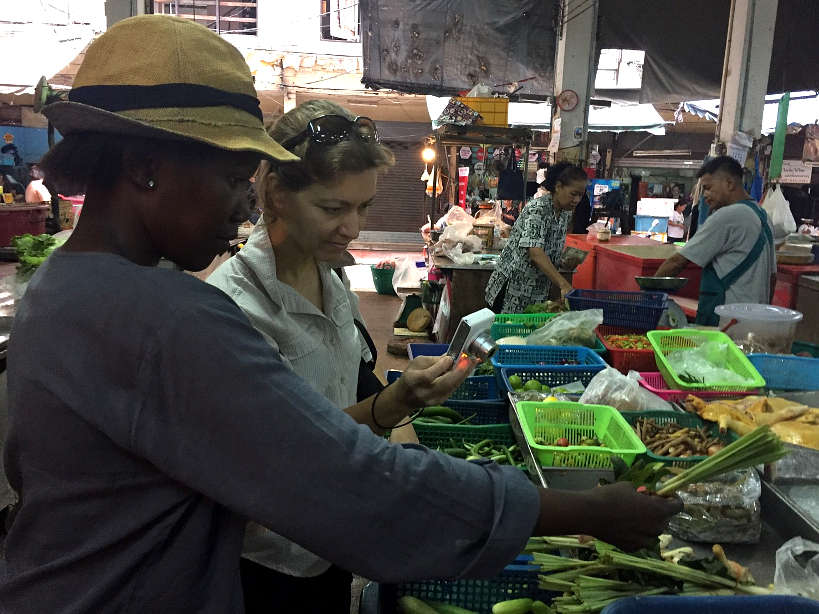 A Taste of Thai Sweets and Fruits
As we walked out of the market, we continued our Bangkok food tour at Boonsap a bakery famous for its traditional desserts. We sampled a plate of five of their desserts including the signature sticky rice with custard. These tasty desserts were not very sweet, much to our surprise, and they hit the spot!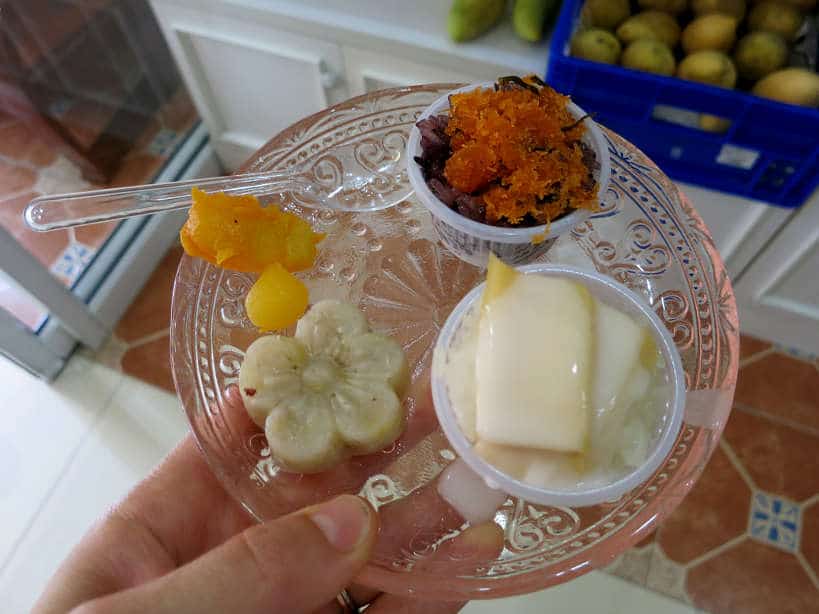 After walking down Charoen Krung Road, we stopped at a local fruit vendor to taste some of their products.
We tasted fresh tamarind fruit, which is sweet and tart and surprisingly pasty in texture. Mangosteen, one of our favorite fruits that we like for its refreshing taste and unusual shape and color. And finally, longan fruit which is another amazing fruit from the region, which tastes similar to lychee.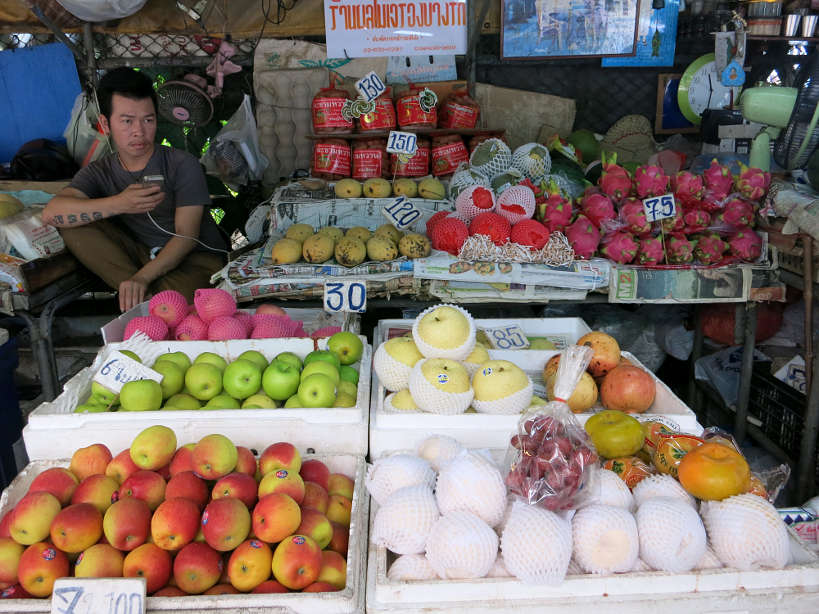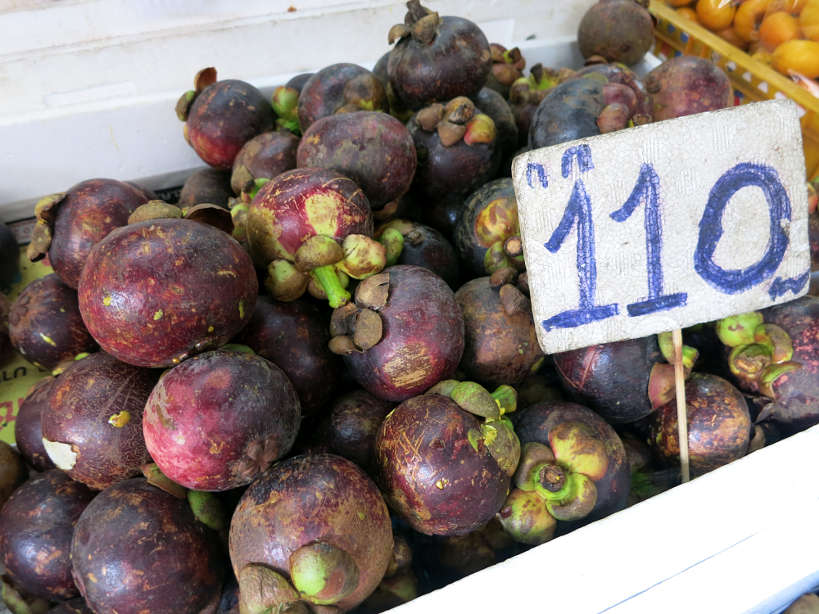 The Chinese Stop on the Bangkok Food Tour with Taste of Thailand
In the multi-cultural Village of Love, we made a stop at one of the first Chinese grocers in the area. Wa Tow Chinese Grocer has herbs and medicinal drinks, which claim to cure a variety of things from weight loss, to detox, lack of energy and even a broken heart!
Intrigued by the idea of weight-loss, we eagerly tried the popular Chinese bitter drink. The taste was so revolting and yes, bitter, it's hard to imagine anyone suffering through this drink for the purported benefits.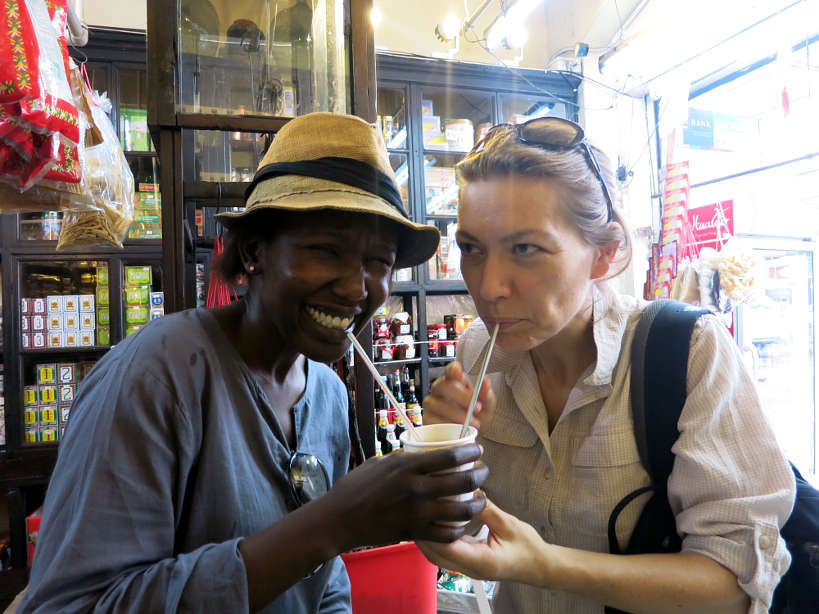 In addition to the herbs, the store also sells Chinese ingredients including sauces and soy sauces. We even spotted Chinese vodka, spirits and local Chinese beers. A great stop to explore local Chinese wonders and their influence on Thai culture.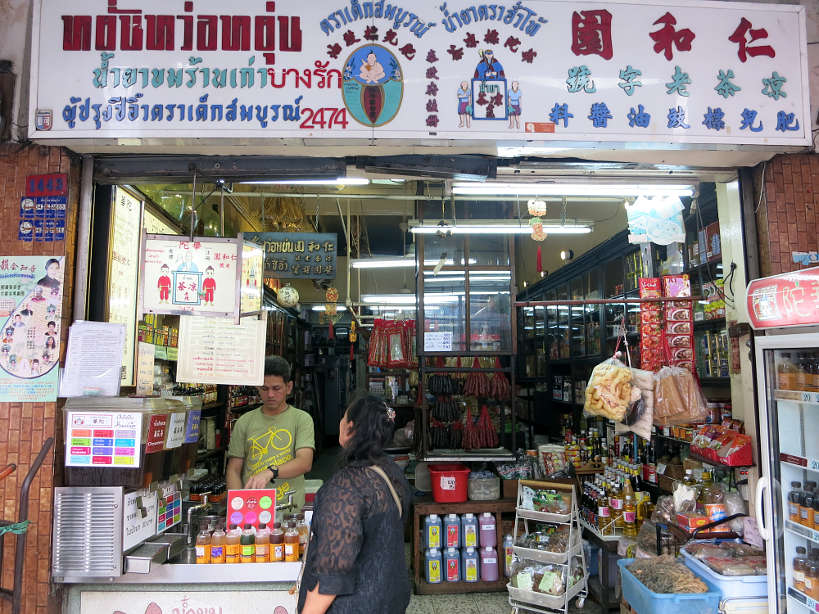 Roasted Duck at Prachak Petyang
This was one of our favorite stops on the tour. We went to Prachak Petyang, a family owned shop with a reputation for their duck.
Office workers on their lunch break filled the lower part of the restaurant. As we made our way upstairs , we couldn't help but notice that every single table had the same dish on it – the roasted duck.
The duck is stuffed with lemongrass and served with homemade egg noodles.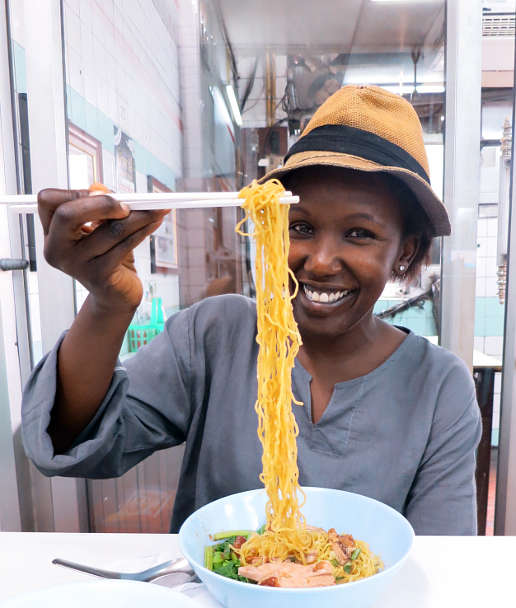 The roasted duck delivered on all fronts. The skin was tasty and crispy and the lemon grass flavors deliciously seeped through the tender duck breast.
Opened since 1909, you can taste and appreciate how this 5th generation family owned restaurant stays in business.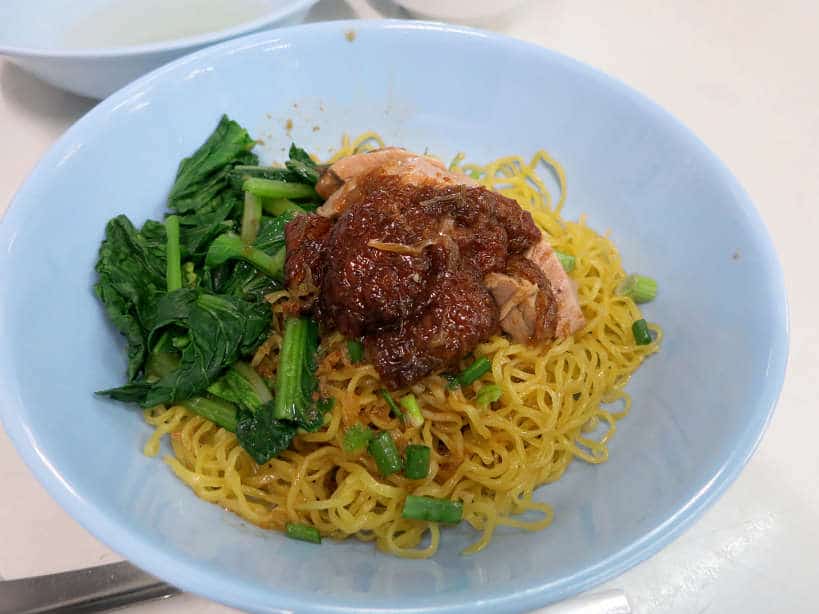 Exploring Northern Thailand Isaan Cuisine in the heart of Bangkok
One of the best things about taking a food tour is explore the history and culture through tastes and flavors. On this Bangkok food tour with the Taste of Thailand, we literally "walked" our way to the northeastern part of Thailand to discover the food from the region, called Isaan food.
Isaan food is known to be spicy and with heavy influence from Laos. At the Jungle Food Two Sisters Shop restaurant in the Bang Rak area, we sampled two popular and iconic dishes. Som Tam or green papaya salad and lemongrass salad. The salads were served with the ever essential sticky or glutinous rice.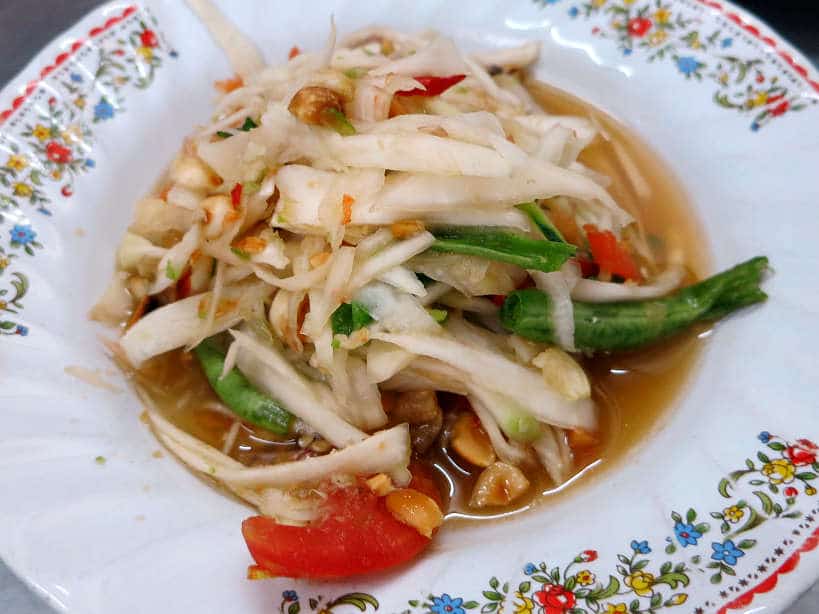 We loved the combination of flavors of the lemongrass salad. This one is definitely a highlight on our Bangkok food tour.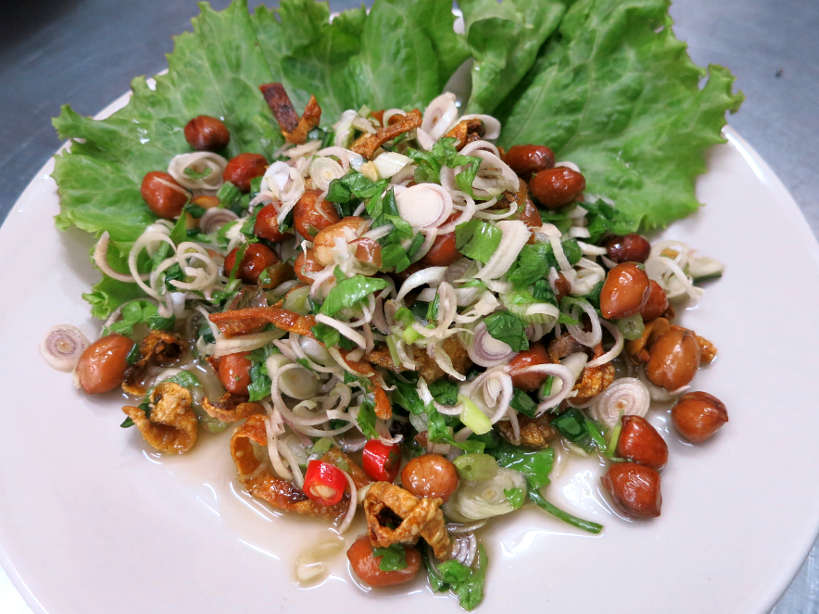 Last stop on our Bangkok food tour: Than Ying Royal Cuisine
The tour started with street food and ended at an upscale sit-down restaurant, fit for royalty.
Than Ying restaurant serves genuine royal Thai cuisine. The restaurant was started by the sister of the former Queen Rambhai Barni, when she was the head chef of the Palace kitchen. The tradition of serving royal Thai cuisine continues under her son's management.
As we entered the restaurant, we were greeted by the front staff, who led us to our elegantly dressed table, with white table linens and napkins. Playing in the background, was relaxing French music.
With all the eating we had done previously, the Taste of Thailand had wisely ordered just two dishes to finish off the tour. Thai Green Curry (Gang Kiew Hwaan Gai) served with rice and a delightfully refreshing coconut ice cream dessert.
Rosemary could get not enough of the Thai Green Curry. The eggplants soaked in green curry and perfectly paired with the chicken, was outstanding. The fragrant and aromatic flavors of the sweet basil was the perfect accompaniment to the rice.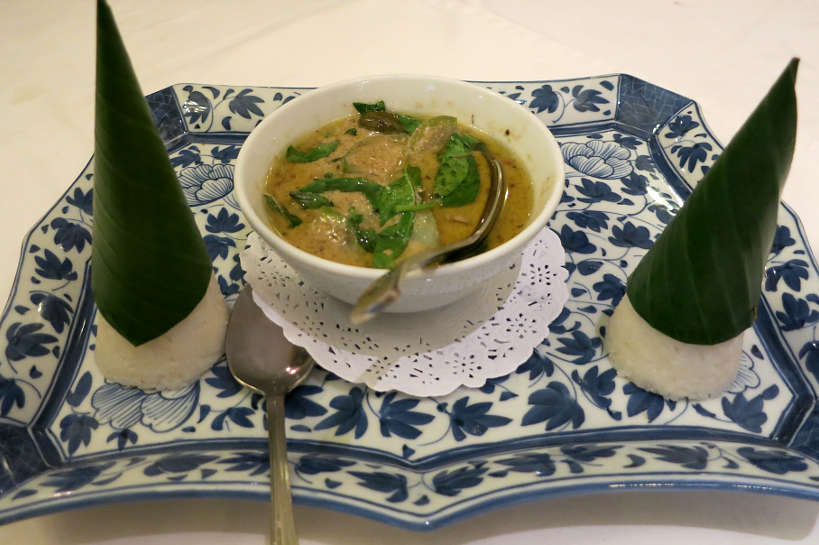 Even though I am not a huge ice cream fan, the coconut ice cream dessert made me a convert. Light and not sugary, this was the best way to end a fantastic Bangkok food tour with Taste of Thailand.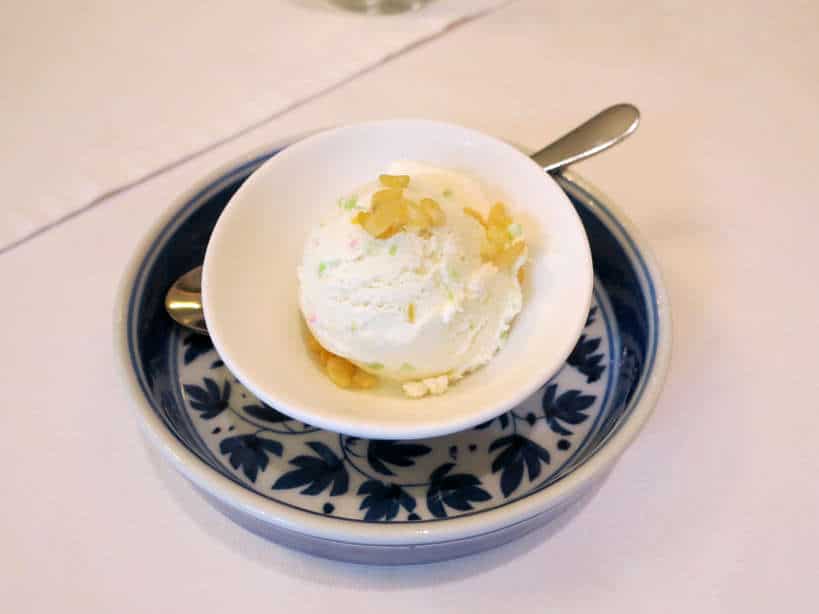 In Summary
Walking through the Village of Love in search of the best local food was delightful.
The Bangkok food tour provided an authentic experience to places we wouldn't have discovered by ourselves. At each stop, we got to eat like a local. It was like stepping for a day into the life of a Thai living in Bang Rak.
The best part was that our guide Noom shared stories insights into the local Thai culture along our journey. He was attentive and answered any questions we had, not only about Thai food but Southeast Asia food in general. Taste of Thailand tours are conducted in small groups and on that day we happen to be the only ones on our tour. A nice and unique privilege!
Although they were many stops, we got to enjoy each of them and we didn't feel too overwhelmed with the food.
This Bangkok food tour reminded us that food is a great way to connect people and break down barriers. And we are tempted to believe that food is one of the reasons that the Village of Love is what it is today: diverse communities living peacefully together.
Additional information
Location: Bangkok Food Tour in Bang Rak
Duration: Approximately 4 hours. The morning tour starts at 9:30 am
Cost: 1$45.04 USD per person)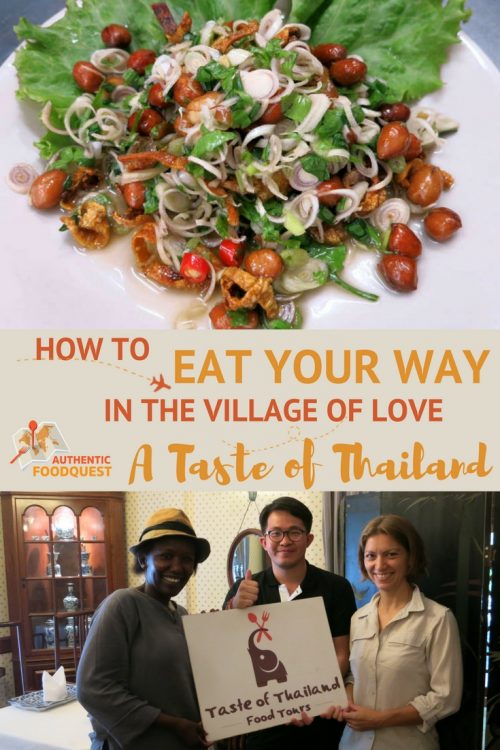 Special thanks to Taste of Thailand for having us on this tour. All views and opinions expressed are our own. Full bellies and happy taste buds too.
Claire is a culinary explorer who travels the world in search of the best local foods. She is always looking for her next culinary adventure to bring you the best bites while exploring new places.