Eating local food is by far one of the greatest pleasures of traveling. Yet, despite the appetizing sights and smells, lurking in the background is the desire to avoid stomach problems while traveling.
At Authentic Food Quest, we travel through food with the goal of showcasing the local and authentic dishes. At times, this means eating on the streets, at local markets, and trying unusual foods.
While we agree with Anthony Bourdain, who once said "eat everything offered. Pretend it's grandma offering,"  we are both curious and cautious.
Over the last five years of traveling through local food experiences, we've learned how to keep our stomachs happy. 
So far, we've been fortunate not to experience any major stomach problems after traveling or while on the road.
As you think about the local food at your next destination, put any trepidation aside.
Here are our 10 simple, tried, and true tips to prevent an upset stomach while traveling and eating local.
Have fun and eat local!

1- Avoid Stomach Problems After Traveling with Activated Charcoal
Ever since we discovered Activated Charcoal, these pills have become an essential part of our packing gear.
Used all over the world, activated charcoal is a natural treatment used as an antidote for hundreds of poisons. 
It works by absorbing poisons and toxins in the digestive tract, by binding them together thereby reducing their potency.
In South America, Southeast Asia and recently in Mexico, these "magical pills" have helped calm our upset stomachs while traveling.
We use activated charcoal preventatively. Before and after meals. 
For example, just recently in Mexico City, after eating tasty street food, our stomachs didn't feel quite right. 
We simply popped two pills each and our upset stomachs calmed down quickly after that.
Activated Charcoal quickly neutralizes poisons. Its effects have been demonstrated in a powerful way.
"In 1813, French chemist Michel Bertrand swallowed five grams of arsenic trioxide: 150 times the lethal dose. He had mixed it with activated carbon beforehand. He experienced no nausea, no vomiting, no diarrhea, no excruciating cramping, no severe burning in the mouth or throat, no collapse, and no death. In a dangerous but dramatic way, he had avoided certain death while publicly demonstrating charcoal's phenomenal ability to neutralize poisons".
These activated charcoal pills accompany us everywhere. They offer peace of mind and are essential for any food traveler.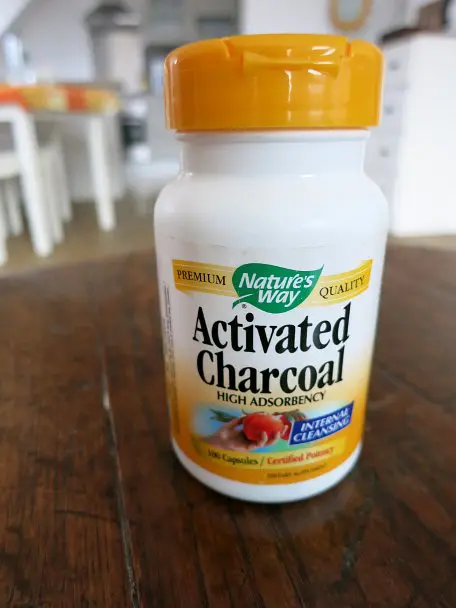 2- Filter Water With Grayl
Accessibility to clean and potable water while traveling cannot always be guaranteed.
In many countries around the world, enjoying clean drinking water is a luxury.
As you book your flights and accommodations, don't forget to do some research about the drinking water situation. 
You want to enjoy your trip and the last thing you want is an upset stomach while traveling.
In Southeast Asia travels and Mexico, drinking tap water is not recommended. 
To enjoy clean water and stay safe from any stomach problems, we use Grayl water bottles.
Grayl makes ultralight purifier bottles that allow you to easily make clean and purified drinking water. 
With one press and in under 15 seconds, water from virtually any source is easily made potable. According to Grayl's website, the water is purified against all types of viruses, chemicals and heavy metals.
We use our Grayl water bottles regularly. From purifying water to clean vegetables, make coffee or simply quench our thirst, they are indispensable.
What we like about Grayl bottles is that they are light and not fragile. Also, the bottles don't need to be hooked up to batteries to work. 
Furthermore, you can enjoy clean drinking water without the waste of bottled water. 
RELATED: If your travels take you to Southeast Asia, read our article about How to Drink Water Safely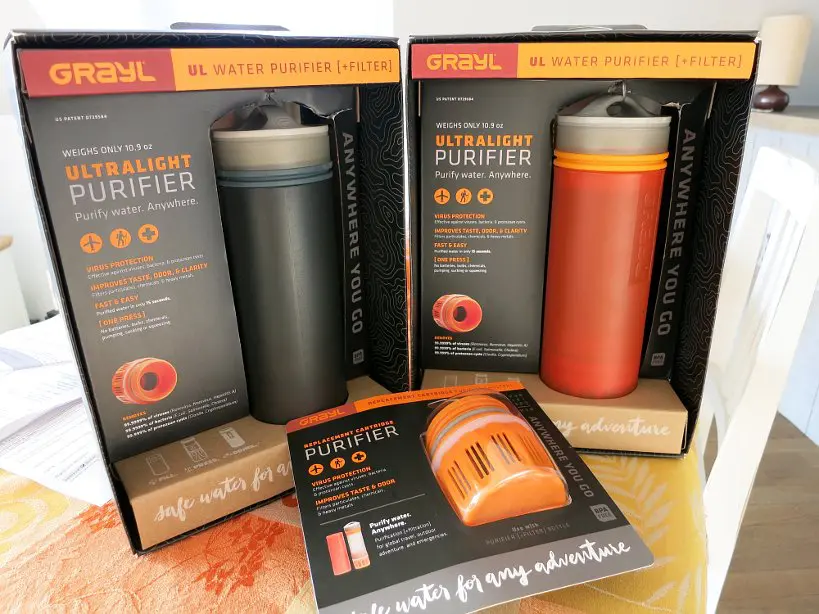 3- Drink Lots of Water
Drinking water regularly is sound advice to stay hydrated. It is also applicable to keeping your stomach healthy and helping the digestive system.
When the stomach lacks water, it makes the digestive function more difficult and even less effective.
With good hydration, the stomach digests and absorbs nutrients more efficiently. This helps you stay regular and decreases the chances of getting an upset stomach.
We personally drink a LOT of water and always carry our refillable bottles with us. 
We like SIGG bottles which are aluminum, meaning light to carry and BPA free.
It is recommended to drink on average 2 liters of water or half a gallon per day. And we definitely drink at least two liters daily, if not more.
Although we love trying different mineral carbonated waters on our travels, it is recommended to choose still water over carbonated water.
For some, carbonation can cause stomach aches especially for those sensitive.
For an easy test to know if you are drinking enough water, go to the bathroom. If your pee is clear or pale yellow that's good enough, if not, time to drink more water.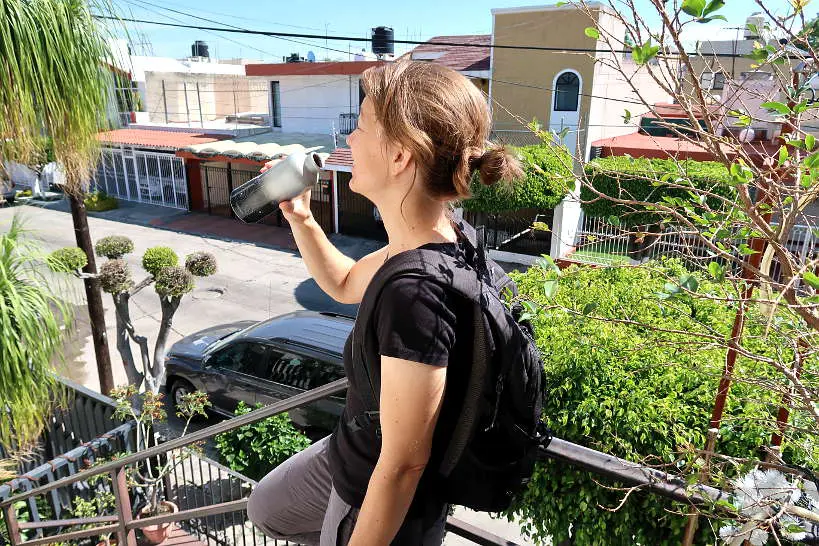 4- Sip Using Reusable Bamboo Straws
Bamboo straws are our newest addition to our 'keeping our stomach's safe" culinary kit. On our recent trip to Thailand and Vietnam, we were astonished by the amount of waste caused by plastic straws.
Further, in Vietnam in particular, we were shocked by the way cups are shared amongst a number of people. 
While eating or when someone finishes a meal, they drink water using the cups on the table and replace them for others to use. In some cases, and not always, the cups are briefly rinsed and not washed. 
To avoid touching your lips on the shared cups, using straws becomes necessary. Instead of using plastic straws, carrying your own reusable straws is an ecological way to go.
Your personal reusable bamboo straws will help avoid any stomach problems while traveling. 
The straws are easy to pack and come in a convenient carrying bag with a cleaning straw. 
If you consider how much water you drink at every meal, carrying reusable bamboo straws makes perfect sense.
Not to mention, you'll be drinking safely while taking care of the environment.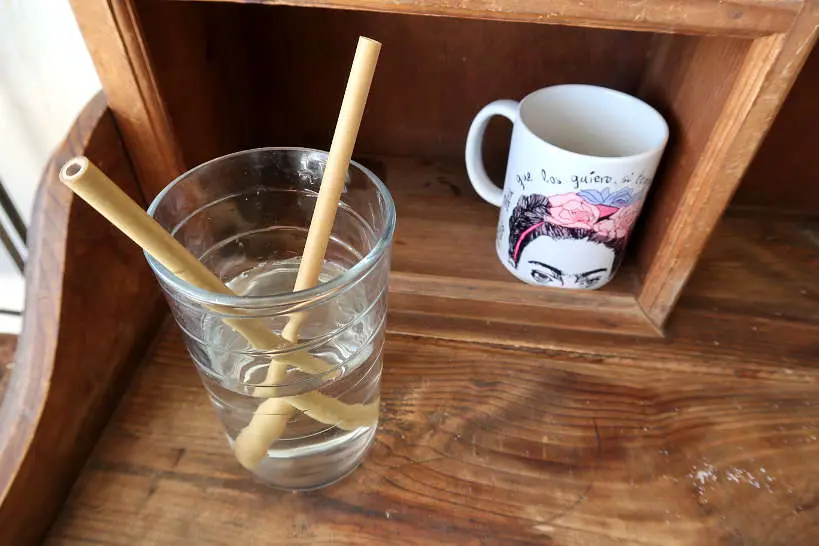 5 – Prevent Stomach Problems While Traveling With Travelan
Stomach problems after traveling or even while traveling send shivers down our spines. We are  culinary explorers and our job is to find the best local food wherever we travel. 
Accordingly, we can't afford to get sick on the road.
One of our greatest fears is succumbing to the dreaded traveler's diarrhea from eating at local markets or street stalls. 
Fortunately, thus far, after traveling for five years for local food we've not fallen victim to Delhi belly.
We recently heard about Travelan from a fellow traveler and were intrigued. Travelan is an over-the counter-medication that can actually prevent diarrhea before it starts. 
There are many things we like about Travelan. First, it is a natural supplement and does not contain any coloring or flavoring. 
The antibodies present in Travelan target and neutralize the diarrhea-causing bacteria preventing you from getting sick. 
And finally, you don't need a prescription to buy Travelan.
If you want to avoid stomach problems and enjoy eating, worry-free, you'll want to pack Travelan too.
RELATED: Read our full review about Preventing Traveler's Diarrhea with Travelan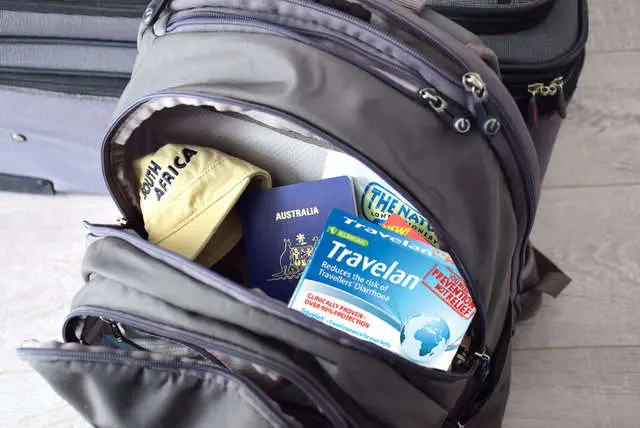 6- Use Sporks and Chopsticks To Prevent Upset Stomach While Traveling
You already know germs easily spread through food, but have you thought about the utensils used?
When traveling and enjoying local food, one can never be too certain about the level of hygiene. 
Even though you may be ordering a hot dish, which kills the bacteria, the utensils provided may not be clean.
Not knowing where we'll eat and to prevent having an upset stomach while traveling, we always carry sporks with us. 
These handy fork, spoon combo with a serrated knife edge are easy to pack and convenient for traveling.
On our recent travels to Thailand and Vietnam, we added bamboo chopsticks to our culinary tool kit. 
With noodles eaten everywhere, reusable bamboo chopsticks worked better than sporks.
Interestingly, in Mexico we found ourselves reaching for our sporks while eating tacos. We didn't expect to use them while eating small wrapped bites. 
However, we found some tacos disintegrate quickly when heaped with food and sauces. 
Our sporks came in handy in the most unexpected way, and you'll find the same too.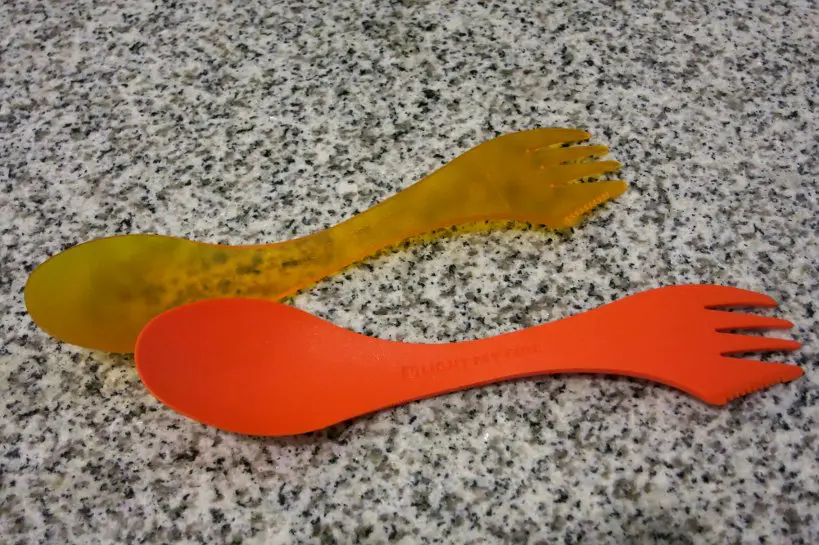 7- Eat Probiotics
Probiotics are known to help with digestive problems and to keep your gut healthy. Our stomachs contain trillions of bacteria that are very important for our health.
Accordingly, probiotics are the "friendly" bacteria that participate in maintaining healthy gut flora. 
As a result, they provide many health benefits notably for improved digestive function, heart strength and mood management.
We personally love to find natural probiotics whenever we can. When we lived in Los Angeles, we used to eat a lot of Kefir. 
Refreshing and light, this fermented drink is perfect at the end of a meal or for breakfast with fruits.
While in Bulgaria, we discovered Bulgarian yogurt, which is famous worldwide for its health and digestive properties.
Bulgarian yogurt is used abundantly in Bulgarian cuisine and we enjoyed the flavors and stomach benefits.
If you cannot find probiotics in the local food on your travels, then probiotics supplements are a great alternative.
We typically travel with probiotics tablets and use them as needed. One thing to pay attention to is the expiration date. Past the date, the supplements might not be effective anymore.
Probiotics are particularly effective if you had stomach problems after traveling or to maintain your digestive system healthy.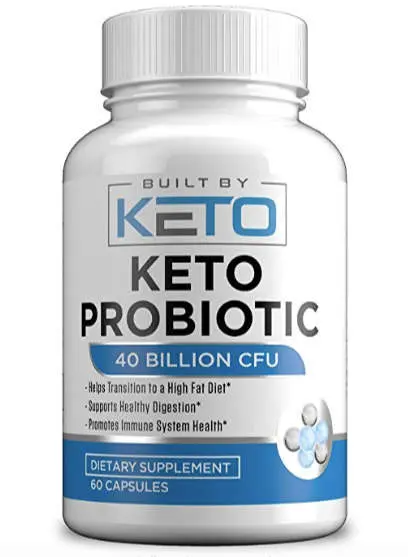 8- Wash Your Hands Frequently
Washing your hands might sound like an obvious tip to avoid health and stomach problems after traveling. 
However, it is not always something that we think about systematically. 
And we probably should, given that the most common infections are transmitted when people don't wash their hands.
For example, gastroenteritis also called stomach flu is typically transmitted by hands and can spread quickly amongst people.
And the best way to stop and avoid this common stomach problem is to wash your hands thoroughly. 
It is a simple gesture and should be top of mind when traveling for food at any destination. 
Fortunately, we've seen many local restaurants provide hand washing stations. From Singapore to Mexico, you can safely enjoy your meal by washing your hands before and after eating. 
Surprisingly, in Guadalajara, Mexico, we stumbled onto a street food vendor with a portable hand washing station.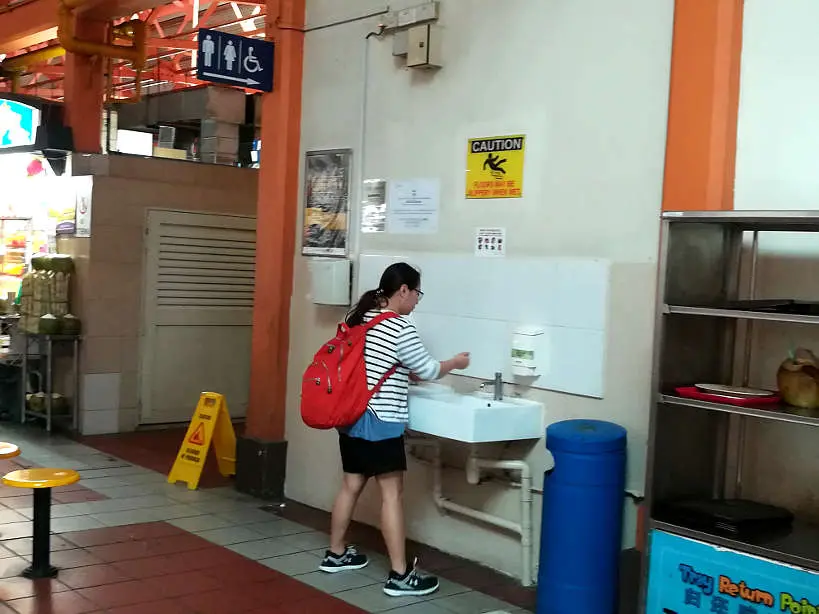 9 – Carry Hand Sanitizer
When there are no bathrooms and no washing station, what do you do to keep your hands clean?
One of the best solutions we found is to always carry a hand sanitizer on us. It is very practical to clean your hands on the go.
We typically use hand sanitizer when we go out to eat street food as portable wash stations are rare.
It is also useful to keep our hands clean when taking public transportation or after pushing grocery carts.
We also noticed that some countries don't really have napkins handy or their napkins are merely thin non-absorbent paper. 
It can get quite uncomfortable to finish a meal and not have the ability to wipe our hands.
In this case, we use hand sanitizer as a napkin replacement. 
We particularly like portable hand sanitizers that can easily slide into your bag or get hooked to your backpack. 
That way, we always know where to find our hand sanitizer.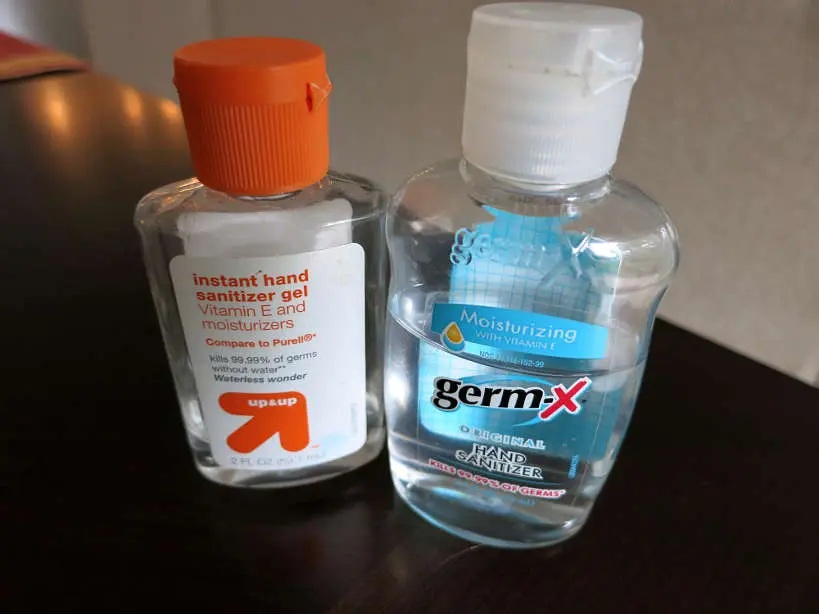 10- Get Travel Insurance
Beyond these tips to avoid stomach problems while traveling, one thing you cannot leave home without is travel insurance. 
We have always used travel insurance on our travels and it saved us on more than a few occasions.
From a chipped tooth, to emergency root canal surgery, our travel insurance has been very useful when needed.
And when we don't have to use it, it provides peace of mind knowing we are covered. We have been using Allianz Travel Insurance for the last year. 
One thing we appreciate is the responsiveness of the Allianz team each time we've contacted them.
If you get sick and have stomach problems, you can find local doctors using the Allianz TravelSmart App.  
You'll find the Allianz team proactive as they follow up with you to make sure you get the assistance needed. Another neat feature about the TravelSmart App is the ability to easily track your flights and baggage delays.
This year, we renewed our Travel insurance with Allianz as we get the best coverage at an unbeatable price.

In Summary
To get to know the destination or the place you're visiting, eating the local food is part of the experience.
Taking the necessary precautions to prevent any stomach problems while traveling is important to allow you to enjoy your travels.
For us, food is about discovery. The flavors and local food experiences reveal new unforgettable things about a destination. 
Our preconceptions and what we thought we knew, often get blown out of the water. 
Done safely, local food experiences will enrich your travel experiences. Use these tips and eat boldly on your next trip.
Please note, these tips are from our experience of traveling through food and should not be construed as medical advice. These tips are not intended to be a substitute for professional medical advice, diagnosis, or treatment. Always seek the advice of your physician or other qualified health provider with all matters regarding your health.
In the comments below, please tell us your tips to avoid stomach problems after traveling.
Savor the Adventure!
Love it? Pin it!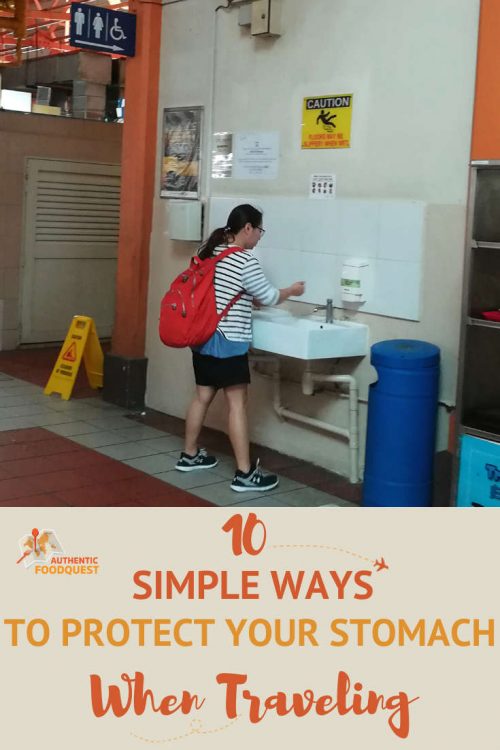 Disclosure: This article, part of our "Eating Safely" series, has been written in partnership with Allianz Partners, our travel insurance provider.  Authentic Food Quest has received financial compensation and as always all opinions expressed are our own.
 Disclaimer: This page contains affiliate links. That means at no extra charge to you, we earn a small commission when you purchase using these links. Thank you for your support.
Rosemary is the editor-in-chief and strategist at Authentic Food Quest.
Traveling slow since 2015 with her partner, Claire, she has explored the cuisine in 45 countries and more than 240+ culinary cities.
Her writing about local food specialties has been featured in Lonely Planet, Business Insider, Honest Cooking, Food Insider, and Huffington Post.
As a food and travel writer, Rosemary has co-authored three books, including one in collaboration with Costa Brava Tourism.
Rosemary is an avid runner when she's not eating and exploring new destinations. She has run ten marathons and counting.
Before Authentic Food Quest, Rosemary held senior-level strategy positions in advertising. 
Find out more about Authentic Food Quest