This article has links to products and services we recommend, which we may make a commission from.
Indulge your senses with these amazing British snack boxes. These five of the best UK snack boxes bring the sweet candy flavors you know and love.
Whether you are looking to recreate memories, or just want snacks and chocolates from across the pond, we've got you covered.
Below, we've handpicked the best UK snack boxes for chocolate bars, scones, desserts and teas.
Taste the flavors from a recent trip or share the gift with fellow anglophiles. Give in to the temptation, these UK snack boxes are filled with the sweet flavors for every taste bud.

UK Snacks Boxes Comparison Table
* Please check website as delivery times may vary
Best UK Snacks Box
1 – Best Personalized British Classics Snack Box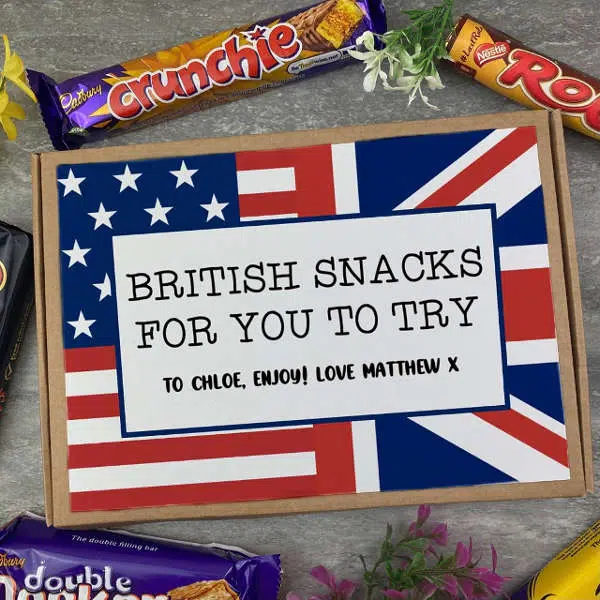 Tip: Best for Chocolate Bars
With this box, you get a selection of 8 random British treats, which is perfect if you're looking to try new things.
You can also personalize each box with a name, giving it a special touch when giving as a gift.
If you're in the mood for British chocolates, but can't decide which one to get, this is the UK snack box for you.
Some sweets include Crunchie, Twirl, Double Decker, Toffee Crisps, Gnawable's light, and Crunchy Bites, Mars and Flake.
These snacks are long lasting and won't go stale quickly.
This Personalized British snack box ships from England. The benefit to that is you can truly get snacks not available in the US.
If you're looking for faster delivery, you may want to consider the next chocolate box on our list.
2 – British Candy Box – Full Size Cadbury Chocolate Bars
Tip: Best for quick delivery
Get a little taste of Britain with this box of ten British chocolate bars. A close second to our first UK snack box (Personalized British Classics), it's a better choice for delivery.
If you want to get your chocolate fix faster, this British snacks box ships from the USA.
You will get Picnic, Curly Wurly ,Starbar, Wispa, Double Decker, Twirl, Crunchie, Dairy Milk Caramel, and Dairy Milk in this box.
And, all the British chocolates are full size so you can taste more of the favors you love.
Please note that the boxes sometimes rotate chocolates.
What People Are Saying
"Brought back a lot of memories", "The chocolate was fantastic", " WOW!! What a huge difference in taste!"
3 – The British Bash – Best For Bakers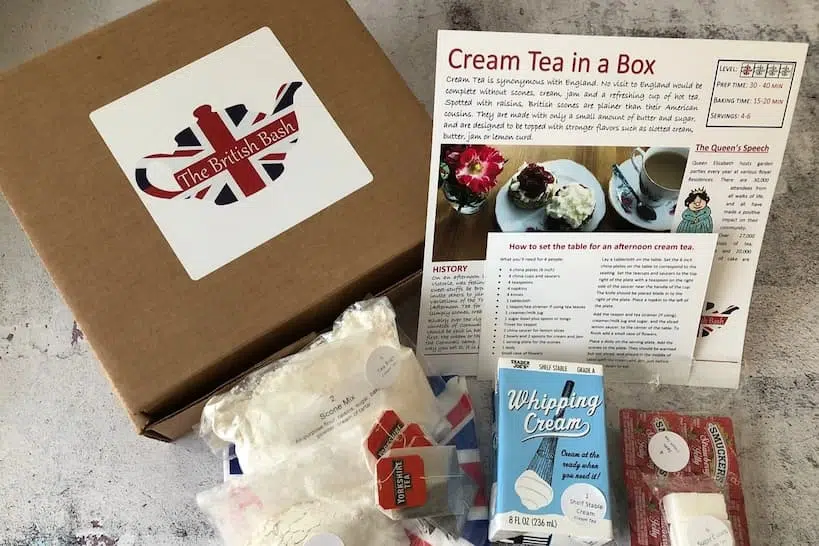 Tip: Best for people who enjoy watching the British Baking Show
Make delicious British desserts at home with this exclusive British desserts baking kit.
This British baking kit is equipped with the non-perishable ingredients you need to make the desserts. Detailed step-by-step recipes along with the fascinating history of the desserts are also included.
For only $35, you will get to enjoy your own home baked delicious British dessert and experience the UK from afar.
But that's not all. Disposable baking pans and kitchen essentials are also included depending on the recipe.
Each month the recipe changes with something unique for the season. Past boxes have included mince pies in December, Hot Cross buns in March for Easter. And, even Jubilee scone recipes for her Majesty's celebrations.
Free shipping is available across the US, though orders must be placed before the 12th of each month.
Packed with elegance and care you can sip on tea and savor slices of British aristocracy from the comfort of home.
This British desserts baking kits is a great way to bring out the baker in you, and master British Baking Show recipes.
4 – British Snacks Box – Cream Tea in a Box
Tip: Best for people who love scones
Tea and Biscuits are about as British as it comes. And, unfortunately, it's hard to get an authentic British scone and tea experience outside of the UK.
This cream tea in a box provides all of the ingredients you need to make authentic scones and tea.
You'll get the recipe and pre-measured ingredients to easily bake the scones. We love the added bonus of the history of each of the ingredients.
This box also comes with cream, jam, sugar cubes, napkins, and Yorkshire tea for a complete British experience.
Invite your friends to "tea time" or gift the experience of this quintessentially British tradition.
This box ships fast from the USA.
What People Are Saying – *5 Stars
"Absolutely Perfect Gift," "Oh this will be fun!", "Such a fun item!"
5 – UK Snack Box – A Taste of Scottish Candy
Tip: Best for authentic Scottish desserts
We read the reviews on this one, and if you're looking for something unique and delicious, this is our top choice.
Visitors to Scotland and Scottish people alike rave about how delicious this dessert is. It's no wonder because this Scottish candy has been part of the culture since the 18th century.
The Scottish tablet is a wonderfully tasty sugary sweet that is similar to, but distinct from, fudge. It's made from browned butter, caster sugar. It's recommended to enjoy it with black tea or coffee.
These Scottish candies are made by a small shop in New Jersey, based on an authentic Scottish family recipe.
We read over 100 reviews for the tablet. And based on statements like "Omg so good. As good as buying it in Scotland" and " Scottish Tablet is probably my all time favorite candy!" we're sure you're going to enjoy this Scottish desert.
What People Are Saying – 5 Stars
"This is insanely good!", " I had a hard time with self-control because these were so delicious",
"It tastes just like the tablet I had in Edinburgh."
Which UK Snacks box is your favorite? Please let us know in the comments below which one you have.
Savor the Adventure!
Rosemary is the editor-in-chief and strategist at Authentic Food Quest.
Traveling slow since 2015 with her partner, Claire, she has explored the cuisine in 45 countries and more than 240+ culinary cities.
Her writing about local food specialties has been featured in Lonely Planet, Business Insider, Honest Cooking, Food Insider, and Huffington Post.
As a food and travel writer, Rosemary has co-authored three books, including one in collaboration with Costa Brava Tourism.
Rosemary is an avid runner when she's not eating and exploring new destinations. She has run ten marathons and counting.
Before Authentic Food Quest, Rosemary held senior-level strategy positions in advertising. 
Find out more about Authentic Food Quest