Valentine's Day is not native to Thailand, but is now celebrated with enthusiasm. Gifts are exchanged and plans made for a romantic dinner date. Over time it has become more traditional for men to gift beautiful bouquets or chocolates to their sweetheart.
On the eve of Valentine's Day, you will see shopping malls with large and small stalls selling valentines gifts for her and him too.
Here, we look at celebrating Valentine's Day in Chiang Mai, Thailand. Where to go and some of the best foods you can eat on your travels.
Chiang Mai is a beautiful and vibrant city full of cultural and culinary treasures. The best way to get around is to take a songthaew, also known as "red cars", which are popular options for getting around. For your special valentine's day in Chiang Mai, taking a private songthaew, may be the best way to go.
Tour the amazing old walled city and learn about the history of the ancient Northern Lanna Capital while tasting some of the best food Thailand has to offer.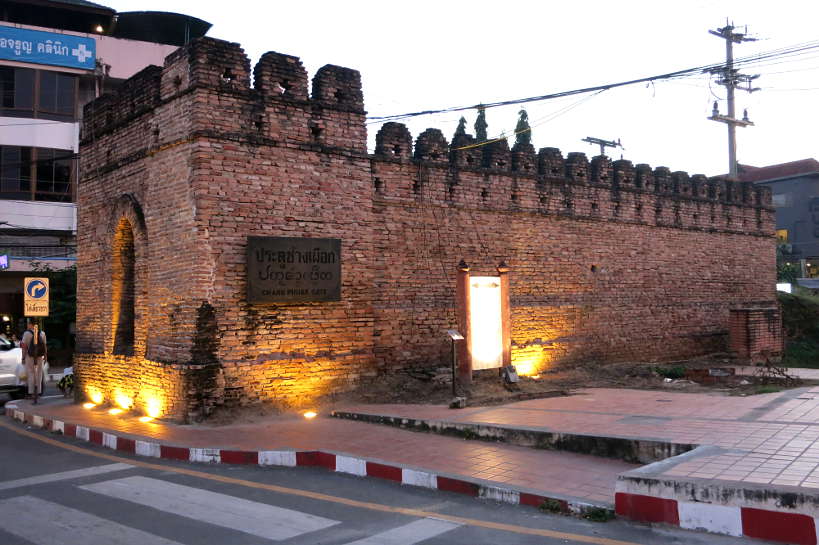 Chiang Mai Day Markets
Warorot market
Chiang Mai has a variety of exciting and interesting markets. The adjoining Ton Lamyai and Warorot markets are two of Chiang Mai's most attractive markets, both destroyed in a fire in 1968, but rebuilt thanks to the resilience of the people.
The area around these markets is also known as Chinatown, where you can visit an old Chinese pagoda and light some incense.
As it is Valentine's Day, cut out the middleman and head straight to the fresh flower market and choose a dozen red roses. You will not pay much, but win over your date with the thoughtful gesture.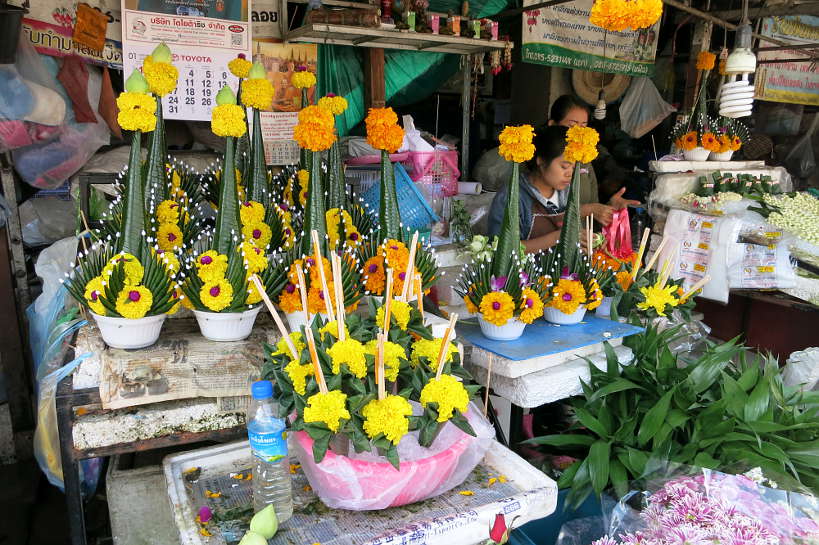 Mae Hia Fresh Market
One of the best markets for food is Mae Hia Fresh Market, also known as Talad Sod Mae Hai. This is one of the best places in to eat the northern sausage, Sai Oua, which Chiang Mai is famous for.
These famous northern Thai sausages are infused with a beautiful blend of spices and herbs. The pork is combined with with a mixture of herbs like lemongrass, kaffir lime leaves, galangal with a bite from hot chilies.
The sausages are wrapped into a beautiful coils and then grilled to perfection.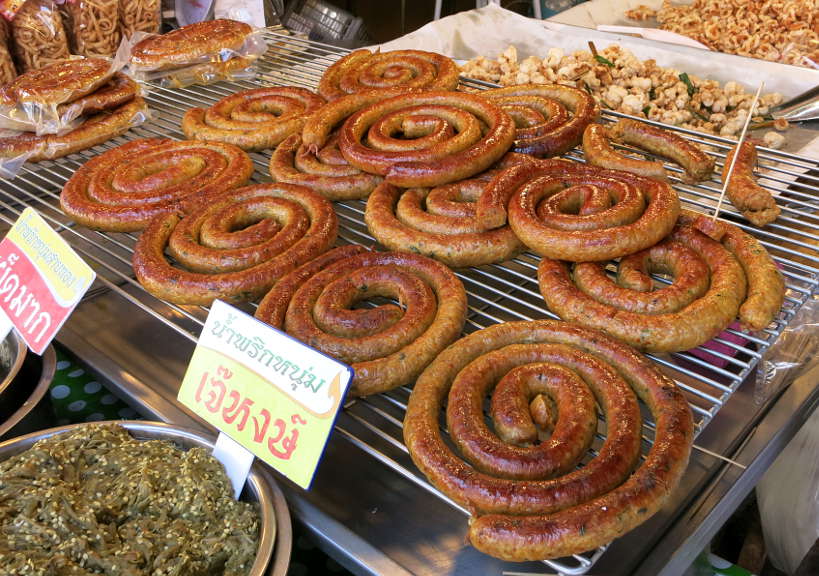 Muang Mai Market
For a totally unique market experience, a visit to Muang Mai market will not disappoint. Mung Mai is Chiang Mai's main wholesale fruit market, bustling with activity each morning.
Here you can start out with Khao Soi, Chiang Mai's most famous noodle dish. This rich and spicy coconut milk based curry served with chicken or beef and two types of noodles is one dish that is truly irresistible. Locals are known to eat Khao Soi for breakfast, lunch and dinner.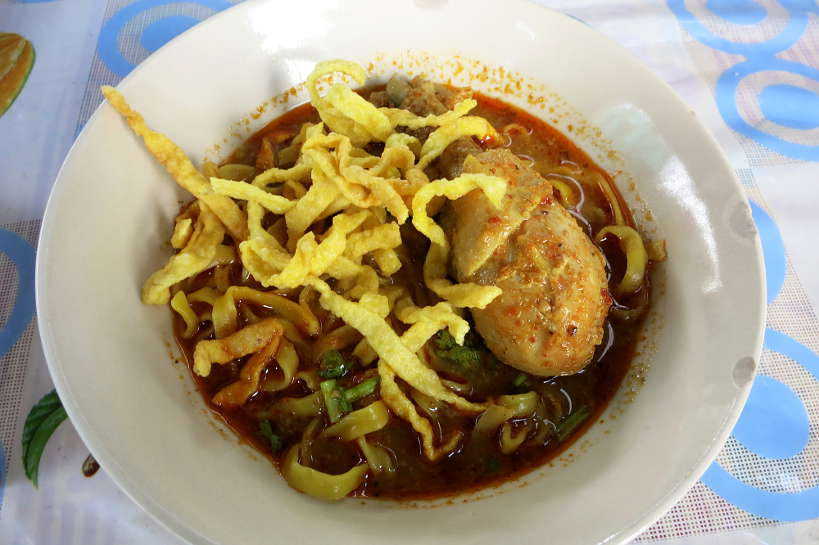 Top Sites in Chiang Mai
The city itself offers plenty of things to do aside from the cooking classes, street food, and culture.
Wat Pra That Doi Suthep, simply known as Doi Suthep, is a beautiful mountaintop temple overlooking the city. It is one of northern Thailand's most sacred temples and a popular attractions. You can reach the temple by hiking up the mountain, or its a short drive which means you can do the entire trip in a couple of hours.
Wat Pra Singh in the heart of the Old City is another magnificent temple that is highly revered.
Doi Inthanon is the highest peak in Thailand, and the national park that surrounds it is a true jewel of natural beautiful. Find rugged terrain, lush forests, river and waterfalls and a wide range of birds and animal species.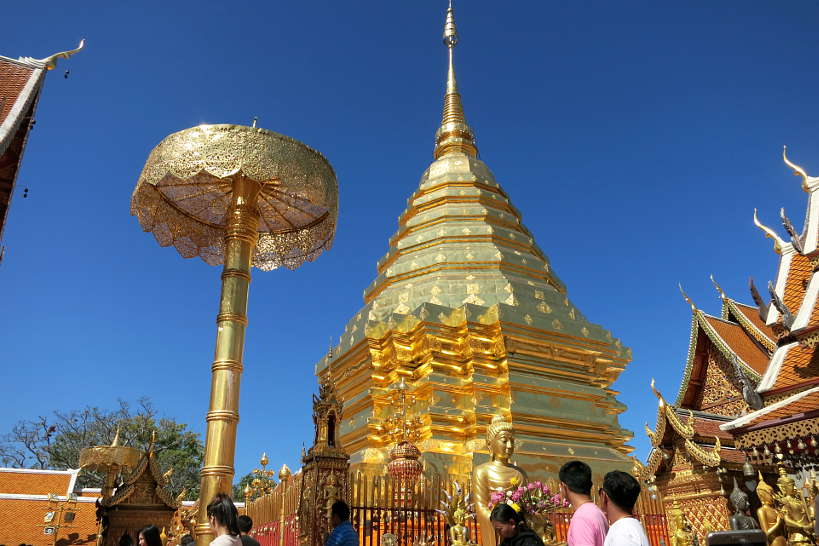 A Romantic Valentine's Day Dinner
In the evenings, the Huen Phen Jai restaurant is a perfect venue for a Valentine's Day dinner. The restaurant is known for serving some of the best Northern Thai cuisine.
The decor is also distinctive set in a traditional timber style house with low tables and pillows. The use of dark wood, antique decorations and low lighting makes it a very enjoyable authentic restaurant to experience.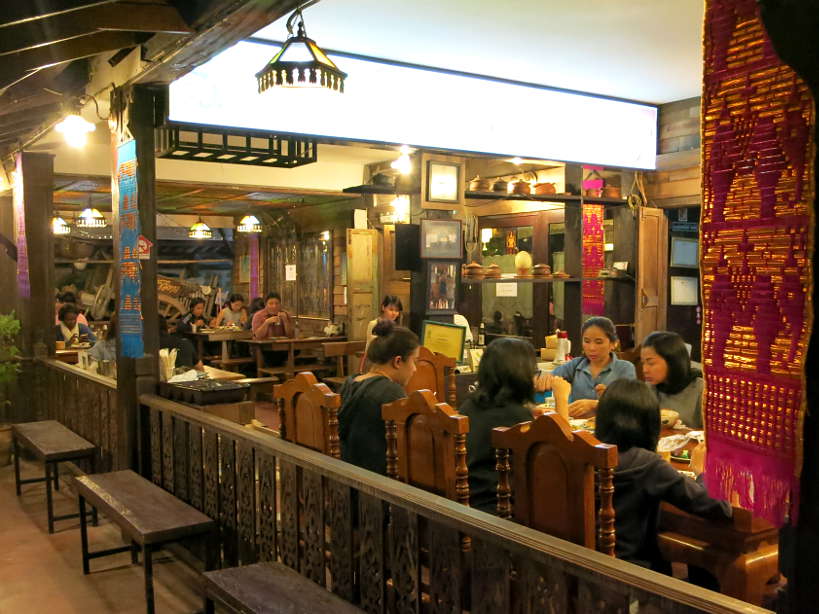 The amazing quality of food is the main reason to make this your choice for a Valentine's Day in Chiang Mai. The food is homestyle cooking serving very authentic Lanna cuisine.
You will find traditional northern Thai dishes including jackfruit salad and sticky rice, Aeb Pla, which is fish grilled with sweet basil and wrapped in a banana leaf and grilled.
Be sure not to miss the traditional nam prik num (roasted green-chilli, garlic and onion relish) and the rich, fragrant Gaeng Plee. This is easily one of the best pork spicy soup with banana blossom you'll find in Chiang Mai.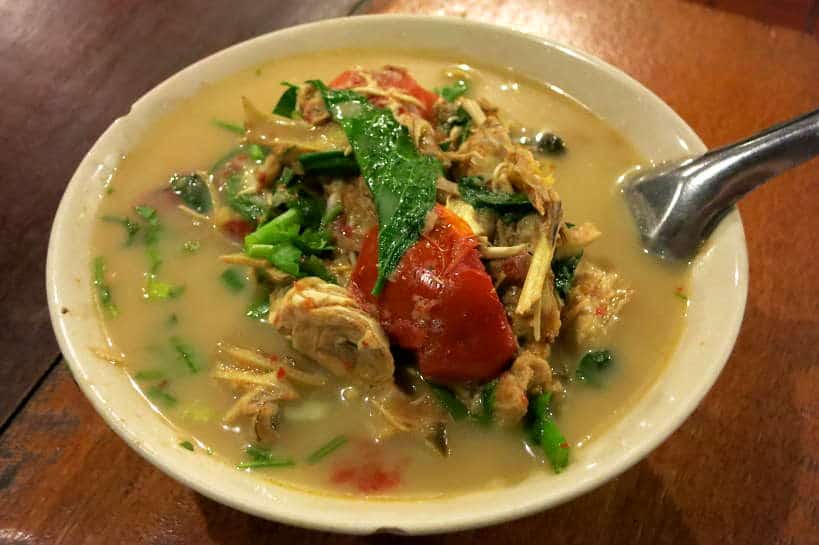 Chiang Mai Night Bazaar
The Chiang Mai Night Bazaar is an amazing experience. It is a loud and vibrant experience with bright colored lights, music, and wonderful aromas from different food vendors.
Stalls are set up on every bit of open space so it can get busy and crowded with vendors as well as tourists and locals shopping. When shopping don't forget to 'haggle.' Start by offering to pay three-quarters of the original price, it is expected and all part of the fun.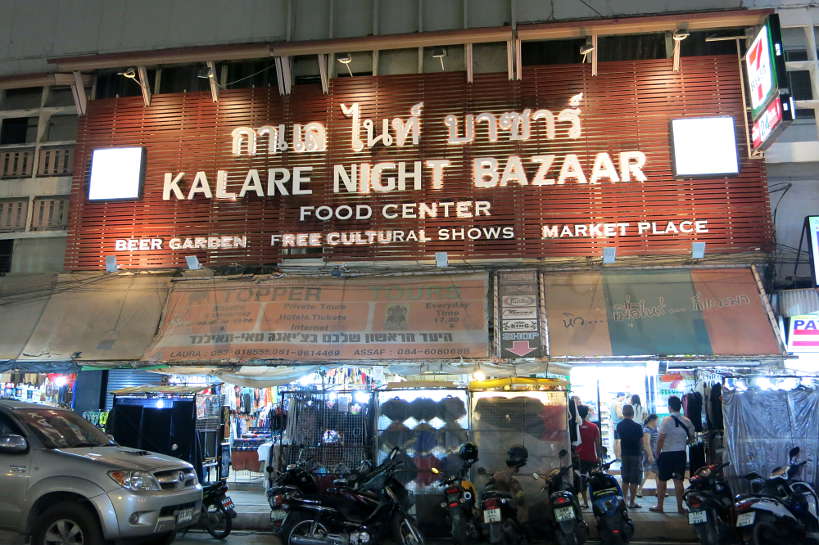 Magha Puja Day
Valentine's Day and the Buddhist Magha Puja Day (pronounced in Thai as Makha Bucha) sit close together in the calendar. The Buddhist festival falls on the full moon day of the third lunar month.
It celebrates the time when, nine months after enlightenment, Buddha was visited by more 1250 monks. He used this as an opportunity to lay down the three fundamental teachings of Buddhism, which are:
1. not to do evil.
2. to do good.
3. to purify the mind.
Magha Puja (meaning "to honour") is observed in Thailand as a public and religious holiday which means the sale of alcohol is banned almost everywhere.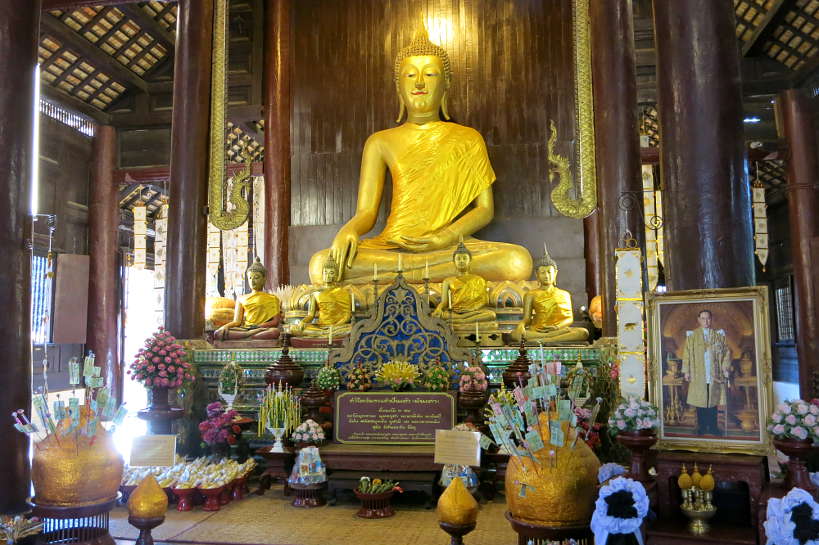 In Summary
Spending Valentine's Day in Chiang Mai can be a lot of fun. The city offers many cultural and outdoor activities and the cuisine is amazing. Visiting any one of the magnificent temples and ending your day with delightful authentic Lanna cuisine is the perfect romantic Valentine's Day.
What is your favorite city to spend Valentine's Day? Share your comments below.
Find out What kind of food traveler are you? Take our quiz and get your food traveler profile in minutes!
Savor The Adventure!
Where to Stay in Chiang Mai
Chiang Mai offers many accommodations options from hostels to resort for short visits as well as extended stay.
Here are a few of our recommendations from our article the best places to stay in Chiang Mai for food lovers.
Budget
Pyur Otel is a quiet and quaint hotel that serves free breakfast in a funky coffee shop.
Mid-Range
The Sila Boutique Hotel Bed & Breakfast , located in the heart of Chiang Mai, is a quaint boutique hotel with only 9 rooms.
Luxury
At Niman a quirky and stylish boutique hotel offering contemporary rooms.
To find more options and read the reviews, check out our complete list of where to stay in Chiang Mai article to help you find the perfect base for your Valentine's day in the city.
Love it? Pin it!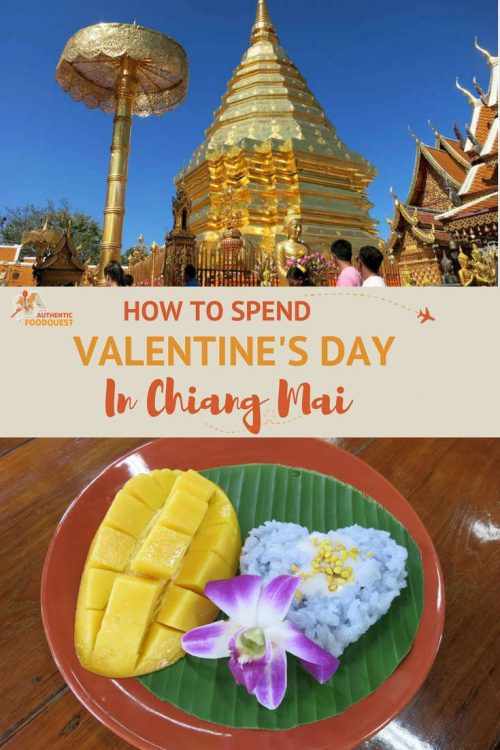 Claire is a culinary explorer who travels the world in search of the best local foods. She is always looking for her next culinary adventure to bring you the best bites while exploring new places.