Bulgaria is one of the oldest wine making countries in the world. Historical evidence can be traced back to ancient Thracian tribes between 4000 and 6000 years ago.
Plovdiv, Bulgaria's second city after Sofia, in the Thracian Valley, is the birthplace of a local variety grape known as Mavrud.
One taste of Mavrud is a journey back in time.
As part of the festivities to celebrate Plovdiv's status as 2019 European Capital of Culture, we traveled back in time.
Heading to Villa Yustina, a winery renowned for making wines with the ancient Mavrud grape variety.
Join us in discovering Mavrud wines paired with the local gastronomy at Villa Yustina.

Plovdiv and The Thracian Valley – A Top Wine Destination
Plovdiv and the Thracian Valley are one of Bulgaria's five major wine regions. In 2017, this area was ranked #2 by Wine Enthusiast Magazine on the 10 Best Wine Travel Destinations of the year.
Wines from the Thracian Valley and specifically Mavrud, have been assessed by sommeliers as the Bulgarian variety with the highest potential for international recognition.
Villa Yustina is one of the hidden winery gems located in the rolling hills of the Thracian Valley.
Offering warm hospitality, we enjoyed exceptional views with mountainous backdrops, traditional gastronomy and wines from indigeneous grape varieties.
Related: Read about Bulgarian Wines from Melnik & The Struma Valley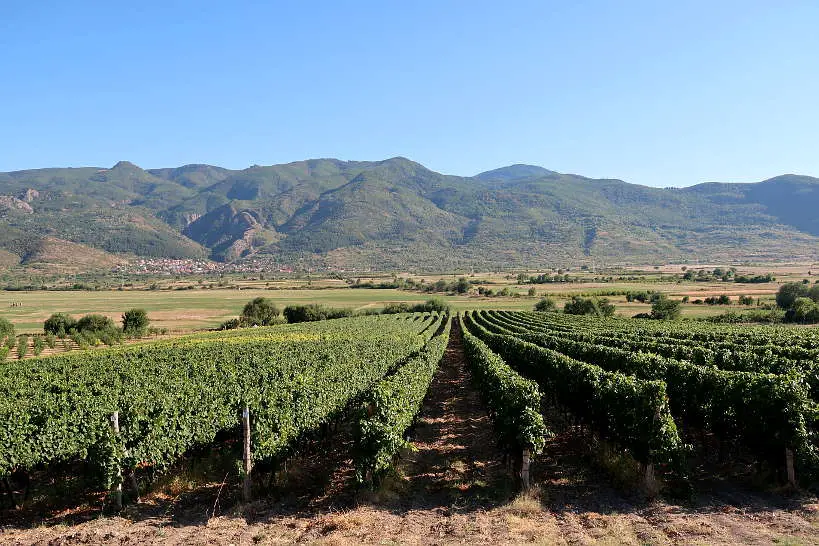 A Warm Welcome to Villa Yustina – A Boutique Winery in The Thracian Valley
Villa Yustina is located at the foothills of the Rhodopes (also spelled Rodopi) Mountains, 26 kilometers outside of Plovdiv in the village of Ustina.
As we pulled into the winery, we were mesmerized by the stunning mountain views as we took in the refreshing afternoon breeze.
Typically in Bulgarian culture, visitors are welcomed with a drink and something little to eat. In keeping with traditions, we stopped at the top of the vineyards for a welcome treat.
Two young girls, dressed in traditional costumes, offered us traditional bread which you break off and dip into either honey or a mix of local herbs called tsubritsa.
Going along with the bread was a sparkling Rosé wine from Villa Yustina, which was dry and refreshing.
This was the perfect welcome to what promised to be a wonderful gastronomic experience.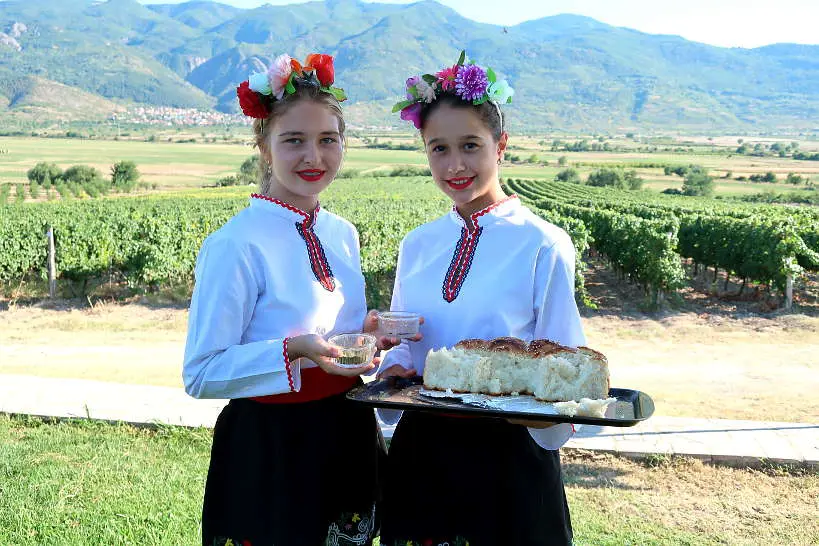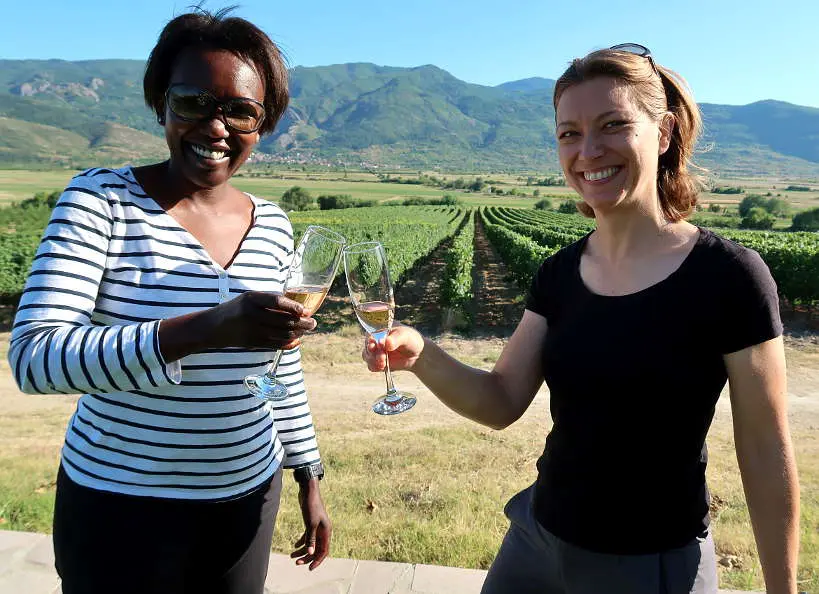 Boer Goat Farm – Agro Yustina
As we made our way down to the winery to start the tour, we made a surprising stop at a goat farm on the Villa Yustina estate.
Boer goats, a South African breed of goats are raised at Villa Yustina.
These goats, we learned, produce meat that is lower in carbohydrates than chicken and has more protein than beef.
This is the only South African goat farm in Bulgaria and the largest in Europe. The goats are raised for their high quality meats, designed to accompany the high quality Villa Yustina wines.
When we learned goat meat was on the menu we couldn't wait to sample the meat from this breed of goats.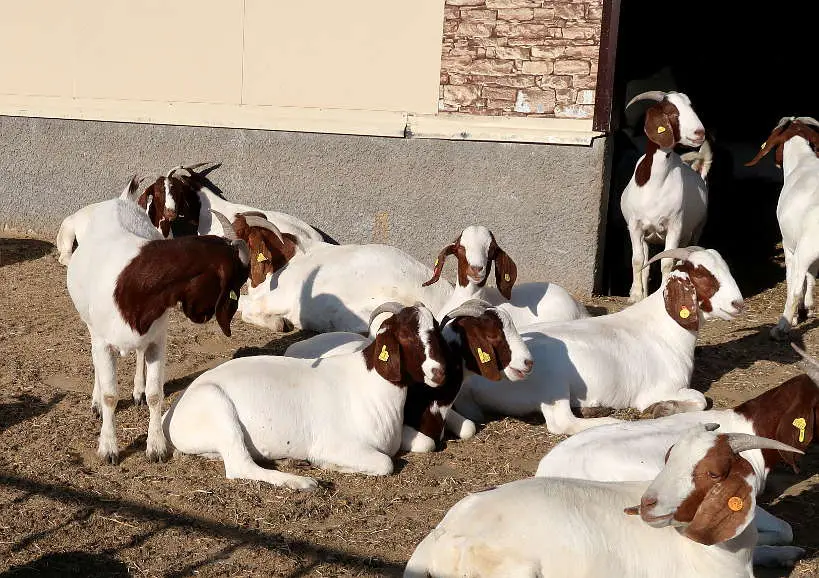 On a quick tour of the goat farm, we learned they were raised in an organic manner, feeding on high quality local grains.
The goats also have massage brushes in each of their sheds providing them the comfort they needed to grow up as happy and well-fed goats.
The facilities were strikingly clean and their goats with their white bodies and distinctive brown heads were as cute as ever.
Surprisingly, within the goat farm were a few llamas. Apparently, the llamas were given as gifts to the owners, and over the years had multiplied.
While they are not eaten for their meat like in Argentina, they are kept on the goat farm as pets.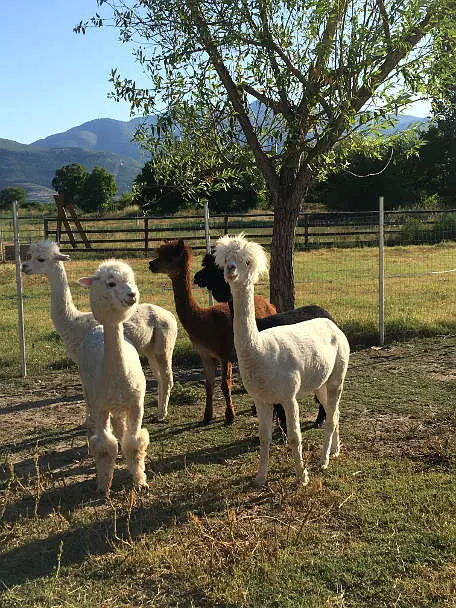 A Tour of Villa Yustina Winery
For an ancient wine region, we were surprised to learn about relatively recent origins of the winery. Villa Yustina was established as an experiment in 2006.
The main business of the winery owner is in the production of stainless steel tanks. He creates stainless steel tanks for the wine, beer, dairy and pharmaceutical industries.
The winery, we learned, started as a showroom for his wine equipment. The wines he had aging in his steel tanks were so good, that he decided to keep producing wines.
The original building that housed the steel tanks was eventually torn down and replaced with a new modern building equipped with the finest equipment. The tasting room was built in 2012.
Harvest was ongoing at the time of our visit and was planned to continue until the middle of October.
Once the grapes are picked, the destemming and sorting of the grapes is done both with machines and manually.
Next, the grapes are fermented in stainless steel tanks of different sizes, for the different grape varieties.
This impressive room looked more like a gallery than a typical wine production room.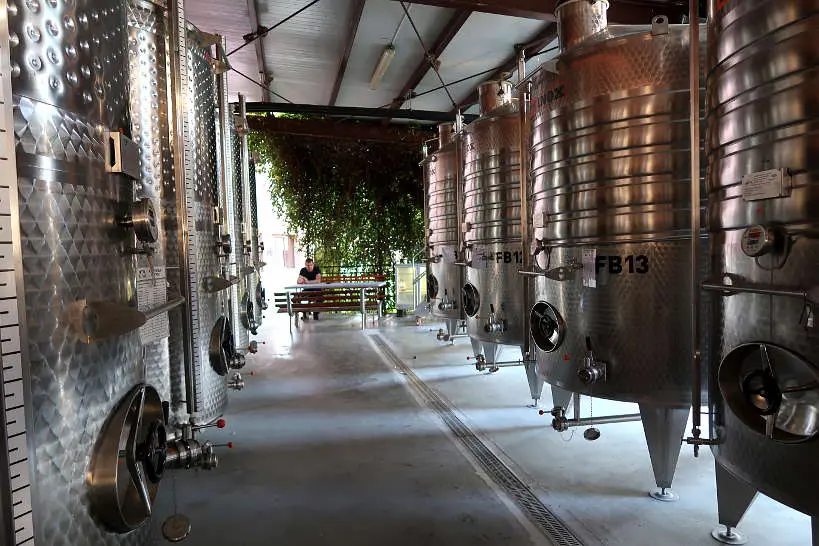 The Wines at Villa Yustina
Villa Yustina produces about 150,000 bottles every year. About 70% – 80% of the wines are sold in Bulgaria and the rest exported. The winery plans to double their production and have more wines available for export.
Villa Yustina produces white wines such as Chardonnay, Sauvignon blanc, Semillon, Aligoté and Gewürztraminer. And, the red wines are Pinot Noir, Merlot, Cabernet Franc, Mavrud and Rubin.
All the wines, fall into three different lines. Villa Yustina, is the baseline brand used for blends with a nice price quality balance. In the middle is the 4Seasons line, the vineyard's terroir line, with blends for Spring, Summer, Autumn and Winter.
The boutique line are the Monogram wines which are made from carefully selected grapes that are barrel aged.
In the cellar, we stopped by the see the French and Bulgarian oak barrels where the Monogram wines were aging to perfection.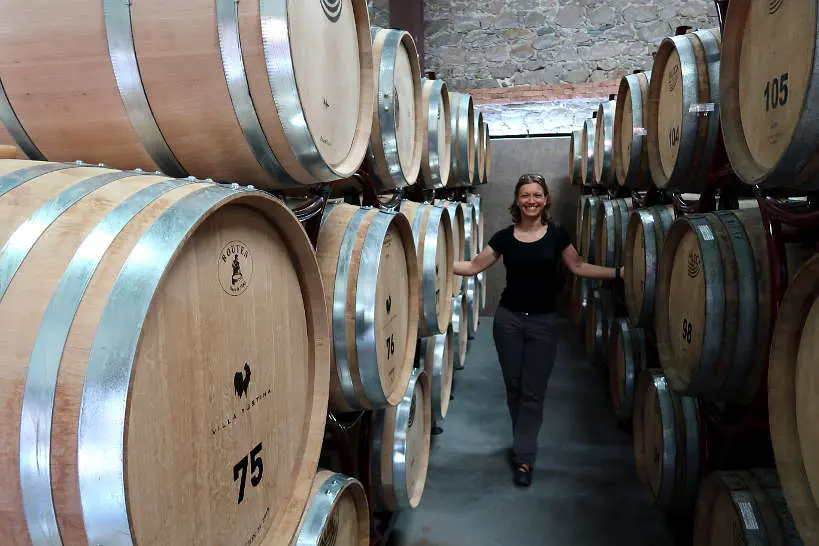 Stay at Villa Yustina: Consider booking a stay at a Villa Yustina guest house on your visit to the winery. The winery offers modern rooms equipped with wi-fi, full kitchens and outdoor barbecue facilities. Enjoy incredible views of the Rhodope Mountains as you hike or cycle in the area. As they say at Villa Yustina, "come as guests and leave as friends".
The Menu At Villa Yustina
After the welcome treats, seeing the goats and touring the winery, we were ready to experience the local gastronomy paired with the different wines.
There were four courses in all. Starting out with from a fresh vegetable salad, two meat courses and to conclude, the dessert.
Carefully selected wines to bring out the flavors and tastes of the food, accompanied each course.
Apart from the salad, all the other dishes were served on a large plates, for sharing amongst groups.
Salad Green Magic to Begin
The fresh flavors of green salad, avocado and dried tomatoes in a light dressing kicked off the dinner experience. All the ingredients were seasonal and locally sourced from nearby producers.
To go with the salad we had a Villa Yustina Blanc 2014, dry white wine. Made with a blend of Chardonnay, Semillon and Sauvignon Blanc grapes, we enjoyed the refreshing wine with a smooth aftertaste.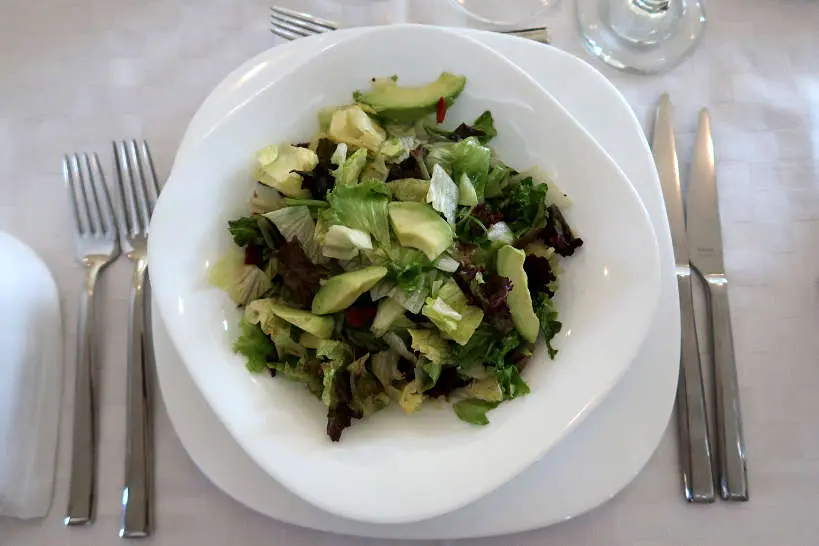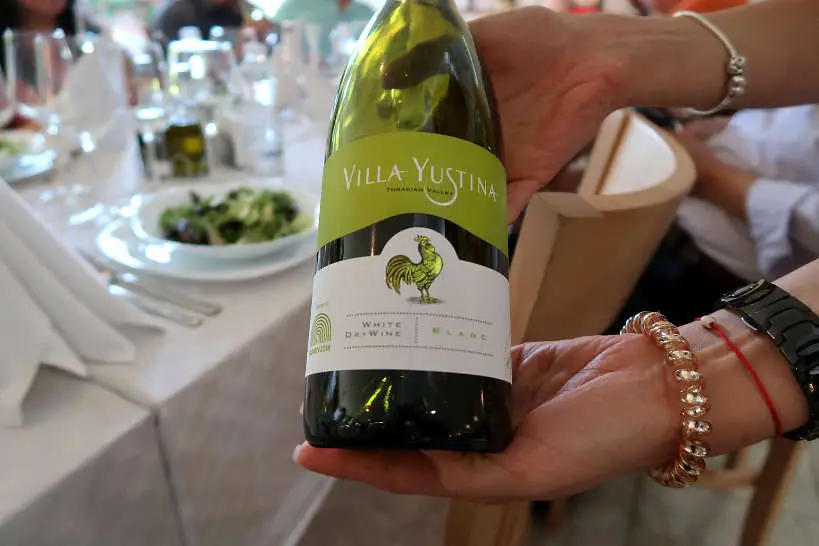 Appetizers & Rosé Wine
The selection of appetizers were some of our favorite menu items. The first was a homemade beef terrine served with crispy bruschetta bread.
Perfectly seasoned, the combination of smooth fresh flavors balanced the crispy texture of the bread.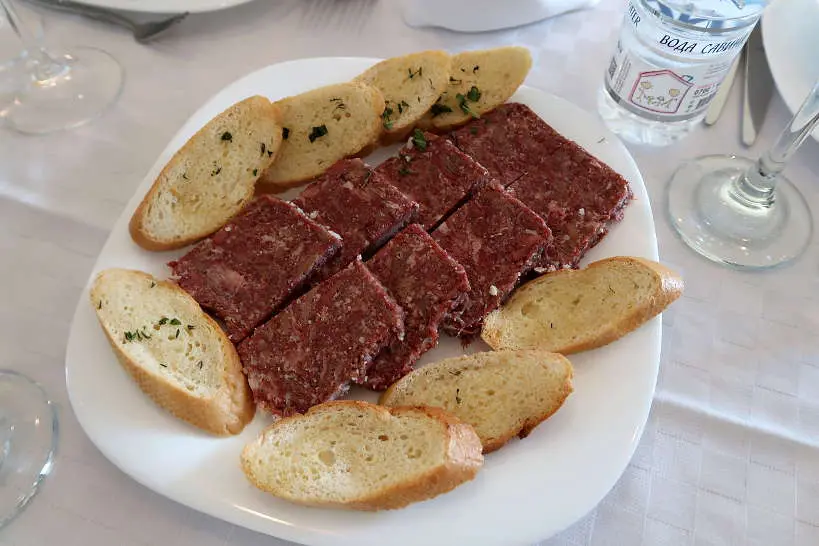 The pieces of stuffed pancakes with vegetables and pesto sauce were hearty and tasty. The tangy pesto flavors combined with seasonal vegetables was simply delightful.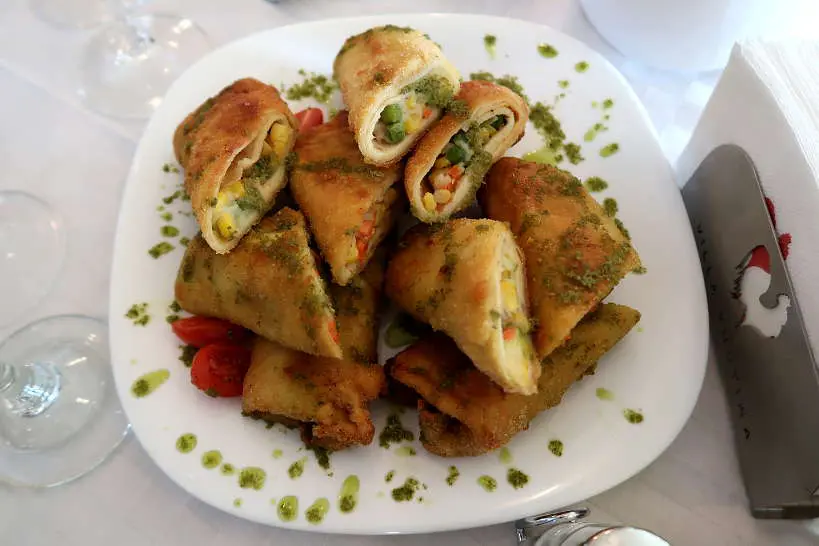 A 2018 Villa Yustina Rosé wine accompanied these appetizers. The Rosé made with a combination of Cabernet Franc and Syrah was easy to drink.
The wine, described as representing the "beauty of Plovdiv" had a berry taste to start and a long aftertaste.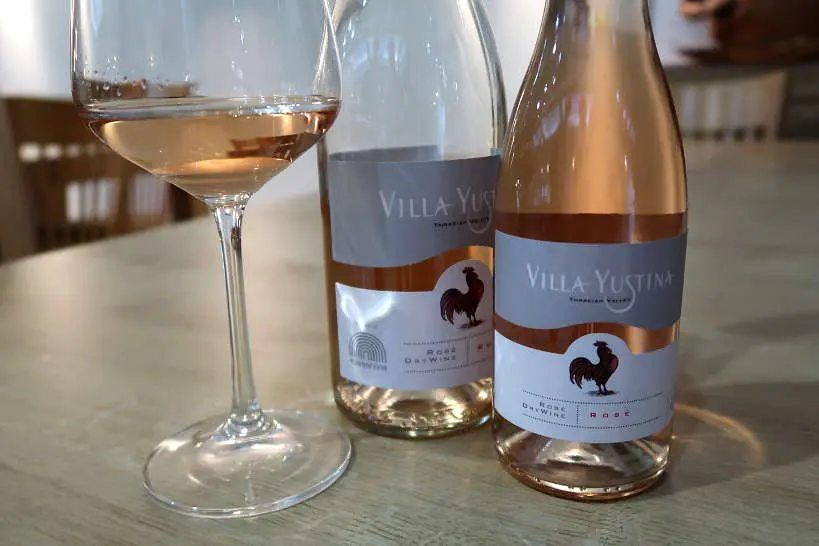 Mavrud Wine and Goat Meat
This was the part of the meal, we could not wait to get to. We had been intrigued earlier by the Boer goat meat and could not wait to taste its flavors.
In addition, tasting Mavrud wine from Plovdiv, its birthplace was something we were looking forward to.
Prior to visiting Plovdiv, we had tasted Mavrud wine at Villa Mevlnik in Melnik, another Bulgarian wine region and loved it. We couldn't wait to taste it from its cradle.
Boer Goat Meat at VillaYustina
In addition to the goat meat, there was also a serving of beef with vegetables and risotto with porcini mushrooms.
While they were all quite tasty, the highlight was the Boer goat meat.
Boer goat meat was described earlier as having meat that was low in carbohydrates and packed with more proteins than beef.
The goat meat was served roasted with herbal potatoes. In this simple preparation manner, all the flavors were given room to shine.
With high expectations we tore into this meat. We were not sure what to expect. In the end, we found the meat lean but not particularly different from other goat meat we've eaten before.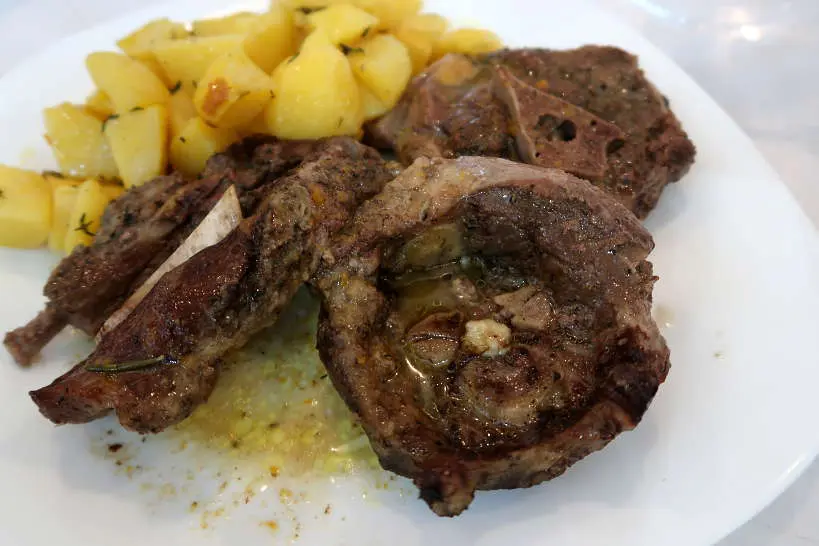 Mavrud Wine – A Journey Back in Time
The Mavrud wine at Villa Yustina is from the exclusive Monogram line of wines. The particular wine we had to along with the meat was the 2018 Monogram wine, a blend of Mavrud 60% and Rubin 40%.
The grapes are two Bulgarian varieties, which have matured in Bulgarian oak barrels for 14 months. This particular wine has won several awards at international wine competitions.
This wine is deep ruby red in color, full bodied with hints of black fruits. We enjoyed the wine and it has the characteristics that make it perfect for going well with meats.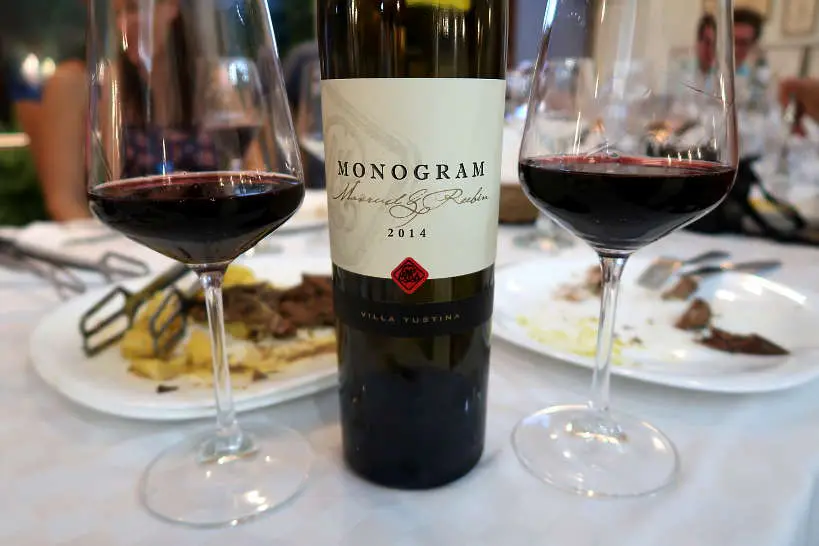 Special Reserve PGI
Along with Villa Yustina grapes for dessert, we ended the wine and gastronomy experience with a glass of Villa Yustina Special Reserve wine.
This is a signature wine of the winemaker and it is composed of Merlot, Cabernet Sauvignon, Cabernet Franc, and Pinot Noir grapes.
We savored the rich dark flavors in each glass. This signature wine is the winemakers blend made with love and patience and those characteristics were evident in this fine wine.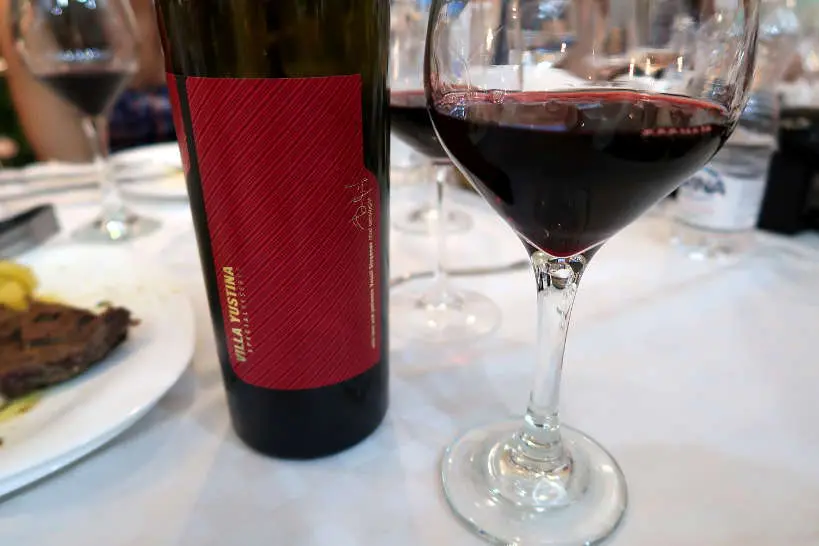 In Summary
Wine has always been a part of the local culture in Plovdiv.
And, as Plovdiv celebrates its status as the 2019 European Capital of Culture (alongside Matera, Italy), this tradition must be honored.
Villa Yustina in the Thracian Valley is a wonderful place to experience the Bulgarian wines and local gastronomy.
As the year comes to an end, Plovdiv 2019 still has a range of festivities available.
Find a number of theatrical performances, Plovdiv Jazz Fest, Urban Games and much more. Visit Plovdiv2019 for more information.
Visiting Villa Yustina
Address: Villa Yustina Winery, Ustina Village, 51 Nikola Petkov Street
Hours: The winery is open everyday and tours are offered from 10:00 am to 4:00pm.
Advanced reservations for tours and wine tastings are recommended.
Tours and Tasting: Three different wine packages ranging from 7,67€ to 23,10€ are available. Additionally, three or four course meals can also be added to your wine tasting experience. Contact Villa Yustina Winery here to see the different packages and make your booking.
Accomodations:
After your wine tasting experiences, consider spending a night or two at Villa Yustina guesthouses. Avoid the drive and fully immerse yourself in the Villa Yustina wines.
How to Get to Villa Yustina and the Thracian Valley
From Plovdiv Airport
If you are coming directly from Plovdiv airport, the easiest way to get to Villa Yustina is to rent a car.
At Plovdiv airport, there are several rental cars to choose from. The drive from Plovdiv airport takes about 40mins driving on well maintained local roads for most of the time.
For the best car rental rates, we recommend checking RentalCars.com which aggregates the best deals across multiple providers.
From Plovdiv Center
If you are already staying in Plovdiv, you can get to Villa Yustina by renting a car from downtown. You can easily get to any location downtown using the local taxi.
We recommend the application Taxi Me to call taxis which ensure that your rate is accurate.
Authentic Food Quest Tip: Alternatively, you can also join a wine tasting tour and visit Villa Yustina and two other Thracian Valley wineries. During this full day tour, you learn about Bulgarian winemaking, sample the local wines and enjoy traditional Bulgarian lunch.
From Sofia
If you visiting Sofia and are on a tight schedule, we recommend taking this wine tasting tour to Plovdiv to visit the region and taste the local wines.
With transport provided, you'll first visit Plovdiv Old town. Then you will explore the town Perushtitsa and The Red Church, some of the most remarkable monuments of Early Christian architecture.
Before heading back to Sofia, you stop at Villa Yustina winery and taste the Bulgarian local wines.
Love it? Pin it!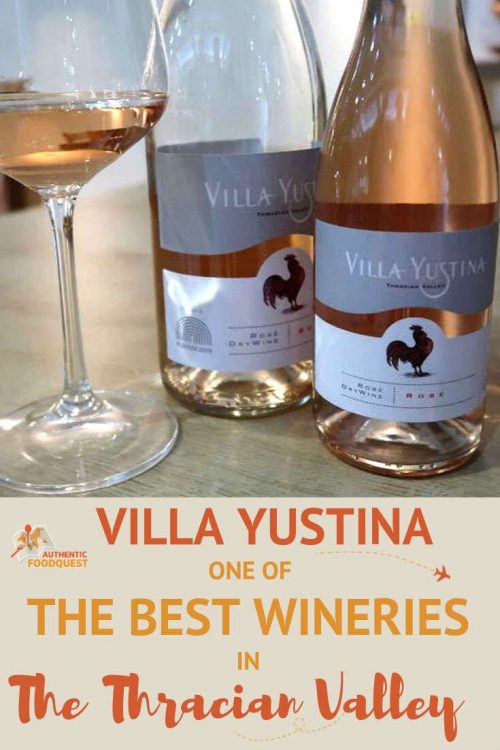 Special thanks to Plovdiv2019 for having us on this Summer Press Trip. All views and opinions expressed are our own. Full bellies and happy taste buds too!
Disclaimer: This page contains affiliate links. That means at no extra charge to you, we earn a small commission when you purchase using these links. Thank you for your support.
Rosemary is the editor-in-chief and strategist at Authentic Food Quest.
Traveling slow since 2015 with her partner, Claire, she has explored the cuisine in 45 countries and more than 240+ culinary cities.
Her writing about local food specialties has been featured in Lonely Planet, Business Insider, Honest Cooking, Food Insider, and Huffington Post.
As a food and travel writer, Rosemary has co-authored three books, including one in collaboration with Costa Brava Tourism.
Rosemary is an avid runner when she's not eating and exploring new destinations. She has run ten marathons and counting.
Before Authentic Food Quest, Rosemary held senior-level strategy positions in advertising. 
Find out more about Authentic Food Quest