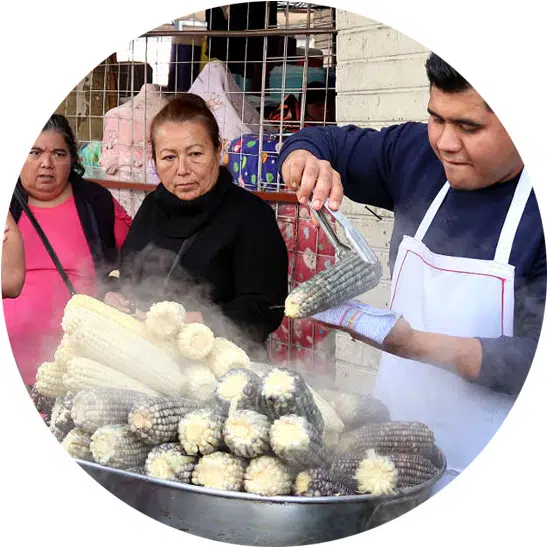 At Authentic Food Quest, we believe
eating local food is one of the best ways
to discover local cultures.

And, we want to help you do that.

Our mission is to help you savor the best
local flavors on your travels or in your
home kitchen.
Slow Immersive Travel To
The Heart of Food Stories
At Authentic Food Quest, we travel slow, spending anywhere from 1,3, or 6 months at a destination exploring the local specialties. In each city, we stay where the locals stay and eat where the locals eat. Taking cooking classes, food & wine tours, exploring the local markets and food stores we go deep into the local food culture.
By meeting local artisans and connecting with local food experts we learn the rich context and cultural significance of the food specialties. And from these meaningful experiences, we create informative and original authentic food guides along with simple traditional recipes to help you savor the local flavors.
If you believe, as we do, that local food can transform and connect us in meaningful ways, then stick around.
Food is Language of Connection
Whether you are experimenting and trying new traditional recipes in your kitchen, traveling to a new destination, or simply curious about food from around the world, start here for what and where to eat

With our in-depth local food guides along with simple recipes of emblematic national foods, you'll connect with people, places, and culture at a more authentic level.
On the Authentic Food Quest website, you'll find tips, stories, and inspiration to help you explore the local flavors.
You'll be empowered to go beyond your comfort zone as you plan your culinary adventures and savor recipes from around the world.
Our genuine and heartfelt stories will open you up to new flavors and tastes while connecting you to people and place.
You'll also find product reviews and tips in the Food Traveler Tips section. Along with our growing list of favorite international cookbooks from around the world.
Want to know more about us?
Interested in working with us?
Join Our Community of
Food and Travel Lovers
Thank You for
Stopping By
Whether you are new to Authentic Food Quest or a returning reader, we are glad you are here.
Your support keeps this website running and fuels our desire to keep bringing you the best food destinations and local recipes.
We welcome you virtually and look forward to meeting you in person and sharing a meal somewhere around the world.
Savor the Adventure!
Rosemary and Claire
The culinary explorers behind Authentic Food Quest
What Readers Are Saying

"This was another fantastic article. Thank you! We have visited Greece multiple times and as sailors, have also sailed around the islands quite a bit. We had a short but lovely stop-over on Crete (Chania) on a cruise liner and vowed to return for a longer visit. To rent a car and drive around for a week to ten days. We are very interested in wine and your article has really aroused our wish to return to Crete and tour around and learn a bit more about the wines. Thank you once again for a super article.
– Gerard

"This is truly the best and most comprehensive review of Oaxacan cuisine I have come across. I am sitting in a Cafe in Oaxaca and googled the word "Ejuteca" which I saw on the menu and didn't know what it meant. Well, I am so glad I did because your article came up and I read through all of it and took plenty of notes of all the places I must visit and food and drinks I'd love to try. Muchas gracias!"
– Nilos

"I did not have any idea of simplicity becoming deliciousness until making this Chocotorta no-bake jewel. Frankly saying, the "dulce de leche" combined with Nutella on top gave me goosebumps about an excess of sweetness. But following your recipe (plus some freedom of selection on my side) I had my family and friends enjoying a perfect dessert while filling my ears with cheers. No doubt, I will make it again and again and again. Thanks for your inspirational guidance!"
– Marcos

"Love what you two ladies are doing. I'm currently looking at organizing a foodie tour in Indochina in 2 years' time…just for myself and my partner. Having read your stuff on Argentina we were on the right wavelength. I wish I found you before as it would have saved a lot of hassle!
Thanks for all your efforts."

– Sarah