Being such a long stretched out country covering a variety of landscapes, Chile has a vast range of dishes to offer. While the highlights are the seafood, we want to put a spotlight on the  authentic and popular Chilean dishes you will find across the country.
We discovered and wrote about seafood found along the long Pacific Ocean coastline. We wrote about the locos (abalone) and pastel de jaiba (crab pie) we experienced in Santiago at the famous Mercado Central. We then went north to Valparaiso where we discovered city as well as other seafood specialities that we also wrote about here.
The high quality red wine is also something that is not to be missed. Check here for our experiences with the wines of Maipo Valley and here for our impressions of the wines of Maule Valley.
This post however is dedicated to the popular Chilean dishes you will see as you explore the country.
Ready to start eating?
Here are 10 of the most popular Chilean dishes every visitor to Chile should try.

1) Completo
The Completo (Spanish for "complete" or "total") is a hot dog variation eaten in Chile. After seeing it at practically every street corner, we knew we had to try it. It's a huge hot dog (bigger than American ones) with all kinds of trimmings: mayonnaise, tomatoes, onions, pickles, sauerkraut, etc.
While this is one of the most popular ones, an equally popular variation is the Italiano. This is the same hotdog but with fewer trimmings – avocado, tomatoes and mayonnaise.  We were tempted by this option and tried it at the farmers market.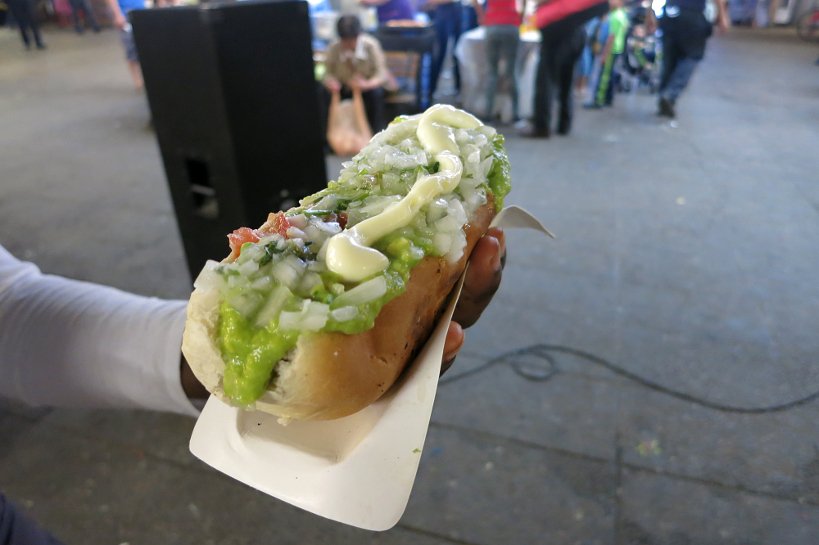 While it was surprising to have a hotdog with mayonnaise, it was actually quite delicious. The hot dog was delicious, the bread was lightly toasted and the tomatoes and avocado were fresh. It's not surprising that it is such a popular common Chilean dish!
2) Pebre (Hot chili pepper sauce)
You will find pebre on any respectable restaurant table. It looks like salsa you would typically find at a Mexican restaurant in the U.S., but it tastes nothing like it. It is a seasoning made with tomatoes at the base and topped off with chopped onions, chili, chives, garlic, coriander, oil and vinegar. It is usually served in a little clay dish and has a nice spicy bite.  It a normally served with warm bread called pan amasado. We tried several versions and the recipe and ingredients change regularly based on the chef and region. Below are some ways we tried this Common chilean dish.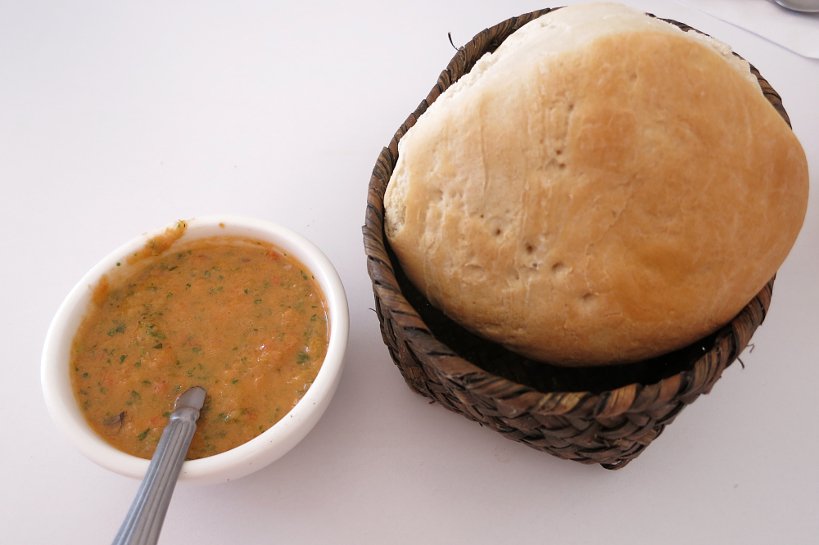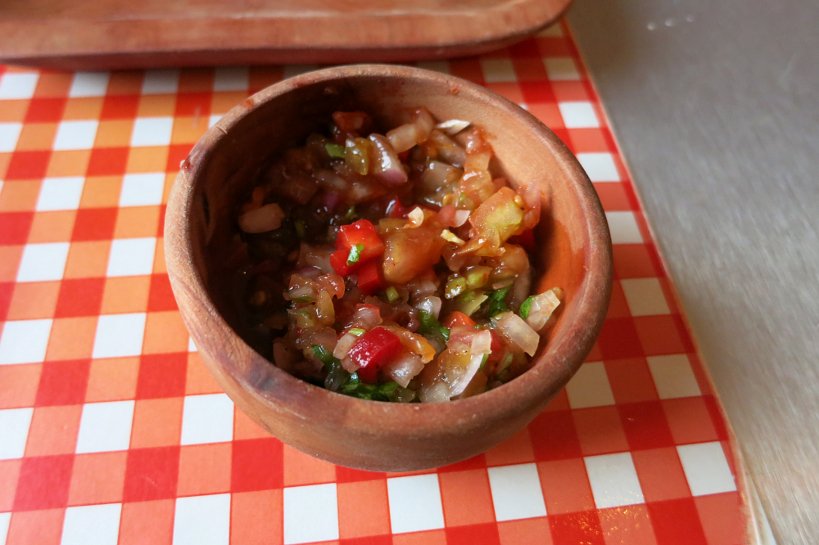 3) Chilean Empanadas
A favorite snack food in Chile, these baked pies or empanadas are available pretty much everywhere. You will not miss them. In Chile the most traditional empanada filling is called pino. Pino is mixture of minced meat, onions, raisins, black olives and hard boiled eggs.
Having enjoyed discovering Argentina through empanadas, we were quite eager to experience the Chilean version. The empanadas in the two countries are completely different. The most obvious difference is the size. In Chile the empanadas are huge. Almost double the size you find in Argentina. The second difference is the shape. In Argentina the empanadas are half-moon shaped, while in Chile they are squared off. Empanadas are typically cooked al horno, which means baked in a wood burning oven, or deep fried.
We tried several empanadas in different cities. We enjoyed the  traditional pino versions which we had al horno. We found the seafood or mariscos empanadas absolutely delicious. These ones were typically fried. And finally, we enjoyed the vegetarian or verdura options as well. All in all, don't expect them to be anything like the ones you would find in Argentina, but they are deserving in their own right.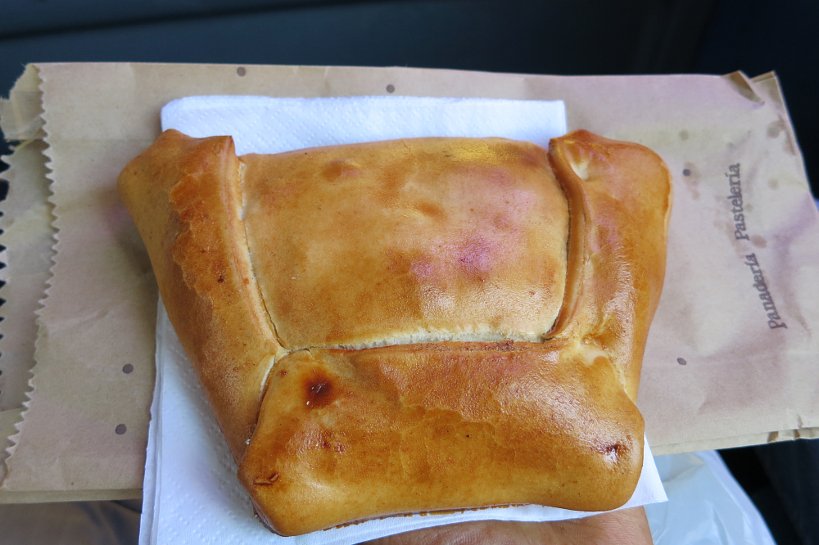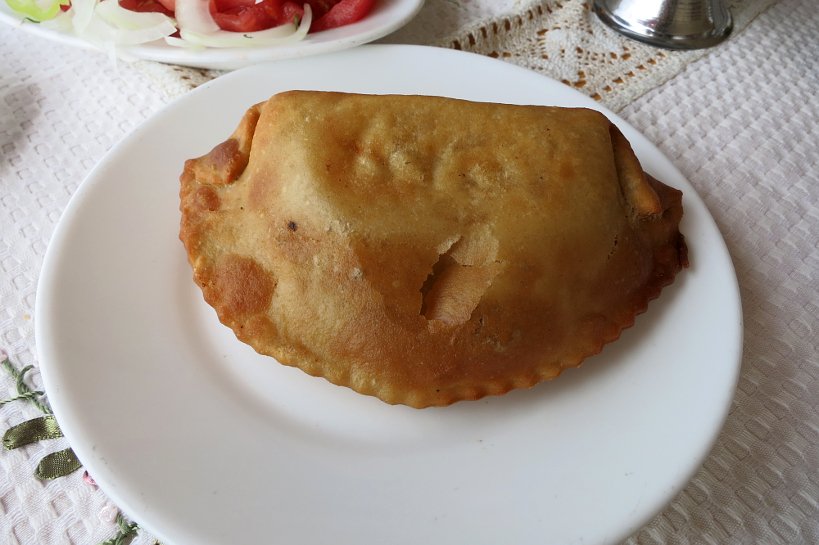 4) Porotos Granados (Fresh beans stew)
Porotos Granados is a traditional Summer dish made when the ingredients are fresh and in season. The main ingredients are beans, mashed corn, onions, pumpkin, garlic, tomatoes and basil. It is a time consuming meal to make (beans are soaked overnight) and may not be easy to find. We had the opportunity to have it with our Airbnb host in Talca (South of Santiago) who made it especially for us.  
It is a thick delicious stew that we really enjoyed. Everything tasted fresh, though it's a little counter-intuitive to eat this hot stew on a hot Summer days. Nevertheless, when you find yourself in Chile, in the Summer when the beans are in season, go for the beans, you will not regret it.
5) Pastel de Choclo y Humitas (Corn and beef casserole and Humitas)
Pastel de Choclo and Humitas are both corn based dishes. We saw these dishes all over in Santiago and especially at the farmers markets. Both Claire and I are not big fans of corn, and knowing that these common Chilean specialities are made with corn, we decided to try the Pastel de Choclo and not the Humitas.
Pastel de Choclo is like a corn pie made with sweet corn or choclo the quechua word for "tender corn" or new corn of the season. It's filling is called pino (like the one used in empanadas) and it has garlic, onion, minced meat, hard boiled eggs and olives. We had the version that also had boiled chicken included.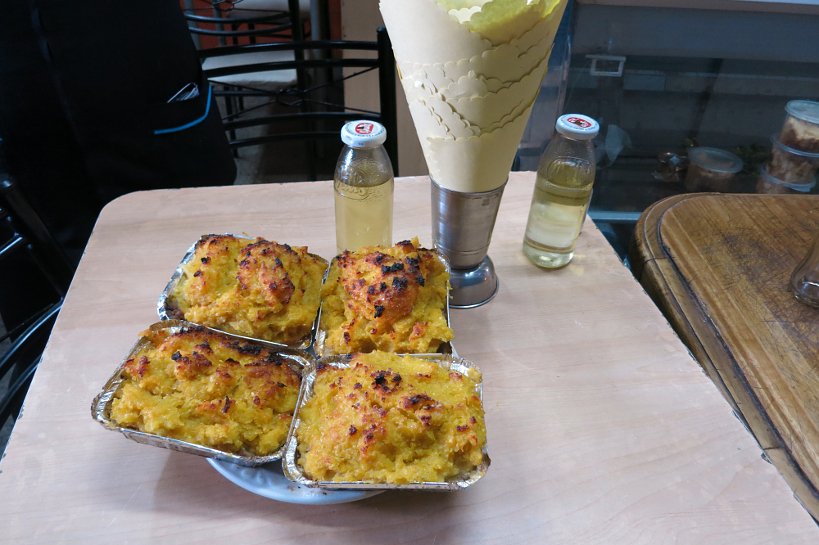 We ordered the dish from the market to eat at home for dinner and eagerly anticipated the meal. Given that we are not big fans of corn, let alone sweet corn, so we honestly did not enjoy the dish at all. The combination of the sweet corn and salty ingredients, plus the meat and chicken did not make for a delicious experience. However given that Pastel de Choclo and Humitas are common Chilean dishes we recommend that you at least try one of them or the both of them.
6) Churrasco and Chacarero (Chilean Steak Sandwiches)
Churrasco and Chacarero are popular Chilean steak sandwiches served all day long. These sandwiches come with the same base ingredients. There is a thin slice of sirloin steak called churrasco cooked a la plancha and two slices of flat bread called pan amasado.
The Churrasco sandwich is comes in different options: either with avocado (con palta), with tomatoes (con tomates),  or completo which means with the full ingredients: tomatoes, avocado, and mayonnaise.
The Chacarero, on the other hand comes with green beans, tomatoes, and aji verde or green pepper.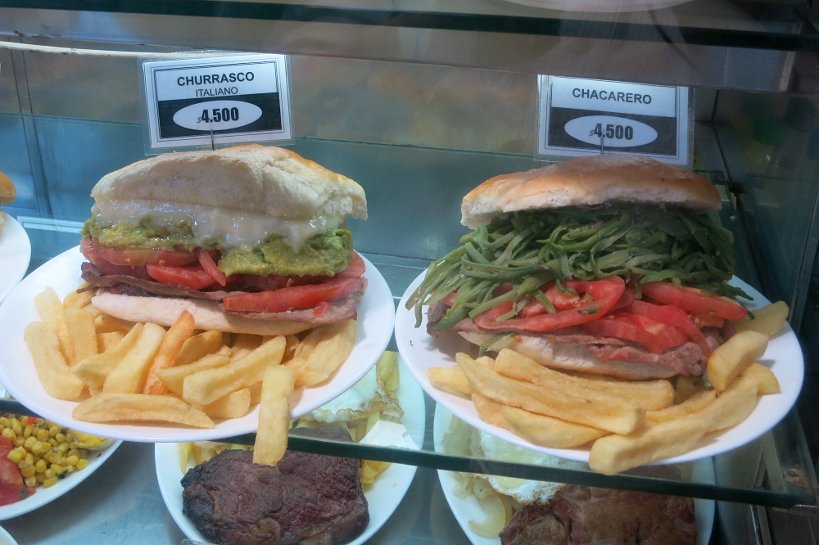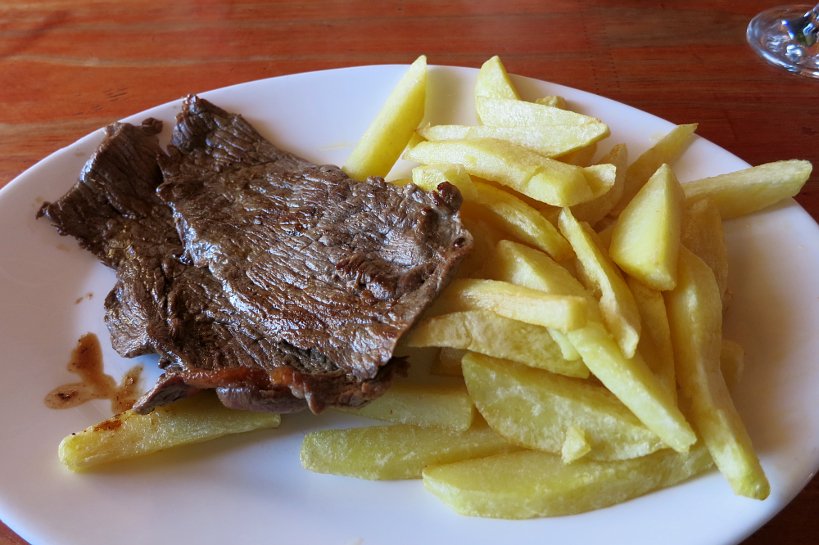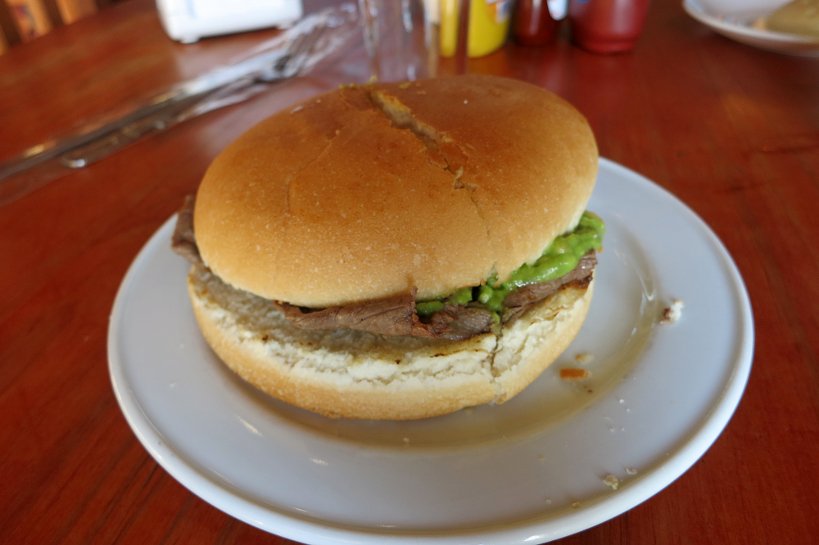 We had Churrasco sandwich and Churrasco meal as a dish a few times on the road and at corner restaurants.  We didn't have the chance to try the Chacarero. We really enjoyed the Churrasco sandwich for its freshness and its flavorful ingredients. The thin slice of steak is delicious and flavorful. The bread is not too doughy and very tasty. The avocado is fresh and works really well with the steak.
7) Sopaipillas (Pumpkin fritters)
Sopaipillas are simple flat breads that are fried. They are made from a mixture of pumpkins, butter and flour, flattened into circles. They are a popular street food and are found all over the country. They are a versatile snack that can be eaten sweet or savory.  The most popular way we saw it eaten was savory. It was usually at the end of the day topped with either pebre or mustard and ketchup.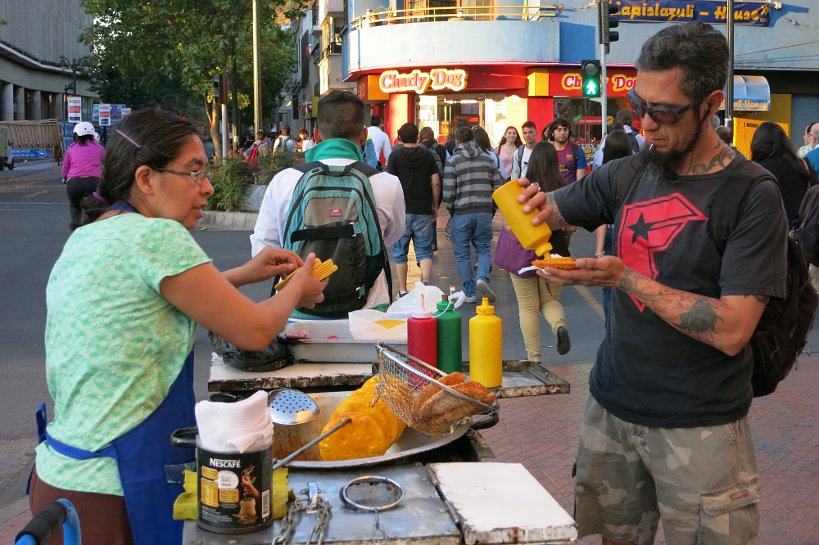 We tried the sopaipillas with pebre and immediately fell in love with them. The pumpkin flour is filling and gives them a really unique taste. Together with the pebre, this is a perfect pair that must be experienced.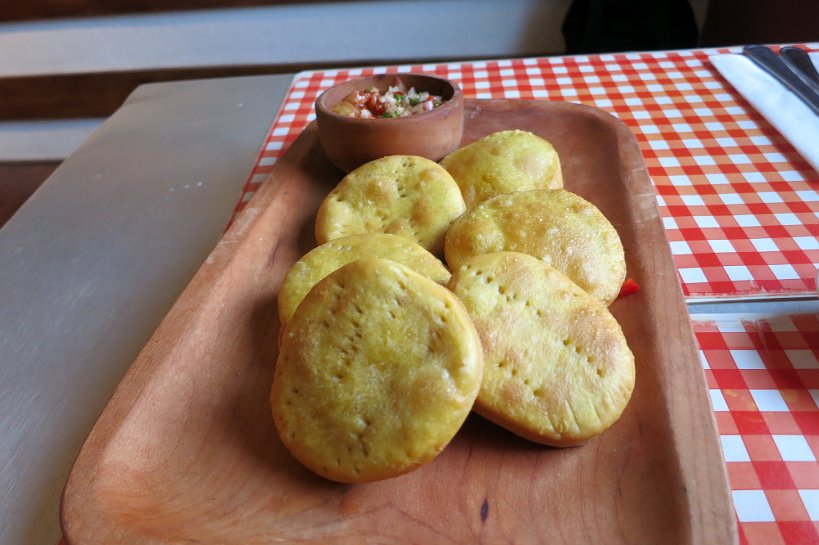 9) Lomo a lo pobre (Poor man's steak)
Many Chilean dishes carry the term "a lo pobre" which literally means "of the poor". It is not clear where the name comes from. Today the term "a lo pobre" indicates a dish made with fried eggs. The lomo a lo pobre consists of a cut of beef tenderloin with fries, a fried egg, and onions. It is sometime called bife a lo pobre. There are several versions of the dish such as: lomito a lo pobre (made with pork meat), pollo a lo pobre (made with chicken meat) or churrasco a lo pobre (made with thin slice of sirloin as seen in #6).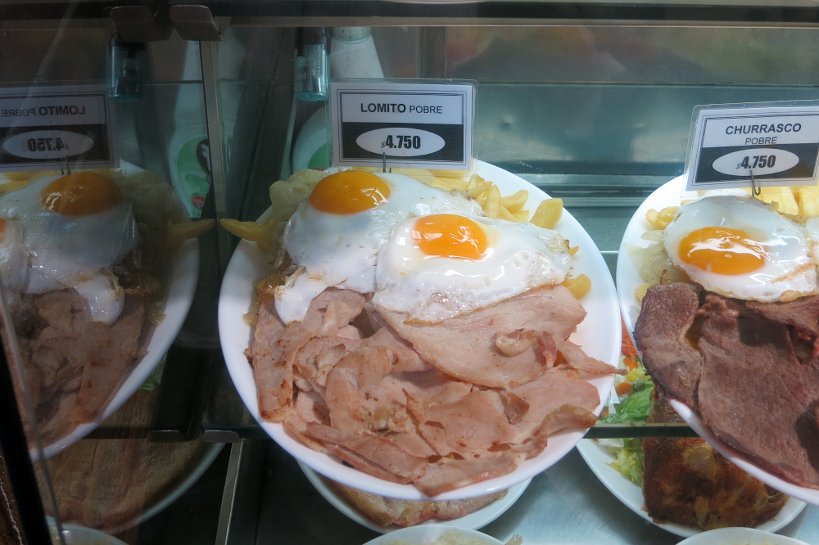 Although we tried lomo at a parilla (BBQ restaurant) in Talca, we refrained from trying the lomo a la pobre for its high calories and poor nutritious content. It is very similar to the Chivito that we enjoyed in Uruguay. One thing we would say though is that overall in Chile, the potatoes even fried are delicious and flavorful. The red meat is also very tasty. All in all not a bad option if you want to try one of the most popular Chilean dishes.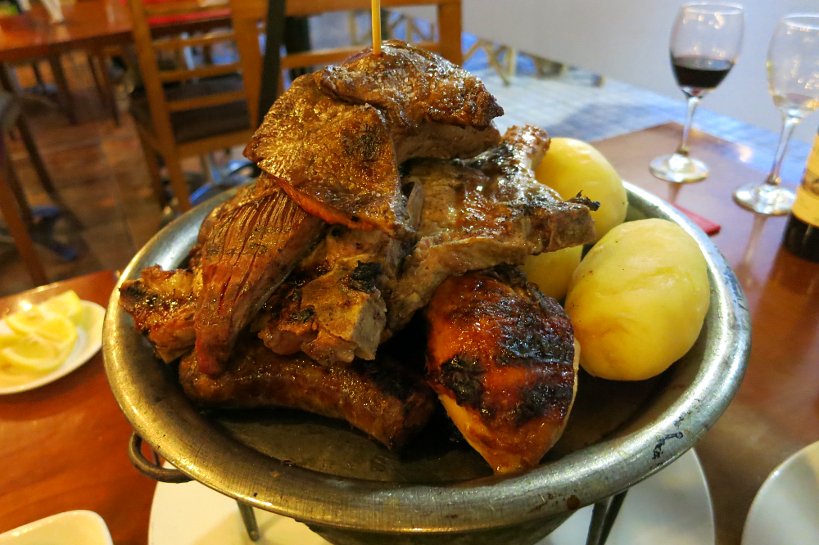 9) Cazuelas – Vacuno (beef)  or Seafood (mariscos)
Cazuelas are basically soups or stews. It is home-cooked nourishing, inexpensive, everyday comfort food. Cazuelas or stews are part of the national Chilean spirit. These Chilean dishes are simple and come in many variations. They start with beef, pork, lamb or chicken (preferably with bone and meat) and are simmered in water or broth with garlic, onion, oregano, paprika. When tender, seasonal vegetables are added. This includes potatoes, corn on the cob, pumpkins, onions and other vegetables.
The seafood or mariscos cazuelas are just as simple. Made with assorted seafood: clams, shrimps, oysters and then cooked with seasonal vegetables.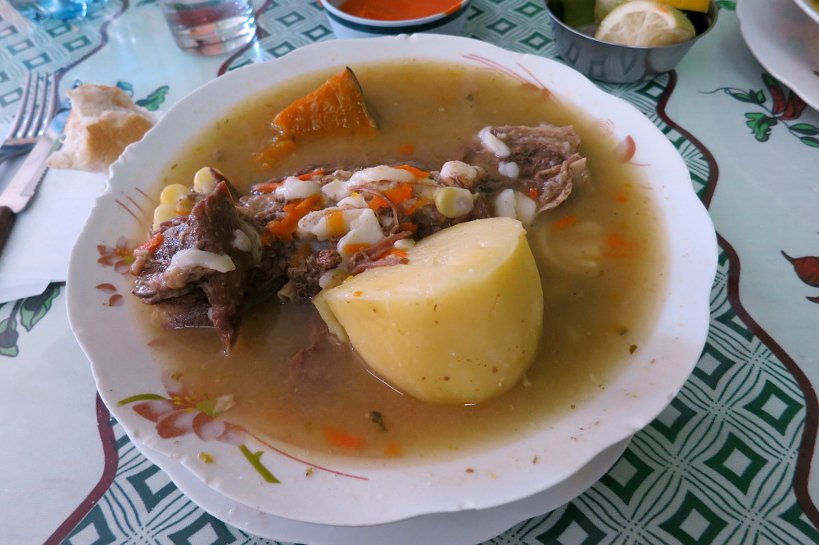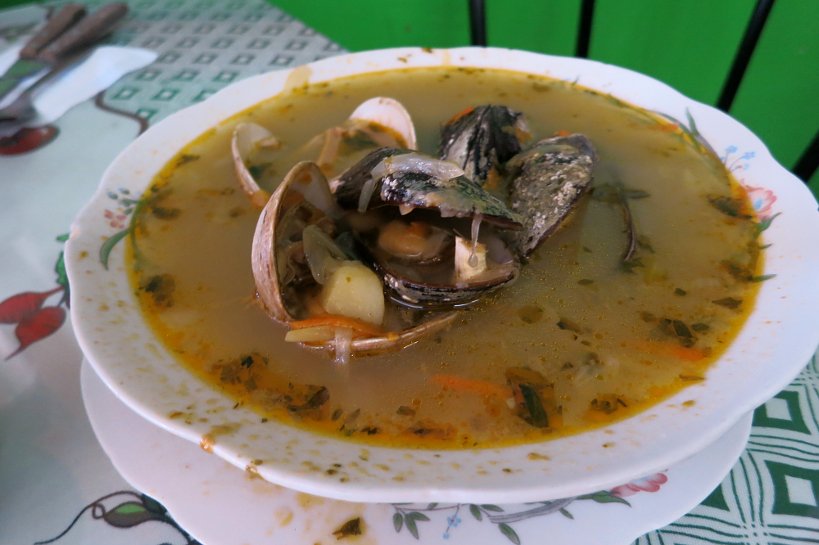 We tried both the beef (vacuno) and seafood (marisco) cazuelas and we really enjoyed them both.  We enjoyed the simplicity of the dishes. Just the meat, poultry or fish and fresh vegetables in rich flavors. Simple and delicious. Be aware that may not find always cazuelas at elegant restaurants, but they will be on every menu at corner restaurants or cafe. The cazuelas are a "sure thing", try them out and you will not be disappointed.
10) Chorillana
This popular Chilean favorite consists of a large plate of sliced beef with french fries covered with either scrambled or fried eggs and fried onions. It is a typical dish from Valparaiso, and many say "it is not to be missed".  It is not fancy or exotic and is typically served with beers. The servings are huge and it is meant to be shared.
To be honest, this is one of the popular Chilean dishes that did not tempt us as at all. Looking at this huge plate (mess) of fries topped eggs and onions was not tempting.There was nothing particularly healthy about it and the high calories were off-putting. While we are very familiar with all of these ingredients separately – fries, onions, and eggs we didn't have "the stomach courage" to try them together.

In Summary
Chile has a lot to offer in terms of food and wine. If you've never considered Chilean food before, this is an invitation to put Chilean cuisine on your radar. Here we have highlighted 10 popular Chilean dishes that we saw everywhere including those we tried. Note, this is not an exhaustive list, there are other Chilean dishes that exist as well.
In addition to the food, Chile is a beautiful country to explore. The landscapes and sights are diverse and this list of the 15 best places to visit in Chile give you a great starting point.
Regardless of which part of Chile you visit, give the local Chilean cuisine a chance. See our previous articles about discovering Chilean seafood and Chilean wine, and do indulge in many of these popular Chilean dishes.  Up next, the Atacama desert. Read on and see what food we discover in the driest desert in the world.
Find out What kind of food traveler are you? Take our quiz and get your food traveler profile in minutes!
Savor The Adventure!