This article has links to products and services we recommend, which we may make a commission from.
Ready to be surprised by unusual Amazonian fruits?
Think all exotic fruits are sweet and juicy? Think again!
One of the joys of traveling is experiencing new and unusual local foods.
 As culinary explorers in search of authentic foods, one of the best places to start is often at the farmers markets.
While in South America exploring and highlighting the local and authentic foods we thought we had seen all the diverse exotic fruits possible. That's until we got to Peru.
The Peruvian amazon rainforest makes up about 60% of Peru. And, the country has the 2nd largest portion of the Amazon rainforest.
With this unique diversity, many fruits in Peru come directly from the Amazon rainforest.
Here are 10 of the strangest Amazonian fruits worth trying from the Peruvian amazon jungle.

1. Pitahaya or Dragon Fruit
Dragon fruit, also spelled pitahaya or pitaya, was our favorite amazonian fruit in Peru.
This fruit is considered a superfruit due to its incredible health benefits. It is known to be rich in Vitamin C, B1, B2 and B3 as well as iron, calcium and phosphorus.
The sweet and delicious flavor is similar to a kiwi, but more watery. It has black seeds on the inside which are edible.
Even though pitahaya is indigenous to the Peruvian Amazon rainforest. We also came across the fruit while traveling through Vietnam. 
The dragon fruit in Asia tends to have a red scaly skin, with white or red flesh on the inside. Whereas, in Peru, we found unusual colors like yellow scaly skin and white flesh inside.
In recent years, especially in the US, dragon fruit has grown in popularity due to all the health benefits.
If you are curious, there is a good chance you can find the fruits at the nearest Asian store in your area.
Alternatively, you can try pitaya powder and add it to smoothies, beverages or even bake with it.
READ RELATED: 9 Authentic Dishes Not To Miss in South America
2. Pacay or Ice Cream Bean Fruit
This unusual fruit from the rainforest resembles a humongous green bean. Pacay is also called ice-cream bean due to its sweet flavor and smooth texture. 
The inside looks like cotton puff balls. And, although the pods are long, there is not much to eat inside once the seeds are taken out.
What you eat is the white flesh which is quite sweet and chewy. Pacay is actually described as a legume although the white flesh is eaten as a fruit. 
This amazonian fruit provides dietary fiber which helps with getting rid of cholesterol and fat. 
3. Cocona – Amazon Tomato
Cocona is native to the Peruvian amazon rainforest and is also found in the Andes region.
The cocona fruit is a colorful yellow, orange or red fruit about the size of a small red pepper. Once you cut open the fruit, the pulp is yellow and the seeds can be eaten as well.
In Peru, this amazonian fruit is also referred to as "tomate amazonico." It is quite bitter and we didn't enjoy it as a fruit.
Typically, this jungle fruit is used to prepare drinks and we did enjoy it as a refreshing sweet juice.
This exotic fruit is also added to salads. We had it chopped up and mixed into a very traditional Amazonian salsa dip accompanied with banana plantain chips.
The Cocona fruit is known to be very rich in iron and Vitamin B5.
4. Camu Camu – Fruit With the Highest Vitamin C Intake in the World
Camu Camu is native to the Amazon rainforest in Peru, growing along the riverbanks.
This amazonian fruit is famous for its extraordinarily high Vitamin C.
It is known to have the highest natural Vitamin C content, up to 60 times more vitamin C than an orange.
We learned about this 'superfood' at El Bijao, an excellent Amazon restaurant in Lima, Peru.
The small fruits about the size of grapes, are typically not eaten as they are quite tart, like a bitter lime.
The fruits are typically red or green in color and are crushed to make juice. The Camu Camu juice we had at El Bijao was citrusy and very tasty.
In addition to Peru, the Amazon rainforest is also found in Brazil, Colombia, and Venezuela. In all these countries, the fruit is also consumed for the incredible range of health benefits.
Finding Camu Camu fruit outside of Peru and in other countries can be difficult. As a result, Camu Camu is often exported in powder format and used in smoothies, shakes, yogurt, and more.
READ MORE: Surprising Amazon Food From The Peruvian Jungle That Will Delight You
5. Cacao Fruit
The cacao tree is endemic to the Amazon jungle and the oldest recorded ancient tree was rediscovered in Peru in 2007.
The debate about whether chocolate originated in present-day Mexico and Central America was put to rest with the discovery of the Pure Nacional Cacao tree in Peru.
The Mayans and Aztecs made bitter drinks used in religious ceremonies with cacao and considered it the drink of the God.
While the ancient Incas in Peru are thought not to have consumed this jungle fruit as widely.
The cacao is a fruit which grows on trees. The fruits of the cacao tree are called cacao pods which contain cocoa beans that are the basis of chocolate.
Considered a 'superfood' cacao is a rich source of antioxidants. It also contains a high level of flavonoids, which may have beneficial cardiovascular effects on health.
We saw cacao pods at the Surquillo farmers market in Lima. Even though we didn't try to eat the beans, we happily devoured delicious Peruvian chocolate. 
In Argentina, we enjoyed chocolate in Bariloche, which is considered Argentina's chocolate capital. However,  the chocolate in Peru was some of the best we had in South America.
6. Peruvian Maracuyá or Passion Fruit 
The maracuya is in the same family as a passion fruit or granadilla which are typically sweet.
The variety found in Peru have much more intense flavors. Peruvian maracuya are much more sour and typically never eaten plain.
After enjoying maracuya juice on several occasions, we were eager to try this amazonian fruit.
Not knowing the fruits are sour, we bought a couple and were intrigued by their yellow and blackish firm outer shell.
Once we cut the Maracuya in half and discovered its seedy yellow core, we dug in. We were shocked and surprised by how tart the taste was.
They are lip-puckering refreshing though best enjoyed when mixed with pineapple juice or Pisco Sour.
In fact, one of the most popular alcoholic beverages is the Maracuya Pisco Sour, a variation of the traditional Peruvian Pisco Sour.
This Amazonian fruit is highly nutritions. On their own, Peruvian maracuya jungle fruits are high in vitamin C and B, fibers, iron and phosphorus.
READ RELATED: 10 Authentic Peruvian Drinks You Will Absolutely Love
7. Mamey Sapote – An Intriguing Jungle Fruit
We discovered the Mamey Sapote fruit by chance. We were walking in downtown Lima on our way to explore Barrio Chino or Lima's Chinatown.
On our way, we stumbled onto this young vendor named Juan. He was selling this exotic and unusual fruit we had never seen before.
From a distance it looked like a melon. Though as we got closer, we learned it was an amazonian fruit called Mamey Sapote.
We bought one and tasted it a few days later. Cutting into it we found a large brown seed and orange flesh on the inside. 
The taste was mild, similar to a sweet pumpkin. And, the texture was firm but not crunchy.
While we enjoyed eating the fruit raw, it is better enjoyed when made into dessert or ice cream.
Full of health benefits, mamey sapote is an excellent source of Vitamin B, C, B6, E and manganese, potassium and dietary fiber.
You can also find Mamey Sapote spelled as "Mamey Zapote." 
READ RELATED: 10 of the Most Authentic Peruvian Desserts You Want to Know
8. Aguaje – A Woman's Miracle Fruit of the Amazon
"This is for women, you have to drink this," we were told at El Bijao, the Amazon restaurant in Lima. The owner excitedly told us about the benefits of the fruit in balancing female hormones.
Later, while visiting the local farmers markets in Lima, we stumbled onto the fruit again and heard a similar message from the vendor.
Pronounced "ah – gua – hay", the aguaje fruit comes from the Moriche palm trees, found in the Amazon rainforest.
The outer skin of the fruit is a dark reddish color with a scaly texture. Once you peel it you discover a yellow flesh on the inside surrounding a large hard nut.
We tried the yellow flesh raw but found it bitter and not very tasty. Typically, aguaje is consumed as juices, ice cream or desserts.
The Aguajina juice we had was rich and oily in texture and not overly sweet.
Aguaje, is described as a miracle fruit for women due to its content of "phyto-hormones" which mimic oestrogen. It balances hormones naturally and is said to reduce the symptoms of menopause.
It is also the most concentrated source of vitamin A or beta carotene, as it contains up to 10 times more beta carotene than carrots. 
In the Peruvian Amazon jungle, there are several varieties of this exotic fruit and different names in the local dialects. This unusual looking amazonian fruit is worth seeking out in Peru.
9. Tumbo or Banana Passion Fruit
Tumbo, also known as banana passion fruit is a relative of the passion fruit. The jungle fruit grows in the Andean valley and South American Amazon rainforest.
Hiding in between mango and cherimoya fruits, this tubular fruit, yellow in color caught our attention at a Lima market.
The shape is similar to a short banana with rounded ends. The flesh on the inside is orange in color and similar to that of a passion fruit.
When we first tasted it, we were surprised by how acidic and tart it was. We later learned it is typically not eaten raw but mixed into beverages, jams and ice cream.
Nevertheless, this Amazonian fruit is rich in vitamins and nutrients.
Tumbo is high in natural antioxidants, and a rich source of Vitamin C and  minerals like calcium and phosphorus.
 READ RELATED: 7 Authentic  Peruvian Street Food You Want To Have
10. Noni Fruit
In Peru, Noni is a jungle fruit from the Amazon rainforest, though it is not native to the country.
The plant known as Morinda citrifolia, also goes by Indian Mulberry or Beach Mulberry. It is also found in Asia and the Polynesian islands.
This strange amazonian fruit is ugly and weird looking. In our opinion, it looked more like a tuberous crop than a fruit.
The Noni fruit is green in color with dark spots on it. It gives off a pungent smell that is not appetizing at all.
We were quite surprised when the vendor described the fruit as a "cancer killer." She told us that it is commonly eaten cooked in a stew.
Noni fruit, we later learned, has been used for years as a traditional medicine especially in the Polynesian culture. It has been said to help with cancer, high blood pressure, and many more.
Noni is typically consumed as Noni juice or powder.

In Summary
If you find yourself in Peru or at any farmers market for that matter, make it a point to walk around and find something new.
Talk to the market vendor and ask what that strange looking fruit or vegetable might be. Buy it or try it and open up to new flavors and tastes.
If your travels take you to Peru, consider seeking out these amazonian fruits. Most of the ones listed above are considered "superfoods."
This usually refers to categories of foods, including fruits, which are nutritionally dense in their natural state.
The fruits in Peru are surprising. Don't miss the opportunity to discover new jungle fruits and experience the health benefits.
Have you tried any of the strange Amazonian fruits featured? In the comments below, please tell us the ones that interest you the most?
Savor The Adventure!
Looking for More Peruvian Local Food Experiences?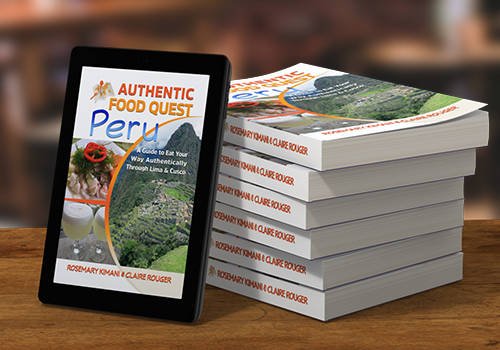 Our book, Authentic Food Quest Peru takes you on a journey through the regional food specialties in Peru. Get an introduction into Peruvian food and the history of how this unique gastronomy came to be.
Discover the authentic foods in Lima and Cusco as well as the top Peruvian foods and drinks that should not be missed. Take this guide with you as you explore Peru's magnificent cuisine.
Available on Amazon and Barnes & Noble.
Claire is a culinary explorer who travels the world in search of the best local foods. She is always looking for her next culinary adventure to bring you the best bites while exploring new places.