Ready to be surprised by bizarre and strange Amazonian fruits? Think all exotic fruits are sweet and juicy? Think again!
One of the joys of traveling is experiencing new fruits. As seekers of authentic foods, one of the best places to start is often at the farmers markets. On our quest across South America to showcase authentic foods we thought we had seen pretty much seen all there was for exotic fruits. That's until we got to Peru!
Now, did you know that Peru has the 2nd largest portion of the Amazon rainforest? And, the Amazon jungle makes up 60% of the country? We were surprised to discover this as well as see so many strange fruits in the market.
Here are 10 strange Amazonian fruits worth trying from the Peruvian jungle:

1. Pitahaya or Dragon Fruit
This exotic fruit was our favorite discovery on our quest for authentic food in Peru. The sweet and delicious flavor is similar to a kiwi, but more watery. It has black seeds on the inside which are edible.
Also referred to as a dragon fruit, it is known to be rich in vitamins C, B1, B2 and B3 as well as iron, calcium, and phosphorus.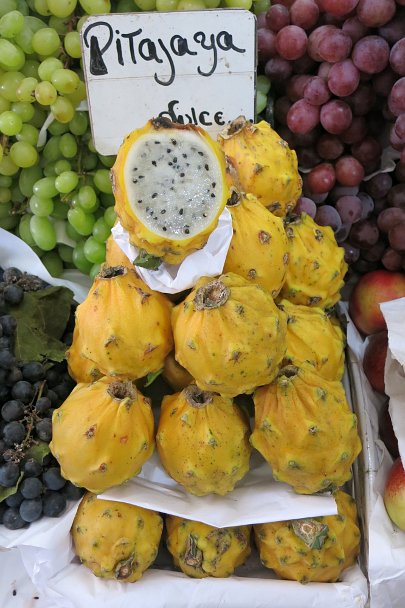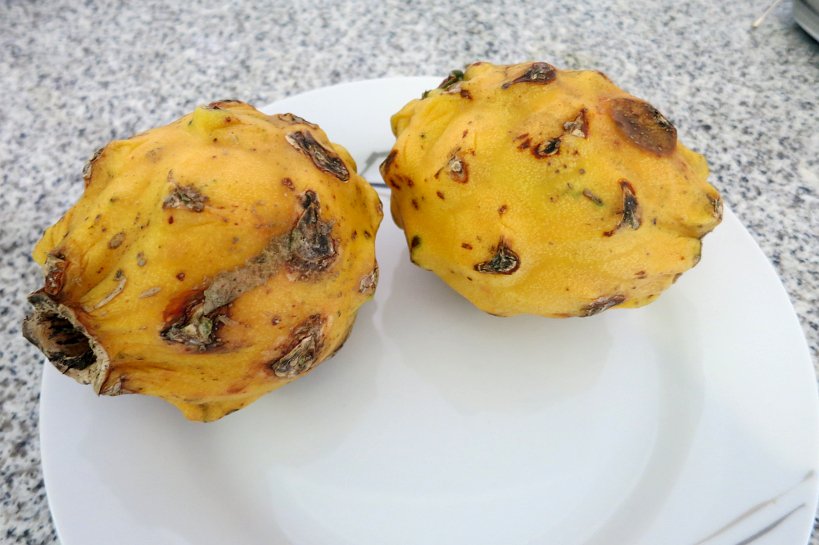 2. Pacay or Ice Cream Bean Fruit
This unusual fruit resembles a humongous green bean. Pacay is also called ice-cream bean due to its sweet flavor and smooth texture.
The inside looks like cotton and although the pods are long, there is not much to eat inside once the seeds are taken out. What you eat is the white flesh which is quite sweet and chewy.
It is actually described as a legume although the white flesh is eaten as a fruit. This fruit provides dietary fiber which helps with getting rid of cholesterol and fat.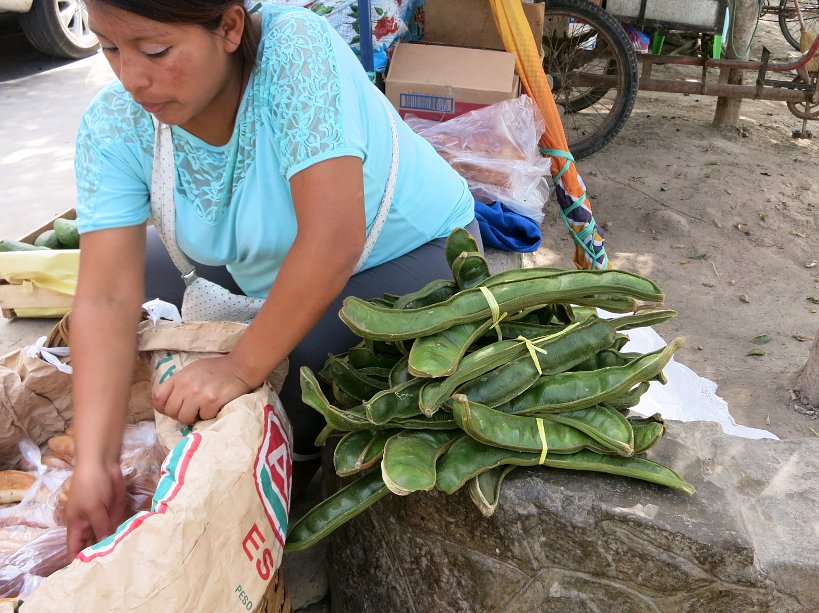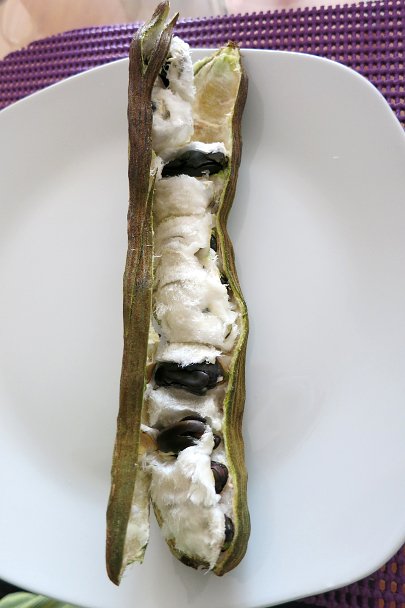 3. Cocona
The cocona fruit is a colorful yellow, orange or red fruit about the size of a small red pepper. Once you cut open the fruit, the pulp is yellow and the seeds can be eaten as well. We didn't enjoy it as a fruit and actually found it quite bitter.
We much preferred it as a juice, which we found it sweet and refreshing. We also enjoyed chopped up pieces of cocona in the very popular salsa that is offered at Amazonian restaurants with banana plantain chips.
It is an Amazonian fruit that is known to be very rich in iron and vitamin B5.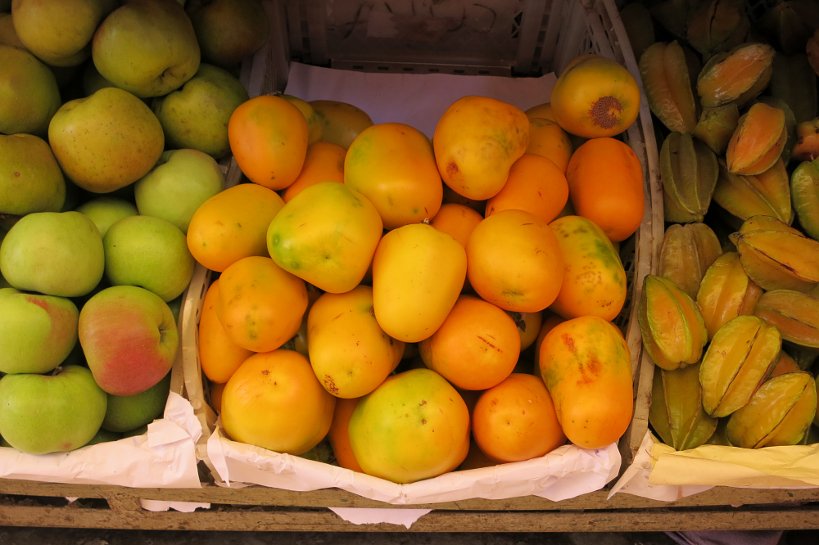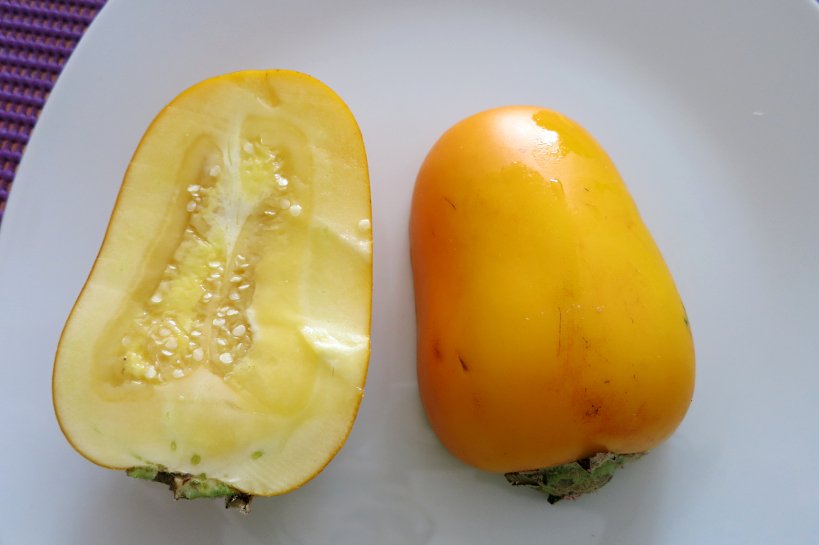 4. Camu Camu
This grape sized little fruit is known to be the fruit with the highest Vitamin C intake. We learned about Camu Camu at El Bijao, an Amazon restaurant in Lima, Peru. They serve fresh Camu Camu juice, a great way to boost your immune system! The fruit itself is not normally eaten, but the juice is citrusy and very easy to drink.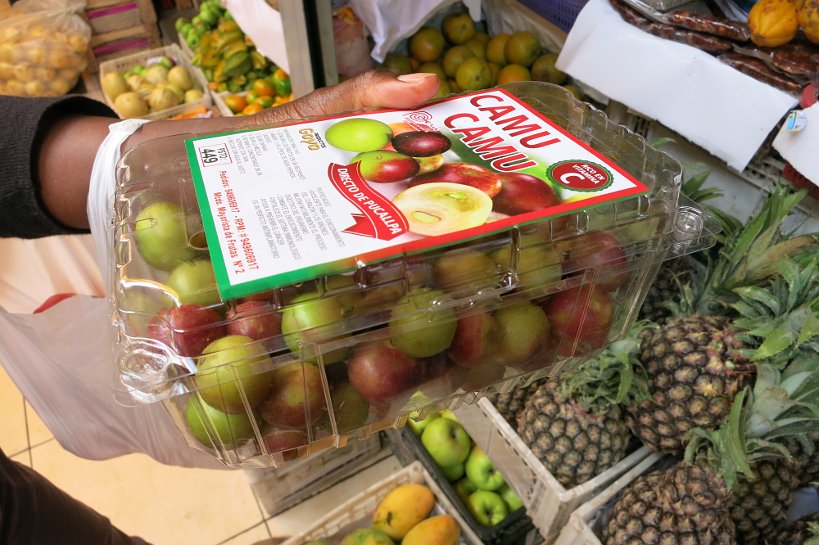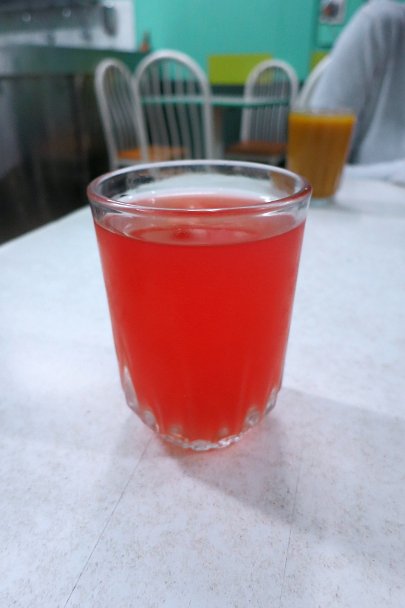 5. Cacao fruit
Cacao are fruits that grow on trees. The fruits of the cacao tree are called cacao pods which contain cocoa beans that are used as the basis of chocolate.
Considered a 'superfood', cacao is a rich source of antioxidants. It also contains a high level of flavonoids, which may have beneficial cardiovascular effects on health.
We saw cacao pods at the Surquillo farmers market in Lima. Although we didn't try to eat the beans, we gladly enjoyed the delicious Peruvian chocolate. Although we enjoyed Argentina chocolate in Bariloche, the chocolate in Peru was some of the best we had in South America.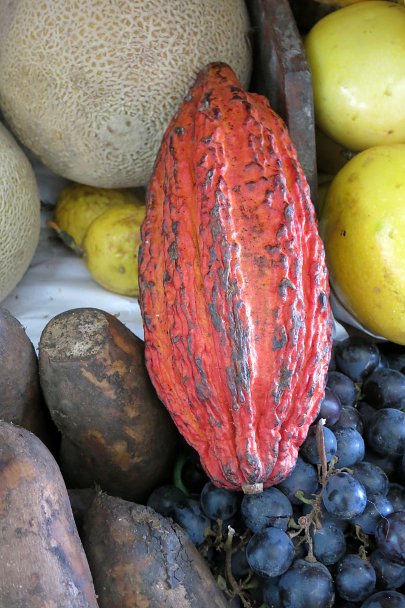 6. Maracuya
The maracuya is in the same family as a passion fruit or granadilla which are typically sweet. The difference is that the maracuya are much more sour and typically never eaten plain. We enjoyed maracuya juice and were eager to try the fruit.
Not knowing the fruits are sour, we bought a couple and were intrigued by their yellow and blackish firm shell. Once we cut the maracuya in half and discovered it's the seedy yellow core, we dug in.
We were shocked and surprised at how tart they were. They are lip-puckering refreshing but best enjoyed as a mixed juice with pineapple or as Maracuya Pisco Sour (a variation of the Peruvian Pisco Sour).
On their own, maracuya fruits are high in vitamin C and B, fibers, iron and phosphorus.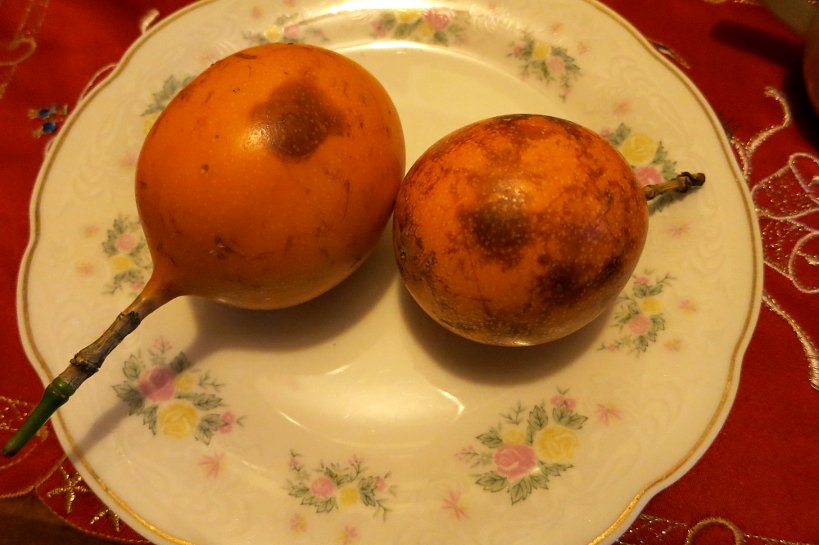 7. Mamey Sapote – Unique Amazonian Fruit
We discovered the Mamey Sapote fruit by chance. We were walking in downtown Lima on our way to explore Barrio Chino or the Chinatown of Lima. On our way, we stumbled onto this young boy named Juan. He was selling these strange Amazonian fruits we had never seen before. From a distance, it looked like a melon, though as we came closer, we discovered this fruit called Mamey Sapote and bought one to taste.
It looks like a round squash with orange flesh. When we tasted it a few days later, we found that it has a mild taste, kind of like a pumpkin, but sweet with a firm texture. Once you dig in the fruit you find to a large brown seed. It is an excellent source of vitamin B6 and vitamin C as well as source of vitamin B, vitamin E, manganese, potassium and dietary fiber.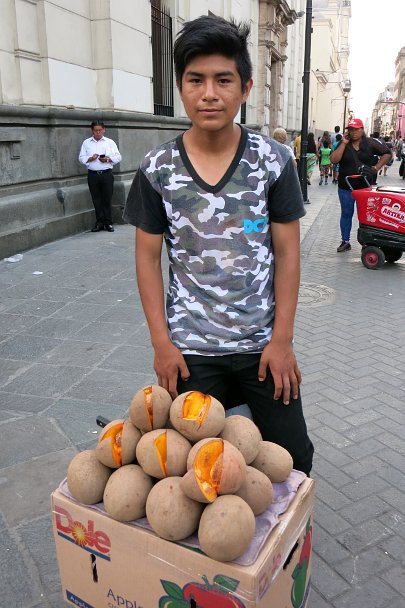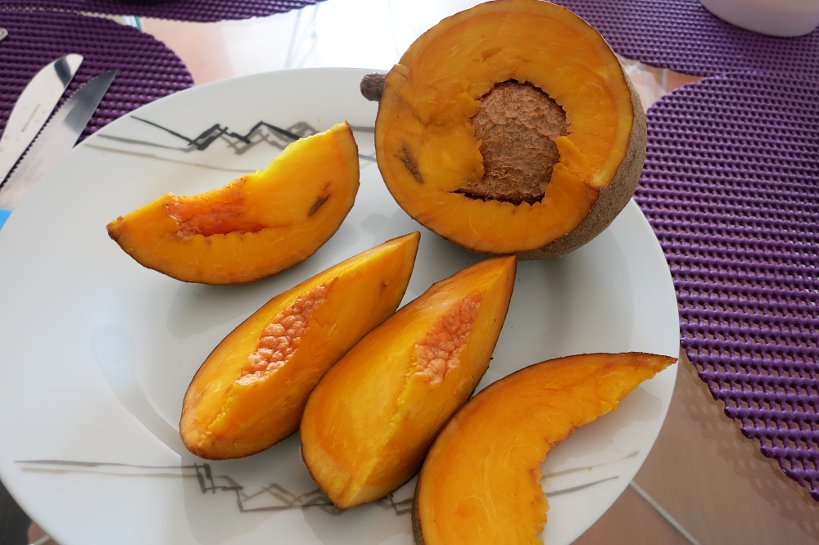 8. Aguaje
The aguaje fruit comes from the Moriche palm trees, found in tropical South America. Pronounced "Ah – gua – hay", the fruit is described as a miracle fruit for women due to its content of "phyto-hormones" which mimic oestrogen hormones.
It is the most concentrated source of vitamin A or beta carotene, as it contains up to 10 times more beta carotene than carrots. It has a brown peel color on the outside. Once you peel it you discover the yellow flesh covering a large hard nut.
We tried to eat the yellow flesh but found it bitter and not very tasty. We tried it as Aguajina which is Aguaje juice at El Bijao, an Amazon restaurant in Lima, and we found it to be rich and oily.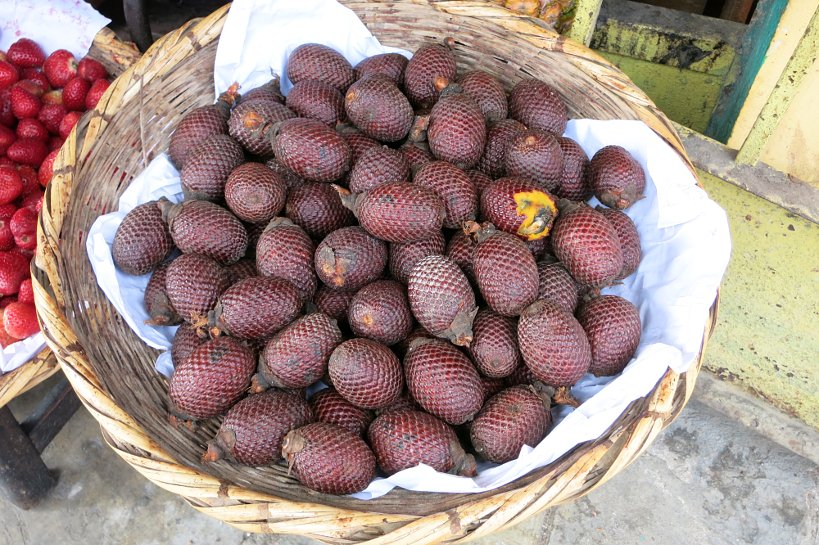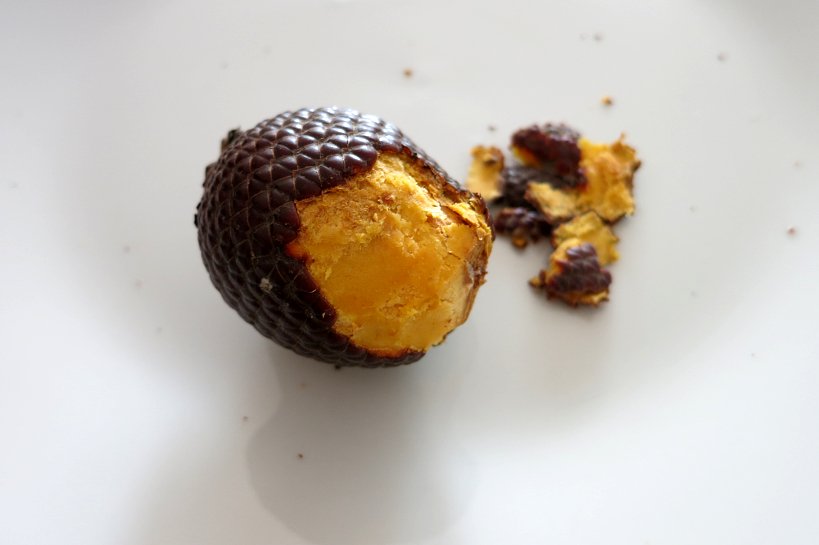 9. Tumbo or Banana Passion Fruit
Also known as banana passion fruit and a relative of the passion fruit.They are yellow on the outside and dark yellow on the inside. And their shape is similar to a short banana with rounded ends. The flesh inside is orange in color and similar to passion fruit.
We didn't enjoy it and found it a little too tart. The good thing is that Tumbos are low in calories and rich in vitamins A, B and, C, as well as minerals like calcium and phosphorus.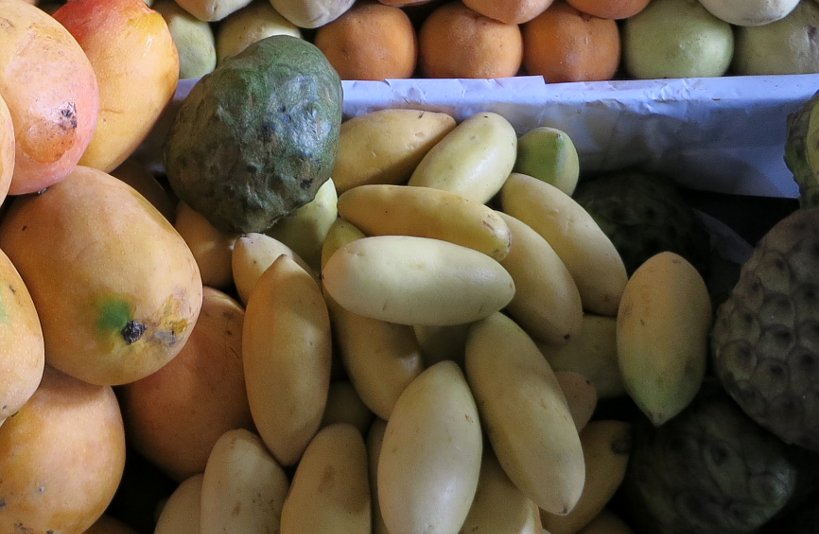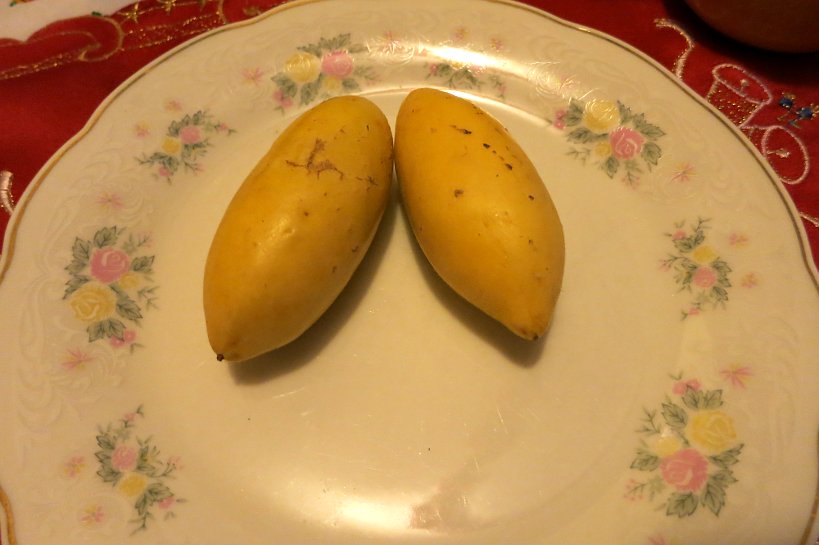 10. Noni
This was one of the most strange Amazonian fruits we discovered at the Surquillo farmers market in Lima. It looks more like a tuberous crop than a fruit.
Not only is it ugly, but it also has a pungent smell. Not appetizing at all, we were surprised when the merchant told us it was a fruit. She went ahead to proclaim it as a 'cancer killer'. And, told us that it is commonly eaten cooked in a stew.
This was one fruit we did not mind not eating!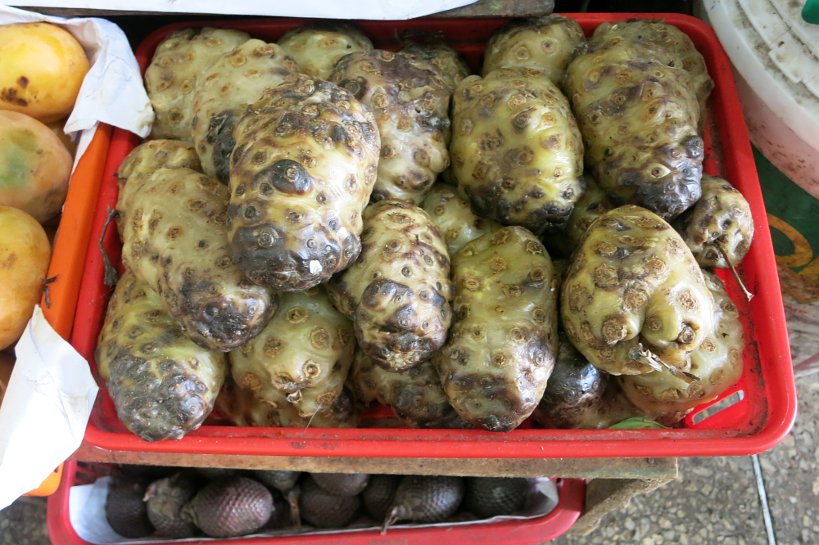 In Summary
If you find yourself in Peru or at any farmers market for that matter, make it a point to walk around and find something new.
Talk to the market vendor and ask what that strange looking fruit or vegetable might be. Buy it or try it…open up yourself to new flavors and tastes.
You will be surprised at what you will discover.
Have you tried any of the strange Amazonian fruits featured? In the comments below, please tell us the ones that interest you the most?
Savor The Adventure!
Looking for More Peruvian Local Food Experiences?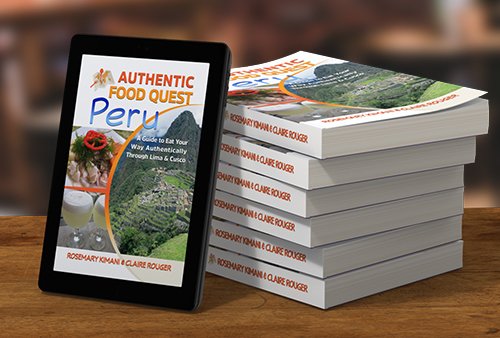 Our book, Authentic Food Quest Peru takes you on a journey through the regional food specialties in Peru. Get an introduction into Peruvian food and the history of how this unique gastronomy came to be.
Discover the authentic foods in Lima and Cusco as well as the top Peruvian foods and drinks that should not be missed. Take this guide with you as you explore Peru's magnificent cuisine.
Available on Amazon and Barnes & Noble.
Love it? Pin It!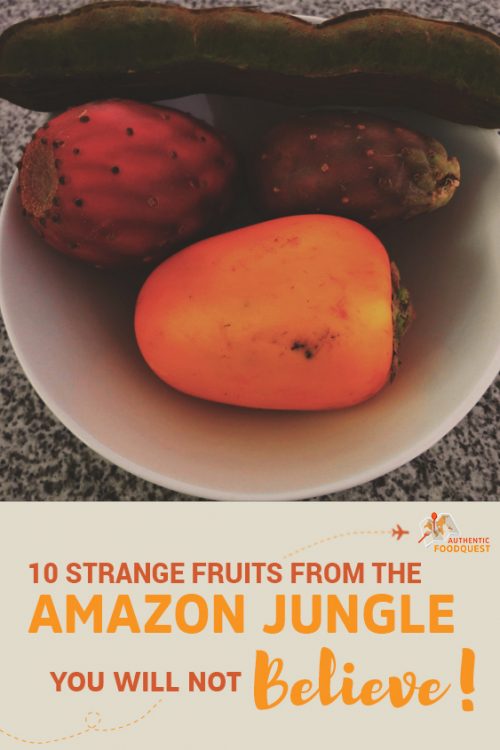 Disclaimer: This page contains affiliate links. That means at no extra charge to you, we earn a small commission when you purchase using these links. Thank you for your support.
Claire, ex-engineer, is a digital nomad and content creator at Authentic Food Quest. Since 2015, with her partner, Rosemary, they travel the world in search of the best local food experiences. Their mission is to help you enjoy the best local specialties on your travels or via recipes in your home kitchen. Favorite country for food: Vietnam. Favorite local dish: Hainanese Chicken Rice.  Favorite way to keep fit: Cycling. Claire is responsible for the website and the fun food & travel videos on Youtube. She is also co-author of Authentic Food Quest Argentina and Authentic Food Quest Peru, available on Amazon.