You may be going to South America with plans to visit Iguazu Falls, Machu Picchu, Patagonia, Torres del Paine, or the beautiful Andes Mountain range.
You've made your plans, booked your flights and accommodations and are excited about your upcoming trip. But have you stopped to think about the food?
Have you considered what local and authentic dishes you should try?
After spending 6 months in South America discovering the authentic foods of Argentina, Uruguay, Chile and Peru, one frequent question we get is "what are your top South American dishes?".
Our goal at Authentic Food Quest is to inspire you to travel through the local and authentic flavors. We want to help you connect deeper to the culture through local food experiences.
To help prepare you for your South American travels, we've put together our guide of the top 9 authentic South American dishes you don't want to miss.
Ready to discover the region through food? Let's go!

So, What exactly is ceviche? It is a raw dish that consists of fish or seafood soaked in citrus juices such as lime and spiced with chili peppers. It is made with just 5 ingredients: raw fish or seafood, salt red onions and ají, Peru's unique line of chili peppers, all doused in lime juice.
The acidic liquid 'cooks' the fish and changes the proteins in the fish making it firm and opaque. The marinade is called leche de tigre (tiger's milk).
Ceviche is accompanied by camote (sweet potatoes) and choclo (large, white Andean corn), which are both native to Peru.
Keep in mind that ceviche is traditionally eaten at lunch, when the fish is the most fresh.
Read more about discovering ceviche in Peru
2. Empanadas Salteñas in Argentina
Empanadas are small pies with a "croissant" shape. They are made of dough filled with different fillings which are mostly savory.
While empanadas are one of the most popular South American dishes, Argentinean empanadas are considered to be some of the best in the world.
This is due in part to the different recipes and cooking styles across the different regions of the country.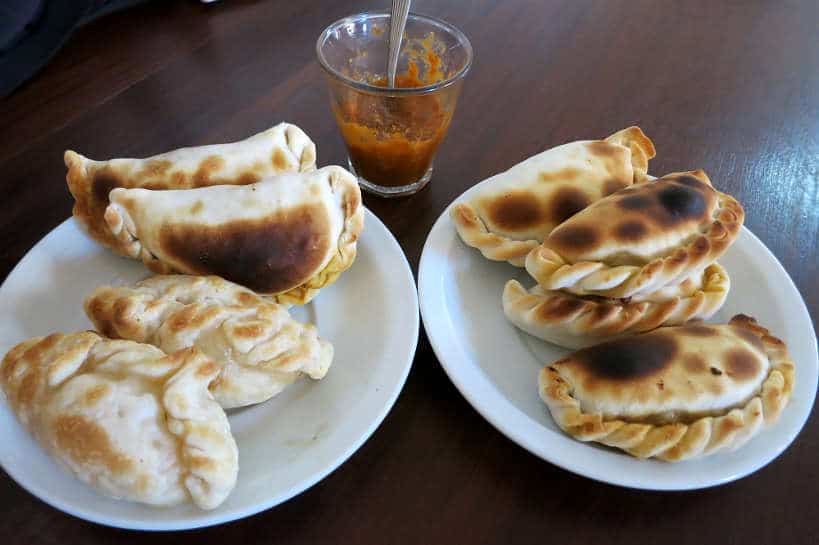 Empanadas in Argentina are either baked or fried. We recommend empanadas salteñas which are from the Salta Province in Argentina. These particular ones are baked without any additional fats or oils.
These incredible pies are packed with flavor and easy to devour in just two bites. Our favorite ones are the beef or carne which also have green onions, potatoes and eggs.
In Salta Province, empanadas are usually accompanied with a spicy red salsa sauce.
3. Reineta Fish in Chile
Chile, the world's longest and narrowest country is defined by the Andes Mountain and Pacific Ocean.
The coast line runs from the tropics to the wintery southern tip which means there is a staggering amount of seafood.
Fishing is a major industry in Chile and it is one of the major exporters of fish and seafood in the world.
Our favorite and one of the most popular fish to try is the Reineta (Pomfret or Southern Rays Bream). This is a mild fish that is firm and perfect for grilling, broiling or sautéing.
We enjoyed Reineta several times in Chile, especially along the coast of Valparaiso. This light and flaky fish cannot be missed on your South American travels.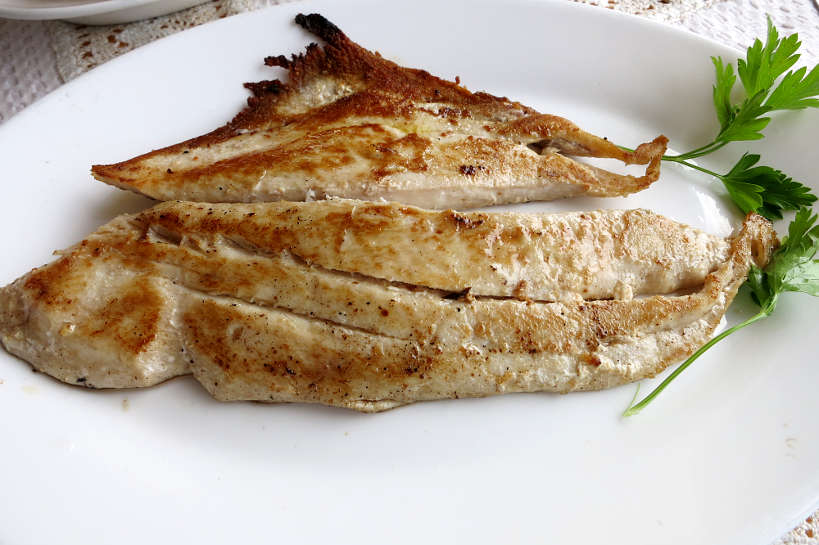 4. Cazuela de Llama in Argentina
Llamas are domesticated animals that have been used for transporting goods for thousands of years by the Andes people. Their wool is used for socks, gloves and scarves.
Although llamas are popular for their wool, their meat is eaten in regional dishes in northern Argentina.
Llama meat is high in protein and low in fat making it a healthy meat. The region offers many llama specialties and one of the most common is cazuela de llama.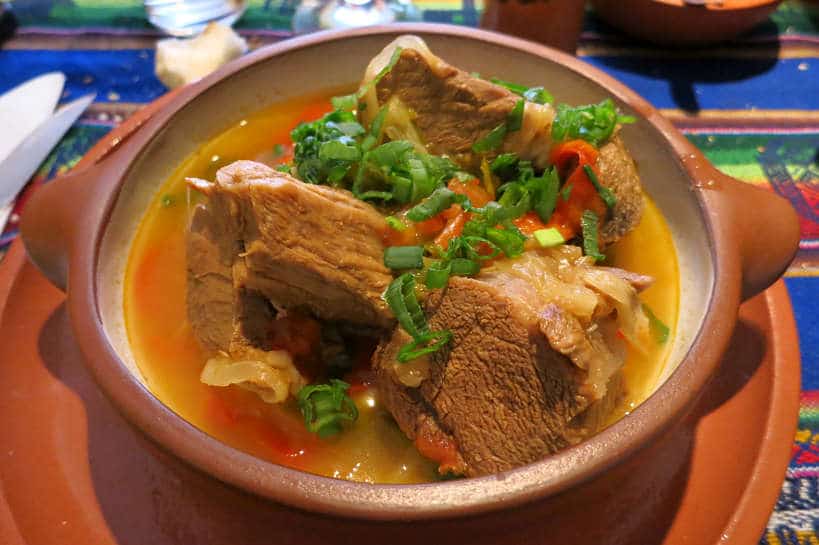 Llama meat is delicious and full of flavor. In the Cazuela de llama, the meat is chopped into pieces and slowly cooked in a stew with carrots and papas andinas (native potatoes).
If you've never had llama meat before, consider trying this stew. This is one most unique South American dishes we discovered.
You'll be amazed by the tender meat and savory flavors.
5. Juane from Peru Amazon Jungle
Peru has the second largest portion of the Amazon rainforest which makes up 60% of the country. As a result, food from the Amazon jungle features prominently in Peruvian cuisine.
One of the most popular dishes from the Peruvian Amazon jungle is the Juane.
This South American dish consists of a bowl of rice filled with chicken, boiled egg, black olives, and spices.
All the ingredients are wrapped up in bijao leaves (which look like banana leaves) and are plants from the jungle. It is then boiled in clay pots and served with the leaves.
For more about this dish and other specialities from the Amazon, read our article about the Surprising Amazon food from Peru.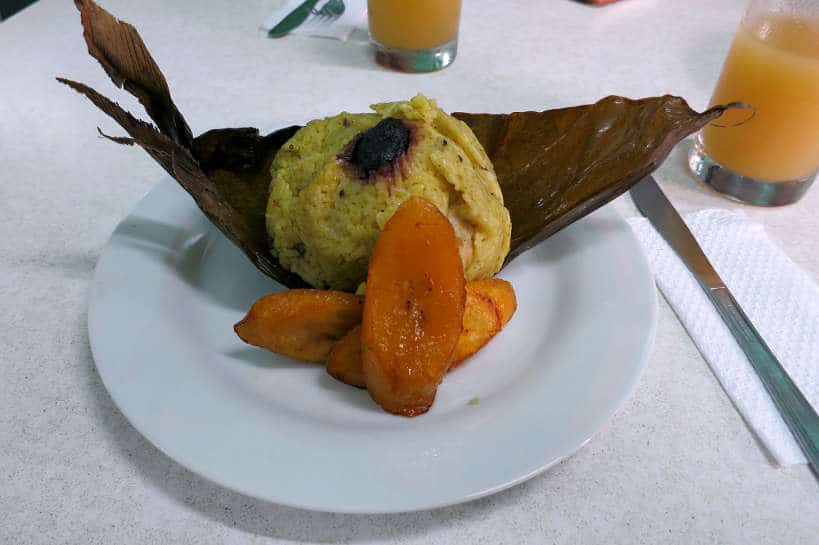 6. Chivito Sandwich from Uruguay
The Chivito is the national sandwich and dish of Uruguay. Legend has it that a female tourist from Argentina stopped by a restaurant in Punta Del Este (Southern part of Uruguay) and ordered "chivito" (baby goat meat) like the ones she had in Argentina.
The restaurateur not wanting to lose a client, accepted the order and proceeded to make her a churrasco (steak) not goat sandwich topped with everything but the kitchen sink.
She ends up loving it and the sandwich earned a permanent place on his menu under the name Chivito, going on to become Uruguay's national sandwich.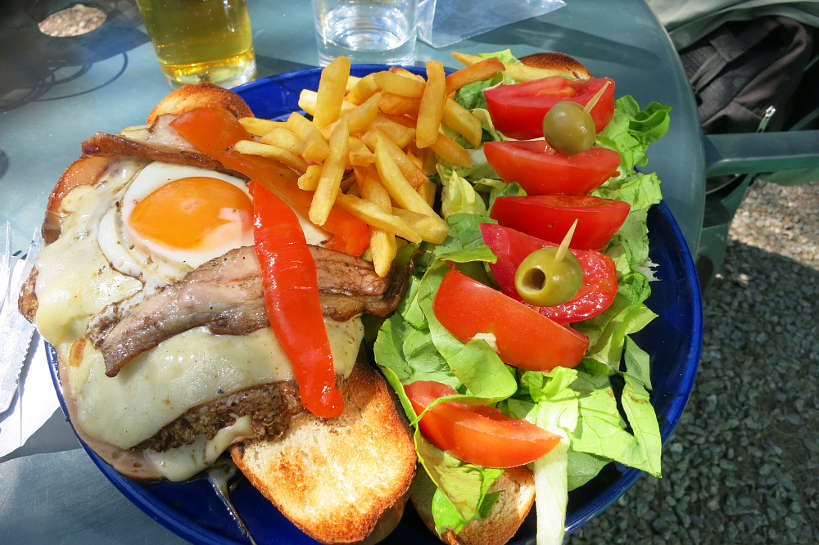 This is a massive and incredibly delicious sandwich. It is made up of thin slices of churrasco (filet mignon beef), topped with bacon, mozzarella cheese, tomatoes, lettuce, mayonnaise, ham, olives and a fried egg.
Rich and heavy, this incredible South American food is a carnivores fantasy.
7. Parilla in Argentina or Uruguay
Argentina and Uruguay are both top beef producing countries in the world. Given the popularity of meat in both countries, you must experience eating thick and juicy cuts of meat at a parilla or steakhouse.
In each country you will find different cuts of beef and sausages. Typical cuts in Argentina are lomo (filet), bife de chorizo (sirloin) or ojo de bife (ribeye). In Uruguay you will find, pulpon (rump steak) or asado (short ribs).
If you are adventurous go for the mollejas (sweetbreads), chinchulín (intestines) or morcilla (blood sausages).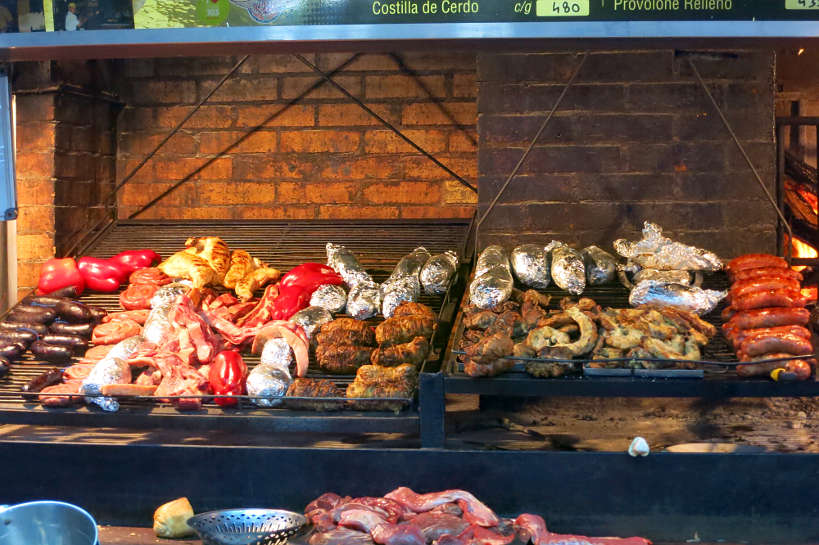 8. Arepas in Venezuela
Arepas in Venezuela are ubiquitous. You will find them everywhere from humble street stalls to sit down restaurants. Arepas are corn cakes and are a traditional food in both Venezuela and Columbia.
Just like bread, arepas can be eaten as a sandwich or a regular slice of bread. Arepas in Venezuela are thick and stuffed with meat or other savory ingredients, while in Columbia, they are eaten plain with cheese or egg.
While we did not visit Venezuela, we've enjoyed Arepas in Argentina, home made by a Venezuelan friend.
In the U.S. our favorites are the Arepas from Venezuela and we always go for the savory filling.
These delightful stuffed corn cakes are an indispensable side dish in any Venezuelan household. Be sure to enjoy this traditional South American food on your travels.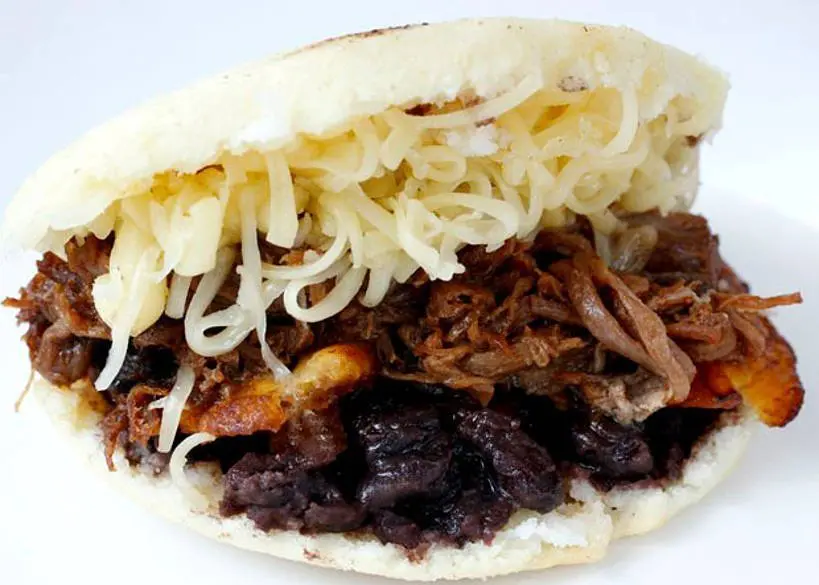 9. Feijoada in Brazil
Feijoada is one of the South American dishes Claire relished while studying and traveling in Brazil. This South American dish is referred as the national dish of Brazil.
This South American food gets its name stems from the Portuguese word for bean – feijão. It is essentially a flavorful stew of beans and pork.
Typically, feijoada is cooked using black beans and served with rice, shredded kale and topped with toasted cassava flour (farofa).
It is long believed this South American dish was created by slaves who took scraps of meat not eaten by their masters (pigs ears, feet, tails) and cooked them together with black beans native to Brazil.
In Brazil, feijoada is considered a comfort food and is eaten on the weekend with family or a large group of friends. It is a heavy dish that is eaten slowly and savored.
Your trip will not be complete without indulging in this national Brazilian dish.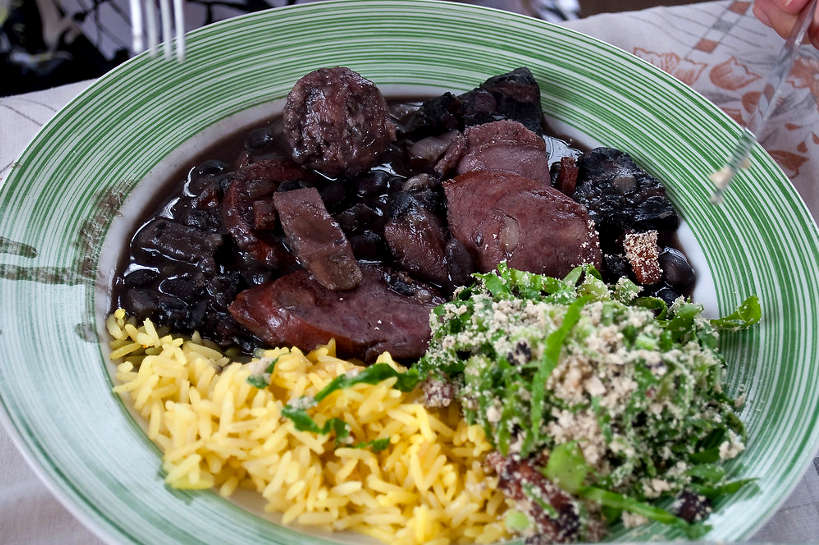 Authentic Food Quest Recommendation: For your travels to South America, don't forget to get travel insurance. It is a large continent and the medical infrastructure varies greatly. Travel with the peace of mind knowing that you are covered should anything go awry. We use Allianz Travel Insurance and love it. The best part is no matter where in the world we are, we know our gear, medical, dental and trip interruptions are all covered. Don't leave home without travel insurance.

In Summary
Traveling to a new country or part of the world is exciting. Seeing the museums, as well as the cultural and historical sites expands your understanding of the place.
However, when you travel through food and in particular the local and authentic dishes you taste the history, the culture and connect deeper with the locals.
Use this guide on your next trip to South America and open up to new and exciting South American dishes and flavors
If you are traveling to Argentina and looking to explore the local dishes, check out our book Authentic Food Quest Argentina – A Guide to Eat Your Way Authentically Through Argentina.
Should Cusco or Lima in Peru be on your South American travel itinerary, our second book, Authentic Food Quest Peru, will introduce you to the local food experiences not to miss.
Both books are available on Amazon and available as kindle or paperback versions.
Have you had any of these authentic South American dishes? Which ones are your favorites?
Savor The Adventure!
Love it? Pin It!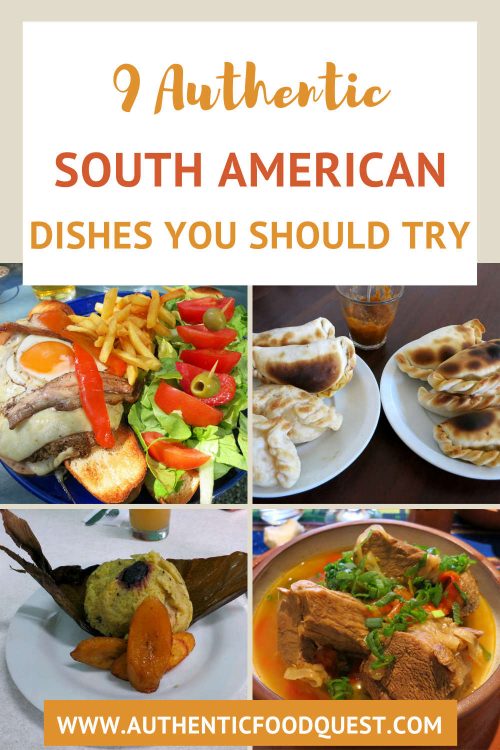 Disclaimer: This page contains affiliate links. That means at no extra charge to you, we earn a small commission when you purchase using these links. Thank you for your support.
Rosemary, ex-marketing and advertising strategist, is a digital nomad and content creator at Authentic Food Quest. Since 2015, with her partner, Claire, they travel the world in search of the best local food experiences. Their mission is to help you enjoy the best local specialties on your travels or via recipes in your home kitchen. Favorite country for food: Peru. Favorite local dish: Bacalhau. Favorite way to keep fit: Running. Rosemary is the chief content writer and strategist on Authentic Food Quest. She is also co-author of Authentic Food Quest Argentina and Authentic Food Quest Peru, available on Amazon.