This article has links to products and services we recommend, which we may make a commission from.
Argentina might not be the first destination that comes to mind when you think street food.
Though, you may be surprised to find how much Argentinian street food is woven into the fabric of local food.
Argentina street food features delicious meats, sandwiches, sweets, and a variety of emblematic savory snacks.
Importantly, when it comes to street food Argentina, it is rare to see Argentinians eating on the go, or standing up.
The Argentinian street food culture has its own codes. Seating at tables is definitely part of the experience to fully enjoy street food like a local.
To feast like an Argentine, here are 10 popular Argentinian street foods and where to eat them.

1. Choripan or Choripán – Most Popular Argentinian Sandwich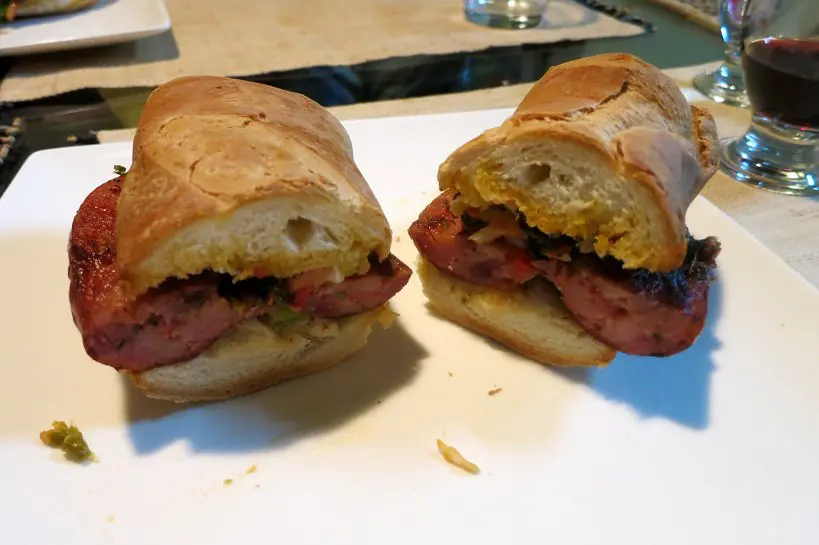 The Choripan, affectionately called the "chori", is the Argentinian street food of choice.
It is essentially a sausage, made of 70% beef and 30% pork, cooked on a grill. It is then served between two pieces of fresh bread.
The choripan is usually seasoned with the flavorful chimichurri sauce.
Where to Eat Choripan in Buenos Aires
You will find choripan served for lunch at food trucks, cafes and sometimes restaurants.
An insider tip to get the best choripan in Buenos Aires is on Costanera Sur near the local airport Jorge Newbery.
Stop at one of the food stands and order this popular sausage sandwich. You will love the chori as we did, especially the simplicity of preparation and delicious flavors.
Eat a chori like a local on your trip to Argentina.
AUTHENTIC FOOD QUEST RECIPE: Make your own Chimichurri Sauce at home with this simple Authentic Argentine Chimichurri Sauce Recipe
2. Lomito – Argentina Steak Sandwich
The Lomito sandwich has been called the "King of Fast Food Snacks." It sits above the choripan both in price and stature.
What makes it so regal is that it features the famous beef that Argentina is renowned for.
At the core, Lomito is a steak sandwich that has been flashed grilled a la plancha or on cast iron griddle.
The slab of lomo steak is topped with; tomatoes, lettuce, onion, chimichurri, mayonnaise, fried egg, ham and melted cheese.
Delicious and quite a mouthful.
Where to Eat Lomito in Buenos Aires
The first thing to do when you get to Buenos Aires, is to make your way to Av. Dr. Tristán Achával Rodríguez which is near Puerto Madero.
It is one of the newest and ritziest neighborhoods in Buenos Aires located near the beautiful Costanera Sur Ecological Reserve.
Follow your nose to any of the carts grilling this delicious Argentinian street food.
Authentic Food Quest Tip: To taste the emblematic food of Argentina, consider taking a food tour. Our article Buenos Aires food tour – How to learn about Argentinian food culture, takes you behind the scenes on a delicious culinary tasting through the city. You'll learn about the culture and tradition while experiencing Argentina's favorite foods from appetizers to dessert, wine included.
3. Empanadas – The Most Famous Argentinian Street Food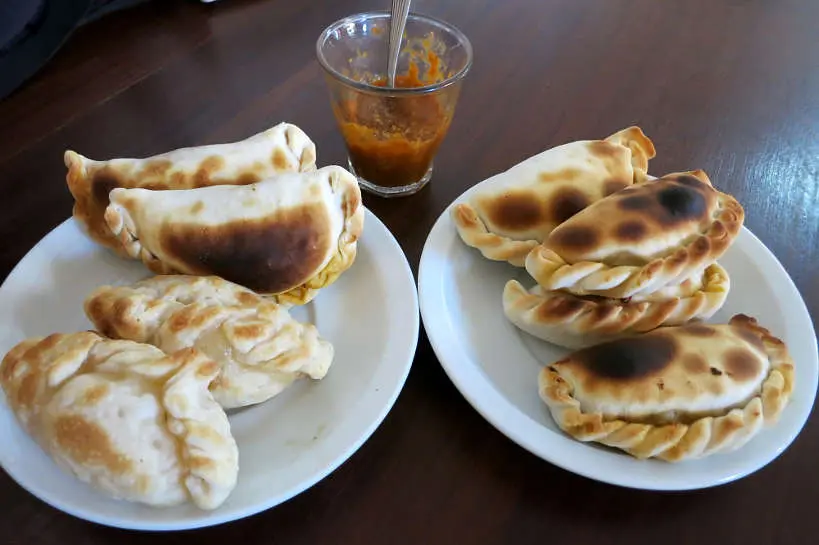 Argentinian empanadas are small savory pastry filled with a selection of meat, cheese and other ingredients.
Each region of the country has its own specialty. What we love most about Argentine empanadas is their simplicity and amazing flavors.
While in Argentina, we fell in love with these small and easy to eat Argentina street food.
We even learned to make empanadas at Siete Fuegos, Francis Mallmann restaurant near Mendoza.
Where to Eat Argentinian Empanadas
You will find empanadas everywhere in Argentina. This is a popular savory pastry that you will see on every restaurant menu.
Empanadas are a popular option at fast food joints, supermarkets and restaurants.
Be sure to taste popular empanada varieties. Beef empanada or empanada de carne, empanadas stuffed with ham and cheese or empanada de jamon y queso, and chicken empanadas or empanada de pollo.
Vegetarians can also find meat-free cheese empanadas and other meat-free options.
AUTHENTIC FOOD QUEST RECIPE: How To Make Delicious Argentinian Empanadas Mendocino Style
4. Sandwich de Miga – Popular Argentina White Bread Sandwich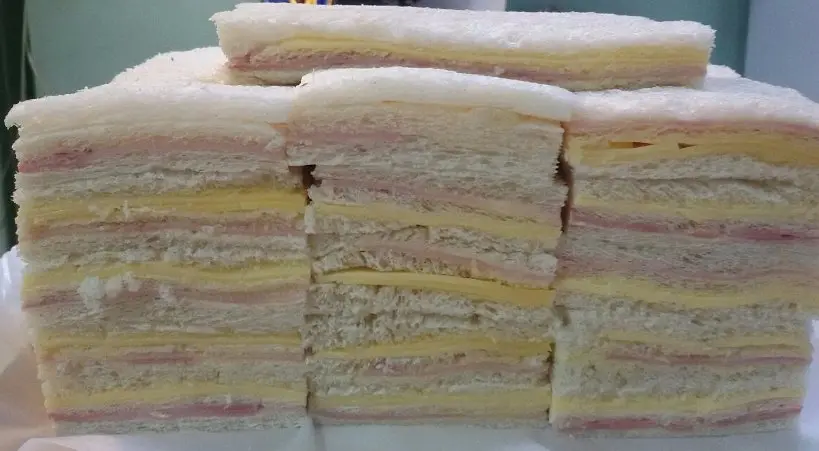 A sandwich de miga looks similar to tea sandwiches though it is much larger. They are made with thinly sliced bread with the crust and edges cut off.
The name Sandwich de Miga translates to crustless sandwiches. They are said to have originated in Turin, Italy and brought to Argentina by Italian immigrants.
The bread used is unique and unlike any bread you would find in the U.S. It is extremely white, very thin and delicately light.
The fillings used vary and include ham and cheese, eggs, mayonnaise, olives and ham, tuna and more. You can also find uncommon toppings like prosciutto, pastrami or anchovies.
Surprisingly, you can also get Miga sandwiches with three slices of bread.
Where to Eat Sandwich de Miga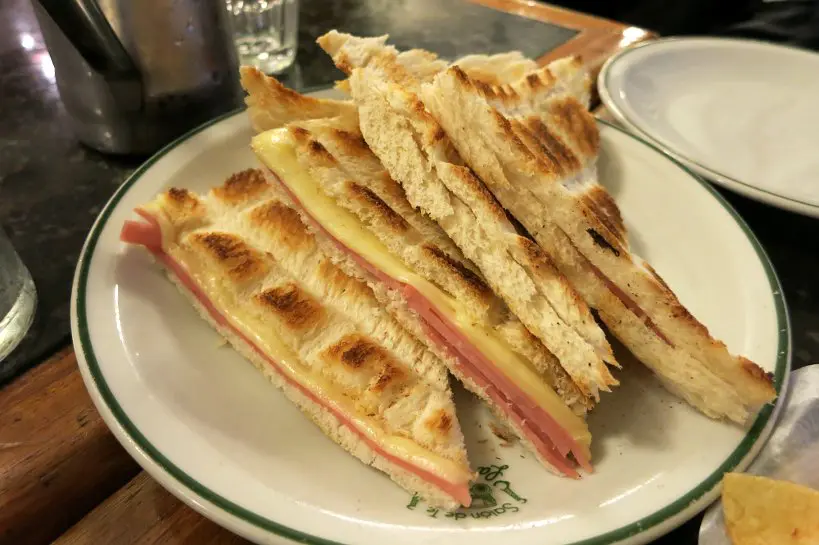 Extremely popular, you will find these sandwiches at almost every bakery in the country.
Sandwich de Miga can also be served toasted. These hot sandwiches also called tostados are a popular Argentina street food.
We enjoyed several tostados for snacks during the afternoon break called media tarde at various cafes around the country.
5- Fugazzeta and Pizza by the Slice – Argentinian Style Pizza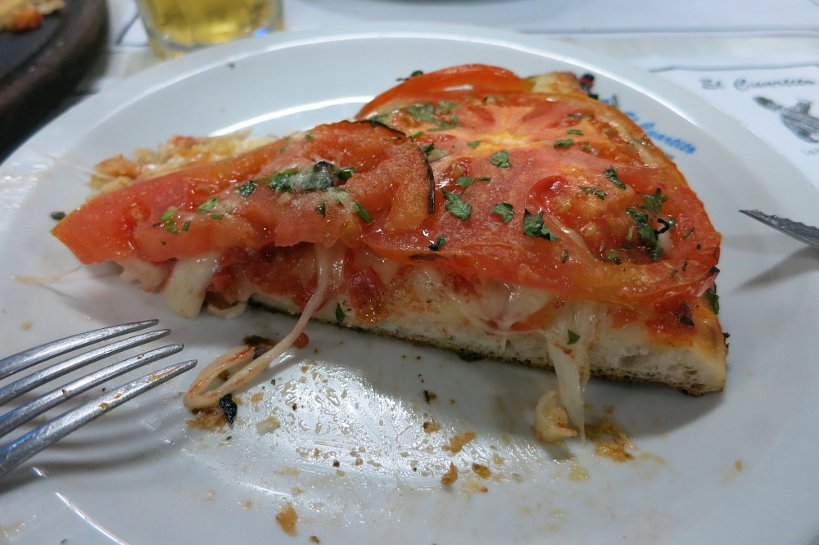 Argentinian cuisine has been largely influenced by Italian cuisine. When it comes to pizza, Argentinian have their own unique style.
The most typical Argentinian pizza has a thick dough, is a bit chewy and comes with a lot of cheese.
On it, you can choose from a wide range of toppings from Mozzarella to Napolitana style.
One of the unique Argentinian pizza specialties you want to try is the Fugazetta. It is a thick doughy pizza with gooey cheese topped with lots of onion.
For an onion heavy pizza, we found the Fugazetta surprisingly delicious.
Where to Eat Argentinian Pizza in Buenos Aires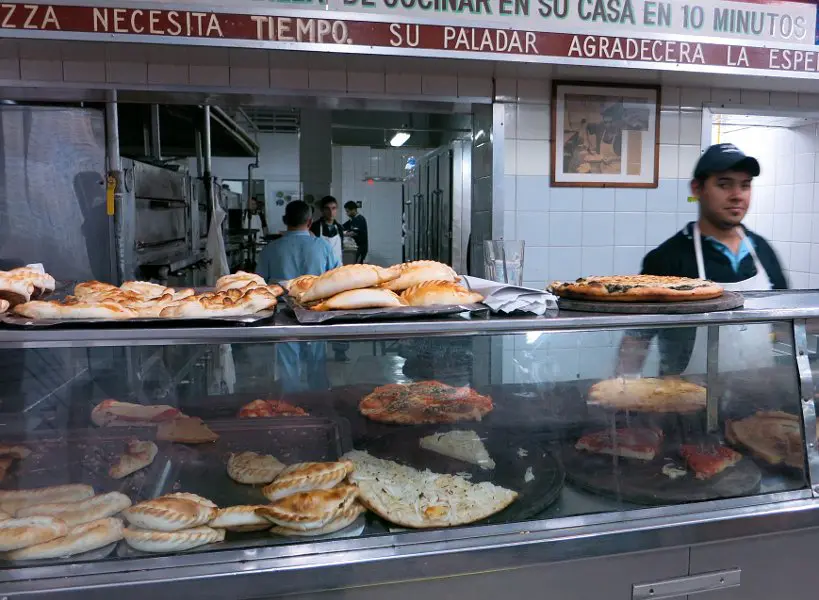 Pizzas are sold by the slice as an Argentinian street food. You can order a slice at any pizzeria.
Called pizza al paso or pizza al corte, you will find them at fast food joints selling empanadas and pizzas.
As you stroll around Buenos Aires, don't hesitate to treat yourself to a slice of Argentinian style pizza.
RELATED: Argentina Food Guide – Top 15 Authentic Food You Must Try
6. Bondiola – Argentinian Pork Sandwich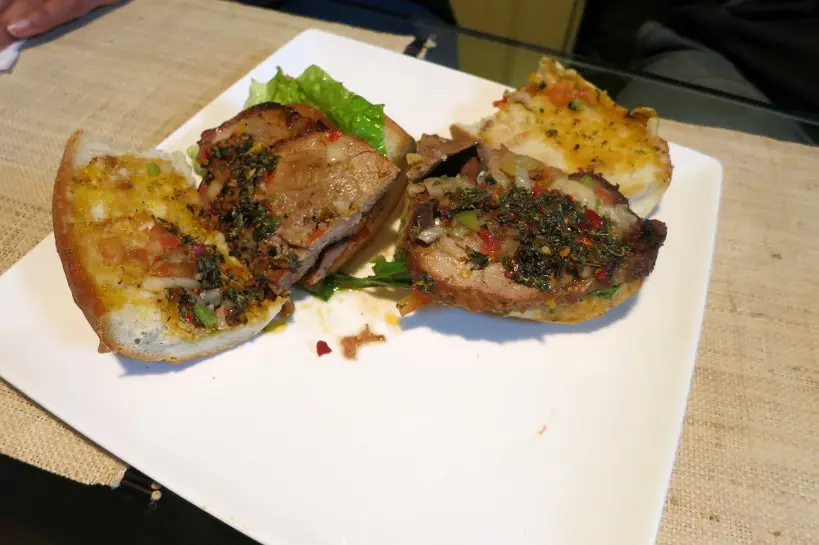 One sandwich that rivals the Choripan in popularity is the Bondiola sandwich also referred to as Bondipan.
The sandwich consists of slices of roasted pork shoulder, served on bread, drizzled with lemon juice. You can enjoy this sandwich in two ways.
Order it with toppings like cheese, thinly cut french fries or a fried egg.
Or, you can have it plain and dress it up with toppings like salsa criolla, a mixture of chopped tomatoes and onions, or chimichurri sauce.
All this meaty goodness is jammed inside a baguette style loaf and devoured.
Where to Eat Bondiola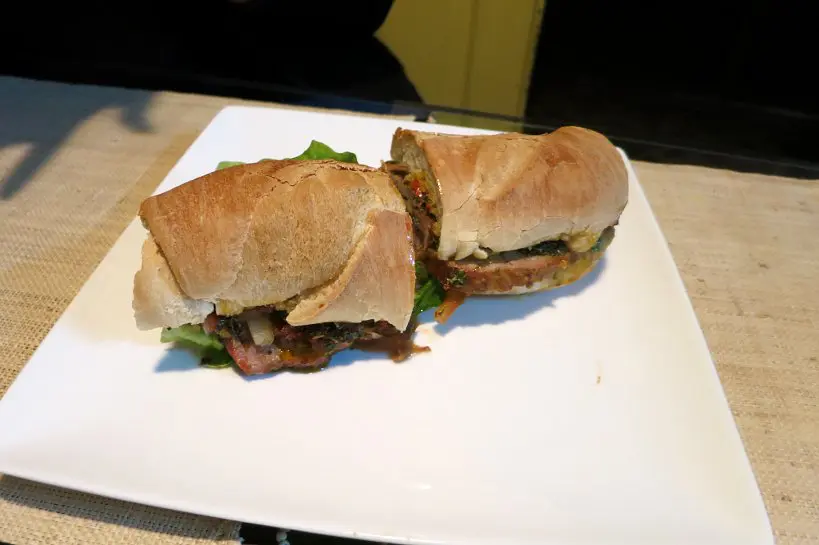 You'll find Bondiola sandwiches served at stalls or eateries also serving choripan. You can eat at the food stalls on nearby plastic tables and chairs, or take your sandwiches to go.
We took our Bandiola sandwiches to go and enjoyed this Argentina street food staple where we were staying.
Choosing between the chori and bondipan is a difficult task. Give yourself enough days to try them both.
7. Pancho – Argentinian Hot Dog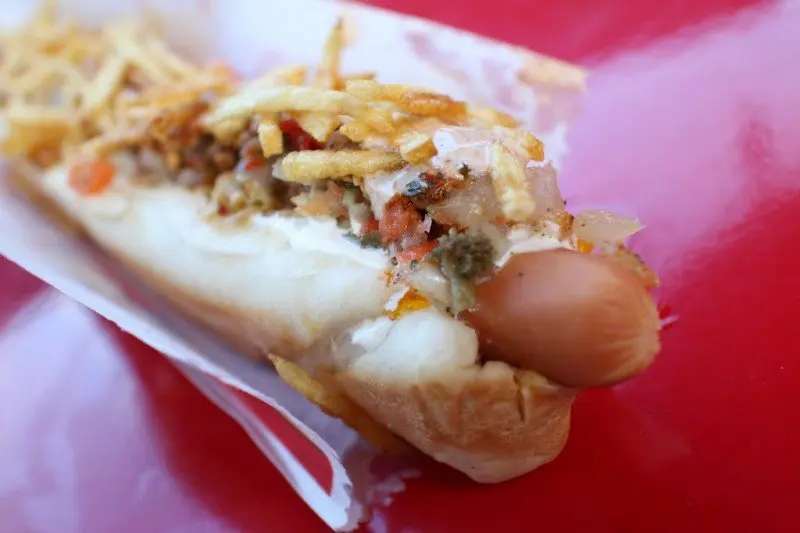 The Argentinian street food scene would not be complete without a hotdog. The Pancho is Argentina's take on the hot-dog.
It is a simple hotdog that is not much more than a frankfurter in a bun. You can sprinkle thinly cut fried potatoes called lluvia de papa or "potato rain" and give your sandwich more depth.
The more toppings you add on your hotdog transforms it to a "Super Pancho."
There are several delecletab sauces that go along with this dog. The most popular is the salsa golf which is essentially a mixture of mayonnaise, mustard and ketchup.
Where to Eat Pancho
Pancho or Argentine hotdogs are typically sold at fast food joints and food carts
Next to the choripan, the pancho did not tempt us. Every time we looked at the pink sausage next to a char-grilled choripan, the chori won all the time. As a result we passed on the pancho.
However, the long lines and popularity of this dog makes it an Argentinian street food you don't want to miss.
8. Sandwich de Milanesa – Argentina "Italian" Sandwich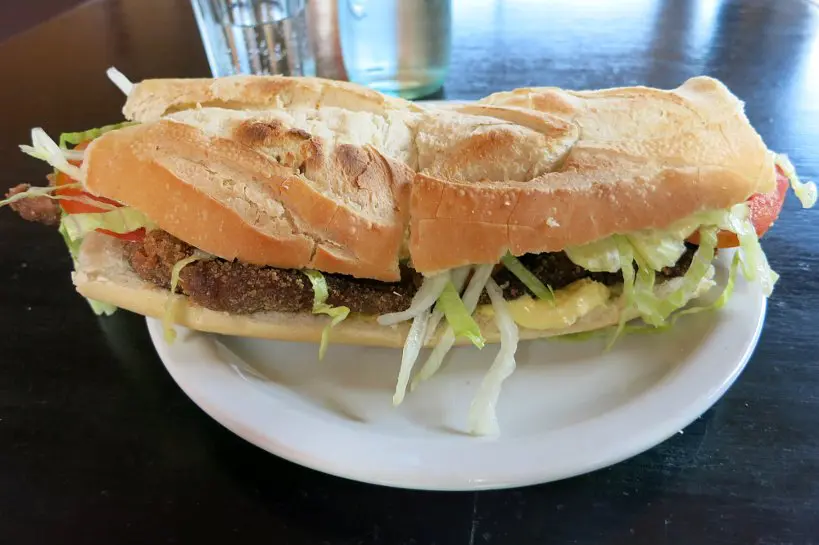 Milanesa is one of the typical dishes of Argentina that you should not miss. It comes from the Italian influence on Argentine cuisine.
In its simplest form milanesa is thin slices of beef covered with bread crumbs. You can also find other types of milanesa made with chicken or cod fish.
The Milanesa is typically served between two slices of white baguette style bread with lettuce, tomatoes and mayonnaise. When offered to go as a sandwich it is known as Sandwich de Milanesa or Milanga.
Having enjoyed a Milanese meal, I was Initially skeptical about having it as a sandwich.
Fortunately, I was pleasantly surprised by the fresh flavors of this popular Argentina street food. The mayonnaise wasn't overwhelming and the meat was delicious.
Where to Eat Sandwich de Milanesa
You can find this Argentinian street food at corner fast food joints or in fast food chains.
We had our sandwich de Milanesa while in San Miguel de Tucumán, a small town Northwest of Argentina.
We stopped for lunch at a local bakery and fast food chain and were pleasantly surprised at the quality of their sandwiches.
If you find yourself hungry, don't hesitate to choose a sandwich de milanesa for your lunch break.
AUTHENTIC FOOD QUEST RECIPE: Argentine Milanesa Recipe – How to Make The Best Milanesa Argentina Style
9. Ham and Cheese Stuffed Tortilla – The Argentinian Version of Tortillas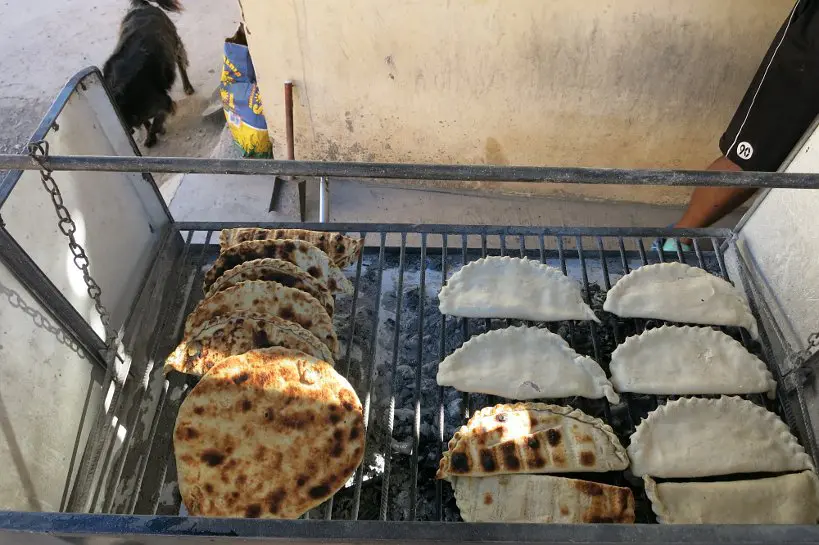 One of the very unexpected treats on our food quest in the northwest of Argentina, was the discovery of Argentinian tortillas.
Argentinian tortillas are flatbreads made of wheat flour then baked on a barbecue or parrilla.
You can get them plain, but the best are the ones filled with ham and cheese or jamon y queso.
Warm like a panini, they melt in the mouth. And, if you love bread as I do, you can easily eat two or more in a row. Second to empanadas, these tortillas were a favorite Argentinian street food.
Where to Eat Stuffed Tortillas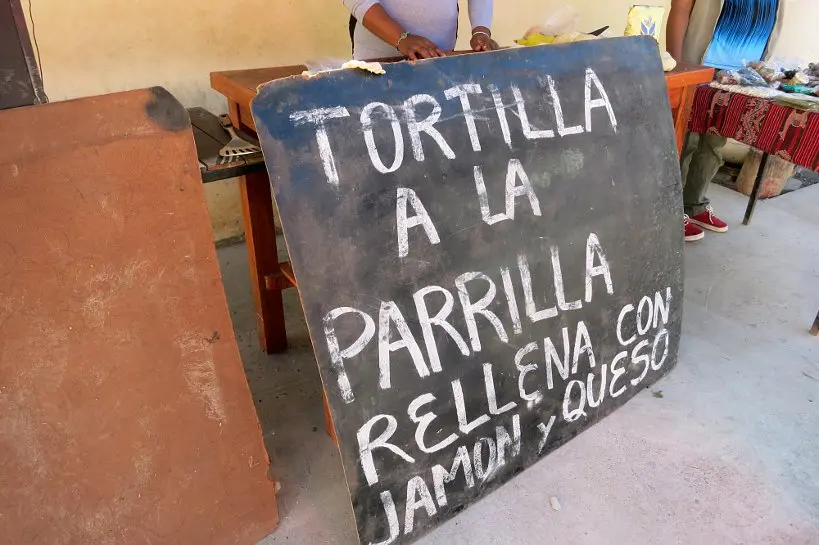 You will find tortillas either near bus stations or at street corners in Salta and Jujuy Province.
The vendors usually sell the tortillas for the afternoon snack time before dinner, also known as media tarde.
Don't miss your window of time as they sell pretty fast. If your travels take you to the north of Argentina, delight in this regional Argentina street food.
10. Garrapinada or Garrapiñada – Argentinian Street Snacks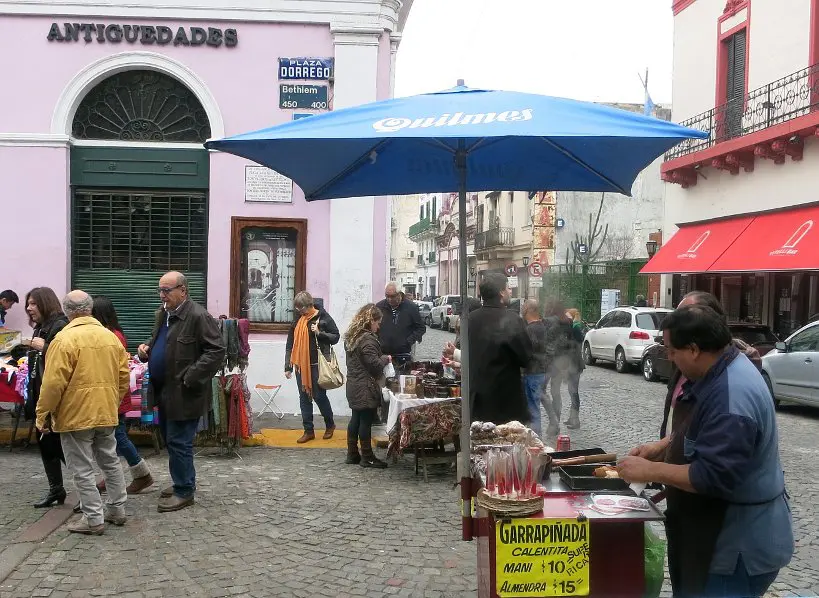 The Garrapinada is a caramelized sweet Argentinian snack made of peanuts called garrapiñada de mani. You can also find them made with almonds called garrapiñada de almendras.
They are like candied pralines prepared with vanilla essence and sugar cooked over hot coals.
The sugar once cooked results in a caramelized coating covering the entire peanut (or almond), creating a sweet and crunchy texture.
Where to Eat Garrapinada in Buenos Aires
You will easily find these street snacks on the corners in Buenos Aires in the cooler Fall and Winter months.
Street vendors also place themselves at street fairs or markets and sell them in small packages cooked off the pan.
They are a tasty snack to have on the go especially if you have a sweet tooth like most Argentinians.

In Summary
Each country has its own street food culture. In Argentina, surprisingly, eating on the go is not a part of the local food culture.
We found Argentina street food to be in designated areas or neighborhoods, rather than spontaneous "pop-ups" anywhere. The street carts also typically have plastic chairs and tables for guests to sit on and enjoy their meal.
The culture of food in Argentina is about coming together and sharing a meal, in social situations. Even when food is eaten on the streets, it is enjoyed in a social setting and the experience is not rushed.
That said, if you find yourself hungry on your travels through Argentina, you will have plenty of Argentinian street food options.
Rather than eat on the go, sit comfortably in the plastic chairs and soak in the atmosphere.
What popular Argentinian street food would you like to try? Share your comments below.
Savor The Adventure!
Looking For More Local Argentinian Food Experiences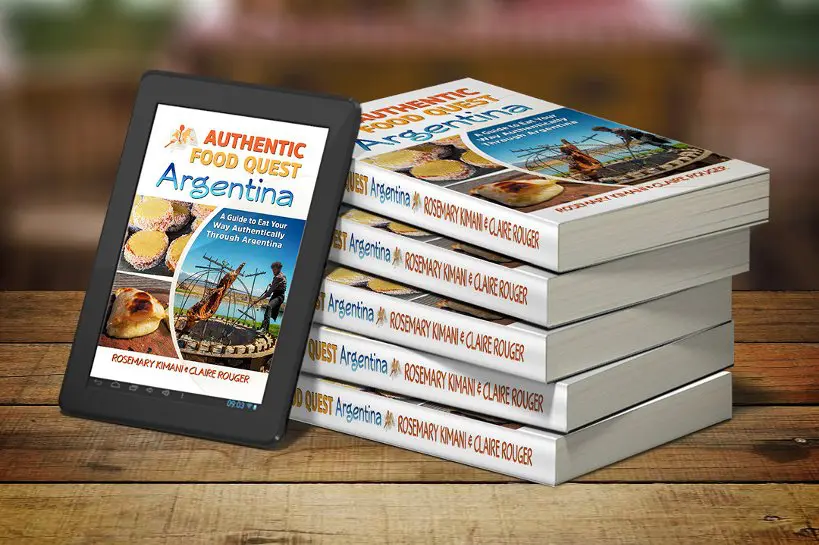 Our book Authentic Food Quest Argentina takes you on a culinary tour through four main regions of the country – Buenos Aires, Mendoza & the Wine Regions, the Andean Northwest, and Patagonia & the Lake Region.
In the book, you'll discover over 50 iconic dishes and drinks and what makes them so special to Argentina. Stories and insights shared by local experts including Argentina's most renowned Chef, Francis Mallmann, bring the local food experiences to life.
Use this guide to find the best authentic restaurants and avoid the tourist traps. Learn how to
order your beef the Argentine way and what street foods to eat like a local. Use this as a guide to savor your adventures in Argentina
Available on Amazon
Claire is co-founder of Authentic Food Quest and a lover of simple and exquisite cuisine. Since 2015, with her partner, Rosemary, she has been traveling the world as a digital nomad, creating content about local food experiences.
Her advice from visiting 45 countries and more than 240 food cities has been featured in Lonely Planet, Business Insider, Honest Cooking, Food Insider, and Huffington Post. She has also co-authored three books, including one in collaboration with Costa Brava Tourism.
An ex-mechanical engineer, Claire is responsible for SEO, keeping the website running, and the fun food & travel videos on YouTube.
When Claire is not eating, she can be found running or cycling. Find out more about Authentic Food Quest